Copyright
©2014 Baishideng Publishing Group Inc.
All rights reserved.
World J Gastrointest Pathophysiol.
Nov 15, 2014;
5(4): 496-513
Published online Nov 15, 2014. doi: 10.4291/wjgp.v5.i4.496
Zinc and gastrointestinal disease
Sonja Skrovanek, Katherine DiGuilio, James M Mullin, Lankenau Institute for Medical Research, Lankenau Medical Center, Wynnewood, PA 19096, United States
Robert Bailey, Barani Mayilvaganan, Giancarlo Mercogliano, James M Mullin, Division of Gastroenterology, Lankenau Medical Center, Wynnewood, PA 19096, United States
William Huntington, Ryan Urbas, The Department of Medicine, Lankenau Medical Center, Wynnewood, PA 19096, United States
Author contributions: All authors contributed to this paper.
Correspondence to: James M Mullin, PhD, Director of Research, Division of Gastroenterology, Lankenau Medical Center, 100 Lancaster Avenue, Wynnewood, PA 19096, United States. mullinj@mlhs.org
Telephone: +1-484-4762708 Fax: +1-484-4762205
Received: May 28, 2014
Revised: September 18, 2014
Accepted: October 1, 2014
Published online: November 15, 2014

This review is a current summary of the role that both zinc deficiency and zinc supplementation can play in the etiology and therapy of a wide range of gastrointestinal diseases. The recent literature describing zinc action on gastrointestinal epithelial tight junctions and epithelial barrier function is described. Zinc enhancement of gastrointestinal epithelial barrier function may figure prominently in its potential therapeutic action in several gastrointestinal diseases.
Core tip: This is an overview of the role that both zinc deficiency and zinc supplementation can play in the etiology and therapy of a wide range of gastrointestinal diseases.
---
Citation: Skrovanek S, DiGuilio K, Bailey R, Huntington W, Urbas R, Mayilvaganan B, Mercogliano G, Mullin JM. Zinc and gastrointestinal disease. World J Gastrointest Pathophysiol 2014; 5(4): 496-513
---
INTRODUCTION
When considering the topic of zinc and gastrointestinal (GI) disease, several general biomedical and nutritional situations must be considered. The first, and perhaps most obvious, is that of dietary zinc deficiency (ZD) - whether this arises out of generalized diet insufficiency, genetically-based zinc malabsorption, or dietary interference with zinc absorption (e.g., phytates in the diet) - and resultant diseases from said deficiency. The second consideration is that diseases, such as the inflammatory bowel diseases (IBDs), whose morbidity generates GI malabsorption issues, ultimately giving rise to ZD. Finally, one must consider the supplementation of zinc to the diet, and the positive role that may play in certain GI diseases, especially those characterized by impairment of barrier function. The connection among all three situations is perhaps that ZD, from whatever source appears to lead to GI barrier compromise, an eventuality that is self perpetuating (Figure 1).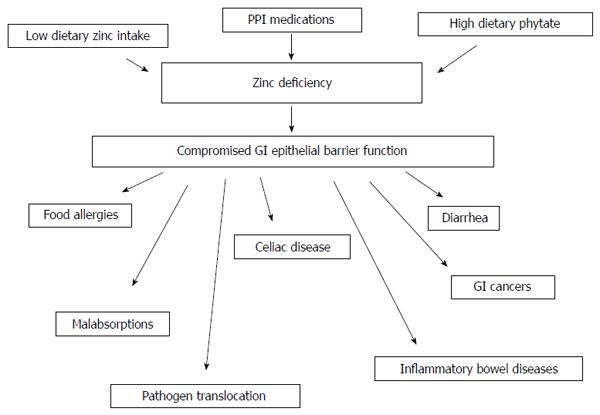 Figure 1 Zinc deficiency can arise from several sources, and a major physiological effect of zinc deficiency will be to induce leakiness in tight junctional seals and consequently epithelial cell layers.
This figure diagrammatically shows the conditions/diseases that could be promoted by this eventuality arising in the gastrointestinal mucosa; GI: Gastrointestinal; PPI: Proton pump inhibitor.
This is, then, a very broad topic, and one in which numerous excellent reviews have been written concerning the above individual situations. Duggan et al[1] (2002) did a thorough reporting of zinc and other "functional foods" for maintaining GI mucosal function. In terms of barrier function per se, Hering et al[2] (2009) have recently published on this from a more cellular perspective. Semrad[3] (1999) reported on the general role of zinc in intestinal function, particularly in diarrhea. Goh et al[4] (2003) deal with both ZD arising out of IBDs as well as the role zinc and other nutraceuticals may play in providing an alternative to the use of steroids and anti-tumor necrosis factor (TNF) modalities in IBD therapy. Treatment via zinc supplementation of GI disease incited by ZD may in fact be the first (though inadvertent) clinical summary of supplemental zinc effects on GI barrier compromise[5]. The very concept of ZD as well as the myriad roles played by zinc in cellular and systemic function, are discussed comprehensively by Tuerk et al[6] (2009) and Wapnir[7] (2000). The singular issue of zinc in parenteral feeding, an important medical area for which zinc (and epithelial barrier function) may be highly important, is something that we do not consider here in any depth, but has been well investigated by Jeejeebhoy[8] (2009). The critical area of zinc ''physiology", i.e., its transport and binding in cells in general, and enterocytes in particular [ZIPs, ZnTs, metallothioneins (MTs), etc.], as well as the issue of zinc homeostasis systemically is discussed thoroughly by King[9] (2010), King et al[10] (2000) and Cousins[11] (2010). Finally, a very comprehensive review of zinc's role in disease generally has just recently been produced[12].
Our review generally does not address the enormous literature surrounding zinc finger proteins and zinc metalloproteinases, except where these proteins specifically deal with a deficiency or supplementation. There are numerous reviews covering these various topics touching on zinc[13-16]. Both protein classes have almost certain relevance toward all of the diseases we discuss in this review, but we largely avoid that literature because of its focus on the protein rather than specifically on zinc.
As alluded to above, one can be ZD for three reasons: (1) the diet is simply too low in zinc content, as can be true for certain diets poor in meat or fish protein; or (2) and (3) there can be two situations of ZD in the face of diets replete with zinc. The latter two reasons can be brought about through the chronic use of Proton Pump Inhibitor (PPI) medications, whose inhibition of gastric acid production (and elevation of gastroduodenal lumen pH) can render luminal zinc non-absorbable[17]. In addition, diets high in the form of phosphorous known as phytate (found significantly in whole grains, nuts and seeds), can result in zinc complexing with phytates and a resultant non-absorbable species[18,19]. It is worth considering that the average American, especially those of higher socioeconomic status, may be the victim of one or both outcomes, as PPIs are taken by over 20 million Americans yearly, and phytates exist at high levels in the very foods that are prominently featured in "healthy diet choices". The now common use of PPIs to treat gastroesophageal reflux in neonates makes this group particularly worrisome in this regard. Additionally, the body has no cell/tissue zinc stores (unlike, e.g., iron or calcium) therefore its daily zinc needs are heavily dependent on satisfactory daily zinc intake and at least short-term states of zinc deficiency could be quite likely[20].
The government recommended daily intake of zinc is 11 mg/d[21], however studies have shown that, at least in the relatively short term, higher doses of zinc are safe. For example, our recent study in patients with Barrett's esophagus showed no adverse effects on a total dose of 52 mg/d for 14 d, with positive changes on intracellular signal transduction in the Barrett's epithelia[22]. It is clear that a dose of 150 mg/d over an extended period can be toxic, as is evidenced by the development of severe copper deficiency and anemia[23,24], but zinc lozenges are only effective in reducing the duration of the common cold at a minimum dose of 75 mg/d[25]. At daily doses above 50 mg/d, periodic measurements of blood copper levels (which can be driven lower by high zinc intake) and cholesterol levels would be prudent[26].
The use of zinc as a potential therapeutic in these various diseases and disorders should be treated realistically. No one would suggest, e.g., that zinc-induced potentiation of GI barrier function might "cure" any associated illnesses. However, considering the issue quantitatively rather than qualitatively, there is a quite reasonable possibility that zinc administration could reduce morbidity by a meaningful extent, and that would be highly useful. This is especially true given that zinc could readily be used together with existing medications for these conditions.
The role that zinc may exert in specific GI diseases is now discussed below, along with a final consideration of zinc's role in maintaining GI epithelial barrier function. The compromise of that barrier function can be a catalyst for several of these diseases, and zinc-induced barrier enhancement may prove to be a means of reducing morbidity in some of these conditions (Table 1).
| | | | |
| --- | --- | --- | --- |
| Condition | Model used | Reversibility with Zn supplementation | Ref. |
| Esophageal cancer | Rodent | Yes | Fong et al[27], 2011 |
| Diarrhea | Human | Yes | Hambidge[72], 1992 |
| Inflammatory bowel diseases | Porcine | Yes | Sturniolo et al[82], 2002 |
| Celiac disease | Human | Not determined | Wierdsma et al[143], 2013 |
| Alcoholic liver disease | Mouse | Yes | Lambert et al[198], 2003 |
| Malnutrition | Guinea pig | Yes | Rodriguez et al[65], 1996 |
An important consideration in reading this review and interpreting the findings that are presented, is that one needs to always consider the chemical form of the administered zinc, its dosage/concentration, and its vehicle (tablet, capsule, emulsion, lozenge, etc.), in the interpretation of any given result/finding. Not all zinc salts are equally soluble and therefore permissive for zinc delivery to cells. In addition, in the discussion presented below on zinc-mediated inhibition of esophageal cancer in rodents, it is critical that the zinc was administered in drinking water[27]. If it was administered in capsule or tablet form, it would result in no topical delivery to the target tissue. This is further discussed in Valenzano et al[22] (2014) for delivery to humans. It is not really feasible in a review to discuss the mode of zinc administration in every citation, and so we encourage the reader to refer to specific references for chemistry, drug delivery and concentration information.
ZINC AND GASTROINTESTINAL CANCER
While there is a minimal amount of published literature regarding zinc's effect on transformed cells in culture, zinc - at a concentration that is otherwise not seen to be toxic or a hindrance to normal cell growth - has been shown to negatively impact growth in transformed human tumor cells[28]. Further evidence of tumor growth inhibition by zinc was observed in mice inoculated with sarcoma 180 cells into the peritoneal cavity. Mice treated with zinc sulfate injections experienced a suppression in the number of tumors produced; however, the treatment was unable to prevent the subsequent growth of a tumor once it developed[29]. Similarly, when mice inoculated by intraperitoneal injection with L1210 leukemia cells were treated with zinc acetate injections, they exhibited a reduction in tumor cell growth[30]. The mechanism by which zinc is capable of producing this effect may relate to its ability to prevent oxidative stress that causes DNA damage. Additionally, it is noteworthy that ZD impairs DNA repair by compromising the DNA binding activity of the tumor suppressor protein, p53, disrupting its function[31,32]. In a study on the treatment of the human colon cancer cell line, HCT-116, with zinc chloride, zinc inhibited cell proliferation by stabilizing adenomatous polyposis coli (APC) protein and arresting cell growth[33]. Zinc dysregulation and its subsequent effect on the development of cancer has been suggested to be cell type specific. For example, breast tumor biopsies have higher zinc levels than normal tissue whereas cellular zinc levels in prostate cancer and ovarian cancer tumor tissue are significantly lower than benign tissue[34].
Esophageal and oral cancers are significant upper aerodigestive tract cancers. Esophageal cancer is the eighth most common cancer and the sixth most common cause of death from cancer worldwide, while oral cancers, particularly those of the tongue, have a high mortality rate in part due to the risk of developing a second primary tumor, usually in the esophagus[35,36]. Esophageal cancers can be either squamous cell carcinoma (SCC) or adenocarcinoma (AC). Abnet et al[37] (2005) performed a 16-year observational study on participants in a nutrition intervention trial and found that the subjects who had a high zinc concentration in their esophageal biopsy specimens also had a reduced risk of developing esophageal SCC, indicating that dietary ZD associates strongly with SCC. Although studies examining dietary zinc intake and its relationship to cancer risk have reported conflicting results, a meta-analysis of 19 studies involving an estimated 400000 participants found that the level of zinc intake was inversely associated with digestive tract cancers, especially colorectal cancer[38]. In addition to these cancers of the GI tract, low serum zinc levels are also associated with prostate, ovarian, lung, gallbladder, and head and neck cancers[34].
There is strong evidence that ZD in rats and mice enhances carcinogenesis. When control and ZD rats were intragastrically administered 2 mg/kg body weight doses of the carcinogen methylbenzylnitrosamine the ZD rats had a higher frequency of esophageal tumor development[39]. Similar outcomes ensued when ZD and zinc-sufficient (ZS) Sprague-Dawley rats were exposed to N-nitrosodimethylamine. The control rats did not suffer epithelial irregularities; however, 63% of the rats deficient in zinc developed squamous papillomas in the forestomach[40]. ZD and ZS Sprague-Dawley rats, exposed through their drinking water to precursors of the carcinogen N-nitro-N-benzylmethylamine (benzylmethylamine and NaNO2) manifested like results[41]. Similarly, when C57BL/6 mice were given N-nitrosomethylbenzylamine (NMBA), after 46 wk the ZD mice had significantly more esophageal and forestomach tumors than ZS mice[42]. In an oral cancer study, ZD and ZS rats were treated with the carcinogen 4-nitroquinoline 1-oxide (NQO) to induce lingual tumors. A greater incidence of lingual squamous cell carcinomas was found in the ZD rats[43]. This is not a phenomenon limited to squamous cell cancers, as zinc supplementation (in combination with aspirin or vitamin C) showed dramatic reduction of colon tumors in dimethylhydrazine-treated rodents[44].
The mechanisms by which ZD creates a pro-tumor environment may relate to its ability to induce cell proliferation. In a study on the relationship between cell proliferation and tumor incidence, ZD and ZS rats either received intragastric doses of NMBA or were left untreated. At various time points, in vivo bromodeoxyuridine (BrDU) labeling and immunohistochemical detection of cells in S-phase were used to assess esophageal cell proliferation. In both NMBA-treated and untreated rats, the ZD condition showed a significantly higher labeling index than the ZS condition. In NMBA-treated animals, 100% of the ZD ad libitum rats, 23% of the ZS ad libitum fed rats, and 6% of the ZS rats pair-fed to the ZD rats developed tumors. After about 10 wk of the ZD diet, two rats not exposed to NMBA developed esophageal papillomas[45]. In an alternate study, BrDU labeling of ZD and ZS mice given doses of NMBA intragastrically showed that the labeling index and number of labeled cells were also increased in the ZD mice[42].
Dietary ZD also alters gene expression. Liu et al[46] (2005) identified 33 genes that were differentially expressed in a hyperplastic ZD vs a ZS esophagus. Key factors are the upregulation of the cyclooxygenase (COX-2) inflammatory gene and the induction of an overexpression of the proinflammatory mediators, S100A8 and S100A9. In the hyperplastic esophagus and tongue of ZD rats, the expression levels of both COX-2 protein and mRNA were between 8 and 14.6 fold higher than their ZS counterparts[43]. Treating these rats with an inhibitor of the COX-2 pathway, celecoxib, led to a reduction in cell proliferation but not a prevention of carcinogenesis, suggesting that there must be an additional process involved[43,47]. Celecoxib was found not to be an efficient treatment because it did not show a real effect on S100A8 overexpression. The expression of S100A8 and S100A9 in hyperplastic ZD esophagi was upregulated 57 and 5 fold, respectively[48]. Combining ZD-induced inflammation with low levels of NMBA resulted in a 66.7% incidence of esophageal SCC[49].
ZD in collaboration with other factors, such as p53 deficiency and cyclin D1 overexpression, can produce an accelerated progression towards malignancy[50-52]. p53 is a tumor suppressor protein responsible for the prevention of uncontrolled cell proliferation. Both p53 deficiency (p53 -/-) and insufficiency (p53 +/-) in combination with ZD leaves mice more susceptible to carcinogens, increasing the tumor incidence in the esophagus and tongue[50,52]. This rapid rate of tumor progression was accompanied by nearly 20% of ZD and p53-deficient rats developing esophageal Barrett's metaplasia[50]. Cyclin D1 overexpression in conjunction with ZD disrupts the cell cycle leading to uncontrolled cell proliferation and consequently a substantial increase in tumor incidence. At 77 d, 14% of mice with both cyclin D1 overexpression and ZD developed esophageal intestinal metaplasia[52].
Several experiments have investigated the ability of zinc replenishment (ZR) to prevent esophageal cancer. ZR was shown to begin reversing the inflammatory signature and reduce COX-2 overexpression to only 3-fold of that seen in ZS rats[43,49]. ZR also stimulated apoptosis, increased the expression of the proapoptotic Bax protein[53], returned 29 of the 33 altered genes back to normal expression levels[54], decreased cell proliferation[55], restored the expression of S100A8 and S100A9[48], and consequently began to reverse the pre-cancerous phenotype condition. Furthermore, animals with an already ZS diet were found to benefit from zinc supplementation. Additional zinc in the diet of these rats limited cell proliferation and stimulated apoptosis causing a reduced incidence of tumors and tumor progression induced by both low and high doses of NQO[27]. This finding is critical support for the value of zinc supplementation in cancer chemoprevention.
Dietary ZD may be creating a pro-tumor environment in the GI tract, enhancing carcinogenesis by inducing cell proliferation, altering gene expression, and promoting inflammation. Zinc as a dietary nutrient is essential because it plays a role in a variety of important functions, including DNA repair, apoptosis, cell cycle progression, p53 activation, and the prevention of oxidative stress that causes DNA damage. This in conjunction with several research studies suggesting zinc replenishment and supplementation results in a positive effect against carcinogens, supports the thesis that zinc supplementation has the potential to be efficacious in the prevention of several GI cancers.
ZINC AND DIARRHEA
It is well described that ZD can lead to diarrhea. Acrodermatitis enteropathica, a hereditary disorder of zinc metabolism, was reported in infants with skin lesions and diarrhea in the early 1970s[56], and shortly thereafter a similar syndrome was found in certain adult patients placed on total parenteral nutrition (TPN). These patients presented with diarrhea, depression and dermatitis, and were found to have acute ZD[57]. Zinc supplementation resulted in rapid improvement of diarrhea and dermatitis in both of the above groups[56-61]. Very recent meta analyses of multiple studies supports this conclusion, showing decreased diarrhea duration with zinc therapy[62,63]. A recent review on infectious diarrhea supports this[64]. It is noteworthy that even in control, non disease states, zinc supplementation can positively affect multiple aspects of GI mucosa (on a molecular and cellular level) that would likely act to enhance GI barrier function[46]. ZD can cause intestinal hyperpermeability ("leaky gut"), which itself can be secondary to increased nitric oxide and oxidative stress, thereby leading to diarrhea[65-67]. In rats, ZD has been shown to upregulate expression of intestinal uroguanylin (a peptide that triggers Cl- secretion and subsequent water secretion)[67,68], decrease absorption of triglycerides by altering chylomicron formation[69], and decrease absorption of proteins by altering enterocyte peptidase activity[70,71], all of which can potentiate diarrhea.
Later it was discovered that not only can ZD cause diarrhea but also chronic diarrhea conditions can cause ZD, thereby promoting even more diarrhea[72]. This has led to multiple studies of zinc supplementation in infants and children with diarrheal illnesses, mostly in developing nations where malnutrition often results in ZD. Children with acute diarrhea treated with zinc show a decrease in the rate and duration of diarrhea as well as decreased need for antibiotics when compared to controls (who were typically treated with oral rehydration and/or vitamin supplements)[73-76]. Zinc supplementation in healthy children in developing countries has decreased the prevalence, morbidity and mortality of diarrhea[77]. The World Health Organization currently recommends treating diarrhea in children with zinc tablets along with oral rehydration solutions as part of a first-line approach[78].
ZD can also decrease human immune function, increasing the risk for infection[74,79]. In infectious diarrhea there is typically increased intestinal permeability (seen as an increase in the lactulose/mannitol ratio)[80] which can sometimes be improved by zinc supplementation[81-83]. ZD leads to decreased electrolyte and water absorption, and can exacerbate diarrhea caused by Vibrio cholera (V. cholera)[84,85]. V. cholera causes diarrhea by increasing cyclic adenosine monophosphate (cAMP) production, inducing the intestine to secrete water and chloride, and inhibiting the absorption of sodium[85]. Interestingly, zinc supplementation actually impedes cAMP-regulated secretion of chloride via basal-lateral K+ channels, explaining its efficacy in reducing the duration of cholera-induced diarrhea, an effect that may involve basal-lateral zinc action on basal-lateral membrane K+ channels[86,87]. Zinc supplementation decreases expression of certain genes linked to immune function in piglets infected with enterotoxigenic E. coli (ETEC) as well decreasing ETEC-induced diarrhea and inflammation. This action is possibly due in part to a decrease in MUC4 expression, which might be an ETEC K88 receptor[88]. In treating ETEC-related diarrhea the mode of delivery in zinc supplementation can matter significantly[89]. In CACO-2 cells, zinc supplementation inhibits Ca++ and nitric oxide-mediated ion secretion, both of which are known pathways for pathogen-induced diarrhea. However the same may not be true for Ca++-mediated ion secretion in rat ileum[86,90]. It should be noted however that Bzik et al[87] (2012) did observe an inhibitory effect of zinc on carbachol-stimulated short circuit current. Zinc has also been shown to have a direct antimicrobial effect on infectious enteric bacteria such as E. coli, Shigella, and various strains of Salmonella in vitro[91].
In summary, zinc is useful in the treatment of diarrhea of various etiologies. Its role in decreasing fluid secretion to the intestinal lumen (directly or indirectly) requires further investigation but cannot be disputed. Its impact on intestinal paracellular leak, another potential source of diarrhea, will be addressed in a later section of this review.
ZINC AND CROHN'S DISEASE
ZD has been well established in Crohn's disease (CD) and can arise in part due to poor zinc absorption in the small intestine (even if the jejunum appears normal) as well as from chronic dietary intolerances and restrictions[92-96]. In a large cohort of patients with IBD, it was estimated that 8.5% of patients had inadequate intake of zinc. The prevalence of low serum zinc levels was 29.3%[97]. ZD has even been documented in Crohn's patients while in remission[98]. Crohn's patients on TPN can develop acute ZD resulting in acrodermatitis enteropathica and decreased vision[99]. More commonly, ZD in CD contributes to stunted growth in children and manifests as decreased taste sensation, visual acuity, and immune function[100-102].
One very important element of CD pathophysiology is a defect in mucosal barrier function. Increased mucosal permeability correlates with disease activity as evidenced by increased uptake of large molecular markers (such as lactulose) from the GI lumen into the bloodstream[103]. While in remission, increased transmucosal permeability (leak) has been used as a marker for predicting relapse[104]. In the human intestinal cell line, CACO-2/T7, zinc depletion in conjunction with TNFα exposure (common in the inflamed mucosa in CD) increases apoptosis, ultimately compromising the organization of tight junctions (TJs) and epithelial barrier integrity[105]. This could explain why zinc supplementation has been reported to decrease transmucosal leak in CD[106], although this finding has been challenged[107]. CD pathophysiology involves a persistent recruitment of leukocytes into intestinal mucosa and submucosa followed by an unregulated granulomatous inflammatory response. Epithelial barrier dysfunction may facilitate this passage of leukocytes and allow for an unregulated leakage of luminal antigens across the epithelial barrier, a leak that normally does not take place. This is evidenced by a high frequency of neutrophils and crypt abscesses in the intestinal mucosa[108]. ZD may exacerbate CD morbidity by increasing gut permeability, allowing for increased neutrophil transmigration and luminal antigen permeation[109]. Biologic agents such as Natalizumab have taken advantage of this persistent recruitment mechanism by blocking leukocyte transmigration at the level of the vascular endothelium[110,111].
Zinc supplementation in CD, whether the Crohn's is active or in remission, may be beneficial. It had been postulated that zinc supplementation in patients with IBD would increase serum and mucosal levels of the zinc-dependent free radical scavengers superoxide dismutase (SOD) and MT, however their rise in concentrations was not statistically significant[112]. According to Brignola et al[113] (1993), dietary supplementation with zinc in CD patients with active disease significantly improved serum zinc levels in addition to levels of zinc-dependent hormones like thymulin, which can potentiate T-cell differentiation and natural killer (NK) cell activity[113]. The effect of zinc supplementation on NK cell activity of IBD patients, varies in the literature. A small randomized trial by Van de Wal et al[114] (1993) showed a significantly reduced level of NK cell activity with zinc supplementation. Despite the current evidence in the literature for their benefits, zinc products have not undergone the scrutiny and validation of the Food and Drug Administration for this disease. For this reason, there are no specific guidelines for zinc supplementation beyond emphasizing the importance of adequate and balanced nutritional intake in CD. As described in the sections on zinc and GI cancers, and zinc and TJs, there may well be medical benefit of zinc daily intake above the current RDA.
ZINC AND ULCERATIVE COLITIS
Zinc is absorbed from the GI lumen principally in the small intestine at the distal duodenum and proximal jejunum[115]. This leads to obvious implications for zinc malabsorption in diseases targeting and damaging the small intestine, such as CD and Celiac sprue. However, ulcerative colitis (UC) does not typically manifest in the small bowel proximal to the ileum, and numerous studies have shown that well nourished UC patients are not ZD. In fact, when patients with moderate and severe (active) UC are compared to healthy controls and/or UC patients in remission, they have shown normal or even elevated serum zinc concentrations[112,116,117]. Similarly, serum zinc levels in children with UC were no different than controls[118].
In active UC flares, elevated serum zinc concentrations are correlated with increased levels of complement component C3C (part of the innate immune system) and elevated antinuclear antibodies, a known predictor of UC flares and a marker of steroid dependence in UC[119,120]. This may be indicative of zinc being released locally in response to the activated inflammatory cascade in active UC. However, an additional study showed no correlation between serum zinc and elevated erythrocyte sedimentation rate or C-Reactive protein, both standard predictors of high grade inflammation in UC[121]. Patients with refractory UC who underwent colectomies with ileal pouch anal anastomosis or a Brooke ileostomy had either elevated or normal serum zinc levels[122-124]. In fact, ZD in UC patients most likely stems from malnutrition deriving from poor oral intake due to acute (systemic) illness associated with active UC and not the damaged colonic tissue per se[125,126]. There is little evidence that the colon itself normally has any major role in zinc metabolism or homeostasis.
On a molecular level, the reactive oxygen species (ROS) produced from respiratory burst during neutrophilic invasion in UC cause significant mucosal damage[127]. SOD, vitamin E and ascorbic acid are all known to reduce ROS species produced in this process[128]. Zinc in various ionic forms and as a part of various moieties in proteins is also important in ROS reduction. For example, the copper/zinc isoform of SOD (Cu/Zn-SOD) removes ROS and indirectly prevents lipid peroxidation[129]. Interestingly, Cu/Zn-SOD is decreased in the epithelium of active UC[130]. Another family of zinc-cytoprotective enzymes are MTs. These are zinc-binding proteins that likely play a role in alleviating acute inflammation as ROS scavengers. The literature shows variability in MT expression in IBD. In ZD individuals, mucosal layers of active UC patients had decreased concentrations of MTs in their colonic mucosa and had increased concentrations of ROS intermediates[131-133]. Inducing ZD in animal models of UC increases the disease activity index (DAI) and serum TNFα levels, exacerbates weight loss, and leads to further shortening of colon length[134]. MT concentrations are increased in UC-associated colorectal carcinoma but are decreased in active UC flares at the inflamed mucosa[116,135]. In actively inflamed UC in both human and animal models, supplementing zinc has been shown to either slightly increase or have no effect on the tissue level of MTs[112,136-138]. There have been many studies on the effects of zinc supplementation on inflammation in UC. Di Leo et al[136] (2001) reported improvements in diarrhea and weight gain in a rat colitis model when supplemented with zinc but found no effect on neutrophil infiltration or visible inflammation. Mulder et al[112] (1994) reported no change in DAI or inflammation in human UC intestinal biopsies after zinc supplementation. More recently, however, Tran et al[137] (2007) found that zinc supplementation suppressed colitis in a mouse model as evidenced by decreased DAI and histological severity scores as well as reduced myeloperoxidase activity. Intrarectal zinc also has been found to be beneficial at the microscopic level with reduced inflammation in rat models in as little as 96 h, with other studies also reporting similar decreases in inflammation in both rat and mouse UC models[139-142].
In summary, in UC patients, systemic ZD does not arise in response to colonic tissue inflammation, but if a patient has decreased nutritional intake due to associated illness in ongoing UC, they may develop insufficient levels of serum zinc. This decreased serum zinc concentration does appear to have important implications at the cellular level and therefore may diminish the body's ability to reduce active inflammation. More research is required to further examine the benefits of zinc supplementation in UC patients, specifically its effect, if any, on epithelial barrier function.
ZINC AND CELIAC DISEASE
Celiac disease (CeD) is an immunologic enteropathy triggered by the intake of gluten (and more specifically gliadin) which causes, among other outcomes, the loss of brush border proteins, enzymes needed for both digestion and absorption. CeD patients are deficient in many vitamins and minerals, including zinc[143]. Decreased plasma zinc has been observed in both untreated CeD patients and as well as those in clinical remission[144]. The prevalence of ZD in newly diagnosed adult CeD patients has been reported to be as high as 67%, and up to 64% of children with CeD are also ZD[143,145-148]. Moreover, ZD is known to correlate with villous atrophy, with one study finding 60% of patients with partial villous atrophy, 80% of patients with subtotal villous atrophy, and 92% of patients with total villous atrophy to be deficient in zinc[149-152].
Adherence to a gluten free diet (GFD) typically induces clinical and histological remission of CeD. While serum zinc levels are significantly lower in children with untreated CeD with enteropathy, levels normalize after following a GFD[147,153,154]. Interestingly, Jones et al[155] (2010) found that supplementing zinc along with a GFD provided no additional rise in plasma zinc levels. A small study in patients with non-responsive CeD showed a rise in serum and plasma zinc after oral zinc supplementation as well as a slight increase in brush border enzyme activity, but there was no improvement in the patients' clinical status[155]. Both Crofton et al[156] (1990) and Tran et al[157] (2011) found no difference in zinc absorption between untreated CeD patients and controls, however there was evidence of impaired zinc homeostasis. Crofton et al[156] (1990) reported an "increased turnover and loss of endogenous zinc" that improved on a GFD, and Tran et al[157] (2011) found the exchangeable zinc pool (EZP), i.e., the total of the zinc pools in the body that are able to exchange with serum zinc, to be significantly decreased in CeD patients. Since the size of the EZP directly correlates with zinc nutritional status, patients with CeD can be ZD despite normal zinc absorption[157-159].
Stenberg et al[160] (2008) suggest that ZD, specifically in the intestinal mucosa (perhaps due to recruitment of zinc to a site of inflammation elsewhere in the body), activates the enzyme transglutaminase-2 (TG2) (normally inhibited by the presence of zinc) in the intestine. They theorize that a TG2-thioester intermediate-deamidated gliadin complex acts as a "neo-antigen," activating T-cells in persons genetically susceptible to CeD. These activated T-cells trigger B-lymphocytes to make antibodies against both TG2 and gliadin with the resultant inflammation causing villous atrophy (2008). Possibly contributing to this inflammatory phenomenon is an increased baseline level of paracellular permeability to gliadin via the TJs of the gut[161,162]. As the inflammation response intensifies, enterocyte apoptosis occurs and the TJs become increasingly disorganized, further amplifying paracellular permeability[163-165].
It remains to be investigated whether the known ability of zinc to enhance intestinal epithelial TJs[166] (see below) could be a therapeutic modality in CeD by way of reducing gluten and other luminal antigen permeation across the small bowel epithelium of the CeD patient.
GASTRIC CYTOPROTECTION AND INHIBITION OF ACID SECRETION BY ZINC
The observation of zinc affording protection of the gastric mucosal surface was actually reviewed over 20 years ago[167]. Bandyopadhyay et al[168] (1997) reported in animal studies that orally-administered zinc protects against chemically-induced ulceration, presumably in part by inhibiting gastric H+ secretion. This followed published observations of zinc-mediated suppression of gastric acid output as well as zinc-derived improvement of gastric ulcer healing in the 1970s and 1980s[169-171]. Kirchhoff et al[172] (2011) more recently reported in humans that low-dose zinc administration abolishes secretagogue-induced gastric acid secretion, raising luminal pH as effectively as PPI medications. It remains to be determined if orally-administered zinc can be as effective as PPIs in treating, e.g., gastroesophageal reflux disease without at least some of the side effects (liver cytochrome P450 inhibition) of the omeprazole class of drugs. These actions of zinc may trace in part to zinc's observed stabilizing effect on secretory cells and lysosomal organelles in general[173].
GASTRIC ACID SUPPRESSION AND ZINC DEFICIENCY
Omeprazole-induced inhibition of gastric acid production and elevation of gastroduodenal luminal pH has been observed to reduce small intestinal zinc absorption in humans[17,174], although not all studies agree[175]. Joshaghani et al[176] (2012) reported lower serum stores of zinc in males after 8 wk of omeprazole use and decreased zinc absorption was also observed with inhibition of gastric acid production by H-2 blockers[177]. The ability of omeprazole to increase pH only extends to the lumen of the stomach and upper small intestine[178]. It should be noted that the duodenum is not the only site for zinc absorption, as the cecum and colon have been observed to contribute significantly to zinc absorption by the GI tract if small intestine absorption is impaired, though the extent of absorption is not as great[179].
ZINC AND EPITHELIAL BARRIER FUNCTION
In most of the GI morbidities discussed in this review, the role of transepithelial barrier leak specifically at the site of the epithelial TJ, is very prominent. The recently documented ability of zinc to reduce TJ leak is very likely involved in zinc supplementation's ability to alleviate these morbidities, and the exacerbation of the morbidities in periods of ZD. For this reason, we present here an expanded description of zinc action on the tight junctional complex.
Examining the impact of ZD or supplementation on epithelial barrier function requires one to consider the molecular structure of the barrier. Epithelial and endothelial TJs (zonula occludens) selectively seal the space between adjacent cells, preventing unregulated paracellular exchange across the epithelial or endothelial barrier. The TJs are comprised of various proteins including the tetraspan transmembrane proteins occludin, tricellulin, and the 24+ members of the claudin family, as well as the single span transmembrane protein JAM-A, scaffolding proteins zona occuldens (ZO)-1, ZO-2, ZO-3, and ZAK and various peripheral membrane proteins[180,181]. Additionally, the TJ is regulated by the actin cytoskeleton through its interactions with scaffolding proteins[182]. The TJ's primary role is to regulate the paracellular permeability of the epithelial or endothelial barrier. Once thought to be a completely passive structure, it is now known that the TJ is actually quite dynamic, constantly adapting to stimuli[183]. Claudins are thought to interact in both homophilic and heterophilic patterns. Certain interactions are likely to have a sealing function while others can form pores that can be anion or cation specific[184,185]. Occludin likely plays a regulatory role at the TJ based on its phosphorylation state[186]. Exposure to different environmental stimuli such as pathogenic bacteria, foods or micronutrients can have a drastic positive or negative effect on the TJ's ability to regulate permeation of nutrients, water, and electrolytes[183].
The presence or absence of zinc has been shown to impact the barrier on its own, in conjunction with other molecules, and in various disease states. Zinc is a divalent cation that plays an important role in many mechanisms in the body. It is involved in DNA replication and transcription to RNA (via zinc-finger transcription factors), metalloproteinase catalysis, protection from oxidative stress (when bound to MTs), regulation of apoptosis, cell homeostasis, and immune function[187-191]. Both zinc supplementation and zinc deprivation have been found to impact epithelial barrier function with some evidence indicating this effect is at least partially due to TJ modifications[109,192]. In addition to TJ modification however, epithelial barrier leak can be induced more simply and dramatically by induction of cell death and detachment. Zinc has been shown to be quite able to induce apoptosis at certain concentrations in certain cell types[193,194]. However it has also been shown that epithelial barrier function can withstand the onset of cellular apoptosis (on an individual cell basis) by phagocytosis of the apoptotic cell by its epithelial neighbors, a process that ensues throughout with preservation of tight junctional seals[195].
The following disease situations illustrate zinc's ability to modify TJs in medically relevant scenarios.
CONCLUSION
The state of ZD is very favorable to the development of various GI diseases, deriving in large part through its negative effect on GI epithelial barrier function. ZD in the United States seems counterintuitive, but with extensive use of PPI drugs, diets abundant in phytate-rich foods, and decreasing consumption of meat and fish in general, lower zinc body stores are not out of the question. Zinc supplementation could be a highly inexpensive and, within well-described daily dosage limits, quite safe, prophylactic measure against several distinct classes of GI disease. Zinc could also serve to possibly reduce the morbidity of certain established diseases. The utility of zinc as an adjuvant to certain current pharmacologic treatments may have real merit. Ironically if one refrains from expecting unrealistic effects of zinc, i.e., out and out cures of certain GI diseases, its real merit and value comes into focus.
P- Reviewer: Irato P, Yin JY S- Editor: Ji FF L- Editor: A E- Editor: Wang CH