Copyright
©2014 Baishideng Publishing Group Inc.
World J Gastrointest Pathophysiol.
May 15, 2014;
5(2): 107-113
Published online May 15, 2014. doi: 10.4291/wjgp.v5.i2.107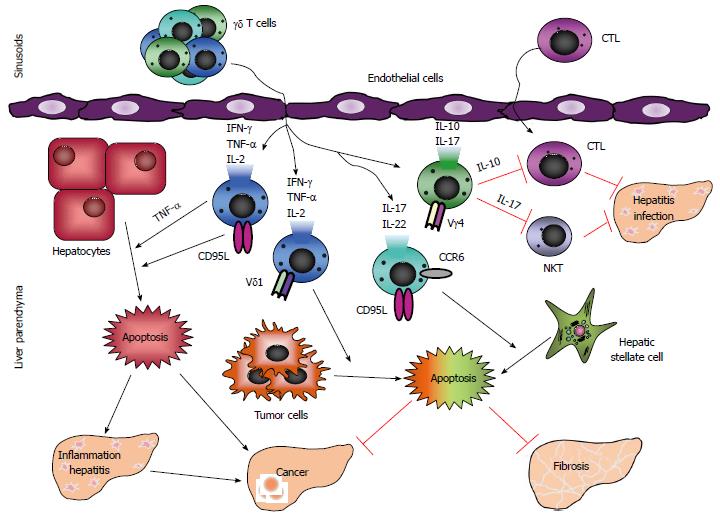 Figure 1 Role of gamma-delta T cells in liver disease. Upon liver damage several subsets of gamma-delta (γδ) T cells are recruited to the liver, where they can exert different functions on numerous cell types, ultimately resulting in protective or pathogenic effects on the outcome of liver disease. Pathogenic effects include induction of hepatocyte apoptosis by interferon (IFN)γ - and/or tumor necrosis factor (TNF) α-producing γδ T cells, mediated via death receptor signaling (TNF receptors or Fas/CD95). However, the Vδ1+ IFNγ-producing subset can also have beneficial functions as they drive tumor cells apoptosis. Other protective functions can be attributed to Vγ4+ T cells, which produce interleukin (IL)-17 and IL-10, and can downregulate pathogenic effector functions of other lymphocytes like natural killer T (NKT) cells or cytotoxic T cells, respectively. IL-17+γδ T cells have also been shown to induce Fas-mediated apoptosis of hepatic stellate cells (the main producer of collagen during hepatofibrogenesis), thereby limiting liver fibrosis.
---
Citation: Hammerich L, Tacke F. Role of gamma-delta T cells in liver inflammation and fibrosis. World J Gastrointest Pathophysiol 2014; 5(2): 107-113
---