Copyright
©2014 Baishideng Publishing Group Inc.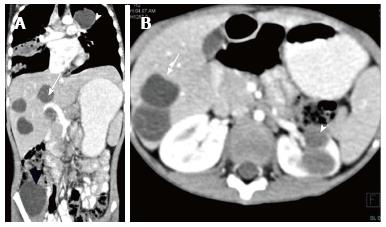 Figure 18 Disseminated hydatidosis.
A: Coronal reformatted CECT of a 7 years old boy shows multiple hydatid cysts in lung (white arrowhead), liver (arrow) and right iliacus (black arrowhead); B: Axial CECT shows multiple liver (arrow) and renal hydatid cysts (arrowhead). CECT: Contrast-enhanced computed tomography.
---
Citation: Das CJ, Ahmad Z, Sharma S, Gupta AK. Multimodality imaging of renal inflammatory lesions. World J Radiol 2014; 6(11): 865-873
---