Copyright
©2014 Baishideng Publishing Group Inc.
All rights reserved.
Takotsubo cardiomyopathy: Pathophysiology, diagnosis and treatment
Kazuo Komamura, Miho Fukui, Toshihiro Iwasaku, Shinichi Hirotani, Tohru Masuyama, Cardiovascular Division, Department of Internal Medicine, Hyogo College of Medicine, Nishinomiya 663-8501, Japan
Author contributions: Komamura K designed and wrote the paper; Fukui M and Iwasaku T acquired clinical data; Hirotani S criticized intellectual content; Masuyama T finally approved the paper.
Correspondence to: Kazuo Komamura, MD, PhD, Cardiovascular Division, Department of Internal Medicine, Hyogo College of Medicine, 1-1, Mukogawa-cho, Nishinomiya 663-8501, Japan. komamura@hyo-med.ac.jp
Telephone: +81-798-456553 Fax: +81-798-456551
Received: December 27, 2013
Revised: February 22, 2014
Accepted: May 31, 2014
Published online: July 26, 2014

In 1990, takotsubo cardiomyopathy (TCM) was first discovered and reported by a Japanese cardiovascular specialist. Since then, this heart disease has gained worldwide acceptance as an independent disease entity. TCM is an important entity that differs from acute myocardial infarction. It occurs more often in postmenopausal elderly women, is characterized by a transient hypokinesis of the left ventricular (LV) apex, and is associated with emotional or physical stress. Wall motion abnormality of the LV apex is generally transient and resolves within a few days to several weeks. Its prognosis is generally good. However, there are some reports of serious TCM complications, including hypotension, heart failure, ventricular rupture, thrombosis involving the LV apex, and torsade de pointes. It has been suggested that coronary spasm, coronary microvascular dysfunction, catecholamine toxicity and myocarditis might contribute to the pathogenesis of TCM. However, its pathophysiology is not clearly understood.
Core tip: Takotsubo cardiomyopathy (TCM) is an important disease entity that differs from acute myocardial infarction. It occurs more often in postmenopausal elderly women, is characterized by a transient hypokinesis of the left ventricular (LV) apex, and is associated with emotional or physical stress. Wall motion abnormality of the LV apex is generally transient and resolves within a few days to several weeks. The prognosis of TCM is generally good. It has been suggested that coronary spasm, coronary microvascular dysfunction, catecholamine toxicity and myocarditis might contribute to the pathogenesis of TCM. However, its pathophysiology is not clearly understood.
---
Citation: Komamura K, Fukui M, Iwasaku T, Hirotani S, Masuyama T. Takotsubo cardiomyopathy: Pathophysiology, diagnosis and treatment. World J Cardiol 2014; 6(7): 602-609
---
INTRODUCTION
Takotsubo cardiomyopathy (TCM) is a transient wall motion abnormality of the left ventricular (LV) apex accompanied with emotional or physical stress that usually resolves completely. Takotsubo is a Japanese word meaning a pot with a narrow neck and a round bottom used to catch octopuses. Left ventriculography during systole of patients with TCM demonstrates such a shape. Although TCM is a novel concept, the number of cases reported is increasing rapidly. Other words have been used to refer this cardiomyopathy, including stress-related cardiomyopathy[1], transient LV apical ballooning syndrome[2,3], broken heart (heartbreak) syndrome, and ampulla cardiomyopathy[4]. In 2006, the American Heart Association incorporated this disease under the class of acquired cardiomyopathies[5]. This article aimed to review this newly recognized cardiomyopathy, paying particular attention to clinical characteristics, pathophysiology, diagnosis, and treatment.
EPIDEMIOLOGY
TCM symptoms were considered extremely rare until the past 20 years. The increasing number of medical reports on these symptoms has highlighted the higher incidence of TCM than that previously reported. Currently, 1000 or more studies reporting cases of TCM have been published. According to a retrospective review, patients with TCM accounted for approximately 2% of all the patients with suspected acute coronary syndrome[6,7]. Further, 90% of these patients were postmenopausal women[8,9]. A few reports indicated that the average age of TCM patients was 68 years, although children or young adults may also be affected[10,11]. Another report indicated that most men with TCM were inpatients, which suggests that physical stresses might play a role for the progress of the disease[12]. In a recent study, demographic and clinical course data in patients with TCM were compared between the United States and Japan. Few Japanese patients with TCM had a history of overt coronary disease (CAD) and family history of early-onset CAD. However, there was no significant difference in long-term prognosis and the recurrence rate between the United States and Japanese patients with TCM[13].
DIAGNOSIS
The diagnosis of TCM remains controversial. The diagnostic criteria most widely accepted were published by the Mayo Clinic[14] in 2004. In 2008, a new criterion was added to them: a normal epicardial coronary artery (Table 1)[15]. Kawai et al[16] classified this disease as a syndrome of unknown etiology that was characterized by acute balloon-like dilation in the LV apex (Table 2). As shown by these two diagnostic criteria, the patients with TCM have nonspecific or normal findings on physical examination; however, the clinical course resembles that of acute coronary syndrome or acute decompensated heart failure[14-16]. The most common presenting symptoms listed in the diagnostic criteria are chest pain and dyspnea. In rare cases, patients developed palpitations, nausea, vomiting, syncope, or cardiogenic shock[14-16].
Suspicion of AMI based on precordial pain and ST elevation observed on the acute-phase ECG
Transient hypokinesia or akinesia of the middle and apical regions of the LV and functional hyperkinesia of the basal region, observed on ventriculography or echocardiography
Normal coronary arteries confirmed by arteriography (luminal narrowing of less than 50% in all the coronary arteries) in the first 24 h after the onset of symptoms
Absence of recent significant head injury, intracranial hemorrhage, suspicion of pheochromocytoma, myocarditis, or hypertrophic cardio myopathy
Exclusion criteria
Significant organic stenosis or spasm of a coronary artery. In particular, AMI due to a lesion of the anterior descending artery of the left coronary artery, which irrigates a large territory including the apex of the LV (urgent coronary angiography is desirable in order to view the image in the acute phase; during the chronic phase, coronary angiography is necessary to confirm the presence or absence of significant stenotic lesions or abnormal lesions that could explain the ventricular contraction)
Cerebrovascular disturbances
Pheochromocytoma
Viral or idiopathic myocarditis
(Note: Coronary angiography is required for the exclusion of coronary artery lesions. Takotsubo-like myocardial dysfunction can occur in conditions such as cerebrovascular disorders or pheochromocytoma)
Diagnostic references
Symptoms: Precordial pain and dyspnea similar to the findings in the acute coronary syndrome. TCM can also occur without symptoms
Triggers: Emotional or physical stress, although it can also occur without any obvious trigger
Age and gender: There is a recognized tendency to a higher frequency in elderly individuals, principally women
Ventricular morphology: Apical ballooning with rapid recovery on ventriculography and echocardiography
ECG: ST elevation may be observed immediately after the event. T waves progressively become negative in various leads and the QT interval progressively lengthens. These changes gradually improve, but the T waves may remain negative for months. Pathological Q waves and alterations of the QRS voltage may be observed in the acute phase
Cardiac biomarkers: There is only a slight rise in the cardiac enzymes and troponin
Nuclear medicine scan of the heart: Abnormalities may be detected on myocardial gamma scan in some cases
Prognosis: Recovery is rapid in most cases, but some patients develop acute pulmonary edema and other sequel, even death
The following six symptoms are especially indicative of TCM: (1) acute onset and stressful inducement: One of the unique features of TCM is its relation with stressful emotional or physical events. This characteristic was described in nearly two-thirds of the patients who developed TCM[17]. Unlike acute coronary syndrome, with an onset peak early in the morning, TCM presents in the afternoon in most cases when stressful inducible events are likely to occur; (2) electrocardiographic characteristics: Although the initial electrocardiogram (ECG) of patients with TCM is nonspecific, an ST segment elevation can be found mainly in the precordial leads in 50% of patients at onset[18,19]. In addition, reciprocal ST-segment depression in the inferior wall leads is unlikely[20]. In comparison with patients with base deformity, inverted T waves are more frequently observed in patients with apex balloon-like dilation[21] and they resolve spontaneously within a few weeks to several months (Figure 1). Furthermore, patients with TCM usually present abnormal Q waves in precordial leads. These Q waves are transient in most patients and generally resolve within a few days to several weeks[22]; (3) cardiac enzymes: In most patients with TCM, there is slight elevation in the cardiac enzyme level on admission[6,20]. The enzyme levels decrease rapidly and do not seem to have prognostic significance[22]; (4) absence of coronary lesion: It is characteristic that no specific coronary lesions are detected in TCM[23,24]. Generally, patients with TCM have chest pain, changes in ECG, elevation of cardiac enzyme levels, and wall motion abnormalities. Therefore, coronary angiography has to be conducted to rule out acute coronary syndrome; (5) balloon-like dilation of the ventricle: In contrast with acute myocardial infarction, LV wall motion abnormalities are found beyond a single coronary artery perfusion area in patients with TCM. Most patients with TCM show loss of motion or hypokinesia at the apex and an apical balloon-like dilation pattern associated with preservation of the base (Figure 2). However, cases of a TCM subtype without abnormalities of the apex were reported recently[25,26]. TCM is essentially characterized by LV failure, although, approximately, one-third of patients also have abnormalities in the right ventricle[27]. Cardiac magnetic resonance imaging (MRI) is a suitable method to establish the diagnosis of TCM because this modality allows the accurate identification of reversible myocardium damage by visualization of wall motion abnormalities in each area, quantification of ventricular function, and assessment of inflammation and fibrosis. This modality brings new insight into the pathophysiology of TCM. It could enable early treatment of acute symptoms, raise awareness, and improve clinical outcomes. Cardiac MRI is appropriate to evaluate wall motion abnormalities and LV ejection fraction, and to confirm the absence of delayed gadolinium enhancement in patients with TCM. This allows differentiation of TCM from myocardial infarction and myocarditis, both pathologies associated with delayed gadolinium enhancement[17]. Although coronary computed tomography angiography is not applicable to the first diagnosis of patients with TCM, there are many reports on its use for clinical course evaluation after TCM onset; (6) recovery of cardiac function: One of the characteristics of TCM is that thorough recovery of cardiac function is achieved. In contrast to other serious wall motion abnormalities at onset, recovery of ventricular function is proven in follow-up evaluations. Most patients with TCM show significant improvement of systolic function within a week and achieve complete recovery by the end of third or fourth week after onset. Generally, another diagnosis should be considered in patients with suspected TCM whose systolic function is not normalized within 12 wk after onset.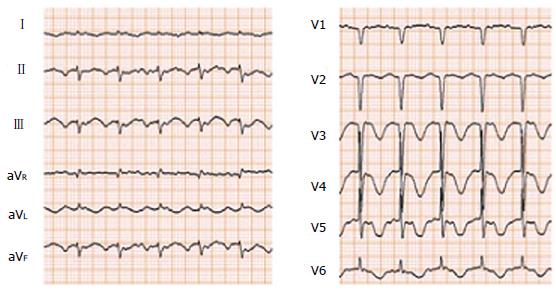 Figure 1 Inverted T waves are found in the limb and precordial leads, which is a common characteristic of takotsubo cardiomyopathy with apex balloon-like dilation.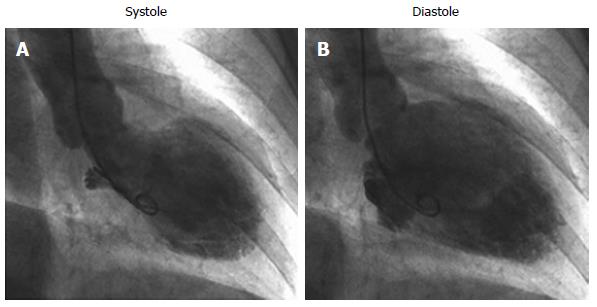 Figure 2 Systolic apex balloon-like dilation on left ventriculography (A) and normal diastolic dilation (B).
A: Systole; B: Diastole.
The differential diagnosis of TCM includes the following: esophageal spasm, gastroesophageal reflux disease, myocardial infarction, myocardial ischemia, unstable angina, acute coronary syndrome, angina, aortic dissection, myocarditis, acute pericarditis, pneumothorax, cardiogenic pulmonary edema, pulmonary embolism, Boerhaave syndrome (spontaneous esophageal rupture), cardiac tamponade, cardiogenic shock, cocaine-induced cardiomyopathy, dilated cardiomyopathy, hypertrophic cardiomyopathy, and coronary artery spasm.
PATHOPHYSIOLOGY
The exact pathogenesis of TCM is unknown, but various hypotheses have been suggested and discussed, including coronary microvascular dysfunction, coronary artery spasm, catecholamine-induced myocardial stunning, reperfusion injury following acute coronary syndrome, myocardial microinfarction and abnormalities in cardiac fatty acid metabolism. Currently, catecholamine-induced cardiotoxicity and microvasculature dysfunction are the most supported theories.
Catecholamine theory (Figure
3
)
Wittstein et al[22] found that the serum catecholamine concentration was two to three times greater in patients with TCM than that in patients with myocardial infarction, and described that serious emotional stress is a precipitating factor. It has been reported that exogenously administered catecholamines and pheochromocytoma cause typical characteristics of TCM, which supports this theory further[28,29].
Lyon et al[30] advocated a theory called "stimulus trafficking" that could explain the decline of myocyte contractile function in patients with TCM. Supraphysiological levels of catecholamines induce β2-coupling from Gs to Gi. Therefore, the decline of myocyte contractile function is evidenced by hypokinesia in ECG. Involvement of the apex can be attributed to higher adrenoceptor density in the apex than in the base[31]. The rationale of stimulus trafficking is that a switch to Gi occurs to protect the myocytes from the strong stimulation of Gs, which causes apoptosis. Slow increases in serum troponin level explain early minimal necrosis of the myocardial tissue. Nef et al[32] showed increased activity of the phosphatidyl inositol 3-kinase-protein kinase B (PI3K/AKT) signaling pathway, which has important anti-apoptosis functions and plays a role in the rapid recovery of myocytes. Thus, the transient LV dysfunction can be attributed to the PI3K/AKT pathway and inversely switching from Gi to Gs, associated with the homogeneous, prompt and clinically thorough recovery of systolic function observed in TCM.
Patients with TCM consistently present microvasculature dysfunction findings[33]. The characteristics of microvasculature dysfunction after acute psychological stress in patients with TCM include abnormality of endothelium-dependent vasodilation, excessive vasoconstriction, and impairment of myocardial perfusion[34]. Uchida et al[35] reported that extensive endothelial cell apoptosis was observed by myocardial biopsy. According to another report, increased susceptibility to ergonovine or acetylcholine followed by large vessel spasm, similar to vasospastic angina, may contribute to transient LV dysfunction[36]. However, because only 30% of patients showed the characteristics of vasospasm in a challenge test, this theory was ruled out[37,38]. Afonso et al[39] demonstrated that circulatory disturbance, indicating coronary microvascular dysfunction was found on a myocardial contrast echocardiography and the epicardial coronary arteries were normal.
Myocardial biopsy of patients with TCM showed regions with contraction band necrosis, inflammatory cell infiltration, and localized fibrosis[40]. These changes were caused by direct catecholamine toxicity on cardiac muscle cells[41]. Morel et al[42] found that C-reactive protein levels and white blood cell counts increased with the increase in norepinephrine levels in patients with TCM and inferred that catecholamines produced more systemic inflammation via the induction of proinflammatory cytokines such as tumor necrosis factor-α and interleukin-6. Several studies have pointed out that the remarkable myocardial edema, observed on cardiac MRI, occurs despite normal perfusion, which provides further evidence to support the inflammation theory[43,44]. Ueyama et al[45] examined restraint stress in rats with TCM and reported that heme oxygenase 1 (HO-1) levels, a marker of oxidative stress that has cardioprotective properties, was increased significantly. Macrophages play an important main role in oxidative stress induction and expression of β- and α-adrenergic receptors. As a result of pretreatment with β- and α-antagonists, HO-1 expression and its altering gene expression, decreased.
RISK FACTORS
Lack of estrogen
More than 90% of patients with TCM are postmenopausal women. In fact, in a study to investigate if hormone replacement therapy had an effect on TCM, the authors concluded that none of the 31 patients with TCM received estrogen replacement therapy[46]. Moreover, Ueyama et al[47] demonstrated that the decrease in LV function was greater in ovariectomized rats subjected to restraint stress than in rats receiving estradiol supplementation. The myocytes are known to express estrogen receptor-α and estrogen receptor-β. According to Ueyama et al[47], estrogen enhanced transcription of cardioprotective factors such as heat shock protein and atrial natriuretic peptide, and in turn, protected against the toxic effects of catecholamines, calcium overload and reduced oxidative stress[48].
Emotional or physical stress inducers
A study reported on the prevalence of mood disorders and use of antidepressants in patients with TCM[28]. When patients with depressive disorders experienced a stressful event, vagus nerve tension was decreased and response to adrenal medullary hormone was increased, which may be relevant to the cause of the disease[49]. Further, some patients with depression showed very high noradrenaline extravasation[50].
Genetic factors
Certain polymorphisms of α- and β-adrenergic receptors are associated with neurogenic stunned myocardium that occurs as symptom of subarachnoid hemorrhage and has overlapping pathophysiology with TCM[51]. Although adrenoceptor polymorphisms have not yet been identified in patients with TCM, patients with this disease showed L41Q polymorphism of G protein coupled receptor kinase (GRK5) more frequently compared with the control group[52]. L41Q polymorphism of GRK5 responds to catecholamine stimulation and attenuates the response of β-adrenergic receptors. Under catecholamine stimulation, balloon dilation of the ventricle may occur either by negative inotropic effect by β-receptor decoupling or ischemia because of an imbalance between α1-adrenergic coronary artery vasoconstriction and β-adrenergic vasodilation. These reports suggest the very interesting possibility that the susceptibility to TCM in individuals may be partially related to genetic factors.
TREATMENT
Treatment of TCM during the acute phase is mainly symptomatic treatment. Intra-aortic balloon pump equipment is required for hemodynamically unstable patients in addition to cardiopulmonary circulatory support and continuous veno-venous hemofiltration[53-55]. There is controversy on the use of cardiac stimulants because of increased circulating catecholamines[56]. However, cardiac stimulants are used in 20%-40% of patients with TCM[2,57]. Levosimendan may be beneficial because of its inotropic action and vasodilator effect[30,58]. Usage of anticoagulants may be considered at least until systolic function is recovered.
For patients with severe LV outflow tract obstruction with hemodynamic compromise, treatment with a β-blocker or α-adrenoceptor agonist such as phenylephrine and volume expansion should be considered. Calcium channel blockers can be used to decrease LV outflow tract pressure gradient. It is of utmost importance to avoid treatment with nitrites or inotropic drugs in these cases[59-63]. For patients with suspected vasospasm, the use of calcium channel blockers such as verapamil or diltiazem is suggested[64].
Hemodynamically stable patients are often treated with diuretics, angiotensin-converting enzyme (ACE) inhibitors and β-blockers. To reduce the risk of thromboembolism, patients with loss of motion of the LV apex should be treated with anticoagulant therapy until the contractility of the apex is improved unless there is a definite contraindication.
There is no consensus regarding long-term management of TCM, although it is reasonable to treat patients with β-blockers and ACE inhibitors during the ventricular recovery period. However, no data support the continuous use of these drugs for the prevention of TCM recurrence or improvement of survival rate. After LV function normalizes, physicians may consider discontinuation of these drugs.
PROGNOSIS AND RECURRENCE
Patients with TCM usually have a good prognosis, and almost perfect recovery is observed in 96% of the cases[65]. Mortality rate in hospital vary at one to two percent[18,66]. TCM was formerly thought to follow a relatively benign course. However, Sharkey et al[18] described that approximately 5% of TCM patients experienced cardiac arrest. While their long-term survival rate is the same as that in healthy subjects, patients with TCM have a greater risk of death at the time of initial onset[65]. Elesber et al[65] reported that the most frequent chief complaint was chest pain (30%) and that recurrence of the symptom occurred in 11% of patients with TCM after a 4-year follow-up. Some studies have been conducted to assess prognostic indicators such as ECG findings, signs of thrombolysis in myocardial infarction, grade of myocardial perfusion, and N-terminal pro-brain natriuretic peptide level. However, a definite outcome marker has not been established[66-68].
CONCLUSION
A lot of attention has been focused on TCM recently and this entity has been characterized as a transient LV dysfunction with rapid recovery generally induced by a stressful emotional or physical event. The number of TCM cases continues to increase. Because of close resemblance of its presentation and clinical course to acute myocardial infarction, we believe that TCM should be included in one of the differential diagnosis for acute myocardial infarction. Although the cause of this disease has not been completely understood to date, some promising hypotheses have been suggested. The occurrence of this disease is attributed to the large-scale production of catecholamines that causes myocardial hypokinesia via directcardiomyocyte toxicity and induction of coronary microvascular dysfunction. Further, the high prevalence of TCM in postmenopausal women suggests an important role of estrogen for myocardial protection. Another hypothesis includes oxidative/inflammatory stress-induced myocardial dysfunction. Although the treatment of TCM remains controversial, adrenergic blockade is suggested as a reasonable therapy based on the presumptive pathophysiology of TCM.
P- Reviewer: Al-Biltagi M, Celikyurt YU S- Editor: Ji FF L- Editor: A E- Editor: Wu HL