Copyright
©The Author(s) 2016.
Published by Baishideng Publishing Group Inc. All rights reserved.
Dynamic interplay between adhesion surfaces in carcinomas: Cell-cell and cell-matrix crosstalk
Yvonne E Smith, Sri HariKrishna Vellanki, Ann M Hopkins, Department of Surgery, Royal College of Surgeons in Ireland, RCSI Education and Research Centre, Smurfit Building, Beaumont Hospital, Dublin 9, Ireland
Author contributions: Smith YE contributed to designing the aims of the review, contributed to writing the manuscript and generated the figure; Vellanki SH contributed to writing the manuscript; Hopkins AM designed the aims of the review, contributed to writing the manuscript and reviewed the manuscript.
Supported by Past and present funding in the senior author's laboratory as follows - Health Research Board of Ireland (HRA-POR-2014-545; HRA/2009/49; RP/2006/95, to Hopkins AM); Science Foundation Ireland (13/IA/1994; 2008/RFP/NSC1427; 2008/RFP/NSC1427 TIDA Feasibility 10, to Hopkins AM); Cancer Research Ireland, Breast Cancer Ireland; Brazil Science Without Borders (CAPES-13306-13-8) and the Beaumont Hospital Cancer Research and Development Trust.
Conflict-of-interest statement: The authors declare no conflict of interest.
Open-Access: This article is an open-access article which was selected by an in-house editor and fully peer-reviewed by external reviewers. It is distributed in accordance with the Creative Commons Attribution Non Commercial (CC BY-NC 4.0) license, which permits others to distribute, remix, adapt, build upon this work non-commercially, and license their derivative works on different terms, provided the original work is properly cited and the use is non-commercial. See: http://creativecommons.org/licenses/by-nc/4.0/
Correspondence to: Ann M Hopkins, PhD, Department of Surgery, Royal College of Surgeons in Ireland, RCSI Education and Research Centre, Smurfit Building, Beaumont Hospital, Dublin 9, Ireland. annhopkins@rcsi.ie
Telephone: +353-1-8093858 Fax: +353-1-6335082
Received: June 9, 2015
Peer-review started: June 11, 2015
First decision: August 25, 2015
Revised: September 22, 2015
Accepted: November 3, 2015
Article in press: November 4, 2015
Published online: February 26, 2016

Cell-cell and cell-matrix signaling and communication between adhesion sites involve mechanisms which are required for cellular functions during normal development and homeostasis; however these cellular functions and mechanisms are often deregulated in cancer. Aberrant signaling at cell-cell and cell-matrix adhesion sites often involves downstream mediators including Rho GTPases and tyrosine kinases. This review discusses these molecules as putative mediators of cellular crosstalk between cell-cell and cell-matrix adhesion sites, in addition to their attractiveness as therapeutic targets in cancer. Interestingly, inter-junctional crosstalk mechanisms are frequently typified by the way in which bacterial and viral pathogens opportunistically infect or intoxicate mammalian cells. This review therefore also discusses the concept of learning from pathogen-host interaction studies to better understand coordinated communication between cell-cell and cell-matrix adhesion sites, in addition to highlighting the potential therapeutic usefulness of exploiting pathogens or their products to tap into inter-junctional crosstalk. Taken together, we feel that increased knowledge around mechanisms of cell-cell and cell-matrix adhesion site crosstalk and consequently a greater understanding of their therapeutic targeting offers a unique opportunity to contribute to the emerging molecular revolution in cancer biology.
Key Words:
Cell-cell, Cell-matrix, Adhesion, Cancer, Crosstalk, Pathogens, Epithelial, Barrier function, Tight junction, Cell migration, Apical junctional complex, Adherens junction, Adhesion molecules, Extracellular matrix, Tyrosine kinases, GTPases, Rho
Core tip: Deregulation of cell-cell and cell-matrix signaling makes well-established contributions to key elements of cancer initiation and progression. In this review we discuss mechanisms of crosstalk between these spatially-distinct adhesion sites in epithelial cells, with a view to understanding their therapeutic targeting in epithelial tumors (carcinomas). A particular focus is placed upon Rho GTPases and tyrosine kinases as mediators of inter-junctional crosstalk, in addition to the concept of opportunistic pathogenic infection as a paradigm for inter-junctional crosstalk. Overall, this review posits that a greater understanding of cell-cell and cell-matrix adhesion crosstalk will drive novel aspects of cancer drug discovery.
---
Citation: Smith YE, Vellanki SH, Hopkins AM. Dynamic interplay between adhesion surfaces in carcinomas: Cell-cell and cell-matrix crosstalk. World J Biol Chem 2016; 7(1): 64-77
---
INTRODUCTION
The semi-permeable plasma membrane acts as a barrier between interior and external environments of the cell. The plasma membrane forms specialised domains with distinct protein and lipid compositions crucial for many biological processes like cell adhesion, signaling, directed migration, cell division, cell fate determination and barrier function. These specialised domains contain concentration gradients of proteins differentiating the cell surface into basal, lateral and apical domains; facing respectively the extracellular matrix (ECM), adjoining cells and the outside environment (schematically represented in Figure 1).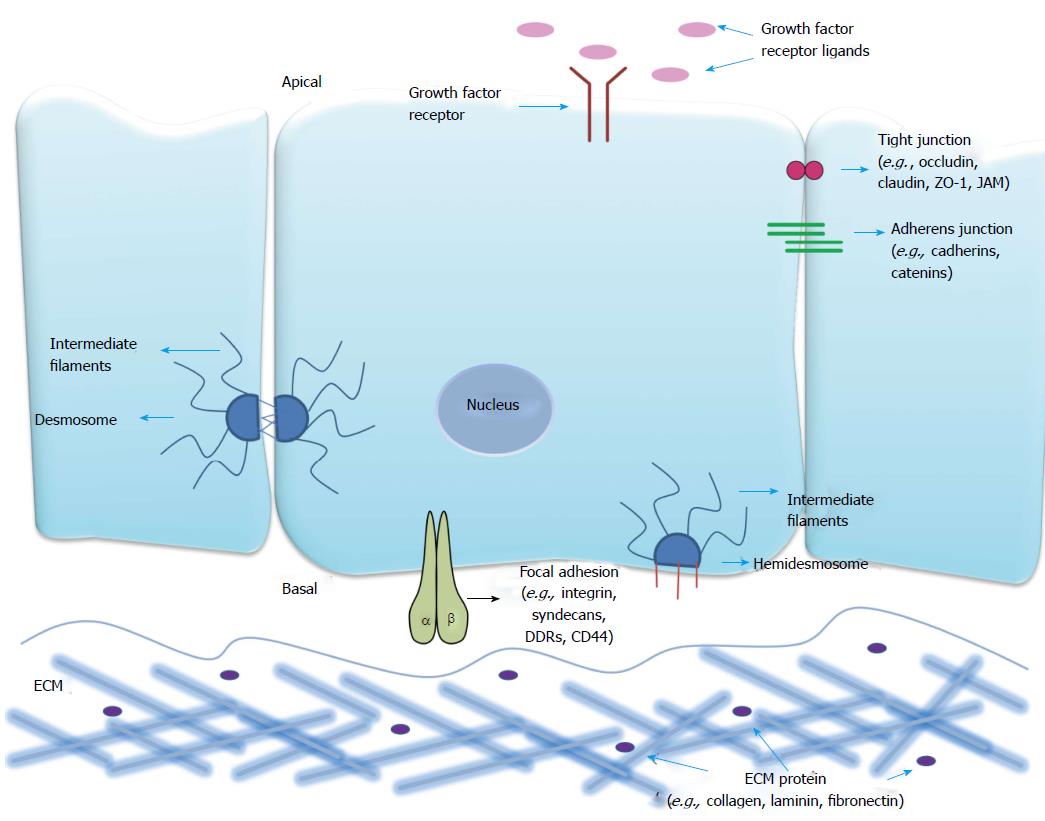 Figure 1 Epithelial cell-cell and cell-matrix junctions.
Schematic drawing of key epithelial cell-cell and cell-matrix junctions, with representative constituent proteins listed as discussed in the manuscript text. ECM: Extracellular matrix; DDRs: Discoidin domain receptors; JAM: Junctional adhesion molecule.
Cell-cell interactions, functions and signaling
Cell-cell junctions form part of the lateral surface domain which segregates apical and basal plasma membrane constituents[1], and act as a physical barrier in regulating substance flow across the tissues. Throughout the developmental process of higher organisms, formation and remodeling of cell-cell junctions occurs repeatedly[2]. The main cell-cell anchorage systems are tight junctions (TJs), adherens junctions (AJs) and desmosomes, which are distinguished from one another structurally and based on molecular composition.
TJs
TJs are seen in various cell types like epithelial, vascular endothelial, mesothelial, schwann, oligodendrocytes and sertoli[3]. In mammalian cells TJs appear at the apical end of the lateral intercellular membrane, whereas in invertebrate-like insect epithelial cells their counterpart septate junctions are located in the basal domains. TJs also demarcate the boundary between the apical and basolateral membrane domains of a cell and serve as a semipermeable barrier to the transport of ions, solutes and water[3]. TJs are multi-protein complexes that can be subdivided into integral membrane and cytoplasmic plaque proteins. Junctional adhesion molecules (JAMs), occludin, claudins, tricellulin and marvelD3 are integral proteins that mediate cell-cell adhesion[4], while ZO-1, -2, -3 and cingulin are cytoplasmic proteins that connect membrane proteins to the cytoskeleton[5]. Occludin, tricellulin and marvelD3 contain a Marvel (MAL-related proteins for vesicle trafficking and membrane link) domain. Claudin, occludin, tricellulin and marvelD3 are tetra-spanning proteins with both N and C termini in the cytosol, and which possess two extracellular loops. JAMs belong to the immunoglobulin (Ig) superfamily and consist of two extracellular Ig domains, a single transmembrane domain and a C-terminal cytoplasmic domain containing a PDZ-interacting domain. Alterations in epithelial TJs have been reported to contribute to a variety of pathologies including inflammation and cancer, yet a complete mechanistic understanding of these phenomena remains elusive. For a more comprehensive review of this topic, the reader is directed to the following reviews[6,7].
AJs
AJs are complexes that form the initial link between neighbouring cells in a developing tissue barrier, and thereby make important contributions to embryogenesis and tissue homeostasis[8]. The core structural components of AJs are Nectin and Cadherin family cell adhesion molecules, which are linked to the actin cytoskeleton through their binding proteins afadin and catenins[9,10]. Cadherin extracellular domains form calcium-dependent homophilic interactions between neighboring cells[11], while their cytoplasmic domains interact with three distinct known catenins (α, β, γ)[10]. Nectins (1-4) are calcium-independent adhesion proteins with three IgG like loops in their extracellular domains and a cytoplasmic domain containing a C-terminal PDZ binding motif[10,12].
Desmosomes
Desmosomes are intercellular junctions that link intermediate filaments (IFs) to sites of intercellular adhesion, facilitating the formation of supracellular scaffolding that distributes mechanical forces throughout a tissue[13]. They are observed particularly in tissue types that experience mechanical stress, such as the intestinal mucosa, gallbladder, uterus and oviduct, liver, pancreas, stomach, salivary and thyroid glands and the epithelial cells of the nephron, but are most abundant in the skin and myocardium[14,15]. The components of desmosomes come from three gene families: Desmosomal cadherins (desmogleins and desmocollins), the armadillo family of nuclear and junctional proteins (plakoglobin and plakophilin 1-3) and finally the plakins (desmoplakin, plectin, envoplakin, periplakin)[16]. The cytoplasmic tails of desmosomal cadherins provide binding platforms for the armadillo family members. The plakin family members in turn link the stress-bearing IF cytoskeleton to specialized regions of the plasma membrane[13]. This interaction of IFs with desmosomes propagates the tensile strength imparted by the IF cytoskeleton across entire tissues, and is essential for tissue integrity[17].
Cell-matrix interactions, functions and signaling
Interactions between cells and the ECM are important in the overall architecture and maintenance of tissue integrity[18]. During development, these interactions play key roles in tissue morphogenesis, cellular polarisation and epithelial cell attachment[19,20]. Cellular interactions with the ECM rely upon interactions between ECM proteins, focal adhesion receptors and signaling molecules, including those of the cytoskeleton, to form multifaceted adhesion complexes. We refer interested readers to a recent review which discusses these complexes in further detail[21].
A plethora of cell-matrix proteins exist and are dynamically regulated depending on the tissue location, organisation, structure and components of the tissue microenvironment. This in turn dynamically regulates cellular responses[18]. Communication between cells and the ECM is mediated by transmembrane focal adhesion receptors including syndecans, discoidin domain receptors (DDRs), CD44 and integrins.
Syndecans are heparin sulfate proteoglycans that span the plasma membrane. Syndecans have been shown to play a role in multiple cellular processes including migration, differentiation and organisation of the ECM and cytoskeleton, features which are attributed to the presence of glycosaminoglycan chains in the extracellular domain[22].
DDRs are members of the receptor tyrosine kinase (RTK) family with collagen-specific ligands[23]. Collagen binds to DDR causing tyrosine phosphorylation and consequent activation of downstream signaling pathways. While the specific mechanisms of action of DDRs are still being elucidated, DDRs have been identified as important receptors in regulating cell polarity, adhesion, migration and invasion[24]. In addition, DDRs have been suggested as negative regulators of integrin signaling[25].
CD44 is a glycoprotein and member of the hyaluronate family of receptors. It mainly binds the ECM protein hyaluronan but can also bind other ECM proteins including laminin, collagen and fibronectin[26]. CD44 is known to regulate cellular growth, differentiation, survival, migration and adhesion through different mechanisms including direct ligand binding, formation of co-receptors with RTKs and binding to ERM (ezrin, radixin and moesin) proteins thereby forming a link between the membrane and actin cytoskeleton[27].
Integrins are heterodimeric transmembrane receptors composed of α and β subunits that are considered the main matrix adhesion receptors mediating intracellular, cytoskeletal and ECM interactions[28]. Integrins can signal bidirectionally across the membrane, whereby intracellular signals can cause extracellular changes ("inside-out" signaling) and extracellular signaling can cause intracellular changes ("outside-in" signaling)[29]. Intracellular signaling via integrins is mediated through different signaling mediators including focal adhesion kinase (FAK), mitogen-activated protein kinases (MAPK) and members of the Rho-GTPase family[30]. Extracellular ligands for integrins include collagens, laminins or RGD-containing proteins[31]. Integrins regulate numerous important cellular features including migration, proliferation, survival and differentiation[32].
ECM remodelling is an important feature influencing cell to cell communication, a process which is regulated by degradation and modification of components of the ECM. Matrix metalloproteinases, ADAMTS (a disintegrin and metalloproteinase with thrombospondin motifs) and serine proteinases play a major role in this process to maintain homeostasis within the ECM[33].
CELL-CELL AND CELL-MATRIX CROSSTALK
THERAPEUTIC TARGETING OF PUTATIVE CROSSTALK MEDIATORS
Kinases as drug targets in cancer
Tyrosine kinase signaling is frequently deregulated in both solid and haematological tumors, and has been solidly linked to tumor initiation and progression. Both receptor and non-RTKs could mediate crosstalk signals between cell-cell and cell-matrix adhesion sites. In cancer cells RTKs are often constitutively active, and drug-based targeting of RTKs will only be successful if the targeted RTK is a major regulator of cancer cell survival. The most commonly deregulated RTKs include EGFR, HER2, MET, VEGFR, PDGFR, FGFR and IGF-1R[116]. Accordingly several monoclonal antibodies and small-molecule inhibitors have been developed to target these receptors. Since EGF receptor family members are frequently overexpressed in breast cancer patients[117,118], monoclonal antibodies like Trastuzumab (Herceptin), pertuzumab (Omitrag) and small-molecule inhibitors like lapatinib, gefitinib, erlotinib, AEE788 and CI-1033 have formed prototype targeted therapies[119]. For more detailed information on EGF receptor family members and their inhibitors, interested readers are directed to the following review article[120]. Further monoclonal antibody (pertuzumab) and small-molecule inhibitors (AEE788 and CI-1033) have been approved for clinical testing in various cancers like ovarian, prostate, and non-small cell lung cancer (NSCLC) whereas small molecule inhibitors (gefitinib and erlotinib) have been approved for treating NSCLC.
Another attractive option for targeted therapy in cancer has been the non-RTK Src, whose expression is known to be elevated in several tumors and has been implicated in disease progression, invasion and metastasis. Among the non-RTKs Src has been one of the most widely studied, encompassing its family members Lyn, Fyn, Lck, Hck, Fgr, Blk, Yrk, and Yes. To date several Src inhibitors such as dasatinib, SKI-606 (Bosutinib), and AZD0530 have been developed and are undergoing clinical trials in breast cancer patients[121-126]. Dasatinib is an effective inhibitor of several kinases including Bcr-abl, Src family kinases, c-KIT and PDGFR-β5[127], with promising preclinical results indicating its ability to inhibit the growth of breast luminal and basal tumors independently of ER or HER2 status[128,129]. Analogously, SKI-606 inhibits several Src family kinases and Bcr-Abl and suppresses migration and invasion of breast cancer cells[130]. AZD0530 (Saracatinib) is a more selective inhibitor of Src and Bcr-Abl in gastric and prostate cancer[131,132], and in breast cancer (when combined with estrogen blockers) has been shown to inhibit proliferation of cancer cells in vitro and in vivo[133].
Since both receptor and non-RTKs are frequently overexpressed in tumors and play key roles in signaling crosstalk, this section has highlighted the logic of targeting their signaling for downregulation as a mechanism of stalling cancer progression. However it must always be remembered that cancer is a complex disease resulting from deregulation of several signaling pathways, whether concurrently or sequentially, therefore long-term therapeutic strategies must always consider targeting multiple signaling pathways for the most effective outcome.
Rho GTPases as drug targets in cancer
Activation of Rho GTPases and their interactions with multiple different molecules can initiate many signaling pathways and downstream effects, including cancer-related behaviours such as migration, proliferation, cytoskeletal changes and apoptosis[134]. As such, Rho GTPases present themselves as attractive therapeutic targets, and many endeavors have been made to target these molecules in cancer, with promising preclinical results so far[134]. A Rac-specific small molecule inhibitor, NSC23766, has been found to inhibit features of invasion and anchorage-independent growth in human prostate cancer PC-3 cells[135]. Additionally, this compound was also found to inhibit breast cancer cell growth via cell-dependent mechanisms, either through cell cycle arrest or apoptosis[136]. Since then, several derivatives of this Rho GTPase inhibitor have been developed including AZA1 and AZA197.
A Cdc42 and Rac1 GTPase inhibitor, AZA1, a modified derivative of NSC23766, has been shown to inhibit migration and proliferation in addition to promoting apoptosis in prostate cancer cell lines in vitro[137]. This study also demonstrated increased survival and a reduction in tumor growth in a 22Rv1 androgen-independent xenograft model of prostate cancer[137]. In addition, another modified derivative of NSC23766 and a Cdc42 inhibitor, AZA197, has been shown to inhibit proliferation, migration and invasion in addition to exhibiting pro-apoptotic functionality in human colon cancer cell lines in vitro[138]. In this study, AZA197 also inhibited proliferation and promoted apoptosis while decreasing tumor growth and increasing survival in a human colon cancer xenograft mouse model[138].
Additionally, two Rac specific inhibitors, EHT 1864 and EHop-016, have shown anti-tumorigenic properties in breast cancer. EHT 1864, a Rac-specific inhibitor, was shown to inhibit estrogen-mediated breast cancer cell proliferation and to decrease growth of tamoxifen-resistant breast cancer cells[139] thereby identifying potential subtypes of breast cancer which this Rho GTPase inhibitor may preferentially target. In another study, EHT 1864 was also shown to have anti-proliferative, anti-invasive and pro-apoptotic effects in breast cancer cells[140]. The small molecule Rac inhibitor, EHop-016, has also shown promising preclinical results in targeting Rac activity in breast cancer. In one study, treatment with EHop-016 resulted in reduced tumor growth, inhibition of metastasis and angiogenesis in addition to inhibiting proliferation and increasing apoptosis in MDA-MB-435 breast cancer cells[141].
Rho GTPases have been shown to play a role in cell signaling and functions critical to tumor formation and metastasis. Interestingly, Rho GTPases, as discussed in this review, have been shown to interact with and activate molecules present at both the cell-cell and/or cell-matrix locations and may provide mediators of crosstalk between these cellular locations. As demonstrated in different cancer models, inhibition of Rho GTPases suggests a novel and potentially beneficial approach in cancer treatment and in the prevention of metastasis. It is interesting to speculate that targeting specific Rho GTPases which function at both the cell-cell and cell-matrix junctions may indeed offer enhanced inhibitory effects and present potential advantages over single site-directed inhibitors.
Pathogenic mechanisms as drug targets in cancer
We have already illustrated that enzymes (such as kinases and GTPases) offer huge potential as cancer drug targets by virtue of their capacity to modify cell signaling, including that between cell-cell and cell-matrix junctions. However there is also an emerging literature on the concept that pathogens which bind to (or interfere with) cell-surface adhesion receptors could be used as tumor cytolytic agents, drug delivery systems or even as immunomodulators in various cancers. The simplest argument is in the use of pathogens or their derivatives as cytolytic agents. This has been well-evidenced by the interaction of Clostridium perfringens enterotoxin (CPE) with its cellular receptors, the tight junction proteins claudin-3 or -4, having a cytolytic effect on claudin-overexpressing breast cancer cells[142] and also brain metastases of breast primary tumors[143]. Therapeutic potential of using CPE has also been suggested for ovarian[144,145], endometrial[146] and pancreatic[147] tumors. Similarly, the JAM-A-binding pathogen reovirus has been mooted as a potential therapy for certain brain cancers, although the mechanisms of cytolysis may yet be JAM-independent[148]. Furthermore targeting the CAR (CAR; a TJ-enriched Ig superfamily member related to JAM-A) with conditionally-replicating adenoviruses has been discussed in melanoma treatment[149]. Cytolysis aside, using pathogens or modified derivatives to deliver transgenes[150] or cytotoxic molecules (akin to the "magic bullet" concept with monoclonal antibodies) is also an interesting concept. Although not without conceptual problems, some selectivity might be conferred by the careful selection of cancers in which the aforementioned pathogen receptors are known to be overexpressed. Finally the concept of immunomodulation via controlled pathogen attack of human cells also offers promise - from the very early observations of tumor regression in patients with certain Streptococcal infections (essentially a vaccination strategy involving the so-called Coley's toxin)[151] to the more recent report of differential sensitivity to infection of reoviruses expressing the co-stimulatory molecule B7-1[150]).
While a complete description of such phenomena is beyond the scope of this review, it is nonetheless intriguing to speculate that future developments in the arena of using pathogens or pathogenic derivatives to modulate cell-cell to cell-matrix adhesion site crosstalk (amongst other signaling mechanisms) may prove valuable in cancer therapeutics.
CONCLUSION
This review has endeavored to highlight pathways and signaling mechanisms of crosstalk between cell-cell and cell-matrix adhesion sites, with particular reference to the relevance of these concepts in cancer biology. Interestingly, successful crosstalk between spatially-distinct adhesion sites has been exemplified by the mechanisms which several pathogens use to invade or intoxicate epithelial barriers; and it is likely that much could be learned from such models in designing drugs to combat dysfunctional signaling crosstalk events associated with cancer progression. Some of the key putative mediators driving crosstalk between cell-cell and cell-matrix adhesion sites include Rho GTPases and kinases, hence these were concentrated upon in this review. Since Rho GTPases and kinases concurrently play a central role in tumorigenesis, we highlighted some current pharmacological strategies to target these molecules. We also alluded to the intriguing possibility of using modified bacterial or viral components as therapeutic tools to tap into crosstalk mechanisms which they have evolved mastery of. Taken together, we propose that rational strategies targeting specific regulators of cell-cell and cell-matrix adhesion may have far-reaching therapeutic potential in attenuating the signaling events associated with cancer initiation or progression.
P- Reviewer: Bonanno L, Wang JY S- Editor: Ji FF L- Editor: A E- Editor: Jiao XK