Copyright
©The Author(s) 2016.
Published by Baishideng Publishing Group Inc. All rights reserved.
World J Gastrointest Surg.
Jan 27, 2016;
8(1): 41-51
Published online Jan 27, 2016. doi: 10.4240/wjgs.v8.i1.41
Anal cancer and intraepithelial neoplasia screening: A review
Ira L Leeds, Sandy H Fang, Ravitch Division, Colon and Rectal Surgery, Department of Surgery, Johns Hopkins Hospital, Baltimore, MD 21287, United States
Author contributions: Leeds IL and Fang SH contributed to conception and design; Leeds IL contributed to data collection and analysis, and drafting manuscript; Fang SH contributed to critical revision.
Conflict-of-interest statement: Dr. Leeds reports no financial disclosures or funding sources; Dr. Fang reports receiving anal cancer research funding from the Maryland Department of Health and Hygiene Cigarette Restitution Fund; however this grant does not monetarily support this paper.
Open-Access: This article is an open-access article which was selected by an in-house editor and fully peer-reviewed by external reviewers. It is distributed in accordance with the Creative Commons Attribution Non Commercial (CC BY-NC 4.0) license, which permits others to distribute, remix, adapt, build upon this work non-commercially, and license their derivative works on different terms, provided the original work is properly cited and the use is non-commercial. See: http://creativecommons.org/licenses/by-nc/4.0/
Correspondence to: Ira L Leeds, MD, MBA, Ravitch Division, Colon and Rectal Surgery, Department of Surgery, Johns Hopkins Hospital, 600 N Wolfe Street, Tower 110, Baltimore, MD 21287, United States. ileeds@jhmi.edu
Telephone: +1-410-9557323 Fax: +1-410-6149866
Received: June 25, 2015
Peer-review started: June 27, 2015
First decision: September 17, 2015
Revised: October 2, 2015
Accepted: November 10, 2015
Article in press: November 11, 2015
Published online: January 27, 2016

This review focuses on the early diagnosis of anal cancer and its precursor lesions through routine screening. A number of risk-stratification strategies as well as screening techniques have been suggested, and currently little consensus exists among national societies. Much of the current clinical rationale for the prevention of anal cancer derives from the similar tumor biology of cervical cancer and the successful use of routine screening to identify cervical cancer and its precursors early in the disease process. It is thought that such a strategy of identifying early anal intraepithelial neoplasia will reduce the incidence of invasive anal cancer. The low prevalence of anal cancer in the general population prevents the use of routine screening. However, routine screening of selected populations has been shown to be a more promising strategy. Potential screening modalities include digital anorectal exam, anal Papanicolaou testing, human papilloma virus co-testing, and high-resolution anoscopy. Additional research associating high-grade dysplasia treatment with anal cancer prevention as well as direct comparisons of screening regimens is necessary to develop further anal cancer screening recommendations.
Core tip: Anal cancer is a low prevalence, highly morbid disease. With the success of secondary prevention practices for other human papilloma virus-associated malignancies, screening strategies may similarly decrease rates of anal cancer. No national guidelines formally support screening. This review summarizes possible screening modalities and what further evidence is needed to support routine screening for anal cancer.
---
Citation: Leeds IL, Fang SH. Anal cancer and intraepithelial neoplasia screening: A review. World J Gastrointest Surg 2016; 8(1): 41-51
---
INTRODUCTION
Anal cancer is a rare disease whose outcomes continue to underperform those of other malignancies. There are approximately 7000 cases of anal cancer in the United States annually[1], and the 5-year survival rate is 65.7%[2]. Unlike other common gastrointestinal malignancies, the incidence of anal cancer is increasing at an average rate of 2.2% per year for the last decade. This increasing rate is above a historical baseline in the 1970s and 1980s where anal cancer incidence remained unchanged[2,3]. Much of this increase is due to the rise of new high-risk immunocompromised populations in the last three decades, including chronic human immunodeficiency virus (HIV) infected patients and organ transplant recipients. This review will focus on squamous cell carcinoma of the anus, which is responsible for 80% of all anal cancers[4].
Anal cancer has long been a delayed diagnosis. Historical studies reported a delay of more than two years in diagnosis in more than half of patients[5], and 44% of patients present with disseminated disease at diagnosis[2]. This epidemiologic trend is even more troubling when one considers that early stage anal cancer has been shown to respond exceptionally well to low-morbidity chemoradiation therapy while later stage disease often requires highly morbid and quality of life-changing surgical interventions such as abdominoperineal resection with a permanent colostomy for residual primary tumor and groin dissection for inguinal nodal metastases.
Historically, anal cancer was sufficiently rare that population screenings for the disease were not warranted. After 1997, the American Cancer Society dropped its recommendation for annual digital rectal examinations in favor of colonoscopies and sigmoidoscopies for colorectal cancer screening. This further contributed to a lack of screening for anal cancer, in an era where high-risk anal cancer populations were coming into existence.
It has been recognized that certain groups are at substantially higher risks of anal cancer than the general population. The association of sexually transmitted infections and sexual practices with anal cancer has been recognized since the 1980s[6]. One of the most closely associated sexually transmitted infections has been human papilloma virus (HPV), which was found in 88% of anal cancer patients in a case-controlled cohort[7] as well as in tissue samples containing anal intraepithelial neoplasia, an anal cancer precursor[8]. Other risk factors of anal cancer identified include smoking[9] and organ transplantation[10].
A number of similarities exist between squamous cell anal cancer and cervical cancer. Both occur at squamocolumnar junction epithelium. The transformation zones of the anal canal and the cervix are both characterized by high turnover epithelium that is thought to be particularly vulnerable to malignancy-inducing genetic alterations[11]. Both are HPV-associated which is thought to promulgate changes to cells' DNA[12]. Immunosuppression is also an increasingly important risk factor for both cancers likely due to the increased activity of HPV seen in immunocompromised tissue substrates[13-15]. Finally, both types of cancer also have widely divergent outcomes for early vs late presenting disease[16].
Unlike anal cancer, diagnoses of cervical cancer have been markedly reduced in the last 40 years. Between 1975 and 2010, the incidence of cervical cancer has decreased by more than 50%[16]. This public health success story is largely attributed to the widespread and routine use of cervical cancer screening, primarily employing the cytology-based cervical Papanicolaou (Pap) test[17]. It is thought that a similar screening effort applied to anal cancer could potentially reverse the disturbing recent trends in disease incidence.
This review focuses on the early diagnosis of anal cancer and its precursor lesions through routine screening. A number of risk-stratification strategies as well as screening techniques have been suggested (Table 1), and currently little consensus exists among national societies (Table 2). No national screening guidelines for anal cancer exist, and the AIDS advocacy groups that note the increased risk of anal cancer in the HIV-positive population differ in their recommended approaches[18-21]. We provide here a balanced examination of the current clinical science to guide both practitioners and policymakers in this rapidly developing field.
DARE
Anal Pap test
HPV testing
High resolution anoscopy
Sensitivity[56,57,61,62,101]
Not studied
69%-93%
Alone: 100%
Current diagnostic standard
Co-testing with Pap[49]: 72%-96%
Specificity[56,57,61,62,101]
Not studied
32%-59%
Alone: 16%
Current diagnostic standard
Resource availability
N/A
Ubiquitous
Ubiquitous
Highly selective centers
Provider availability
Universal
Specialty clinics
Specialty clinics
Highly selective centers
Learning curve
Part of usual clinical training
Part of usual clinical training
Part of usual clinical training
> 200 cases
Current consensus[52]
Annually, all HIV-positive patients
Annually in highest-risk groups
Alone: No recommendation
Second-line screen following positive Pap test
Co-testing: No recommendation
Routine screening of general population
Routine screening of high-risk individuals
Assesses modalities for diagnosis
Specific modalities assessed
American Society of Colon and Rectal Surgeons[54]
No recommendation
No recommendation
Screening and surveillance
Anal Pap test, high-resolution anoscopy
European Society of Medical Oncology
No recommendation
No recommendation
Surveillance only
Digital anorectal exam, standard anoscopy, computed tomography, magnetic resonance imaging
European Society of Surgical Oncology
European Society for Therapeutic Radiation and Oncology[102]
National Comprehensive Cancer Network[103]
No recommendation
No recommendation
Surveillance only
Digital anorectal exam, standard anoscopy
Centers for Disease Control and Prevention[104]
No recommendation
No recommendation
Screening and surveillance
Digital anorectal exam, HPV testing
New York State Department of Health[52]
No recommendation
All HIV infected adults
Screening only
Digital anorectal exam, anal Pap test, high resolution anoscopy
HIV Medicine Association of the Infectious Diseases Society of America[20]
No recommendation
Men who have sex with men, women with a history of abnormal cervical Pap tests, and all HIV-positive persons with genital warts
Screening only
Digital anorectal exam, HPV co-testing, anal Pap test, high resolution anoscopy
British HIV Association[21]
No recommendation
No recommendation
Screening and surveillance
Digital anorectal exam, anal Pap test, high resolution anoscopy
ANAL CANCER AND AIN PATHOPHYSIOLOGY
Although this review will not cover the cancer cell biology of anal cancer in detail, a general understanding is helpful because it influences the rationale for routine screening. Much of the current consensus on how anal dysplasia evolves is derived directly from cervical cancer literature. In cervical cancer, it is well recognized that the human papilloma virus infection is a necessary step in the development of cervical dysplasia and ultimately invasive neoplasia[22]. Anal cancer is a more heterogeneous set of malignancies with anal canal tumors that have pathology more similar to squamous cell cervical cancer in addition to perianal squamous cell carcinoma that behaves more like penile or vulvar cancer. Anal canal tumors' similarity to cervical cancer is also shared by the high rate of HPV co-infection - particularly HPV 16 subtypes - in the latter with studies reporting rates over 90% while perianal tumors' HPV co-infection rate vary from 30%-80%[23-25]. This ongoing close association between HPV and anal cancer has led to parallel frameworks of oncogenesis for both anal and cervical cancer.
Like cervical cancer, anal cancer is thought to most frequently develop at the transformation zone between squamous and columnar epithelium of the anal canal. HPV infects squamous epithelial cells, and the interaction between virion gene expression and cellular growth regulators leads to loss of differentiation and clonal proliferation[12]. These cells have a predictable pattern of stepwise cellular transformation that leads from normal squamous epithelium to low-grade dysplasia to high-grade dysplasia to invasive cancer[12,26-28].
HPV-associated cellular transformation is characterized by cyclical cellular proliferation and regression. An area of cellular atypia may progress to low-grade dysplasia before then regressing to normal tissue. The occurrence of cancer is when a particular transformed cell line breaks out of this characteristic cycling and linearly progresses to invasive disease[11].
The natural history of disease progression is largely unknown. Historical reports of the incidence of the progression from premalignant to invasive disease range from 2%-9%[29-32]. However, more recent series have reported rates as high as 13%-50% in immunocompromised patients managed expectantly[27,33].
Several case reports point toward anal squamous cell cancer arising in a background of high-grade dysplasia, supporting the dysplasia-to-cancer sequence. Per Scholefield et al[34] the estimated risk of progression from anal intraepithelial neoplasia (AIN) to invasive anal cancer is 10% in 5 years. However, this rate needs to be interpreted with caution as progression rates may vary according to such factors as eradication of disease by surgical therapy and the aforementioned risk factors that increase the risk of progression to invasive disease. Furthermore, Simard et al[35] showed that the incidence of high-grade dysplasia in men in San Francisco has been on the rise - increasing by 11.48% per year between 2000 and 2009.
The basic principle behind screening for anal dysplasia is the early identification of these proliferating cell lines that have established irreversible high-grade dysplasia or local invasive disease. Early stage anal cancer 5-year survival rates exceed 80% while disseminated disease 5-year survival rates are 30%[2]. Clinical studies demonstrating a morbidity or mortality benefit from routine screening for anal dysplasia are currently ongoing (see "Future Directions"), and the success of such efforts for cervical cancer suggests that further consideration is warranted.
AT-RISK POPULATIONS
Compared to other cancers, anal cancer is rare and no support for general population screening exists. Anal cancer is the 26th most common cancer type in the United States with approximately 7000 cases a year[1]. Although evidence suggests that the majority of anal cancers are initially asymptomatic[36], such a low pre-test probability does not make screening tests feasible for the general population.
However, there are populations with disproportionate prevalence of anal cancer that are more conducive to group-wide screening. Immunosuppressed patients are increasingly recognized as one of the groups at highest risk for anal cancer[13,37]. Much of this recognition has developed over the rise of the HIV/AIDS epidemic in the last three decades. Infection with HIV is associated with a 30-fold increased lifetime risk in anal cancer and a 4-fold increase in 5-year mortality[37,38]. Although sexual practices - particularly anoreceptive intercourse - have been previously associated with anal cancer, recent studies have shown that the risk of anal cancer in HIV-positive individuals exists independently of sexual practices[39,40]. The risk of anal dysplasia progression appears to correlate directly with degree of immunosuppression as measured by T cell CD4+ count with a cell count less than 200 cells/mm3 most closely associated with increased prevalence[41-43]. Surprisingly though increased access to highly active antiretroviral therapies has not eliminated the increased risk of anal cancer in the HIV-infected population. It is thought that immune system restoration does not entirely eliminate the increased risk of dysplastic changes and then antiretroviral treated patients are living longer thereby increasing the lifetime interval risk of disease incidence[44].
Similarly, other immunosuppressed populations share an increased incidence of anal cancer. Increased rates of anal cancer have been identified through controlled studies in kidney[45,46] and liver transplant recipients[47]; anogenital malignancy rates after renal transplant are estimated to be 30- to 100-fold higher than the general population[48].
Currently, no national or international society formally supports routine screening of at-risk populations for anal dysplasia. This lack of recommendation stems from the absence of high-quality studies that demonstrate improved morbidity and mortality for those participating in routine screening. Nevertheless, practice patterns by infectious disease specialists suggest that anal dysplasia screening of high risk individuals is becoming common[49-51], and influential regional societies like the New York State Department of Health AIDS Institute have begun recommending routine annual examination of the anus in all HIV-infected adults and cytologic testing in ultra high-risk HIV-positive patients such as men who have sex with men (MSM), those with a history of condylomata, and women with cervical or vulvar dysplasia[52]. Recent population health studies have even suggested that such selective screening remains inadequate and that anal dysplasia occurs frequently enough in the general HIV-positive population that all should undergo some form of extended screening[53].
SCREENING MODALITIES FOR ANAL CANCER PREVENTION
AREAS OF UNCERTAINTY
As described above, the anal cancer prevention literature is rife with screening techniques resulting from rational considerations of cancer biology but with minimal clinical evidence demonstrating their efficacy. This situation is further worsened by the lack of clear-cut guidelines from any national or international society of how best to address this rare but devastatingly morbid malignancy. Some of the most important ongoing clinical questions to be answered are noted here.
First, one of the most critical areas of further research is optimizing both the screening process and post-screen recommendations for a positive result. Until the data provides further guidance on HPV testing or sufficient HRA-trained providers are available to staff screening clinics, the anal Pap smear will remain the standard of care for anal cancer prevention's primary screening modality. What to do with a positive screening test is a matter of ongoing debate. Without formal recommendations, individual expert opinion has driven institutions' screening processes. The most widely disseminated screening algorithm was popularized by researchers at the University of California San Francisco and is reproduced in Figure 1[29]. The authors' institution uses a modified algorithm that provides HRA screening for all referred patients (Figure 2). The basis of both of these algorithms is that all high-risk patients (e.g., HIV with high-risk sexual history or practices, MSM) get screened annually with an anal Pap test; all atypical cytology results are referred for HRA; and AIN I is followed yearly with HRA while AIN II or III is surgically removed. The diverse modalities for removal of high-grade dysplasia and carcinoma in situ are beyond the scope of this review but little guiding evidence exists and most practice is based off of cervical cancer excisional biopsy techniques.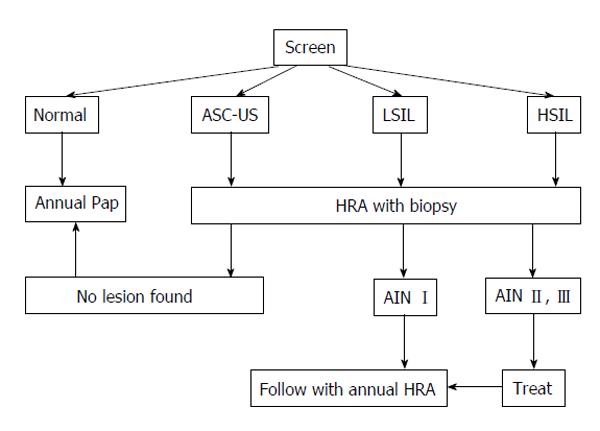 Figure 1 San Francisco algorithm for anal cancer screening of high-risk patients. ASC-US: Atypical squamous cells of undetermined significance; LSIL: Low-grade squamous intraepithelial lesions; HSIL: High-grade squamous intraepithelial lesions; Pap: Papanicolaou; HRA: High-resolution anoscopy; AIN: Anal intraepithelial neoplasia (adopted from Chin Hong, Palefsky. Clin Inf Dis 2002).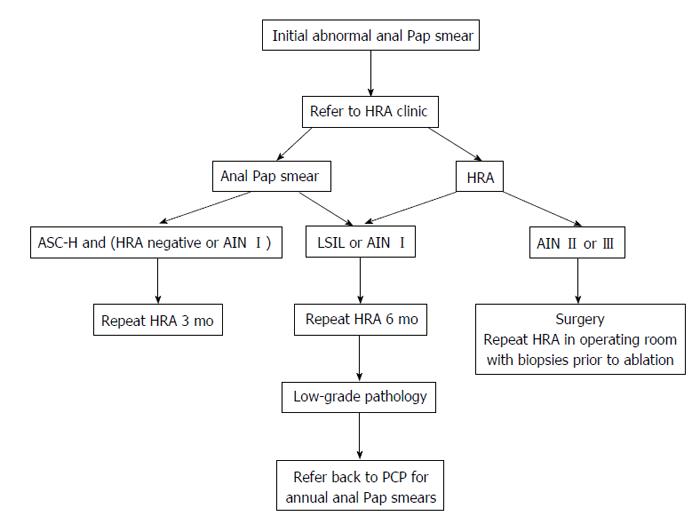 Figure 2 Johns Hopkins Hospital algorithm for anal cancer screening of high-risk patients.
Pap: Papanicolaou; HRA: High-resolution anoscopy; ASC-H: Atypical squamous cells of undetermined significance, cannot rule-out high-grade dysplasia; AIN I: Anal intraepithelial neoplasia I; PCP: Primary care physician; LSIL: Low-grade squamous intraepithelial lesion; AIN II: Anal intraepithelial neoplasia II; AIN III: Anal intraepithelial neoplasia III.
There is also increasing evidence that the stringent risk stratification currently being employed may be too restrictive. The commonly followed New York State Department of Health's AIDS Institute guidelines for anal cancer screening stratify HIV-positive patients into intermediate risk vs high risk groups. The latter risk stratified group recommends enhanced screening with annual anal Pap tests for any HIV-positive patient who also endorses MSM behaviors, history of anogenital condylomata, or women with history of abnormal cervical or vulvar pathology[52]. Increasing evidence suggests that HIV-positivity alone affords one a prevalence of approximately 20% for at least some form of anal intraepithelial neoplasia[39,40,64,86,87]. Such high rates of atypia may be unacceptably high for a population that under current recommendations would only receive a symptoms questionnaire, perianal visual inspection, and digital rectal examination. The previously mentioned high rate of cellular turnover and immunosuppression also suggests that less traditionally screened groups such as all anoreceptive sex practitioners and transplants would both warrant from annual screening as well.
Finally, one other line of inquiry that continues to be considered is the perception of patients who have to undergo these anorectal inspections annually awake and often with tissue samples taken. All of the evidence argues against this concern being a real obstacle to routine screening. Self-performed anal visual inspection[88], provider-performed digital rectal exam[89], and anal Pap testing[90,91] have all been explored with high-risk groups with favorable results. A Toronto study repeatedly screened patients for psychological distress at multiple points throughout the patient's screening algorithm and found less than one-third ever felt negatively distressed throughout the process[92]. Rather than emotional distress, the greatest patient-oriented obstacles to care appear to be lack of knowledge of increase anal cancer risk and economic barriers to screening[90,91,93].
FUTURE DIRECTIONS
While controversies remain that will continue to shape the management of anal cancer screening today, there are also a number of expected future developments that may drastically change how we approach anal cancer prevention.
An ongoing Australian study may help address the role of HPV testing in anal cancer screening as well as provide more light on an evidence-based screening plan that incorporates one or more of the modalities described in this review. The Study of the Prevention of Anal Cancer (SPANC) is a 3-year prospective cohort that began recruitment in 2010 with follow-up planned through 2018 that will examine the overlapping roles of digital anorectal exam, HPV testing, anal Pap tests, and HRA[94]. Each participant will undergo all of these potential screening studies over multiple time points throughout the study, and it is expected that comparisons of sensitivity and specificity as well as the practical matters of performing each screen will be better understood. The study selected HIV-positive men over 35 years old living in the Sydney area with a total recruitment of over 350 participants. It is likely that the results of this study will provide a major contribution to the ongoing debate surrounding how best to utilize to the various anal cancer screening modalities at clinicians' disposal.
The ANCHOR Study [anal cancer high-grade squamous intraepithelial neoplasia (HSIL) Outcomes Research] is an ongoing 5-year prospective randomized trial that has the goal of enrolling 5085 patients in the United States. This study aims to follow HIV-positive men over age 35 years with the diagnosis of HSIL over a 5-year period by anal Pap testing and HRA. The two arms of the study include a monitoring arm and a treatment arm for HSIL by ablation through infrared coagulation, with the ultimate goal of determining whether active surveillance with ablative treatment of HSIL will ultimately decrease the incidence of anal cancer[95].
There are also promising early signs to suggest that anal cancer may be an even more rare disease in the future. The HPV vaccine was developed out of the longstanding consensus that HPV infection is a necessary precursor to cervical cancer. Since its 2006 introduction the HPV vaccine has already been shown to reduce the prevalence of HPV infection among vaccinated populations. Estimating the reduction in cervical cancer cases from the already observed reduced in HPV infection suggests that disseminated vaccination will eliminate more than half of cervical cancers each year[96]. The similar tumor biology of cervical cancer and anal cancer suggests that HPV vaccination via herd immunity and more recent recommendations to vaccinate men as well will lead to a similar reduction in HPV-associated anal cancer[97]. There have also been clinical trials to demonstrate the efficacy of the HPV vaccine at reducing anal HPV infection[98,99]. This supportive evidence helped support a change in the Centers for Disease Control and Prevention's Advisory Committee on Immunization Practice's recommendation to begin routine HPV vaccination of all young males in addition to existing recommendations for female-only vaccination[100]. If general population uptake of these vaccine-based prevention practices is as successful as the early years suggest, it is likely that there will be dramatic reductions in HPV-associated cancer rates. Changes in prevalence will likely influence what kind of secondary prevention measures are appropriate for anal cancer screening later in life.
CONCLUSION
The low but rising incidence of anal cancer - particularly in vulnerable populations - makes it a concerning and difficult disease to manage with existing evidence-based care. Studies on its diagnosis and management are limited, and nearly all anal cancer guidelines avoid any direct recommendation regarding routine screening. The state of the literature suggests that further descriptive studies will be inadequate to advance consensus. Instead, large randomized clinical trials are necessary to demonstrate the increasing consensus among practitioners that anal cancer screening offers a cost-effective and prevalence lowering intervention in high-risk groups. The SPANC and ANCHOR studies will be helpful in determining whether routine screening through to a cancer diagnosis will ultimately be necessary to build the evidence for a population-wide recommendation.
P- Reviewer: Grundmann RT, Murata A S- Editor: Qi Y L- Editor: A E- Editor: Liu SQ