Copyright
©The Author(s) 2023.
Published by Baishideng Publishing Group Inc. All rights reserved.
World J Gastrointest Surg.
May 27, 2023;
15(5): 972-977
Published online May 27, 2023. doi: 10.4240/wjgs.v15.i5.972
Mallory-Weiss syndrome from giant gastric trichobezoar: A case report
Eva Lieto, Annamaria Auricchio, Giovanni Del Sorbo, Gabriele De Sena, Vincenzo Napolitano, Alessio Ruggiero, Gennaro Galizia, Francesca Cardella, Department of Translational Medical Sciences, University of Campania L. Vanvitelli, Napoli 80138, Campania, Italy
Maria Paola Belfiore, Department of Precision Medicine, University of Campania L. Vanvitelli, Napoli 80138, Campania, Italy
Author contributions: Lieto E and Auricchio A conceptualized and designed the study, and contributed equally; Cardella F drafted and reviewed the manuscript for important intellectual content; Del Sorbo G and Ruggiero A reviewed the literature and drafted the manuscript; Belfiore MP contributed radiologic findings; Napolitano V and De Sena G contributed endoscopic findings; Galizia G and Lieto E critically reviewed the final manuscript and provided final approval of its content; and all authors issued final approval for the version to be submitted.
Informed consent statement: Consent was obtained from the patient's guardians for anonymized publication of this case report and accompanying images.
Conflict-of-interest statement: All authors report no relevant conflicts of interest for this article.
CARE Checklist (2016) statement: The authors have read the CARE Checklist (2016), and the manuscript was prepared and revised according to the CARE Checklist (2016).
Open-Access
: This article is an open-access article that was selected by an in-house editor and fully peer-reviewed by external reviewers. It is distributed in accordance with the Creative Commons Attribution NonCommercial (CC BY-NC 4.0) license, which permits others to distribute, remix, adapt, build upon this work non-commercially, and license their derivative works on different terms, provided the original work is properly cited and the use is non-commercial. See:
https://creativecommons.org/Licenses/by-nc/4.0/
Corresponding author: Eva Lieto, MD, PhD, Associate Professor, Department of Translational Medical Sciences, University of Campania L. Vanvitelli, Piazza Miraglia, 2, Napoli 80138, Campania, Italy. eva.lieto@unicampania.it
Received: December 3, 2022
Peer-review started: December 3, 2022
First decision: December 26, 2022
Revised: January 2, 2023
Accepted: April 7, 2023
Article in press: April 7, 2023
Published online: May 27, 2023

BACKGROUND
Mallory-Weiss syndrome (MWS), representing a linear mucosal laceration at the gastroesophageal junction, is a quite frequent cause of upper gastrointestinal bleeding, usually induced by habitual vomiting. The subsequent cardiac ulceration in this condition is likely due to the concomitance of increased intragastric pressure and inappropriate closure of the gastroesophageal sphincter, collectively inducing ischemic mucosal damage. Usually, MWS is associated with all vomiting conditions, but it has also been described as a complication of prolonged endoscopic procedures or ingested foreign bodies.
CASE SUMMARY
We described herein a case of upper gastrointestinal bleeding in a 16-year-old girl with MWS and chronic psychiatric distress, the latter of which deteriorated following her parents' divorce. The patient, who was residing on a small island during the coronavirus disease 2019 pandemic lockdown period, presented with a 2-mo history of habitual vomiting, hematemesis, and a slight depressive mood. Ultimately, a huge intragastric obstructive trichobezoar was detected and discovered to be due to a hidden habit of continuously eating her own hair; this habit had persisted for the past 5 years until a drastic reduction in food intake and corresponding weight loss occurred. The relative isolation in her living status without school attendance had worsened her compulsory habit. The hair agglomeration had reached such enormous dimensions and its firmness was so hard that its potential for endoscopic treatment was judged to be impossible. The patient underwent surgical intervention instead, which culminated in complete removal of the mass.
CONCLUSION
According to our knowledge, this is the first-ever described case of MWS due to an excessively large trichobezoar.
Core Tip: We presented the case of an adolescent female with Mallory-Weiss syndrome due to a giant intragastric trichobezoar formed after several years of a misunderstood condition of hair-eating, worsened by the forced isolation during the coronavirus disease 2019 pandemic. Accurate anamnesis, the strong involvement of family that has always denied any responsibility, and upper gastrointestinal endoscopy were used to reach the diagnosis. Since the excessive dimension of the trichobezoar inhibited endoscopic treatment, the entire foreign body was removed via surgery. After an uneventful postoperative period, the patient was referred to a Psychiatric Unit for further treatment.
---
Citation: Lieto E, Auricchio A, Belfiore MP, Del Sorbo G, De Sena G, Napolitano V, Ruggiero A, Galizia G, Cardella F. Mallory-Weiss syndrome from giant gastric trichobezoar: A case report. World J Gastrointest Surg 2023; 15(5): 972-977
---
INTRODUCTION
Mallory-Weiss syndrome (MWS) represents a linear mucosal laceration at the gastroesophageal junction, which usually forms due to habitual vomiting conditions[1]. The etiology, however, is unknown. The mechanism underlying the mucosal lesion development likely involves an incoordination between raised intragastric pressure and the lower esophageal sphincter remaining closed during vomiting episodes. As a consequence, the mucosal layer is subject to ischemia and ultimately tears apart.
Alcohol intake is the most common predisposing condition for MWS[2], being present in more than 60% of diagnosed cases. Hiatal hernia, bulimia nervosa, and gastroesophageal reflux disease may also contribute to MWS onset, each accompanying smaller percentages of cases than alcohol intake. However, in about 25% of cases, no risk factor is identified. In 0.07%-0.49% of cases, MWS is reportedly iatrogenic, especially as a complication of prolonged endoscopic procedures[3].
Reports of upper gastrointestinal tract bleeding cases encountered in the clinic point to MWS as the culprit for 7%-14% and explain the hemorrhage as occurring when the erosion advances to a submucosal vessel[4,5]. Even in overall asymptomatic MWS cases, however, about 85% experience an episode of bleeding[6], with other nonspecific symptoms being strictly linked to the amount of blood loss. Therefore, MWS should be suspected when a hematemesis occurs during a vomiting episode in a patient without cirrhosis. Diagnosis is made by upper gastrointestinal endoscopy, which also presents the opportunity for convenient management of any active bleeding[7].
We described herein a unique case of MWS due to a giant trichobezoar occupying the entire gastric cavity in a young woman caused by a hair-eating psychiatric condition exacerbated by psychological factors, including social isolation during the coronavirus disease 2019 (COVID-19) pandemic lockdown and emotional distress following her parents' divorce.
CASE PRESENTATION
Chief complaints
A 16-year-old female presented to our surgical unit with recurrent episodes of food vomiting that had persisted over the prior 2 mo and was complicated by recent hematemesis.
History of present illness
The patient had stopped eating solid food and switched to an almost-exclusive fluid diet due to the ongoing symptoms; this led to significant unintentional weight loss.
History of past illness
At the age of 11 years, during the transition from elementary to middle school, the patient began to rip out her hair and swallow it. This compulsory habit remained consistent for the next 5 years, and the patient often hid it from her family. During the lockdown due to the COVID-19 pandemic, the patient's psychiatric condition worsened. The patient's parents divorced, and she experienced a severe state of social isolation due to remote schooling, lack of interaction with family and friends, and the fact that she lived on an island with few possibilities of getting away from home. The manipulation of her hair and the particular act of tearing it off reduced her anxiety, while swallowing and eating the hair was a consequence of feeling the need to hide the torn pieces. These behaviors also worsened the aesthetical aspect of the girl, as she became hairless and over time anorexic as the mass of hair grew to become a blockage in her gut.
Personal and family history
No remarkable event was referred in her personal and family history.
Physical examination
The patient was visibly underweight and presented with an irregular and hard abdominal mass that filled the left abdominal quadrants and the hypogastrium. It clearly caused a conspicuous deformation of her silhouette shape. The patient did not complain of any symptoms besides the vomiting and hematemesis after water/food intake.
Laboratory examinations
Blood analysis revealed a severe nutritional impairment, with iron deficiency anemia and reduced body mass index (Table 1).
Factor

---

Result

---

Normal range

---

Ferritin
7 ng/dL
13-50 ng/dL
Total protein
5.5 g/dL
6.6-8.7 g/dL
Serum albumin
3.3 mg/dL
3.5-5.5 mg/dL
Iron
34 ng/dL
37-145 ng/dL
Red blood cell count
4.04 × 106 μ/L
(4.0-5.0) × 106 μ/L
Hemoglobin
10.5 g/dL
12-16 g/dL
Body mass index
14.52 kg/m2
18.50-24.99 kg/m2
Imaging examinations
An abdominal ultrasound detected a dense ovoidal formation with an average diameter of about 14 cm occupying the left lateral abdomen. Computed tomography showed a considerable gastric overdistension due to a voluminous conglomerate with inhomogeneous densitometry and cranio-caudal length of more than 30 cm. The mass occupied the gastric lumen entirely, partially preserving the fundic and prepyloric portion (Figure 1A). Upper gastrointestinal endoscopy revealed a dense mass of ingested hair, which occupied the antrum and the body of the stomach completely causing complete pyloric obstruction. At the gastroesophageal junction, a 7-mm linear mucosal erosion was observed, which bled easily during the endoscope transit (Figure 1B).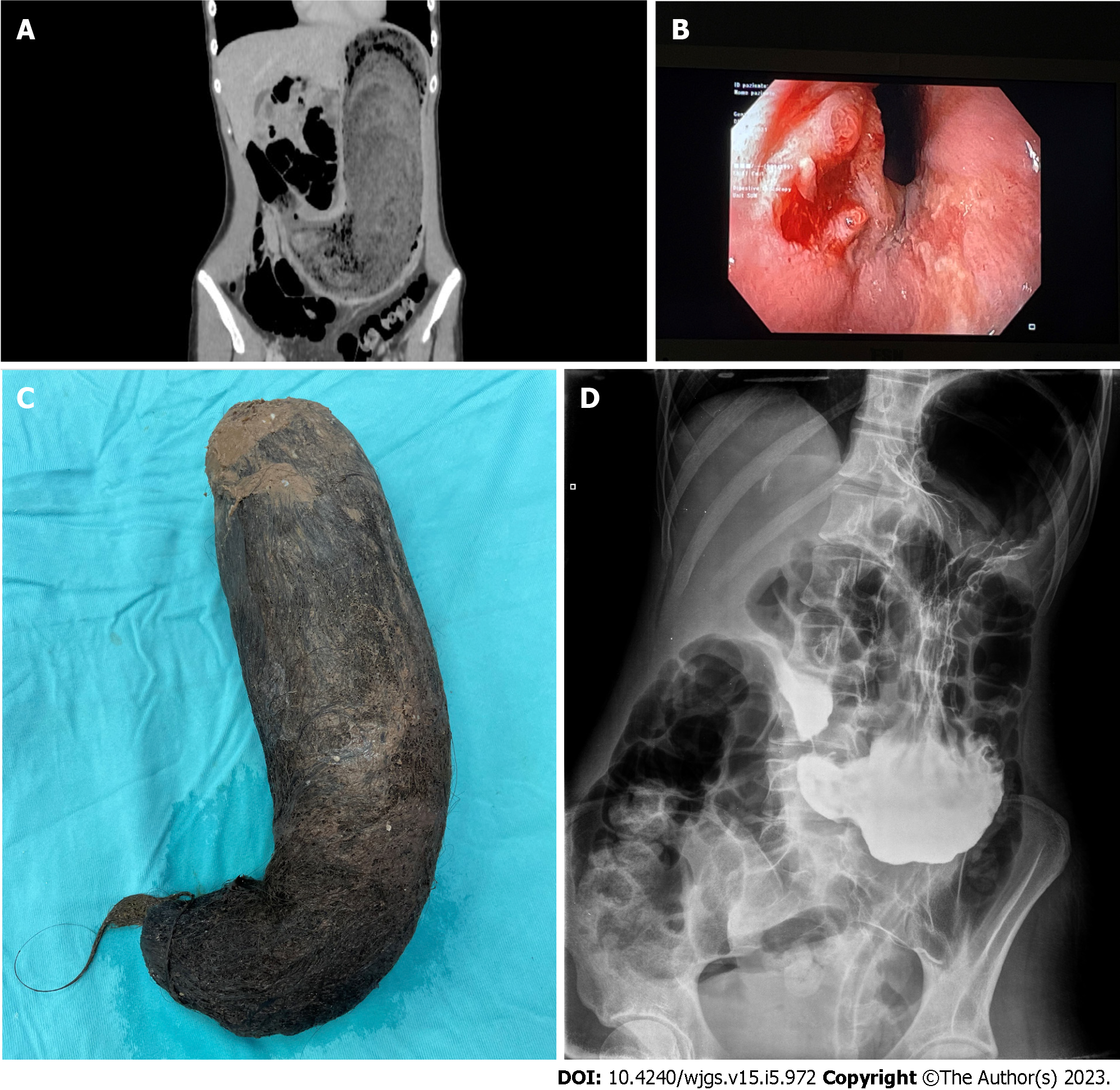 Figure 1 Images of this case report.
A: Computed tomography image of the enormous elongation in the stomach due to the trichobezoar; B: Endoscopic image of the mucosal tear located in the subcardial region; C: Postoperative image of the removed trichobezoar; D: Postoperative radiological image of the stomach emptying regularly.
MULTIDISCIPLINARY EXPERT CONSULTATION
Napolitano V, MD, PhD, Assistant Professor, Surgical Endoscopy Unit, Vanvitelli University
Due to the concurrent esophageal bleeding and the impossibility to perform endoscopic treatment, the patient should undergo primary surgery.
Lieto E, MD, PhD, Assistant Professor, Surgical Oncology of Gastro-intestinal Tract, Vanvitelli University
Given the huge dimension of the trichobezoar, a median laparotomy should be performed.
Galizia G, MD, PhD, Full Professor, Surgical Oncology of Gastro-intestinal Tract, Vanvitelli University
Surgical planning and instrumental choice.
FINAL DIAGNOSIS
MWS and gastric obstruction from giant trichobezoar.
TREATMENT
At the median laparotomy, a greatly expanded stomach was observed with remarkably thickened and hyperemic walls, extending down to the pelvis. The entire organ was occupied by a fixed compact mass, which was absolutely unmovable in any direction. A 10-cm incision of the gastric anterior wall was made at the mesogastric level, as necessary to allow for extraction of the mass. Thereafter, two-layer suturing was performed manually. In this case, the extreme thickness of the wall served to advise against the use of mechanical staplers. A drainage tube was placed near the gastrotomy. The removed mass consisted of a solid accumulation of hair, measuring 52 cm × 7 cm and weighing 2.5 kg (Figure 1C). The operating time was 95 min.
OUTCOME AND FOLLOW-UP
No postoperative complications were recorded. A nasogastric tube was placed to protect the suture and removed on the fourth postoperative day. A postoperative radiological control with soluble contrast demonstrated the tightness of the gastric suture and effective emptying of the stomach in the absence of any intragastric foreign body (Figure 1D). The patient progressively returned to normal food intake and was discharged on the 9th postoperative day. Two months after the operation, the patient had gained 7 kg and returned to eating a regular, solid-food diet. Endoscopic examination showed no esophageal lesion. The patient's hair had regrown and was no longer being pulled out; she was successfully followed up by a psychiatrist for the management of her mental stress.
DISCUSSION
MWS represents tearing of the esophageal mucosal layer at the level of the gastroesophageal junction, generally together with repeated episodes of vomiting[1]. In the majority of cases, the disease arises as an upper gastrointestinal bleeding episode that generally stops spontaneously within 48 h[3,8,9]. In occasional cases, the hemorrhage requires endoscopic or surgical hemostasis[7]. Hiatal hernia, chronic nonsteroidal anti-inflammatory drug abuse, hyperemesis gravidarum, or repeated abdominal efforts are usually the more frequent predisposing factors, even if this condition may also appear in absence of any other pathology[5].
Based on our knowledge, the concomitance of MWS with a gastric trichobezoar[10], which is a solid cluster of hair voluntarily or accidentally ingested, has never been described in the scientific literature until now. In this case report, the young patient, who suffered from anxious neurosis since the age of 11, tried to hide the compulsory hair-eating behavior from her family for many years. Due to the significant weight loss and continuous vomiting episodes, an eating disorder, rather than obstruction, was suspected. During the COVID-19 pandemic, the patient experienced forced isolation due to living on a small island, with compromised social relationships; in this particular condition, her compulsive attitude worsened. Only the appearance of the bleeding prompted the patient to seek medical treatment, and the condition was diagnosed and treated surgically. Surgical intervention was required because the patient's eating capability was definitely compromised, and the huge dimension of the intragastric foreign body was not suitable for an endoscopic removal.
In our opinion, the interesting aspect of this clinical case is the unusual contradiction between the presentation modality of a chronic condition, such a gastric trichobezoar, with an acute condition, such as bleeding MWS. A pathological amount of indigestible material, such as vegetable fibers or plastic or paper objects, in the gastric cavity is possible in different categories of patients, both for obstructive conditions, such as inflammatory stenoses, or for specific eating habits. Among teenagers, psychiatric disorders are the most frequent cause of chronic foreign body ingestion[11]. Eating something other than food may be a variation of anorexia or indicative of a feeling of discomfort caused by stressful events[12]. Repeated hematemesis episodes in an adolescent could be caused by a progressive onset of a nonspecific dyspeptic syndrome due to a gastric obstruction from a bezoar and should be considered by clinicians treating this type of patient.
CONCLUSION
MWS can be induced by a giant intragastric foreign body such as the trichobezoar presented in this case report. In patients who suffer from eating disorders, endoscopic examination can help verify the cause of MWS. If a bezoar is present, then early endoscopic intervention to remove it would be ideal, before its large dimension requires surgical intervention. Very often the clinical history of teenagers is completely misinterpreted by the social context in which they live, and only an overwhelming occurrence can help improve their quality of life.
Provenance and peer review: Unsolicited article; Externally peer reviewed.
Peer-review model: Single blind
Specialty type: Gastroenterology and hepatology
Country/Territory of origin: Italy
Peer-review report's scientific quality classification
Grade A (Excellent): 0
Grade B (Very good): B
Grade C (Good): C
Grade D (Fair): 0
Grade E (Poor): 0
P-Reviewer: Xu X, China; Yang L, China S-Editor: Wang JJ L-Editor: Filipodia P-Editor: Zhang XD