Copyright
©The Author(s) 2022.
Published by Baishideng Publishing Group Inc. All rights reserved.
World J Gastrointest Surg.
Jul 27, 2022;
14(7): 632-655
Published online Jul 27, 2022. doi: 10.4240/wjgs.v14.i7.632
From advanced diagnosis to advanced resection in early neoplastic colorectal lesions: Never-ending and trending topics in the 2020s
Francesco Auriemma, Laura Lamonaca, Danilo Paduano, Gastrointestinal Endoscopy Unit, Humanitas Mater Domini, Castellanza 21053, Italy
Sandro Sferrazza, Gastroenterology and Endoscopy Unit, Santa Chiara Hospital, Trento 38014, Italy
Mario Bianchetti, Digestive Endoscopy Unit, San Giuseppe Hospital - Multimedica, Milan 20123, Italy
Maria Flavia Savarese, Department of Gastroenterology and Gastrointestinal Endoscopy, General Hospital, Sanremo 18038, Italy
Nicole Piazza, Gastroenterology Unit, IRCCS Policlinico San Donato, San Donato Milanese; Department of Biomedical Sciences for Health, University of Milan, Milan 20122, Italy
Enrica Giuffrida, Gastroenterology and Hepatology Unit, A.O.U. Policlinico "G. Giaccone", Palermo 90127, Italy
Lupe Sanchez Mete, Department of Gastroenterology and Digestive Endoscopy, IRCCS Regina Elena National Cancer Institute, Rome 00144, Italy
Alessandra Tucci, Department of Gastroenterology, Molinette Hospital, Città della salute e della Scienza di Torino, Turin 10126, Italy
Sebastian Manuel Milluzzo, Digestive Endoscopy Unit and Gastroenterology, Fondazione Poliambulanza, Brescia 25100, Italy
Chiara Iannelli, Department of Health Sciences, Magna Graecia University, Catanzaro 88100, Italy
Alessandro Repici, Digestive Endoscopy Unit and Gastroenterology, Humanitas Clinical and Research Center and Humanitas University, Rozzano 20089, Italy
Benedetto Mangiavillano, Biomedical Science, Hunimed, Pieve Emanuele 20090, Italy
Benedetto Mangiavillano, Gastrointestinal Endoscopy Unit, Humanitas Mater Domini, Castellanza, Varese 21053, Italy
Author contributions: Auriemma F, Mangiavillano B, and Repici A conceptualized the paper, promoted the writing, and reviewed the final draft and acceptance; Sferrazza S, Savarese MF, Lamonaca L, Milluzzo SM, Giuffrida E, Mete LS, Iannelli C, Tucci A, Piazza N, Bianchetti M, and Paduano D contributed to writing and draft acceptance.
Conflict-of-interest statement: All the authors report no relevant conflicts of interest for this article.
Open-Access
: This article is an open-access article that was selected by an in-house editor and fully peer-reviewed by external reviewers. It is distributed in accordance with the Creative Commons Attribution NonCommercial (CC BY-NC 4.0) license, which permits others to distribute, remix, adapt, build upon this work non-commercially, and license their derivative works on different terms, provided the original work is properly cited and the use is non-commercial. See:
http://creativecommons.org/Licenses/by-nc/4.0/
Corresponding author: Benedetto Mangiavillano, MD, Chief Doctor, Biomedical Science, Hunimed, 4, Rita Levi Montalcini Street, 20072, Pieve Emanuele 20090, Italy. benedetto.mangiavillano@materdomini.it
Received: February 7, 2021
Peer-review started: February 7, 2021
First decision: March 16, 2021
Revised: May 2, 2021
Accepted: June 20, 2022
Article in press: June 20, 2022
Published online: July 27, 2022

Colonoscopy represents the most widespread and effective tool for the prevention and treatment of early stage preneoplastic and neoplastic lesions in the panorama of cancer screening. In the world there are different approaches to the topic of colorectal cancer prevention and screening: different starting ages (45-50 years); different initial screening tools such as fecal occult blood with immunohistochemical or immune-enzymatic tests; recto-sigmoidoscopy; and colonoscopy. The key aspects of this scenario are composed of a proper bowel preparation that ensures a valid diagnostic examination, experienced endoscopist in detection of preneoplastic and early neoplastic lesions and open-minded to upcoming artificial intelligence-aided examination, knowledge in the field of resection of these lesions (from cold-snaring, through endoscopic mucosal resection and endoscopic submucosal dissection, up to advanced tools), and management of complications.
Core Tip: Appropriate bowel preparation is related with valuable outcomes in colorectal cancer screening. Artificial intelligence may represent an adjunctive methodology for standardizing endoscopy practice. Cold snare polypectomy emerged as a new approach for resection of superficial benign lesions. Endoscopic submucosal dissection has been widely recognized as an indispensable procedure for early superficial neoplastic lesions able to avoid unnecessary major surgery. Advanced techniques such as full-thickness resection and non-thermal avulsion represent valid tools for recurrent/non-lifting lesions.
---
Citation: Auriemma F, Sferrazza S, Bianchetti M, Savarese MF, Lamonaca L, Paduano D, Piazza N, Giuffrida E, Mete LS, Tucci A, Milluzzo SM, Iannelli C, Repici A, Mangiavillano B. From advanced diagnosis to advanced resection in early neoplastic colorectal lesions: Never-ending and trending topics in the 2020s. World J Gastrointest Surg 2022; 14(7): 632-655
---
INTRODUCTION
Colonoscopy represents the most widespread and effective tool for the prevention and treatment of early stage preneoplastic and neoplastic lesions in the panorama of cancer screening. In the world there are different approaches to the topic of colorectal cancer (CRC) prevention and screening: different starting ages (45-50 years); different initial screening tools such as fecal occult blood with immunohistochemical or immune-enzymatic tests; recto-sigmoidoscopy; and colonoscopy.
The key aspects of this scenario are composed of a proper bowel preparation that ensures a valid diagnostic examination, an experienced endoscopist in the detection of preneoplastic and early neoplastic lesions and open-minded to upcoming artificial intelligence aided examination, know-how in the field of resection of these lesions [from cold-snaring, through endoscopic mucosal resection (EMR) and endoscopic submucosal dissection (ESD), up to advanced tools], and management of complications.
BOWEL PREPARATION: WHICH BOWEL PREPARATION IS INDICATED FOR A QUALITY COLONOSCOPY?
Appropriate bowel preparation is crucial for a high-quality colonoscopy that is associated with favorable patient outcomes in CRC screening[1]; conversely inadequate preparation makes necessary to repeat the procedure with significant costs[2]. The updated 2019 European Society of Gastrointestinal Endoscopy (ESGE) guidelines provide practical advice on different aspects of bowel preparation as additional evidence on efficacy and safety of laxative and with a focus on diet, timing, type of laxative, as well as patient information and specific scenarios[3].
Laxatives can be classified into high-volume solution (≥ 3 L) with polyethylene glycol (PEG) and low-volume solution (< 3 L) that includes PEG solution plus adjuvants such as ascorbate, citrate or bisacodyl, magnesium citrate with sodium pico-sulphate solution, and oral sulfate solution. The use of oral sodium phosphate is not recommended for the risk of acute kidney injury and alteration of electrolyte balance[4].
The optimal timing for administration of laxatives is a split-dose regimen because it improves bowel cleanliness[5,6], regardless of the type and dose of the cleansing agent. A "same day" regimen is provided only for an endoscopic procedure in the afternoon[7,8]. Furthermore, the last dose has to be started within 5 h of the colonoscopy[9,10] and to be completed 2 h before the procedure because an inverse correlation has been observed between the degree of mucosal cleanliness, the time of the last dose of bowel preparation, and the start of the colonoscopy[11].
Several metanalysis and randomized head-to-head trial compared bowel preparations to determine efficacy of laxatives. Low volume solutions have shown a noninferior efficacy for bowel cleansing compared with PEG high volume solutions[12-14] and have improved tolerability[15,16] and compliance[17,18]. The use of PEG agents or non-PEG agents have been validated for routine bowel preparation, but the choice of laxative should be individualized.
PEG high volume solution is contraindicated in patients with congestive heart failure (New York Heart Association III-IV). Maintaining iso-osmolar bowel lumen content is considered safe in renal failure and pre-existing electrolyte imbalance[19,20]; instead, low volume solutions are osmotically active, so they are not recommended in patients with congestive heart failure, severe renal insufficiency, ascites, and altered electrolyte homeostasis[21]. Furthermore, low volume solutions plus ascorbate or aspartame are contraindicated in patients with glucose-6-phosphate dehydrogenase deficiency and phenylketonuria[22].
Other highlights of the clinical practice guidelines concern low fiber diet, associated with a higher willingness to repeat bowel preparation and better tolerability compared with a clear liquid diet[23-25] and use of bowel solution plus oral simethicone, associated with better bowel cleanliness and adenoma detection rate[26,27]. Prokinetic agents and enemas do not improve mucosal cleanliness[28-30].
The updated 2019 ESGE guidelines provide a focus on specific categories of patients. PEG high volume solutions with split-dose regime are preferred in elderly patients. However, the evidence does not allow a recommended specific solution[31]. There is insufficient evidence to suggest a special regimen or supplemental treatment for patients with chronic constipation[32,33]. In pregnant and lactating patients, if colonoscopy is strongly indicated[34], the use of PEG solutions or tap water enemas for sigmoidoscopy may be considered.
A special setting concerns patients with inflammatory bowel disease that could have a clinical exacerbation after colonoscopy with particular bowel preparations[35] and patients without colitis that could have a mucosal inflammation with sodium phosphate or sodium pico-sulphate solutions compared to PEG[36] solutions with a misdiagnosis of inflammatory bowel disease. Therefore, high or low volume PEG agents are recommended in this category of patients. In patients with lower gastrointestinal bleeding PEG high volume solutions are indicated for bowel preparation[37,38]. There is insufficient evidence about the use of low volume solutions, but preliminary results are encouraging[39].
Finally, which bowel preparation is indicated for a quality colonoscopy? ESGE defines evidence about efficacy and safety of different bowel preparation for screening colonoscopy and in particular categories of patients. Therefore, the clinician has to indicate the better solution following the guidelines and their clinical judgement.
EMR: THE STATE OF ART
EMR is a minimally invasive, organ-sparing endoscopic technique developed for removal of sessile or flat neoplasm confined to the superficial layers (mucosa and submucosa) of the gastrointestinal (GI) tract. Originally described by Deyle et al[40] as early as 1973, it has become sophisticated and widely used by many others since then. EMR is typically used for the en bloc and piecemeal removal of lesions smaller and larger than 2 cm, respectively[41]. Piecemeal EMR for large polyps is associated with moderate rates of recurrent adenoma (16% in a large prospective study), but these recurrent lesions can be removed at surveillance colonoscopy with a high success rate of 93%[42,43]. Flat lesions are difficult to capture and to resect with the snare. EMR addresses these issues as the injection of saline with or without adrenaline in close proximity to the lesion. The failure of the lesion to elevate after injection ("non-lifting sign") indicates that the tumor has invaded the muscle wall. Depressed lesions tend to have increased likelihood of submucosal invasion. This results in earlier microscopic dissemination and lymph node metastasis[44,45].
Indications
EMR has become a standard treatment for early GI cancers without regional lymph node metastasis because of its minimal invasiveness and excellent long-term survival comparable to surgical resection[46-48]. The appropriate indications of EMR include: lesions that are type 0-IIa, less than the 2 cm; type 0IIb, less than 1 cm; type 0-IIc, less than 1 cm; or well-differentiated or moderately differentiated tumors confined to the mucosa. If cases of suspected superficial invasive carcinoma is indicated, then en bloc EMR can be performed if the lesion is ≤ 20 mm[49].
Technique
EMR can be subdivided into injection-assisted EMR, cap-assisted EMR (EMR-C), ligation-assisted EMR, EMR after circumferential precutting, and underwater endoscopic mucosal resection (UEMR).
Injection-assisted EMR
EMR can be performed with a polypectomy snare after the lesion has been lifted with a submucosal fluid injection (Figure 1). Conventionally normal saline + epinephrine (1:10000 dilution) + diluted indigo carmine is used as the submucosal injection fluid[50]. In this technique the polyp is raised off the muscularis propria, strangulated, and resected with an electrosurgical snare. Injection-assisted EMR can be further subdivided into "inject-and-cut" technique (using an electrocautery snare through a single-channel endoscope) and the "inject, lift and cut" technique (using grasping forceps to lift the lesion and an electrocautery snare through two separate channels of a double channel endoscope)[51,52].
EMR-C
A transparent plastic cap is preloaded on the endoscope tip. Caps are composed of clear plastic that may be soft or hard. The caps are cylindrical and available with flat circular (straight) or oblique-shaped tips both with outer diameters ranging from 12.9 to 18.0 mm. Oblique cap are used for resection of esophageal lesions, whereas straight caps are most commonly used in the stomach and colon[53]. Inside the cap is a gutter that positions the opened polypectomy snare. After submucosal injection, the cap is pressed against the mucosa, the lesion is aspirated into the cap, and resected (Figure 2). Caution is required in the gastric fundus, duodenum, and ascending colon, where limited thickness of the muscularis propria could result in its entrapment. Use of EMR-C in the colon has been limited for fear of entrapping the muscularis propria into the snare. The advantages of EMR-C are better visualization of the operative field and the possibility of resecting lesions in difficult locations.
Ligation-assisted EMR
EMR can be performed using a standard variceal ligation device (Figure 3) with or without prior submucosal injection. Suction is applied to retract the lesion into the banding device, and a band is deployed to capture the lesion. An artificial polyp is created, and resection is performed with a polypectomy snare. It has been used for minute gastric cancers (5 mm), the diameter of the resected mucosa being 10-15 mm[54,55].
EMR after circumferential precutting
After identifying the target lesion, marking dots are made circumferentially at 5 mm lateral to the margin of the lesion. After marking, a submucosal injection is performed around the lesion to lift it off the muscle layer. A circumferential mucosal incision is performed outside the marking dots to separate the lesion from the surrounding nonneoplastic mucosa. The lesion is removed by a polypectomy snare.
UEMR
UEMR is an alternative method to conventional EMR proposed by Binmoeller et al[56] in 2012. Water is injected into the colon instead of gas, thereby avoiding submucosal injection. It is based on the concept that after water immersion, the muscularis propria of the colon remains circular and does not go along with involutions of the folds.
Complications
Bleeding is the most common complication of EMR (4%-38%). Most bleeding is observed during the procedure or within the first 24 h thereafter. It can be controlled by endoscopic treatment, but in cases of delayed bleeding, transfusion, emergency endoscopic evaluation and even surgical procedures may be required. A delayed bleeding rate of 6.7% was reported in a recent multicenter study including > 2000 EMRs[18]. Risk factors for bleeding included the size of the lesion, polyp location in the right colon, and patient comorbidity[57].
Reported perforation rates in EMR are 0.3%-0.5%. In most cases conservative medical treatment is safe after endoscopic treatment. The frequency of perforation after EMR is between 0.4% and 1.3% and depends on the size and location of the resected lesion[58,59].
Outcomes
Many studies have shown that EMR is suitable for removing the majority of nonmalignant colonic polyps[60,61]. EMR is safe and effective compared to surgery. In one meta-analysis from 50 studies included 6442 patients and 6779 polyps, technical success rate of EMR was 90.3% [95% confidence interval (CI): 88.2% to 92.5%]; mortality was 0.08% (95%CI: 0.01% to 0.15%)[62].
There are no randomized trials comparing the inject-and-cut technique with EMR-C. Given the complications profile and the high eradication rate reported by Kashani et al[63], EMR-C can be considered in high experienced centers for flat lesions when standard EMR cannot be attempted. Curcio et al[64] demonstrated that UEMR could be safely performed by endoscopists skilled in EMR with no prior training in UEMR. A recent meta-analysis compared the effectiveness and safety of underwater vs conventional EMR for colorectal polyps[65]. There were a total of 1382 patients with 1511 polyps, including 722 patients who received UEMR and 789 who received EMR. In the UEMR and EMR groups, the en bloc resection rate was 85.87% and 73.89%, respectively, with a relative risk (RR) value of 1.14 (95%CI: 1.01-1.30; P < 0.05). A statistically significant difference was found between the EMR and UEMR groups for polyps equal to or greater than 20 mm in diameter. The post-endoscopic resection recurrence rates at 3-6 mo of the UEMR and EMR groups were 3.26% and 15.17%, respectively, with an RR value of 0.27 (95%CI: 0.09-0.83; P < 0.05). The post-endoscopic resection recurrence rates of UEMR and EMR at 12 mo were 6.25% and 14.40%, respectively, with an RR value of 0.43 (95%CI: 0.20-0.92; P < 0.05). Additionally, the incidence of adverse events was 8.17% and 6.21%, respectively, with an RR value of 1.07 (95%CI: 0.50-2.30; P > 0.05).
SMALL POLYPS AND COLD SNARING
The latest ESGE guidelines recommend cold snare polypectomy (CSP) as the preferred technique for removing diminutive polyps (size ≤ 5 mm), given the high percentages of complete resection, adequate tissue sampling for histology, and low complication rates. CSP for small sessile polyps (6-9 mm) is only suggested because evidence comparing efficacy with hot snare polypectomy (HSP) is lacking[41]. However, emerging data from recent literature are increasingly supporting the use of CSP for small polyps not only for the better safety profile compared to HSP but also for its comparable effectiveness in terms of complete resection.
The goal of the polypectomy is the removal of the entire polyp, ideally with a rim of normal tissue and in a single piece, with a low adverse event rate[66]. The optimal approach to CSP requires the polyp placement at the 5 to 7 o'clock position in order to match the location of the accessory channel of the scope and to maintain a short distance from the polyp[66]. There are at least two techniques that can be used for CSP: the snare tip can be anchored to the normal mucosa at the proximal edge of the polyp, the snare is then slowly opened so that the remainder of the polyp is surrounded by the snare; or the snare can be fully opened above the polyp and then laid down flat against the mucosa. At this point the snare is slowly closed to grasp and resect the lesion[66]. Before closing the snare, it is essential to ensure a margin of normal tissue of at least 2 mm to increase the R0 resection rate, defined as en bloc resection with pathologically negative resection margins.
Abe et al[67] compared extended CSP (with more than 1 mm resection margin) to conventional CSP, showing that the R0 resection rate was significantly higher in the extended CSP group [439/449 (98%)] than in the conventional one [222/263 (84%), P < 0.001]. The main challenge associated with the use of CSP is when the snare fails to cut through the polyp. This can be rescued by gently pulling the snare into the accessory channel of the colonoscope, to maximize force transmission down the snare wire. As an alternative, the snare can be slightly opened and closed again to release entrapped submucosa[66,68]. Pale protrusions within the cold snare defect are episodically observed after CSP. The only variable that has been found to be associated with cold snare defect is a polyp size ≥ 6 mm. These protrusions often contain muscularis mucosae and submucosa but not residual neoplastic tissue. Therefore, no further treatment is required[69]. The mainstay of cold snaring is the mini snare, measuring 9 to 15 mm in opening diameter[70]. Horiuchi et al[71] compared cold snaring of small colorectal polyps by using a snare specifically designed for cold snaring and a traditional polypectomy snare designed for use with electrocautery. The resection was considered histologically complete if vertical and lateral margins were free of neoplastic tissue. The complete resection rate in the dedicated cold snare group was significantly higher than that in the traditional one (91% vs 79%; P = 0.015). The difference was most prominent for polyps 8 to 10 mm in size (83% vs 45%). Moreover, Makino et al[72] demonstrated that the use of dedicated cold snares resulted in a significantly lower rate of injuries to the arteries located in the submucosal layer when compared to the use of traditional snares [4.1% (4/98) vs 16% (17/105); P = 0.009].
The CRESCENT study compared the rate of complete resection of small sessile polyps between CSP and HSP in a multicenter randomized controlled trial (RCT) using the same traditional snare in both groups. Complete resection was defined by negative biopsy results from specimens obtained from the resection margin after polypectomy. The authors showed a comparable rate of complete resection for CSP and HSP (98.2% vs 97.4%, respectively)[73]. A meta-analysis of RCTs compared the incomplete resection rate between CSP and HSP when removing polyps between 4 and 10 mm in size. Incomplete resection rate was defined as the presence of any residual polypoid tissue in post-polypectomy biopsied specimens. Three RCTs and 1266 polyps were included in the final analysis with 630 polyps in the HSP group and 636 polyps in the CSP group. The difference in incomplete resection rate between HSP and CSP was not statistically significant [2.4% (15/630) and 4.7% (30/636), respectively][74]. The use of narrow-band imaging with magnification for the precise evaluation of a lateral neoplastic extent was found to be an independent predictor for R0 resection[75]. On the other hand, performance of the CSP by trainees was found to be an independent risk factor for incomplete polyp resection[76]. Moreover, histopathological positive margin was found to be the only risk factor for recurrence[77].
By omitting electrocautery, cold resection avoids the risk of thermal injury to the colon wall, which can lead to post-polypectomy syndrome, perforation, or delayed bleeding. A better safety profile for CSP has been reported in several studies in terms of procedure time and post-polypectomy abdominal symptoms[78-80]. Delayed post-polypectomy bleeding is defined as bleeding occurring between 24 h and 30 d after polypectomy. The incidence of delayed post-polypectomy bleeding for CSP ranges from 0% to 1.8% in prospective studies[81]. Most of the RCTs comparing CSP and HSP have failed to demonstrate the superiority of CSP to reduce the risk of post-colonoscopy bleeding[82], probably due to small sample size.
Chang et al[83] compared the risk of delayed bleeding in a high-volume screening colonoscopy setting before and after universal implementation of CSP for resecting polyps < 10 mm. A total of 1822 and 1850 colorectal polyps were removed in CSP and HSP, respectively. The CSP cohort had significantly lower rates of bleeding, need for second-look colonoscopy, severe bleeding and Emergency Services visits compared with the HSP group[83]. In support of CSP safety, studies conducted on patients taking antithrombotic therapy showed that the use of single or even multiple antithrombotic agents did not increase the risk of delayed bleeding after CSP[84,85].
A prospective randomized comparison of CSP and HSP in anticoagulated patients showed a significant increase in delayed bleeding after HSP compared with CSP [14% (5/35) vs 0% (0/35); P = 0.027]. Moreover, injured submucosal arteries were seen significantly less frequently after CSP than after HSP (22% vs 39%; P = 0.023)[20]. While the RCTs failed to demonstrate the lower incidence of delayed bleeding after CSP compared to HSP, they showed higher rates of immediate bleeding after CSP than HSP[75,86]. Immediate bleeding is defined as spurting or oozing that lasts more than 30 s. The risk factors that were identified as being significantly and independently associated with the risk of immediate bleeding after CSP were polyp location in the rectum, polyp size ≥ 6 mm, polypoid growth pattern. and antithrombotic agent use[78,79]. However, the risk of immediate bleeding requiring treatment was not increased by CSP as compared with HSP[86].
In conclusion, CSP is a time-saving technique for the removal of small polyps (6-9 mm) with comparable effectiveness and safety to HSP. However, some issues need to be further addressed. Large-scale RCTs are needed to assess the superiority of dedicated cold snare to the traditional one. Large-scale RCTs with adequate sample size enrolling a general screening population are still warranted to confirm the lower rate of delayed bleeding after CSP compared with HSP. Large, multicenter long-term studies are needed to assess the recurrence rate when comparing the two techniques for the removal of small colorectal polyps.
ESD: THE STATE OF ART
ESD is a minimally invasive technique developed in Japan (its first appearance dates to 1988)[87] to overcome limitations of standard endoscopic resection techniques and to achieve higher en bloc and R0 resection rates in removing superficial GI tumors, regardless of their size and location[88].
ESD was initially introduced as a therapeutic option for early gastric cancer[89], but later its indications were broadened to include esophageal and colorectal lesions[90,91]. The colon-rectum ESD was shown to be an effective choice for managing difficult-to-resect lesions when en bloc resection is essential for an accurate pathologic assessment and for residual or recurrent colorectal adenomas[92].
While in Japan and Asian countries ESD has progressively become the standard method for endoscopic resection of large superficial lesions in any GI segment, its spread in Western countries has been slower[93]. Some of the reasons of this discrepancy include the underestimation of the need and benefit for ESD (e.g., no need of short follow-up endoscopy like EMR), the bias of medical and surgical oncologists toward surgical resection, the propensity of endoscopists toward EMR, a slow learning curve, the need of high-level expertise to select appropriate lesions, the longer procedural time, the higher rate of adverse events compared to EMR, and finally the lack of proper training programs compared to Eastern countries[94]. Despite these limitations, the experience with ESD in Western countries has recently grown, mainly at tertiary referral centers.
Indications
The feasibility and the effectiveness of ESD is strictly linked to the proper selection of suitable lesions and the prediction of invasiveness. Specific factors able to predict the risk of nodal dissemination and need for surgery have been highlighted. Some of these factors are endoscopy-based and have to be evaluated at index examination: lesion diameter; lesion shape defined by Paris classification[95]; and mucosal pattern defined by several classifications (Kudo, narrow-band imaging international colorectal endoscopic, Japan narrow-band imaging expert team)[96-98].
In addition to the morphology and pattern of the lesions, in CRC we must always take into consideration the site of the lesion. In fact, lesions with the same morphology may have a higher risk of harboring early cancer if located in the left colon or rectum compared to other parts of the colon[99]. Furthermore, regarding the rectum and in particular the lower/middle rectum, we must consider the greater complexity of the standard surgical alternative if endoscopic resection results are non-curative. Therefore, the en bloc resection for the lesion suspected of submucosal invasion should be mandatory, especially in the rectum (Figure 4). Therefore, the choice of ESD is tightly linked to the identification of lesions that actually require an en bloc resection. When the likelihood of submucosal invasion is high, especially for lesions larger than 20 mm, en bloc resection using ESD allows the most accurate pathology staging with a high chance of curative resection[100] (Table 1). ESD is also indicated to remove lesions that are technically difficult to treat with the conventional technique, which includes those that are non-lifting after submucosal injection and local recurrence after previous treatments (Figure 5).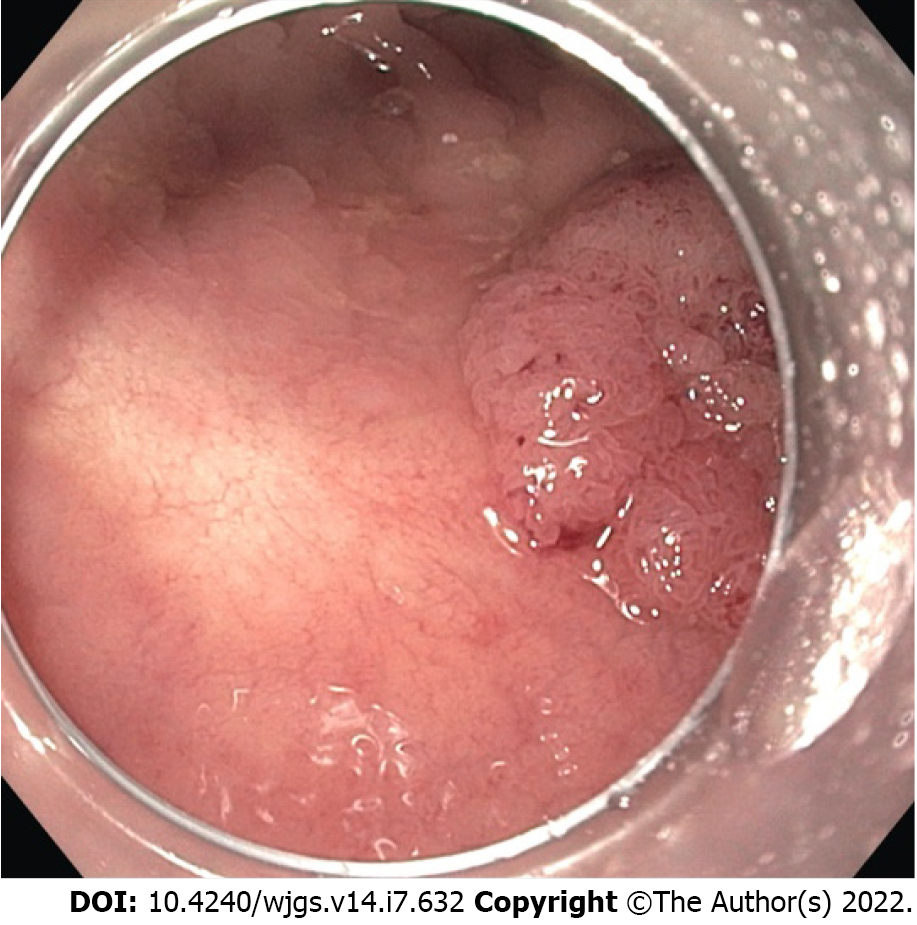 Figure 5 Endoscopic submucosal dissection as treatment of post-endoscopic mucosal resection recurrence.
---

Europe

---

United States

---

Japan

---

Colon and rectum
Lesions > 20 mm with high suspicion of limited submucosal invasion:
Submucosally invasive cancer
LST-NG, pseudo-depressed1
Vi-type pit pattern lesions1
Carcinoma with shallow T1 (SM) invasion1
Type V Kudo pit pattern
Large depressed-type tumors1
Paris 0-IIc
Large protruded-type lesions suspected to be carcinoma1
Paris 0–IIa+c or 0–III
Paris (0-Is or 0-IIa+Is)
Nongranular surface
Rectosigmoid location
Mucosal tumors with submucosal fibrosis
Advanced surface pattern
Nongranular LST ≥ 20 mm
Sporadic tumors in IBD
Granular LST ≥ 30 mm
Local residual/recurrent early carcinomas
Residual/recurrent adenomas
Residual/recurrent lesions
Technique
To date ESD is a well-established technique. Unlike a few years ago, various types of ESD devices are currently available. In principle, familiarizing yourself with one of these is sufficient to complete most of the procedures. Occasionally, the combined use of different devices can improve dissection efficiency. It therefore remains essential to know the different types of knives and how they work as well as the advantages and disadvantages of each.
There are three popular groups of devices, namely the needle type, the insulated tip type, and the clamp type[101] including in the first group the Hybrid-Knife by ERBE. Using a needle knife with a water-jet function, such as the Dual-Knife J, Flush Knife or similar, or Hybrid Knife with water-jet-surgery system is very useful because it enables repeated submucosal injection without changing the injection needle[102]. Other knives such as the Hook-Knife or insulated tip knife-nano can be very useful to make colonic ESDs safer and increase dissection speeds. Hook-shape knives in general enable resection of the submucosal tissue, while pulling up on it is useful. For instance, in situations of severe fibrosis or perpendicular access to the cutting line the hook-shape knife allows tissue grasping and safe cutting far from muscular layer[103]. Insulated tip knives have an insulated ceramic tip at the end of the blade, which theoretically can prevent perforation[104]. Furthermore forceps-type knives are forceps-like devices that allow grasping before cutting so that the quality of the tissue bite can be assessed before cutting, and usually no coagulation forceps are needed during the procedure[105].
Several strategies are known to perform en bloc resection of a lesion with this technique. Basically, the direction of dissection should be parallel and horizontal rather than tangential[106]. Tangential or perpendicular approaches to the colonic wall raise the risk of perforation. Hence, we have to reach and keep an orientation whereby the endoscope is in line with the bowel wall rather than facing it end-on. Moreover, the line of dissection is important because though the risk of perforation is higher if the dissection is too close to the muscle layer, dissecting too superficially may damage the specimen, compromising the histopathological assessment[107].
ESD widely differs from the more common EMR, but it involves the injection of a substance under the targeted lesion to create a safety cushion before starting the mucosal incision with a dedicated knife[108]. Then, various approaches have been described. In the so called "standard ESD or conventional methods" an initial mucosal incision is made approximately 5-10 mm from the distal side of the lesion to expose the submucosal layer. As another option, initial mucosal incision can be started from the proximal side, and the procedure can be done in retroflexion if a good plane and a stable position can be maintained. A further possibility is to complete the mucosal incision circumferentially around the lesion and then begin the submucosal dissection.
A crucial step is represented by the insertion of the distal attachment under the exfoliated mucosa of the lesion side for safely and effectively dissecting the submucosal layer[109]. Submucosal dissection is started by the knife from the center toward the side of the submucosal space following a catting line between the mucosal and muscular layers. The dissection of the incised area is completed until en bloc resection is achieved[110].
New strategies such as pocket creation method and tunneling ESD were recently introduced to overcome some procedure issues like scope instability and quick dispersion of the injected fluid[111,112]. In the pocket creation method-ESD, a 20 mm mucosal incision is made around 10 mm from the anal margin of the lesion. Subsequently, the endoscope is inserted into the incision, and submucosal dissection is started. A large submucosal pocket is then progressively created. After that submucosal dissection under the lesion is judged completed by the endoscopist, the remaining mucosa is incised, and the pocket completely open. Several studies have shown that the pocket creation method is associated with higher en bloc resection rate, R0 resection rate, and dissection speed[113].
The tunneling technique is conceptually similar. After an initial small mucosal incision, a submucosal tunnel is created all the way from the anal to oral side[114]. If the lesion is large, multiple small mucosal incisions with more than one tunnel can be made with the aim to connect them, subsequently obtaining a unique pocket under the lesion[115].
Outcomes
According to a recent systematic review and meta-analysis by Zhang et al[116], including 12 studies conducted in Asian countries, ESD was compared to EMR in terms of efficacy and safety, showing better results with higher en bloc resection [odds ratio (OR) = 7.06, 95%CI: 3.69-13.50, P < 0.00001] and lower recurrence rate (OR = 0.10, 95%CI: 0.05-0.18, P < 0.00001). In detail, ESD showed a significantly higher en bloc resection rate for lesions > 2 cm (OR = 9.62, 95%CI: 4.42-20.95, P < 0.00001), while no statistically significance was reached for lesion ≤ 2 cm (OR = 2.16, 95%CI: 0.61-7.58, P = 0.23). Analyzing the safety, ESD showed a higher perforation rate (OR = 4.77, 95%CI: 2.87-7.93, P < 0.00001), while no statistically significance was observed for bleeding between the groups (OR = 1.15, 95%CI: 0.70-1.90, P = 0.59). The procedure time remained longer in the ESD group (standardized mean difference = 1.88, 95%CI: 0.42-3.34, P = 0.01). Similar results were shown in another systematic review and meta-analysis by Chao et al[117].
An interesting systematic review and meta-analysis by Fuccio et al[118] compared performances of ESD performed in Asian and non-Asian countries, showing that ESD is still failing to achieve acceptable levels of performance in the latter. R0 and en bloc resection rates were significantly lower in non-Asian countries, being 71.3% (95%CI, 66.2%-75.9%) and 81.2% (95%CI: 77.1%-84.7%) vs 85.6% (95%CI: 83.3%-87.7%) and 93% (95%CI: 91.4%-94.3%) of Asian countries, respectively. Comparing complications, the need for surgery, delayed bleeding, and perforations were also lower in non-Asian countries, being 3.1% (95%CI: 2.1%-4.7%), 4.2% (95%CI: 1.9%-5.9%), and 8.6% (95%CI: 5.9%-12.2%) vs 0.8% (95%CI: 0.6%-1.0%) 2.4% (95%CI: 1.9%-3.0%), and 4.5% (95%CI: 3.9%-5.3%) of Asian countries, respectively.
RECURRENT, NON-LIFTING, FIBROTIC RESIDUAL COLORECTAL LESIONS: ENDOSCOPIC FULL THICKNESS RESECTION WITH FULL THICKNESS RESECTION DEVICE AND ENDOROTOR
EMR and ESD are two endoscopic minimally invasive techniques usually applied for resection of large polyps of the colon. In cases of difficult location or non-lifting adenomas these approaches become challenging to the endoscopist given the risk of incomplete resection or adverse effects such as bleeding and perforation.
Full thickness resection
As early as 1980 the concept of endoscopic full thickness resection (EFTR) on a rigid system slowly took place from the trans-anal microsurgery for resection of lesions located in the rectum and sigmoid colon. Subsequently, EFTR was adapted to flexible instruments, and in September 2014 the Full Thickness Resection Device (FTRD®; Ovesco Endoscopy AG) was approved for use in Europe. The current major indications for EFTR are recurrent, non-lifting lesions, usually located in difficult sites such as the cecum, appendix, and peri-intra diverticula[119] (Figure 6).
Device description and endoscopic technique
The FTRD is an over-the-scope device used for flexible EFTR. The technique combines a full thickness resection together with closure and cutting of the colonic tissue by the deployment of a modified Ovesco clip. As results the procedure provides an en bloc resection with a full thickness specimen for histopathological assessment. The device is made of a 23-mm cap carrying a modified 14-mm over-the-scope clip with additional lateral teeth for improved tissue hold. A monofilament snare is preloaded in the tip of the cap with its handle running on the outer surface of the scope underneath a plastic sheath.
The procedure consists of a preliminary colonoscopy performed to reach the target lesion. Subsequently, the lesion is marked on the edges with a FTRD marking probe (Ovesco Endoscopy) or Argon Plasma Coagulation (ERBE APC 300, 25 W). For colonic lesions, prOVE CAP (Ovesco Endoscopy), a cap similar in size to the FTRD cap, is anchored on the instrument tip to assess accessibility and feasibility in terms of fitting the entire lesion inside the cap. Then a second colonoscopy is performed using another endoscope with the device mounted, and the lesion is pulled into the cap using the FTRD grasper (Ovesco Endoscopy) until all of the lateral markers are visible inside. The Over-The-Scope-Clip (OTSC) is deployed, and the lesion is resected by means of the preloaded snare.
Indications and size of lesions
FTRD is an endoscopic technique that arises between EMR, ESD, and surgery when these are difficult to apply or in specific settings, especially for patients unfit for surgery. The main indications for EFTR are non-lifting adenomas (primary or recurrence) of a previous polypectomy, small submucosal tumors such as GI stromal tumors or neuroendocrine tumors, adenomas at difficult anatomic sites (appendicular of inside diverticula), and early T1 carcinomas. It is also used for diagnostic workup of neuromotor bowel disorders[120-124].
Regarding its application in resection of colonic polyps and submucosal lesions, according to the literature, EFTR is usually suitable and indicated for non-lifting lesions ranging from 5 to 25 mm, with an indication of a maximum 20-25 mm in severe scarring, even if polyps up to 40 mm diameter and even larger have been successfully removed[121,125,126].
Efficacy and safety of procedure
The efficacy of the procedure takes into account several parameters: technical success (en bloc resection and macroscopically complete) and R0 resection in terms of histologically complete resection, defined as tumor-free lateral and deep resection margins. Another important parameter is histologically confirmed full-thickness resection (visibility of all layers of the colonic wall including serosa within the resection specimen). The technical resection rate of FTRD ranges from 75% to 100%[127-129].
In a retrospective study, resection was technically successful in 97%[128]. In the WALL RESECT study, the major prospective trial of EFTR, the rate was 89.5%[99]. This probably reflects the heterogeneity and the rate of technically difficult lesions treated in this trial that would have rather been treated surgically. In a recent multicenter Italian experience involving 110 patients the rate of technical success was 94.3%[130]. In a recent meta-analysis, the pooled outcome of technical success was 94%[131].
According to the literature, the R0 resection rate was lower for lesions > 20 mm (86.5%) than for lesions ≤ 20 mm (92.9%)[128]. In the WALL RESECT study, the resection rate was 81.6% for lesions between 10-20 mm and 58.1% for those above 20 mm[124]; the pooled outcome of R0 was 84.9% with significant heterogeneity perhaps attributable to different study design among the studies considered[131].
Complications and limitations of procedure
The reported complications of FTRD are bleeding, perforation, post-polypectomy syndrome indicated as occurrence of fever, abdominal pain, and an increase of white blood count after the procedure, and acute appendicitis. The risk of perforation is very low in expert hands, as reported in a retrospective study (1.4%)[128]. The pooled rates for bleeding and perforation were 2.2% and 0.19%, respectively, with no significant heterogeneity (I2 = 53%, P = 0.04) in a recent meta-analysis[131]. In the study of Schmidt et al[124], 1 case of entero-colonic fistula due to the possible entrapment of small bowel into the clip during the resection procedure was reported.
FTRD appears to be a safe and effective procedure; as with other procedures it shows some limitations. R0 resection rates depend on the center experience, the dimension, site, and visibility of the lesion[120,121,124].
EndoRotor
A new minimally invasive technique is slowly taking place for treatment of recurrent scarred polyps. The EndoRotor device (Interscope medical, Inc. Worcester, MA, United States) is a non-thermal resection technique for benign scarred polyps (Figure 7). It consists of a single use disposable catheter passing though the channel of an endoscope. The catheter has a fixed outer cannula and an inner cannula capable of rotating at 1000 or 17000 rpm. Both cannulas have an orifice that allows suction together with an irrigation system that allows recovery of resected tissue. The fragments are then transported to a tissue trap located on the resection system. Rotation and suction are controlled by two foot pedals, and as a safety measure the cutting stops automatically after 8 s. As with EMR, the injection of the target lesion makes it easier to remove. Sizes of resected specimens vary from 2 to 5 mm, comparable to a sample from biopsy forceps. An improvement in histopathological assessment is due to the absence of thermal artefacts. The first study on animals demonstrated feasibility and safety of this device[132]. EndoRotor has been used in different settings such as the resection of pancreatic walled-off necrosis and treatment of Barrett's esophagus[133,134].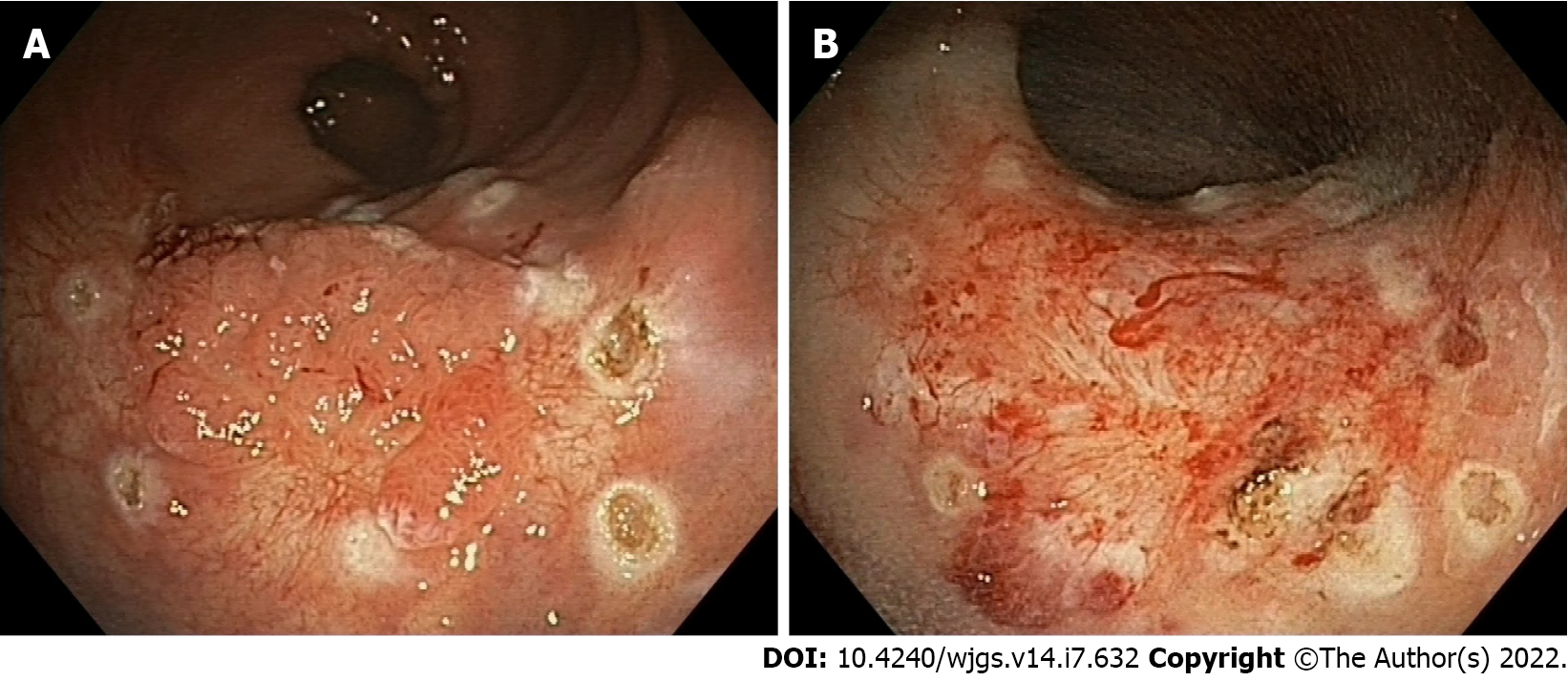 Figure 7 Scar polyp residue of a large endoscopic mucosal resection (A) and result of EndoRotor treatment (B).
The first pilot study was published in 2019 aiming to evaluate feasibility and safety of EndoRotor in scarred polyps[135]. Complete resection of the polyp was achieved in 84% of 19 patients in one or two sessions. Polyps were located in the rectum or sigma. The procedure was determined to be safe in this study since the only adverse events reported were intraprocedural bleeding in 2 patients that was successfully controlled with coagulation and endoscopic clips. No delayed bleeding or other adverse events have been described despite the small population. A large study[136], with up to 98% technical success and acceptable clinical success (79.2%) has been reported. To date no RCTs exist to compare EndoRotor with other standardized techniques.
In another case report by Tillinger et al[137], EndoRotor was used in a 90-year-old man with severe comorbidities, making him unfit for surgery, for the removal of a recurrent scarred big lesion located in the rectum. The only adverse effect was intraprocedural bleeding, successfully treated with adrenaline. In another case report[138], a large lesion with a deep scar was removed combining the ESD and EndoRotor techniques in two sessions. The only adverse event was intraprocedural bleeding controlled successfully with hot biopsy. The control after 3 mo showed no recurrence of the adenoma.
In conclusion, EndoRotor is a new technique with different applications in the GI tract. Its application in a definite setting, such as scarred, recurrent polyps with prior histology and in patients unfit for surgery with no other therapeutic chances, make this technique promising. The use of this nonthermal resection technique has been shown to be safe and feasible with low adverse events despite the lack of literature at the present time. Histopathological assessment can be done without thermal artefacts even though it is impossible to assess complete resection. Limitations of this technique are the difficulty of retroflexion and the required channel of 3.2 mm or more of the endoscope. Another concern regards the length of procedure that can be considerable and the handling of the device when the lesion is tangent to the catheter.
MANAGEMENT OF ADVERSE EVENTS IN COLONOSCOPY
Colonoscopy is usually a safe examination. Adverse events are not frequently reported and include mainly perforation and bleeding. Large studies reported a post-colonoscopy perforation rate of 0.005%-0.008%, rising to 0.6%-5.5% in therapeutic examinations, whereas bleeding rate is described in 0.001%-0.687% of the cases[139]. Risk of adverse events increases with age, comorbidity, and type of procedure and appears to be operator-dependent, decreasing in endoscopy centers with a volume of > 300 colonoscopies per year[140-142].
Perforation is the most feared adverse event because of its high morbidity and considerable mortality[143]. It is a full thickness tissue defect involving all four layers and can be classified on the basis of the cause of injury: thermal; post-polypectomy (more frequent in the right colon); and blunt (more frequent in the left colon)[144,145]. The main reported risks factors for perforation are therapeutic colonoscopy (polypectomy, stricture dilation ,and argon plasma coagulation use), age > 75 years, diverticular disease, previous intra-abdominal surgery, colonic obstruction, and female gender[146]. On the other hand, the use of CO2 appears to be associated with a 62% decrease in the post-polypectomy admission rate[147]. In about one-third (30%) of the cases, the perforation is recognized during the endoscopic examination and when feasible a proper and timely endoscopic closure allows conservative management and can prevent unnecessary surgery[148].
The ESGE position statement and its recent update (2020) recommends considering endoscopic closure using through-the-scope endoclips for small holes and OTSC for larger ones[149]. Through-the-scope clips are an effective method for closing small post-polypectomy defects and suturing after endoscopic surgery. Their use for closing endoscopic perforations is limited by a small span and a low closure force, confined to the mucosal and submucosal layers. Therefore, they could be inadequate for a full thickness defect[150]. Nevertheless, immediate endoscopic closure of the defect and superficial apposition of the mucosa and submucosal layers seems sufficient to obtain adequate wound healing at the perforation site and to achieve a good nonsurgical outcome.
In the largest retrospective observational case series in Europe describing post-perforation outcomes, endoclips were successfully used to close perforations in 83.3% of cases where the perforation was visualized by the endoscopist[151]. OTSC (Ovesco Endoscopy AG, Tubingen, Germany) was introduced in 2007 and plays an important role for rescue therapy for GI perforation, refractory bleeding, and fistula. It is a nitinol-based clip that is placed over the scope (onto the tip) with a cap. In post-colonoscopy perforation the jaws used are usually blunt, and a successful closure is reported in 84.6%-89.0% of the cases[152].
Voermans et al[150] in a prospective multicenter study on 36 acute iatrogenic perforations treated 13 colonic perforations sized up to 3 cm, 8 of which were diagnostic examinations and 5 were therapeutic. They reported a successful closure in 12 out of 13 cases (92%) and 1 case of surgery performed after OTSC unsuccessful placement. Unfortunately, the patient died due to complications[150]. Jayaraman et al[153] observed that an effective closure of the perforation could be influenced by its size. They reported a higher successful rate in defects < 10 mm compared to defects > 10 mm (90% vs 60%; P = 0.36)[153]. Furthermore, shape of perforation and technique adopted appears to be important to obtain a stable closure. Mangiavillano et al[154] in a multicenter retrospective study, used different techniques of OTSC placement according to classification of shape perforation. An oval shape (type 2) was closed with OTSC only by suction and a round shape (type 1) by the twin grasper plus suction. They treated 10 colonic perforations with a technical success rate of 100% and a clinical success rate of 90%.
In addition to technical features and endoscopic solution, the ESGE position statement and its recent update stress another aspect. Adequate colon cleansing is an important factor when considering endoscopic treatment of iatrogenic perforation. If perforation is not promptly recognized, an interval less than 4 h has to be considered still safe and adequate for an endoscopic attempt. Administration of intravenous fluids, broad spectrum antibiotics, and close monitoring of vital signs are strongly recommended in each suspected or diagnosed colorectal perforation. All patients treated conservatively should be observed closely by a multidisciplinary team in the post-procedure period. Larger iatrogenic perforations or patients with failed closure or worsening clinical condition may require immediate surgical repair, preferring mini-invasive laparoscopic approaches[149].
Hemorrhage post-resection of colonic lesions (EMR and polypectomy) is another over-addressed topic in lower GI endoscopy. It may occur immediately or can be delayed for up to 4 wk after the procedure. The rate of bleeding is actually reported as 0.24%. In a recent meta-regression analysis, the percentage of colonoscopies involving a polypectomy strongly predicted rates of bleeding, with a 2.7% increase in risk of bleeding for every 1% increase in rate of polypectomy (P < 0.001). This association remained significant after adjustment for age and gender (P = 0.016)[155]. One of the most relevant risk factors for post-polypectomy bleeding is the size of the polyp[156,157], and other risk factors are the number of polyps removed[158,159], anticoagulant therapy[160,161], polyp location in the right colon, and the histology[162,163]. Patient comorbidities increase the risk for bleeding[164].
The prophylactic use of mechanical methods, such as clips, is commonly performed in practice; however, their efficacy in preventing delayed bleeding has not been totally established. Prospective, randomized studies and a meta-analysis have shown prophylactic clipping for polyps < 2 cm does not prevent delayed bleeding[165-167], but in cases of non-pedunculated polyps > 2 cm, endoscopic clip closure of the mucosal defect has been demonstrated to reduce the incidence of delayed bleeding events in the proximal colon after resection (see and ref to Serious adverse events related to advanced resection techniques, postprocedural bleeding). Injection of epinephrine during submucosal cushion before the resection was reported to reduce the incidence of intraprocedural bleeding, although there was no demonstrated effect on delayed bleeding[168,169]. Finally, a large series of 286 patients, with either upper GI bleeding (n = 214) or lower GI bleeding (n = 72), showed that the over-the-scope clip was used as first-line therapy was a technical success, and primary hemostasis rates were gained in 97.9% and 96.4% of the cases, respectively[170].
ARTIFICIAL INTELLIGENCE: WILL THE TECHNOLOGY BE TO SUPPORT OR TO REVOLUTIONIZE OUR PRACTICE?
CRC is the second and third-leading causes of cancer-related deaths in men and women, respectively[171]. Colonoscopy with complete resection of neoplastic lesions is considered a reliable measure to reduce both the incidence and mortality of CRC[172]. Adenoma detection rate (ADR) is an independent predictor for the risk of interval CRC[173]. Polyps can be missed, with reported miss rates of up to 27% due to both polyp and operator characteristics[174]. In this field, artificial intelligence (AI) can solve human errors reducing inter-observer variability[175].
Recent trials have evaluated the efficacy of deep convoluted neural network-based AI system in colonoscopy for improving ADR and polyp detection rate[176]. The major roles of computer-aided diagnosis (CAD) for colonoscopy include automated polyp detection and characterization by indicating the presence and location of polyps in real time during colonoscopy by digital video marker or sound[177].
In a recent validation study of AI vs experienced endoscopists, the AI system (GI-Genius; Medtronic, Dublin, Ireland) was trained using a series of videos of 2684 polyps from 840 patients who underwent colonoscopy using high-definition white light endoscopy. The study showed that AI anticipated the detection of polyps against the average of the 5 endoscopists in 277/337 cases (82%). Moreover, the study showed a low rate of false-positives, demonstrating the high precision of the AI algorithm with sensitivity and specificity up to 99%[178].
In the first prospective RCT, Wang et al[179] investigated the effect of an automatic polyp detection system based on deep learning on polyp detection rate with or without assistance of a real-time automatic polyp detection system. A total of 1058 patients were included, 536 randomized to standard colonoscopy and 522 to CAD colonoscopy. The primary outcome was ADR. This study showed that the AI system significantly increased ADR (29.1% vs 20.3%; P < 0.001) and the mean number of adenomas per patient (0.53 vs 0.31; P < 0.001). This effect was mainly due to a higher rate of diminutive adenomas found. There was a total of 39 false positive (false alarm), which may be due to bubbles, stool, undigested debris, or local inflammation[179].
In another study, Mori et al[180] evaluated whether CAD may help endoscopists to characterize polyps in neoplastic adenomas, which require resection, from non-neoplastic polyps, which do not require resection, potentially reducing costs. The authors enrolled 791 consecutive patients undergoing colonoscopy with an endo-cytoscope after application of the narrow-band imaging and methylene blue staining modes. A CAD system was connected to the endoscope and provided a prediction of the pathologic status in real time. CAD predictions were compared with pathologic assessment of the excised polyps. Results were calculated based both on worst-case scenario, where polyps lacking either CAD or pathology were treated as false-positive or negative and best-case scenario, where they were treated as true-positive or negative. The primary endpoint was to evaluate if the CAD with the stained modality produced a negative predictive value of 90% in order to identify the minor rectosigmoid adenomas, to apply the concept of "diagnosing-and-leaving" non-neoplastic polyps. In total, 466 diminutive (including 250 rectosigmoid) polyps from 325 patients were assessed by CAD, with a pathologic prediction rate of 98.1% (457 of 466). The negative predictive value of CAD for diminutive rectosigmoid adenomas was > 93 with stained mode and > 95% with narrow-band imaging. Real-time CAD designed for endo-cytoscope can achieve the clinical level required for a "diagnose-and-leave" strategy for diminutive, non-neoplastic rectosigmoid polyps, which may help improve the cost-effectiveness of colonoscopy[180]. A recent add-on of this study by Mori et al[181] confirmed that use of AI to enable the diagnose-and-leave strategy resulted in substantial cost reductions for colonoscopy.
Another recent study by Liu et al[182] demonstrated the feasibility of a CAD system for increasing ADR and polyp detection rate (PDR). A total of 1026 patients were prospectively randomized to the CAD group and the control group. The detection rate of adenomas increased in the CAD group, the average number of adenomas increased, the number of small adenomas increased, the number of proliferative polyps increased, and the differences were statistically significant (P < 0.001). However, the comparison for the number of larger adenomas showed no significant difference between the groups (P > 0.05). Worse results were found in the cecum and ascending colon in detecting adenomas, probably for the high instability of colonoscopy in these areas with consequent reduced vision. In addition, there was no significant difference in the rectum, which may be due to the good visibility and stability of colonoscopy in this segment[182]. These aspects were also discussed and confirmed by the study of Wang et al[179].
In an old study in 2015, Kominami et al[183] compared the results of a CAD system with that of narrow-band imaging diagnosis and evaluated the correlation between the CAD system and the pathological results. The concordance between endoscopists and CAD system was 97.5%. Accuracy between histology and diagnosis by the CAD system was 93.2% with a negative predictive value of 93.3%, with sensitivity and specificity of 93.0% and 93.3%, respectively[183].
A new scenario is using AI for the assessment of disease activity in inflammatory bowel disease patients, especially ulcerative colitis (UC), in order to reduce interobserver variability. In a recent complex study, Bossuyt et al[184] used data from 29 consecutive patients with UC and 6 healthy controls in order to build a computer algorithm, named red density (RD). RD is an operator-independent computer-based tool to determine disease activity in patients with UC, based on evaluation of the redness map and vascular pattern. RD scores successively correlated with endoscopic (MAYO endoscopic sub-score, Ulcerative Colitis Endoscopic Index of Severity) and histological index (Robarts histological index) of UC activity in a multiple regression analysis. RD correlated with Robarts histological index (r = 0.74, P < 0.0001), Mayo endoscopic sub-scores (r = 0.76, P < 0.0001) and Ulcerative Colitis Endoscopic Index of Severity (r = 0.74, P < 0.0001). Therefore, RD may be an objective computer-based score that accurately assesses disease activity in UC[184].
Ozawa et al[185] built a CAD system using a deep convoluted neural network trained using 26304 colonoscopy images from 841 patients with UC. This data was linked with anatomic locations and Mayo endoscopic sub-score. The CAD system showed a good level of performance with area under the receiver operating characteristic of 0.86 and 0.98 to identify Mayo 0 and 0–1, respectively. CAD had better results for the rectum than for the right side and left side of the colon when identifying Mayo 0[185].
Another recent field of application of AI is evaluation of bowel preparation. Several tools, such as the Boston Bowel Preparation Scale, are used to assess the quality of bowel preparation, which is an important factor that can affect the effectiveness of a colonoscopy. However, there are subjective biases and differences among endoscopists to evaluate this important aspect. Zhou et al[186] tried to develop an objective and stable method for the assessment of bowel preparation through AI by a deep convolutional neural network and machine-learning. They retrospectively collected colonoscopy images to train the system and then compared its performance with endoscopists. This model was applied to colonoscopy videos and developed a system named ENDOANGEL to provide bowel preparation scores every 30 s and to show the cumulative ratio of frames for each score during the withdrawal phase of the colonoscopy. This novel system achieved 93.33% accuracy, which was better than that of all endoscopists and 80.00% accuracy among 100 images with bubbles[186].
AI is a strategy for standardizing endoscopy practice, in order to mitigate human error, to support lesion detection and characterization, and improve ADR. This aspect was confirmed in a recent meta-analysis by Aziz et al[176] that demonstrated statistically significant results for ADR and polyp detection rate using AI colonoscopy. Moreover, this study showed a significant improvement in both flat adenoma per subject and adenomas < 10 mm using AI colonoscopy, which may have resulted in overall improved ADR and polyp detection rate. This evidence could prove to be a useful guide in therapeutic decision making in the future. Therefore, further high-quality clinical trials need to be conducted to accumulate evidence and understand how to obtain regulatory approval for clinical use.
CONCLUSION
Appropriate bowel preparation plays a pivotal role in high-quality colonoscopy, which is related to valuable outcomes in CRC screening. Even in the presence of largely comprehensive guidelines, clinicians have to tailor the efficacy and safety of different bowel preparations for screening colonoscopy in particular categories of patients. AI may represent an adjunctive methodology for standardizing endoscopy practice in order to minimize human inaccuracy and to support lesions detection and characterization. CSP emerged as a relatively new approach for resection of superficial benign lesions. The literature increasingly supports CSP not only for the better safety profile compared to HSP but also for its analogous effectiveness in terms of complete resection. While ESD has been widely recognized as an indispensable procedure for early superficial neoplastic lesions to be able to avoid unnecessary major surgery, advanced techniques such as full-thickness resection and non-thermal avulsion represent valid tools for recurrent/non-lifting lesions suitable for an endoscopic approach.
Provenance and peer review: Invited article; Externally peer reviewed.
Peer-review model: Single blind
Specialty type: Gastroenterology and hepatology
Country/Territory of origin: Italy
Peer-review report's scientific quality classification
Grade A (Excellent): A
Grade B (Very good): B, B
Grade C (Good): 0
Grade D (Fair): 0
Grade E (Poor): 0
P-Reviewer: Mohamed SY, Egypt; Taira K, Japan; Xu ZL, China S-Editor: Gong ZM L-Editor: Filipodia P-Editor: Gong ZM