Copyright
©The Author(s) 2015.
Published by Baishideng Publishing Group Inc. All rights reserved.
World J Gastrointest Oncol.
Apr 15, 2015;
7(4): 17-29
Published online Apr 15, 2015. doi: 10.4251/wjgo.v7.i4.17
Cancer cachexia, mechanism and treatment
Tomoyoshi Aoyagi, Krista P Terracina, Ali Raza, Kazuaki Takabe, Division of Surgical Oncology, Department of Surgery, Virginia Commonwealth University School of Medicine and the Massey Cancer Center, Richmond, VA 23298-0011, United States
Tomoyoshi Aoyagi, Hisahiro Matsubara, Department of Frontier Surgery, Graduate School of Medicine, Chiba University, Chiba 263-0022, Japan
Author contributions: All the authors generated the ideas and contributed to the writing of this paper.
Supported by NIH, No. R01CA160688 and No. T32CA085159-10.
Conflict-of-interest: No potential conflicts of interest relevant to this article were reported.
Open-Access: This article is an open-access article which was selected by an in-house editor and fully peer-reviewed by external reviewers. It is distributed in accordance with the Creative Commons Attribution Non Commercial (CC BY-NC 4.0) license, which permits others to distribute, remix, adapt, build upon this work non-commercially, and license their derivative works on different terms, provided the original work is properly cited and the use is non-commercial. See: http://creativecommons.org/licenses/by-nc/4.0/
Correspondence to: Kazuaki Takabe, MD, PhD, FACS, Division of Surgical Oncology, Department of Surgery, Virginia Commonwealth University School of Medicine and the Massey Cancer Center, West Hospital 7-402, 1200 East Broad Street, Richmond, VA 23298-0011, United States. ktakabe@vcu.edu
Telephone: +1-804-8289322 Fax: +1-804-8284808
Received: October 21, 2014
Peer-review started: October 25, 2014
First decision: December 17, 2014
Revised: January 17, 2015
Accepted: March 30, 2015
Article in press: April 2, 2015
Published online: April 15, 2015

It is estimated that half of all patients with cancer eventually develop a syndrome of cachexia, with anorexia and a progressive loss of adipose tissue and skeletal muscle mass. Cancer cachexia is characterized by systemic inflammation, negative protein and energy balance, and an involuntary loss of lean body mass. It is an insidious syndrome that not only has a dramatic impact on patient quality of life, but also is associated with poor responses to chemotherapy and decreased survival. Cachexia is still largely an underestimated and untreated condition, despite the fact that multiple mechanisms are reported to be involved in its development, with a number of cytokines postulated to play a role in the etiology of the persistent catabolic state. Existing therapies for cachexia, including orexigenic appetite stimulants, focus on palliation of symptoms and reduction of the distress of patients and families rather than prolongation of life. Recent therapies for the cachectic syndrome involve a multidisciplinary approach. Combination therapy with diet modification and/or exercise has been added to novel pharmaceutical agents, such as Megestrol acetate, medroxyprogesterone, ghrelin, omega-3-fatty acid among others. These agents are reported to have improved survival rates as well as quality of life. In this review, we will discuss the emerging understanding of the mechanisms of cancer cachexia, the current treatment options including multidisciplinary combination therapies, as well an update on new and ongoing clinical trials.
Core tip: This review aims to present the clinical presentation, the mechanisms, and current treatment options, such as pharmacological treatment and physical exercise for cancer cachexia.
---
Citation: Aoyagi T, Terracina KP, Raza A, Matsubara H, Takabe K. Cancer cachexia, mechanism and treatment. World J Gastrointest Oncol 2015; 7(4): 17-29
---
INTRODUCTION
Although there is no single universally agreed upon definition of cachexia, a recent consensus statement states that cachexia is a complex metabolic syndrome associated with underlying illness, and is characterized by the loss of muscle with or without loss of fat mass. Cachexia is seen in many medical conditions, including cancer, acquired immunodeficiency syndrome (AIDS), chronic obstructive pulmonary disease, multiple sclerosis, chronic heart failure, tuberculosis, familial amyloid polyneuropathy, mercury poisoning (acrodynia) and hormonal deficiency[1,2]. Cancer cachexia is characterized by systemic inflammation, negative protein and energy balance, and an involuntary loss of lean body mass, with or without wasting of adipose tissue[3]. Clinically, cachexia is represented by significant weight loss in adults and failure to thrive in children[4], accompanied by alterations in body composition and a disturbed balance of biological systems[5-7]. Whilst the loss of skeletal muscle mass is the most obvious symptom of cancer cachexia, cardiac muscle is also depleted, though muscle of other visceral organs tend to be preserved. Though cachexia is seen in several disease states, the loss of muscle mass has been shown to occur most rapidly in cancer patients[8].
Cancer cachexia is an insidious syndrome that not only has a dramatic impact on patient quality of life, but is also associated with poor responses to chemotherapy and survival[9-11]. Indeed, cachexia occurs in the majority of terminal cancer patients and, according to Warren, is responsible for the death of 22% of cancer patients[12,13].
Current therapies focus on palliation of symptoms and the reduction of distress of patients and families rather than cure[14]. In many cases, cachexia remains a largely underestimated and untreated condition[4,15]. Approximately half of all patients with cancer experience cachexia[16,17], with the prevalence rising as high as 86% in the last 1-2 wk of life[18,19], and with 45% of patients lose more than 10% of their original body weight over the course of their disease progression[19]. Death usually occurs when there is 30% weight loss[5]. The best management strategy of cancer cachexia is to treat the underlying cancer as this will completely reverse the cachexia syndrome. Unfortunately, this remains an infrequent achievement with advanced cancers. A second option could be to counteract weight loss by increasing nutritional intake, but since in the majority of cachectic patients anorexia is only a part of the problem, nutrition as a unimodal therapy has not been able to completely reverse the wasting associated with cachexia.
In this review, we discuss the presentation, mechanisms, and current treatment options for cancer cachexia, including diet and exercise therapy to improve quality of life as well as prognosis for affected patients.
CANCER CACHEXIA AND MALIGNANT INFLAMMATION
Multiple mechanisms are involved in the development of cachexia, including anorexia, decreased physical activity, decreased secretion of host anabolic hormones, and an altered host metabolic response with abnormalities in protein, lipid, and carbohydrate metabolism[20]. Due to the complex clinical findings, guidelines for the diagnosis of cachexia have just recently started to appear[3]. Even so, there is great variation in definitions, which presents problems when comparing studies and informing clinical diagnoses[21,22] (Table 1).
| | | | | |
| --- | --- | --- | --- | --- |
| Treatment | Description | Physiologic benefit | Possible mechanism | Ref. |
| Megestrol acetate | Active progesterone derivative | Improves appetite, caloric intake, nutritional status, quality of life | Unknown; possible neuropeptide Y release | [80-92] |
| Medroxyprogesterone | Active progesterone derivative | Improves appetite, food intake Weight stabilization | Decreases serotonin, IL-1, IL-6, TNF-α | [93-96] |
| Ghrelin | Gastric peptide hormone | Improves lean + total body mass, hand grip, cardiac function (CHF cachexia only) | Growth hormone receptor secretagogue | [105] |
| Delta-9-tetrahydrocannabinol | Cannabinoid | MIXED May improve food intake, weight gain | Possible endorphin receptor activation, Inhibition of prostaglandin, IL-1 | [85,106-110] |
| Melanocortin antagonists | Adrenocorticotropic hormone antagonist | UNTESTED; prevention of anorexia, loss of lean body mass or basal energy (animal only) | Neuropeptide Y alteration or melanocortin-4 receptor antagonism | [112,113] |
| Thalidomide | Immunomodulatory | Limits weight and lean body mass loss | Decreases TNF-α, pro-inflammatory cytokines, nuclear factor kappa B, cyclooxygenase 2, angiogenesis | [124-126] |
| Etanercept | Immunomodulatory | Limits fatigue; improves adjuvant therapy adherence | Decreases TNF effect | [127] |
| Eicosapentaenoic acid/omega-3-fatty acids | Lipid | MIXED; may improve weight, appetite, quality of life | Decreases pro-inflammatory cytokines, proteolysis inducing factor | [129,130,133,137,140-142,146-152] |
| Rikkun-shito | Herbal Japanese medicine | Improves median survival with gemcitabine (pancreatic cancer); improves anorexia, GI dysmotility, muscle wasting, anxiety | Unknown | [154,155] |
| Corticosteroids | Immunomodulatory | Improves appetite and quality of life | Various mechanisms | [156,157] |
| Formoterol | β2-adrenergic agonist | UNTESTED | Protein and muscle degradation antagonism | [170] |
| Erythropoetin | Glycoprotein hormone | Improves patient's metabolic and exercise capacity | Decreases production of IL-6 | [171-173] |
| ACE inhibitors | Heart medications | Reduce wasting of muscle mass | Inhibit TNF-α production | [174] |
| β-blockers | Heart medications | Preserved body weight, and lean and fat mass, and improved the quality of life | Normalized Akt phosphorylation | [175] |
One proposed mechanism of cancer cachexia is that it is an integrated physiological response of substrate mobilization driven by inflammation[23]. There is an increase in pro-inflammatory cytokine activity during cancer progression[24,25], and systemic inflammation is a hallmark of cancer cachexia, indicated by the production of acute-phase response (APR) proteins such as C-reactive protein (CRP) and fibrinogen[26,27]. CRP is considered to be an accurate measure of the pro-inflammatory cytokine activity[28] that has been implicated in muscle wasting[29]. The APR is related to the inflammation and weight loss seen in cachexia[30,31] and the reduced quality of life and shortened survival of cachexia patients[10,32-35]. These phenomena increase muscle catabolism and transfer amino acids from muscle anabolism toward the amino acid pool required for APR protein anabolism[36,37]. It has been suggested that eicosanoids also mediate inflammation in cancer cachexia[38-40].
There is considerable evidence that signaling through cytokines and myostatin/activin pathways has a role in cancer cachexia and anorexia[41-43] (Figure 1). Numerous cytokines, including tumor necrosis factor-alpha (TNF-α), interleukin-1 (IL-1), IL-6, and interferon-gamma (IFN-γ), have been postulated to play a role in the etiology of cancer cachexia[44-52]. The cytokines are transported across the blood-brain barrier where they interact with the luminal surface of brain endothelial cells causing release of substances that affect appetite[53]. Receptors of TNF-α and IL-1 are found in the hypothalamic areas of the brain, which regulates food intake. Anorexia induced by both TNF-α and IL-6 can be blocked by inhibitors of cyclooxygenase, suggesting that a prostaglandin, such as PGE2, may be the direct mediator of appetite suppression[54].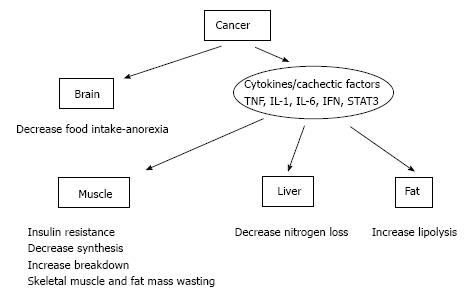 Figure 1 Role of tumor-induced systemic inflammation with metabolic pathways in organs affected by cancer cachexia.
IL: Interleukin; TNF: Tumor necrosis factor; IFN: Interferon; STAT3: Signal transducers and activators of transcription 3.
The role of TNF-α in mediating cancer cachexia is supported by evidence that intraperitoneal injection of a soluble recombinant human TNF-receptor antagonist improved food take and weight gain in tumor-bearing rats[55]. TNF-α increases gluconeogenesis, lipolysis and proteolysis, decreases the synthesis of proteins, lipids and glycogen, induces the formation of IL-1[17], and stimulates the expression of Uncoupling proteins (UCP) 2 and UCP3 in cachectic skeletal muscle[8]. Despite the fact that TNF-α induces the symptoms of cachexia, its inhibition has not been shown to stop or to reverse cancer cachexia[49]. This indicates that though TNF-α may be involved in the development of cachexia, it is not solely responsible for the effects seen in cachectic patients.
IL-1 concentrations increase in the cachectic state and have been known to cause similar effects to TNF-α[56]. IL-1 induces anorexia in cachectic patients as it causes an increase in plasma concentrations of tryptophan, which in turn increases serotonin levels, causing early satiety and suppressing hunger[57]. Increased tryptophan leading to associated increased serotonin production from the hypothalamus has been linked to anorexia[57,58]. A conflicting study showed that IL-1 did not affect food intake or weight loss, suggesting that IL-1 has a local effect on a particular tissue or the exogenous doses of IL-1 must be larger in order to see characteristics of cachectic state[59].
IL-6 is an important mediator in the defense mechanism of humans through its regulation of immune responses[60]. Concentration levels of IL-6 increase transferrin in cancer patients[28]. Levels of IL-6 were observed to be higher in patients with cachexia than weight-stable patients. Although IL-6 may have an important role in the development of cachexia, it is not considered to be solely responsible, working through indirect action, indicated by the failure of IL-6 administration to reproduce cachexia in animal model[17]. As such, it is likely that a complex interplay of these factors is responsible for cachexia, rather than each working in isolation[61]. However, since there is limited variation in levels of circulating cytokines[62], and circulating cytokines are produced by isolated peripheral mononuclear cells, it is speculated that local production in affected tissues is more important and relevant to cachexia than systemic circulation of these factor[63].
Signal transducers and activators of transcription 3 (STAT3) is a member of the STAT family of proteins. STAT3 function as essential signal transducing effector proteins of cytokine-induced pathways that control the development, proliferation, differentiation, homeostasis of many cell types[64]. STAT3 activation is a common feature of muscle wasting. STAT3 is activated in muscle by IL-6 and by different types of cancer and sterile sepsis[65]. It is not certain whether the cytokine production is primarily from tumor or host inflammatory cells. It has been hypothesized that either tumor cell production of pro-inflammatory cytokines or the host inflammatory cell response to tumor cells is the source of the APR protein seen in many malignancies and in cachexia[66].
CATABOLISM
A number of factors in cancer patients are known to increase the catabolic response, leading to unsustainable levels of fat and muscle mobilization and levels of muscle depletion that cause significant morbidity and mortality.
The metabolic changes found in cachexia resemble those of infection rather than starvation and are multifactorial and complex[67]. Although the weight loss brought on by starvation is mainly from adipose tissue stores, the weight loss of cancer cachexia is caused by loss of both skeletal muscle and adipose tissue mass[68]. In patients with cachexia there is an increase in muscle protein catabolism leading to a net loss of muscle mass. This imbalance of protein synthesis and degradation is one of the most obvious aspects of metabolism disruption in cancer cachexia. It has been widely observed that the rate of muscle protein catabolism increases in cachexia, whilst anabolism of new proteins decreases, resulting in net protein breakdown[8,69-71].
Increased energy expenditure may also contribute to the wasting process. Resting energy expenditure (REE) is increased in the cachectic state, with futile metabolic cycling accounting for much of this increase[72]. About 70% of the total energy expenditure in sedentary people arises from the REE[1]. The REE in cancer patients is strongly determined by the type of tumor. For example, patients with pancreatic and lung cancer had increased REE compared with healthy subjects[73,74]. Patients with gastric and colorectal cancer were reported to have no elevation of REE[73], though it seems that these results reflect how close the patients were to death at the time of measurement. In malnourished patients near death there is an increase in REE and in protein catabolism which could relate to the utilization of the last skeletal muscle mass[75].
Although skeletal muscle is the most important site for thermogenesis in the adult human, brown adipose tissue (BAT) is also to have an important role in cachexia. Non-shivering thermogenesis takes place in BAT, and in a single study using autopsy samples of peri-adrenal tissue examined by light microscopy, BAT was observed in 20 of the cachectic cancer patients (80%) compared to 2 of the age-matched subjects (13%)[76].
UCPs, related to the regulation of mitochondrial proton gradients and the production of reactive oxygen species in skeletal muscle and adipose tissue, may also play a role in the increased REE observed in cachexia[8]. There are three UCPs: UCP1 found only in BAT, UCP2 found in most tissues, and UCP3 found only in BAT and skeletal muscle[77]. In particular, the expression of UCP2 and UCP3, associated with energy expenditure and metabolism in skeletal muscle, is upregulated in the cachectic state, indicating involvement of these mechanisms[8]. Expression levels of mRNA of UCP1 in BAT were significantly elevated over controls in mice bearing cachexia inducing tumors, while expression levels of UCP2 and -3 did not change in BAT, but were significantly increased in skeletal muscle[78]. This may also be applicable to cancer patients, since UCP-3 mRNA levels are increased in muscle only when weight loss is associated with cancer. UCP-2 mRNA levels in muscle seems unaffected by cancer either with or without weight loss[79]. The increase in UCP3 mRNA might enhance energy expenditure and contribute to tissue catabolism.
PHARMACOLOGICAL TREATMENT
OMEGA-3- FATTY ACIDS (N-3-FA), EICOSAPENTAENOIC ACID
Eicosapentaenoic acid (EPA) is one of several omega-3 polyunsaturated fatty acids found abundantly in fish oil. Polyunsaturated fatty acids have been proposed to reduce cachexia-associated tissue wasting[128] as well as tumor growth[129,130]. EPA down-regulates the production of pro-inflammatory cytokines in both healthy individuals and patients with cancer. Furthermore, the effects of proteolysis inducing factor, a cachectic factor produced by cancer, are also inhibited by EPA.
Three systematic reviews have been published regarding n-3-FA. Only one of these formulated a weak recommendation of n-3-FA for patients with advanced cancer and weight loss[131], stating that there was a fair evidence to recommend its use (recommendation grade B). The other two reviews found no clear advantages from treatment with n-3-FA. A meta-analysis by Colomer et al[131] contained 17 trials[61,132-146], and attempted to evaluate the effectiveness and safety of n-3-FA in relieving symptoms associated with the cancer cachexia syndrome. They reported that EPA improved various clinical, biochemical, and quality of life parameters after 8 wk of treatment. Dewey et al[147] showed that data were insufficient to determine whether oral EPA is better than placebo in their analysis of 5 trials[130,137,140,148,149]. Comparison of EPA vs MEGACE as an appetite stimulant provided no evidence that EPA improved cachexia-related symptoms[147]. Mazzotta et al[150] systematically reviewed several databases including publications until 2006 in order to identify the clinical efficacy of EPA and DHA for the management of cachexia in cancer patients. They analyzed 10 studies and 7 RCTs[133,137,140-142,151,152] and found no clear advantage of either EPA or DHA on weight, lean muscle mass, symptoms, quality of life, or survival. Studies that reported statistically significant differences were found to have only a small clinical difference, not enough to justify the use of EPA or DHA alone as a treatment option. However, it does seem clear that multidimensional treatments represent the most useful approach for cachexia in advanced cancer[150].
Altogether, there is not enough evidence to support a net benefit from n-3-FA in treating cachexia from advanced cancer. On the other hand, adverse effects were infrequent and not severe. More research is needed not only on drugs such as eicosapentaenoic acid or other n-3-FA, but also on multimodal approaches combining drugs and non-drug interventions.
Herbal medicine (kampo)
Kampo is the Japanese herbal medical practice, which is an adaptation of traditional Chinese medicine that came to Japan between the 7th and 9th centuries. Kampo has been shown to have significant clinical benefits for cachexia[153]. Fujitsuka et al[154] reported that Rikkunshito, a Kampo formula, improved anorexia, gastrointestinal dysmotility, muscle wasting, and anxiety-related behavior. Rikkunshito improved anorexia-cachexia and prolonged survival of tumor-bearing rats in this study. Moreover, Rikkunshito significantly prolonged median survival of pancreatic cancer patients with ascites who were treated with gemcitabine. These studies suggest that Rikkunshito may be useful in clinical practice for cachectic cancer patients. Although the mechanisms of how the herbs demonstrate these effects are unclear and remain to be elucidated, they deserve further studies as new potential therapy agents for cancer treatment[155].
Corticosteroids
Corticosteroids are one of the most widely used appetite stimulants. In randomized controlled studies, they have been shown to improve appetite and quality of life compared with placebo[156]. MEGACE and corticosteroids seem equally effective, although for long-term use, corticosteroids result in more serious adverse effects such as protein breakdown, insulin resistance, water retention, and adrenal suppression[157]. Therefore, corticosteroids are not suitable for long-term use and should be used in a limited fashion, such as during the pre-terminal phase of cachexia.
NON-STEROIDAL ANTI-INFLAMMATORY DRUGS
There are four studies investigating the relationship between non-steroidal anti-inflammatory drugs (NSAIDs) and cancer cachexia[158-161]. These studies demonstrated improved quality of life, performance status, inflammatory markers, weight gain and survival. Notably these reviews show that side effects of NSAIDs use were not remarkable in these reports that were evaluated.
However, two reports concluded data were insufficient for interpreting their widespread use of NSAIDs in practice[162,163]. This reflection comes up from the view of the large studies heterogeneity in terms of study design, number of patients, type of cancer, clinical parameters, definition of effect criteria, and the weakness of the many individual studies.
FUTURE DIRECTIONS
Additional directions for study in the field of cancer cachexia may come from the results of Bossola et al[193] who showed hyper-expression of mRNA for ubiquitin and increased proteolytic activity of proteasomes prior to weight loss in cancer patients. This finding could open a new research area in the field of early intervention and of prevention of cancer induced weight loss. Further research is also needed into cancer anorexia, due to the frequent finding of reduced food intake in cancer patients, and the lack of any current powerful therapies to improve appetite and daily caloric intake.
CONCLUSION
Cancer cachexia has been regarded as a non-curable disease, and has been estimated to be responsible for the death of over 20% of cancer patients. The management of cancer cachexia has improved dramatically in the past decade, as the mechanisms involved in the development and progression of the condition continue to be elucidated. Currently all treatments for cancer cachexia are considered palliative, but new agents have improved patient survival as well as their quality of life. Regular anti-neoplastic agents have ability to treat cancer, but in many cases worsen cachexia. Future progress in the field will be realized through development of treatment agents with ability to affect cancer progression as well as improve patient quality of life.
P- Reviewer: Chai J, Kralj M, Toth EA S- Editor: Qi Y L- Editor: A E- Editor: Lu YJ