Copyright
©2014 Baishideng Publishing Group Inc.
All rights reserved.
World J Gastrointest Oncol.
Jul 15, 2014;
6(7): 211-224
Published online Jul 15, 2014. doi: 10.4251/wjgo.v6.i7.211
Advances and new perspectives in the treatment of metastatic colon cancer
Enrique Díaz-Cantón, Máximo de la Vega, Martin Greco, Gonzalo Recondo Jr, Gonzalo Recondo Sr, Department of Medical Oncology, Centro de Educación Médica e Investigaciones Clínicas (CEMIC), Buenos Aires 1431, Argentina
Enrique Díaz-Cantón, Máximo de la Vega, Fundaleu, Fundación para combatir la Leucemia, Servicio de Oncología Clínica, Buenos Aires 1114, Argentina
Matias E Valsecchi, Depatment of Medical Oncology, Huntington Internal Medicine Group, Huntington, WV 25705, United States
Author contributions: Recondo G Jr, Díaz-Cantón E, de la Vega M and Valsecchi ME conceived the topic, contributed to the writing and revising, and provided overall design and execution of the manuscript; Greco M and Recondo G Sr contributed to the writing and revising the manuscript.
Correspondence to: Matias E Valsecchi, MD, MS, Depatment of Medical Oncology, Huntington Internal Medicine Group, 5170 U.S Route 60 East, Huntington, WV 25705, United States. meval78@yahoo.com
Telephone: +1-304-3994647 Fax: +1-304-3992390
Received: November 28, 2013
Revised: March 4, 2014
Accepted: May 29, 2014
Published online: July 15, 2014

During the last decade we have witnessed an unprecedented outburst of new treatment approaches for the management of metastatic colon cancer. Anti-angiogenic drugs, epidermal growth factor receptor blockers and multi-kinase inhibitors have all resulted in small but consistent improvement in clinical outcomes. However, this progress has paradoxically leaded us into new challenges. In many cases the clinical development was done in parallel and the lack of head-to-head comparison evolved into circumstances where several valid new "standards of care" are available. Even though desirable in essence, the availability of many options as well as different possible combinations frequently leaves the busy clinician in the difficult situation of having to choose between one or the other, sometimes without solid evidence to support each decision. In addition, progress never stops and new agents are continuously tested. For these reason this review will try to summarize all the clinical trials that constitute the theoretical framework that support our daily practice but will also procure the reader with rational answers to common clinical dilemmas by critically appraising the current literature. Lastly, we will provide with a compilation of promising new agents that may soon become our next line of defense against this deadly disease.
Core tip: This manuscript is a comprehensive review, with the most updated information up to 2014, regarding metastatic colon cancer. It summarizes all those relevant clinical trials that constitute the theoretical framework to support our daily practice and provides rational answers to common clinical dilemmas. Additionally, it gives the reader a compilation of potential new agents that are currently being tested and may soon become the next step in the battle against this disease.
---
Citation: Recondo GJ, Díaz-Cantón E, de la Vega M, Greco M, Recondo GS, Valsecchi ME. Advances and new perspectives in the treatment of metastatic colon cancer. World J Gastrointest Oncol 2014; 6(7): 211-224
---
INTRODUCTION
Colon cancer is the second leading cause of cancer-related mortality in the United States and 1.2 millions of new cases are yearly diagnosed worldwide[1]. From the clinical perspective colon cancer could be categorized into the early stages (I-III) and the more advanced and usually lethal metastatic disease. Notably, since the publication of the MOSAIC trial almost ten years ago, no other groundbreaking development in the treatment of resectable colon cancer became available[2]. On the contrary, during the last decade we have witnessed an unprecedented outburst of new treatment approaches for the management of stage IV colon cancer that ultimately evolved into the approval of five new drugs. For simplification purposes, we can subdivide these new drugs into three categories: anti-angiogenic, epidermal growth factor receptor (EGFR) blockers and multi-kinase inhibitors. All of them represent important advances in the fight against this deadly disease. Nonetheless, some issues deserve further attention. First, these new agents were generally combined with at least some of the previously effective chemotherapy regimens (fluoropyrimidines and/or oxaliplatin and/or irinotecan). Also, the clinical development was done in parallel instead of following a rational stepwise approach where each new drug was tested against the new standard of care. This lack of head-to-head comparison resulted in several valid new "standards of care". Lastly, new combinations are continuously tested making extremely difficult for the busy clinician to keep up with the most updated information.
For the reasons mentioned before, this manuscript will pursue three clear objectives. First summarize all those relevant clinical trials that constitute the theoretical framework to support our daily practice. Second try to provide rational answers to common clinical dilemmas by critically appraising the current literature. Finally, provide the reader with a compilation of potential new agents that are currently being tested and may soon become the next step in the battle against this disease.
ANTI-ANGIOGENESIS AS A TARGET
Angiogenesis consists in a complex multistep process of new vessel formation. The vascular endothelial growth factor (VEGF) and its receptor (VEGFR) play a crucial role in the tumor transition from the "avascular" to the "vascular" phase, acquiring metastatic potential[3,4]. It also stimulates tumor growth, migration and metastasis through mechanisms not entirely related to tumor angiogenesis[5]. Moreover, tissue interstitial pressure is a key factor in chemotherapy delivery and in some tumors this could be up to 15 times higher than the normal counterparts[6]. There is solid evidence that VEGFR inhibition partially restores interstitial fluid pressure and reduces abnormal vasculature with improvement of drug delivery and enhancement of chemotherapy efficacy[7].
Bevacizumab
Bevacizumab (Avastin®, Genentech Inc.), a recombinant humanized monoclonal IgG-1 antibody against soluble VEGF-A, was the first anti-angiogenic drug approved for metastatic colon cancer. It prevents the binding of VEGF-A to the VEGFR and, consequently, inhibits angiogenesis, tumor growth and metastatic development. It was first approved on February 2004 by the FDA as first-line treatment for patients with metastatic colon cancer. Today, almost 10 years later, a substantial body of evidence has accumulated to help clinicians in the judicious use of this molecule. Table 1 summarizes the most relevant clinical trial of the anti-angiogenic drugs.
Ref.
Drug and study name
Study description
No. of patients
Comparison
Median OS (mo)
Median TTP/PFS (mo)
ORR
1-yr survival
Bevacizumab (B)
Hurwitz et al[8] 2004
AVF2107g trial
RCT, 1st line
813 (ITT)
IFL + B vs IFL
20.3 vs 15.6
10.6 vs 6.2
45% vs 35%
74% vs 63%
Fuchs et al[10] 2007
BICC-C trial
RCT, 1st line
117 (2nd period)
FOLFIRI + B vs mIFL + B
28 vs 19
11 vs 8
58% vs 53%
87% vs 61%
Giantonio et al[12] 2007
ECOG 3200 trial
RCT, 2nd line post irinotecan 1st line
820 (ITT)
FOLFOX-4 + B vs FOLFOX-4 vs B alone
12.9 vs 10.8 vs 10.2
7.3 vs 4.7 vs 2.7
23% vs 8.6% vs 3.3%
56% vs 43% vs 44%
Saltz et al[13] 2008
NO16966 trial
RCT, phase 3, 1st line, factorial 2 x 2
1401
FOLFOX-4 or XELOX + B vs FOLFOX-4 or XELOX
21.3 vs 19.9
9.4 vs 8.0
47% vs 49%
Not reported
Tebbutt et al[17] 2010
MAX trial
RCT, open label, 1st line
471
Cape alone vs Cape + B vs Cape + B + mitomycin
18.9 18.9 vs 16.4
5.7 vs 8.5 vs 8.4
30% vs 38% vs 46%
Not reported
Cunningham et al[18] 2013
AVEX trial
RCT, elder population, 1st line
280
Cape alone vs Cape + B
20.7 vs 16.8
9.1 vs 5.1
19% vs 10%
74% vs 44%
Falcone et al[21] 2013
TRIBE trial
RCT, 1st line
508
FOLFOXIRI-B vs FOLFIRI-B
31.0 vs 25.8
12.1 vs 9.7
65% vs 53%
Not reported
Bennouna et al[66] 2013
ML 18147
RCT, open label, 2nd line post chemo + B
409
2nd line chemotherapy + B vs 2nd line chemotherapy
11.2 vs 9.8
5.7 vs 4.1
5.5% vs 4%
Not reported (approximately 50% vs 40%)
Ziv-Aflibercept
Van Cutsem et al[29] 2012
VELOUR trial
RCT, 2nd line post oxaliplatin and/or bevacizumab 1st line
1226
FOLFIRI + aflibercept vs FOLFIRI + placebo
13.5 vs 12.0
6.9 vs 4.7
20% vs 11%
56% vs 50%
The first practice-changing, double blind, randomized phase III trial that was published compared the use of irinotecan, bolus 5-FU and leucovorin (IFL) with or without bevacizumab in metastatic, previously untreated patients[8]. The primary endpoint of the study was overall survival (OS); disease-free survival (DFS) and overall response rate (ORR) were secondary endpoints. OS (20.3 mo vs 15.6 mo; P < 0.001) and PFS (10.6 mo vs 6.2 mo; P < 0.001) and ORR (45% vs 35%) were all significantly improved with bevacizumab. Importantly, patients in the IFL group were not allowed to crossover. Similar results were obtained in the ARTIST trial using a modified version of IFL (5-FU was infused over 6-8 h) plus bevacizumab in metastatic colon cancer, chemotherapy naïve, Chinese patients, confirming that results obtained in Caucasians were also applicable in Asian population[9]. Subsequently, in 2007 results from the BICC-C trial were released showing that bevacizumab combined with the classical bolus and 46-h infusional 5-FU plus leucovorin and irinotecan (FOLFIRI) was superior to a shorter version of IFL as upfront therapy[10]. In the original trial design patients were randomly assigned to receive FOLFIRI, IFL or irinotecan plus capecitabine (CapeIRI) with or without celecoxib. However, after the FDA-approval of bevacizumab the protocol was amended and additional 117 patients were randomized to receive bevacizumab with FOLFIRI (FOLFIRI-B) or IFL (IFL-B); due to excessive toxicity the CapeIRI arm was discontinued. With an updated median follow-up of 34.4 mo, OS was longer in the FOLFIRI-B arm (28.0 mo vs 19.2 mo; P = 0.037)[11]. Thus, infusional 5-FU regimens should be preferred over bolus 5-FU when combined with bevacizumab.
After the initial success with irinotecan combinations, bevacizumab was soon studied in oxaliplatin-based regimens. The first evidence of its synergistic effect came from the ECOG-3200 study that investigated the role of bevacizumab in the second line treatment[12]. In this study patients who had progressed to irinotecan and fluoropyrimidine therapies but who had not received oxaliplatin or bevacizumab were randomized to FOLFOX-4 (control arm), FOLFOX-4 plus bevacizumab (FOLFOX-B) or single agent bevacizumab. With a median follow-up of 28-mo, a modest but statistically significant improvement in OS was shown for the FOLFOX-B arm (12.9 mo vs 10.8 mo, P = 0.0024). Single agent bevacizumab showed virtually no effect. Immediately after the release of this study, and in spite of the lack of evidence in the front line therapy setting, FOLFOX-B was rapidly accepted in the oncology community as a valid front line option for stage IV colon cancer. Evidence to support this practice finally materialized in 2008. The NO16966 study was a non-inferiority trial evaluating the use of XELOX and FOLFOX with or without bevacizumab in a factorial design[13]. The primary analysis demonstrated a statistically significant benefit in terms of progression-free survival (PFS) (9.4 mo vs 8.0 mo; P = 0.002) in patients receiving bevacizumab, irrespectively of the chemotherapy backbone used, but there was no difference in terms of OS and ORR in the final analysis. Moreover, the TREE studies evaluated the use of three different oxaliplatin-based chemotherapies with bevacizumab[14]. A total of 150 patients were randomly assigned to mFOLFOX-6, bFOL (bolus FU and low-dose LV with oxaliplatin) or CapeOx in the TREE-1 cohort and 223 patients were randomized to the same regimens with bevacizumab in the TREE-2 cohort. ORR was superior in each arm with the addition of bevacizumab and, although not statistically significant, it was highest with mFOLFOX-6 and bevacizumab (52%). Additionally, the BEAT study was designed to evaluate the safety and efficacy of several regimens containing bevacizumab used in the daily community practice but outside the formalities of a clinical trial and in a no-comparative fashion[15]. Consistent with previous studies, improved PFS and OS were seen in patients receiving doublet regimens compared to single agent chemotherapy.
A very relevant issue, however, for the daily practice is the fact that many patients with metastatic colon cancer are not suitable (e.g., elder population or poor performance status) to receive multi-agents regimen such as FOLFOX or FOLFIRI. A common practice in these cases is to use single agent fluoropyrimidine (e.g., weekly bolus 5-FU). Even in this situation, there is enough evidence to support the use of bevacizumab. At least one phase II clinical trial proved that the addition of bevacizumab to single agent 5-FU resulted in better PFS (9.2 mo vs 5.5 mo, P < 0.001) when used as first line option[16]. Importantly, the mean age of the participants was more than 70 years old. Further evidence supporting the efficacy of this combination, especially in fragile patients, came from the MAX study where capecitabine and bevacizumab resulted in longer PFS compared to single agent capecitabine (8.5 mo vs 5.7 mo; P < 0.001)[17]. This was confirmed by the AVEX Trial that enrolled elder patients (> 70 years) who were not candidates for treatment with oxaliplatin or irinotecan and randomized them to capecitabine alone or in combination with bevacizumab[18]. With a mean follow up close to 2 years, the median PFS was almost double with bevacizumab (9.1 mo vs 5.1 mo; P < 0.001). ORR was also superior but the study was underpowered to detect a benefit in OS. However, the reader should be aware that the addition of bevacizumab in these three trials resulted in an absolute increment of grade 3-4 toxicity of about 15%-20% with none of them showing a statistically benefit in OS.
A classical paradigm that has been recently called into challenge is the one that discourage the use of multi-agents regimens combining oxaliplatin and irinotecan at the same time. This presumption was based on the results of the N9741 study where the IROX (oxaliplatin + irinotecan) arm showed worse TTP, ORR and OS compare to FOLFOX[19]. However, treatment with the combination of 48-h infusional 5-FU, oxaliplatin and irinotecan (FOLFOXIRI) proved to be superior to FOLFIRI, which is believed to be similar to FOLFOX, in terms of OS, PFS and ORR in patients with mCC[20]. Recently, the results of a phase 3 TRIBE trial that compared FOLFOXIRI and FOLFIRI with the addition of bevacizumab were presented[21]. Both treatments were administered for a maximum of 12 cycles followed by 5-FU + bevacizumab until progression. With a mean follow-up of 26.6 mo, significantly increased PFS was observed in the FOLFOXIRI-B arm (9.7 mo vs 12.2 mo, P = 0.001). As expected, greater neutropenia, diarrhea, stomatitis and neurotoxicity were seen in the FOLFOXIRI arm. Interesting, similar results were obtained in a recent randomized phase II study (OLIVIA) where FOLFOXIRI-B showed better ORR and conversion to R0 resections compared to FOLFOX-B[22]. Data is still immature, but this combination could be a feasible option for fit patients.
To summarize we should emphasize some useful concepts. First, single agent bevacizumab has almost no activity. Second, the best evidence comes from its usage as upfront first line therapy in combination with either FOLFOX or FOLFIRI and perhaps FOLFOXIRI. In all cases, bevacizumab has persistently showed to improve PFS. For second line treatment the ideal scenario would be in patient who did not receive bevacizumab as a first line option. Lastly, continuation beyond progression is also feasible (see below).
Ziv-aflibercept
Ziv-aflibercept (Zaltrap®, Regeneron Pharmaceuticals) is a recombinant fusion protein consisting of the extracellular domains of human VEGFR-1 and 2 fused to the Fc portion of human IgG-1[23]. The decoy protein binds tightly PIGF, VEGF-A and VEGF-B preventing the activation of VEGFR-1 and 2 by these ligands. This is a significant difference with bevacizumab which exclusively blocks the VEGF-A[24]. Pre-clinical studies confirmed that when combined with cytotoxic drugs, ziv-aflibercept exerted considerable inhibition of angiogenesis[25-27]. In 2006, 38 patients were enrolled in a phase I clinical trial were 2, 4, 5 and 6 mg/kg escalating doses of ziv-aflibercept were explored in combination with irinotecan, 5-FU and leucovorin[28]. In the phase 3 VELOUR trial, patients with metastatic colon cancer but previously treated with oxaliplatin-containing regimens were randomly assigned to receive FOLFIRI with or without ziv-aflibercept every 2 wk[29]. Patients could not have received irinotecan before but up to 30% of them received bevacizumab as front line therapy. The ORR (11.1% vs 19.8%, P < 0.001), PFS (6.9 mo vs 4.6 mo, P < 0.001) and OS (13.5 mo vs 12.1 mo, P = 0.003) were all improved in ziv-aflibercept and were not influenced by the prior use of bevacizumab (stratifying variable). However, the absolute benefit was a modest 1.4 mo in OS.
BLOCKING EGFR AND OTHER KINASES
Cetuximab and panitumumab
In addition of blocking the angiogenesis pathway, another line of investigation that lead to practice-changing outcomes was the one advocated to jamming the EGFR. Once activated, the EGFR triggers a series of downstream phenomenon that ultimately result in tumor growth and survival[30]. It is then simple to understand that blocking EGFR could potentially halt tumor progression. Nevertheless, this basic principle is not always applicable. An overwhelming body of evidence confirmed the futility of blocking the EGFR when downstream molecules are anarchically activated. The strongest evidence comes from the presence of KRAS codons 12 and 13 mutations in exon 2 which virtually turns anti-EGFR strategies useless[31]. But, recent investigations have broadened the number of negative predictive mutations found in the RAS genes family to exons 3 and 4 of KRAS and exons 2, 3 and 4 of NRAS genes[32]. In that sense, testing for KRAS/NRAS mutations could exclude 50% of the patients from an ineffective but potentially harmful therapy. BRAF mutations carry a considerable poor prognosis, but its predictive role is somehow controversial. However, and in spite of this obvious limitation, anti-EGFR therapies have found their place in the treatment of stage IV colon cancer. Two compounds, cetuximab (Erbitux®, Bristol-Myers) a chimeric monoclonal IgG-1 antibody against EGFR, and panitumumab (Vertibix®, Amgen) a fully humanized monoclonal IgG-2 antibody also directed against EGFR, have received FDA-approval for this indication. Table 2 summarizes the most relevant clinical trials related to these agents.
Ref.
Drug and study name
Study description
No. of patients
Comparison
Median OS (mo)
Median TTP/PFS (mo)
ORR
1-yr survival
Cetuximab (C)
Cunningham et al[34] 2004
BOND trial
RCT, phase 2, 2nd line irinotecan-refractory
329
Irinotecan + C vs irinotecan
8.6 vs 6.9
4.1 vs 1.5
23% vs 11%
29% vs 32%
Van Cutsem et al[37] 2009
CRYSTAL trial
RCT, 1st line
1198
FOLFIRI + C vs FOLFIRI
20 vs 18.5 and (25 vs 21)
9 vs 8 and (10 vs 8.7)
47% vs 39% (59 vs 43%)
Not reported (approximately 35% vs 25%)
Maughan et al[59] 2011
COIN trial
RCT, phase 3, 1st line
729 (KRAS wild type)
Oxaliplatin-based chemo + C vs chemo alone
17 vs 17.9
8.6 vs 8.6
64% vs 57%
Not reported
Tveit et al[60] 2011
NORDIC VII trial
RCT, open label, 1st line
571
FLOX + C vs intermittent FLOX + C vs FLOX
19.7 vs 20.3 vs 20.4
8.3 vs 7.3 vs 7.9
49% vs 47% vs 41%
Not reported (approximately 70%)
Panitumumab (P)
Douillard et al[39] 2010
PRIME trial
RCT, phase 3, 1st line
1183
FOLFOX-4 + P vs FOLFOX-4
24 vs 20 (WT) 15 vs 19 (MT)
9.6 vs 8 (WT) 7.3 vs 8.8 (MT)
55 vs 48% (WT) 40 vs 40% (MT)
Approximately 75% both (WT) approximately 60% vs 75% (MT)
Regorafenib (R)
Grothey et al[47] 2013
CORRECT trial
RCT, phase 3, 3rd line
760
Regorafenib vs placebo
6.4 vs 5.0
1.9 vs 1.7
1.0% vs 0.4%
24.3% vs 20.0%
Cetuximab (C) vs Bevacizumab (B)
Stintzing et al[63] 2013
FIRE-3trial
RCT, phase 3, 1st line
592
FOLFIRI + C vs FOLFIRI + B
28.7 vs 25
10 vs 10.3
62 % vs 58%
Not reported
As part of the pre-clinical investigation, cetuximab was tested in tumor xenografts models and found to have marked synergistic activity with irinotecan, even in previously considered irinotecan-resistant cell lines[33]. This observation was the based for a couple of phase 2 clinical trials which confirmed the clinical utility of cetuximab single agent (approximately 10% ORR) and in combination with irinotecan. However, the first convincing evidence of its clinical utility came from the BOND study where 329 patients with irinotecan-resistant metastatic colon cancer were randomly assigned to either single agent cetuximab (ORR 11%, TTP 1.5 mo) or cetuximab plus irinotecan (ORR 23%, TTP 4.1 mo)[34]. No difference in OS was seen but crossover was allowed. As in the case of cetuximab, single agent panitumumab showed 10% ORR in heavily pretreated patients who formerly received 5-FU, irinotecan and/or oxaliplatin[35,36]. Given the encouraging results as second and third line therapies, it did not take much time until both molecules were tested as first line options. In the CRYSTAL trial, 1217 patients were randomly assigned to FOLFIRI alone or FOLFIRI plus cetuximab as first line treatment[37]. The primary endpoint was PFS and it was statistically prolonged in the cetuximab group, albeit by a modest 1 mo (8.0 mo vs 8.9 mo in the whole population and 8.7 mo vs 9.9 mo in the KRAS wild-type patients). Cetuximab also resulted in an absolute 8% improvement in ORR (all partial responses) but no benefit in OS was observed. Similar results were reported in a randomized, phase 2 study using FOLFOX instead of FOLFIRI[38]. In this case the ORR was improved by 25% in wild-type patients as it was PFS, but only by 15 d (7.2 mo vs 7.7 mo). Interesting, in KRAS mutated patients PFS was actually 3-mo worse in the cetuximab arm. Similarly, in the phase 3 PRIME study, investigators used FOLFOX-4 as the backbone to randomized patients in a 1:1 fashion to panitumumab or placebo[39]. As expected, in the wild-type population ORR (48% vs 55%) and PFS (8.0 mo vs 9.6 mo) was better with anti-EGFR therapy but in KRAS mutated cases the effect was neutral or even worse.
An important point to mention at this moment is in reference to the solid evidence against the presumption that combining both anti-angiogenic and anti-EGFR molecules at the same time would results in a synergistic effect. At least two large, randomized, phase 3 clinical trials consistently showed that combining bevacizumab with EGFR inhibitors is actually deleterious. The first of them (PACCE trial) randomly assigned 1053 patients to either oxaliplatin- or irinotecan-based chemotherapy plus bevacizumab but with and without panitumumab as first line treatment for metastatic colon cancer[40]. The primary objective for the oxaliplatin-based arm was extension of PFS and in the irinotecan group was safety analysis. Secondary end points for both groups were ORR, OS and safety. A planned interim analysis for safety and efficacy was conducted at 50% of the events and panitumumab was removed due to significantly decreased PFS [hazzd ratio (HR), 1.44; P = 0.004] and increase toxicity independently of the KRAS status. Grade 3 or more adverse events were present in 90% of patients treated with panitumumab. The CAIRO-2 trial reported similar detrimental results of adding cetuximab to oxaliplatin, capecitabine and bevacizumab[41]. The addition of cetuximab significantly decreased median PFS (10.7 vs 9.4, P = 0.01). A total of 88% of patients discontinued the study, 45% due to tumor progression and 24.5% due to adverse events. A third study, the CALGB 80405, was initially designed to evaluate the use of FOLFOX or FOLFIRI with bevacizumab, cetuximab, or both agents together. In base of the results of the previous studies, the arm combining cetuximab and bevacizumab was closed (NCT00265850).
Regorafenib
The last drug to receive FDA-approval was regorafenib (Stivarga®, Bayer). The compound is an orally available multi-kinase inhibitor with activity against multiple targets including KIT, PDGFR and VEGFR among others. It is structurally related to sorafenib and the most usual adverse events are hand-foot skin reaction, mucositis, hypertension and diarrhea[42-45]. In an expanded phase I trial with 27 evaluable patients, 74% achieved disease control with 1 patient obtaining partial response and 19 stable disease[46]. Globally, regorafenib was well tolerated and adverse events were clinically manageable leading to a multi-centric phase 3 trial. The CORRECT study enrolled patients who had already received all the approved standard therapies and who had progressed during or within 3 mo after the last therapy[47]. Seven hundred and sixty participants were randomized in a 2:1 ratio to regorafenib or placebo. Median OS was 6.4 mo in the regorafenib group vs 5.0 mo in the placebo group (P = 0.005). The most frequent grade 3 or 4 adverse events were hand-foot skin reaction (17%), fatigue (10%), diarrhea (7%), hypertension (7%), and skin desquamation (6%).
COMMON CLINICAL DILEMMAS
We have witnessed an exponential growth in the number of clinical trials dedicated to metastatic colon cancer which eventually resulted in small but consistent improvement in clinical outcomes (Figure 1). However, this progress has paradoxically leaded us into new challenges. We have arbitrarily chosen 3 topics that in our own opinion are probably the more relevant clinical dilemmas. The reader should be aware, though, that the opinions expressed below come from our own assessment of the literature and they should be considered only as the authors' point of view.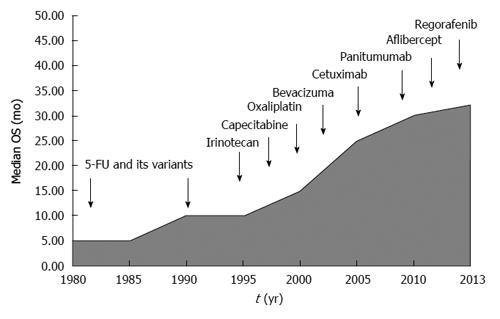 Figure 1 Schematic representation of the recent advances in the treatment of metastatic colon cancer.
Is there any role for peri-operative chemotherapy in potentially resectable liver metastases? Can the new biological agents improve the resectability rate on patients with borderline or unresectable liver metastases? Which regimen to chose?
The first point to consider is whether the patient has upfront resectable disease or not. A set of criteria have been proposed, however in any case this decision require appropriate discussion between the medical and surgical oncologists[48]. For those who are considered resectable common practice is to give them at least 6 mo of chemotherapy. The most solid evidence for this action comes from the EORTC 40983 trial where 364 patients, with one to four resectable liver metastases, were randomly assigned to surgery alone or 6 doses of FOLFOX-4 pre- and post-surgery[49]. The study was positive for its primary endpoint, PFS (20.9 vs 12.5; P = 0.035, per protocol population) and it gained rapid acceptance within the medical community. Oncologist extrapolated these results to the completely neo-adjuvant or adjuvant (stage IV in NED status) setting, albeit with no evidence to support this approach. OS was not improved in the EORTC 40983 but the enrollment of patients was less than originally expected and its statistical power was called into question. Two other studies were reported in the adjuvant setting after complete resection of liver metastases[50]. They were also underpowered and employed outdated chemotherapy (5-FU bolus). The poor accrual in these clinical trials is most likely related to the oncologists' reluctance to enroll patients in studies that involved a surgery only arm. One single institution, single arm study showed 73% ORR (9% complete pathological response) in 56 patients treated with XELOX + bevacizumab in a peri-operative setting (6 doses pre- and 6 other post-surgery)[51]. The use of biological agents in the post-surgical period, when the patient is NED, is very controversial. Based on the results from adjuvant studies this practice should be discouraged. However, formal studies addressing this issue are missing. Other relevant issue with upfront resectable disease is the fact that chemotherapy could result in liver damage (e.g., steatohepatitis) which could jeopardize patient's only curative chance.
A different scenario presents when the patient has liver-limited but unresectable metastases. Some of these patients (e.g., low volume but abutting critical structures) have borderline disease, potentially amenable to be converted. In these cases, clinician should choose the best possible regimen to obtain maximal response rate. Before the advent of the anti-EGFR and bevacizumab, conventional chemotherapy agents had already proven to enable surgical resection in a proportion of patients. Regimens such as FOLFOX or FOLFIRI have a conversion rate close to 40% and this could be improved with FOLFOXIRI[20,52,53]. The obvious question then is how much bevacizumab or the anti-EGFR drugs add to this and which one to use. A practical consideration is the fact that bevacizumab, which is the only option in KRAS mutant cases, has to be stopped at least 6-wk before surgery. For wild-type tumors, evidence may be slightly stronger for anti-EGFR drugs.
In the Germanic CELIM phase 2 study, 114 patients were randomly assigned to FOLFOX-6 or FOLFIRI, both regimens with cetuximab[54]. Patients required having technically unresectable liver metastases or more than five lesions. From a 106 evaluable patients, 36 of them (34%) had R0 resection but this proportion reached 60% in the wild-type KRAS population (41/68). Similar results were obtained in retrospective series. Even stronger evidence supporting the use of anti-EGFR in this particular setting came from a recently published Chinese study[55]. This phase 2, randomized study compared the efficacy of conventional chemotherapy (FOLFOX-6 or FOLFIRI) with or without cetuximab. Conversion to resection was the main outcome and after randomizing 138 patients the arm with cetuximab duplicated the proportion of patients deemed eligible for resection (13% vs 29%) and triplicated the R0 rates (7.4% vs 25.7%). Based on these reports chemotherapy plus cetuximab should be strongly considered for patients with wild-type KRAS and liver only metastases. Detractors of this posture may argue, though, that in a fresh head-to-head comparison between cetuximab and bevacizumab, ORR was not different (FIRE-3; see below).
Data supporting the use of bevacizumab in this scenario is somehow controversial. The most vigorous argument against its use comes from the previously mentioned NO16966 study[14]. There was no difference in ORR and there was similar proportion of patients attempted to have curative metastatectomies (8.4% vs 6.0%). However, the study was not designed to test this hypothesis. On the other hand, small phase 2 and retrospective studies brought up to 40% conversion rates and pathological responses when bevacizumab is added to XELOX, representing the fundaments for its use especially in KRAS mutant patients[56,57]. In that regards, the possibility of adding a stronger chemotherapy, such as FOLFOXIRI, should be seriously considered for fit patients.
Which is the ideal chemotherapy mate of the current monoclonal antibodies? And in patients with wild-type KRAS which strategy we should choose? Anti-VEGFR or Anti-EGFR?
Doublet chemotherapy is often used as upfront systemic treatment for advanced CC. It is unclear to these days which doublet is better for each patient and this has to be individualized according to toxicity and comorbidities. FOLFOX, XELOX, and FOLFIRI appear to be similar in efficacy but with different toxicity profile. XELIRI is harder to endure. Most patients tolerate a chemotherapy doublet, but probably not all of them need it as showed by the frequently forgotten Dutch study (CAIRO-1)[58]. The addition of biologics has improved outcomes, but not as much as we hoped. When KRAS is mutated, the chemotherapy chosen must be accompanied with bevacizumab. The dilemma starts with the K-RAS wild type patients. There are clinical trials showing benefit for both approaches: anti-VEGFR and anti-EGFR. The question is which patient would benefit from one or the other schema.
As previously mentioned, in the NO16966 study bevacizumab extended PFS by 1.4 mo, with a more profound effect seen in the XELOX arm[13]. But, why bevacizumab had such a discrete effect on PFS? Was this due to no synergistic or additive effect with FOLFOX/XELOX? The answer is NO, since FOLXOX + bevacizumab is active, even in second line with significant prolongation of OS[12]. Some authors advocate the idea of failure due to the "OPTIMOX" effect, meaning when neurotoxicity occurred oxaliplatin was stopped and fluoropyrimidine plus bevacizumab was continued until progression. This could be the case, since when we observe the difference in PFS of the patients on treatment, this is much more important. It is also feasible that bevacizumab works better with "inferior chemotherapies" such as IFL and have less to offer with "superior chemotherapies" such as XELOX or FOLFOX.
Regarding the anti-EGFR therapies, the earlier cited CRYSTAL and PRIME studies are the foundations for its use in the frontline treatment[40,41]. Nonetheless, in 2011 the COIN study was published[59]. With 2445 KRAS wild-type patients randomized to XELOX or FOLFOX +/- cetuximab, the COIN study represents the biggest trial ever conducted in this population. The results were disappointing. No difference in PFS was seen. Shortly thereafter, the results of the NORDIC VII were released[60]. Patients were randomly assigned to either standard Nordic FLOX or cetuximab + FLOX or cetuximab + intermittent FLOX. The median PFS was 7.9, 8.3, and 7.3 mo respectively and was not significantly different. In patients with KRAS wild-type tumors, cetuximab did not provide any additional benefit but in patients with KRAS mutations a trend toward worsening PFS was observed. The authors concluded that cetuximab did not add significant benefit to the Nordic FLOX regimen as first-line treatment. Additionally, the randomized, phase 2, PEAK study was presented in the 2013 ASCO GI Meeting[61]. This study enrolled 285 patients and evaluated the use of first-line mFOLFOX-6 + panitumumab vs bevacizumab. Again, no difference was observed. It is confusing how to interpret the actual role of anti-EGFR and chemotherapy since COIN, the largest phase 3 randomized trial, was negative. The NORDIC was a negative trial as well, but in the scenario of 5-FU given by bolus, a seldom used strategy nowadays. It is possible that irinotecan-based chemotherapy would be necessary when anti-EGFR is considered in the treatment of metastatic disease. It is also curious that the hazard ratios for PFS with anti-EGFR antibodies tend to become more significant as the number of previously used lines of treatment upsurges. For instance, these agents are useless in the adjuvant setting and grow more active as disease progresses (e.g., 3rd line).
Lastly, the FIRE-3 trial was presented in June 2013[62]. This was a randomized multicenter trial comparing the efficacy of FOLFIRI + cetuximab vs FOLFIRI + bevacizumab in patients with wild-type KRAS metastatic colon cancer. The primary endpoint was ORR and 592 patients were included. The study was negative for its primary end-point, with comparable ORR (62% vs 58%, P = 0.183). Significantly better PFS and OS were seen in the FOLFIRI + cetuximab arm (28.8 mo vs 25.0 mo; P = 0.016) although this was a secondary endpoint. A preplanned analysis of the FIRE-3 was presented at the European Cancer Congress 2013, aimed to investigate the effect of several other mutations beyond the exon 2 as well as BRAF (V600E)[63]. About 15% of patients were found to have these extra mutations. This sub-analysis incorporated 342 KRAS wild-type patients and 178 KRAS mutant patients (113 with exon 2 mutations plus the 65 newly identified patients). The subgroups were compared for ORR, PFS, and OS. Wild-type patients had 33.1 mo OS with FOLFIRI + cetuximab in comparison to 25.6 mo with FOLFIRI + bevacizumab (HR = 0.70; P = 0.011). In KRAS-mutant patients, this difference was not observed. No difference in PFS was seen in the KRAS wild-type group (P = 0.54), but interestingly for KRAS-mutated patients PFS was better in the bevacizumab arm (12.2 mo vs 6.1 mo; P = 0.004). ORR was similar between the arms, irrespective of KRAS status. It is difficult to understand why a treatment that does not improve ORR and PFS could show such an impact on OS.
In conclusion, in 2014 we have only one approach for KRAS mutated tumors which is chemotherapy plus bevacizumab. For KRAS wild type we can use either chemotherapy plus anti-EGFR antibodies OR chemotherapy plus bevacizumab. Going deeply into this last category, at least one clinical trial suggested cetuximab + FOLFIRI as the possible best option. However, head-to-head comparison with FOLFOX+B is lacking and this still represents a valid option. We disfavor oxaliplatin-based chemotherapy with cetuximab based on the MRC COIN study.
Which is the best strategy after progression with bevacizumab-containing regimen? Switch chemotherapy and keep anti-VEGFR or switch to anti-EGFR antibodies?
Preclinical data showed that continuous VEGF inhibition prevents tumor regression[64]. However, risk-benefit ratio associated with continuing bevacizumab use after initial progressive disease was unknown. In 2008, Grothey et al[65] reported a novel observation gathered from the BRiTE study. In this large, observational cohort study patients were classified according to the treatment received once they progressed to first line bevacizumab containing regimens. Three groups were identified; those with no post-progression treatment, those who received no-bevacizumab related treatment and those who continued bevacizumab beyond progression. When adjusted for other variables, bevacizumab beyond progression was associated with longer survival (P < 0.001). Based on the hypothesis generated by the BRiTE investigators, a randomized phase III study-ML18147 trial-was launched[66]. The investigators assessed continuation bevacizumab plus second-line chemotherapy (no anti-EGFR) after standard first-line bevacizumab-based treatment. Bevacizumab lead to a 1.4 mo longer OS (11.2 mo vs 9.8 mo; P = 0.006).
At the present time is unclear how to proceed in patients who are treated with bevacizumab-containing chemotherapy who progress. In the KRAS/NRAS mutated patients the concept is to maintain the anti-angiogenic status in a similar strategy as the one employed in HER-2/Neu positive breast cancers[67]. This could be achieved either by keeping bevacizumab and changing the chemotherapy regimen or by switching to ziv-aflibercept and irinotecan containing regimen. For wild type tumors, the same options applied but anti-EGFR monoclonal antibodies should be strongly considered because it is important to emphasize that independently of the biological agent chosen first, once progressed patients with wild type tumor should be able to receive all agents sequentially[68].
NEW TARGETS
In the previous sections we have focused on the evidence behind what is currently considered the state of the art treatment of metastatic colon cancer. However, since this field is quite dynamic and the frontiers are in continuous expansion, it will be appropriate to discuss some of the new strategies that are currently being investigated. For description purposes, we will subdivide them based on its main mechanism of action.
CONCLUSION
In conclusion we can affirm that over the last couple of years we have made some small but consistent progress against colon cancer. Anti-angiogenic and anti-EGFR strategies have given dividends by prolonging PFS and to a lesser extend prolonging life in patients with metastatic disease. We are still learning how to use them and it may take time before we discover the best sequence and combination. We also expect that in the near future better biomarkers lead us to the deeply desire but still evasive personalized medicine. But beyond these small victories, new horizons are envisioned. For example, half of the patients have KRAS/NRAS mutant tumors, though there are few drugs that target RAS directly. However, bypassing agents such as MEK inhibitors either alone or in combination with PI3K inhibitors may show promising results. It is impossible to predict the future, but it is expectable and even desirable that soon this review will become obsolete. That is human nature. That is progress. And that is why we must force ourselves to keep us continuously updated.
P- Reviewers: de Talamoni NGT, Lee KY, Zhu YL S- Editor: Ji FF L- Editor: A E- Editor: Wang CH