Copyright
©The Author(s) 2023.
Published by Baishideng Publishing Group Inc. All rights reserved.
World J Gastrointest Oncol.
Apr 15, 2023;
15(4): 632-643
Published online Apr 15, 2023. doi: 10.4251/wjgo.v15.i4.632
Clinical implications and perspectives of portal venous circulating tumor cells in pancreatic cancer
Sung Woo Ko, Seung Bae Yoon, Department of Internal Medicine, College of Medicine, The Catholic University of Korea, Seoul 06591, South Korea
Seung Bae Yoon, Department of Internal Medicine, Eunpyeong St. Mary's Hospital, Seoul 03312, South Korea
Author contributions: Ko SW and Yoon SB contributed equally to the conception, design, and literature search; Ko SW drafted the manuscript and prepared the tables; Yoon SB modified and revised the manuscript.
Supported by the National Research Foundation of Korea, No. NRF-2021 R1F1A1062255.
Conflict-of-interest statement: All authors report no relevant conflicts of interest for this article.
Open-Access
: This article is an open-access article that was selected by an in-house editor and fully peer-reviewed by external reviewers. It is distributed in accordance with the Creative Commons Attribution NonCommercial (CC BY-NC 4.0) license, which permits others to distribute, remix, adapt, build upon this work non-commercially, and license their derivative works on different terms, provided the original work is properly cited and the use is non-commercial. See:
https://creativecommons.org/Licenses/by-nc/4.0/
Corresponding author: Seung Bae Yoon, MD, PhD, Associate Professor, Department of Internal Medicine, Eunpyeong St. Mary's Hospital, 1021, Tongil Ro, Eunpyeong-gu, Seoul 03312, South Korea. sbyoon@catholic.ac.kr
Received: December 24, 2022
Peer-review started: December 24, 2022
First decision: January 30, 2023
Revised: February 10, 2023
Accepted: March 15, 2023
Article in press: March 15, 2023
Published online: April 15, 2023

Despite recent improvements in the diagnosis and treatment of pancreatic cancer (PC), clinical outcomes remain dismal. Moreover, there are no effective prognostic or predictive biomarkers or options beyond carbohydrate antigen 19-9 for personalized and precise treatment. Circulating tumor cells (CTCs), as a member of the liquid biopsy family, could be a promising biomarker; however, the rarity of CTCs in peripheral venous blood limits their clinical use. Because the first venous drainage of PC is portal circulation, the portal vein can be a more suitable location for the detection of CTCs. Endoscopic ultrasound-guided portal venous sampling of CTCs is both feasible and safe. Several studies have suggested that the detection rate and number of CTCs may be higher in the portal blood than in the peripheral blood. CTC counts in the portal blood are highly associated with hepatic metastasis, recurrence after surgery, and survival. The phenotypic and genotypic properties measured in the captured portal CTCs can help us to understand tumor heterogeneity and predict the prognosis of PC. Small sample sizes and heterogeneous CTC detection methods limit the studies to date. Therefore, a large number of prospective studies are needed to corroborate portal CTCs as a valid biomarker in PC.
Core Tip: Circulating tumor cells (CTCs) are emerging minimally invasive biomarkers for evaluating tumor characteristics; however, limited CTCs are detected in the peripheral blood. Portal venous blood, which does not undergo hepatic filtration, can theoretically harbor a large number of CTCs and can be safely assessed using endoscopic ultrasound. The efficacy of CTCs in portal venous blood have shown encouraging results (i.e., higher detection rate and better prediction of prognosis). Here, we provide an overview of CTCs in portal venous blood in the clinical context and future perspectives to enhance the role of portal CTCs as a valid biomarker in pancreatic cancer.
---
Citation: Ko SW, Yoon SB. Clinical implications and perspectives of portal venous circulating tumor cells in pancreatic cancer. World J Gastrointest Oncol 2023; 15(4): 632-643
---
INTRODUCTION
In recent decades, improvements in screening methods, surgical techniques, and the development of novel chemotherapeutic drugs have improved the prognosis of various cancers. However, clinical outcomes of pancreatic cancer (PC) remain dismal, with a 5-year survival rate of approximately 8% in the United States[1]. Several factors, including the absence of symptoms in the early stages and notoriously aggressive cancer biology, act as hurdles for the early diagnosis of PC[2,3]. Therefore, at the time of diagnosis, only 20% or fewer patients with PC are eligible for surgical resection[4]. Furthermore, the lack of a standardized assessment of perioperative recurrence risk and treatment strategies also contributes to the decreased survival rate. In a retrospective study of 957 patients with PC undergoing curative resection, 51.5% reported recurrence within one year after surgery[5]. This result suggests the presence of undetectable micrometastases in resectable PC before surgery despite extensive evaluation. Several randomized controlled trials have evaluated the effectiveness of neoadjuvant chemotherapy in patients with resectable PC; however, its efficacy has been inconsistent between studies[4]. Therefore, there is a need to discover biomarkers that may enable more precise stratification for recurrence after surgery or to determine which patients will benefit from neoadjuvant chemotherapy. However, biomarkers to identify these patients are not currently available.
Serum carbohydrate antigen 19-9 is the most commonly utilized biomarker of PC. Its value for PC is usually confined to treatment response rather than early detection or prognosis prediction because the sensitivity (80%) and specificity (75%) are not sufficient to meet the needs of clinicians[6]. Circulating tumor cells (CTCs), as part of the liquid biopsy family, are regarded as precursors of metastases[7]. CTCs have been evaluated as minimally invasive biomarkers for assessing prognostic indicators, such as progression-free survival (PFS) and overall survival (OS) in various solid tumors[8-11]. However, detecting CTCs in peripheral blood is challenging because approximately one CTC exists per billion blood cells in patients with PC[12]. Particularly in the non-metastatic status, peripheral blood specimens may have a yield too low for clinical value. A previous study revealed that CTCs have dynamic, spatiotemporal localization according to the location of the tumor; therefore, specific targeting of vascular compartments may increase the yield of CTCs[13]. Because blood drainage bypasses the liver first via the portal system in PC, the portal vein may be the most suitable blood vessel for CTC evaluation. The aim of this review was to describe the clinical implications and perspectives of portal venous CTCs in patients with PC.
EFFICACY AND LIMITATIONS OF CTCS IN PERIPHERAL BLOOD
CTCs are shed from the primary tumor site and can enter the vascular system, ultimately leading to metastasis in distant organs. Various methods and technologies have been introduced for CTC enrichment, isolation, and identification[2,14,15]. These techniques use the unique properties of CTCs, which have different sizes, densities, and electrical charges compared with normal blood cells[16]. Among them, the CellSearch® system (Menarini Silicon Biosystems, Huntingdon Valley, PA, United States) is the only Food and Drug Administration (FDA) approved assay method for CTC detection[2]. It relies on capturing CTCs immunomagnetically using antibodies against epithelial cell adhesion molecules, which are commonly expressed in malignant epithelial cells.
Detecting CTCs in cancerous diseases allows for the identification of high-risk patients who may require more intensive surveillance and treatment. Specifically, CTCs could be a potential prognostic indicator of chemoradiotherapy in gastrointestinal malignancies[17,18]. As with many other solid tumors, the clinical usefulness of a prognostic predictor in PC has been demonstrated in previous studies. In a recent meta-analysis of 19 studies of over 1300 patients with PC, the presence of CTCs in the peripheral venous blood was associated with worse PFS and OS[19]. However, the paucity of CTCs in the peripheral blood considerably limits their use in various clinical settings. PC is one of the malignancies with the least number of CTCs detected by the CellSearch® method in comparison with other tumor entities[20]. Its detection rate was as low as 7%-48% at various stages of PC[2]. A recent study showed that the median number of CTCs was only 4 per milliliter in the peripheral blood of 46 patients with PC[21]. This low value has been attributed to the biophysical characteristics of CTCs and the venous drainage system of the pancreas. The average diameter of CTCs is approximately 25 μm, which is too large to allow them to enter capillary beds (8 μm in diameter)[20]. Furthermore, CTCs shed from the pancreas flow via the portal vein into the liver, and subsequent hepatic filtration could make the detection of CTCs in the peripheral blood very challenging[22,23]. Therefore, there is a need to discover blood sources that are abundant in CTCs theoretically.
ENDOSCOPIC ULTRASOUND-GUIDED PORTAL VEIN BLOOD SAMPLING
During surgery, portal venous blood can be collected by direct puncture of the extrahepatic portal vein with a syringe. However, non-surgical access to the portal vein is needed for individual risk stratification decision-making before neoadjuvant chemotherapy or surgery. Endoscopic ultrasonography (EUS) was initially introduced as a diagnostic imaging modality. However, the development of a linear echoendoscope in the early 1990s changed the landscape of EUS from a diagnostic to a therapeutic tool[24]. With the development of devices and accessories fit for echoendoscopes, various techniques for abdominal organs were introduced with minimal invasiveness, e.g., EUS-guided fine needle aspiration (FNA), transmural drainage of pancreatic pseudocysts, EUS-guided bile duct and gallbladder drainage, EUS-guided gastrojejunostomy, and EUS-guided celiac plexus/neurolysis[25]. Furthermore, applications of EUS are not limited to visceral organs, but have also been extended to the field of vascular interventions[26]. Owing to its unique proximity and accessibility to the portal vein, various applications for EUS-guided portal vein interventions have been introduced, including EUS-guided FNA of portal vein thrombosis in hepatocellular carcinoma, portal injection chemotherapy, and measurement of portal vein pressure[27]. Importantly, the role of EUS-guided portal venous blood sampling in the detection of CTCs has recently drawn attention. Catenacci et al[22] first reported the feasibility and safety of EUS-guided acquisition of portal venous CTCs in patients with pancreaticobiliary cancer. After verifying the blood flow signal using Doppler ultrasound, the EUS-FNA needle was advanced transhepatically into the portal vein and blood was aspirated safely (Figure 1). It is necessary to pay close attention to the hepatic artery and bile ducts because these structures course together and can potentially lead to complications or inaccurate sampling. It is recommended to use a wide bore needle, such as a 19-G needle, for EUS-guided portal venous sampling to prevent blood clotting and CTC damage[28]. The amount of blood required for CTC isolation and identification is generally between 5 and 10 mL.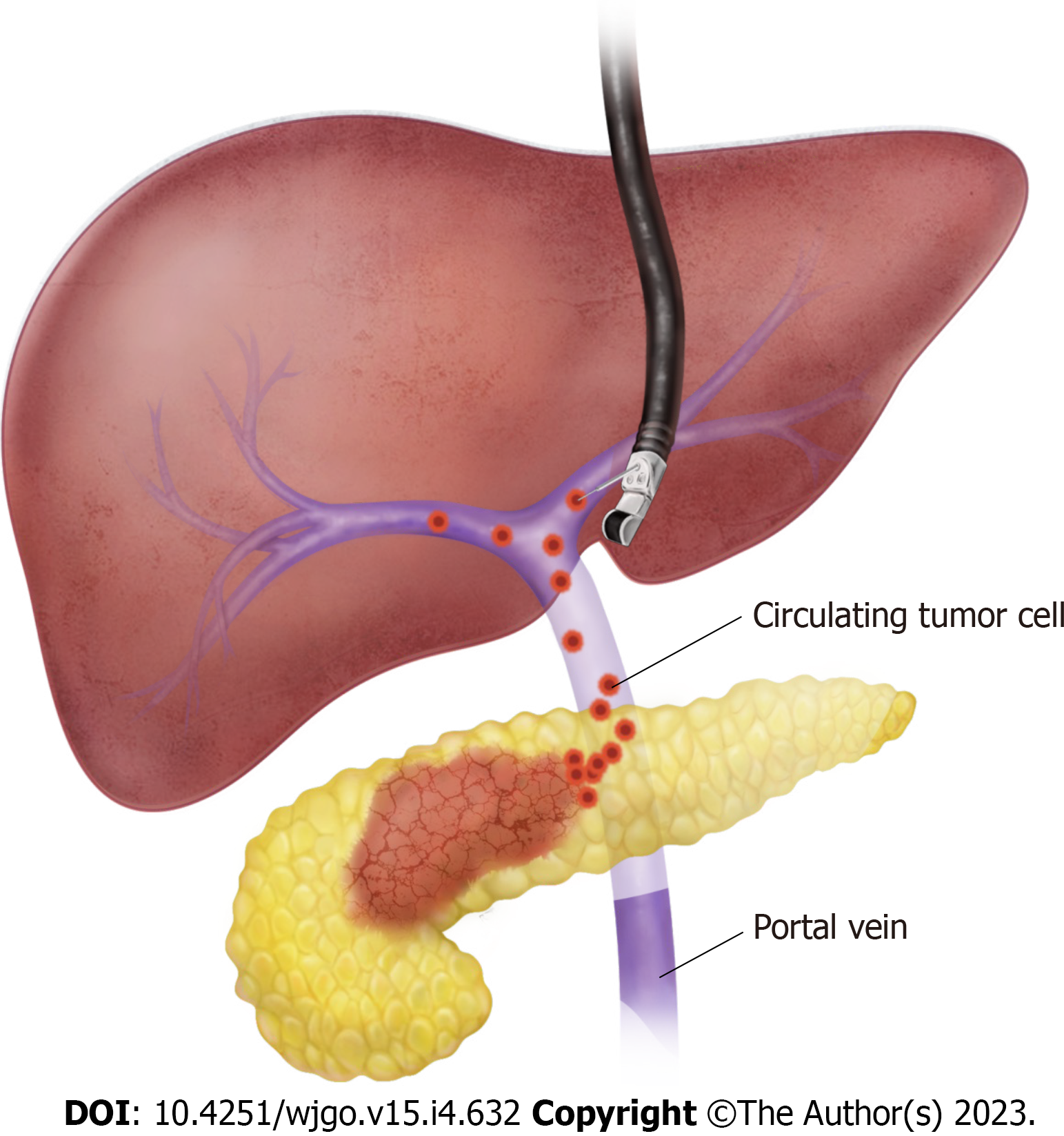 Figure 1 Illustrated view of portal vein sampling with an endoscopic ultrasonography-fine needle aspiration needle.
Circulating tumor cells (CTCs) from pancreatic cancer are released in the portal vein; portal blood sampling before passage in the liver can allow for improvement of the CTC recovery rate. The endoscopic ultrasonography-fine needle aspiration needle is advanced transhepatically into the portal vein and portal venous blood can be aspirated safely.
CLINICAL UTILITY OF PORTAL VENOUS CTCS
RECENT TRENDS IN PORTAL VENOUS CTC STUDIES
Phenotype analysis
There are various circulating biomarkers for liquid biopsy, including CTCs, circulating tumor deoxyribonucleic acid (ctDNA), ribonucleic acid, and extracellular vesicles[41]. The major advantage of CTCs over other circulating markers is the ability to detect whole tumor cells; this enables the identification of markers associated with prognosis beyond the enumeration of CTCs. The concept of epithelial-mesenchymal transition (EMT) is one of the most important elements in CTC phenotyping. This refers to the process by which tumor cells attached to the basement membrane gain mesenchymal properties, which finally leads to vessel invasion and induces metastasis[42]. Based on this concept, CTCs can be classified into three subpopulations with distinct properties: epithelial CTCs, mesenchymal CTCs (M-CTCs), and epithelial-mesenchymal transition CTCs (EMT-CTCs)[43] (Figure 2). Correlations between disease progression and M-CTCs in solid tumors have been reported previously[44,45]. Zhao et al[46] analyzed the phenotype of CTCs in the peripheral blood of 107 patients with PC. Advanced stage and the presence of distant metastases were significantly associated with M-CTCs. Another study by Semaan et al[47] showed that prognostic variables, such as PFS and OS, were correlated with EMT-CTCs in peripheral blood but not with total CTC counts. Studies on the phenotype of CTCs have also been conducted using portal venous blood samples. According to a study by Pan et al[48] with 32 patients with resectable PC, M-CTCs in the portal vein were found to be a significant risk factor for metastasis-free survival and OS. Similar results were reported by Zhang et al[31]; in 31 patients with PC, a higher count of M-CTCs from portal venous blood was associated with advanced stage, lymph node, and distant metastases. However, this pattern was not observed in a study by Choi et al[32], in which no associations were observed between the phenotype of CTCs from the portal vein and prognosis. Since the abundance of CTCs in portal venous blood has been validated in previous studies, it is expected to be advantageous for phenotyping CTCs from portal venous blood. Further prospective studies with larger numbers of patients are warranted to evaluate the clinical efficacy of CTC phenotyping using portal venous samples.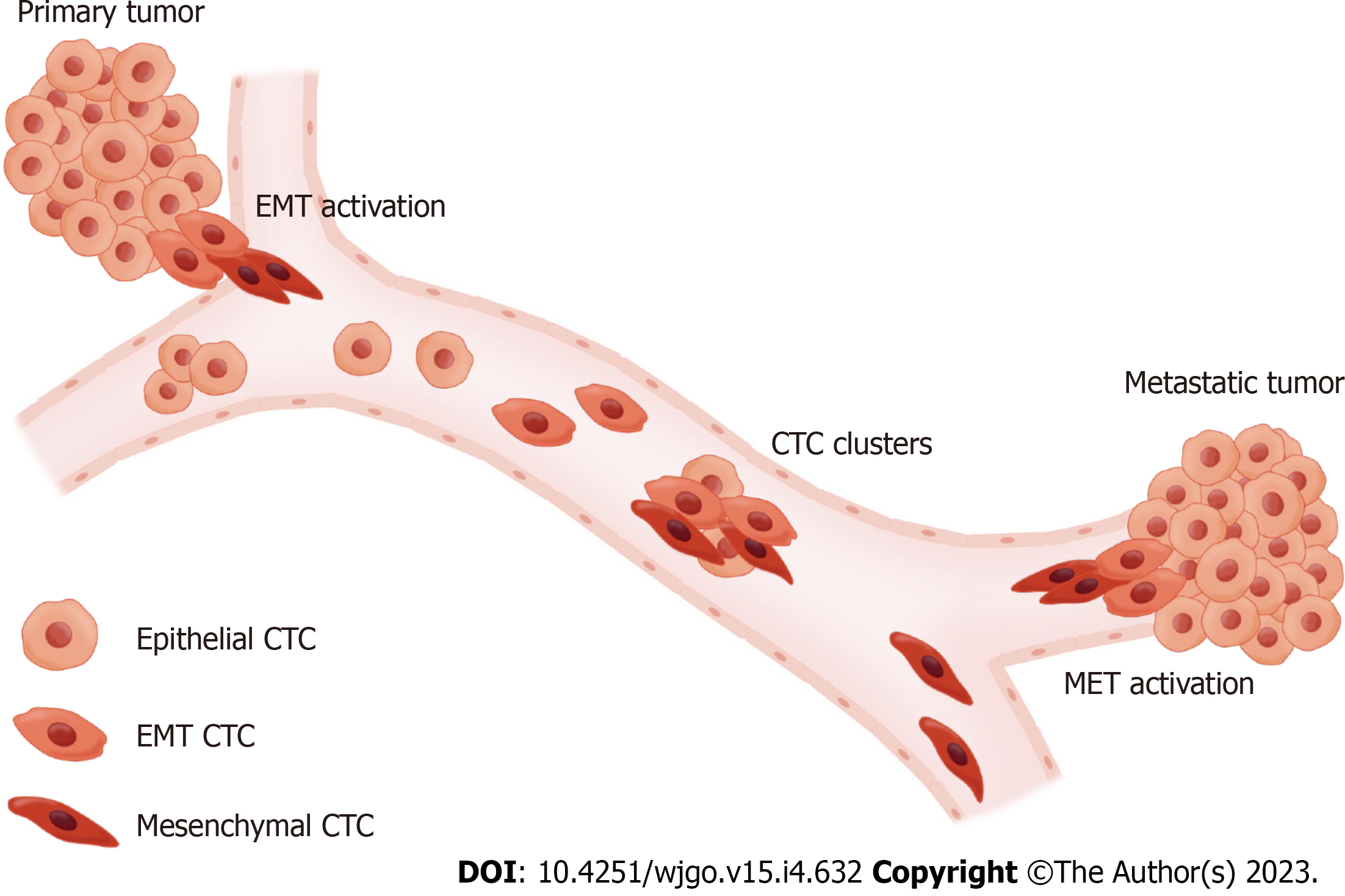 Figure 2 Characteristic stages of circulating tumor cells during metastasis.
Cells from the primary tumor undergo epithelial-mesenchymal transition, which enables them to disseminate to blood vessels. Cancer cells travel as various phenotypes of circulating tumor cells (CTCs) and extravasate the vascular system after undergoing mesenchymal-epithelial transition. This reverse process allows CTCs to escape from blood vessels into distant organs to form a metastatic tumor. CTC: Circulating tumor cell; EMT: Epithelial-mesenchymal transition; MET: Mesenchymal-epithelial transition.
Genotype analysis
Genotyping tumors for the identification of genetic mutations has become a routine practice for evaluating patients with certain solid-type cancers[49,50]. However, genotyping from primary tumor tissue has inherent limitations in that single tissue collection has a risk of selection bias from tumor heterogeneity, and acquiring tissue is not always feasible[51]. Therefore, genotypic analysis of CTCs has been conducted to reflect the genomics of primary tumors. In patients with PC, concordance of KRAS mutations in CTCs, which presents in over 90% of PC cases, has been reported repeatedly compared to primary pancreatic tumors[22,37,52]. However, a discordant rate of 42% for KRAS mutations between CTCs and primary tumors was also reported in 59 patients with PC[53]. These conflicting results may represent the natural evolution of metastatic tumors triggered by genomic instability and heterogeneity within the primary tumor[54]. Therefore, testing for other genetic mutations, such as TP53, SMAD4, and P16, which are commonly observed in PC, might be needed to confirm tumor identity[55]. Although the utility of ctDNA for tailored therapies or predicting response has been explored in many studies[56], only limited data regarding genotyping with CTCs for personalized medicine in PC are available to date. Yu et al[57] reported that an increase in SMAD4 expression levels in CTCs was associated with longer PFS and favorable treatment response in 37 patients with PC treated with gemcitabine/nab-paclitaxel. Recently, the FDA approved high-throughput next-generation sequencing-based multigene biopsy that can detect genomic mutations and polymerase chain reaction-based single-gene or multigene assays[58]. Further studies are needed to validate the clinical efficacy of the newly developed genotyping techniques for tailored therapy in patients with PC.
FUTURE PERSPECTIVES
Several unmet needs, including early detection, preoperative risk stratification, and the development of effective and personalized chemotherapeutic agents, should be addressed to improve the prognosis of PC. Recently, the theory of a "three-step procedure" for pancreatic carcinogenesis has been widely adapted to the clinical field, giving rise to the opportunity for early diagnosis and intervention over a long period of time[14]. PC screening relies only on cross-sectional imaging or is accompanied by EUS-guided tissue acquisition in high-risk individuals[59]. To date, there have been no reports regarding the usefulness of CTCs for the early detection or screening of PC. CtDNA, another family of liquid biopsy, has been found to be useful for early PC detection with 64% sensitivity and 99% specificity when combined with well-selected plasma proteins[60]. A relevant study by Cohen et al[60]. to explore the role of CTCs in the early diagnosis of PC is registered and ongoing (ClinicalTrials.gov, NCT0207616). Further studies with larger numbers of patients are warranted to evaluate the clinical efficacy of CTCs in this field. The high number of CTCs in the peripheral blood of patients with lung and breast cancer makes CTC-guided tailored therapy more feasible to study[61-64]. By contrast, the small number of CTCs in peripheral blood is a concern for further studies on CTCs in PC. Therefore, the abundance of CTCs in portal venous blood may play a crucial role in resolving various clinical issues in the future.
Another noteworthy point is the method used to sample CTCs from the portal vein. As described in Tables 1 and 2, intraoperative sampling of portal venous blood rather than the EUS-guided approach has been more dominant. This may mean that patients who undergo portal vein sampling intraoperatively lose the opportunity to be assessed for risk of recurrence before surgery. In the future, EUS-guided portal vein CTC sampling, which preserves the patient's normal anatomy, should be performed more widely. Standardization of CTC isolation techniques and the development of new assays that can provide clinicians with comprehensive insight into CTC heterogeneity should be investigated further.
CONCLUSION
CTCs have emerged as a new biomarker for various solid cancers over the past decade. However, their role, especially in the peripheral blood, has been limited in PC. Previous midsize studies demonstrated promising results of CTCs from the portal venous blood with a higher detection rate and better prognosis prediction than those by conventional CTC research from the peripheral blood. In the future, studies with larger numbers of patients are needed to establish the role of CTCs from the portal venous blood in early detection, risk stratification of postoperative recurrence, prediction of treatment resistance, and identification of tumor-specific biomarkers for developing targeted chemotherapeutic agents.
Provenance and peer review: Invited article; Externally peer reviewed.
Peer-review model: Single blind
Corresponding Author's Membership in Professional Societies: The Korean Society of Gastroenterology, No. 1-16-2623.
Specialty type: Gastroenterology and hepatology
Country/Territory of origin: South Korea
Peer-review report's scientific quality classification
Grade A (Excellent): A
Grade B (Very good): B
Grade C (Good): C
Grade D (Fair): 0
Grade E (Poor): 0
P-Reviewer: Arigami T, Japan; Charalampopoulou A, Italy; Kitamura K, Japan S-Editor: Zhang H L-Editor: A P-Editor: Zhang H