Copyright
©The Author(s) 2016.
Published by Baishideng Publishing Group Inc. All rights reserved.
World J Gastrointest Endosc.
Sep 16, 2016;
8(17): 572-583
Published online Sep 16, 2016. doi: 10.4253/wjge.v8.i17.572
Current role of capsule endoscopy in Crohn's disease
Marisol Luján-Sanchis, Laura Sanchis-Artero, Laura Larrey-Ruiz, Laura Peño-Muñoz, Paola Núñez-Martínez, Génesis Castillo-López, Lara González-González, Carlos Boix Clemente, Cecilia Albert Antequera, Ana Durá-Ayet, Javier Sempere-Garcia-Argüelles, Digestive Diseases Unit, General University Hospital of Valencia, 46014 Valencia, Spain
Author contributions: Luján-Sanchis M designed the research, reviewed the literature and wrote the paper; Sanchis-Artero L made the tables, figures and illustrations; Larrey-Ruiz L ordered the references; Sempere-Garcia-Argüelles J performed critical final revision of manuscrip; rest of authors contributed equally to collecting the data.
Conflict-of-interest statement: The authors declare that they have no conflicts of interest (including to commercial, personal, political, intellectual or religious interests). No financial support.
Open-Access: This article is an open-access article which was selected by an in-house editor and fully peer-reviewed by external reviewers. It is distributed in accordance with the Creative Commons Attribution Non Commercial (CC BY-NC 4.0) license, which permits others to distribute, remix, adapt, build upon this work non-commercially, and license their derivative works on different terms, provided the original work is properly cited and the use is non-commercial. See: http://creativecommons.org/licenses/by-nc/4.0/
Correspondence to: Marisol Luján-Sanchis, MD, PhD, Digestive Diseases Unit, General University Hospital of Valencia, Avenida Tres Cruces, 2, 46014 Valencia, Spain. marisol.lujan@hotmail.es
Telephone: +34-96-3131800 Fax: +34-96-1972148
Received: April 13, 2016
Peer-review started: April 16, 2016
First decision: May 19, 2016
Revised: May 25, 2016
Accepted: July 14, 2016
Article in press: July 18, 2016
Published online: September 16, 2016

Capsule endoscopy (CE) currently plays an important role in Crohn's disease (CD). It is a noninvasive technique that has led to a breakthrough in the endoscopic diagnosis of diseases of the small intestine. Its superior diagnostic performance and excellent safety profile lead to its considerable acceptance on the part of the patient. This paper reviews current indications of CE in three stages of clinical practice: Suspected CD, unclassified colitis and its extensive role in diagnosed CD. The diagnostic and therapeutic impact of the results of CE on the monitoring of this disease is also reviewed. Knowledge of its applications, the interpretation of its results in an appropriate context and the existence of a validated endoscopic activity index could change the way in which these patients are managed. The definition of mucosal healing and postoperative recurrence by means of endoscopic scoring systems will endow CE with new applications in the management of CD in the near future.
Core tip: We expose current indications and practical uses of capsule endoscopy in Crohn's disease based on the most relevant published evidence. Likewise, we describe the diagnostic and therapeutic impact on this disease and an exhaustive summary of where it plays an extensive role.
---
Citation: Luján-Sanchis M, Sanchis-Artero L, Larrey-Ruiz L, Peño-Muñoz L, Núñez-Martínez P, Castillo-López G, González-González L, Clemente CB, Albert Antequera C, Durá-Ayet A, Sempere-Garcia-Argüelles J. Current role of capsule endoscopy in Crohn's disease. World J Gastrointest Endosc 2016; 8(17): 572-583
---
INTRODUCTION
Early diagnosis of inflammatory bowel disease (IBD) is crucial, as the progression of inflammatory activity leads to irreversible damage[1-4]. There is currently no test for the diagnosis of Crohn's disease (CD)[5,6]; therefore, the techniques used must be interpreted in the appropriate context[7]. Since its approval by the Food and Drug Administration (FDA) in 2001, capsule endoscopy (CE) has revolutionized the diagnostic imaging of diseases of the small bowel (SB). The endoscopic capsule is a small instrument that takes hundreds of photographs while moving naturally with intestinal movements, thus facilitating direct, noninvasive visualization of the intestinal mucosa. CE is currently the most important indicator of CD in children between 10 and 18 years age[8,9]; in adults and young children, its importance as an indicator is second only to bleeding of unknown origin[8].
This review presents the principal indications of CD based on the available evidence[10-17] in three scenarios: Suspected CD (SCD), unclassified colitis (UNC) and diagnosed CD (DCD). This is the best procedure for viewing mucosal lesions attributable to CD in the SB[11] and of identifying superficial lesions that go unnoticed by other endoscopic and radiological techniques[7,11,14,18-20].
These characteristics establish its indication as the technique of choice in the evaluation of the SB with CD in the absence of stenosis or fistulas[14,21], and particularly when it will lead to a change in patient management[6,10,14,15].
DIAGNOSTIC CRITERIA FOR CD USING CE
Lesions consistent with CD should be described according to a structured and standardized terminology called Capsule Endoscopy Structured Terminology, which was described in 2005[22]. The terminology is based on the presence of stenosis, ulcers, erosions, cankers, pseudopolyps and fistulas (Figure 1), and it enables the use of a common language to interpret lesions consistent with CD. These lesions are not specific; therefore, other diseases with the same endoscopic features (infections, ischemia, vasculitis, iatrogenesis, tumors, lymphoma and Behcet's disease, among others) need to be ruled out. Other lesions such as erythema, nodularity, denudation or petechiae are not considered to be related to inflammation of the mucous membranes. Most studies have used the diagnostic criteria for CD by means of CE, defined by Mow et al[23] in 2004, as the existence of more than three diffuse or multiple ulcerations when nonsteroidal anti-inflammatory drugs (NSAIDs) are not being taken. This criterion provides a sensitivity (S) of 77%, specificity (SP) of 89%, positive predictive value (PPV) of 55% and a negative predictive value (NPV) of 96% for the diagnosis of CD in relation to clinical, endoscopic, radiological and histological findings. The rate of mucosal lesions missed by CE is minimal (0.5%); therefore, CD can be excluded after two years of monitoring[24].

Figure 1 Lesions compatible with Crohn's disease by capsule endoscopy.
A: Edema; B: Ulcers; C: Strictures.
Other authors have described criteria used less commonly in clinical practice such as the presence of multiple aphthous or erosive lesions (> 10), whether distributed continuously or discontinuously[25], or the presence of four or more ulcers, erosions, or a region with exudate, hyperemia and edema[26].
The current guidelines of both ASGE[27] and ECCO[14] recommend the use of two endoscopic indices that quantify the inflammatory activity of the CD by means of CE. Both have been prospectively validated[28,29] and enable the objective assessment of severity of the disease. They focus more on the presence or absence of inflammatory activity than on its extent and location. The first is the Niv or Capsule Endoscopy Crohn's Disease Activity Index (CECDAI) score (Table 1), which was published by Gal et al[30] and defines the size of ulcers and the extent of inflammation and stenosis, dividing the SB into two segments, proximal and distal. The total score (from 0 to 36) is the sum of both segments. The CECDAI does not have a specific threshold; however, an increase in its value indicates more severe mucosal inflammation.
Inflammation score
0: None
1: Mild to moderate edema/hyperemia/denudation
2: Severe edema/hyperemia/denudation
3: Bleeding, exudate, aphtha, erosion, small ulcer (< 0.5 cm)
4: Moderate ulcer (0.5-2 cm), pseudopolyp
5: Large ulcer (> 2 cm)
Disease extension score
0: No disease - normal exploration
1: Focal disease (single segment involvement)
2: Patchy disease (2-3 segments involved)
3: Diffuse disease (> 3 segments involved)
Stricturing score
0: None
1: Single - passed
2: Multiple - passed
3: Obstructing (not passed)
Segmentary score (proximal or distal): (A × B) + C
Total score: Proximal [(A × B) + C)] + distal [(A × B) + C]
The second is the Lewis score described in 2008 by Gralnek et al[31] (Table 2). It divides the SB into three equal parts and also quantifies the edema of the villi, the ulcer and the stenosis. A score of < 135 indicates a normal mucosa or insignificant inflammation, a score of between 135 and 790 represents mild inflammation, and a score of ≥ 790 represents moderate or severe inflammation[32]. This index has been more widely used in clinical practice than the CECDAI, because there is an automatic calculation tool in a CE reading program (Rapid Reader® workstation of PillCam® capsules). It has been demonstrated that, the more lesions that are detected, the greater the endoscopic score and the more specific the diagnosis of CD by means of CE[33]. Similarly, with a Lewis score of < 135, the probability of it being a case of CD is unlikely[29,32,34]. In healthy patients (who do not take NSAIDs, have not had an intestinal resection, and do not have ankylosing spondylitis or digestive symptoms), only 9% may exhibit mucosal lesions similar to CD, and in all cases, the Lewis score would indicate mild activity (< 450)[33].
Lesions in the proximal, mid, and distal small bowel thirds
Villous appearance
0: Normal
1: Edema
8: Short segment
12: Long segment; 20: The whole third
1: Single; 14: Patchy
Ulcers
0: None; 3: One; 5: Few; 10: Multiple
5: Short segment; 10: Long segment; 15: The whole third
9: 1⁄4; 12: 1⁄4-1⁄2; 18: > 1⁄2
Strictures
0: None; 14: One
2: Non ulcerated; 24: Ulcerated
7: No retention; 10: Capsule retention
Score calculation: Stricture score is added to the sum total for highest scoring villous edema and segment ulcers
It is important to remember that the endoscopic findings themselves are not diagnostic of CD, and there is no cutoff value above which the diagnosis can be firmly established[35]. Moreover, endoscopic activity shows no correlation with the clinical evidence; consequently, in a symptomatic patient, CE detects lesions in only half of the cases[36,37] and conversely, when the patient is in clinical remission (Crohn's disease activity index < 150), CE will show signs of inflammation in 62%[38]. This means that, once the objective assessment of CD activity has been performed by means of CE, decisions can be made regarding the management of the patient.
INDICATIONS OF CE IN SUSPECTED CD
There is no gold standard for the diagnosis of CD; therefore, all techniques are complementary and should be interpreted with an appropriate degree of skepticism. Thus, CE and enteroscopy are useful for the early diagnosis and assessment of the extent and activity of the disease; radiology is better for studying the progression of damage and extraintestinal complications; and serological and fecal markers of inflammation are generally used to decide on the indication of radiological and endoscopic techniques. The selection of these will depend on the availability at the center, operator experience, its practical usefulness and cost[39].
The appropriate indication of CE for SCD was defined at the International Conference on CE through the selection of the following criteria: Existence of consistent symptoms, associated or not associated with extraintestinal manifestations and laboratory and/or radiological abnormalities[7]. In these cases, an ileocolonoscopy (IC) with biopsies should be performed, and regardless of the outcome, it would be advisable to assess the proximal extension of the disease into the stomach and/or intestine for its prognostic implications[5,14,15,27,40].
CE is the diagnostic technique of first resort when the IC and radiology are negative or inconclusive[14,15,27,41], because it detects subtle inflammatory changes that go unnoticed by radiological techniques or are unachievable by conventional endoscopy (Figure 2)[42,43]. Thus, two broad meta-analyses[44,45] show that its performance in cases of SCD is superior to that of IC, barium follow-through examinations (BFT) and computerized tomography (CT) at 22%, 32% and 47%, respectively. Faced with lesions consistent with CD, enteroscopy may be useful for taking biopsies, but its routine performance is not indicated according to the ASGE[27] and ECCO[14] guidelines.

Figure 2 Aphthous erosions detected by capsule endoscopy.
A: Aphtha; B: Surface erosion; C: Aphthoid erosions. The capsule may detect superficial intestinal lesions in a patient with Crohn's disease that are overlooked by radiographic techniques and inaccessible to ileocolonoscopy.
The capsule's diagnostic performance with respect to CD varies as a function of how early the disease is suspected as well as the extension, activity and distribution of the disease[46,47]. The findings of CE have diagnostic value when they are interpreted with an adequate degree of skepticism. Overall performance is higher when additional data besides clinical evidence such as intestinal manifestations and/or serum or fecal markers of inflammation[7,14,26,32,48-50], are presented. Thus, when the disease is suspected based on one criterion, CE shows mild activity, and the diagnosis is confirmed in 20% of cases; however, when it is based on three criteria, activity will be more severe, and the diagnosis is confirmed in 80%[32]. In accordance with the above, Figure 3 sets out a proposal to focus on the diagnosis of SCD.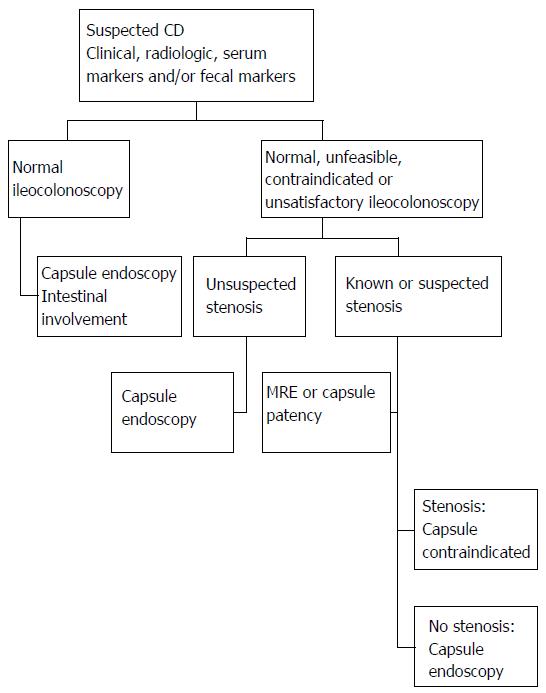 Figure 3 A diagnostic protocol for suspected Crohn's disease[127].
When CD is suspected ileocolonoscopy should be the first study to be performed, with capsule endoscopy ensuing when results are normal, unsatisfactory or not are achieved Ileoscopy. If intestinal stenosis is suspected, a test capsule should be used to confirm the feasibility of capsule endoscopy. CD: Crohn's disease; MRE: Enterography with nuclear magnetic resonance.
INDICATIONS OF CE FOR DIAGNOSED CD
In the context of DCD, the indication of CE should be considered when providing for a change in the management of the disease[6,10,11,40]. It has been demonstrated that the investigation of proximal extension into the SB using CE has prognostic and therapeutic implications in disease progression[14,51]. Therefore, given its superior diagnostic performance in DCD (85.7%), its findings can influence a change in the management and clinical follow-up for 64% of these patients[52].
As with SCD, several meta-analyses[44,45] show that performance in cases of DCD is superior to that of push enteroscopy, BFT and CT at 57%, 38% and 32% respectively. The identification of mucosal lesions in the SI is better than with BFT (78% vs 32%) and can be better than enterotomography (ETC) (68% vs 38%) or enterography with nuclear magnetic resonance (MRE) (93% vs 79%), although the clinical significance of these differences is not defined in prospective studies. The primary role of CE in cases of DCD is when there are symptoms or signs which cannot be explained by the normal or inconclusive result of radiology and/or IC, as it can detect lesions between the duodenum and terminal ileum which are inaccessible with conventional endoscopy or imperceptible with radiology which substantiate the clinical picture[14,40,53]. The applications of CE for DCD in habitual clinical practice are set out below.
INDICATIONS OF CE IN POSTSURGICAL RECURRENCE
The management of postsurgical recurrence of DCD by means of endoscopic monitoring and its management is determined by the risk factors among which is extension into the SB[86,87]. IC is currently the reference technique for evaluating postoperative recurrence, which is measured using the Rutgeerts index[86,88]. Although the clinical relevance of the findings has not been studied, CE exhibits a S of 62%-76% and a SP of 100% over ileoscopy for this indication[10]. CE is performed when endoscopy is contraindicated or unsatisfactory[40], and it is selected with anastomosis that is difficult to access or when preferred by the patient[10,15,40,89,90].
It is recommended to perform it six months to one year after surgery depending on the association with other risk factors[89] in order to identify the recurrence and the proximal lesions not attainable with ileoscopy[40,53,91]. Some authors have used the Buchmann activity index[92] to classify lesions, but the use of the Lewis score is currently recommended in the context of clinical trials[35].
However, prospective studies are lacking in this context for evaluating the prognosis and clinical significance of the results of CE for this indication. Recurrence has only been assessed in one study using CE at one month and six months after surgery, and recurrence in the SB is defined as being when the residual lesions at one month after surgery have progressed after 6 mo, with an increase of 100 points in the Lewis score[93].
INDICATIONS OF CE IN UNCLASSIFIED COLITIS
Population-based studies have shown that, for up to 10% of adult patients and 30% of children with IBD and the exclusive involvement of the colon, it is difficult to distinguish between CD and ulcerative colitis (UC). This entity is called unclassified or UNC, and in most cases, the final diagnosis is established during the first 8 years of development[94-96]. In these cases, CE can identify lesions consistent with CD in 17%-70% of the cases[96], which is better than BFT or enteroclysis. There are no comparative data for ETC or MRE. Similarly, when the CE is normal, a future diagnosis is not excluded[14], and its repetition can be recommended in the medium term[10].
Several retrospective studies have suggested that CE produces a definitive diagnosis of CD, has resulted in management changes, or has had a potential impact on prediction of the prognosis with this fact being particularly significant in young patients. In one pediatric study, 50% of UC or UNC were ultimately diagnosed as CD[97].
THERAPEUTIC IMPACT OF CE IN CD
It has been demonstrated that the extension of CD into the SB and/or its proximal location are two poor prognostic factors and determine therapeutic decisions through early indication of immunosuppression[6,51,98-100].
The management changes that CE findings prompt are related to the initiation of a new treatment, the change or suspension thereof, or the indication of surgery[52,101,102]. On a practical level, the impact on management of the disease depends on the reason why CE is indicated. This impact is particularly relevant in the pediatric age group, as CE reclassifies 50% of ulcerative colitis and UNC as CD, as it detects proximal lesions undetected by other techniques; in 78% of these cases, there is a change in the therapeutic decision[101].
In general, current publications report the diagnostic performance of CE for CD at 60%-85%[52,103], which gives rise to an overall therapeutic impact of 50% (40%-67%)[27]. In long-term studies (6 years), this will lead to changes in decision-making based on the indication: 90% of patients when CE is requested for SCD, 88% for UNC and 73% for DCD[104].
In the case of DCD, therapeutic management is modified in 64% of patients[52]. In studies involving more than 900 patients with CD[102], the decision to change the medication is made three months after the CE for 61.6%, and for 39.5%, a new treatment is initiated. Pathologic findings of CE compared with none or minimal findings, resulted in significant differences in treatment modifications (73.2% vs 51.1%, P = 0.04), the addition of drugs (58.5% vs 22.2%, P < 0.01), and the indication of surgery (21.9% vs 4.4%, P = 0.01). Treatment is intensified after CE when activity of the lesions is more severe: In 14.5%, 48% and 87% of patients with Lewis score < 135, 135-790 and ≥ 790, respectively[72].
COMPLICATIONS
The most significant complication of CE, and almost the only one, is retention, which is still very rare with this disease, as the exploration of the entire SB is achieved in 85.4% (from 79% to 90.8%) of the cases[105]. DCD is considered a risk factor for retention with CE, although the overall figures in long series are low at 2.6% (1.6-3.9) and very similar to other indications[105]. Currently, when intestinal stenosis is suspected, the recommended approach is to assess the contraindication of CE in a test of intestinal permeability with the degradable capsule Patency (PC) (Given Imaging, Yoqneam, Israel), approved by the FDA in 2006 for this purpose, or to perform radiology depending on its local availability and the experience of the center[14,106-108]. For pediatric patients, the choice is between the PC and MRE due to the safety of both types of exploration for this age range[109].
It has been observed that, in most capsule retention cases with CE, radiology was not adequate to suspect its risk[110]; otherwise, for suspected radiation stenosis (CT or BFT) the retention rate is low (21%). Therefore, it is proposed that radiology be avoided (especially in young patients), unless the permeability test is abnormal[111]. For some authors, it is a "therapeutic" complication, because it diagnoses stenoses that have gone unnoticed by other techniques and results in a change in patient management[112]. The treatment of retention depends on the diameter and nature of the stenosis and provides for the wait-and-see approach with monitoring for the expulsion of the capsule and medical or endoscopic treatment if there is not complete obstruction, in which case surgery is indicated[113]. Most cases are resolved conservatively[114]. Medical treatment includes the administration of laxatives or corticosteroids depending on the etiology of the retention. Enteroscopy indicates whether to recover the endoscopic capsule, biopsy the stenosis and/or treat with dilation.
The risk of retention in DCD and SCD are not the same. Accordingly, the highest percentage was published in a single retrospective study of 102 patients, with the risk for DCD being 13% (5.6%-28%), whereas in cases of SCD, the figure dropped to 1.6% (0.2%-10%)[115], and that was a decade ago, when the PC did not exist. However, a multicenter Japanese study was recently published which shows no difference between retention in DCD (7.4%) and SCD (6.4%)[116].
Retention in suspected CD
In general, the retention rates with SCD are low and vary from 0% to 5%[105,112,117-119]. In 22 of the 1000 patients of the series of Li et al[120] CE was performed for SCD (2.2%), and of those, there were only 3 retentions.
In a retrospective study involving 78 patients with SCD, there were 3 retentions (5%)[121], and similar data were obtained in the study of Cheon, with retention rates of 5.4% (2/37)[113].
Retention in diagnosed CD
In patients with DCD, the retention rate oscillates between 1.8% and 13%[23,102,105,112,113,116,122]. The first publications, such as Cheifetz et al[115], estimate higher retention figures while in more recent publications, the figures have dropped considerably[116]. Cotter et al[99] presented a retention rate of 6% and Dussault et al[47] rates of 4%. However, in studies with active CD, where mucosal healing is assessed, retentions account for only 1.8%[123].
Retention with intestinal obstruction in CD
In CD, a rigorous selection of the indication of CE is required due to the risk of retention in patients with known intestinal stenosis[8,10]. It should be noted that, in the preliminary studies in which tests with the PC were not available, retention rates in this context were 21%[112]. However, in a more recent study involving 19 patients with active CD in which 43 sequential scans were performed, no retentions were recorded despite the inclusion of patients with multiple stenosis and intestinal surgery[124]. This study confirms that the PC is an excellent predictor of intestinal permeability with respect to CE for these patients[14,125]. However, the latest reports indicate that the retention rate is not affected by the selective use of the PC, as the retention rate is 2.3%, which is similar to when it is not performed (1.5%) as well as when the PC is negative (2.1%). When the PC is positive, the retention rate is 11.1%[126].
CONCLUSION
In summary, CE is a noninvasive technique, which plays a wide-ranging role in CD. Its principal advantages over other diagnostic techniques are the absence of invasiveness and irradiation and the direct study of the mucosa of the entire SB. It enables the early diagnosis of CD due to its ability to detect superficial mucosal lesions, which go unnoticed by radiology or cannot be accessed with IC. These characteristics, along with its excellent level of safety, define it as the best exploratory method for the study of inflammatory activity in the mucosa of the SI with CD. Its only contraindication is the objective presence of intestinal stenosis.
Its primary use is well defined in the early diagnosis of SCD, the assessment of the extent of DCD and the study of unclassifiable colitis. After ruling out intestinal stenosis, CE is the technique of first resort for patients with SCD who have had negative evaluations with radiology and IC. For patients diagnosed with CD, if cross-sectional imaging tests are normal or non-diagnostic, CE is performed if the result implies a change in patient management.
The systematic use of validated indices for scoring endoscopic activity enables the interpretation of lesions and monitoring of the developmental history of each patient to be standardized. Its use in future prospective studies will enable the definition of the criteria for mucosal healing and postoperative recurrence, which may suggest guidance for treatment. As is the case with other diagnostic tests and current treatments, the involvement of all these applications of CE in changing the natural history of this disease has yet to be established.
Manuscript source: Invited manuscript
Specialty type: Gastroenterology and hepatology
Country of origin: Spain
Peer-review report classification
Grade A (Excellent): 0
Grade B (Very good): B
Grade C (Good): C, C, C
Grade D (Fair): 0
Grade E (Poor): 0
P- Reviewer: Actis GC, Akyuz F, Koulaouzidis A, Sipahi AM S- Editor: Qiu S L- Editor: A E- Editor: Li D