Copyright
©The Author(s) 2023.
Published by Baishideng Publishing Group Inc. All rights reserved.
World J Gastrointest Endosc.
Apr 16, 2023;
15(4): 216-239
Published online Apr 16, 2023. doi: 10.4253/wjge.v15.i4.216
Endoscopic ultrasound-guided vascular interventions: An expanding paradigm
Jahnvi Dhar, Gastroenterology, Sohana Multispeciality Hospital, Mohali 140308, India
Jayanta Samanta, Gastroenterology, Post Graduate Institute of Medical Education and Research, Chandigarh 160012, India
Author contributions: Dhar J contributed to conception and design, data acquisition and analysis draft of the article; Samanta J contributed to conception and design, data interpretation, critical revision and intellectual content of the draft; all authors have read and approved the final manuscript.
Conflict-of-interest statement: All the authors declare no potential conflicts of interest.
Open-Access
: This article is an open-access article that was selected by an in-house editor and fully peer-reviewed by external reviewers. It is distributed in accordance with the Creative Commons Attribution NonCommercial (CC BY-NC 4.0) license, which permits others to distribute, remix, adapt, build upon this work non-commercially, and license their derivative works on different terms, provided the original work is properly cited and the use is non-commercial. See:
https://creativecommons.org/Licenses/by-nc/4.0/
Corresponding author: Jayanta Samanta, MD, Associate Professor, Gastroenterology, Post Graduate Institute of Medical Education and Research, PGIMER, Sector-12, Chandigarh 160012, India. dj_samanta@yahoo.co.in
Received: November 17, 2022
Peer-review started: November 17, 2022
First decision: December 26, 2022
Revised: January 9, 2023
Accepted: March 15, 2023
Article in press: March 15, 2023
Published online: April 16, 2023

Endoscopic ultrasound (EUS) has expanded its arena from a mere diagnostic modality to an essential therapeutic tool in managing gastrointestinal (GI) diseases. The proximity of the GI tract to the vascular structures in the mediastinum and the abdomen has facilitated the growth of EUS in the field of vascular interventions. EUS provides important clinical and anatomical information related to the vessels' size, appearance and location. Its excellent spatial resolution, use of colour doppler with or without contrast enhancement and ability to provide images "real-time" helps in precision while intervening vascular structures. Additionally, structures such as venous collaterals or varices can be dealt with optimally using EUS. EUS-guided vascular therapy with coil and glue combination has revolutionized the management of portal hypertension. It also helps to avoid radiation exposure in addition to being minimally invasive. These advantages have led EUS to become an upcoming modality to complement traditional interventional radiology in the field of vascular interventions. EUS-guided portal vein (PV) access and therapy is a new kid on the block. EUS-guided portal pressure gradient measurement, injecting chemotherapy in PV and intrahepatic portosystemic shunt has expanded the horizons of endo-hepatology. Lastly, EUS has also forayed into cardiac interventions allowing pericardial fluid aspiration and tumour biopsy with experimental data on access to valvular apparatus. Herein, we provide a comprehensive review of the expanding paradigm of EUS-guided vascular interventions in GI bleeding, portal vein access and its related therapeutic interventions, cardiac access, and therapy. A synopsis of all the technical details involving each procedure and the available data has been tabulated, and the future trends in this area have been highlighted.
Core Tip: Therapeutic endoscopic ultrasound (EUS) has rapidly expanded into the field of vascular interventions. Published literature has shown that EUS-guided endovascular therapy is safe and scores over conventional endoscopic techniques achieving high obliteration rates with minimum re-intervention in variceal bleeding. EUS currently acts as a "rescue therapy" in cases of re-bleed or refractory bleeding from non-variceal sources, especially a pseudoaneurysm. In addition, portal vein access, portal pressure gradient measurement, and variceal assessment with liver biopsy have shown that EUS can act as a "one-stop-shop" for "Endo-hepatology". This ever-expanding role of EUS-related vascular interventions has been thoroughly detailed in this comprehensive review.
---
Citation: Dhar J, Samanta J. Endoscopic ultrasound-guided vascular interventions: An expanding paradigm. World J Gastrointest Endosc 2023; 15(4): 216-239
---
INTRODUCTION
Therapeutic endoscopic ultrasound (EUS) procedures have come a long way using curvilinear array echo-endoscopes and various accessories. EUS, with its high spatial and contrast resolution, is constantly evolving and is currently one of the most commonly used minimally invasive techniques for diagnosing and managing various gastrointestinal (GI) disorders. The proximity of the GI tract to various vascular structures in the mediastinum and abdomen has allowed EUS to play a significant role in the field of vascular interventions. The necessity of developing a minimally invasive as well as a radiation-free alternative to interventional radiology (IR) or surgery has further strengthened its growth. The advantage of visualizing vascular structures in "real-time" has enabled access and delivery of targeted therapy[1]. EUS-guided vascular therapy has been found extremely useful in cases of variceal bleeding. EUS-guided injection of sclerosants, cyanoacrylate glue (CYA), thrombin, gelatin sponge and deployment of coils in gastric varices (GV) is safer and more effective over traditional endoscopic glue injection in terms of lower adverse events and reintervention rates.
Furthermore, EUS-guided portal vein (PV) access has opened the doors to experimental and clinical studies on portal pressure gradient (PPG) measurement, injection of chemotherapy, PV thrombus fine needle aspiration (FNA), and intrahepatic portosystemic shunt placement. This gamut of therapeutic options, combining EUS guided PPG (EUS-PPG) with variceal therapy and liver biopsy in a single session, represents an attractive option in the expanding field of "endo-hepatology"[2]. Therefore, this review focuses on elucidating the role of EUS-guided vascular interventions (Figures 1 and 2), a synopsis of the various available techniques, data on their safety and efficacy, and future advancements in this domain.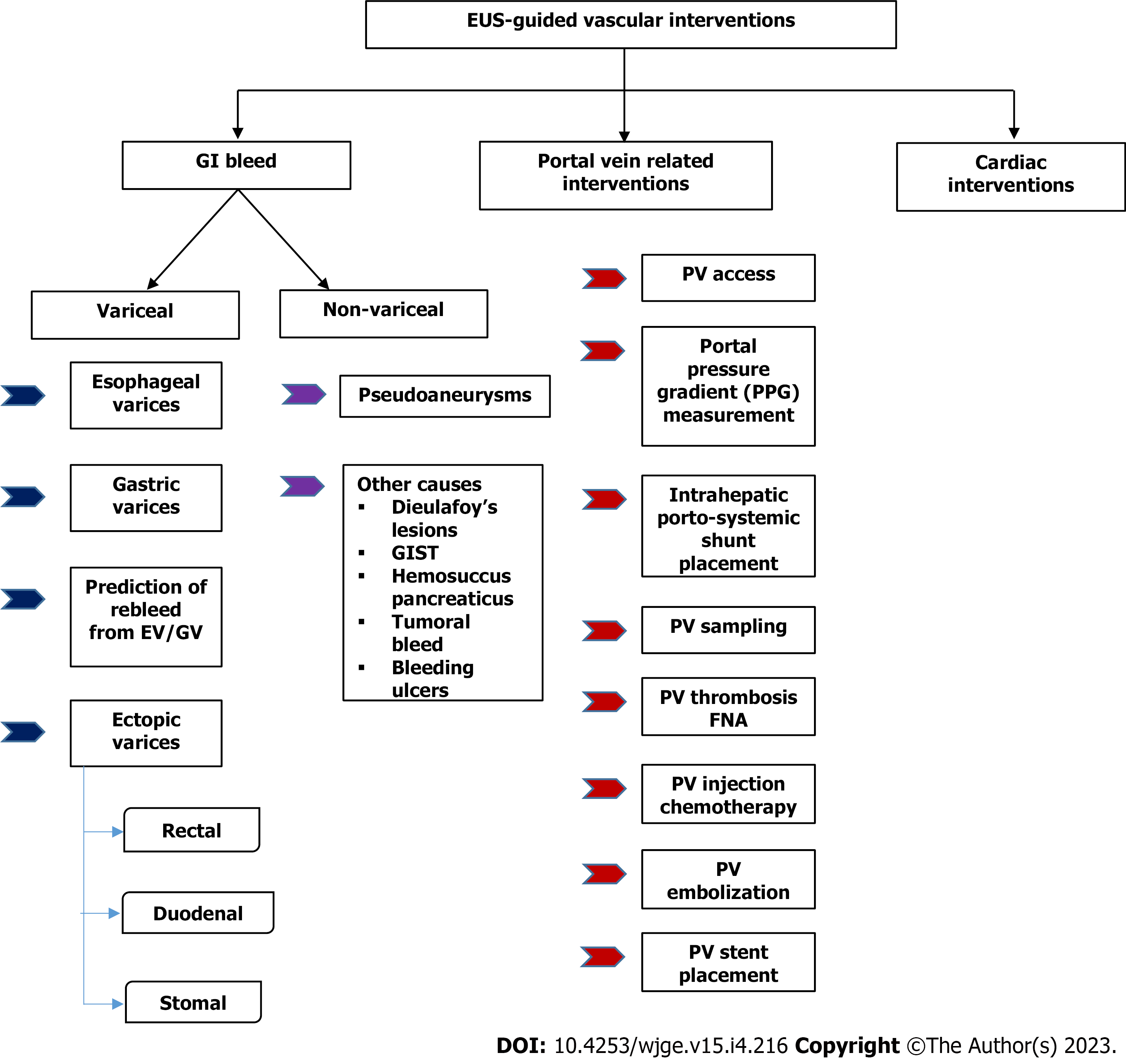 Figure 1 Flowchart of various endoscopic ultrasound guided vascular interventions.
EUS: Endoscopic ultrasound; GI: Gastrointestinal; EV: Esophageal varices; GV: Gastric varices; GIST: Gastrointestina stromal tumour; PV: Portal vein; FNA: Fine needle aspiration.
LITERATURE SEARCH
A detailed strategy, as outlined in Supplementary material, was performed in PubMed and Embase. All studies pertaining to applications of endoscopic ultrasound (EUS) in the field of vascular interventions (for example case series, review articles and clinical studies) were reviewed. Topics concerning GI bleeding (both variceal and non-variceal), PV-related interventions and cardiac access with therapy were looked into. Non-English language literature was excluded. EUS-guided liver biopsy and other aspects of Endo-hepatology are beyond this review's scope and have been excluded.
EUS-GUIDED MANAGEMENT OF VARICEAL BLEED
GI bleeding secondary to gastro-esophageal varices is a well-known but one of the most lethal complications of portal hypertension (PHTN)[3,4]. The annual bleeding rate has been reported to be around 5%-15%, with a 20% 6-wk mortality rate[5]. In half of the cases, bleeding stops spontaneously but has a re-bleeding rate of 30%-40%[3,6]. The standard treatment options for gastro-esophageal varices have been conventional endoscopic band ligation (EBL) or CYA glue injection. For refractory bleed, transjugular intrahepatic portosystemic shunt (TIPS) and balloon-occluded retrograde transvenous obliteration (BRTO) are other options[7]. EUS-guided management of varices has recently become an additional tool in the armamentarium. EUS offers theoretical as well as practical advantages over the conventional techniques such as: (1) It helps to identify the actual size as well as the number of varices for precise vascular therapy; (2) It can locate feeders, perforators or shunts; (3) Enables real-time puncture of the varices under vision; (4) One need not have to "see" the endoscopic image while delivering targeted therapy. This is especially useful in cases of active bleed or when there are contents in the fundus, and (5) Objective obliteration of the varices can be confirmed by lack of flow in "real-time".
EUS-GUIDED MANAGEMENT OF NON-VARICEAL GI BLEED
Treatment of non-variceal bleed (NVB) entails the standard use of well-established therapies categorized into injection (epinephrine), mechanical (clip/EBL) or thermal (argon plasma coagulation) or hemostatic agents[80-82]. Despite this, 10%-24% of cases re-bleed or are refractory to the standard treatment modalities. In these cases, EUS-guided angiotherapy can be beneficial by helping in directly visualizing the bleeding vessel, its feeders or perforators and help in targeted therapy. Currently, the role of EUS for the management of NVB is more of a rescue therapy. However, a recent systematic review reported a favourable outcome of EUS-guided therapy in 91.4% of cases[83]. In addition, EUS-angiotherapy is feasible and safe for managing Dieulafoy's lesion, bleeding ulcer or tumour, GI stromal tumour (GIST) and sometimes, visceral artery pseudoaneurysms (PsA).
Visceral artery pseudoaneurysms
PsA is a rare vascular complication noted in various conditions, more commonly in acute or chronic pancreatitis, with an incidence of 0.05% and 0.03%, respectively. The splenic artery is the most common vessel involved (37.7%). The most frequent line of management is IR-guided endovascular therapy[84,85]. However, EUS-guided angiotherapy can be an exciting alternative to manage such cases. The proximity of PsA of splenic vessels or gastroduodenal artery to the GI wall enables them to be targeted and obliterated. Various agents like coil, CYA glue, a coil with glue combination and thrombin have been used.
The technique of performing EUS-guided angiotherapy in PsA: The technical details have been highlighted in Table 4.
EUS-guided angioembolization of visceral artery pseudoaneurysm
---
Pre-procedure requirements
  All procedures are done under the cover of pre/peri-procedural antibiotics
  Patient is usually kept fasting for 4-6 h before the procedure
  Adequate resuscitation of the patient, in case of active bleeding is ensured, prior to the procedure
  Informed consent prior to the procedure
What is needed prior to the procedure
  Linear echoendoscope with at least a 3.7 mm working channel
  Needle size: depends on the choice of the endoscopist; usually a 19-G needle is used with 0.035'coil. However, a 22-G needle with 0.018' coils may be used
  Diameter of the coils: Smaller than the shortest diameter of the PsA
  Number of coils: depends on size of the PsA
  Amount of glue: depends on the size of the PsA
Technical aspects
  A proper diagnostic EUS is performed
  The echoendoscope is positioned optimally for a stable PsA access
  Optimum examination of the PsA, the feeding vessel and the anatomy is delineated
  The approach should always be through parenchyma, either pancreatic or hepatic. Bare puncture of the PsA without supporting parenchyma should not be performed
  EUS-guided coil and glue embolization is usually performed using a 22-G/19-G (gauge) FNA needle
  The size of the coil is determined by the short axis of the diameter of the PsA
  After puncture of the varix, blood is aspirated to confirm the location. This is followed by flushing of the needle with saline. The pressure is high in the aneurysm, hence care should be taken to avoid creeping of blood along the hollow of the needle and causing needle block
  The coils are then deployed into the varix using the stylet as a pusher. Packing with coils slows the flow inside the PsA, which can be visualized and further requirement of coils is assessed. Once the coils are deployed, flushing of the needle is done with normal saline
  After coil deployment, cyanoacrylate glue is injected using the coils as scaffold
  Once, the PsA is obliterated, visualized by absence of flow on colour Doppler, the sheath of the needle is advanced beyond the endoscope tip for 2-3 cm before withdrawing the scope. This avoids contact of glue with the endoscope tip
Post procedure
  The patients are kept under observation for 12 h
  Post embolization X-ray would help visualize the coils and also look for complications
  Repeat EUS can be done after 48 hrs. to look for residual flow
  Cross-sectional imaging is usually done after 72 h. to document success of therapy
  Follow-up EUS may be performed at 1-mo
Existing literature: Case reports: The use of thrombin in PsA was first described by Roach et al[86], wherein thrombin (500 IU, 1 mL) was injected in a PsA arising from a superior mesenteric artery under EUS guidance with no re-bleeding at 42 wk of follow-up. The use of CYA glue with lipiodol was described by Gonzalez et al[87], wherein a splenic artery PsA was tackled, and there was no re-bleed on a 2-mo follow-up. Similarly, the first use of coil was described by Robb et al[88] in superior mesenteric artery PsA using multiple Nester coils, achieving complete obliteration in one session. Rai et al[89] used coil with CYA glue combination in a 3 cm splenic artery PsA in a single sitting with no re-bleed in 1 mo. Giant PsA (> 5 cm) have also been reported to have been managed with EUS-angiotherapy. The author's center reported a 6.5 cm splenic artery PsA using a coil and glue combination in 2 sessions achieving complete obliteration[90]. The case reports have been outlined in Supplementary Table 1.
Case series: Only 5 case series (> 3 cases) have been reported, mainly from the Indian subcontinent and have been tabulated in Table 5. Three of them have utilized thrombin, while two have used coil with glue[91-95]. The author's centre has reported the largest series of 16 cases of visceral artery PsA in 15 patients. The median size of the PSA was 2.8 cm (0.9-9.7 cm). A median of 2 coils (1-8) and 2 mL of CYA (1-5 mL) was used. Complete obliteration in the first session was achieved in 15 PSA (93.8 %)[95] (Figure 7).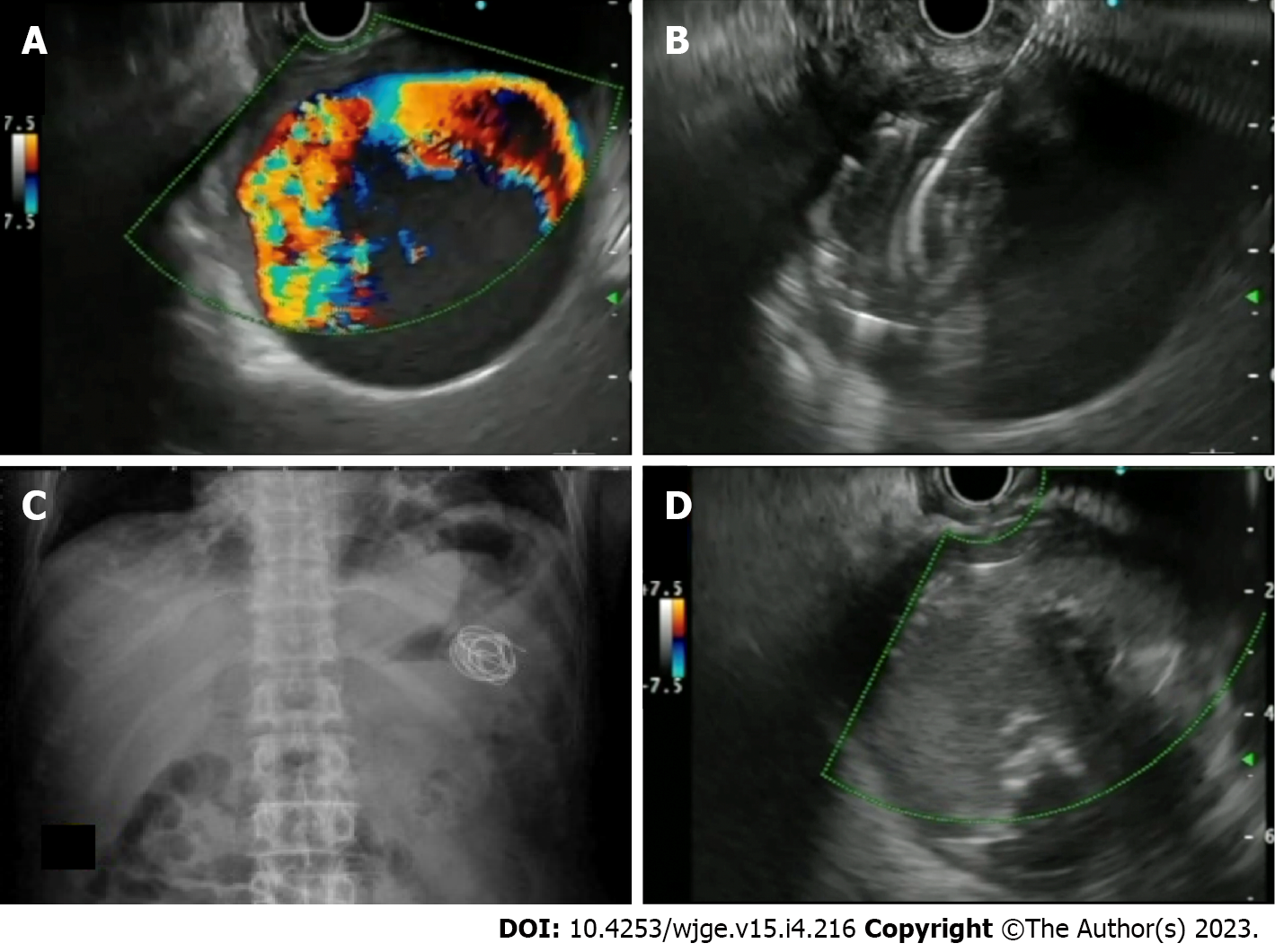 Figure 7 Endoscopic ultrasound-guided vascular therapy for pseudoaneurysm.
A: Giant splenic artery pesudoaneursym with Doppler flow; B: Puncture of the pseudoaneurysm with 19-G needle and deployment of coils; C: Abdominal X-ray showing deployed coils; D: Endoscopic ultrasound image of obliterated pseudoaneurysm after coil and glue injection.
S.No.

---

Ref.

---

Cases

---

Age/sex

---

Chief complaints

---

Artery involved

---

PSA size (mm)

---

EUS needle used

---

Embolization agent used

---

EUS sessions needed

---

Technical/clinical success

---

Complications

---

Follow up and comments

---

1
Gamanagatti et al[91], 2015
3
56/M; 45/M; 30/M
Upper GI bleed (all 3)
GDA; Splenic; Splenic
-
22-G
Thrombin (500 IU, 300 IU, 400 IU)
1 each
Yes/yes
None
Imaging F/U: complete obliteration; no bleeding at 1 mo F/U
2
Jhajharia et al[92], 2018
3
43/M; 25/M; 55/M
Pain abdomen; hematemesis; Malena (respectively)
GDA; Right hepatic; splenic
40 × 50; 30 × 22 × 27; 15 × 13
22-G
Thrombin (1000 IU; 1000 IU; 500 IU)
1 each
Yes/yes
None
F/U at 1.5 years, 1 year and 3 mo: no bleeding (respectively)
3
Rai et al[93], 2018
6
Median 36.7 years (19-60); 5 men
3 asymptomatic; 3 upper GI bleed
All Splenic artery PSA
25-65 (range)
19-G
Coils (size 8, 14, 16; number 1-5) and glue (1-2 mL)
3 cases needed 2 EUS sessions (size > 4 cm)
Yes/yes (all cases)
None
EUS (4 wk) and CT (3 mo): complete obliteration
4
Maharshi et al[94], 2020
8
Median 34 years (27-58); all males
Malena (100%); hematemesis (75%)
Splenic (5); left hepatic (2); GDA (1)
Median 29 × 26 (range 18 × 19 – 40 × 50)
22-G
Thrombin (200-500 IU)
1
Yes/87.5% clinical success (7/8 cases)
2 cases post procedural pain
EUS (1 and 3 mo) and CT (1 mo): complete obliteration; only 1 case with PSA > 5 cm needed second EUS session after 6 wk
5
Samanta et al[95], 2022
16 PsA (in 15 patients)
Median 44 (17-56); males 14 (93.3%)
Malena/ incidental/ PCD bleed
Splenic (12); GDA (4)
Median 2.8 (0.9-9.7 cm)
19-G
Coils (median 1[1

-

8]) with CYA glue (median 2 [1-5 mL])
1 session in 15 (93.8%)
Yes/yes
One case had splenic infarct (managed conservatively)
Follow-up at 6 mo: no rebleed; one case developed recurrent PsA at a site separate from first PsA (managed again with EUS)
Other causes of NVB (Dieulafoy's/bleeding tumors)
Anecdotal reports have been published on using EUS-guided angiotherapy to manage NVB (Supplementary Table 2). In 1996, the first report used EUS-guided epinephrine/polidocanol injection for managing bleeding dieulafoy's lesion[96] (Figure 8). Levy et al[97] reported a series of 5 refractory NVBs, including dieulafoy's lesion, hemosuccus pancreaticus, duodenal ulcer and GIST. The largest data of EUS-guided therapy reported to date involves a cohort of 17 cases using various agents. On a median 12-mo follow-up, 15/17 (88%) patients had no re-bleed[98].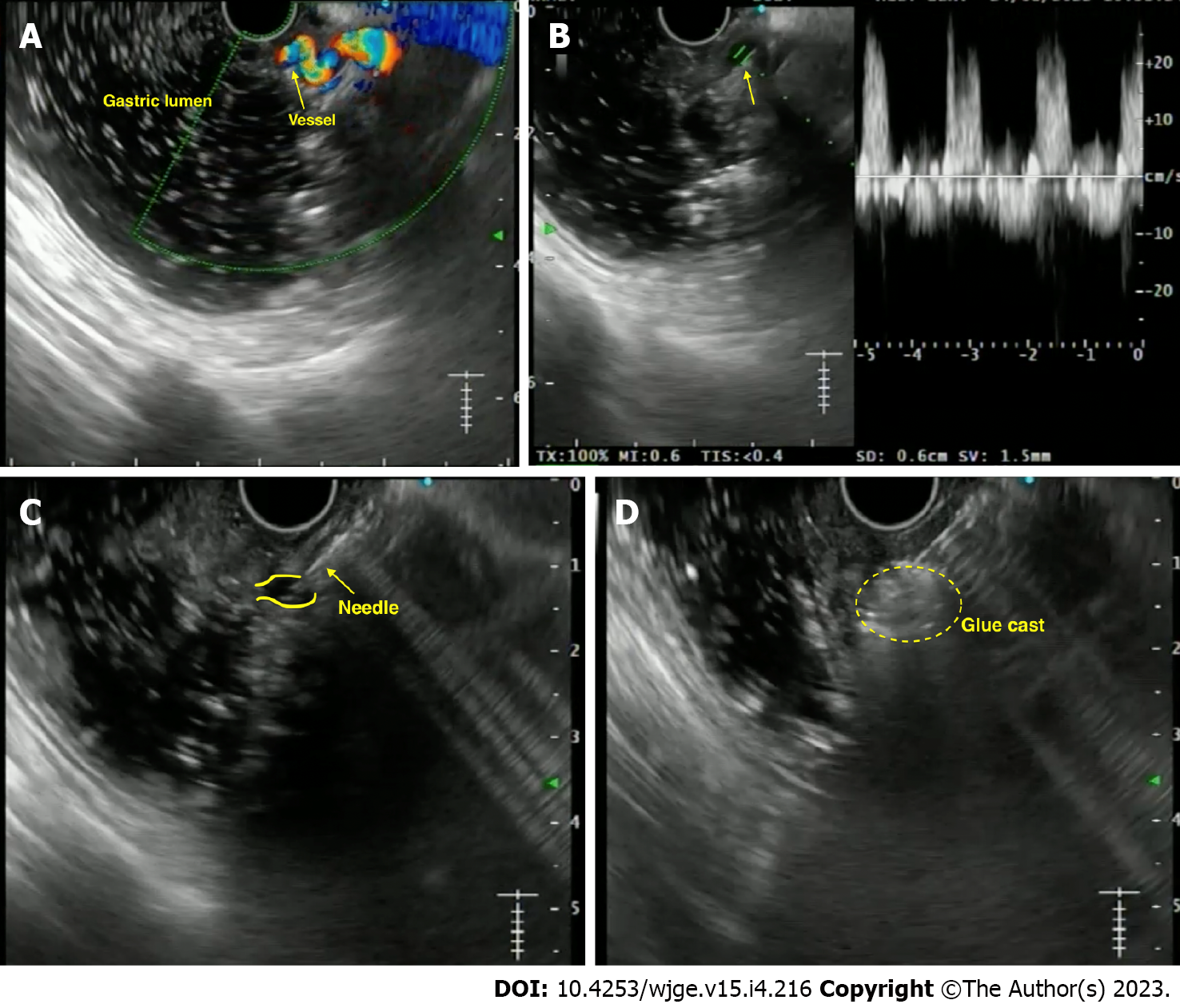 Figure 8 Endoscopic ultrasound-guided vascular therapy for dieulafoy's lesion.
A: Endoscopic ultrasound image showing the culprit tortuous vessel coursing up to the mucosa; B: Power Doppler showing the flow pattern; C: Puncture of the vessel with a 22-G needle; D: Obliteration of the flow with formation of glue cast.
The data on EUS-guided vascular interventions for NVB is limited and comparative studies are needed to establish its role in therapeutic algorithms. However, EUS-guided angiotherapy may be considered a second-line "rescue" treatment, especially in refractory/re-bleeding cases. The feasibility and safety data are encouraging, though larger multicentre data is required to define its role further.
EUS-GUIDED PV-RELATED INTERVENTIONS
PV dynamics are crucial for decision-making in chronic liver disease and PHTN cases. EUS-guided PV access is a viable option with a probable advantage over the percutaneous route owing to the relative difficulty experienced in the latter in patients with obesity, ascites, and overlying distended bowel[99]. In addition, there are various potential clinical applications of EUS-guided PV access that include angiography, measurement of the PPG, EUS-guided TIPS, and PV sampling for evaluation in GI cancer[1,99].
EUS-GUIDED CARDIAC INTERVENTIONS
The proximity of the posterior mediastinum to the esophagus has allowed EUS easy access to the heart and associated vascular structures. Like trans-esophageal echocardiography, EUS is technically feasible in animal models to sample the coronaries, atria, ventricles, and valvular apparatus. Fritscher-Ravens et al[129] demonstrated radiofrequency ablation of the aortic valve, pericardial fluid aspiration, and atrial mass biopsy in swine models with no major adverse events. Most isolated case reports exist on EUS-biopsy of intracardiac/pericardial tumours[130-132]. EUS-aspiration of pericardial fluid has been performed with no reported arrhythmias[133]. Even EUS-guided thrombolysis of pulmonary artery and mesenteric thrombi has been reported. Under EUS guidance, Tenecteplase was injected into the thrombus using a 25-G needle[134].
While the reports are exciting, these are anecdotal cases, and more data is warranted in the future to establish the safety and efficacy of such interventions.
CONCLUSION
EUS-guided vascular intervention is gradually becoming a promising new technique for managing vascular complications around the GI tract as a salvage and/or primary modality. While comprehensive data has established its safety and efficacy in managing conditions such as GV and measurement of PPG, its role for other applications such as management of visceral artery pseudoaneurysms and PV access for various therapies needs further validation. Nevertheless, proper selection of cases, adequate precautions and optimum backup can make EUS-guided angiotherapy an essential tool in the endoscopist's armamentarium.
Provenance and peer review: Invited article; Externally peer reviewed.
Peer-review model: Single blind
Specialty type: Gastroenterology and Hepatology
Country/Territory of origin: India
Peer-review report's scientific quality classification
Grade A (Excellent): 0
Grade B (Very good): B, B
Grade C (Good): 0
Grade D (Fair): 0
Grade E (Poor): 0
P-Reviewer: Nakamura K, Japan; Reihani H, Iran S-Editor: Chang KL L-Editor: A P-Editor: Chang KL