Copyright
©The Author(s) 2015.
Published by Baishideng Publishing Group Inc. All rights reserved.
Search for a cure for chronic hepatitis B infection: How close are we?
Wah Wah Phyo, Alex Yu Sen Soh, Seng Gee Lim, Guan Huei Lee, Department of Gastroenterology and Hepatology, University Medicine Cluster, National University Hospital of Singapore, Singapore 119228, Singapore
Author contributions: Phyo WW, Soh AYS, Lim SG and Lee GH wrote the paper.
Conflict-of-interest: None of the authors of this review study has any competing financial or other interests.
Open-Access: This article is an open-access article which was selected by an in-house editor and fully peer-reviewed by external reviewers. It is distributed in accordance with the Creative Commons Attribution Non Commercial (CC BY-NC 4.0) license, which permits others to distribute, remix, adapt, build upon this work non-commercially, and license their derivative works on different terms, provided the original work is properly cited and the use is non-commercial. See: http://creativecommons.org/licenses/by-nc/4.0/
Correspondence to: Guan Huei Lee, Consultant, Department of Gastroenterology and Hepatology, University Medicine Cluster, National University Hospital of Singapore, 1E Kent Ridge Road, NUHS Tower Block, Level 10, Singapore 119228, Singapore. guan_huei_lee@nuhs.edu.sg
Telephone: +65-67795555 Fax: +65-67751518
Received: August 28, 2014
Peer-review started: August 30, 2014
First decision: November 27, 2014
Revised: December 19, 2014
Accepted: February 10, 2015
Article in press: February 12, 2015
Published online: May 28, 2015

Chronic hepatitis B (CHB) remains a significant unmet medical need, with 240 million chronically infected persons worldwide. It can be controlled effectively with either nucleoside/nucleotide-based or interferon-based therapies. However, most patients receiving these therapies will relapse after treatment withdrawal. During recent years, the advances in molecular biology and immunology have enabled a better understanding of the viral-host interaction and inspired new treatment approaches to achieve either elimination of the virus from the liver or durable immune control of the infection. This review aims to provide a brief overview on the potential new therapies that may overcome the challenge of persistent CHB infection in the near future.
Core tip: Current hepatitis B treatments can only control the disease, but they rarely lead to substantial rates of hepatitis B surface antigen loss and seroconversion. Several new therapeutic approaches are being developed so as to attain the elusive goal of successful functional cure of chronic hepatitis B infection.
---
Citation: Phyo WW, Soh AYS, Lim SG, Lee GH. Search for a cure for chronic hepatitis B infection: How close are we? World J Hepatol 2015; 7(9): 1272-1281
---
INTRODUCTION
Chronic hepatitis B (CHB) remains a global health challenge. More than 240 million persons have been infected with CHB virus. CHB has become one of the most common causes of liver cirrhosis and hepatocellular carcinoma, and has led to more than 780000 deaths per year[1,2]. At this point, there is no cure for CHB, even though potent drugs are available to control the virus and prevent complications. In the last few years, several new drug classes targeting the various stages of hepatitis B replication cycle are under investigation. Whether and which of these agents could become clinically useful therapies are still unclear[3]. The review will discuss these new investigational approaches for the treatment of hepatitis B virus (HBV) infection, and their respective stages of development in clinical trials.
WHY DO WE NEED NEW DRUGS FOR CHB?
The Food and Drug Administration-approved chronic hepatitis B treatment of choice is either an immunomodulators [standard and pegylated interferon (Peg-IFN)] or nucleoside/nucleotide analogues (lamivudine, adefovir, telbivudine, entecavir and tenofovir). The latter class is less expensive and orally available. These drugs have minimal side-effects comparing to interferon and can be used for decompensated cirrhosis and after liver transplantation[4]. However, they have to be taken on a long-term basis in general, and result in hepatitis B e antigen (HBeAg) seroconversion rate of 20%-25% and HBV antigen (HBsAg) loss of 1% or less[5]. This is because they are designed to be reversible transcriptase inhibitors, a crucial step in viral replication, but not to eliminate the HBV minichromosomes [HBV covalently closed circular DNA (cccDNA), Figure 1] persisting in the nucleus of the hepatocytes[6]. There is a significant risk of HBV reactivation and sometimes HBV flare after withdrawal of the antiviral agents. Drug resistance may evolve after long-term therapy[3]. In contrast, the interferon-alfa therapy is of finite duration and results in 30%-40% HBeAg seroconversion, 5%-10% HBsAg seroclearance, with no risk of drug resistance. However, its systemic adverse effects limit its usefulness, especially in patients with decompensated liver cirrhosis[4].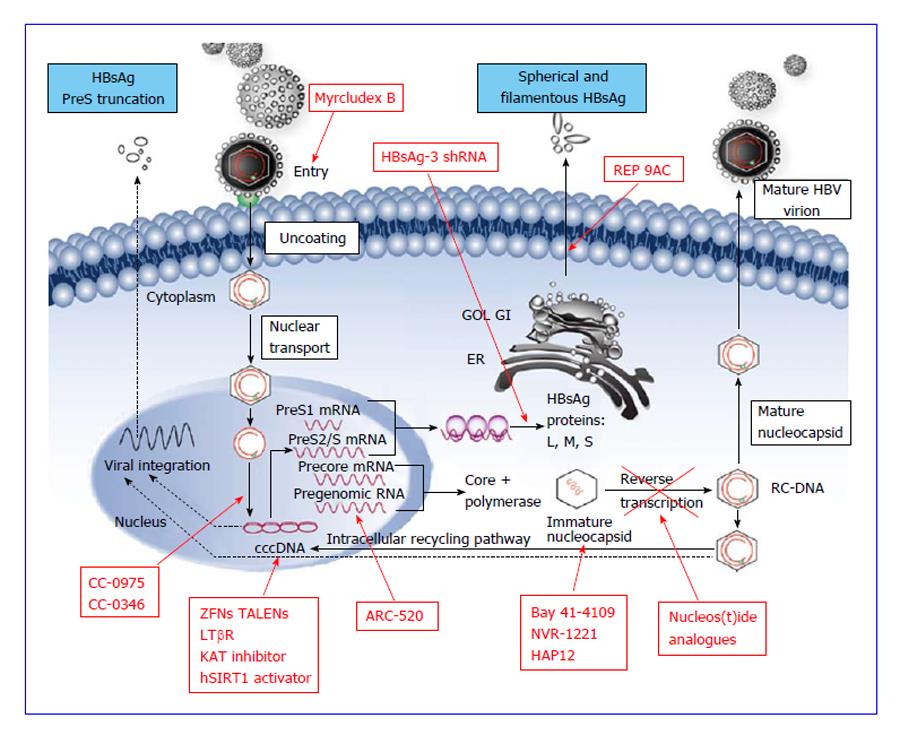 Figure 1 Replicative cycle of hepatitis B virus and the respective targets of the current and experimental therapeutic agents.
Modified from Chan et al[18], with permission granted by Elsevier (Copyright owner). ER: Endoplasmic reticulum; HAP12: Heteroaryldihydropyrimidines 12; HBs protein L, M, S: HBs protein Large, Medium, Small; HBV: Hepatitis B virus; HBsAg: Hepatitis B virus antigen; RC-DNA: Relaxed circular DNA; RNAi: RNA interference; shRNA: Short/small hairpin RNA; cccDNA: Covalently closed circular DNA; KAT: Kynurenine aminotransferase; LTβR: Lymphotoxin beta receptor; TALEN: Transcription activator-like effector nuclease; ZFN: Zinc finger nuclease.
Modifications to existing therapies are being investigated, such as combining nucleoside/nucleotide analogues with interferon, switching treatments, and extending Peg-IFN. Twenty-five HBeAg negative patients were given an extended (96-wk) course of Peg-IFN plus adefovir in a study by Cao et al[7]. All patients achieved HBV DNA of less than 500 copies/mL, and HBsAg seroconversion rates were 12%, 28%, and 32% at weeks 48, 96 and 120 respectively. HBeAg positive patients who had been on entecavir for 9 to 36 mo, with HBV DNA of < 1000 copies/mL and HBeAg < 100 PEIU/mL, randomized to switch to Peg-IFN or to continue entecavir for 48 wk in OSST trial. The trial showed that switching to Peg-IFN led to a higher HBeAg seroconversion at week 48 (14.9% vs 6.1%, P = 0.0467). Among Peg-IFN-treated patients with HBeAg loss and HBsAg < 1500 IU/mL at randomization, as high as 22.2% achieved HBsAg loss[8]. Larger studies for the optimal combination regimen are ongoing, but HBsAg loss much higher than 30% is unlikely using current modalities available.
WHAT ARE THE POTENTIAL TARGETS IN THE VIRAL LIFE CYCLE?
HOW CLOSE ARE WE TO CLINICAL APPLICATION?
Most of the new antiviral agents discussed above remains in the early preclinical phase (laboratory and animal study) (summarized in Table 1). A few of these, driven by established biotechnology and pharmaceutical companies, had made it to phase-I/IIA clinical trials. Gaining momentum and safety profiles from the HIV trials, the newer nucleoside analogues are likely to be the first group of drugs to obtain formal approval for clinical use. Being in the same class as the existing therapy, they are unlikely to be game changers, but they may add to the arsenal of reverse transcriptase inhibitors to tackle the drug-resistant HBV strains that may emerge with long-term use of current agents.
Therapeutic agents
Mechanism
Manufacturer
Status
Viral entry inhibitors
Myrcludex B
Entry inhibition
Myr_GmbH, Germany
Phase IIA, Russia
cccDNA Transcription inhibitors
CC-0975, CC-0346 (DSS)
Induces deproteinization of rcDNA
Preclinical
LTβR
Induces cccDNA cytidine deamination
Preclinical
Small molecules
cccDNA transcription inhibitor
Preclinical
DNA editing technology
ZFNs
cccDNA inactivation
Preclinical
TALENs
cccDNA inactivation
Preclinical
RNAi gene silencer
ARC 520
RNAi gene silencer
Arrowhead Research Pasadena, CA
Phase IIA
New nucleoside analogues
Besifovir (LB80380)
Inhibits viral DNA polymerase
LG Life Sciences, South Korea
Phase II
MIV-210
Inhibits viral DNA polymerase
Medivir/Daewoong, South Korea
Phase II
Tenofovir alafenamide (GS-7340)
Prodrug of tenofovir
Gilead Foster City, CA
Phase III
Interruption of HBV capsid assembly
Heteroaryldihydropyrimidine (Bay 41-4109)
Inhibits viral nucleocapsid
AiCuris, Germany
PhaseI
Heteroaryldihydropyrimidine (HAP12)
Inhibits capsid assembly
Preclinical
NVR-1221
Capsid inhibitor
Novira Therapeutics, Doylestown, PA
Phase IA
HBsAg release inhibitor
REP 9AC
HBsAg release inhibitor
REPLICor Inc. Montreal, Quebec
Phase I
HBsAg-3 shRNA
HBsAg expression inhibitor
Preclinical
Immunomodulator
GS-9620
TLR-7 agonist
Gilead Foster City, United States
Phase I
CYT 107 (interleukin-7)
Immunomodulator
Cytheris, Paris, France
Phase I/IIA
Therapeutic vaccination
GS-4774
HBV X, surface and core antigens
Gilead Sciences with Globe Immune Louisville, CO
Phase II
DV601
HBV surface and core antigens
Dynavax, Berkeley, CA
Phase IB
NASVAC
HBV surface and core antigens
CIGB, Cuba
Phase I
HBV core Ag vaccine
T-cell mediated therapeutic vaccine
Emergent Europe, United Kingdom
Phase I
However for the new classes of anti-HBV compounds that truly aims to cure CHB, the development is still in their infancy and major breakthrough is required to deliver the compound to the target (infected hepatocyte nucleus for the cccDNA inhibitors) or overcome established immune tolerance (new immunomodulators), at acceptable safety profiles.
CONCLUSION
We discussed the new anti-HBV compounds and new targets that can be broadly divided into two main categories: (1) therapies that target the virus either directly or by targeting host factors required for viral replication; and (2) therapies targeting the host innate or adaptive immune response.
To achieve the goal of curing CHB, any new approaches based on targeting the virus, will need to establish that target inhibition ultimately translates into significantly increased cccDNA depletion and HBsAg loss. For example, simply blocking viral replication, even by a mechanism other than nucleoside/nucleotides, is unlikely to cure infection unless the cccDNA reservoir is removed. Directly targeting cccDNA fundamentally tackles the issue of viral persistence but such new technologies as sequence-targeting nucleases and modulation of epigenetic regulators face challenges including drug delivery to target cells and risk of off-target effects. Approaches such as blocking antigen secretion, directly targeting viral RNA and blocking the HBV entry receptor are more technically feasible in the near term, but likely will not clear the cccDNA reservoir on their own. Our growing understanding of the immune defects in CHB is enabling the development of new immunotherapy. TLR-7 agonist represents one of such promising immunotherapeutic approaches. There remains the concern of safety in activating the immune system.
Although many potential new approaches to treat CHB have been identified, therapeutic translation has been challenging and relatively few drug candidates have emerged and entered clinical trials. If the success story of developing effective therapies leading to the ability to cure nearly all hepatitis C infection is any guide, the search for a functional cure for CHB is definitely not an illusive dream, and it is likely to come in the form of combination therapies of current effective antiviral agents with one or more new anti-HBV agents that either eliminate HBV cccDNA or overcoming specific immune pathways that will result in immunoclearance of the virus.
P- Reviewer: Elalfy H, Li GL S- Editor: Tian YL L- Editor: A E- Editor: Liu SQ