Copyright
©The Author(s) 2023.
Published by Baishideng Publishing Group Inc. All rights reserved.
Toxicity of targeted anticancer treatments on the liver in myeloproliferative neoplasms
Shubhrat Purwar, Department of Internal Medicine, Grant Government Medical College, Mumbai 400008, Maharashtra, India
Anam Fatima, Department of Internal Medicine, Pandit Jawaharlal Nehru Memorial Medical College, Raipur 492001, Chhattisgarh, India
Himashree Bhattacharyya, Department of Community & Family Medicine, AIIMS Guwahati, Assam 781101, India
Lakshmi Venkata Simhachalam Kutikuppala, Department of General Surgery, Dr NTR University of Health Sciences, Vijayawada 521104, Andhra Pradesh, India
Matei-Alexandru Cozma, Mihnea-Alexandru Găman, Faculty of Medicine, "Carol Davila" University of Medicine and Pharmacy, Bucharest 050474, Romania
Matei-Alexandru Cozma, Department of Gastroenterology, Colentina Clinical Hospital, Bucharest 020125, Romania
Bahadar Singh Srichawla, Department of Neurology, University of Massachusetts Chan Medical School, Worcester, MA 01655, United States
Leah Komer, Department of Psychiatry, University of Toronto, Toronto M5G 1V7, Ontario, Canada
Khulud Mahmood Nurani, Faculty of Health Sciences, University of Nairobi, Nairobi 30197-00100, Kenya
Mihnea-Alexandru Găman, Department of Hematology, Center of Hematology and Bone Marrow Transplantation, Fundeni Clinical Institute, Bucharest 022328, Romania
Author contributions: Purwar S, Fatima A, Bhattacharyya H, Simhachalam Kutikuppala LV, Cozma MA and Gaman MA reviewed the literature and drafted the manuscript; Srichawla BS, Nurani KM and Komer L edited the manuscript; Cozma MA and Gaman MA provided overall intellectual input, reviewed the literature, and edited the final version of the manuscript; all authors approved the final version to be published.
Conflict-of-interest statement: The authors have no conflicts of interest to declare.
Open-Access
: This article is an open-access article that was selected by an in-house editor and fully peer-reviewed by external reviewers. It is distributed in accordance with the Creative Commons Attribution NonCommercial (CC BY-NC 4.0) license, which permits others to distribute, remix, adapt, build upon this work non-commercially, and license their derivative works on different terms, provided the original work is properly cited and the use is non-commercial. See:
https://creativecommons.org/Licenses/by-nc/4.0/
Corresponding author: Mihnea-Alexandru Găman, Doctor, MD, PhD, Doctor, Research Fellow, Researcher, Faculty of Medicine, "Carol Davila" University of Medicine and Pharmacy, 8 Eroii Sanitari Boulevard, Bucharest 050474, Romania. mihneagaman@yahoo.com
Received: May 28, 2023
Peer-review started: May 28, 2023
First decision: July 17, 2023
Revised: August 6, 2023
Accepted: August 18, 2023
Article in press: August 18, 2023
Published online: September 27, 2023

The liver has a central role in metabolism, therefore, it is susceptible to harmful effects of ingested medications (drugs, herbs, and nutritional supplements). Drug-induced liver injury (DILI) comprises a range of unexpected reactions that occur after exposure to various classes of medication. Even though most cases consist of mild, temporary elevations in liver enzyme markers, DILI can also manifest as acute liver failure in some patients and can be associated with mortality. Herein, we briefly review available data on DILI induced by targeted anticancer agents in managing classical myeloproliferative neoplasms: Chronic myeloid leukemia, polycythemia vera, essential thrombocythemia, and myelofibrosis.
Core Tip: Drug-induced liver injury (DILI) comprises a range of unexpected reactions that occur after exposure to any type of medication. Patients diagnosed with classical myeloproliferative neoplasms (MPNs) (chronic myeloid leukemia, polycythemia vera, essential thrombocythemia or primary myelofibrosis) are often prescribed pharmacological agents that can lead to DILI. Herein, we examine the hepatotoxic potential of kinase inhibitors used in the treatment of classical MPNs with a focus on DILI diagnosis, management and prevention. In most cases, DILI can be successfully managed with dose interruptions or reductions and use of hepatoprotective agents, however, in some cases drug cessation may be warranted.
---
Citation: Purwar S, Fatima A, Bhattacharyya H, Simhachalam Kutikuppala LV, Cozma MA, Srichawla BS, Komer L, Nurani KM, Găman MA. Toxicity of targeted anticancer treatments on the liver in myeloproliferative neoplasms. World J Hepatol 2023; 15(9): 1021-1032
---
INTRODUCTION
A brief overview of myeloproliferative neoplasms
Haematopoietic stem cells exhibit pluripotency and have the capacity to self-renew, resulting in myeloid or lymphoid cell lines which differentiate into mature blood cells. Overproduction of terminal myeloid cell lines in the bone marrow due to certain mutations in hematopoietic stem cells gives rise to a group of disorders known as myeloproliferative neoplasms (MPNs). MPNs are broadly classified into three categories: Philadelphia-positive MPNs, such as chronic myeloid leukemia (CML), classical Philadelphia-negative MPNs, such as polycythemia vera (PV), primary myelofibrosis (PMF) and essential thrombocythemia (ET), and non-classical Philadelphia-negative MPNs which include chronic neutrophilic leukemia, chronic eosinophilic leukemia-not otherwise specified and MPN-unclassifiable[1,2].
Epidemiology of MPNs
The incidence rate of CML has increased, whereas its age-standardized incidence rate decreased to 0.84 per 100000 individuals in 2019 from 0.96 in 1990. In addition, a slight increase in the incidence of CML cases has been observed in males vs females[3]. According to a systematic review of 20 studies from Europe, North America, Asia, and Australia which assessed the incidence rate of PV, the annual pooled incidence rate was 0.84 per 100000 individuals. There was no significant difference in the crude annual incidence between males and females[4]. Ten studies from Europe and North America reported the annual pooled incidence rate of 1.03 per 100000 inhabitants, with a higher pooled annual incidence in males compared to females[4]. PMF has the lowest incidence among classical Philadelphia-negative MPNs, with an annual pooled incidence of 0.47 per 100000 subjects and a higher incidence in males than females[4].
Pathophysiology of MPNs
CML is characterized by a reciprocal translocation between chromosomes 22 and 9, resulting in the fusion of the Abelson Murine Leukemia (ABL) 1 gene with the Breakpoint Cluster Region (BCR) gene. This generates a chimeric protein with constitutively active tyrosine kinase activity, which promotes cell growth and signaling through various downstream pathways[5]. The World Health Organization has divided the progression of CML into 2 phases primarily based on blast cell counts in the peripheral blood or bone marrow: Chronic phase and blast phase (≥ 20% myeloid blast cells in the bone marrow or peripheral blood or elevated numbers of lymphoid blast cells in the bone marrow or peripheral blood or evidence of extramedullary proliferation of blast cells), with the majority of patients presenting in the chronic phase[6]. There has been an increase in the life expectancy of CML patients, similar to that of the general population. This can be attributed to the fact that most newly diagnosed cases of CML occur in the chronic phase of the disease and due to the availability of new and effective therapies[7].
Classical Philadelphia-negative MPNs include PV, which primarily involves excess proliferation of red blood cells, ET, with thrombocytosis in the peripheral blood and overactive megakaryocytes in the bone marrow, and PMF, which involves fibrosis of the bone marrow and other diagnostic criteria. The pathogenesis of classical Philadelphia-negative MPNs requires constitutive activation of the Janus kinase (JAK)/signal transducers and activators of transcription (STAT) pathway due to mutations in a variety of genes, out of which, JAK2V617F gain of function mutation is the most frequent, being present in > 95% of PV cases and > 50% of PMF and ET cases[8,9]. The remaining cases of PV are linked to JAK2 exon 12 mutations, while most of the remaining cases of PMF and ET have detectable MPL or CALR mutations[10]. Both ET and PV have a relatively favorable prognosis, with ET carrying the most favourable prognosis and PMF carrying the worst prognosis[11].
DRUG-INDUCED LIVER INJURY: BRIEF OVERVIEW
The liver is susceptible to the harmful effects of ingested medications (drugs, herbs, and nutritional supplements) because of its central role in metabolism[12,13]. Drug-induced liver injury (DILI) comprises a range of unexpected reactions occurring after exposure to various medications. Even though most cases consist of mild, temporary elevations in liver enzyme markers, DILI can result in acute liver failure (ALF). Thus, DILI may emerge as a significant cause of liver disease and sometimes lead to increased mortality rates[14-16].
The pathogenesis of DILI is complex and not fully understood. It can vary significantly between different individuals and based on the drugs that cause liver injury, which explains the wide range of phenotypic traits in clinical presentation and severity[17]. DILI results from a combination of genetic, non-hereditary, and environmental variables, and is often attributed to an allergic immune response[18].
The potential for multiple clinical presentations and the lack of specific biomarkers or biochemical tests often make the diagnosis difficult and delayed. Consequently, DILI must always be considered in patients who are prescribed medications and exhibit unexplained liver injury[17,19]. Moreover, DILI is the leading cause of drug withdrawal from the marketplace which can result in changes in drug costs and challenges in medication availability[20].
The pathophysiology of DILI is a complex, multistep process involving both direct injury and different inflammatory responses induced by either the drug itself, its metabolites, or the immune system. It denotes a combination of various host-related, environmental, and drug-related factors. If ALF does not occur, patients usually fully recover after an episode of DILI if the responsible medication is discontinued[12,18,21].
Among the main pathophysiological processes involved in the pathogenesis of DILI, one must highlight oxidative stress, interference with bile acids' transportation, alteration of mitochondrial biogenesis, and triggering of innate immune responses, necrosis, or even apoptosis[15,18].
Liver toxicity is further categorized as direct, indirect, or idiosyncratic based on the underlying mechanism of action of the chemical compound that leads to DILI. Direct hepatotoxicity is caused by agents which produce immediate and direct injury to the liver. This is a common, predictable, dose-dependent injury with a short latency period (1 to 5 d). It causes elevations of alanine aminotransferase (ALT) and aspartate aminotransferase (AST) concentrations, induces minimal or no symptoms, is associated with normal total bilirubin levels, and usually disappears once the drug is stopped or the dose is lowered[22,23].
Indirect hepatotoxicity is defined as "a condition caused by the medication's actions rather than from its inherent hepatotoxic effects or immunogenicity". This best translates to "what the drug does rather than what the drug is". This can either result in induction of a new liver condition or an exacerbation of a preexisting condition, e.g., induction of immune-mediated hepatitis, reactivation of viral hepatitis or progression of fatty liver disease[12,22].
Idiosyncratic hepatotoxicity is caused by agents that have no direct hepatotoxic effect. It is an unpredictable condition, less common (< 1 of every 10000 exposed individuals), is not dose-related, has a longer latency period (up to several weeks), and a more variable clinical presentation[12,22,24].
A rapid diagnosis of DILI is crucial since one of the primary treatment interventions for hepatotoxicity is drug withdrawal. Moreover, establishing a DILI diagnosis can support the prevention of further adverse reactions through regulatory decisions such as prescription warnings or the removal of pharmaceuticals from the market[12,13,25].
In most cases, a diagnosis of DILI is one of exclusion since there is no specific test available for this entity. It is imperative to eliminate other causes of liver injury, e.g., infectious hepatitis, acute alcoholic hepatitis, or ischaemic hepatitis. Suspicion of DILI arises from the discovery of alterations in standard liver function tests, i.e., AST, ALT, total and direct bilirubin levels, serum albumin, alkaline phosphatase (ALP), or international normalized ratio[13].
Clinical manifestations, such as fatigue, nausea, malaise, right upper quadrant pain, pruritus, and jaundice, are non-specific and commonly encountered in various acute and chronic liver diseases. Liver imaging (abdominal ultrasonography, magnetic resonance cholangiography or computed tomography) is often used to exclude the presence of biliary obstruction and focal lesions. Liver biopsies are completed in less than half of suspected cases, and usually in instances where the evolution of the liver injury is not reversed after a suspected medication has been discontinued[22,26].
Currently, over 18 different histological aspects of DILI have been proposed, all of which are associated with varying degrees of inflammation, bile accumulation, ductopenia, steatohepatitis, macro- and micro-vesicular fatty depositions in the liver, pigment deposition, fibrosis or vascular congestion and obliteration[12,19].
DILI can also be classified by its biochemical pattern based on ALT and ALP levels. A pattern of hepatocellular damage is defined by an "elevation in ALT greater than 2 to 5 times the upper limit of normal (ULN) and/or by an ALT/ALP ratio also greater than 5". A pattern of cholestatic damage is defined by an "elevation in ALP greater than 3 times the ULN and/or an ALT/ALP ratio less than 2". A pattern of mixed hepatocellular/cholestatic damage is defined by "an increase in ALT greater than 2 to 5 times the ULN and an increase in ALP greater than 3 times the ULN and/or an ALT/ALP ratio between 2 and 5". These patterns have been proposed by the "American Association for the Study of Liver Diseases" and are summarized in Table 1[18,27,28].
| | | | |
| --- | --- | --- | --- |
| | Hepatocellular DILI | Mixed DILI | Cholestatic DILI |
| AASLD criteria for diagnosis of DILI | Elevation of ALT ≥ 3 times ULN and ALT/ALP ratio ≥ 5 times | ALT ≥ 3 times ULN, ALP ≥ 2 times ULN and ALT/ALP ratio < 5 but >2 times ULN | ALP ≥ 2 times ULN and ALT/ALP ratio of ≤ 2 times ULN |
| R value criteria for different patterns of DILI | R = (ALT/ULN)/(ALP/ULN) > 5 | R = (ALT/ULN)/(ALP/ULN) < 5 and > 2 | R = (ALT/ULN)/(ALP/ULN) < 2 |
Management
While in some patients, DILI can spontaneously resolve without active treatment, in most cases, the hallmark of DILI treatment is the withdrawal of the offending drug. Clinical and biochemical alterations are expected to improve over several days or weeks. Since patients who develop jaundice are more likely to progress to ALF, these subjects usually require strict monitoring and hospitalization, particularly if DILI exhibits a hepatocellular phenotype. Treatment of DILI is usually supportive, with no other specific medications showing any significant benefit. However, there are many agents used for supportive purposes, e.g., corticosteroids (empirically used by many clinicians), cholestyramine (administered to patients with acute liver injury caused by leflunomide), carnitine (an antidote for valproate-induced liver injury) or N-acetyl cysteine (NAC, a treatment for acetaminophen toxicity), silymarin, L-arginine, L-ornithine L-aspartate and/or vitamin E[13,29-32].
Prognosis
DILI typically resolves after discontinuing the offending drug and/or administering hepatoprotective agents. However, in rare cases, DILI may progress to ALF, with clinical features such as jaundice, ascites, encephalopathy, coagulopathy, and a mortality rate of 60% to 90% without liver transplantation[14,17].
Different scoring systems for predicting the prognosis of DILI have been proposed. The most validated and the one used by The Food and Drug Administration (FDA) during the drug development process to identify pharmacological agents that can potentially induce severe liver injury is "Hy's law". This was developed by Hyman Zimmerman in the 1960s, according to which 10% of the patients who develop jaundice will develop ALF. Other scores for predicting the severity of DILI are the Model for End-Stage Liver Disease score, King's college criteria score, and Acute Liver Failure Study Group index [12,13,19].
Older age, higher drug dosages, presence of liver disorders or cardiovascular comorbidities, African American ethnicity, and female sex have all been linked to an elevated risk of DILI and more severe forms. Still, there is little empiric data available to support that these variables are indeed risk factors for DILI or have an impact on its prognosis[33].
MAIN THERAPEUTIC AGENTS USED IN MPNS
The development of tyrosine kinase inhibitors (TKIs) following the discovery of the BCR-ABL chimeric gene has drastically improved the success rate of CML treatment. TKIs have improved the 10-year survival rate from 20% to 80%-90%[34]. Commonly used TKIs for the treatment of chronic phase CML involve first-generation TKIs (e.g., imatinib), second-generation TKIs (i.e., dasatinib, nilotinib, and bosutinib), and third-generation TKIs (i.e., ponatinib). Imatinib was the first TKI to be approved by the FDA[35]. The IRIS trial first showed the high effectiveness of imatinib in increasing the survival rate of newly diagnosed CML patients compared to interferon-alpha plus cytarabine[34]. It is a fairly safe drug as long as patients are closely monitored. Second-generation TKIs exhibit rapid molecular responses and have been used in cases of resistance/intolerance to imatinib[36].
The discovery of the involvement of the JAK/STAT pathway in the pathogenesis of classical Philadelphia-negative MPNs paved the way for the TKIs to inhibit the JAK/STAT pathway. Ruxolitinib was the first targeted drug developed that inhibits both JAK1 and JAK2 and is approved for use in intermediate and high-risk myelofibrosis (MF) based on the COMFORT trials and in cases of PV resistant or intolerant to hydroxyurea based on the RESPONSE trial[37].
Fedratinib is another TKI inhibiting JAK2 and FMS-like tyrosine kinase 3 and is approved for treating intermediate or high-risk PMF or secondary MF. Diarrhea, nausea, and anemia are common side effects associated with this therapy. Renal function, liver enzymes, lipase, and amylase may require frequent monitoring during the treatment[38].
Momelotinib is a recently FDA-approved JAK1/JAK2 inhibitor that antagonizes the activin A receptor type 1. It is used to treat patients with MF with moderate/severe anemia[14]. It is similar to ruxolitinib but with the added advantage of improving anemia[12]. The most common side effects associated with it include diarrhea, peripheral neuropathy, dizziness, nausea, and thrombocytopenia[39].
In high-risk patients suffering from PV and ET, cytoreductive therapy with hydroxyurea and interferon alpha are first-line choices used to reduce the rate of thrombotic events. Hydroxyurea is a potent ribonucleotide reductase inhibitor causing inhibition of DNA synthesis and cell death[40].
Interferons, especially pegylated interferon α (peg-IFNα) and ropeg interferons, are increasingly employed as effective alternatives to cytoreduction with hydroxyurea in patients with ET and PV. Studies have reported a decrease in the JAK2V617F allele burden following the prescription of interferon-based therapy, which does not occur with hydroxyurea. Interferon is also used along with ruxolitinib in patients with low to intermediate-risk MF. Peg-IFNα and ropeg interferons are associated with a lower rate of adverse effects than standard interferons α used in the past[41].
EPIDEMIOLOGY OF DILI IN PATIENTS DIAGNOSED WITH MPNS
DILI is mainly characterized by increased liver enzyme concentrations due to damage induced to hepatocytes. Hepatotoxicity in CML subjects on TKI therapy presents as low-grade elevation of ALT and/or AST levels in about 25%-35% of cases, and high-grade elevation in about 2% of patients. The use of newer-generation TKIs (e.g. bosutinib, nilotinib, and ponatinib), has been associated with higher risks of liver toxicity[42].
DILI was a rare event in the 5-year follow-up of the phase 3 DASISION (Dasatinib Versus Imatinib Study in Treatment-Naïve CML Patients) trial, which compared the two aforementioned pharmacological agents. Therapy discontinuation was only required in the subgroup who received 400 mg of imatinib daily due to increases in ALT or AST concentrations (n = 1 each out of 258 individuals) and in one case of toxic hepatitis (n = 1). However, no subjects (n = 0 out of 258 individuals) discontinued treatment with 100 mg of daily dasatinib due to DILI[43].
In the ENESTnd trial, which compared the daily administration of 400 mg nilotinib (n = 277 patients) and 300 mg nilotinib (n = 279 patients) to each other, and to 400 mg imatinib (n = 280 patients) for the management of newly diagnosed CML, the investigators identified multiple cases of liver toxicity. Elevations in total bilirubin (n = 171, 62% vs n = 149, 53% vs n = 27, 10%), ALT (n = 203, 73% vs n = 186, 66% vs n = 57, 20%) and AST (n = 134, 48% vs n = 112, 40% vs n = 65, 23%) concentrations were more likely to occur in the 400 mg nilotinib and 300 mg nilotinib vs 400 imatinib group, respectively. In contrast, an increase in ALP (n = 76, 27% vs n = 59, 21% vs n = 92, 33%) value was more common in patients who received imatinib. However, grade 3/4 adverse events were rare and occurred predominantly in individuals who were prescribed nilotinib 400 mg or 300 mg vs imatinib 400 mg; all grades elevations occurred in total bilirubin (n = 21, 8% vs n = 10, 4% vs n = 1, < 1%), ALT (n = 25, 9% vs n = 11, 4% vs n = 7, < 2%) and AST (n = 8, 3% vs n = 4, 1% vs n = 3, 1%) values, respectively. Whereas a grade 3/4 increase in ALP only occurred in 1 case (< 1%) of imatinib-treated patients[44].
The NOVEL trial evaluated the safety and efficacy of nilotinib in 85 patients with imatinib intolerant/resistant CML. Their findings demonstrated that non-hematological adverse events occurring in correlation with the use of nilotinib manifested as elevations in ALT (n = 18, 21.2%), bilirubin (n = 12, 14.1%) and/or AST (n = 7, 8.2%) values. However, grade 3/4 elevations were rare and only 2 and 1 patients, respectively, experienced them in AST (2.4%) and/or ALT (1.2%) concentrations. In NOVEL, one patient with imatinib-induced liver toxicity required a switch of therapy to nilotinib, which resulted in DILI resolution. Serious DILI-related adverse events such as jaundice and chronic hepatitis have been reported[45].
The BYOND trial explored the benefits of 500 mg once daily of bosutinib for CML individuals (n = 163 subjects) who exhibited resistance and/or intolerance to other TKIs. DILI manifested only as elevations in AST (all grades n = 32, 19.6%) and/or ALT concentrations (all grades n = 42, 25.8%). However, grade 3/4 increases in ALT (n = 23, 14.1%) and/or AST (n = 7; 4.3%) were not common[46].
In the clinical trial which evaluated the benefits of bosutinib prescription in 119 CML subjects who failed to achieve satisfactory responses to imatinib and dasatinib and/or nilotinib, increases in AST/ALT values were noted in 16% of cases (13% classified as therapy-related), with only 6% of grade 3 adverse events and none severe/grade 4 side effects being noted. Elevations in these biochemical markers manifested early after drug initiation (approximately 81 d) and lasted approximately 29 d. DILI was successfully managed with dose interruptions, reductions, and/or use of hepatoprotective agents in 6, 5, and 1 CML case(s), respectively. Grade 3/4 DILI was more likely in CML individuals who received imatinib in the first six months following CML diagnosis and in subjects who exhibited elevated basophil counts[47].
Data from the CML registry in Belgium suggests that ponatinib-induced DILI cases are rare. Liver toxicity was uncommon in the 33 CML patients who received ponatinib and occurred in < 10% of treated individuals. Hepatocellular injury, hepatitis, and cholestasis were noted in 1 case each[48].
The PEARL study evaluated the safety and efficacy of ponatinib in CML subjects who experienced failure of 2 or more TKIs. Grade 1/2 non-hematological adverse events (including DILI) were highlighted in 19 (40%) of the 48 CML individuals enrolled. The investigators noticed no liver-related grade 3/4 adverse events[49].
Asciminib is a recently introduced TKI for managing CML, including T315I-mutated cases. This pharmacological agent inhibits the BCR-ABL1 protein in an allosteric manner, leading to an inactive conformation of its target. In a phase 1 trial of asciminib in heavily pretreated CML individuals, this novel medication led to elevation in ALT (n = 16, 10.7%; grade 3/4, n = 4, 2.7%), AST (n = 15, 10%; grade 3/4, n = 3, 2%) and gamma-glutamyltransferase (n = 12, 8%; grade 3/4, n = 3, 2%) concentrations, however, grade 3/4 liver-related adverse events occurred in < 3% of asciminib-treated subjects[50].
In the STAMP trial that investigated 40 mg of asciminib twice daily vs 500 mg of bosutinib once daily in individuals diagnosed with CML with ≥ 2 previous TKI therapies, DILI was more frequently noticed in the bosutinib group, i.e., 27.6% (n = 21) and 21.1% (n = 16) of subjects experienced elevations in ALT and AST concentrations, respectively, vs 3.8% (n = 6) each in the asciminib group. Grade 3/4 adverse effects were more likely to present in bosutinib-prescribed subjects (14.5%, n = 11 for ALT; 6.6% n = 5 for AST) vs asciminib-treated subjects (3.8%, n = 6 for ALT and AST each). Significant elevations in ALT values necessitated treatment cessation in bosutinib-treated CML patients[51].
Ruxolitinib appears to be a safe option in terms of liver toxicity. Based on the findings of a double-blind, placebo-controlled trial assessing ruxolitinib in the management of MF classified as intermediate-2 or high-risk, DILI was not mentioned amongst the most common adverse side effects (experienced by at least 10% of the 155 enrolled subjects) caused by ruxolitinib[52].
Ruxolitinib was associated with an increase in ALT concentrations in around 6% of the MF patients and with high-grade elevations in only 1% of the individuals enrolled in the JUMP trial[53].
In the RuxoBeat trial, which investigated the benefits of ruxolitinib therapy in newly-diagnosed PV, 7 of 28 treated subjects (25%) experienced changes in biochemical markers, including DILI. However, only 3 cases of grade 3 adverse events were reported, out of which 2 consisted of elevations in AST/ALT concentrations and required reduction of the prescribed dose. However, no patient necessitated interruption of ruxolitinib[54].
Similarly, the assessment results conducted by Vannucchi et al[55] only indicate minor changes in ALT/AST values following ruxolitinib administration in individuals diagnosed with PV.
The EXPAND trial assessed the safety and efficacy of ruxolitinib in individuals with MF and thrombocyte counts between 50000/mmc and 100000/mmc. In this investigation, a total of 5 cases of elevations in bilirubin values were noticed: 1 of the 18 patients who had platelets < 75000/mmc but > 50000/mmc and 4 of the 20 patients who had platelets < 100000/mmc but > 75000/mmc. However, of these, only two grade 3 or more increases in bilirubin levels were highlighted, all were reported in patients with thrombocyte counts < 100000/mmc but > 75000/mmc[56].
In a clinical trial that explored the co-administration of ruxolitinib and interferon alpha-2 for the management of PV and MF, grade 1/2 liver-related adverse events, i.e., an increase in AST and lactate dehydrogenase values, were noted in 7 (14%) and 17 (34%) of the 50 patients receiving therapy, with no cases of grade 3-4 side effects occurring in neither subjects with PV nor MF[57].
The JAKARTA trial compared fedratinib vs placebo elevations of liver enzymes were detected in 40%-60% of the subjects; however, ≥ 3 grade elevations in these serum markers were not common. In JAKARTA, 96 subjects were assigned to receive 400 mg of fedratinib daily, 97 to receive 500 mg/day of the same drug, and 95 individuals received placebo pills. All grade elevations in ALT (fedratinib 400 mg: 53%; fedratinib 500 mg: 46%; placebo: 17%) and AST (fedratinib 400 mg: 60%; fedratinib 500 mg: 48%; placebo: 29%) concentrations were frequently detected in the fedratinib subgroups vs placebo, whereas bilirubin levels were more likely to increase in the placebo group (fedratinib 400 mg: 31%; fedratinib 500 mg: 28%; placebo: 40%)[58]. However, grade 3-4 increases in ALT values were only noted in 3% of the fedratinib 400 mg and 500 mg subgroups each vs 0% in the placebo group. Grade 3-4 increases in AST values were only noted in 2% of the fedratinib 400 mg and 500 mg subgroups each vs 1% in the placebo group, whereas grade 3-4 elevations in bilirubin concentrations occurred in 2% of the placebo group and fedratinib 400 mg subgroups and in 1% of the fedratinib 500 mg subgroup, respectively[58].
Momelotinib therapy in MF was also associated with cases of liver toxicity, i.e., grade 3-4 increases in ALT concentrations in 4% of patients and in AST and ALP concentrations in 2% of patients each[59]. Grade 1-2 increases in AST (21%), ALT (19%), and bilirubin (13%) concentrations were also detected[59]. In an integrated assessment of momelotinib based on data derived from phase 3 randomized clinical trials, Verstovsek et al[60] also highlighted that of the 725 individuals with MF who received the drug, nine subjects (1.2%) experienced notable elevations in ALT values requiring dose interruption/reduction or momelotinib discontinuation. When momelotinib was studied for PV and/or ET, no occurrences of liver damage were reported in either cohort[61].
Ropeg interferons are relatively safer drugs than previously used interferons with respect to liver toxicity. When peg-IFNα-2a was tested in the management of PV (n = 40) and ET (n = 39), grade 3 increases in liver function tests were reported in 5% (n = 2) and 8% (n = 3) of the PV and ET subgroups, respectively. No grade 4 side effects were reported[62]. In a trial exploring the safety and benefits of peg-IFNα-2b in PV and ET, elevations in liver enzymes were among the most frequent non-hematological side effects. In total, 2 subjects required peg-IFNα-2b discontinuation due to elevations in AST and ALT values[63].
DILI IN MPNS
Data on risk factors for DILI in patients living with MPNs are scarce. However, several studies have identified potential risk factors associated with an increased risk of imatinib/TKI-induced hepatotoxicity, namely[64-66]: (1) Use of proton pump inhibitors (3.8- fold increased risk): Imatinib is both a substrate and an inhibitor of the ABCG2 which is a drug efflux pump expressed on various body tissues, including the liver. Thus, the inhibition of this pump leads to increased drug concentrations in liver cells, thus increasing the risk of hepatotoxicity. Moreover, proton pump inhibitors are hepatotoxic on their own; (2) Presence of liver disease or HBV carrier state (8-fold elevated risk): Imatinib is metabolized by the liver; therefore, liver impairment or HBV carrier state may increase its plasma levels due to ineffective drug metabolism; (3) Drug dose > 400 mg (2.3-fold increased risk): Higher plasma levels of imatinib can enhance the risk of liver toxicity; (4) Body weight of < 55 kg (2.2-fold increased risk): The dose of imatinib is chosen based on the phase of the disease and not based on body surface area; (5) Concomitant use of acetaminophen: Acetaminophen itself is hepatotoxic; (6) Use of alcohol: Alcohol acts as a cytochrome oxidase enzyme inducer, thereby increasing the levels of toxic metabolites; and (7) Use of hepatotoxic drugs.
The relative risk of DILI seems higher with the prescription of 2nd & 3rd generation TKIs compared to 1st generation pharmacological agents (imatinib)[67]. The average duration from drug initiation to DILI development with TKIs was 2-6 mo, whereas with the use of ruxolitinib, it was 1-6 mo[68,69]. In most cases, the diagnosis of DILI was established after the virology panel results for hepatitis B, human immunodeficiency virus, cytomegalovirus and Epstein-Barr virus infections came in negative. Autoimmune antibody testing, abdominal ultrasound, liver biopsy, and toxicology screening (alcohol, illicit drugs, acetaminophen) were also performed in conjunction with liver function tests to exclude other causes of liver injury[70,71]. Liver biopsy is usually not preferred to provide diagnostic information regarding liver injury but is considered for the staging of fibrosis[72]. In some instances, genetic testing for hereditary conditions, such as hemochromatosis or Wilson's disease, maybe required[73]. Pharmacogenomics assessments for mutations/polymorphisms in human leukocyte antigen genes, drug-metabolizing enzymes, ATP-binding cassette and/or solute carrier transporters, may also be required to understand why certain individuals develop DILI[74].
However, investigations on DILI in subjects with MPNs remain scarce and the pathogenesis of DILI induced by targeted anticancer agents warrants further consideration in future studies. For example, researchers could investigate the impact of oxidative stress, immunity, and bile acid metabolism on the emergence of DILI in individuals with MPNs. As such, DILI still remains a diagnosis of exclusion, with the recommended biochemical criteria being as follows[72,73]: (1) ALT values ≥ 5 ULN; (2) AST values ≥ 3 ULN; (3) ALP values ≥ 2 ULN; and (4) total bilirubin ≥ 2 ULN.
A common tool used for the diagnosis of DILI is the Roussel Uclaf Causality Assessment Method. It is based on 7 factors, including the onset of reaction, clinical response after withdrawal or continuation of the drug, response to re-administration of the drug, temporal relationship, risk factors, concomitant drug use, and absence of any non-drug etiologies[75].
Management of DILI in MPNs
In most cases, discontinuation of the offending drug in individuals with clinically established hepatotoxicity and/or administration of hepatoprotective agents has been found to normalize liver enzymes within a few weeks. In cases of severe liver injury, resolution has been achieved by treatment with high-dose steroids for a few weeks. For example, imatinib therapy can be resumed with dose reductions or with co-administration of low doses of steroids if hepatotoxicity occurs[76]. The European LeukemiaNet has established guidelines for the management of TKI-induced liver injury[77] (Figure 1).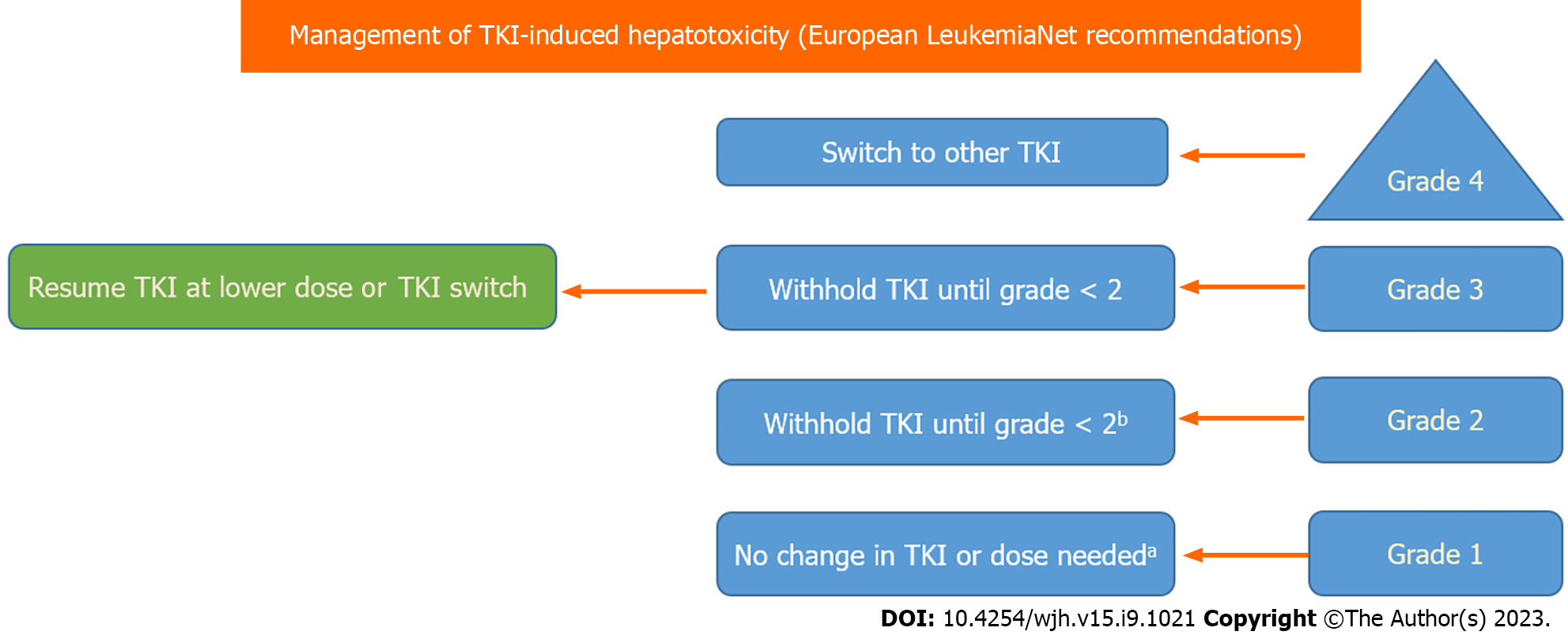 Figure 1 Management of tyrosine kinase inhibitor-induced hepatotoxicity according to European LeukemiaNet recommendations. aAdverse events may require specific treatment; bAlternatively, continue TKI for 1 wk with appropriate management of adverse event. If no resolution is achieved, withhold TKI until liver toxicity is grade < 2 and monitor weekly. TKI: Tyrosine kinase inhibitor.
Since CML patients often require lifelong treatment, Lopina et al[78] have suggested a novel score-based decision algorithm (Table 2) for restarting TKIs after acute imatinib-induced liver injury and for the choice of 2nd generation TKIs. The score takes into account: (1) The grade of hepatotoxic reaction; (2) the grade of response to the use of imatinib, i.e., the presence of early molecular response (EMR) to imatinib therapy at 3 mo (3-month BCR-ABL1 ≤ 10% according to the international scale). This is not applicable if imatinib treatment was prescribed for < 3 mo; (3) the grade of response to the use of imatinib, i.e., the presence of EMR to imatinib therapy at 6 mo (6-month BCR-ABL1 < 1% according to the international scale). This is not applicable if hepatotoxicity developed in <6 mo of imatinib therapy; (4) the presence of a liver offender (concomitant use of another drug that probably caused drug interactions); and (5) the presence of viral hepatitis reactivation identified by polymerase chain reaction.
Factors

---

Imatinib restart1

---

Imatinib withdrawal

---

Grade of hepatotoxic reaction
    Grade 1
+
-
    Grade 2
+2
-
    Grade 3
+/-3
+/-
    Grade 4 or presence liver transplantation or imatinib-induced liver cirrhosis or viral hepatitis reactivation
-
+
Presence of EMR to imatinib at 3 mo = BCR-ABL1IS ≤ 10%
    Yes
+
-
    No
-
+
Presence of EMR to imatinib at 6 mo = BCR-ABL1IS < 1% (if applicable4)
    Yes
+
-
    No
-
+
Use of another drug that might cause liver toxicity
    Yes
+
-
    No
-
+
Diagnosis of viral hepatitis established by PCR
    Yes
+
-
    No
-
+
The approach to restart imatinib can be based on the score listed above[78] as follows: (1) Score = 0 points: Withdraw the drug and switch to 2nd generation TKIs; (2) Score = 1 point: It is preferred to withdraw imatinib if the patient requires treatment for > 6 mo; and (3) Score ≥ 2 points: Restart imatinib after resolution of DILI.
The choice of a 2nd generation TKI is based on the presence of comorbidities and/or BCR-ABL1 kinase domain mutations[78].
Other cases of DILI in CML patients require special consideration. For example, reactivation of hepatitis B infection often undergoes spontaneous resolution but treatment with antiviral agents (tenofovir and entecavir) is sometimes needed. Moreover, liver transplantation can be successful in imatinib-induced fulminant liver failure[70].
In patients who develop hepatotoxicity while on ruxolitinib, abrupt drug discontinuation should be avoided as it can lead to potentially fatal withdrawal symptoms. Therefore, dose reduction should be completed gradually. Tremblay et al[79] recommends liver biopsy for adaptive management in patients with evidence of hepatocellular damage potentially caused by the use of ruxolitinib.
Prevention of DILI in MPNs
The relatively limited number of particular treatments and antidotes that are currently available restricts the medical therapy of acute DILI. The primary therapeutic strategy for DILI remains discontinuing the alleged harmful substance[80]. When NAC is administered within 4 to 16 h after an acute acetaminophen overdose, hepatotoxicity is effectively avoided. NAC is less helpful for ALF caused by non-acetaminophen drugs[81]. First-line prevention measures include avoiding the use of potentially hepatotoxic medications in patients with an underlying chronic liver disease or who have been identified as having a genetic, or other risk factors for developing DILI. Other measures include monitoring ALT, AST, and other liver-associated enzymes (ALP, bilirubin, etc.) to detect hepatotoxicity for particular medications early on. In some developed countries, regulating the availability of potentially dangerous amounts of acetaminophen has proven effective in reducing overdoses[82]. To prevent purposeful and inadvertent overdoses, improvements in abeling and patient education are still required in countries with unlimited access to acetaminophen. The significance of the gut microbiota in preventing DILI will likely continue to be understood, allowing for the development of new therapeutic strategies. Its ability to guard against acetaminophen-induced and other types of acute DILI is currently being investigated[83]. Thus, in patients diagnosed with MPNs who are started on potentially hepatotoxic agents, we recommend checking liver function tests before therapy initiation and regularly during treatment. Moreover, the management of each case should be tailored to the comorbidities and concurrent medications of the patient, especially in subjects who suffer from MPNs and exhibit a high burden of cardiometabolic disorders[84]. Thus, DILI can be avoided in some instances. Further research should focus on identifying new hepatoprotective agents that could enable clinicians to overcome DILI and avoid drug cessation or dose reductions/interruptions which aid in the resolution of liver toxicity but might impact the treatment of the hematological malignancy.
CONCLUSION
Data on liver toxicity induced by targeted anticancer therapy in MPNs is scarce; however, the use of TKIs has been linked to hepatotoxicity and/or DILI in CML, PV, ET, and MF in clinical trials and real-world data. Minor liver injury can be managed with drug discontinuation and/or dose reductions/interruptions and the administration of hepatoprotective agents. Careful consideration must be given in cases of severe hepatotoxicity.
Provenance and peer review: Invited article; Externally peer reviewed.
Peer-review model: Single blind
Specialty type: Gastroenterology and hepatology
Country/Territory of origin: Romania
Peer-review report's scientific quality classification
Grade A (Excellent): A
Grade B (Very good): B
Grade C (Good): C
Grade D (Fair): 0
Grade E (Poor): 0
P-Reviewer: He YH, China; Sultana N, Bangladesh; Zhang X, United States S-Editor: Lin C L-Editor: A P-Editor: Yu HG