Copyright
©The Author(s) 2021.
Published by Baishideng Publishing Group Inc. All rights reserved.
Liver injury associated with drug intake during pregnancy
Priyanka Kamath, Ashwin Kamath, Sheetal D Ullal, Department of Pharmacology, Kasturba Medical College, Mangalore, Manipal Academy of Higher Education, Manipal, Karnataka, India - 575001
Author contributions: All authors contributed to the concept of the paper and preparing the first draft. Kamath P and Kamath A performed the literature search and revised the manuscript. All authors contributed intellectually to revise the paper and approved the final version of the paper.
Conflict-of-interest statement: Authors declare no conflict of interests for this article.
Open-Access
: This article is an open-access article that was selected by an in-house editor and fully peer-reviewed by external reviewers. It is distributed in accordance with the Creative Commons Attribution NonCommercial (CC BY-NC 4.0) license, which permits others to distribute, remix, adapt, build upon this work non-commercially, and license their derivative works on different terms, provided the original work is properly cited and the use is non-commercial. See:
http://creativecommons.org/Licenses/by-nc/4.0/
Corresponding author: Ashwin Kamath, MD, Associate Professor, Department of Pharmacology, Kasturba Medical College, Manipal Academy of Higher Education, Light House Hill Road, Mangalore 575001, India. ashwin.kamath@manipal.edu
Received: March 11, 2021
Peer-review started: March 11, 2021
First decision: March 29, 2021
Revised: April 14, 2021
Accepted: May 25, 2021
Article in press: May 25, 2021
Published online: July 27, 2021

Drug use during pregnancy is not common. Drug-induced liver injury (DILI) is a potential complication that is rare but can adversely affect both the mother and the fetus. Although many drugs can directly cause hepatotoxicity, idiosyncratic liver injury is common in pregnancy. Underreporting of adverse drug reactions, lack of adequate literature regarding drug safety in pregnancy, and the inherent difficulty in diagnosing DILI during pregnancy make the management of this condition challenging. This review attempts to describe the existing literature regarding DILI in pregnancy, which is mainly in the form of case reports; several studies have looked at the safety of antithyroid drugs, antiretroviral drugs, and paracetamol, which have an indication for use in pregnancy; the relevant data from these studies with regard to DILI has been presented. In addition, the review describes the diagnosis of DILI, grading the disease severity, assessment of causality linking the drug to the adverse event, regulatory guidelines for evaluating the potential of drugs to cause liver injury, efforts to ensure better participation of women in clinical trials and studies in pregnant women population in particular, and the challenges involved in generating adequate research evidence. The establishment of DILI registries in various countries is an encouraging development; however, there is a need for promoting active, spontaneous reporting of adverse events during pregnancy to ensure rapid generation of evidence regarding the safety of a drug in pregnant women.
Core Tip: Drug-induced liver injury is a rare but potentially life-threatening consequence of drug administration. Few drugs are indicated for use in pregnant women based on their lack of teratogenic risk; however, these can be hepatotoxic. This review collates information from case reports and other research studies to present the current knowledge regarding the hepatotoxic potential of drugs used in pregnancy. The challenges in diagnosis and methods for causality assessment are described. Attempts to generate evidence by formulating guidelines enabling the conduct of inclusive clinical trials involving women as well as reinforcing the pharmacovigilance activities by developing adverse event registries are described.
---
Citation: Kamath P, Kamath A, Ullal SD. Liver injury associated with drug intake during pregnancy. World J Hepatol 2021; 13(7): 747-762
---
INTRODUCTION
Liver injury is an uncommon but potentially life-threatening adverse consequence of drug administration. Although the marketing of a new drug entails substantial effort in ensuring drug safety, both in the pre- and post-marketing phase, the limited size of the population that can be formally monitored in a controlled setting of a clinical study makes detection of uncommon adverse events a challenging task. Drug-induced liver injury (DILI) remains one of the common post-marketing events leading to drug withdrawal or significant labelling changes[1]. An incidence of up to 24 cases per 100000 population has been reported; the exact incidence reported varies widely and is probably not a true reflection of the magnitude of the problem[2-4]. Moreover, the inter-drug risk is highly variable, with the risk of hepatotoxicity with azathioprine being 1 in 133[3] and for chlorpromazine being approximately 1 in 800 users compared with less than 10 per 100000 users for many other drugs[5]. Traditional and complementary medicines also contribute significantly to DILI burden to varying extent in different countries[6,7]. It is to be noted that drugs generally considered safe and used in pregnancy, such as cephalosporins, amoxicillin-clavulanate, ibuprofen, etc., are commonly implicated inciting drugs[8].
DILI is one of the least studied aspects of pregnancy. Although accurate estimates of liver disease incidence and prevalence during pregnancy are not available, a study conducted using a nationwide inpatient sample in the United States showed that the rate of liver disease among hospitalized pregnant women ranged from 0.3% for chronic and alcohol-related liver disease to 7.18% for liver disorders of pregnancy[9]; apart from the adverse health impact on the mother, cases of fetal liver injury and mortality have also been reported. In general, liver disease during pregnancy can be categorized into three types. First, liver diseases that are specific to pregnant women and tend to occur at a specific trimester. Second, diseases such as viral hepatitis which occur irrespective of the pregnancy status; third, pre-existing liver disease in a pregnant woman.
Most of the available literature regarding DILI in pregnancy is in the form of case reports. Though DILI has become the leading cause of acute liver failure in the United States and Europe[10] and acute liver injury is more likely to progress to acute liver failure in women[11], only a few studies concerning pregnant women are found. A study in the United Kingdom found that drugs accounted for 2.8% of the abnormal liver function tests in pregnant women[12]. Similarly, a study in Singapore reported that 2.1% pregnant women with abnormal LFT overall, and 3.4% women presenting in the third trimester, had DILI[13]. However, not all studies have been able to identify similar rates of DILI in pregnancy[14]. Difficulty in diagnosis or underreporting is likely to account for a significant number of such cases[12]; subclinical cases due to the use of over-the-counter and herbal medications are also likely to be missed, especially since spontaneous resolution occurs following the withdrawal of the inciting drug. Furthermore, under-reporting is all the more likely since the clinical presentation of liver injury may occur weeks to months following drug exposure.
DILI IN PREGNANCY
Drug intake during pregnancy, although requires careful discretion on the part of the physician as well as the expectant mother, is common[15,16]. Antimicrobials, antiemetics, and analgesics are the common categories of drugs used. The use of herbal medicines and dietary supplements, either inadvertently or based on personal and cultural beliefs of benefit, is common.
Liver injury due to drugs may be direct, idiosyncratic, or indirect[17]. The direct form is the commonest and has become the leading cause of acute liver failure in western countries[10]; it is related to the pharmacological properties of the drug, is dose-dependent, and can affect any individual. The idiosyncratic form is not predictable, is rare, has variable features, and affects susceptible individuals[18]. The indirect form occurs due to a drug exacerbating a pre-existing liver disease or inducing clinical manifestation of subclinical liver disease.
Drugs considered safe for use in pregnancy are known to cause idiosyncratic DILI. Co-morbidities like malnutrition, obesity, diabetes, and pre-existing liver disease may further intensify the risk of DILI during pregnancy[19]. Drug factors like the pharmacological class, dosage, and polypharmacy could also contribute[20]. Other factors that have a potential role in contributing to DILI causation include the circadian rhythm, presence of infection, intestinal microbiome, alcohol consumption, smoking status, environmental pollutants, and socioeconomic conditions[21]. The common medications reported in literature associated with DILI in pregnancy, such as paracetamol, alpha methyldopa, nevirapine, and propylthiouracil, are known for their safety and efficacy. Hence, an index of suspicion is important for the early detection of DILI in pregnancy.
Besides the above-mentioned factors, physiological changes that occur during pregnancy are also known to affect the pharmacokinetics of drugs. In particular, changes in the hepatic blood flow, microsomal enzyme activity levels, body fluid distribution, and serum albumin levels are important. There is a significant increase in the hepatic blood flow, mainly due to increased venous return[22]; this influences the metabolism of drugs with high hepatic extraction. Similarly, fall in serum albumin levels due to hemodilution can alter the pharmacokinetics of highly protein bound drugs, such as efavirenz[23]. An important change during pregnancy is in the hormonal milieu; this has significant effect on the hepatic metabolizing enzymes[24]. While the activity of a large number of cytochrome enzymes is increased, a decrease in activity is seen for CYP1A2 and CYP2C19[25]. The potential effect of such changes on the hepatotoxic potential of a drug would depend on whether it is the parent drug or its metabolite that causes the liver damage. In studies where specific drug use has a higher risk of hepatotoxicity in pregnant women compared with non-pregnant women, the mechanisms underlying the increased risk is unclear; for example, severe hepatotoxicity and temporary drug withdrawal during antitubercular therapy has been shown to be more frequent in pregnant women[26]. Similarly, nevirapine-induced hepatotoxicity is more frequent in pregnant women[27]. It is to be noted that in both the above examples, it is pregnancy, rather than the drug, which is a risk factor for hepatotoxicity, suggesting that the changes that occur during the pregnant state influence the likelihood of a drug to cause hepatic damage. However, it is to be noted that while there are several studies of changes in drug pharmacokinetics in pregnancy and several pharmacokinetic models have been developed to predict these[28], the actual clinical significance of these changes has not been adequately studied[29].
The management of DILI in pregnancy is similar to that in the non-pregnant population, in that the suspect drug is discontinued based on the clinical feasibility and risk-benefit assessment[30]. Although glucocorticoids have been used in severe cases, there is no adequate evidence to support their use; moreover, their use in pregnancy is associated with a higher risk of inducing diabetes[31]. Liver transplantation is also an option to be considered in severe cases.
DILI ASSESSMENT
Various algorithms, scales, and decision pathways have been proposed for the diagnosis, causality assessment, and grading of severity of DILI (Figure 1). The initial step is to suspect DILI; although an obvious case of liver injury may present with symptoms of hepatitis prompting an enquiry into the possible causes, a number of cases may go unaware initially unless alerted by an abnormal liver chemistry result. The challenge further is to determine whether liver injury is drug-induced, particularly in the presence of pre-existing or new-onset liver disease. Although a correlation is not always present, DILI can be classified as hepatocellular, cholestatic, or mixed based on the initial liver enzyme levels at the time of clinical presentation[32]. The ratio of alanine aminotransferase (ALT) to alkaline phosphatase (ALP) normalized to the upper limit of normal indicates the biochemical nature of the liver insult; a ratio ≥ 5 suggests hepatocellular injury, ≤ 2 suggests cholestatic injury, and 3-4 suggests a mixed pattern of injury. Aspartate aminotransferase values can be used to determine the liver injury pattern in the absence of availability of ALT data; gamma-glutamyl transferase is considered less reliable as an ALP substitute[33]. The biochemical tests may be supplemented with imaging and biopsy to determine the liver histology and rule out alternative causes of liver injury. Each hepatotoxic drug is more likely to be associated with a specific pattern of liver injury[34]; this may help in narrowing down the suspected medications or confirming DILI.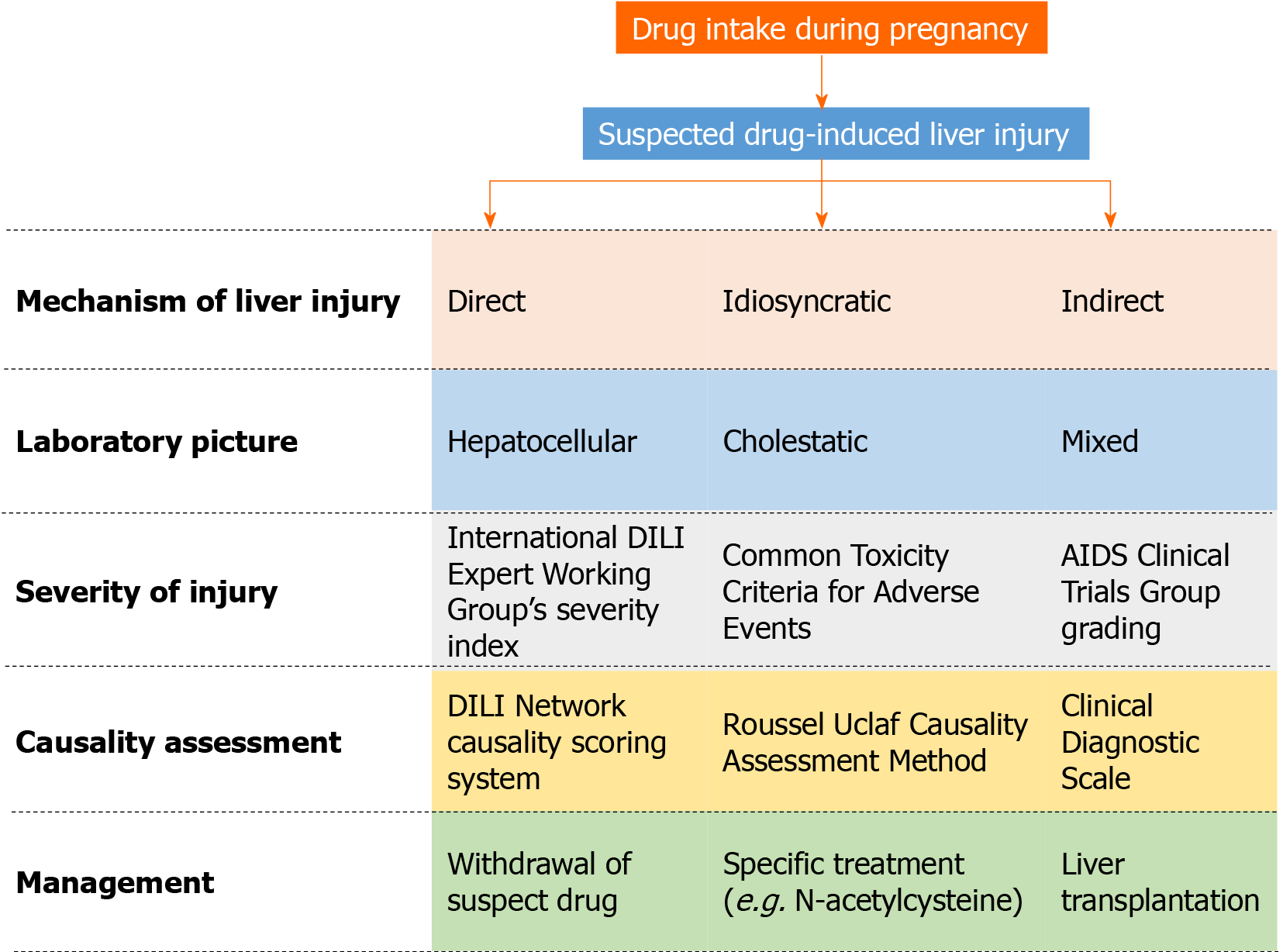 Figure 1 Overview of drug-induced liver injury management including various grading scales and assessment methods.
AIDS: Acquired immunodeficiency syndrome; DILI: Drug-induced liver injury.
DILI rank is a database that consists of 1036 Food and Drug Administration-approved drugs that are divided into four classes based on their potential for causing DILI; most-DILI-concern drug, less-, no-, and ambiguous-DILI-concern drug[35]. Screening of this database will further help in associating a drug with an event. In terms of causality assessment, general assessment scales, such as the World Health Organization-Uppsala Monitoring Centre scale and Naranjo scale, lack validity and reproducibility; assessments based on expert opinion, such as the DILI Network (DILIN) Causality Scoring System, are limited by lack of availability of such expertise in usual clinical care[36]. A widely used tool specific for DILI is the Roussel Uclaf Causality Assessment Method (RUCAM). This scale by the Council for International Organizations of Medical Sciences, consisting of seven domains, includes weighted scoring of an event according to "the temporal relationship between exposure to a particular drug and the liver injury (both its onset and course), exclusion of alternative non-drug-related etiologies, exposure to other medications that could explain DILI, risk factors for the adverse hepatic reaction, evidence in the literature regarding DILI from the drug in question and response to re-exposure to the medication"[33]. However, it is relatively complex and involves workup to collect all the relevant data before arriving at a conclusion. Modifications have been done to the RUCAM scale to overcome some of its limitations; these include the Clinical Diagnostic Scale and Digestive Disease Week Japan 2004 Scale[37]; however, their performance is not significantly better than RUCAM which remains a useful tool, both in the context of clinical trials and routine assessment, to be used in DILI cases[38].
Determining the severity of DILI helps in provisioning appropriate care and prognostication. Severe DILI is one of the factors associated with mortality and chronic liver injury, although a majority of the cases will resolve completely[39]. Various DILI severity categorization schemes have been developed that take into consideration a combination of factors such as liver enzyme levels, bilirubin level, presence of comorbid liver diseases, hospitalization, literature evidence, etc. For example, the DILIN prospective study proposed a five-point system for grading severity based on ALT, ALP, total bilirubin levels, need for hospitalization, signs of hepatic failure, and death or need for liver transplantation[39]. The International DILI Expert Working Group's severity index consisting of four severity classes is in principle similar to the DILIN scale but does not take into consideration hospitalization[32]. The Common Toxicity Criteria for Adverse Events, developed by the Cancer Therapy Evaluation Program of the National Cancer Institute of the National Institutes of Health, is a commonly used grading scale for adverse drug events. The scoring is based on the levels of liver enzymes and total bilirubin. However, this general purpose grading scale has not been shown to correlate with the clinical outcomes; it categorizes liver enzyme/bilirubin levels but does not evaluate DILI per se[40]. A similar grading that uses slightly different lab value limits is that developed by the Acquired Immune Deficiency Syndrome Clinical Trials Group[41].
DRUGS CAUSING DILI
The case reports describing DILI in pregnancy have been summarized in Table 1. Literature evidence in the form of prospective/retrospective, mostly observational, studies has been summarized in Table 2. Some of the commonly implicated drugs for liver injury in pregnancy are described below.
Suspect drug

---

Pathological finding(s)

---

Outcome in mother

---

Outcome in child

---

Azithromycin[78]
Intrahepatic cholestasis
Recovery without sequelae
Birth by caesarean section
Chlorpromazine
Severe reduction in the number of bile ducts; marked cholestasis and pseudoxanthomatous transformation of ductular epithelia and hepatocytes in the region of the limiting plate; progressed to cirrhosis[85]; Ductopenia, long-standing cholestasis with pseudoxanthomatous transformation of hepatocytes and ductular epithelia[84]
Prolonged liver disease culminating in vanishing bile duct syndrome and cirrhosis[85]; Gradual resolution with non-active periportal and septal fibrosis[84]
Premature birth by cesarean section[84,85]
Combination antiretroviral therapy
Fulminant hepatitis[105]
Recovery without sequelae[70,105]; death[105]
Nonreassuring fetal testing; improved following drug withdrawal; normal delivery[70]
Human chorionic gonadotropin and follicle stimulating hormone for in vitro fertilization[87]
Cholestasis
Recovery without sequelae
Premature birth by cesarean section
Methyldopa
Cytolytic hepatitis and cholestasis, toxic hepatitis[106]; hepatitis[73,74,107,108]
Improved following drug withdrawal[72

-

74]
-
Nitrofurantoin[109]
Toxic liver damage
Recovery without sequelae
Normal
Paracetamol
Acute fatty liver of pregnancy and toxin-induced injury[43]; fulminant hepatitis[45]
Liver transplantation[43,45]
Fetal death[43]; intrauterine fetal demise with extensive pericerebral and intraventricular hemorrhage with extensive periventricular leukomalacia[45]; intracranial hemorrhage, fetal hepatotoxicity[110]; preterm birth[111]
Propylthiouracil
Liver necrosis[50,53,54,112]; widened portal triads, and lymphoplasmocytic infiltrate[50]; hepatitis[52]; portal hepatitis[112]; acute liver failure[55]
Liver transplantation[53,55]; recovered[52,54]; death[50]
Miscarriage[50,54]; Antenatal ischemic encephalopathy, delayed developmental milestones[53]; normal[52,55]; caesarian delivery[112]
Tetracycline[83]
Fatty liver
Death
-
Ref.

---

Study design

---

Study population

---

Suspected medication (s)

---

Study outcome

---

Snijdewind et al[68]
Retrospective, comparative
Pregnant women
Antiretroviral therapy and hepatitis C virus co-infection
Nevirapine use related to hepatotoxicity in pregnant as well as non-pregnant women; the risk is significantly associated with hepatitis C coinfection during pregnancy
Beck-Friis et al[26]
Retrospective, comparative
Pregnant vs non-pregnant
Antitubercular drug
Severe hepatotoxicity and temporary drug withdrawal more frequent in pregnant women compared to non-pregnant women
Mandelbrot et al[113]
Retrospective, comparative
Pregnant women
Atazanavir
Three women had abnormal liver enzyme levels; grade 3 bilirubin elevations in 5 patients; jaundice in 5 neonates requiring phototherapy.
Heaton et al[82]
Retrospective, case-control
General population including pregnant women
Doxycycline, tetracycline
Doxycycline potentially less hepatotoxic than tetracycline
McCormack et al[114]
Prospective, placebo-controlled
Pregnant women
Erythromycin estolate, clindamycin hydrochloride, placebo
Erythromycin estolate resulted in raised liver enzymes; use not advised in pregnancy
Tempelman et al[115]
Retrospective, comparative
Pregnant women
Highly active antiretroviral therapy
Nelfinavir or nevirapine containing regimens are safe and effective in pregnant women with HIV
Franks et al[77]
Retrospective
Women with isoniazid hepatitis
Isoniazid
A 2.5-fold increased risk of isoniazid hepatitis and 4-fold higher mortality rate in the prenatal clinic group compared to non-pregnant women.
Gupta et al[116]
Multicenter, double-blind, placebo-controlled, noninferiority trial
Women with HIV (efavirenz-based antiretroviral therapy) receiving isoniazid preventive therapy either during pregnancy or after delivery
Isoniazid
Risk of composite adverse pregnancy outcome was greater in those who initiated isoniazid preventive therapy during pregnancy than those during postpartum period; majority of liver enzyme elevations and symptomatic hepatitis occurred in postpartum period.
Sato et al[117]
Single-cohort interventional
Pregnant women with choriocarcinoma and high-risk gestational trophoblastic neoplasia
Methotrexate, etoposide, actinomycin D
Of the 23 patients who received methotrexate, etoposide and actinomycin D, treatment changed to etoposide and actinomycin D in 14 patients due to leukocytopenia, hepatotoxicity, and stomatitis.
Fang et al[118]
Single-cohort, prospective, interventional
Pregnant women
Nelfinavir
Of the 16 women studied, one developed serious adverse event of elevated AST; the drug was well tolerated in general.
Timmermans et al[59]
Retrospective, comparative
Pregnant and non-pregnant women
Nelfinavir, nevirapine
Nevirapine related hepatotoxicity more frequent in pregnant than in non-pregnant women.
Joy et al[119]
Single-cohort, retrospective, observational
Pregnancy women in third trimester
Nevirapine
Incidence of adverse events lower; study in larger cohorts recommended to determine the relationship between nevirapine hepatotoxicity and trimester use.
Natarajan et al[58]
Retrospective, comparative
Pregnant women
Nevirapine
Risk of nevirapine-associated toxicity not higher in pregnancy; CD4 counts not predictive of toxicity.
Kondo et al[65]
Retrospective, comparative study
Pregnant women
Nevirapine
Hepatotoxicity occurred in those with pre-treatment CD4 counts ≥ 250 cells/µL; no correlation between high CD4 counts and adverse events.
Phanuphak et al[66]
Retrospective, comparative
General population including pregnant women
Nevirapine
Pregnant women with high CD4 counts have higher rate of symptomatic hepatotoxicity.
Kondo et al[67]
Single-cohort, retrospective, observational
Pregnant women
Nevirapine
No correlation between high CD4 counts and adverse events; hepatotoxicity occurred only in pregnant women with CD4 counts > 250 cells/µL
Ouyang et al[120]
Prospective, comparative
Pregnant women
Nevirapine
No significant association between nevirapine use and liver enzyme elevation regardless of pregnancy status; pregnancy associated with increased hepatotoxicity.
Ouyang et al[27]
Retrospective, comparative
Pregnant women
Nevirapine
No increased risk of hepatotoxicity among HIV-infected pregnant women on nevirapine versus other drugs, including in those treatment naïve.
Peters et al[64]
Prospective, comparative
Pregnant women
Nevirapine
Severe hepatotoxicity and rash higher with nevirapine than with nelfinavir; no association with CD4 counts.
Lyons et al[62]
Single-cohort, retrospective, observational
Pregnant women
Combination antiretroviral therapy
Women with more severe hepatotoxicity had higher pretreatment CD4 counts.
Jamisse et al[63]
Single-cohort, prospective, observational
Pregnant women
Nevirapine-containing combination antiretroviral therapy
Severe hepatotoxicity more common at higher CD4 counts in pregnancy.
Sheng et al[121]
Prospective, comparative
Pregnant women with high viral loads of hepatitis B virus
Nucleos(t)ide analogues
Telbivudine therapy was safe in pregnant women.
Zhang et al[122]
Disproportionality analysis
Pregnant women
Omeprazole, lansoprazole, amoxicillin
The risk of cholestasis associated with these drugs higher in pregnant women; re-assessment of safety recommended.
Cecchi et al[88]
Single-cohort, prospective, observational
Pregnant women
Organophosphate pesticides
Subclinical hepatotoxicity during the second trimester in spraying period.
Trakulsrichaia et al[123]
Single-cohort, retrospective, observational
Pregnant women
Paraquat poisoning
Hepatotoxicity more common in patients who died.
Andersen et al[57]
Single-cohort, observational
General population including pregnant women
Antithyroid drugs
Antithyroid drug-associated liver failure observed less frequently in pregnant women than in the general population.
Brunet et al[124]
Single-cohort, prospective, observational
Pregnant women
Saquinavir/ritonavir
Among the 58 women who received the drug, one developed severe grade 3 hepatotoxicity; in general, the drug was effective and safe.
Jharap et al[125]
Single-cohort, prospective, observational
Pregnant women
6-Thioguanine nucleotide, 6-methylmercaptopurine
Fetal exposure to 6-thioguanine but not to 6-methylmercaptopurine; 60% had anemia at birth; no major congenital abnormalities.
Paracetamol
Paracetamol is one of the most commonly used agents for fever/pain and is used in pregnancy as well. However, it has been known from previous studies that it can cross the placenta and, in higher than recommended doses, may even harm the fetal and maternal liver cells[42]. There are case reports of liver failure warranting the need for liver transplantation during or immediately after pregnancy[43-45]. The presenting symptoms have been severe abdominal pain, vomiting and signs of hepatotoxicity. The reasons for consumption of paracetamol have been for pain, self-medication, and in a couple of cases, even intentional poisoning has been reported[46,47]. Histology has shown acute fatty liver of pregnancy and toxin-induced injury consistent with paracetamoluse[43].
Fetal hepatocytes breakdown paracetamol into a variety of metabolites, some with a toxic activity that can directly damage the fetal hepatocytes. The antidote N-acetylcysteine has been seen to cross the placenta to combine with these metabolites [48]. Though the available data is sparse, it has been suggested that if N-acetylcysteine therapy, which is safe in pregnancy, is initiated early (within 16 h of paracetamol intake), the morbidity from paracetamol overdose can be significantly reduced[42]. Cases of intentional poisoning by ingestion of paracetamol have been reported. In both cases the fetal outcome was favorable, and both the patients recovered without sequelae[46,47] (Table 3).
Suspect drug

---

Clinical finding(s)

---

Maternal outcome

---

Fetal outcome

---

Cocaine[126]
Hepatic rupture
Prolonged hospital stay
Emergency caesarian delivery
Paracetamol
Raised liver enzymes[46,47]; coagulopathy[46]
Recovery without sequelae[46,47]
Normal[47]; prematurity, respiratory distress, metabolic acidosis, full recovery[46]
Mushroom (Amanita species)[127]
Low prothrombin activity
Recovery without sequelae
Normal
Mountain germander (Teucrium polium)[128]
Raised liver enzymes
Recovery without sequelae
Normal
Antithyroid drugs
Hyperthyroidism is a common endocrine disorder affecting 2% of females and 0.5% of males worldwide. Most of the times, anti-thyroid drugs are the mainstay of treatment. However, these drugs are also known to cause several side effects. Liver failure is a rare yet life-threatening adverse effect of these drugs[49]. In the case of the latter, post-mortem histology showed submassive necrosis[50]. Though hepatotoxicity is common, otherwise uneventful pregnancies with successful outcomes have been reported widely. In many such cases, propylthiouracil was changed to carbimazole leading to the resolution of the liver injury[51,52]. However, few severe cases of fulminant hepatitis that needed liver transplantation have also been reported[53-55]. Though fetal outcomes have been largely favorable, cases with adverse outcomes such as fetal growth restriction, oligohydramnios, frequent episodes of focal seizures, delayed developmental milestones, have been reported[53]. Transient thyrotoxicosis and signs of acute hepatic injury have also been reported[56,57].
Antiretroviral drugs
The role of nevirapine in causing hepatic damage more frequently in pregnancy is known, although conflicting results regarding the same have been reported[27,58,59]. The treatment duration is likely to play a significant role in the causation of hepatotoxicity. A shorter course of nevirapine for human immunodeficiency virus (HIV) prophylaxis is seen to be linked with fewer hepatotoxic reactions for non-HIV-infected individuals or pregnant HIV-infected women and the fetus. However, intake of nevirapine for ≥ 2 wk for prophylaxis has a higher risk of hepatotoxicity among non-HIV-infected individuals and HIV-infected pregnant women[60]. Various studies have also been conducted to study the relation between CD4 counts and the occurrence of nevirapine toxicity. It has been noted that initiating nevirapine-based antiretroviral regimens during pregnancy at higher pre-treatment counts (CD4 ≥ 250 cells/µL) increases toxicity risk and should be avoided. The severity of hepatotoxicity was also more[61-63]. However, there are conflicting reports regarding this aspect as well, as no correlation was observed between high CD4 counts and adverse events in some studies[64-67].
Hepatitis C coinfection has been implicated as a risk factor for hepatotoxicity in pregnant women on antiretroviral therapy as a higher risk of liver toxicity to combination antiretroviral therapy has been observed[68].
Overall, it has been largely observed that there is no direct association between antiretroviral therapy in pregnancy and harmful effects on the fetal liver or the hepatic parameters at birth. However, a detailed and regular follow-up would be recommended before ruling out the harmful effects of maternal ARV treatment[69]. Antiretroviral-induced hepatotoxicity presenting as non-reassuring fetal testing has been known, wherein a detailed assessment later revealed maternal metabolic acidosis and transaminitis[70].
Alpha methyldopa
Alpha methyldopa is one of the first-line drugs for hypertension during pregnancy due to its long-known safety profile. However, there have been reports of methyldopa-induced hepatitis cases in pregnancy[71-73], with a temporal relationship between drug exposure and serum liver enzyme elevations. Also, a rapid decrease of liver enzymes on withdrawal of the drug further supports this observation[72,74]. Postpartum methyldopa-induced hepatotoxicity, up to two months after delivery, has also been reported; despite a full recovery from the acute phase, a residual underlying hepatic fibrosis was reported[71].
Antitubercular drugs
Studies in the past have reported that the risk of hepatotoxicity to antitubercular drugs is significantly higher in pregnancy. Temporary drug withdrawals due to elevated transaminase levels were more frequent for pregnant than non-pregnant women, and cases of fatal hepatotoxicity have also been reported. The reason for the increase however has not been elucidated[26].
Administering isoniazid to prevent tuberculosis constitutes isoniazid preventive therapy (IPT); the benefit of treating active tuberculosis in pregnancy plus providing isoniazid preventive therapy to minimize the risk of developing active tuberculosis in persons with HIV, has been seen. However, data regarding the benefit of IPT in pregnant women who are on antiretroviral therapy is sparse, owing to the fact that pregnant women have usually not been included in various trials of isoniazid preventive therapy[75,76].
Studies have reported increased isoniazid toxicity among pregnant women as well[77]. From the limited data on IPT available so far, a higher incidence of unfavorable pregnancy outcomes, such as stillbirth or spontaneous abortion, has been reported. Also, the risks associated with initiating IPT during the postpartum period were seen to be lower than that associated with initiating it during the course of pregnancy[75].
Antibiotics
Azithromycin-induced liver injury has been rarely reported in the general population. There is a report of azithromycin-induced intrahepatic cholestasis in a pregnant woman; on withdrawal of azithromycin, the liver enzyme levels returned to normal within 4 wk without any symptoms after treatment with silymarin and bifendate, which help reduce ALT level and protect the liver from further injury[78].
A unique case of drug-induced mononucleosis-like hepatic injury in a patient with systemic lupus erythematosus has been reported following the administration of multiple antibiotics. An allergic reaction to the administered drugs was implicated based on a positive lymphocyte stimulation test[79].
Tetracycline is another antibiotic that has been known since decades for its potential to cause hepatic adverse events[80]. Tetracycline-induced liver injury typically causes fatty infiltration of the liver. The presence of kidney dysfunction and pregnancy are some of the risk factors for hepatotoxicity to tetracycline[81,82]. Fatal hepatotoxicity to tetracycline, when given in pregnancy, has also been reported, and post mortem examination has shown major histological changes in the liver along with fatty degeneration of the renal tubular epithelial cells[83].
Miscellaneous drugs
Individual case reports implicating other drugs, herbal medicines, and dietary components (Table 3) have also been described. Cholestatic liver disease in a pregnant woman in the 33rd week of pregnancy who received chlorpromazine and chlorprothixene has been reported; no signs of liver damage were present in the newborn[84]. A case of a primary biliary cirrhosis-like syndrome that developed after 2 wk of chlorpromazine therapy has also been reported[85]. A case of intrahepatic cholestasis of pregnancy, worsening after dexamethasone administration has also been reported[86]; however, the authors concluded that it was more likely due to the progression of the primary disease rather than drug-induced. Cholestasis developing following in vitro fertilization and ovarian hyperstimulation syndrome is also known[87].
Reports of the effect of environmental xenobiotics on pregnancy have also been reported. A prospective study conducted in a rural area where organophosphates were intensively applied, found that the liver enzymes were raised in the spraying period, which could be indicative of subclinical hepatotoxicity. Though the offspring at birth were normal, a follow up would be required to assess the delayed effects of raised maternal cortisol during pregnancy[88].
REGULATORY GUIDELINES FOR CLINICAL EVALUATION OF DRUGS FOR DILI IN PREGNANCY
Clinical trials seldom study drug effects in pregnant women due to ethical and safety concerns, unless the drug is to be specifically used in pregnant women. In fact, even in the case of non-pregnant females, the inclusion of females in eligible clinical trials is significantly less than men despite the regulatory intent of ensuring adequate participation opportunities[89]. The findings of drug studies in the general population regarding the effect of hepatic function on the drug kinetics and dynamics, including the possible toxic effects of drugs on liver, are generally applicable to pregnant women; however, the physiological changes that occur during pregnancy need to be considered in determining how the drug effects are likely to be affected.
DILI is often rare; although good, the relative rarity of the event also makes its detection during the clinical trial phase difficult. For example, most known drug-hepatotoxicity events occur with an incidence of < 1 in 10000; hence, such events are seldom detected during a clinical trial. Keeping this issue in mind, regulatory guidelines emphasize the need to detect lesser grades of liver injury, which may not necessarily manifest clinically/symptomatologically, but are potential markers for occurrence of serious liver injury if used in the wider population[90]. Accordingly, drugs which not only cause elevation of liver enzymes but also impair bilirubin metabolism or affect clotting factor synthesis are likely to cause severe liver injury. In general, considering the occurrence of mild elevations in liver enzyme levels even in placebo/control groups, an isolated 3-fold elevation is considered the minimum threshold for concern[90].
The above-mentioned aspects are also applicable to drug use in pregnancy. Although drug use is to be discouraged during pregnancy to the extent possible, studies show that a large number of women do receive drugs for various reasons[91-93]. Regulatory guidelines encourage that drugs to be used specifically in pregnancy or includes an indication for use in pregnant women for a general indication should be studied in the pregnant population[94-96]. These may be studies conducted exclusively among pregnant women or in the general population that does not exclude subjects who are pregnant. Such studies provide useful data regarding the potential safety of the drug in relation to liver function, although the limited sample size of such studies precludes arriving at definite conclusions. The safety update reports from drug manufacturers, based on drug use in the general population as well as the pregnancy exposure registries, may provide information regarding the hepatotoxic potential of a drug; the latter are not regulatory in nature but do provide vital information in this population. The increasing emphasis on pharmacovigilance activities in various countries is also expected to contribute to earlier identification of DILI in pregnancy. However, the reporting of adverse drug events in pregnant women has so far been low[97,98]; underreporting is the norm, and much needs to be done to improve reporting. Most of the DILI cases have been identified through published case reports, with some of these forming the basis for specific clinical studies in pregnant women, particularly for antiretroviral drug-associated hepatotoxicity. The regulatory mandated section of drug effects in pregnancy in the drug labels is a good source of information regarding drug safety specifically in pregnancy for prescribers[99].
CHALLENGES FOR EVIDENCE GENERATION
Besides the lack of adequate representation of females in clinical trials, assessment of the hepatotoxic potential of a drug in pregnant women has two important challenges. The first is a general challenge, not limited to pregnant women, of differentiating liver injury incited by drugs in contrast to that by liver disease; the challenge arises due to lack of any specific clinical or biochemical marker for drug-induced injury. Hence, clinical and medication intake history and knowledge regarding the pharmacology of the suspected medication to a large extent dictates the identification of the cause of injury. Large adverse event databases, which contain spontaneously reported adverse events from consumers and healthcare professionals, are excellent sources for determining a signal[100]; however, the lack of adequate recording of history/ sequence of events in these spontaneous reports often precludes any definitive conclusions to be made. The second challenge is to differentiate DILI from intrahepatic cholestasis of pregnancy, which is not uncommon[101,102]. These challenges are compounded by the infrequent identification and reporting of such cases. Given the hurdles, spontaneous active reporting by health professionals and patients seems to be the most appropriate way for evidence generation, supplemented by the safety data from pre- and post-market approval clinical studies. Recognizing the inability to identify potential hepatotoxic drugs during clinical trials and the immediate post-marketing period, a number of regions/countries have started DILI registries to gather data regarding cases of potential DILI so that the data can be collectively evaluated to identify signals[103-105].
CONCLUSION
DILI is a real concern in pregnancy, although most of the cases have a favourable outcome and require only withdrawal of the drug. Advances in diagnostic modalities and access to liver transplantation have further improved the outcomes. Most of the DILI cases during pregnancy go unreported; there is a need to capture these incidents efficiently to ensure an informed decision can be made regarding drug use in pregnancy. The establishment of DILI registries in various countries is encouraging and will add significantly to this effort.
Manuscript source: Invited manuscript
Specialty type: Gastroenterology and hepatology
Country/Territory of origin: India
Peer-review report's scientific quality classification
Grade A (Excellent): 0
Grade B (Very good): B
Grade C (Good): 0
Grade D (Fair): 0
Grade E (Poor): 0
P-Reviewer: Ferreira GSA S-Editor: Zhang H L-Editor: Filipodia P-Editor: Wang LL