Copyright
©The Author(s) 2023.
Published by Baishideng Publishing Group Inc. All rights reserved.
Human pluripotent stem cell-derived extracellular vesicles: From now to the future
Bruno Moises de Matos, Marco Augusto Stimamiglio, Alejandro Correa, Anny Waloski Robert, Stem Cells Basic Biology Laboratory, Carlos Chagas Institute, Curitiba 81350010, Paraná, Brazil
Author contributions: All authors contributed in literature review and wrote the manuscript; Stimamiglio MA revised the manuscript; Correa A and Robert AW designed the research; and all authors have read and approved the final manuscript.
Conflict-of-interest statement: All the authors report no relevant conflicts of interest for this article.
Open-Access
: This article is an open-access article that was selected by an in-house editor and fully peer-reviewed by external reviewers. It is distributed in accordance with the Creative Commons Attribution NonCommercial (CC BY-NC 4.0) license, which permits others to distribute, remix, adapt, build upon this work non-commercially, and license their derivative works on different terms, provided the original work is properly cited and the use is non-commercial. See:
https://creativecommons.org/Licenses/by-nc/4.0/
Corresponding author: Anny Waloski Robert, PhD, Technician, Stem Cells Basic Biology Laboratory, Carlos Chagas Institute, Rua Professor Algacyr Munhoz Mader, 3775, Curitiba 81350010, Paraná, Brazil. anny.robert@fiocruz.br
Received: December 26, 2022
Peer-review started: December 26, 2022
First decision: January 31, 2023
Revised: February 14, 2023
Accepted: April 12, 2023
Article in press: April 12, 2023
Published online: May 26, 2023

Extracellular vesicles (EVs) are nanometric particles that enclose cell-derived bioactive molecules in a lipid bilayer and serve as intercellular communication tools. Accordingly, in various biological contexts, EVs are reported to engage in immune modulation, senescence, and cell proliferation and differentiation. Therefore, EVs could be key elements for potential off-the-shelf cell-free therapy. Little has been studied regarding EVs derived from human pluripotent stem cells (hPSC-EVs), even though hPSCs offer good opportunities for induction of tissue regeneration and unlimited proliferative ability. In this review article, we provide an overview of studies using hPSC-EVs, focusing on identifying the conditions in which the cells are cultivated for the isolation of EVs, how they are characterized, and applications already demonstrated. The topics reported in this article highlight the incipient status of the studies in the field and the significance of hPSC-EVs' prospective applications as PSC-derived cell-free therapy products.
Core Tip: The research on extracellular vesicles (EVs) derived from different cell types, such as adult stem cells, has shown potential in the treatment of various pathologies. However, little has been explored regarding EVs derived from human pluripotent stem cells (hPSC-EVs). In this review, we provide an overview of studies carried out on these EVs, highlighting methodologies used for the culture of hPSCs for isolating EVs, their characteristics, and potential applications. We note the potential of hPSC-EVs as future acellular therapies. However, studies are in the infancy, and more research is needed to confirm their benefits.
---
Citation: Matos BM, Stimamiglio MA, Correa A, Robert AW. Human pluripotent stem cell-derived extracellular vesicles: From now to the future. World J Stem Cells 2023; 15(5): 453-465
---
INTRODUCTION
Extracellular vesicles (EVs) are nanometric particles that are enclosed by a lipid bilayer and released by all cell types. They lack a functional nucleus and are therefore unable to replicate[1]. EVs are composed of bioactive factors such as lipids, proteins, and nucleic acids, including mRNAs and non-coding RNAs[2]. EV is an umbrella term that encompasses a heterogeneous population of membrane vesicles generated through a variety of mechanisms. The two major EV subpopulations include microvesicles (MVs) and exosomes (EXOs). EXOs are intraluminal vesicles of endosomal origin released when multivesicular bodies fuse with the plasma membrane, whereas MVs or ectosomes are generated from the outer budding of the plasma membrane[3]. Due to their distinct biogenesis, MVs are generally larger (up to 1000 nm in diameter) than EXOs (less than 200 nm). However, these vesicle populations overlap not only in terms of size but also in composition[4]. Recently, other nomenclatures were described in the "Minimal information for studies of extracellular vesicles 2018" guidelines (MISEV2018) based on the physical characteristics of EVs, for example, size (< 200 nm, small EVs; > 200 nm, medium or large EVs) or density (low, middle, or high)[1].
Potential uses of EVs, such as for the diagnosis and treatment of pathologies or as potential drug carriers, have been investigated. In the field of regenerative medicine, the secretomes of adult stem cells, primarily mesenchymal stem/stromal cells (MSCs), including their EVs, are of great interest as they have been shown to act mainly in a paracrine manner rather than their potential for differentiation[5]. An interesting list of advantages and disadvantages of the use of EVs instead of stem cells has been presented by Öztürk et al[6]. Among the advantages of using EVs cited by them and others are low immunogenicity and toxicity; minimal risk of malign transformation; minimal risk of getting trapped in the lung or causing vasculature obstruction; avoidance of contamination with undesired cell types; avoidance of uncontrolled cell division; the ability to manipulate EVs in order to obtain potential improvements; optimization of MSC culture to obtain a higher amount of EVs; and their ability to cross the blood-brain barrier, among others[4,6]. In addition, EVs mimic the beneficial effects of MSCs in cell therapies in a wide range of animal models for different diseases[7-9].
MSC-derived EV (MSC-EV) has been extensively studied and has demonstrated several promising effects, as reviewed by Gowen et al[10], Tieu et al[11], Fuloria et al[12], Kou et al[13], and Yudintceva et al[14]. However, despite the high potential of MSC-EVs, several factors limit their use. Recently some reviews highlighted the difficulty of establishing criteria to define the specific characteristics of MSC-EV and discussed the great variation in the MSC-EV preparations[15,16]. Disadvantages of MSCs as a source for EVs include the variability between cells derived from different tissues, the variability between different donors, their limited ability to proliferate, the fact that they enter senescence, and genomic instability after a few passages[17]. This raises the question of whether pluripotent stem cell (PSC) derived EVs have a similar to or better therapeutic potential than adult stem cell-derived EVs.
In this context, our objective is to show, using a non-systematic search, studies that use or characterize EVs derived from human PSC (hPSC-EVs) to understand the advances in the area. We also aim to identify the conditions in which the cells are cultivated for the isolation of EVs, how these are characterized, and any demonstrated applications (in vivo or in vitro).
CONCLUSION
Although hPSC cultivation has been carried out for some time, the requirements for in vitro culture of these cells are very specific, as many factors are necessary to maintain them in their undifferentiated state. This, together with the cost, could be one of the reasons why secretomes and isolation of hPSC-EVs have not been extensively studied so far. Commercial media are now defined with a few components that are no longer as expensive as before, which may have contributed to the increase in publications in recent years.
An overview of the hPSC-EV studies is shown in Figure 2, which illustrates the potential use of these EVs for regenerative medicine. Regarding EV characterization, we observed in the publications that hPSC-EVs follow the basic requirements described in MISEV2018. However, despite the recent increase in research in this area, further characterization of the content of these EVs needs to be carried out. In addition, studies with modified cells aimed to enrich the content of EVs with some specific protein or miRNA may be of great interest. One interesting approach requiring more extensive discussion is the possible use of hPSC-EVs in reprogramming adult cells into PSCs. A recent study used EVs derived from ESCs undergoing cardiac differentiation to transdifferentiate fibroblasts to cardiomyocyte-like cells with relatively high efficiency[82].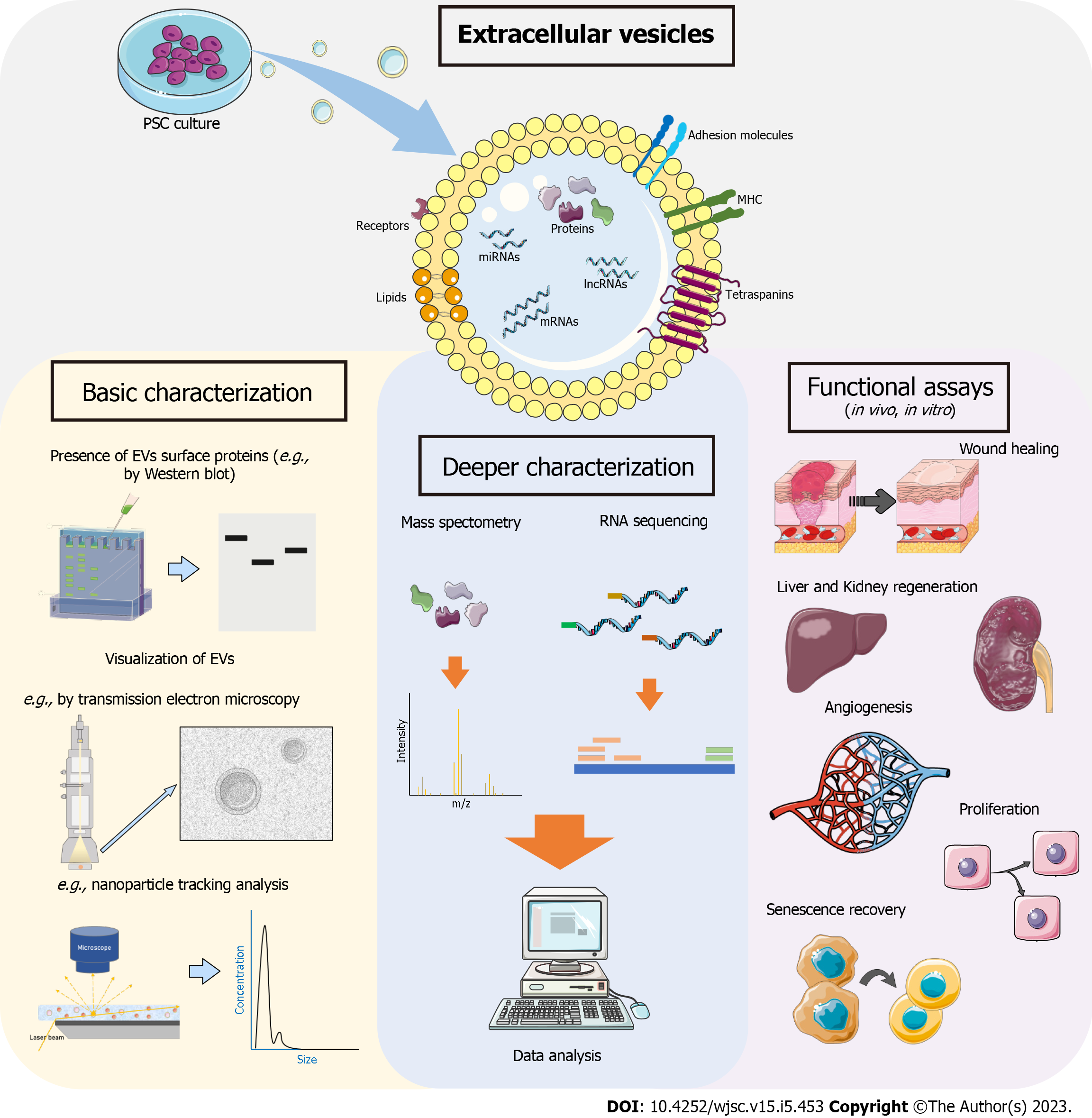 Figure 2 Diagram of pluripotent stem cell-derived extracellular vesicle isolation, its most common characterizations, and the applications described or indicated for these extracellular vesicles.
EV: Extracellular vesicle; miRNA: MicroRNA; lncRNA: Long noncoding RNA; PSC: Pluripotent stem cell. The images were obtained from Servier Medical Art (http://smart.servier.com), licensed under a Creative Commons Attribution 3.0 Unported License.
Our review shows that hPSC-EVs have therapeutic potential, although no publications demonstrate that they are effectively better than other EVs, such as hMSC-EVs. hPSC can be obtained from different sources (embryonic or reprogrammed from adult cells) and, despite showing some heterogeneity between lineages, they are highly similar in their main characteristics: They are pluripotent and with a high proliferative capacity. The latter makes it possible to obtain a large number of EVs. It should be noted that PSC-EV derived from different hPSC lineages may show some variability in their content. But considering the fact that we can isolate EVs from a single source (a homogenous culture), this can possibly bring less variability between batches compared to other common EV sources. However, studies in this area are still needed as current results are highly variable. Alternatives to EVs include the use of cell-engineered nanovesicles generated by serial extrusion of hiPSCs, as described by Lee et al[83], which presented similar results to PSC-EVs, but with higher production yield. However, more studies are needed to verify the viability of this method for future applications. Thus, challenges that remain are the large-scale production of EVs, which in the case of hPSC cultivation can be expensive, and the investment in efficient methodologies for EV isolation that could be used in good manufacturing practices for future acellular therapies.
Provenance and peer review: Invited article; Externally peer reviewed.
Peer-review model: Single blind
Specialty type: Cell and tissue engineering
Country/Territory of origin: Brazil
Peer-review report's scientific quality classification
Grade A (Excellent): 0
Grade B (Very good): B, B
Grade C (Good): C
Grade D (Fair): 0
Grade E (Poor): 0
P-Reviewer: Chen LJ, China; Gao YT, China; Li SC, United States S-Editor: Wang JJ L-Editor: Wang TQ P-Editor: Guo X