Copyright
©The Author(s) 2023.
Published by Baishideng Publishing Group Inc. All rights reserved.
Cell transplantation therapies for spinal cord injury focusing on bone marrow mesenchymal stem cells: Advances and challenges
Li-Yi Huang, Xin Sun, Hong-Xia Pan, Lu Wang, Cheng-Qi He, Quan Wei, Rehabilitation Medicine Center and Institute of Rehabilitation Medicine, West China Hospital/West China School of Medicine, Sichuan University, Chengdu 610044, Sichuan Province, China
Author contributions: Huang LY, Sun X and Pan HX contributed equally to this work; Wei Q and He CQ designed the ideas and framework; Huang LY, Sun X and Pan HX wrote the manuscript; Wei Q revised the manuscript; and all authors have read and approve the final manuscript.
Supported by the National Key R&D Program of China, No. 2020YFC2008502.
Conflict-of-interest statement: All the authors report no relevant conflicts of interest for this article.
Open-Access
: This article is an open-access article that was selected by an in-house editor and fully peer-reviewed by external reviewers. It is distributed in accordance with the Creative Commons Attribution NonCommercial (CC BY-NC 4.0) license, which permits others to distribute, remix, adapt, build upon this work non-commercially, and license their derivative works on different terms, provided the original work is properly cited and the use is non-commercial. See:
https://creativecommons.org/Licenses/by-nc/4.0/
Corresponding author: Quan Wei, MD, PhD, Professor, Rehabilitation Medicine Center and Institute of Rehabilitation Medicine, West China Hospital/West China School of Medicine, Sichuan University, No. 37 Guoxue Lane, Chengdu 610044, Sichuan Province, China. weiquan@scu.edu.cn
Received: January 12, 2023
Peer-review started: January 12, 2023
First decision: January 31, 2023
Revised: February 17, 2023
Accepted: March 21, 2023
Article in press: March 21, 2023
Published online: May 26, 2023

Spinal cord injury (SCI) is a devastating condition with complex pathological mechanisms that lead to sensory, motor, and autonomic dysfunction below the site of injury. To date, no effective therapy is available for the treatment of SCI. Recently, bone marrow-derived mesenchymal stem cells (BMMSCs) have been considered to be the most promising source for cellular therapies following SCI. The objective of the present review is to summarize the most recent insights into the cellular and molecular mechanism using BMMSC therapy to treat SCI. In this work, we review the specific mechanism of BMMSCs in SCI repair mainly from the following aspects: Neuroprotection, axon sprouting and/or regeneration, myelin regeneration, inhibitory microenvironments, glial scar formation, immunomodulation, and angiogenesis. Additionally, we summarize the latest evidence on the application of BMMSCs in clinical trials and further discuss the challenges and future directions for stem cell therapy in SCI models.
Core Tip: In this work, we review the specific mechanism of bone marrow-derived mesenchymal stem cell (BMMSC) in spinal cord injury (SCI) repair mainly from the following aspects: Neuroprotection, neuronal circuit, axon sprouting and or regeneration, myelin regeneration, inhibitory microenvironment, glial scar formation, immunomodulation, and angiogenesis. Additionally, we also summarize the latest evidence on application of BMMSC in clinical trials and further discuss the challenges and future directions for stem cell therapy in SCI models.
---
Citation: Huang LY, Sun X, Pan HX, Wang L, He CQ, Wei Q. Cell transplantation therapies for spinal cord injury focusing on bone marrow mesenchymal stem cells: Advances and challenges. World J Stem Cells 2023; 15(5): 385-399
---
INTRODUCTION
Spinal cord injury (SCI) is a serious neurological disorder that often results in paralysis during the reproductive years, causing temporary or permanent changes in normal motor, sensory, and autonomic functions, with significant impacts on individuals, families, and socioeconomic systems[1]. It has been reported that more than 27 million patients worldwide experience long-term disability due to SCI[2], with 541 cases per 100000 people[3]. Complex pathophysiology and time sensitivity in particular limit the therapeutic effects of SCI[4]. In incomplete SCI, there is less hemorrhage in the gray matter and no change in the white matter 3 h after injury; 6-10 h after injury, the hemorrhagic foci gradually expand, and the neurological tissue becomes edematous, which gradually subsides after 24-48 h. As the degree of incomplete SCI differs between mild and severe injuries, milder injuries only have small foci of necrosis in the center, and most of the nerve fibers are preserved. Severe injuries may have foci of necrosis and softening in the center of the spinal cord and are replaced by gliosis or scarring, and only a small portion of the nerve fibers are preserved. Most posttraumatic tissue degeneration is caused by multiple secondary injuries, including blood-spinal cord barrier (BSCB) disruption, free radical formation, ion imbalance, apoptosis, demyelination, and inflammatory response (Figure 1). Spontaneous recovery occurs within a limited time window because the subacute phase of SCI is thought to be detrimental to axonal regeneration and functional recovery[5]. Currently, clinical treatment includes surgical decompression, stabilization of the spinal cord, relief of spasticity and rehabilitation care, which consists primarily of supportive care and injury management. Frustratingly, the effectiveness of these treatments is limited because they are not effective in stimulating repair of the injured spinal cord.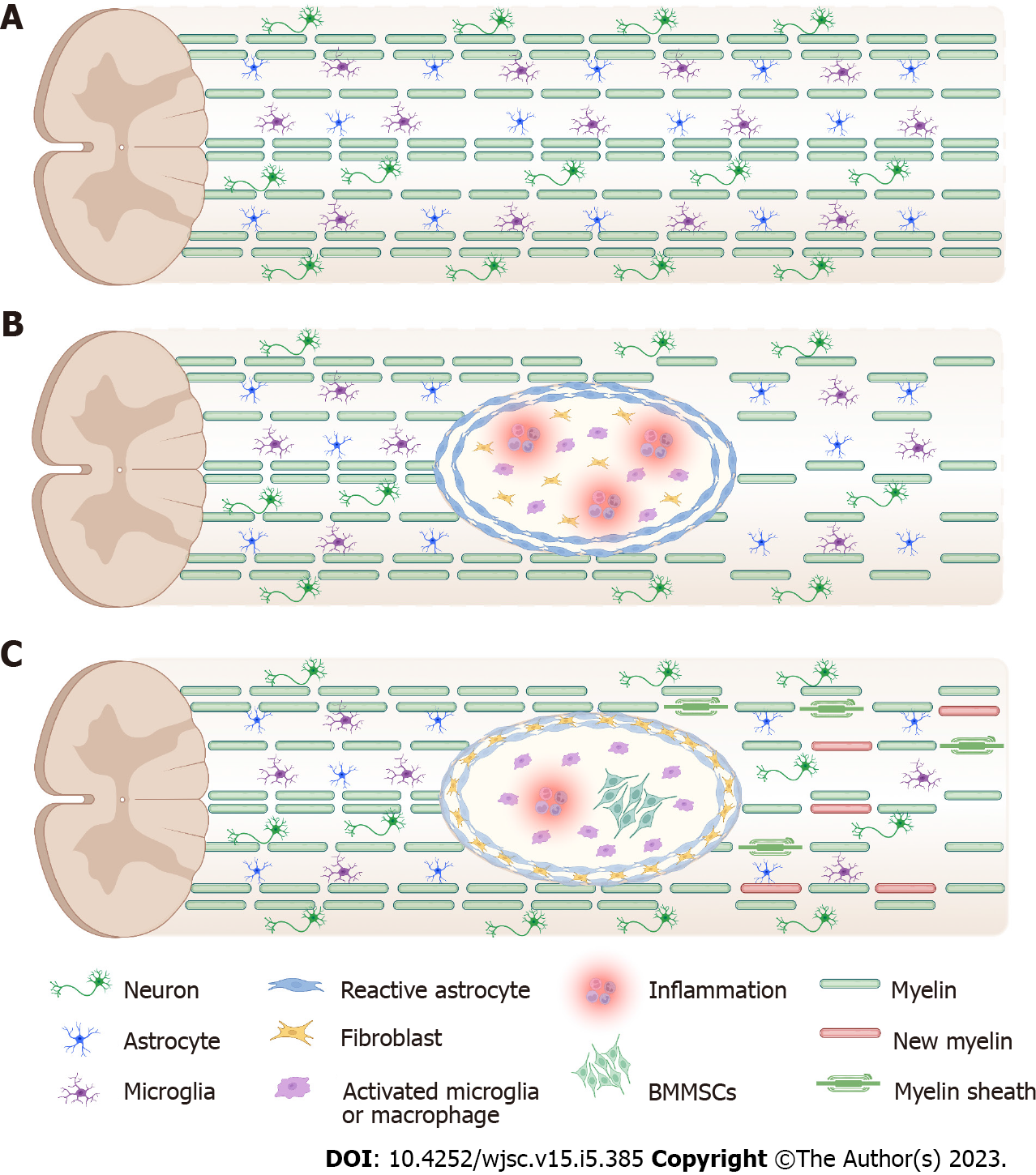 Figure 1 Pathophysiology of spinal cord injury and related mechanisms of bone marrow-derived mesenchymal stem cell in spinal cord injury.
A: The normal spinal cord contains axons wrapped in the myelin sheath, neuron bodies, microglia, fibroblasts, and astrocytes; B: Secondary injuries following primary injury include glial and neuronal apoptosis, axon rupture, inflammatory response, ischemia, spinal cord ischemia-reperfusion injury, vascular dysfunction, edema, inhibitory microenvironments, excitatory toxicity, and free radical formation; C: Bone marrow-derived mesenchymal stem cell promote the mechanism of spinal cord injury repair, including neuroprotection, axon growth, myelination, immune regulation, microenvironment regulation, inhibition of scar formation, and promotion of angiogenesis. BMMSCs: Bone marrow-derived mesenchymal stem cells.
CLINICAL CHARACTERISTICS AND PATHOLOGY OF SCI
The spinal cord consists of the gray and white matter, which contains nerve cell bodies and ascending and descending fibers. Thus, the different locations and levels of SCI can cause various degrees of disability, from partial loss of motor or sensory function to complete paralysis below the injured location. The resulting lifelong devastating deficits associated with impaired mobility (weakness or paralysis), sensation and autonomic dysfunction, and disabled neurological conditions lead to permanent and severe impacts on patients' daily lives and their caregivers.
Pathophysiology following SCI comprises interrelated multicellular, multimolecular interactions and multiphasic events[6]. Classically, the pathophysiology of SCI is divided into two phases: Primary injury and secondary injury. SCI commonly occurs after sudden trauma because of direct and immediate mechanical insult to the spinal cord from vertebral fractures and dislocation with features of bone fragments and spinal ligament tearing. This was accompanied by extensive bleeding with further compression and interruption of the spinal cord blood supply. Thus, the primary injury mainly includes compression, contusion, shear, laceration, and acute stretching. This is followed by disruption of the neural parenchyma, shearing of the axonal network, destruction of the glial membrane, and vascular disruption[7,8]. Secondary injuries consist of ischemia, spinal cord ischemia-reperfusion injury, vascular dysfunction, edema, excitotoxicity, formation of free radicals, glial and neuronal apoptosis, and the inflammatory response[7]. This secondary damage is divided into three phases: The acute phase, which is accompanied by vascular and cell membrane damage and the secretion of different proinflammatory factors, such as interleukin-1β (IL-1β) and tumor necrosis factor-α (TNF-α), with microglial activation. The subacute phase is accompanied by edema and vascular damage, inflammatory cytokine and glutamate secretion, astrogliosis, and demyelination for a few days. The chronic phase has symptoms such as the formation of a cavity in the spinal cord[8]. Based on further study of the spinal cord microenvironment, pathophysiological changes are divided into tissue, cellular and molecular levels. The tissue level involves hemorrhage and ischemia, glial scar formation, demyelination and remyelination[9]. The cellular level involves the activation of astrocytes, the differentiation of endogenous neural stem cells, oligodendrocyte progenitors and microglia, and the infiltration of macrophages. The molecular level involves the expression of neurotrophic factors and their pro-peptides, cytokines, chemokines, and ion imbalance. There is an imbalance between promoting and inhibiting growth molecules in the microenvironment of SCI, where growth inhibitors occupy the dominant position.
THE THERAPEUTIC POTENTIAL OF STEM CELLS
Cell transplantation has come to the forefront in SCI regenerative strategies due to its potential neuroprotective effects. Many cell types have been widely investigated in SCI treatment, including oligodendrocyte precursor cells, Schwann cells, olfactory ensheathing cells, neural stem cells, and mesenchymal stem cells (MSCs)[10,11]. MSCs have the capacity for self-renewal and multilineage differentiation potential and can differentiate into osteoblasts, adipocytes, and chondrocytes[12]. Moreover, MSCs express surface markers (CD105, CD73 and CD90) and do not show expression of CD45, CD34, CD14 or CD11b, CD79a or CD19, or human leukocyte antigen type DR surface molecules[13]. MSCs mainly exist in bone marrow and can also be isolated from other tissues and organs, such as umbilical cord, adipose tissue and muscle. Among these, bone marrow-derived MSCs (BMMSCs) are the most widely studied cell type in SCI application due to their low immunogenicity, easy isolation, few ethical concerns and reduced tumorigenesis risks[14]. According to the current research progress at home and abroad, BMMSC-based treatment has extraordinary prospects in the field of SCI.
In this review, we will summarize the applications of BMMSCs in SCI based on the most frequently proposed mechanisms: Neuroprotection, neuronal circuit, axon sprouting and/or regeneration, myelin regeneration, inhibitory microenvironments, glial scar formation, immunomodulation, and angiogenesis. A better understanding of these mechanisms could allow the identification of more targeted therapies.
NEUROPROTECTIVE EFFECTS OF BMMSCS
Neurons are postmitotic, without the ability to proliferate, and strategies developed to promote neuronal protection and regeneration have long-term benefits. Neuroprotective measures are crucial not only for the preservation of further injury for optimal neuron survivability but also for the restoration of injured nerve cells during pathological progression. BMMSCs reestablish the injured spinal cord via neuroprotection, neural regeneration, and remyelination in SCI[15]. MSCs can release growth and neurotrophic factors, including brain-derived neurotrophic factor (BDNF)[16], vascular endothelial growth factor (VEGF)[17], glial cell-derived neurotrophic factor (GDNF), nerve growth factor (NGF), fibroblast growth factor (FGF), neurotrophin-3, and epidermal growth factor, which can enhance regeneration and repair in damaged tissues[18,19]. miR-22, regulated by Gasdermin D mRNA, plays a role in inhibiting the occurrence of pyroptosis[20]. miR-22-modified BMMSCs suppress pyroptosis-mediated inflammation and neuronal injury during SCI[20]. Moreover, MSC-derived exosomes enhance the survival of neurons and repair of nerve fibers by inhibiting Nod1 inflammasome activation, suppressing pyroptosis in pericytes, preserving the integrity of the BSCB[21], inhibiting neuronal apoptosis through the Wnt/beta-catenin signaling pathway[22] and eventually improving functional recovery. The overexpression of miR-338-5p in exosomes was shown to profoundly increase the expression levels of neurofilament 200 and growth-associated protein-43 and decrease those of myelin-associated glycoprotein (MAG) and glial fibrillary acidic protein (GFAP), which provided neuroprotective effects through the cannabinoid receptor 1/Rap1/Akt pathway after acute SCI[23]. cAMP-mediated Rap1 activation plays an important role in apoptosis reduction and neuronal survival induced by the PI3K/Akt pathway[23].
Despite the inhibitory environment in the adult mammalian central nervous system, neuronal-intrinsic mechanisms are sufficient to support significantly extensive axonal growth and synapse formation after SCI, resulting in the formation of new neuronal circuits that restore electrophysiological activity and behavior[24]. When stem cells are cotransplanted with a supportive fibronectin matrix containing growth factors, axons form connections with host axons over significantly long distances. Even when crossing the inhibitory white matter, they elongate rapidly at a rate of 1-2 mm per day[24]. In addition, axons from the host spine regenerate into neural stem cell grafts, and this bidirectional growth contributes to the recovery of hindlimb mobility[24]. BMMSCs were initially thought to be similar to neural stem cells in their ability to multidirectionally differentiate into neurons and glial cells, but this theory was gradually discarded. In fact, the mechanism of action of BMMSCs may be cell fusion or trans-differentiation rather than cell differentiation[25]. In summary, transplanted BMMSCs after SCI exhibit significant autocrine and paracrine activities, which in turn stimulate the proliferation and differentiation of other cells and themselves, promoting tissue repair and functional recovery[26].
AXON GROWTH
The axon is a unique cellular structure that maintains communication between neurons[27]. An important cause of persistent dysfunction after SCI is axonal disruption, and therefore promoting axonal regeneration and plasticity is very promising. However, previous studies have shown that the percentage of injected MSCs aggregating in the CNS is 0.75%-18.5%[28] and 6.7%[29], and thus it is conceivable that only a fraction of the cells reach the site of SCI. The Nakano et al[30] found that bone marrow stromal cell transplantation via cerebrospinal fluid was effective in acute, subacute and chronic spinal cord injuries in rats, and although the transplanted cells did not survive more than 7 d, a large number of axons crossed longitudinally through the astrocyte-deficient connective tissue. Transplantation via the CSF is a more clinically preferred modality because it does not cause secondary injury to preserved spinal cord tissue. From another perspective, Okuda et al[31] demonstrated that transplantation of BMMSC sheets after SCI prompted Tuj-1-positive axons to span a specially designed cell sheet without requiring a scaffold, offering a permissive microenvironment for damaged axons[31].
BMMSC therapy has been shown to play a positive role in rodent models of SCI[32], but evidence of its long-term therapeutic efficacy and effectiveness in human clinical trials is limited. Gene modification of MSCs, for example, by overexpression of neurotrophic or growth factors, is one of the ways to enhance their well-known beneficial effects. Overexpression of IL-13, an inducer of M2 microglia/macrophages, in BMMSCs significantly ameliorates axonal retraction caused by axonal-attacking macrophages[33]. In addition, the combination of neurotrophic factors and physical stimuli is often used to enhance the effects of BMMSCs. Cografting stromal-derived factor-1-overexpressing BMMSCs with neural stem cells (NSCs) at day 9 after SCI resulted in better axonal density enhancement than BMMSCs alone[34]. Furthermore, physical factor therapy has also shown a synergistic effect, as low-intensity pulsed ultrasound-optimized BMMSCs transplanted one week after SCI showed a good promotion effect on axonal regeneration[5].
Although the transplanted cells can reach the site of injury, they cannot survive long enough to integrate with the host spinal cord tissue, thus showing that these cells do not act as scaffolds for tissue repair. The use of biomaterials can provide transplanted cells with an environment closer to their physiological state, maintaining and regulating stem cell properties and protecting them from the harsh local microenvironment. Permissive bridging material allows nerve fibers with regenerative growth potential or collateral sprouting to pass through nonpermissive physical spaces[35]; therefore, tissue-engineered grafts loaded with cells and growth factors have become popular as bridging therapy for SCI. After spinal cord injuries in rats and dogs, NT-3/fibroin-coated gelatin sponge scaffolds were shown to continuously release NT-3 for up to 28 d, maintain the cell activity of MSCs, promote axonal regeneration, and attenuate the inflammatory response[36]. The multichannel poly lactic-co-glycolic acid scaffolds implanted with Schwann cells and BMMSCs were shown to effectively connect the injury gap of rats with complete SCI, and the cell combination strategy promoted the survival and neuron-like characteristics of BMMSCs and finally facilitated axonal regeneration and functional recovery[37]. The short half-life and rapid clearance challenges posed by the innate immune system have hampered the popularity of extracellular vesicle therapy[38]. Wang et al[39] synthesized an F127-polycitrate-polyethyleneimine hydrogel (FE) with sustainable and long-term extracellular vesicle release (FE@EVs), and its in situ administration after SCI inhibited the inflammatory response and promoted myelination and axonal regeneration. There is no shortage of biomaterials in clinical trials for cancer, but no clinical trials on biomaterials for SCI repair have been registered on the ClinicalTrials.gov website. Possible reasons for this include inconsistency between injury models from preclinical studies and actual injury models in the clinic (thoracic SCI models are often used in preclinical studies, but cervical SCI is more common in humans[40]), unpredictable residual degradation products in the body, and potentially low payloads[41]. Caution is needed in drawing conclusions about axonal regeneration because the current consensus is that it refers to regrowth of axons after transection[42], whereas there is a significant degree of axonal preservation in incomplete spinal cord injuries, and the best model for exploring axonal regeneration is complete SCI.
REMYELINATION
Demyelination in traumatic SCI can lead to loss of function, and poor myelination of preserved nerve fibers may lead to permanent functional impairment. Myelin loss is accompanied by oligodendrocyte apoptosis, and replacement of lost oligodendrocytes and myelin improves conductivity and protects axons from degeneration[43]. The process of transplanted cells producing myelin around axons that have lost myelin sheaths is a mechanism that enhances recovery after SCI[43]. Conditioned medium from MSCs not only improves the survival of oligodendrocytes in vitro in culture but also increases levels of Olig2, a transcription factor that plays a key role in the differentiation of oligodendrocytes, in SCI[44]. Intravenous infusion of MSCs during the chronic phase in a severely injured SCI model promotes remyelination of axons[45]. BMMSCs can act as catalysts for the differentiation of NSCs into oligodendrocytes by regulating Id2 and Olig1/2[46]. However, the genetically engineered cells showed a more satisfactory therapeutic effect than the original cells. BMMSCs secrete various trophic factors, including VEGF, insulin-like growth factor 1 (IGF-1), hepatocyte growth factor (HGF), basic FGF, GDNF[47,48], and certain extracellular matrix molecules, such as laminin and type IV collagen[49]. Given the positive effects of IGF-1 on oligodendrocyte differentiation and survival during normal development[50], IGF-1-overexpressing BMMSCs better protect the integrity of myelin sheaths[51]. Similarly, GDNF is a potential target for axon enhancement and is directly involved in axonogenesis and dopaminergic neuronal differentiation via the Ras/MARK pathway and P13K signaling pathway[52].
In addition to the abovementioned cytotrophic factors, myelination-related graft factors can also be used as targets for genetic engineering. Silencing Nogo-66 receptor expression was shown to promote neurite outgrowth after BMMSC differentiation and increase myelinated nerve fibers after SCI[53]. There are benefits from the effects of neuroprotective drugs themselves, which have antioxidant effects, inhibit intracellular calcium overload, regulate γ-aminobutyric acid receptors and inhibit apoptosis, and combining these drugs can also improve the therapeutic effect of BMMSCs. Currently, the combination of BMMSCs and propofol, a neuroprotective anesthetic, has dramatically increased the number of myelinated and nonmyelinated fibers after SCI[54]. Transplanted cells with the ability to myelinate do not always promote functional recovery, and sufficient myelination needs to occur to achieve significant results[55].
IMMUNOMODULATION
The inflammatory response is a critical component in the secondary injury cascade, which can persist for weeks to months after SCI, during which microglia/macrophages and leukocytes are recruited to the injury site. A certain inflammatory response in the injured spinal cord is required for clearing neurotoxic cellular debris and limiting tissue damage. However, macrophage clearance can promote regeneration after SCI. In addition, overactivation of the inflammatory response can aggravate tissue damage[56]. In the acute phase of SCI, these cells produce proinflammatory cytokines such as IL-6, IL-β, and TNF-α. Reactive oxygen species (ROS), matrix-metalloproteinase (MMP), and inducible nitrous oxide synthase are released by neutrophils, macrophages and microglia, which can exacerbate the inflammatory response[57]. Microglia/macrophages have been regarded as an important cell type in the innate and adaptive immune responses after SCI[58]. Homeostatic macrophages are the main phenotype in the normal spinal cord, but resting macrophages are activated into different phenotypes. Some macrophages produce proinflammatory cytokines that aggravate inflammation and inhibit axon regeneration, while other macrophages produce anti-inflammatory cytokines that promote functional recovery, such as IL-10 and transforming growth factor-β (TGF-β)[59]. Therefore, immunomodulatory therapeutic approaches are mainly focused on inducing macrophage polarization from the proinflammatory phenotype to the anti-inflammatory phenotype following SCI.
Many studies have shown that BMMSC transplantation after SCI can exert therapeutic effects by attenuating detrimental inflammation or enhancing beneficial inflammation. Yagura et al[60] found that human BMMSC implantation significantly increased CCL5 expression and enhanced macrophage polarization. Similarly, another study analyzed the tissue expression levels of IL-1β, TNF-α, and Toll-like receptor 4 (TLR4) in a rat SCI model after intravenous BMMSC injection[61]. This study demonstrated that BMMSCs could attenuate spinal cord inflammation by inhibiting the TLR4-mediated signaling pathway and decreasing the expression levels of IL-1β and TNF-α. Similar situations were observed in another study that investigated the efficacy of grafted BMMSCs after SCI[62]. Interestingly, most recent studies have focused on the anti-inflammatory roles of exosomes derived from BMMSCs in SCI treatment[20,63,64]. For example, Sheng et al[63] confirmed that the application of BMMSC-derived exosomes promoted the phagocytosis ability of macrophages by upregulating the expression of MARCO, an important phagocytic receptor. In addition to modulating the phagocytic capacity of macrophages, BMMSC-derived exosomes could also affect the balance of macrophage polarization through the nuclear factor-kappaB pathway[65].
BMMSC transplantation exerts immunoregulatory effects following SCI mainly by inducing the formation of anti-inflammatory immune cells, modulating the expression levels of TLRs, and inhibiting the inflammatory response in the injured spinal cord, thereby promoting functional recovery[61]. Immediately after SCI, the organism enters an immunosuppressive state due to shock and stress. The first cells to mobilize at the injured site are the myeloid cells of the innate immune system, such as neutrophils and macrophages, which phagocytose debris. Then, adaptive immune cells such as B- and T-lymphocytes are recruited to the injured spinal cord[66,67]. As previously described, microglia, which participate in the clearance of apoptotic and myelin debris, are resident immune cells[68]. In the acute stage after SCI, microglia extend their processes toward the injured site and are biased toward the activated subtype, which leads to a further loss of neurons and promotes scar formation[69]. During this period, although microglia have beneficial effects on tissue recovery by clearing cellular and myelin debris, they have also been reported to aggravate secondary tissue damage and axonal retraction[67,70]. Homeostatic microglia in the injured spinal cord may play a protective role in tissue repair. Therefore, therapeutic strategies for targeting immunomodulation should be directed at modulating cytokine levels and other factors in the microenvironment and balancing activated/homeostatic microglia levels.
IMPROVING THE INHIBITORY MICROENVIRONMENT
In mammals, damaged axons in the spinal cord are unable to regenerate at the lesion site and to reestablish synaptic connections with their destination due to "natural barriers" and diminished intrinsic regenerative capacity[71,72]. This barrier consists of a lumen and a nonpermissive environment. Nogo-A, MAG and oligodendrocyte myelin glycoprotein (OMgp) are well-defined myelin breakdown products[73], but knockdown of the MAG and OMgp genes did not lead to neuronal growth after SCI, suggesting that Nogo-A plays a dominant role in inhibiting axonal regeneration, while MAG and OMgp play secondary roles[74]. In addition, several types of cells, including astrocytes, glial cells, and microglia/macrophages, migrate to the center of the injury, leading to the formation of glial scars and impeding the progression of axonal growth cones[75]. Glial scarring does not always play a negative role; on the one hand, it initiates the injury repair process, limits lesion expansion and inhibits the spread of the inflammatory response, and on the other hand, it acts as a physical barrier to nerve regeneration[76].
Few oligodendrocyte markers were found to be expressed in SCI centers transplanted with BMMSCs, while the number of axons was significantly increased, indicating that the transplanted cells provided a suitable environment for the regeneration and neural differentiation of endogenous neural stem cells[77]. BDNF in overexpressed BMMSCs further promotes axonal remyelination by affecting oligodendrocytes[78]. Zhao et al[79] found that the association of BDNF-overexpressing BMMSCs with platelet-rich plasma promoted more axonal remyelination and oligodendrocytes, probably due to astrocyte migration to the lesion region and increased graft BDNF-BMSCs, which could provide a favorable substrate for stabilizing regenerating axons in an inhibitory environment. However, damaging properties of the microenvironment (such as increased ROS) result in extensive stem cell death and dysfunction, severely impairing stem cell therapy for SCI.
INHIBITING GLIAL SCAR FORMATION
The spinal injury scar is generally classified into two components: The lesion core and the lesion border[80]. The lesion core is primarily composed of stromal-derived fibroblasts and inflammatory immune cells and is commonly regarded as the fibrotic scar. The lesion border is formed by microglia and reactive astrocytes, which surround the core and are generally considered the glial scar. The glial scar (mainly astrocytic) strongly upregulates the expression of intermediate filament proteins such as vimentin, GFAP, and chondroitin sulfate proteoglycans (CSPGs)[9]. At the acute stage after SCI, the glial scar separates healthy tissue from inflammatory cells and limits the spread of inflammation. However, the glial scar creates a long-lasting physical and molecular barrier that hinders axon regeneration and outgrowth during the chronic period[81]. Over the past decade, accumulating evidence has attributed the failure of axon regeneration to diminished intrinsic neuronal plasticity and the presence of glial scars and myelin-associated growth inhibitors.
Numerous experimental studies in SCI animal models have shown that BMMSC transplantation can suppress glial scar formation. Okuda et al[31] explored whether BMMSC sheets are permissive for injured nerve fiber elongation and the extension of astrocyte processes. They found that GFAP-positive astrocyte processes penetrated into the BMMSC-transplanted site, which is an indicator of a permissive environment for axon outgrowth[31]. Another study showed that transplantation of human BMMSCs in an SCI rat model largely reduced the inflammatory reaction and the expression of collagen type IV, one of the markers of fibrotic scars[82]. The application of biomaterials to improve the survival rate and efficacy of implanted cells has attracted attention in recent years. Some biomaterials are primarily used as scaffolds to support the growth of BMMSCs[83,84], while a few biomaterials are capable of modulating the harsh microenvironment following SCI[85,86]. For instance, Li et al[84] investigated the efficacy of a ROS-responsive hydrogel cotransplanted with BMMSCs in a rat transection SCI model. They performed double immunofluorescence staining to identify the formation of two distinct scars: The glial scar was labeled by GFAP, and the fibrotic scar was labeled by platelet-derived growth factor receptor-β. These results revealed that this BMMSC-encapsulated hydrogel could significantly alleviate the formation of both glial and fibrotic scars at the injury site[84]. In addition, CSPGs, which are enriched in glial scars and secreted by reactive astrocytes, are potent inhibitors of axonal outgrowth. Takeuchi et al[87] found that SCI mice treated with chondroitinase ABC, a kind of CSPG-digesting enzyme, can promote axon regeneration and improve functional outcome. Indeed, another study explored the efficacy of chondroitinase ABC plus BMMSCs in the repair of SCI. Notably, the application of chondroitinase ABC combined with BMMSCs significantly reduced GFAP expression at the injury site, and the scar tissue area was much smaller than that in the model group[88].
To date, the specific molecular mechanisms of scar formation have been widely studied. TGF-β initiates signaling after binding to transmembrane type I and type II receptors, and then the type I receptor leads to the recruitment and phosphorylation of Smad2 and Smad3 proteins[89]. After the formation of a heteroprotein complex together with the co-Smad protein SMAD4, this complex can translocate into the nucleus, where it acts as a transcription factor to regulate target gene expression[90]. There is a growing body of evidence to suggest that the TGF-β/Smad signaling pathway plays an important role in collagen deposition[91]. Studies have shown that administration of BMMSCs after SCI can inhibit scar formation by downregulating TGF-β and collagen expression[92,93]. Furthermore, studies have shown that the activation and proliferation of astrocytes can be suppressed after inhibiting the JAK/STAT3 or JNK/c-Jun pathway, thus reducing scar formation and promoting functional recovery after SCI[94]. Kim et al[95] suggested that acute transplantation of BMMSCs can modulate astrogliosis through the MMP2/STAT3 pathway.
In summary, BMMSC transplantation can suppress glial scar formation and provide a favorable environment for axon regeneration after SCI. However, there has been some debate in the field on the role of scar formation in recovery following SCI[96,97]. Although the glial scar has an important protective role in separating healthy tissue from pathology after injury, it has been acknowledged that scar formation has an inhibitory role, as it is associated with failed axon regrowth. Recent evidence suggests that the phenotypes of reactive glial cells are considered the key regulators of the dual nature of the spinal injury scar[98]. In addition, the opposing roles of the scar matrix cannot be ignored, which contains beneficial molecules that are required for the formation of scar borders and inhibitory molecules such as CSPGs, tenascin, ephin B2, and slit proteins[99]. Therefore, therapeutic strategies for targeting the spinal injury scar should be directed at reducing scar formation or blocking inhibitory molecules associated with the scar.
PREVENTING BLOOD VESSEL LOSS AND IMPROVING ANGIOGENESIS
After SCI, immediate loss of spinal vascular support occurs, which induces local hypoxia around the injury epicenter, followed by a series of molecular cascades that lead to increased microvascular permeability and BSCB disruption. Angiogenesis, which is the process of forming new vasculature, plays an important role in the proliferation phase of wound healing[100,101]. Therefore, stabilizing the provisional vessels and forming a permanent vascular network are necessary for tissue repair following SCI. Angiogenesis is a multistep process that requires endothelial proliferation and differentiation, crosstalk among endothelial cells and extracellular matrix components, and the interplay of multiple proangiogenic and antiangiogenic factors[102]. VEGF, which is an important proangiogenic factor, is upregulated after hypoxia stimulus and induces blood vessel morphogenesis by binding to the VEGF receptor. Other critical angiogenesis-related proteins include FGF, TGF-β, angiopoietin-1, and angiopoietin-2[103].
Accumulating evidence has documented that BMMSC engraftment can promote angiogenesis and vascular stability in the treatment of different diseases, especially ischemic diseases, such as myocardial infarction and cerebral infarction[104-109]. Similarly, enhancement of angiogenesis by implanted BMMSCs has been demonstrated after SCI in animals[108]. In addition, in vitro studies also confirmed that BMMSC transplantation promotes vascular formation and vasoprotection[110,111]. In general, there is a close relationship between angiogenesis and enhanced functional recovery following SCI. Emerging evidence has shown that improved angiogenesis and BSCB integrity can promote motor function recovery[112,113]. A recent study found strong correlations between the level of angiogenesis and the number of surviving BMMSCs at the injury site. This study demonstrated that the expression of occludin and ZO-1 was significantly upregulated, which indicates the maturation and sealing of newly formed vasculature[114]. BMMSCs can produce FGF and VEGF-A, which can enhance the proliferation, migration, and vascular tube formation of microvascular endothelial cells[115]. BMMSCs also secrete specific factors, including IGF-1, HGF, VEGF, NGF, and TGF-β1, which can provide a favorable environment for angiogenesis after SCI[116]. For instance, Cantinieaux et al[117] investigated the efficacy of conditioned medium from BMMSCs in SCI treatment in a rat model and found that blood vessels displayed larger diameters in the conditioned medium-treated group, indicating enhanced regional blood perfusion at the lesion epicenter.
BMMSC engraftment can promote revascularization, enhance blood supply and increase BSCB integrity, which will attenuate secondary injury and promote axon growth, thereby improving functional recovery following SCI. Improved functional outcome after SCI is closely related to successful revascularization. First, a well-vascularized injury site can provide a regeneration-permissive microenvironment for the transplanted cells to survive. Additionally, blood vessels may act as a scaffold to guide transplanted cell migration and axon sprouting after injury. Emerging evidence has demonstrated a significant interaction between vascular regrowth and nerve repair. For example, some neurotrophins, such as NGF and NT-3, can control the sympathetic innervation of blood vessels, and VEGF-A, secreted by neurons and glial cells, can enhance vascular regrowth. To date, treatments based on revascularization for SCI include gene modulation, proangiogenic factor administration, cell therapy and biomaterial application. However, many aspects of the process of blood vessel formation remain unclear, and the therapeutic effect is limited. Therapeutic strategies for targeting angiogenesis after injury should be focused on the identification of combined strategies.
CLINICAL TRIALS OF BMMSCS FOR SCI PATIENTS
During past decades, cell transplantation has been regarded as a promising therapy after SCI. There have been not only many animal and preclinical studies but also a considerable number of clinical studies, and several systematic reviews/meta-analyses have proven the effects of cell transplantation in patients with SCI[118-122]. Among them, MSC transplantation is the most widely used and promising therapeutic approach for treating SCI. MSCs are mainly derived from adipose tissue and bone marrow sources and are accordingly divided into adipose tissue-derived MSCs and BMMSCs. The main stem cell type used in clinical trials to treat SCI is the BMMSC, which has lower immunogenicity and a widely available source and has been proven to be overall safe, well tolerated and valid in SCI patients, with a particular effectiveness in chronic and complete injuries.
After assessing the relevant literature, we found 38 clinical studies containing 1090 participants that provided overall evidence of the safety and efficacy of BMMSC cell transplantation for SCI patients, which was mainly represented by ASIA score improvement in at least one segment, and both sensory and motor improvements were observed according to different previous studies. Some studies have shown that up to 70% of patients with complete cervical SCI and 33% of patients with thoracic SCI could recover at least one spinal cord level within 1 year after injury by spontaneous recovery[123,124]. Chhabra et al[125] indicated that most of the spontaneous neurological recovery in AISA subjects was likely to occur within the zone of partial preservation, which was less likely related to cell therapy. Due to the complicated process of neuroregeneration, minor therapeutic effects at the anatomical/histological level were difficult to detect in clinical trials, which might be ignored. Some novel assessments may provide further insights into the recovery of neuroregeneration after SCI in future clinical research. Furthermore, an increasing number of studies have tended to certify the same efficacy on bladder and gastrointestinal functions by slightly improved maximum capacity and decreased bladder pressure and residual urine volume, which are still unsatisfactory.
Considering the various therapy effects, there were related issues: Ambiguities in the selection of patients, timing of intervention, injection doses and routes of stem cell transplantation in different clinical trials. The optimal dose of cell transplantation has not yet been determined, and cell numbers between 106-108 seemed to be more beneficial[126-128]. Transplant routes included intrathecal, scaffold-loaded, intralesional, venous, arterial, and subdural administration, with intrathecal injection as the most widely used.
However, there were still some potential adverse events (AEs) observed, such as neuropathic pain, muscle spasm, and fever. Some of these AEs were slight and without further injury, while other more potentially serious AEs required a longer follow-up visit. Most of the current studies have a small number of samples, are low quality, lack control groups, and represent single-arm, early-stage clinical trials with the main purpose of evaluating the safety of stem cells. Nonetheless, prospective, well-designed randomized trials in larger cohorts with extensive follow-up are still awaited to confirm and update the findings.
CONCLUSION
Based on the results of previous studies, the effects that can be achieved with a single BMMSC treatment are limited, and combination therapy is an important future development direction. Combination therapy using various molecules or factors (including gene modulation, etc.) can enhance the effect of cellular therapy and achieve multi-effective and superimposed effects. In addition, most preclinical studies are currently designed with observation periods of 4 and 8 wk, and longer observation periods are important for the clinical translation of stem cell therapy to explore and address certain adverse effects when possible. Finally, given the current encouraging preclinical trial results, some treatments have been translated into clinical practice. BMMSC transplantation has been shown to be safe in SCI patients, and partial efficacy has been seen in some cases, but most clinical studies are still in phases I and II, and the results of phase III trials have extraordinary implications for the clinical translation of stem cell therapy for SCI. In conclusion, although many problems and challenges remain, researchers have been working to optimize preclinical studies and actively translate them to the clinic, and these efforts will pave the way for the field of SCI.
Provenance and peer review: Invited article; Externally peer reviewed.
Peer-review model: Single blind
Specialty type: Cell and tissue engineering
Country/Territory of origin: China
Peer-review report's scientific quality classification
Grade A (Excellent): 0
Grade B (Very good): B
Grade C (Good): C, C
Grade D (Fair): 0
Grade E (Poor): 0
P-Reviewer: Jeyaraman M, India; Kabdesh I, Russia; Ramadurai R, India S-Editor: Wang JJ L-Editor: A P-Editor: Wang JJ