Copyright
©The Author(s) 2022.
Published by Baishideng Publishing Group Inc. All rights reserved.
Metabolic determinants of stemness in medulloblastoma
Paula Martín-Rubio, Pilar Espiau-Romera, Alba Royo-García, Patricia Sancho, Hospital Universitario Miguel Servet, IIS Aragón, Zaragoza 50009, Spain
Laia Caja, Department of Medical Biochemistry and Microbiology, Biomedical Center, Uppsala University, Uppsala SE-751, Sweden
Author contributions: Martín-Rubio P, Espiau-Romera P, Royo García A, Caja L, and Sancho P drafted the manuscript; Caja L and Sancho P designed the study and wrote the final version of the manuscript; Martín-Rubio P designed the figures; All authors approved the final version of the manuscript.
Supported by the Miguel Servet and pFIS fellowships, No. CP16/00121 (P.S.) and No. FI21/00031 (P.E-R.) from the Instituto de Salud Carlos III and cofinanced by European funds (FSE: "el FSE invierte en tu futuro"); Magnus Bergvalls Stiftelse, No. 2021-04284 (L.C.); and the IV Grant for Childhood Cancer Research from Asociación de Padres de Niños con Cáncer de Aragón (ASPANOA, P.S.).
Conflict-of-interest statement: There are no conflicts of interest to report.
Open-Access
: This article is an open-access article that was selected by an in-house editor and fully peer-reviewed by external reviewers. It is distributed in accordance with the Creative Commons Attribution NonCommercial (CC BY-NC 4.0) license, which permits others to distribute, remix, adapt, build upon this work non-commercially, and license their derivative works on different terms, provided the original work is properly cited and the use is non-commercial. See:
https://creativecommons.org/Licenses/by-nc/4.0/
Corresponding author: Patricia Sancho, PhD, Senior Researcher, Hospital Universitario Miguel Servet, IIS Aragón, 1-3 Avda Isabel la Católica, Zaragoza 50009, Spain. psancho@iisaragon.es
Received: April 7, 2022
Peer-review started: April 7, 2022
First decision: May 11, 2022
Revised: May 26, 2022
Accepted: July 31, 2022
Article in press: July 31, 2022
Published online: August 26, 2022

Medulloblastomas (MBs) are the most prevalent brain tumours in children. They are classified as grade IV, the highest in malignancy, with about 30% metastatic tumours at the time of diagnosis. Cancer stem cells (CSCs) are a small subset of tumour cells that can initiate and support tumour growth. In MB, CSCs contribute to tumour initiation, metastasis, and therapy resistance. Metabolic differences among the different MB groups have started to emerge. Sonic hedgehog tumours show enriched lipid and nucleic acid metabolism pathways, whereas Group 3 MBs upregulate glycolysis, gluconeogenesis, glutamine anabolism, and glutathione-mediated anti-oxidant pathways. Such differences impact the clinical behaviour of MB tumours and can be exploited therapeutically. In this review, we summarise the existing knowledge about metabolic rewiring in MB, with a particular focus on MB-CSCs. Finally, we highlight some of the emerging metabolism-based therapeutic strategies for MB.
Core Tip: Considering the profound cellular metabolism rewiring associated with the tumorigenesis process, metabolic targeting for cancer treatment has gained a lot of attention in the last years. Interestingly, increasing evidence indicates that cancer stem cells (CSCs) show unique metabolic features within tumours. A deeper understanding of the metabolic vulnerabilities of medulloblastoma (MB) and MB-CSCs would accelerate the design of novel therapeutic strategies with the aim of improving the survival of paediatric patients suffering this disease.
---
Citation: Martín-Rubio P, Espiau-Romera P, Royo-García A, Caja L, Sancho P. Metabolic determinants of stemness in medulloblastoma. World J Stem Cells 2022; 14(8): 587-598
---
INTRODUCTION
Medulloblastoma (MB) is the most common brain malignancy in young children. MB originates in the cerebellum and spreads via the cerebrospinal fluid to the brain and spine[1-3]. MB patients are classified in four different groups defined by the World Health Organization, based on the developmental pathway involved in their oncogenesis[2]: Wingless/integrated (WNT), sonic hedgehog (SHH), Group 3 and Group 4 (Table 1).
MB group

---

Pathway

---

Prognosis

---

Cell of origin

---

CSC markers

---

Metabolism

---

WNT[2]
↑ WNT signalling (Activated β-catenin)[4,5]
Good[4,5]
Progenitors in the dorsal brainstem[23]
CD133[20], Nestin[20], CD15[30], Sox2[30,31], ki67/nestin, Ki67/DCX, and Ki67/TUC-4[32]
↑ Glycolysis[47]
SHH[2]
↑ SHH signalling pathway[5]
Intermediate[4]
Immature cerebellar granule neuron precursors[19,20] or neural stem cells[21

-

23]
CD133[20], Nestin[20], CD15[30], Sox2[30,31], CD271 [28], ki67/nestin, ki67/DCX, and ki67/TUC-4[32]
↑ Glycolysis[46]; ↑ Fatty acid synthesis[40]; ↓ Fatty acid oxidation[40]
Group 3[2]
↑ MYCN gene[4,5]
Poor prognosis and high metastatic rate[4,5]
Cerebellar stem cells[25,26]
CD133[20], Nestin[20], CD15[30], Sox2[30,31], ki67/nestin, ki67/DCX, and ki67/TUC-4[32]
↑ Glycolysis[47]; ↑ Fatty acid synthesis[51]; ↑ Gluconeogenesis[51]; ↑Glutamine anabolism[51]
Group 4[2]
Chromosome 17 abnormalities[4,5]
Intermediate[2]
Further investigation needed
CD133[20], Nestin[20], CD15[30], Sox2[30,31], ki67/nestin, ki67/DCX, and ki67/TUC-4[32]
↑ Fatty acid synthesis[41]; ↑ One carbon pool by folate[41]
The WNT group is the rarest, accounting for 10% of all MBs. These tumours occur in children over 3 years or teenagers, and generally have very good prognosis. WNT tumours show activating somatic mutations in β-catenin or germline mutations in adenomatous polyposis coli (APC), both leading to constitutive WNT signalling[4,5].
SHH group represents 30% of MB patients; most of them are either infants (3-years-old) or adults (> 15-years-old), with intermediate prognosis[4]. The molecular mechanism regulating this subtype implicates loss-of-function mutations in negative regulators or over-expression of different members of the SHH signalling pathway such as protein patched homolog 1 (PTCH1), smoothened (SMO), GLI family zinc finger 1 (GLI), and suppressor of fused homolog (SUFU)[5].
Group 3 accounts for tumours with a poor prognosis and high metastatic rate, occurring predominantly in males (2:1) and young adults (> 16-years-old). These tumours display frequent amplification or overexpression of the MYCN gene, and other genetic events such as orthodenticle homeobox 2 (OTX2) amplification, SWI/SNF related, matrix associated, actin dependent regulator of chromatin, subfamily A, member 4 (SMARCA4) mutation, and GFI enhancer activation[4,5].
Group 4 includes predominantly males (3:1), of all ages. These tumours show intermediate prognosis due to their metastatic potential: 30%-40% of Group 4 MB cases are already metastatic at diagnosis[2]. No underlying common cause has been described for Group 4 tumours, but they show chromosome 17 abnormalities and neuronal differentiation transcriptomic profile[4,5].
CANCER STEM CELLS IN MB
The cancer stem cell concept
Cancers are hierarchically organised structures with different levels of intratumoural heterogeneity. Indeed, distinct clone and cancer cell populations co-exist in a tumour. Among them, there is a subset of cancer cells, the so-called cancer stem cells (CSCs), which are at the origin of intratumoural heterogeneity[6]. On the one hand, CSCs display the ability to self-renew, allowing them to preserve their identity as stem cells[6,7]. On the other hand, these cells maintain intraclonal heterogeneity and give rise to all differentiated progenies within each cancer subclone in the primary tumour[8]. These differentiated progenies have limited or no tumour-initiating and metastatic capacities, despite their high proliferation rate[9]. Additionally, CSCs have the enhanced capacity to drive tumorigenesis and progression, resistance to conventional radiotherapy and chemotherapy, and invasiveness[6,10]. In fact, they are primarily responsible for tumour metastasis in secondary organs[6]. Indeed, CSCs and tumour-differentiated cells can acquire mobility thanks to processes such as epithelial-to-mesenchymal transition. Both subpopulations can migrate to other tissues through the bloodstream, but only those with stem-like features will be able eventually to initiate secondary lesions causing metastasis[9].
Evidence of CSCs was first identified in acute myelogenous leukaemia[11] and was verified subsequently in other diseases such as breast cancer[12], pancreatic cancer[13], prostate cancer[14], as well as in brain tumours like MB[8]. Due to their malignant features, CSCs have become one of the main focuses for cancer therapy, with the aim of improving the understanding of cancer onset and progression, and finding new therapeutic strategies.
The origin of CSCs in the tumorigenesis process remains controversial, and it seems to be cancer type-specific. In general terms, two hypotheses have been formulated: The "stem cell hypothesis" and the "de-differentiation hypothesis"[7,15]. The "stem cell hypothesis" accounts for the similarities observed between normal tissue SCs and CSCs, postulating that malignant transformation driven by frequent genetic mutations in SCs[7,15] favours the aggressive behaviour of CSCs. The latter consists of a de-differentiation of tumour cells caused by the acquisition of stem-like abilities and tumour-initiating potential[7,16].
MB-CSCs
Although the "de-differentiation hypothesis" cannot be completely ruled out, it is clear that the stem or progenitor populations represent the cell-of-origin of MB tumours and their comprised CSCs (Table 1). Indeed, the main genes and pathways altered in MB [WNT, SHH, Notch, MYC, signal transducer and activator of transcription 3 (STAT3)] are key regulators of cell cycle and stemness[17]. Early studies demonstrated that MB tumours originate from immature cerebellar granule neuron precursors[18,19] or neural SCs[8,20,21] escaping self-renewal restriction upon activation of the SHH pathway. While this still holds true for the SHH subgroup, further studies have determined that the different subgroups arise from distinct developmental origins. Indeed, the WNT group originates from progenitors in the dorsal brainstem[22] and Group 3 tumours derive from cerebellar SCs[23,24]. However, the origin of Group 4 MB is still under debate.
The original identification of brain CSCs in MB and other tumours involved the expression of the neural stem cell markers cluster of differentiation 133 (CD133) and Nestin[20] (Figure 1), enriching for a subpopulation of cells with enhanced neurosphere formation ability. These results were further developed in a subsequent study demonstrating that injecting as little as 100 CD133+ MB cells produced a tumour resembling the patient's original tumour[8], definitively linking CD133 expression with CSCs in MB. In further studies, CD133+ MB cells have been characterised by their radiation[25] and chemotherapy[26] resistance, as well as their enhanced invasiveness[27,28]. Importantly, CD133 expression predicts poor prognosis in MB patients[29], associated with higher rates of recurrence and metastasis[26], especially in Group 3.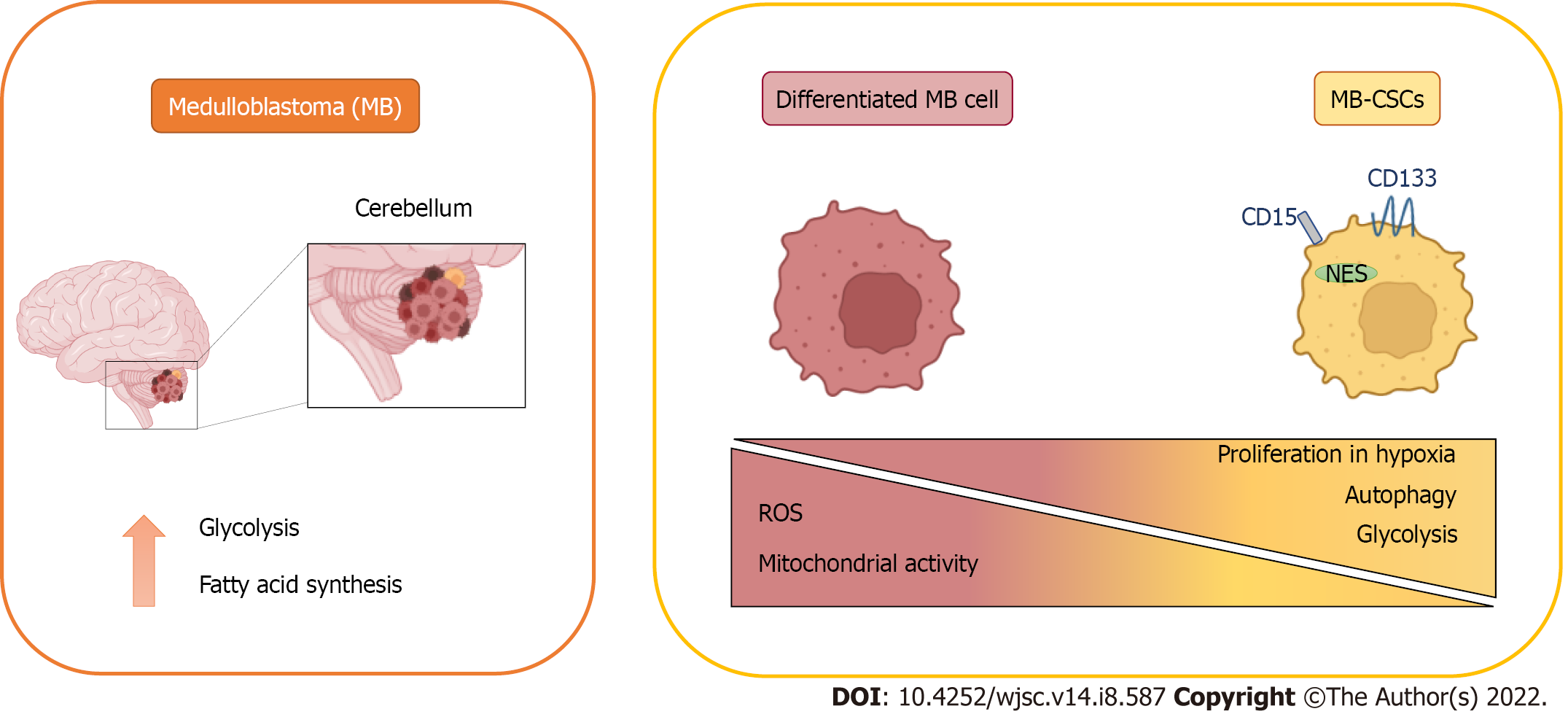 Figure 1 Metabolic features of medulloblastoma and medulloblastoma cancer stem cells.
Medulloblastoma (MB) tumours show activation of metabolic pathways such as glycolysis and fatty acid synthesis. MB cancer stem cells (MB-CSCs) display several markers, including cluster of differentiation 133 (CD133), CD15, and nestin (NES). Increased autophagy and glycolysis have been detected in MB-CSCs compared to more differentiated cells. In addition, hypoxic conditions induce the expansion of MB-CSCs. On the other hand, MB-CSCs show decreased mitochondrial activity and reactive oxygen species. ROS: Reactive oxygen species.
Besides the well-established role of CD133, the surface marker cluster of differentiation 15 (CD15, SSEA-1) was found as a marker of MB-CSCs in two independent studies using the Patched mutant mouse model of SHH MB (Figure 1)[30]. In both studies, CD15+ cells showed high tumorigenicity in transplantation experiments, giving rise to tumours histologically similar to the original ones. However, these studies contrasted in the definition of CD15+ cells as progenitor or stem cell-like tumour cells, considering their CD133 expression and their ability to form neurospheres composed by different cellular subpopulations. Interestingly, SRY-box transcription factor 2-positive (Sox2+) cells form a quiescent subpopulation within CD15+ cells with enhanced tumour-initiating abilities[31] and both Sox2+ and CD15+ signatures were associated with poor prognosis and lower survival rates in patients[30,31]. Noteworthy, CD15+ signature was not restricted to any specific MB subgroup, suggesting that this marker predicts poor survival in MB patients, in general[30].
Interestingly, the specific expression pattern of CSC markers can distinguish the functional heterogeneity of MB-CSCs in less aggressive subtypes such as SHH[28]. Indeed, isolation of diverse clones from the well-studied SHH cell line DAOY revealed that highly self-renewing cells expressed CD271 [p75 neurotrophin receptor (p75NTR)], while those with enhanced migratory capacity expressed CD133. However, CD271 expression is much lower in aggressive tumours from Groups 3 and 4, and does not allow for functional classification of their MB-CSCs.
Highly proliferative ki67+ CSCs have been also linked to worse prognosis, recurrence, and metastasis in MB patients[32]. Although the percentage of cells expressing CD133 was increased only slightly in relapsed tumours, authors found that the most significantly altered parameter in recurring tumours was the proliferative index of CSCs, calculated as the percentage of ki67+ CSCs, especially in distant metastases.
Additionally, cells with CSC-like properties have been identified in MB patient samples using the side population (SP) technique, which entails the evaluation of the Hoechst 33342 dye exclusion by flow cytometry. Isolated MB-SP cells showed an increased neurosphere formation ability, as well as an overexpression of the stem cell markers Nestin, Notch1, and ABCG2[33].
METABOLIC FEATURES OF MB CANCER (STEM) CELLS
MB tumour cells must be provided not only with the essential metabolites to cover their energy requirements, but also with the macromolecules demanded for tumour growth. Consistent with this, increased lipogenesis and aerobic glycolysis have been detected in MB[34]. However, MB metabolic profile is not uniform among the different subtypes (Figure 1)[35].
CONCLUSION
Further research is urgently needed to elucidate the metabolic profile of MB tumours. Recent evidence suggests that metabolic features among MB groups and even among the different cell subpopulations within a tumour are highly heterogeneous. In addition, new data obtained in more clinically relevant models challenge most of the existing knowledge in the field, obtained from genetically modified mouse models. Moreover, the metabolic features of MB-CSCs remain absolutely unknown nowadays. The identification of metabolic vulnerabilities of these tumours and their highly aggressive CSCs could pave the way to the design of new therapeutic strategies improving the current treatment for this paediatric disease.
ACKNOWLEDGEMENTS
We want to thank Laura Sancho for proofreading the manuscript.
Provenance and peer review: Invited article; Externally peer reviewed.
Peer-review model: Single blind
Specialty type: Cell biology
Country/Territory of origin: Spain
Peer-review report's scientific quality classification
Grade A (Excellent): 0
Grade B (Very good): B
Grade C (Good): C
Grade D (Fair): 0
Grade E (Poor): 0
P-Reviewer: Sun Q, China; Zhao W, China S-Editor: Chen YL L-Editor: Filipodia P-Editor: Chen YL