World J Gastroenterol.
Aug 15, 2002;
8(4): 703-706
Published online Aug 15, 2002. doi: 10.3748/wjg.v8.i4.703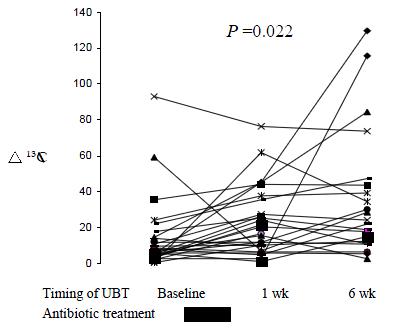 Figure 1 Changes in the delta 13C values (△ 13C) of urea breath tests after consumption of antibiotics in H. pylori-infected patients. The broad line indicated the duration of antibiotics consumption. A delta 13C value of greater than 5 was regarded as a positive result. There was a significant difference between the median delta 13C values taken at baseline, one-week and six-week post treatment (P = 0.022). Post-hoc analysis showed that only the difference between the first and the third urea breath tests reached statistical significance (P < 0.05).
---
Citation: Leung WK, Hung LCT, Kwok CKL, Leong RWL, Ng DKK, Sung JJY. Follow up of serial urea breath test results in patients after consumption of antibiotics for non-gastric infections. World J Gastroenterol 2002; 8(4): 703-706
---