World J Gastroenterol.
Aug 15, 2002;
8(4): 694-698
Published online Aug 15, 2002. doi: 10.3748/wjg.v8.i4.694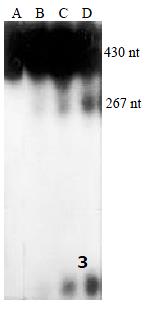 Figure 3 Results of trans-cleavage by RzC2.
A: HCV RNA 5'-NCR-C in the system without ribozymes; B, C, D: Results of HCV RNA 5'NCR-C trans-cleaved by RzC2 at 10, 30 and 90 min time points, respectively.
---
Citation: Yu YC, Mao Q, Gu CH, Li QF, Wang YM. Activity of HDV ribozymes to trans-cleave HCV RNA. World J Gastroenterol 2002; 8(4): 694-698
---