World J Gastroenterol.
Aug 15, 2002;
8(4): 686-693
Published online Aug 15, 2002. doi: 10.3748/wjg.v8.i4.686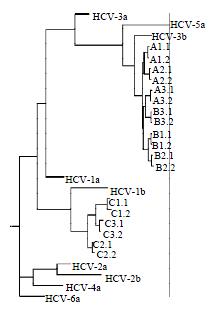 Figure 3 Unrooted tree showing the diversity of 372-nt E2/HVR1 sequences cloned from IDUs with HCV subtype 3b (A, B) and 1b (C).
Identifiers correspond to those in Table 1, followed by the timing of the specimen (as defined in Materials and Methods). Representative sequences obtained from the GenBank database are shown in bold type. The number and line at the bottom denote the proportion of nucleotides substituted for a given horizontal branch length. The dendrogram was producted using Neighor-joining program in the PHYLIP suite of programs.
---
Citation: Chen S, Wang YM. Genetic evolution of structural region of hepatitis C virus in primary infection. World J Gastroenterol 2002; 8(4): 686-693
---