World J Gastroenterol.
Dec 15, 1999;
5(6): 477-482
Published online Dec 15, 1999. doi: 10.3748/wjg.v5.i6.477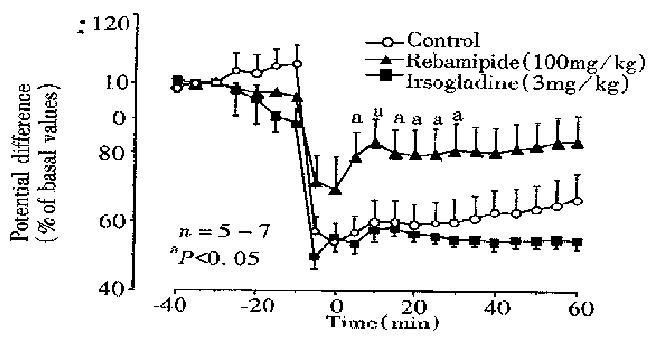 Figure 3 Effects of irsogladine and rebamipide on ch anges in transmucosal PD in response to NH2Cl in anesthetized rat stomachs. Th e stomach was mounted on an ex-vivo chamber, and NH2Cl (20 mM; 1 mL) was applied topically to the stomach for 10min. Irsogladine (3 mg/kg) or rebamipide (100 mg/kg) was applied to the chamber for 30 min, starting 20 min before exposure to NH2Cl. Data are presented as the mean ± SE of value sdetermined every 5 min from 5-7 rats. aStatistically significant differen ce from control, P < 0.05.
---
Citation: Yamamoto H, Umeda M, Mizoguchi H, Kato S, Takeuchi K. Protective effect of Irsogladine on monochloramine induced gastric mucosal lesions in rats: a comparative study with rebamipide. World J Gastroenterol 1999; 5(6): 477-482
---