Copyright
©The Author(s) 2023.
Published by Baishideng Publishing Group Inc. All rights reserved.
COVID-19-induced transaminitis and hyperbilirubinemia: Presentation and outcomes
Zeinab Nabil Ahmed Said, Department of Medical Microbiology and Immunology, Faculty of Medicine (For Girls), Al-Azhar University, Cairo 11754, Nasr City, Egypt
Safinaz Adel El Habashy, Department of Pediatrics, Ain Shams University, Cairo 11391, Abbaseia, Egypt
Samy Zaky, Department of Hepato-gastroenterology and Infectious Diseases, Faculty of Medicine (For Girls), Al-Azhar University, Cairo 11754, Egypt
Author contributions: Said ZNA, El Habashy SA, and Zaky S contributed equally to this work; All authors have read and agreed to the published version of the manuscript.
Conflict-of-interest statement: All the authors report no relevant conflicts of interest for this article.
Open-Access
: This article is an open-access article that was selected by an in-house editor and fully peer-reviewed by external reviewers. It is distributed in accordance with the Creative Commons Attribution NonCommercial (CC BY-NC 4.0) license, which permits others to distribute, remix, adapt, build upon this work non-commercially, and license their derivative works on different terms, provided the original work is properly cited and the use is non-commercial. See:
https://creativecommons.org/Licenses/by-nc/4.0/
Corresponding author: Zeinab Nabil Ahmed Said, PhD, Additional Professor, Medical Microbiology and Immunology, Faculty of Medicine (For Girls), Al-Azhar University, Elshenawy St., Cairo 11754, Nasr City, Egypt. znabil58@yahoo.com
Received: September 10, 2022
Peer-review started: September 10, 2022
First decision: November 17, 2022
Revised: December 29, 2022
Accepted: February 13, 2023
Article in press: February 13, 2023
Published online: February 21, 2023

The risk of liver injury in patients with coronavirus disease 2019 (COVID-19) infection is quite evident. Furthermore, liver function test abnormalities are still detected in COVID-19 patients despite the development of antivirals and the availability of several types of vaccines. This editorial describes liver involvement during COVID-19 infection in patients with or without preexisting liver injury, such as chronic liver disease, to elucidate COVID-19-induced liver function abnormalities and their severity, pathophysiology, clinical manifestations, and clinical and laboratory outcomes. We also discuss the effect of vaccination against COVID-19 to better understand host factors, such as age, gender, and race, on the incidence and severity of liver dysfunction at initial presentation and during the illness. Finally, we summarize the results of relevant meta-analyses published to date and highlight the importance of adequate liver function monitoring in the current climate of the overwhelming COVID-19 pandemic.
Core Tip: Recent evidence confirmed coronavirus disease 2019-induced liver function test abnormalities in patients with or without preexisting liver injury. Understanding the mechanism and recognizing the clinical picture, as well as identifying the risk factors for developing such abnormalities, will pave the way for early diagnosis and better management of such cases.
---
Citation: Said ZNA, El Habashy SA, Zaky S, ESCMID Study Group for Viral Hepatitis. COVID-19-induced transaminitis and hyperbilirubinemia: Presentation and outcomes. World J Gastroenterol 2023; 29(7): 1123-1130
---
INTRODUCTION
The continuing evolution of coronavirus disease 2019 (COVID-19) has led to the identification of a wide spectrum of associated symptoms, ranging from asymptomatic disease to severe manifestations that resulted in acute respiratory distress syndrome, respiratory failure, or multiple organ dysfunctions with risk of thrombosis and death[1,2]. Accumulating evidence indicates an association between COVID-19 infection and liver function test (LFT) abnormalities, and there have been many reports of liver injury, even in those without pre-existing liver disease[3-5]. It was shown that COVID-19 binds to angiotensin-converting enzyme 2 (ACE2) receptors (part of the renin–angiotensin system) to gain entry and damage the target organ[2]. Since ACE2 receptors are found in both bile duct epithelial cells (cholangiocytes) and liver cells (hepatocytes)[4], the liver is a potential target for direct infection. COVID-19 liver infection is related to disease severity and older age[5], and LFTs usually reveal a cholestatic or hepatocellular pattern[6]. Thus, a more detailed understanding of host factors including underlying comorbidities, in addition to adequate monitoring of patients with liver damage, is mandatory in the current overwhelming COVID-19 pandemic[7].
INCIDENCE OF COVID-19-INDUCED LIVER DYSFUNCTION
Sun et al[8] defined COVID-19-related liver injury as any liver damage occurring during disease progression and treatment in patients with or without pre-existing liver disease. The reported incidence of LFT abnormalities observed with COVID-19 is variable. A recent meta-analysis of 107 studies consisting of 20874 COVID-19-positive patients reported the pooled incidence of elevated liver enzymes at presentation as 23.1%[9]. A similar frequency was reported in another meta-analysis, where abnormal aminotransferase levels were present in 24% of 17776 patients[10]. Most enzyme elevations associated with COVID-19 infection are transient and self-limited[8]. Notably, elevated aminotransferase levels were reported in 14%–58% of hospitalized patients with COVID-19[4,11]. Additionally, the pooled prevalence of elevated alanine transaminase (ALT), aspartate transaminase (AST), and total bilirubin were evaluated as 21% (14%–29%),18% (13%–25%), and 6% (3%–11%), respectively[12]. Males are at high risk of getting acute liver injury related to COVID-19 than females since it was reported that bilirubin, ALT, alkaline phosphatase (ALP), and gamma-glutamyl transferase values were higher in male patients with COVID-19[13,14]. Regarding age, a meta-analysis by Kulkarni et al[10] revealed that the incidence of elevated liver enzymes in children (> 10 years) was 17.8% [95% confidence interval (CI): 9.9–29.8] among 283 patients, meanwhile, in adults it was 24.1% (95%CI: 20–28.8) among 12756 patients. There was also a significant difference in the prevalence of liver injury among different races and ethnicities. On adjusted analyses, white patients were less likely to develop liver injury compared with Asian patients (OR: 1.65, 95%CI: 1.37–2.02) and multiracial patients (OR: 1.65, 95%CI: 1.37–2.02). Those with a non-Hispanic ethnicity had a lower association with sustaining liver injury (OR: 0.77, 95%CI: 0.75–1.03)[15].
PATHOPHYSIOLOGY
The detailed mechanism of liver injury in COVID-19 infection remains unclear. Several possibilities involving a combination of direct viral-mediated effects due to viral replication within hepatocytes[8,9,16] and the viral-induced cytokine storm have been postulated[8,17]. Remarkably, severe acute respiratory syndrome coronavirus-1 RNA was detected in liver tissue from SARS-infected patients, although viral inclusions were not detected under electron microscopy[18]. Viral entry occurs through ACE2 receptors, which are expressed on many cell types, including hepatocytes and cholangiocytes[9,19]. Increased ACE2 expression in cholangiocytes (59.7% of cells) and, to a lesser extent, hepatocytes (2.6% of cells) confirms that severe acute respiratory syndrome coronavirus-2 (SARS-CoV-2) infection alters liver function by direct cytotoxicity due to continuous viral replication[20]. However, severe SARS-CoV-2 infection results in a clinical state resembling sepsis due to the massive release of cytokines, which may progress to apoptosis and necrosis of infected cells, resulting in multiorgan failure late in the course of the disease[21]. Immune-mediated injury is supported by a marked rise in serum ferritin, lactate dehydrogenase, interleukin (IL)-2, and IL-6[6,19]. Pneumonia-associated hypoxia or ischemic hepatitis due to prolonged hypotension/shock is also speculated[5,6,8,9,16]. Exposure to hepatotoxic agents must be considered since drug-induced hepatotoxicity varies with age, sex, and race[22]. Antiviral agents directed against COVID-19 (e.g., lopinavir or ritonavir), antibiotics used against bacterial infections, antipyretics, anticoagulants, and steroids may also cause liver function deterioration[23,24]. Additionally, underlying liver disease is considered a risk factor.
CLINICAL/LABORATORY MANIFESTATIONS
COVID-19-related liver injury may manifest as hepatobiliary symptoms and elevated liver enzymes. Among patients with COVID-19, liver symptoms are not atypical and may be present without any respiratory symptoms. Furthermore, hepatic symptoms are associated with worse clinical outcomes and an increased risk of mortality[25]. The incidence of a worse clinical outcome is high in hospitalized COVID-19 patients who suffer from jaundice. Additionally, the intensive care unit (ICU) admission rate is approximately 2.5 times higher for patients with hepatic jaundice (P < 0.001), mainly due to complicated bacterial sepsis or severe systemic inflammation[26].
Patients with COVID-19, both with and without pre-existing liver disease, may have elevated aminotransferase levels. A mixed pattern of both hepatocellular and cholestatic affection, without significant liver synthetic dysfunction has been reported, although ACE2 receptors are more frequently expressed on cholangiocytes than hepatocytes[4,27]. There is usually a greater elevation of AST than ALT levels, and this pattern has been associated with disease severity. Additionally, both ALT and AST are more usually elevated than bilirubin or ALP[28,29]. Sun et al[8] categorized the degree of liver damage as mild if ALT was elevated < 2 × upper limit of normal (ULN), moderate if 2 × < ALT < 5 × ULN, and severe if ALT > 5 × ULN. However, lower AST/ALT ratios may be more specific for hepatic injury[6]. A retrospective study evaluating the levels of hepatic enzymes of 1827 COVID-19 patients at admission and during hospitalization demonstrated abnormal levels of AST (66.9%), ALT (41.6%), and ALP (13.5%) at admission with peaks of AST (83.4%), ALT (61.6%), and ALP (80%) during hospitalization[30]. Another retrospective cohort study on 230 Covid-19 positive patients showed that the prevalence of abnormal liver enzymes among those with severe COVID-19 infection were as follows: AST (77%), ALT (49%), gamma glutamyl transpeptidase (GT) (37%), and ALP (12%). A severe COVID-19 infection was more likely present in patients with abnormal levels of AST (P = 0.015), gamma GT (P = 0.022), and ALP (P = 0.03)[31].
Regarding age, children appear to have a milder illness with significantly less need for inpatient admission or respiratory support and are less likely to have the multiple comorbidities present in older adults. Hepatitis is common in children with multisystem inflammatory syndrome and is associated with a more severe presentation and persistent elevation of LFTs in many patients[32]. Furthermore, older patients are more likely to develop more severe COVID-19 and at greater risk of abnormal liver function. The latter is more common in patients with severe or critical presentations of COVID-19[5]. In pregnant women with COVID-19, observational studies showed an increased prevalence of preeclampsia and hemolysis, elevated liver enzymes and low platelet (HELLP) syndrome. Despite a possible pathophysiology linkage between COVID-19 and HELLP syndrome, the evidence on temporality to prove a causal association between SARS-CoV-2 infection and HELLP syndrome is still insufficient[33].
A cohort study reported that acute liver injury with a hepatocellular pattern was common in patients who tested positive for SARS-CoV-2 but was usually mild[16]. However, 6.4% of patients had a severe liver injury with a severe disease course, where elevated AST levels may be indirect indicators of multiorgan involvement[34]. There is also a recent case report of a young male with COVID-19 who suffered from acute icteric hepatitis with a marked rise in bilirubin and liver transaminase levels without any respiratory symptoms[6]. Another case report found that COVID-19 infection could be a risk factor or comorbidity of acute liver failure, with only isolated hyperbilirubinemia indicating liver involvement[17]. Moreover, severe infections with COVID-19 followed by death were more often associated with hypertransaminasemia and high bilirubin levels compared with mild and moderate infections[14,35]. Patients with severe liver injury were more likely to need ICU-level care, intubation, and renal replacement therapy and showed a greater risk of in-hospital mortality[6,16,36]. A high bilirubin level and liver stiffness (measured using shear wave elastography) have been reported as correlated with more severe outcomes[37-39]. Liver injury and failure are frequently observed in critically ill cases, and their occurrence is associated with high morbidity and mortality[40-42]. Recently a potential link between Omicron variant infection and severe hepatitis of unknown etiology in children was observed, where it was postulated that previous infection or co-infection with SARS-CoV-2 increases the susceptibility to adenovirus infection[43]. Figure 1 summarizes the clinical and laboratory presentation of COVID-19-induced liver dysfunction.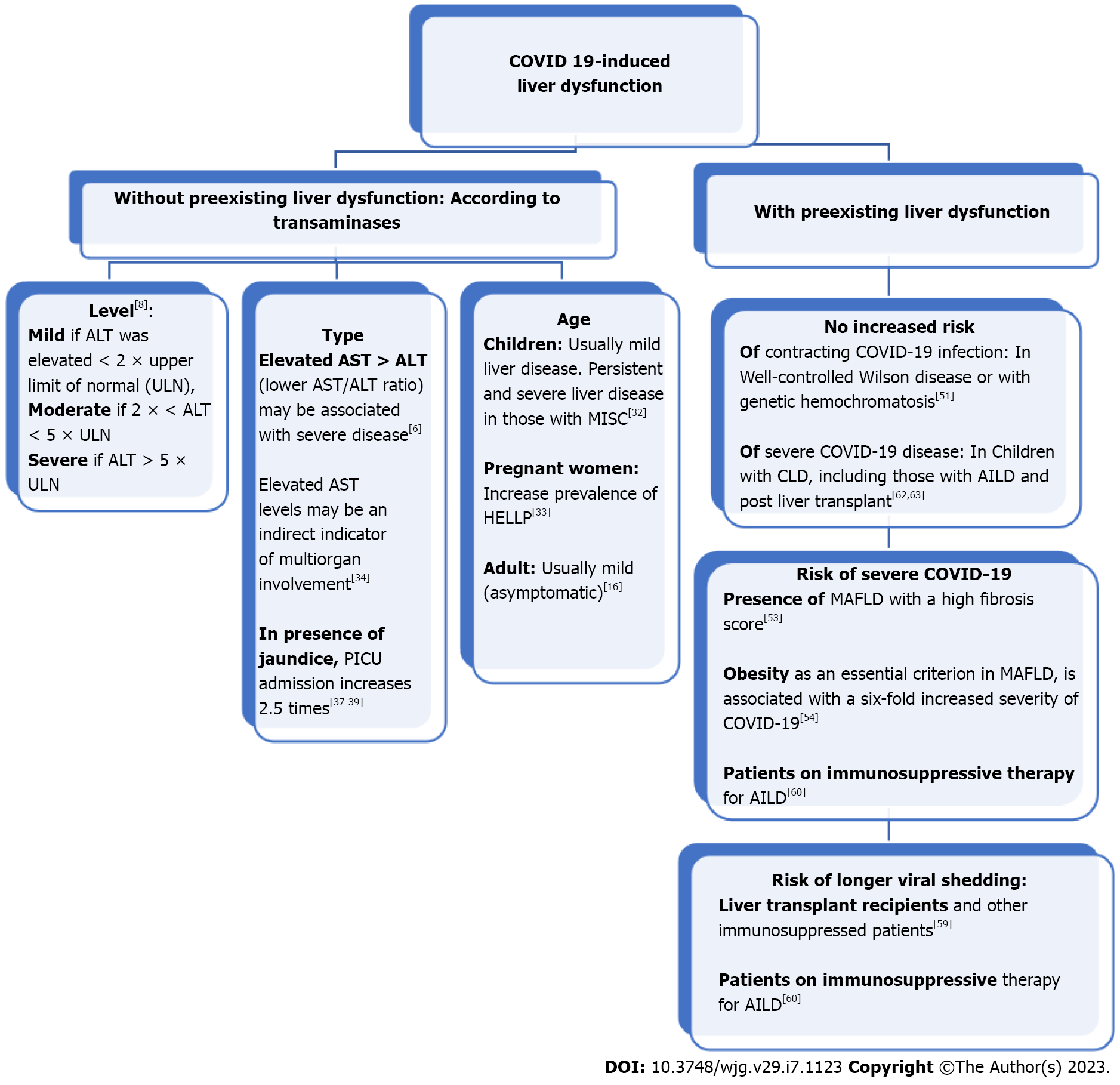 Figure 1 Summary of coronavirus disease 2019-induced liver dysfunction.
MAFLD: Metabolic-associated fatty liver disease; AILD: Autoimmune liver diseases; COVID-19: Coronavirus disease 2019; ALT: Alanine transaminase; ULN: Upper limit of normal; AST: Aspartate transaminase; PICU: Pediatric intensive care; CLD: Chronic liver disease; HELLP: Hemolysis, elevated liver enzymes and low platelet; MISC: Multisystem inflammatory syndrome of children.
COVID-19 IN- PATIENTS WITH PRE-EXISTING LIVER DISEASE
The impact of COVID-19 on chronic liver disease (CLD) is variable. Several studies have reported that patients with CLD, regardless of its etiology, may be at higher risk for severe illness from COVID-19[44-47]. A systematic review of 40 studies with 908032 participants (most of them from China and United States) showed that COVID-19 cases with CLD had significantly higher chance of having a severe form of COVID-19 (pooled OR: 2.44; 95%CI: 1.89–3.16) and death (pooled OR: 2.35; 95%CI: 1.85–3.00) when compared with COVID-19 cases without CLD[48]. A United States-based multicenter study reported a mortality rate of 12% in COVID-19 patients with pre-existing liver disease compared with 4% in those without[49]. Li et al[5] found that patients with underlying chronic hepatitis B virus infection suffered from a higher rate of severe or critical COVID-19 illness than mild/moderate illness (P < 0.0001). However, it remains unclear whether COVID-19 infection causes an already susceptible liver to fail or is just a risk factor for fulminant hepatic failure[21]. Acute and chronic liver failure related to COVID-19 infection has been shown in patients with decompensated alcoholic and non-alcoholic liver cirrhosis[50,51]. Whether cases with cirrhosis and COVID-19 are at higher risk of decompensation or development of acute-on-chronic liver failure, as has been reported for influenza infection, remains undetermined[52]. Notably, existence of metabolic-associated fatty liver disease (MAFLD) was considered an independent factor for the severity of COVID-19 in a series of non-diabetic COVID-19 infected cases, indicating an injurious bidirectional relationship between liver disease and COVID-19 infection[53]. Obesity is an essential criterion in MAFLD[54], and it was reported that the severity of COVID-19 showed a six-fold increase in obese patients with MAFLD[28]. Furthermore, patients with MAFLD and a high fibrosis score were more liable to suffer from severe COVID-19 disease, regardless the existing metabolic abnormalities[55]. Large amounts of IL-6 are produced in patients with severe COVID-19, particularly those with obesity, and this is considered a primary factor in triggering a systemic inflammatory response and cytokine storm, as well as multiple organ dysfunctions[53,56]. Moreover, there is altered secretion of inflammatory lipid mediators and a reduction in adiponectin levels in obese patients with MAFLD[57]. In patients with underlying advanced CLD, SARS-CoV-2 infection could lead to hepatorenal syndrome and liver transplantation[50]. Liver transplant recipients and other immunosuppressed patients who have COVID-19 may have a longer duration of viral shedding than non-immunosuppressed patients[58]. Additionally, Center for Disease Control and Prevention considers patients on immunosuppressive therapy for autoimmune liver diseases (AILD) are at high risk for severe COVID-19 disease and have prolonged viral shedding[59]. Meanwhile, patients with well-controlled Wilson disease or with genetic hemochromatosis showed no increased risk of having COVID-19 infection[60]. On the other hand, children with CLD, including those with AILD and post liver transplant, do not have an increased risk for severe COVID-19 disease, with little or no liver dysfunction[61,62]. It was found that the risk of mortality in COVID-19 patients is associated with the severity of the underlying liver diseases[45,57]. A recent meta-analysis based on confounding cofactors-controlled data demonstrated that cirrhosis was an independent risk factor for prediction of mortality associated with SARS-CoV-2 infection[63].
SARS-COV-2 VACCINATION AND LIVER DISEASE
Patients with CLD can receive a COVID-19 vaccination, although the immunogenicity and effectiveness of these vaccines have not been fully evaluated in this group of patients. However, vaccination has been associated with a lower risk of COVID-19-related infection and mortality in patients with cirrhosis[4,64]. Following COVID-19 vaccination, immune-mediated liver injury (ILI) is not well-characterized. A recent meta-analysis of 23 patients (mean age, 55.3 years) showed jaundice as the most common symptom (78.3%). Peak bilirubin, ALT, and ALP levels were 10.8 (6.8–14.8) mg/dL, 1106.5 (757.0–1702.5) U/L, and 229 (174.6–259.6) U/L, respectively. Histological examination showed intense portal lymphoplasmacytic infiltrate with interface hepatitis. The mean duration between receiving the vaccine dose (either first or second) and subsequent development of liver injury was 17.3 (11.2–23.4) d. Steroids were used in 86.9% of cases, and complete response, recovery, and death were reported in 56.5%, 39.1%, and 4.3% of cases, respectively. A temporal course between vaccination and the onset of liver injury was reported. Shroff et al[65] noted that most cases of severe liver injury were described after SARS-CoV-2 mRNA vaccines. Most cases occurred following the first vaccination dose, and two developed ILI following the second dose. Interestingly, there was one case of ILI after both doses of vaccine. It is also notable that pre-existing comorbidities (69.6%) were common, including liver disease in 26.1% and thyroid disorders in 13% of patients[66].
CONCLUSION
This editorial sheds light on liver involvement in COVID-19 patients with and without pre-existing liver injury. Further studies are necessary to elucidate the etiology and mechanism(s) of liver dysfunction associated with COVID-19 infection, particularly in patients aged less than 18 years. Liver function should be monitored carefully during COVID-19 infection.
Provenance and peer review: Invited article; Externally peer reviewed.
Peer-review model: Single blind
Specialty type: Gastroenterology and hepatology
Country/Territory of origin: Egypt
Peer-review report's scientific quality classification
Grade A (Excellent): 0
Grade B (Very good): B
Grade C (Good): C, C, C
Grade D (Fair): 0
Grade E (Poor): 0
P-Reviewer: Cure E, Turkey; Kumar I, India; Portillo R, Czech Republic; Singh M, United States S-Editor: Fan JR L-Editor: A P-Editor: Fan JR