Copyright
©The Author(s) 2023.
Published by Baishideng Publishing Group Inc. All rights reserved.
Advances and key focus areas in gastric cancer immunotherapy: A comprehensive scientometric and clinical trial review (1999-2023)
Yao-Nan Li, Rui Guo, Clinical Laboratory, The First Hospital of Jilin University, Changchun 130012, Jilin Province, China
Bin Xie, Ying Zhang, Yang Xing, Hong Wang, Cancer Center, The First Hospital of Jilin University, Changchun 130012, Jilin Province, China
Ming-Hua He, College of Computer Science and Technology, Jilin University, Changchun 130012, Jilin Province, China
Dong-Mei Mu, Division of Clinical Research, The First Hospital of Jilin University, Changchun 130012, Jilin Province, China
Author contributions: Wang H and Guo R conceived the study and critically revised the manuscript; Li YN designed the study, performed statistical analyses, and drafted the manuscript; Xie B, Zhang Y, He MH, Mu DM, and Wang H designed the study and wrote the manuscript; Li YN, Guo R, and Wang H performed article retrieval and data interpretation; Mu DM conducted statistical assessment; and all the authors have read and agreed to the final version of the manuscript.
Supported by Natural Science Foundation of China, No. 81500116 and 81601449; and Jilin Science and Technique, No. 20200201472JC and YDZJ202301ZYTS092.
Conflict-of-interest statement: All the authors report no relevant conflicts of interest for this article.
PRISMA 2009 Checklist statement: The authors have read the PRISMA 2009 Checklist, and the manuscript was prepared and revised according to the PRISMA 2009 Checklist.
Open-Access
: This article is an open-access article that was selected by an in-house editor and fully peer-reviewed by external reviewers. It is distributed in accordance with the Creative Commons Attribution NonCommercial (CC BY-NC 4.0) license, which permits others to distribute, remix, adapt, build upon this work non-commercially, and license their derivative works on different terms, provided the original work is properly cited and the use is non-commercial. See:
https://creativecommons.org/Licenses/by-nc/4.0/
Corresponding author: Rui Guo, MD, Associate Professor, Clinical Laboratory, The First Hospital of Jilin University, No. 1 Xinmin Street, Chaoyang District, Changchun 130012, Jilin Province, China. guoruijdyy@jlu.edu.cn
Received: August 28, 2023
Peer-review started: August 28, 2023
First decision: September 11, 2023
Revised: September 25, 2023
Accepted: October 17, 2023
Article in press: October 17, 2023
Published online: October 28, 2023

BACKGROUND
Gastric cancer (GC) is the sixth most common cancer and third leading cause of cancer-related deaths worldwide. Current treatments mainly rely on surgery- and chemotherapy-based systemic; however, the prognosis remains poor for advanced disease. Recent studies have suggested that immunotherapy has significant potential in cancer therapy; thus, GC immunotherapy may improve quality of life and survival for patients with this disease.
AIM
To provide a comprehensive overview of the knowledge structure and research hotspots of GC immunotherapy.
METHODS
We conducted a bibliometric analysis of publications on immunotherapy related to GC in the Web of Science Core Collection database. We analyzed 2013 pub-lications from 1999 to February 1, 2023, using the VOSviewer and CiteSpace software. We assessed publication and citation distributions using the WoS platform and explored research countries, institutions, journals, authors, references, and keywords (co-occurrence, timeline view, and burst analysis). In addition, we examined 228 trials on immunotherapy, 137 on adoptive cell therapy, 274 on immune checkpoint inhibitors (ICIs), and 23 on vaccines from ClinicalTrials.gov and the International Clinical Trials Registry Platform. The Impact Index Per Article for the top ten high-cited papers collected from Reference Citation Analysis (RCA) are presented.
RESULTS
Our bibliometric analysis revealed that the study of immunotherapy in GC has developed rapidly in recent years. China accounted for almost half the publications, followed by the United States. The number of publications in recent years has been growing continuously, and most institutions and authors with the most publications are from China. The main keywords or clusters identified were "tumor microenvironment", "adoptive immunotherapy", "dendritic therapy", and "microsatellite instability".
CONCLUSION
Our analysis of 2013 publications indicated that immunotherapy for GC has led to several new developments in recent years. Considerable progress has been made in vaccinations, immune checkpoint therapy, and adoptive cellular therapy. In particular, ICIs and chimeric antigen receptor T-cells are novel options for the treatment of GC. We suggest that the combination of ICIs, chemotherapy, targeted therapy, and other immunotherapies should be the primary research direction in the future.
Core Tip: In this study, we systematically analyzed studies related to immunotherapy for gastric cancer (GC). We used scientometrics to explore research hotspots in the field and summarize the current developmental status of GC immunotherapy, as well as the advantages and disadvantages of different immunotherapy modalities. We also compiled information on ongoing clinical trials and predicted future developmental trends in this field based on the direction and stage of these trials. This research can help advance our understanding of the latest progress and future development trends in the field, as well as provide scientific research recommendations.
---
Citation: Li YN, Xie B, Zhang Y, He MH, Xing Y, Mu DM, Wang H, Guo R. Advances and key focus areas in gastric cancer immunotherapy: A comprehensive scientometric and clinical trial review (1999-2023). World J Gastroenterol 2023; 29(40): 5593-5617
---
INTRODUCTION
Gastric cancer (GC) is the sixth most prevalent cancer and the third leading cause of cancer-related fatalities worldwide, thus presenting a significant global health concern[1]. The incidence rates of GC are highest in Eastern Europe and Eastern Asia, and it remains the most prevalent cancer and the leading cause of cancer-related deaths in specific regions of South and Central Asia[2]. Despite a trend toward decreasing morbidity and mortality rates in several countries and regions, GC continues to be a substantial health burden[3]. Numerous factors have been established to contribute to the pathogenesis of GC, including family history, dietary habits, smoking, and Helicobacter pylori or Epstein-Barr virus (EBV) infection[4]. GC can be categorized into four distinct molecular subgroups based on the patterns of molecular alterations, with each subgroup corresponding to a different disease progression and prognosis: (1) Microsatellite stable/epithelial-mesenchymal transition; (2) Microsatellite instability (MSI); (3) Tumor protein 53 (TP53)-active; and (4) TP53-inactive types[5].
Owing to its predominantly asymptomatic nature, early detection of GC poses a significant challenge, with > 50% of patients being diagnosed after the cancer has already metastasized[6,7]. The prognosis of advanced GC remains dismal; the five-year overall survival (OS) rate is < 5% and the median OS is approximately 8 mo[8-10]. Although surgery remains the primary curative approach, chemotherapy forms the foundation of treatment for metastatic GC, with multimodal therapy employed to enhance survival outcomes[9]. However, the efficacy of conventional treatments, including surgery, radiotherapy, chemotherapy, and anti-human epidermal growth factor receptor-2 (HER2) therapy, in combating this lethal disease[11].
Surgery, chemotherapy, radiation therapy, and targeted therapy have long been considered the four pillars of GC management; however, immunotherapy has recently emerged as a promising "fifth pillar", and its use is rapidly expanding[12]. For cases of unresectable locally advanced, recurrent, or metastatic GC, a combination therapy of anti-HER2, chemotherapy, and optional pembrolizumab is preferred for HER2-positive diseases, with the inclusion of pembrolizumab demonstrating a high objective response rate (ORR)[13]. Irrespective of HER2 status, nivolumab [for programmed death-ligand 1 (PD-L1) CPS ≥ 5] is recommended as part of systemic treatment regimens[14]. Currently, there are four principal strategies for tumor immunotherapy: Immune checkpoint inhibitors (ICIs), tumor vaccines, adoptive immunotherapy, and nonspecific immunomodulators. With advancements in the understanding of the tumor microenvironment (TME), immunotherapy for advanced GC has evolved rapidly, demonstrating superior efficacy and tolerable toxicity compared to traditional therapies, leading to the rapidly increasing use of ICIs[7]. As most GCs are relatively resistant to ICI monotherapy, patients may benefit from combination therapy to achieve enhanced therapeutic effects[15]. Multiple studies have demonstrated that immunotherapy combined with conventional therapy provides superior efficacy compared with monotherapy[16]. Although immunotherapy holds promise for the treatment of GC, the complexity of the immune microenvironment and the heterogeneity of immunogenicity present significant challenges that require further investigation[17].
Chemotherapies for patients with locally advanced or metastatic GC include S-1 + oxaliplatin, docetaxel + oxaliplatin + fluorouracil, docetaxel + oxaliplatin + S-1 (DOS), capecitabine + oxaliplatin (XELOX), and folinic acid/5-fluorouracil/oxaliplatin chemotherapy (FOLFOX). Trastuzumab or pembrolizumab should be added to first-line chemotherapy for patients with HER2 overexpression-positive GC[18,19]. There are two commonly used combinations: Trastuzumab combined with a fluoropyrimidine and a platinum agent and a combination of trastuzumab, pembrolizumab, and XELOX/PF. Regimens for HER2-negative disease include nivolumab, cindilimab, and tislelizumab combined with first-line chemotherapy[20]. Docetaxel, cisplatin, 5-fluorouracil (DCF), modified DCF, and POF also exhibit promising activity. The selection of regimens for second-line or subsequent therapy depends on prior therapy and performance status. Ramucirumab combined with paclitaxel is the preferred second-line or subsequent therapy[19]. Single-agent docetaxel, paclitaxel, irinotecan, albumin-paclitaxel, pembrolizumab, nivolumab, vedicitumab, and apatinib mesylate have also been used as second-line or subsequent therapies. Although there is currently a relatively complete treatment plan, the OS of patients remains short. Therefore, more effective treatment options are required. Based on traditional treatment, explore combination therapy with immunotherapy, subdivide the population, and improve curative effects.
Recent phase I/II trials focusing on the perioperative use of ICIs in combination with chemotherapy for resectable locally advanced gastric/gastroesophageal junction cancer (GC/GEJC) have yielded positive results, thus expanding the potential applications of ICIs in GC management[21]. The addition of sintilimab to chemotherapy has demonstrated encouraging pathological complete response (pCR) and major pathological response rates as a perioperative treatment for resectable locally advanced GC/GEJC with manageable safety profiles. In a phase II study, durvalumab combined with DOS as neoadjuvant chemotherapy reached its primary efficacy endpoint, confirming a pCR in 29.0% of the patients (9 of 31) with acceptable toxicity (safety endpoint < 20%)[22]. In a separate multicenter, single-arm, multi-cohort, phase II trial of tremelimumab and durvalumab as neoadjuvant treatments in patients with MSI-high (MSI-H) resectable gastric adenocarcinoma/gastroesophageal junction adenocarcinoma (GAC/GEJAC; NCT04817826), a pCR rate of 60% (9 of 15) and a major-complete pathological response rate of 18% (< 10% viable cells) were achieved[23].
Bibliometrics is a methodological approach that encompasses the analysis and summary of data produced within a specific timeframe. It offers invaluable insights into scientific productivity, behavior, and advancements within the research domain[24]. The objective of this study was to employ bibliometric analysis to elucidate the current status and emergent trends in the field of GC immunotherapy research.
MATERIALS AND METHODS
This analysis was conducted on February 1, 2023, and searched the Web of Science Core Collection (WoSCC) and Science Citation Index Expanded. The retrieval terms in the topic: ("gastric cancer" OR "gastric adenocarcinoma" OR "gastric neoplasm" OR "gastric tumor" OR "stomach cancer" OR "stomach adenocarcinoma" OR "stomach neoplasm" OR "stomach tumor" OR "gastric cancers" OR "gastric adenocarcinoma" OR "gastric neoplasms" OR "gastric tumors" OR "stomach cancers" OR "stomach adenocarcinoma" OR "stomach neoplasms" OR "stomach tumors" OR "tumor of stomach") AND ("immunotherapeutic" OR "immunotherapy" OR "immunotherapies" OR "immunotherapeutics"). Types of documents: Article and review. Finally, the information for a total of 2013 documents was downloaded as Plain Text Files and Tab Delimited Files, and full records and cited references were included. All duplicate records were removed. All documents published in 2013 were included in the analysis.
We searched ClinicalTrials. gov and the International Clinical Trials Registry Platform (ICTRP) (clinical). The retrieval terms: ("gastric cancer" OR "gastric adenocarcinoma" OR "gastric neoplasm" OR "gastric tumor" OR "stomach cancer" OR "stomach adenocarcinoma" OR "stomach neoplasm" OR "stomach tumor") AND ("immunotherapy"). There were 228 registered clinical trials, 25 of which were completed, and 113 were recruiting or not yet recruiting. We searched for some of the main immunotherapies in clinical trials using these two platforms. The research strategy: ("dendritic cells" OR "DNA vaccine" OR "RNA vaccine") AND "gastric cancer" for vaccine clinical trials; (ACT OR TIL OR TCR-T OR CAR-T OR TCR T OR CAR T OR NK OR CIK) AND "gastric cancer" for ACT clinical trials; (ICI OR PD-1 OR PD-L1 OR CTLA-4) AND "gastric cancer" for ICI clinical trials. In total, 274, 137, and 23 clinical trials were incorporated, respectively. These retrievals were conducted on February 19, 2023.
We used CiteSpace (6.1.6) and VOSviewer (1.6.18) to analyze the data. Plain Text Files were analyzed using CiteSpace, and Tab Delimited Files were analyzed using the VOSviewer. CiteSpace made time slicings for the original files from January 1999 to December 2023 with 1 year per slice, and qualified records from 2012 were analyzed. The literature search and screening processes are illustrated in Figure 1. The Citation Report of WoS on February 1, 2023, provided the number of publications and citations annually. The figures used in this study were mapped using CiteSpace, VOSviewer, and Excel.
RESULTS
Bibliometric analysis
Annual distribution of publications and citations: The spatial-temporal distribution of scholarly publications has been demonstrating a noteworthy ascending trajectory. As per the WoSCC, the 2013 documents collectively garnered 45700 citations, averaging 22.7 citations per document until February 1, 2023. The H-index was 86, indicating that 86 documents each received over 86 citations. Figure 2A illustrates the annual distribution of publications and citations. Only 22 publications were released in 1999, with the number fluctuating between 9 and 42 from 1999 to 2015. However, starting in 2016, the number of publications experienced steady and significant growth, reaching 552 in 2022. Although there were only seven citations in 1999, this figure escalated to 11382 in 2022, marking 23 years of consistent growth. We adopted the regression model y = 0.0012x5 - 0.0624x4 + 1.151x3 - 9.1536x2 + 29.142x - 10.867 (R² = 0.9928) to show how the number of publications in this field changed over time and forecast it in the following year.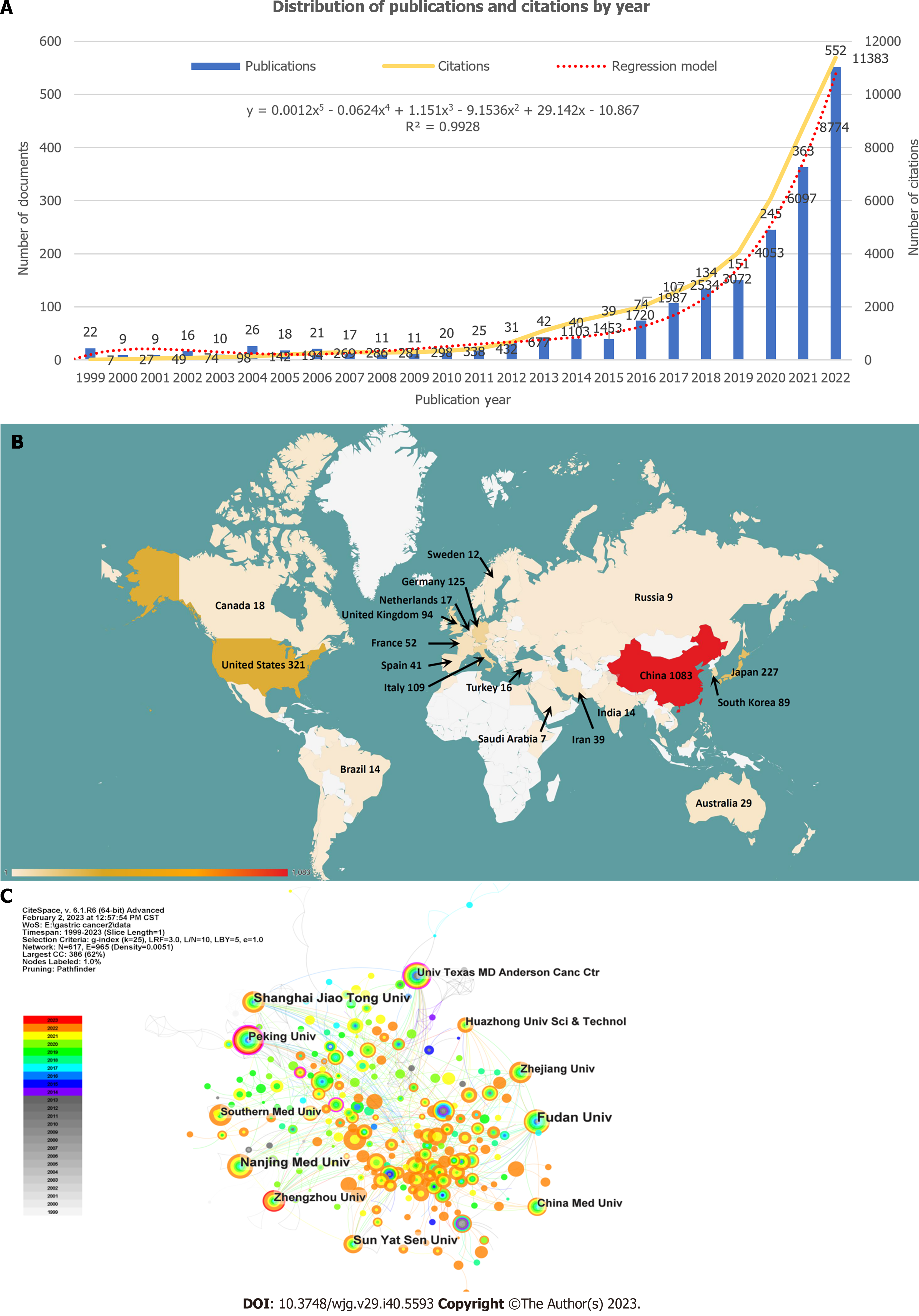 Figure 2 Annual distribution of publications and citations, geographical visualization, and institutions analysis. A: Distribution of publications and citations by year. The regression formula is y = 0.0012x5 - 0.0624x4 + 1.151x3 - 9.1536x2 + 29.142x - 10.867, R² = 0.9928; B: Geographical visualization of publications for immunotherapy in gastric cancer; C: Co-occurrence map of the research institutions.
Related countries and institutions: The CiteSpace analysis revealed that contributions to publications in this field originated from 72 countries and 617 institutions, as depicted in Figures 2B and C. Of these, 26 countries and 58 institutions contributed ten or more publications. China had the highest number of publications (n = 1070), representing 53.2% of the total, which was significantly higher than that of other countries. The United States was second with 321 publications (16.0 %), followed by Japan (n = 227, 11.3%), Germany (n = 125, 6.2%), and Italy (n = 109, 5.4%). The top ten institutions with the highest number of publications were located in China, five of which were Fudan University (n = 85), Nanjing Medical University (n = 64), Shanghai Jiao Tong University (n = 64), Sun Yat-sen University (n = 52), and Zhengzhou University (n = 43).
Journals: The 2013 analyzed documents were disseminated across 532 journals, with those comprising at least five documents incorporated into Figure 3A using the VOSviewer. The nodes exhibiting high brightness in this figure denote a higher frequency of occurrence. Frontiers in Oncology led the list with 104 documents, followed by Frontiers in Immunotherapy (n = 78) and Cancers (n = 69). Additionally, we conducted a co-citation analysis of the cited journals. These articles cited 5445 journals, and we analyzed 102 journals that received at least 200 citations (Figure 3B). The Journal of Clinical Oncology garnered the highest number of citations (n = 5044), followed by Cancer Research, with 3018 citations.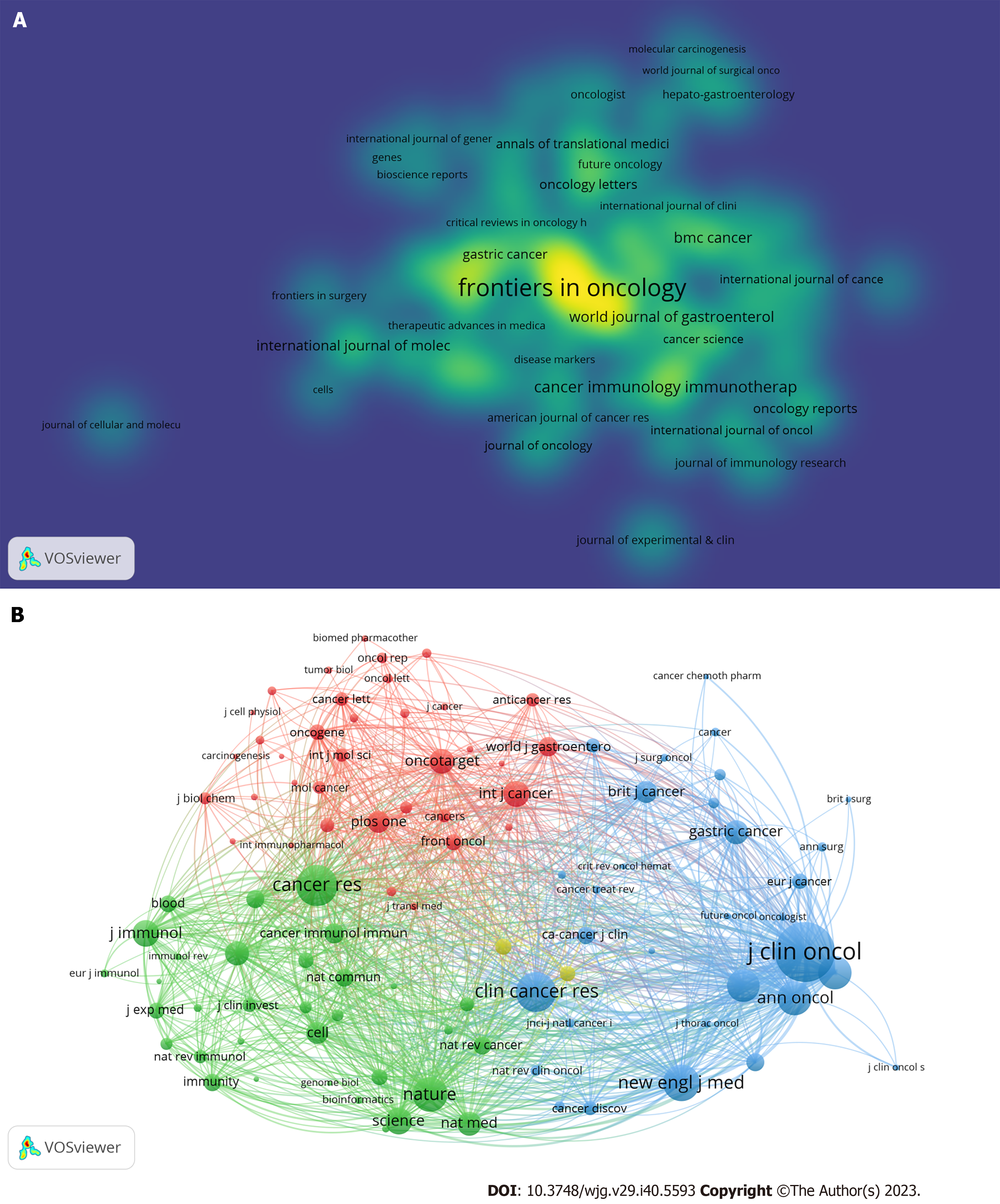 Figure 3 The visualization of journals.
A: Journals with at least five publications in this field; B: Highly cited journals in this field.
Authors: After excluding documents coauthored by more than 25 authors, we identified 11730 authors across the documents. Only authors with at least five publications were considered, resulting in an analysis of 212 authors who fulfilled the criteria (Figure 4A). In the VOSviewer analysis, Lin Shen had the highest number of publications (525 citations across 25 documents), followed by Hao Liu coming with the second highest number (444 citations across 24 documents). Regarding citations, Sakamoto Junichi had the most citations (810 citations across 6 documents), followed by Xin Wang (705 citations across seven documents). Thirty authors had at least 10 publications in this field, and 17 authors garnered over 400 citations.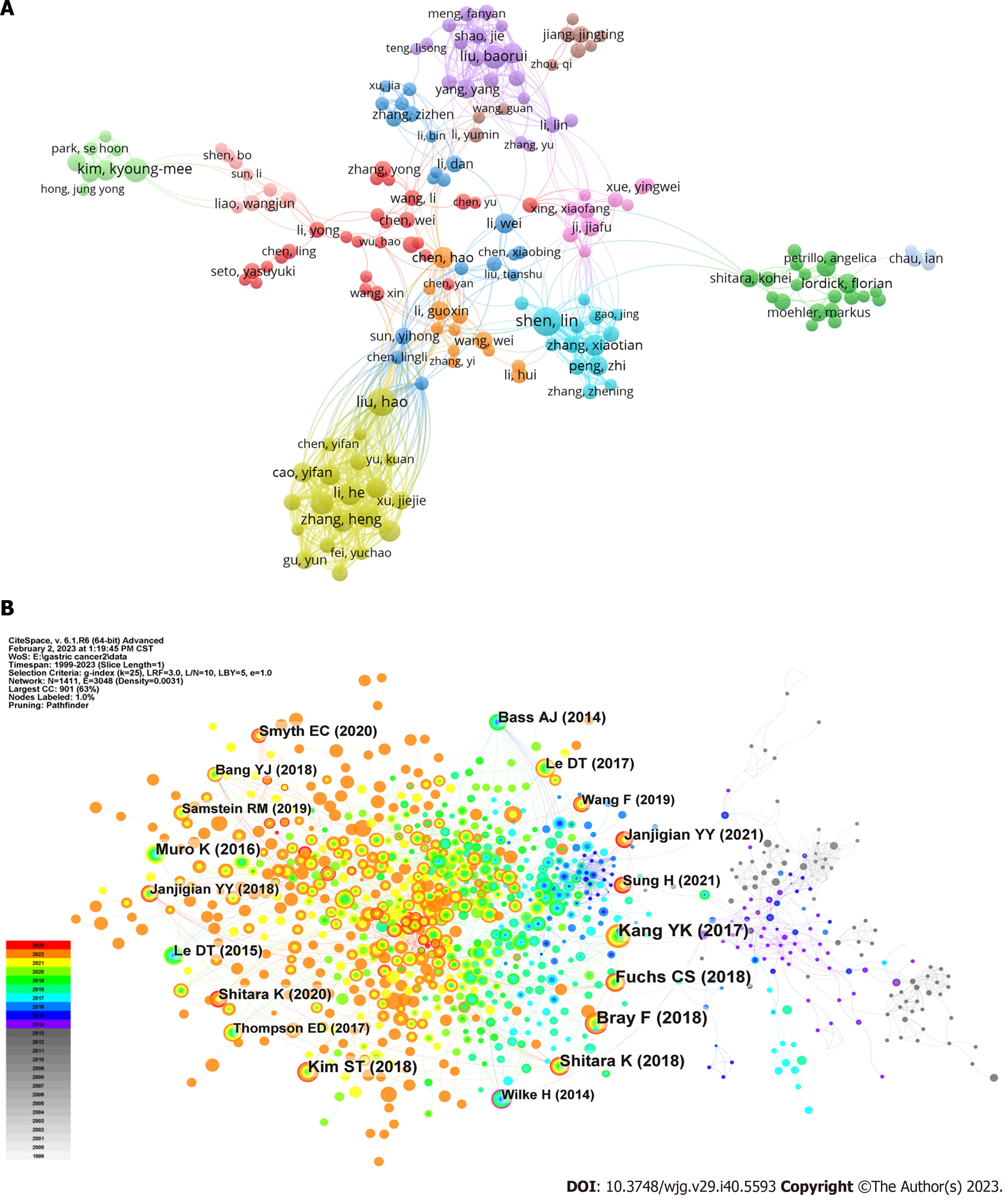 Figure 4 The visualization of authors.
A: Network map of researching authors who had at least five publications; B: Citation analysis of references. Highly cited references are marked by author and publication year.
References: Table 1 shows the ten most frequently co-cited articles based on citation frequency data retrieved from WoS as of February 1, 2023. Seven of these articles were disseminated in the past seven years, and the majority of the highly cited documents had recent publication dates, suggesting a swift progression in this field (Figure 4B). The clinical trial spearheaded by Brahmer et al[25], illustrating the induction of tumor regression through an antibody-mediated PD-L1 blockade, amassed 5555 citations, which is significantly more than that of all other articles. This trial, published in the New England Journal of Medicine in 2012, experienced a citation surge from 2014 to 2017, exhibiting a strength of 15.45 (Figure 5A). Two additional articles focused on programmed cell death protein 1 (PD-1) or PD-L1, a topic that continues to garner significant attention[26,27]. The second most cited article, also a clinical trial, validated the efficacy of pembrolizumab in patients with advanced triple-negative breast cancer by evaluating its safety and antitumor activity[28]. The remaining articles in this table pertained to the TME, adjuvant chemotherapy, or review articles. The impact index per article of the top ten articles ranged from 30.8 to 524.5, which is also shown in Table 1.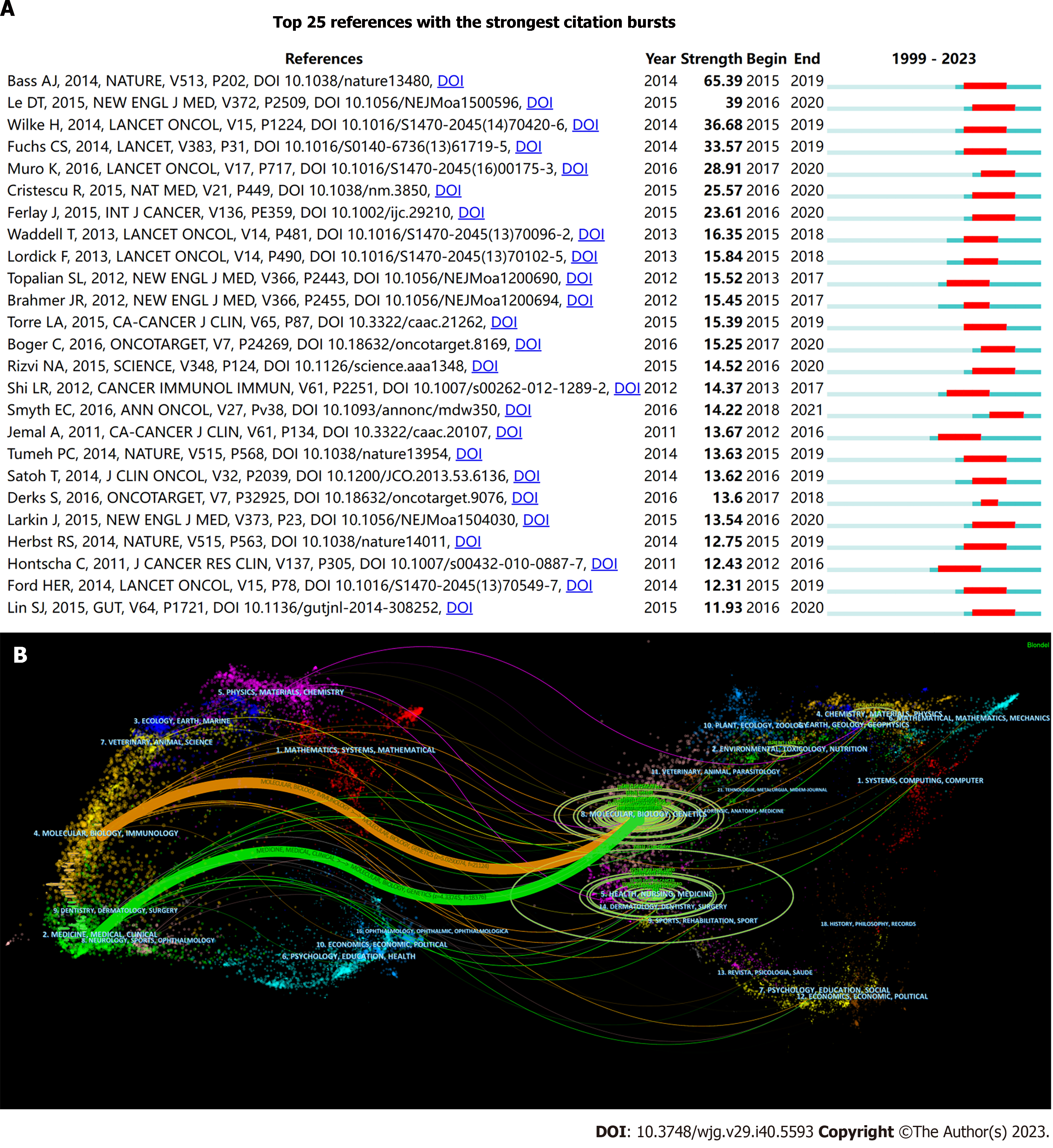 Figure 5 References burst analysis and dual-map overlay of journals.
A: Top 25 references with the strongest citation bursts are sorted by strength; B: Dual-map overlay of journals. The colored curve represents the reference path; the nature of each region is defined by the journal of the corresponding region.
    

---

Title

---

Year

---

Type

---

First author

---

Journal

---

IF (2021)

---

JCR

---

Co-citation

---

DOI

---

Impact index per article

---

1
Safety and Activity of Anti-PD-L1 Antibody in Patients with Advanced Cancer
2012
Clinical trial
Brahmer JR
N Engl J Med
176.08
Q1
5555
10.1056/NEJMoa1200694
524.5
2
Pembrolizumab in Patients With Advanced Triple-Negative Breast Cancer: Phase Ib KEYNOTE-012 Study
2016
Clinical trial
Nanda R
J Clin Oncol
50.72
Q1
1297
10.1200/JCO.2015.64.8931
133.7
3
Benefit of Adjuvant Chemotherapy for Resectable Gastric Cancer A Meta-analysis
2010
Review
Paoletti X
JAMA
157.34
Q1
604
10.1001/jama.2010.534
47.9
4
Progress in the treatment of advanced gastric cancer
2017
Review
Song ZY
Tumour Biol
3.65 (2016)
Q2
490
10.1177/1010428317714626
75.7
5
m(6)A regulator-mediated methylation modification patterns and tumor microenvironment infiltration characterization in gastric cancer
2020
Article
Zhang B
Mol Cancer
41.44
Q1
442
10.1186/s12943-020-01170-0
134.0
6
PD-1(+) regulatory T cells amplified by PD-1 blockade promote hyperprogression of cancer
2019
Article
Kamada T
Proc Natl Acad Sci U S A
12.78
Q1
428
10.1073/pnas.1822001116
106.8
7
Tumor Microenvironment Characterization in Gastric Cancer Identifies Prognostic and Immunotherapeutically Relevant Gene Signatures
2019
Article
Zeng DQ
Cancer Immunol Res
12.02
Q1
418
10.1158/2326-6066.CIR-18-0436
93.7
8
PD-L1 expression in human cancers and its association with clinical outcomes
2016
Review
Wang X
Onco Targets Ther
4.35
Q2
412
10.2147/OTT.S105862
59.0
9
Deep learning can predict microsatellite instability directly from histology in gastrointestinal cancer
2019
Article
Kather JN
Nat Med
87.24
Q1
400
10.1038/s41591-019-0462-y
114.0
10
The trifunctional antibody catumaxomab for the treatment of malignant ascites due to epithelial cancer: results of a prospective randomized phase II/III trial
2010
Clinical trial
Heiss MM
Int J Cancer
7.32
Q1
349
10.1002/ijc.25423
30.8
Figure 5B presents an overlay map of journals, illustrating aspects such as the distribution, citation trajectory, and shift in the center of gravity of papers across each discipline. The label on the left represents the discipline of the cited journal, whereas the label on the right indicates the discipline of the journal in which the cited paper was published. In the figure on the left, the vertical axis of the ellipse extends as the number of papers published by a journal increases, whereas the horizontal axis increases as the number of authors increases. Our analysis revealed that most publications appeared in journals associated with molecular biology, genetics, health, nursing, and medicine. Furthermore, most publications have been cited in journals pertaining to molecular biology, immunology, and medicine. The orange and green citation trajectories suggest that research journals in the molecular/biology/genetics domain garner frequent citations in molecular/biology/immunology and medicine/medical/clinical journals.
Co-occurrence analysis of keywords: Keywords play a pivotal role in encapsulating scientific research trends. To identify the most prevalent keywords, we used the VOSviewer tool for keyword co-occurrence analysis. From the 6337 keywords, we focused on 152 keywords that appeared 25 times or more (Figure 6A). "Gastric cancer" emerged as the most recurrent keyword, appearing 1257 times. The top ten most frequently occurring keywords included GC (n = 1257), immunotherapy (n = 988), expression (n = 394), chemotherapy (n = 320), prognosis (n = 253), open label (n = 206), survival (n = 194), cancer (n = 190), double-blind (n = 177), and TME (n = 174).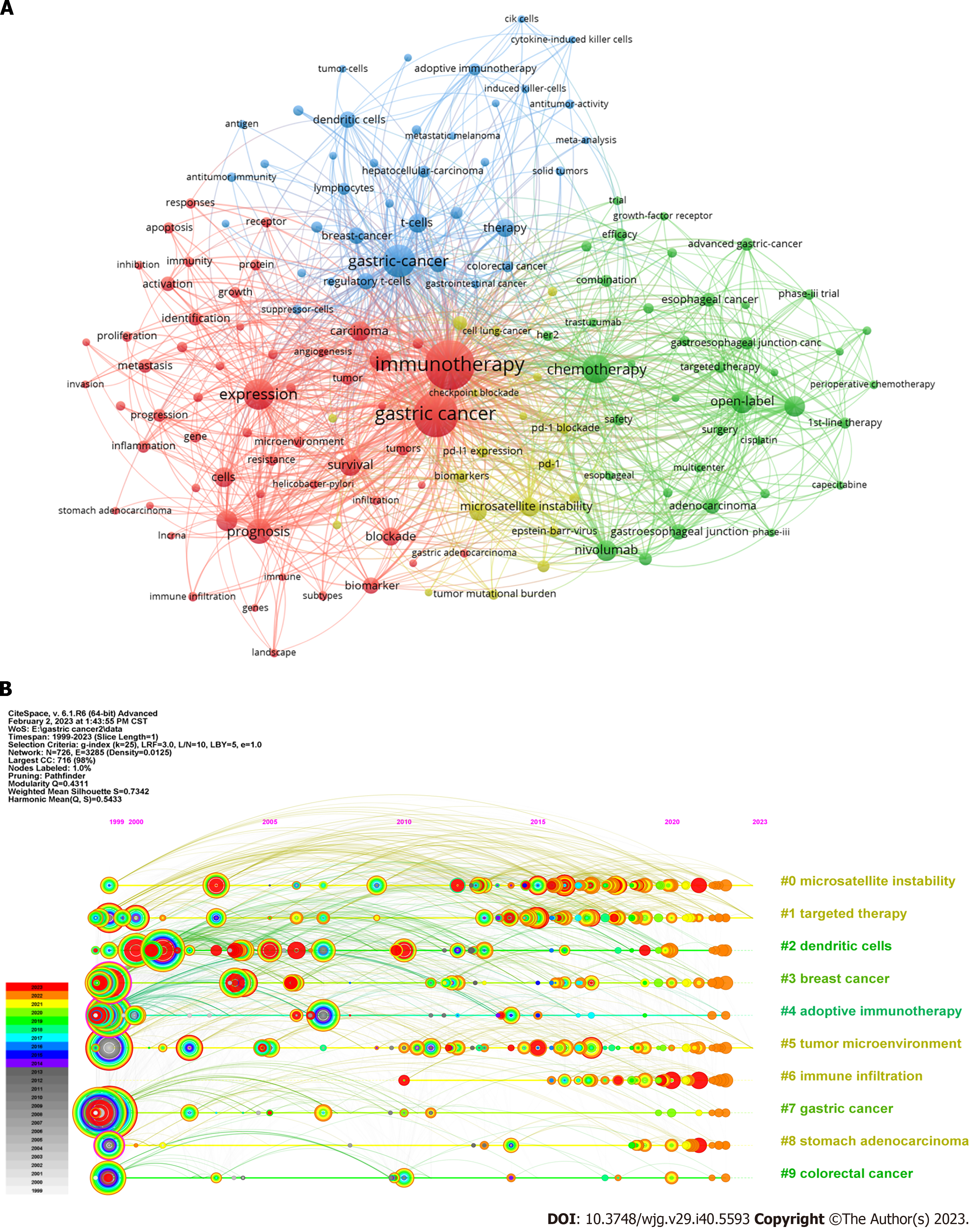 Figure 6 Keywords occurrences and timeline view analysis.
A: Co-occurrence map of the keywords with at least 25 occurrences; B: Timeline view of keywords with the ten leading clusters.
Timeline view of keywords: Following cluster analysis, the keywords were segregated into ten clusters and subsequently subjected to a timeline view analysis in CiteSpace (Figure 6B): #0 MSI, #1 targeted therapy, #2 dendritic cells (DCs), #3 breast cancer, #4 adoptive immunotherapy, #5 TME, #6 immune infiltration, #7 GC, #8 stomach adenocarcinoma, and #9 colorectal cancer. Each cluster comprised multiple closely associated words with smaller ranks or cluster numbers that contained more keywords. The premier cluster (#0) had the largest number of keywords, showing minimal past activity with two minor bursts but became more active in the recent decade. Cluster #1 followed a trend akin to that of cluster #0, signifying that MSI and targeted therapy have drawn significant interest. Clusters #2, #3, and #4 were notably active around 2000 and have undergone minor bursts in recent years. The term "tumor microenvironment" first appeared in 2010 in cluster #5 and has maintained activity in recent years.
Burst analysis of keywords: Following the burst analysis, we selected 25 keywords from the burst keywords based on burst strength and initiation time (Figures 7A and B). The keywords exhibiting the highest burst strengths included "Adoptive immunotherapy" (strength = 17.37), "dendritic cells" (strength = 16.79), and "carcinoma" (strength = 12.14). Three keywords that initiated bursting in the past 5 years and were identified as hotspots encompassed "mismatch repair deficiency" (initiated in 2018), "tumors" (initiated in 2019), and "plus chemotherapy" (initiated in 2021). The emergence of new burst keywords and prevalence of strong bursts in recent years have led to rapid developments in this field.
Clinical trials
The clinical trial with the earliest enrolment commenced in 1987, and was a randomized controlled trial predicated on preoperative serum glycoproteins assessing the efficacy of immunotherapy in GC (JPRN-UMIN000037472). The annual distribution of clinical trials (Figure 8A) indicated a sharp recent progress in the study of GC immunotherapy. The peak in the number of clinical trials occurred in 2019 (n = 37), with high numbers observed in the subsequent three years (2020 n = 32, 2021 n = 35, 2022 n = 30). The trials were predominantly in phase I (n = 46), phase I/II (n = 44), or phase II (n = 75) (Figure 9A). We have consolidated the clinical trials of phase II/III (n = 4), III (n = 4), and IV (n = 2) in Table 2, offering scholars an update on the latest advancements in this field. The status of the clinical trials is shown in Figure 9B, with a significant number of trials either recruiting (n = 92) or not yet recruiting (n = 21). The three primary immunotherapies for GC, namely adoptive cell therapy (ACT), ICI, and vaccination, were subjected to separate clinical trial searches (Supplementary material, Figures 8B and 9C).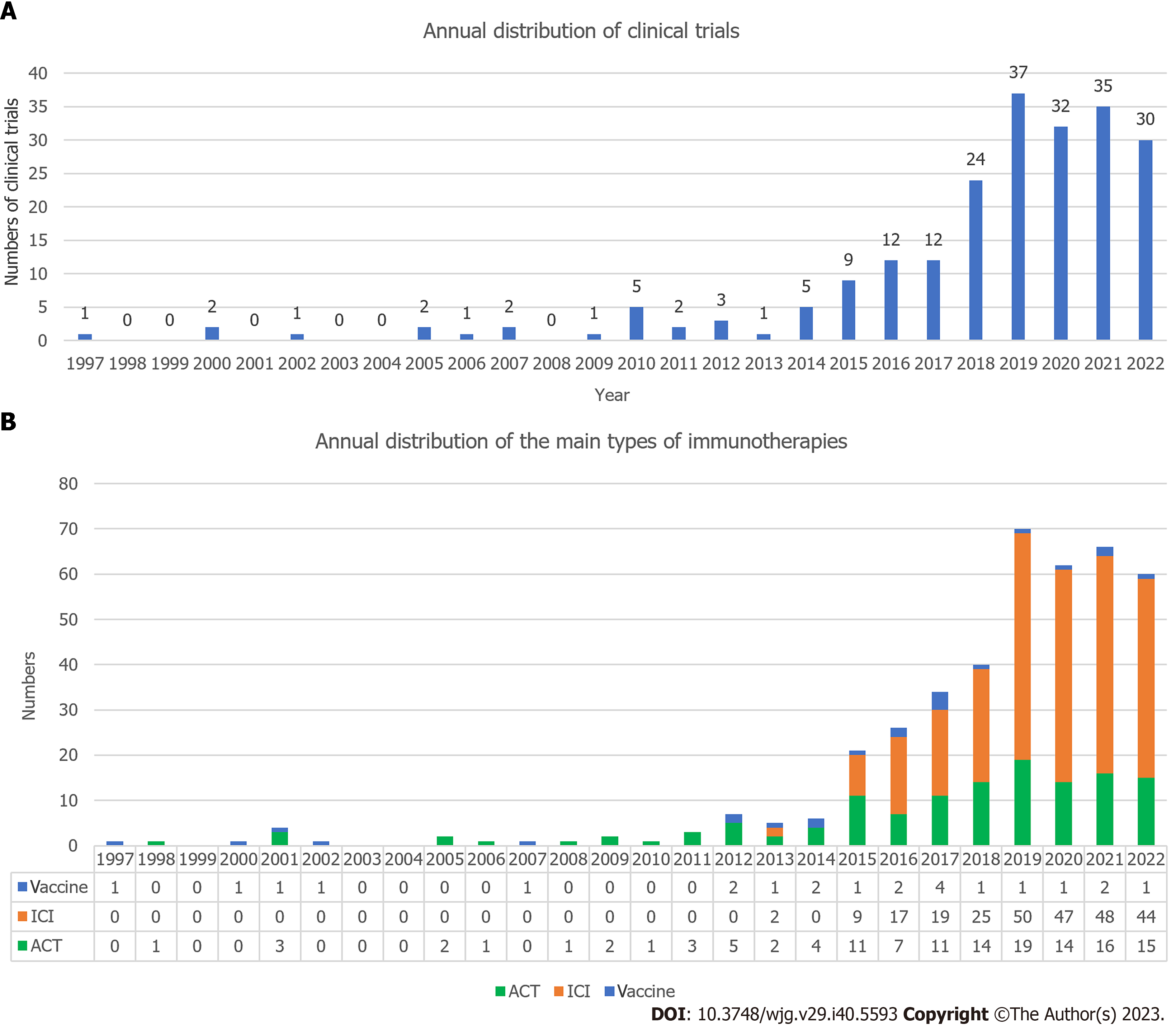 Figure 8 Distribution of clinical trials by year.
A: Annual distribution of clinical trials in this field; B: Annual distribution of the main types of immunotherapies (vaccine, immune checkpoint inhibitor, and adoptive cell therapy). ICI: Immune checkpoint inhibitor; ACT: Adoptive cell therapy.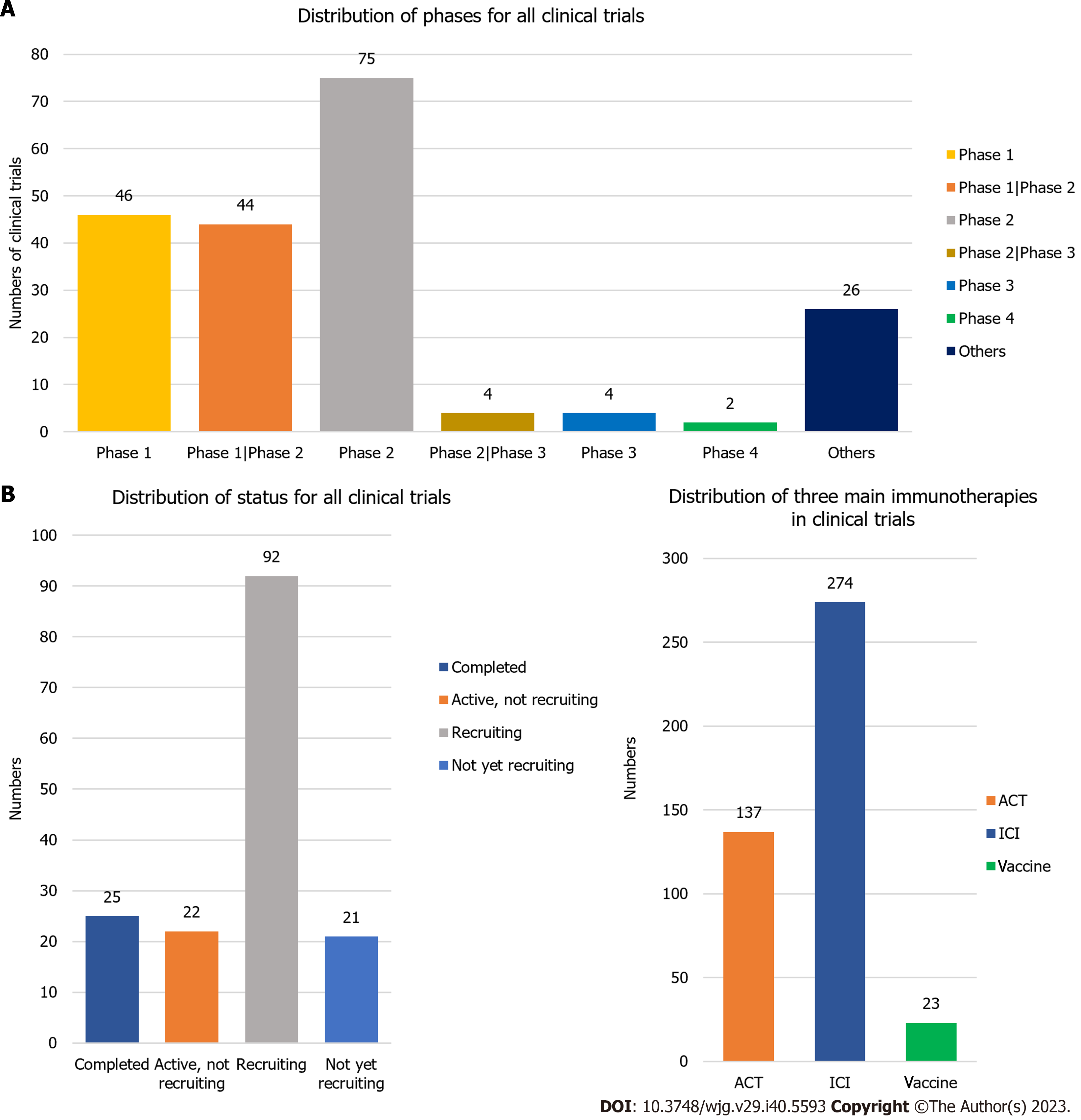 Figure 9 Phases and status distribution across all clinical trials.
A: Distribution of phases for all clinical trials. Phases include: Phase 1, phase 1/phase 2, phase 2, phase 2/phase 3, phase 3, phase 4, and others; B: Distribution of status for all clinical trials. The status includes: Completed, active but not recruiting, recruiting, and not yet recruiting; C: Distribution of adoptive cell therapy, immune checkpoint inhibitor, and vaccine in clinical trials. ICI: Immune checkpoint inhibitor; ACT: Adoptive cell therapy.
No.

---

Trial ID

---

Status

---

Phases

---

Start date

---

Title

---

1
NCT00503321
Terminated
Phase 2/3
October 1, 2006
Phase II Study of TS-1 Therapy and TS-1+PSK Therapy Against Advanced Gastric Carcinoma
2
EUCTR2017-004896-30-IE
Not recruiting
Phase 3
July 6, 2018
A Randomized, Active-Controlled, Blinded, Phase III Clinical Trial of BMS- 986213 (Fixed Dose Combination of Relatlimab [anti-LAG-3] and Nivolumab) in Combination with Chemotherapy versus Placebo in Combination with Chemotherapy as First-Line Treatment in Participants with Unresectable, Locally Advanced or Metastatic LAG-3 Positive Gastric or Gastroesophageal Junction Adenocarcinoma
3
NCT04078152
Active, not recruiting
Phase 4
September 5, 2019
Durvalumab Long-Term Safety and Efficacy Study
4
ChiCTR2000039110
Recruiting
Phase 4
October 14, 2020
Effect of immunotherapy combined with chemotherapy on gastric cancer
5
NCT05002686
Recruiting
Phase 2/3
August 7, 2021
Safety and Efficacy of Sintilimab in Combination With Chemoradiothrapy Followed by D2 Surgical Resection in Patients With Advanced Gastric Cancer With Retroperitoneal Lymph Node Metastasis
6
NCT05152147
Recruiting
Phase 3
December 2, 2021
A Study of Zanidatamab in Combination With Chemotherapy Plus or Minus Tislelizumab in Patients With HER2-positive Advanced or Metastatic Gastric and Esophageal Cancers
7
NCT05270824
Not yet recruiting
Phase 3
March 1, 2022
Study Evaluating Neoadjuvant Immunotherapy Increasing CD8+ Cell Infiltration in Advance Gastric Adenocarcinoma
8
NCT05325528
Recruiting
Phase 2/3
April 4, 2022
Study of Tislelizumab in Combination With SOX for the Treatment of Gastric Cancer With Liver Metastases
9
NCT05677490
Not yet recruiting
Phase 3
January 6, 2023
mFOLFIRINOX Versus mFOLFOX With or Without Nivolumab for the Treatment of Advanced, Unresectable, or Metastatic HER2 Negative Esophageal, Gastroesophageal Junction, and Gastric Adenocarcinoma
10
NCT05699655
Not yet recruiting
Phase 2/3
March 1, 2023
Tislelizumab Combined With Apatinib and Oxaliplatin Plus S1 Vs Oxaliplatin Plus S1 as Neoadjuvant Therapy for Borrmann IV, Large Borrmann III Type and Bulky N Positive Advanced Gastric Cancer
DISCUSSION
In recent years, there has been a surge in the bibliometric analysis of articles across various fields. Tools such as CiteSpace and the VOSviewer enable raw data visualization, offering comprehensive and intuitive data representation. Cancer is a persistent medical challenge that has caused researchers to work globally toward enhancing treatments to improve progression-free survival (PFS) and OS. GC is one of the most prevalent cancers and requires more effective and targeted treatments. Bibliometric analysis of documents pertaining to GC immunotherapy elucidated the current research hotspots, thereby providing researchers with insights and directions. This analysis incorporated every related article from the WoSCC database until December 31, 2022, offering a visual and systematic overview. It summarizes and analyzes the countries, institutions, authors, keywords, and references. Clinical trials included every related trial from ClinicalTrials.gov and ICTRP until February 18, 2023.
CONCLUSION
In conclusion, this study delineates a clear trajectory in GC therapy, from the present use of monotherapies and chemo/target therapy to future integrative and combinatorial approaches, with CAR-T technologies at the forefront. It encapsulates the potential for enhanced therapeutic paradigms and heralds a new era of precision medicine for GC treatment. The findings presented here highlight substantial progress as well as pinpoint the direction for continued research and clinical innovation, aligning with the rigorous academic standards of premier oncological journals.
Strengths and limitations
Strengths: This study offers systematic and specialized insights into the treatment and current status of GC by merging published literature with clinical research. By comprehensively articulating GC immunotherapy, readers can decode this complex subject into multiple dimensions. This inclusive approach synthesizes the current understanding and offers a valuable reference for future investigations, thereby enriching the collective knowledge of this field.
Limitations: Literature selection: Although extensive literature related to immunotherapy for GC was included, enabling comprehensive and objective conclusions, our search was restricted to articles and reviews within the WoSCC, using limited terms. Although this strategy emphasizes high-impact data, potentially enhancing the accuracy of our analysis, it may also lead to incomplete literature retrieval. Time constraints: Conducted in early 2023, our literature review spans from 1999 to the present, imposing time limitations that may create delays in reflecting the most recent advancements. Citation bias: Newly published critical research findings may lack substantial citation numbers, thereby obscuring their value in our data analysis.
In summary, the strengths of this study lie in its systematic and specialized approach, providing a multidimensional understanding of GC immunotherapy, whereas the limitations primarily pertain to literature selection, temporal boundaries, and potential citation bias. These factors must be considered when interpreting the findings and their implications for future research and clinical practice.
ARTICLE HIGHLIGHTS
Research background
Gastric cancer (GC) ranks sixth in incidence among all cancers, and is the third leading cause of cancer-related deaths worldwide. However, there are significant limitations to the treatment of GC, and more effective and less toxic treatment options are required to prolong the survival of patients with GC. Immunotherapy has recently shown rapid development for the treatment of GC and has great potential.
Research motivation
In recent years, scientometrics has been applied to analyze literature related to certain fields to identify hotspots and predict future trends. However, to the best of our knowledge, there have been no previous studies on scientometric analyses in the field of GC immunotherapy.
Research objectives
To present a comprehensive review of the knowledge framework and research hotspots in the field of GC immunotherapy, we aimed to assist scholars in promptly understanding the current research status and latest developments in this field and provide new ideas and directions for future studies.
Research methods
Publications related to GC immunotherapy between 1999 and 2023 were retrieved from the Web of Science Core Collection database on February 1, 2023. An analysis of the 2013 relevant articles retrieved using CiteSpace and VOSviewer was conducted. We get Impact Index Per Article from Reference Citation Analysis (RCA). Additionally, we searched for clinical trials on ClinicalTrials.gov and the International Clinical Trials Registry Platform, and analyzed ongoing clinical trials in this field to predict future developmental trends.
Research results
Through a literature search, we included 2013 relevant articles in this study and used the scientometric software CiteSpace and VOSviewer to analyze 11730 authors, 617 institutions, 71 countries, 726 keywords, citations, and the emergence and timeline of certain information. We have provided specific explanations for the main keywords and analyzed the significance of these research hotspots, including "tumor microenvironment", "microsatellite instability", "mismatch repair deficiency", "dendritic cells", and "adoptive immunotherapy". Because immune checkpoint inhibitors (ICIs) play an important role in GC immunotherapy, we have also provided a separate discussion on them. Additionally, we classified the retrieved clinical trials based on the type of immunotherapy and stage of disease and further analyzed the research hotspots and trends in this field in the coming years. The integration of literature and clinical trials has enabled the production of comprehensive and objective research findings.
Research conclusions
Through the use of novel research methods, ideas, and software, we gained innovative and comprehensive insights into the current status and future trends in GC immunotherapy. Our research findings summarize the current state of development in this field and facilitate understanding and learning among scholars. Additionally, this article identifies future developmental directions and trends in this field and provides scientific research ideas for researchers to promote the development of GC immunotherapy.
Research perspectives
Burst keywords and clusters, including tumor microenvironment, microsatellite instability, mismatch repair deficiency, dendritic cells, and adoptive immunotherapy represent the current frontiers of research on immunological factors in cirrhosis. ICIs have also been studied. The combination of multiple drugs and immunotherapeutic methods has received increasing attention.
Provenance and peer review: Unsolicited article; Externally peer reviewed.
Peer-review model: Single blind
Specialty type: Gastroenterology and hepatology
Country/Territory of origin: China
Peer-review report's scientific quality classification
Grade A (Excellent): 0
Grade B (Very good): B, B
Grade C (Good): C
Grade D (Fair): 0
Grade E (Poor): 0
P-Reviewer: Fu L, China; Nishida T, Japan S-Editor: Wang JJ L-Editor: A P-Editor: Chen YX