Copyright
©The Author(s) 2023.
Published by Baishideng Publishing Group Inc. All rights reserved.
Clinical approach to indeterminate biliary strictures: Clinical presentation, diagnosis, and workup
Sujani Yadlapati, Department of Gastroenterology and Hepatology, Indiana University Hospital, Indianapolis, IN 46202, USA
Ramzi Mulki, Sergio A Sánchez-Luna, Ali M Ahmed, Kondal Rao Kyanam Kabir Baig, Shajan Peter, Department of Gastroenterology and Hepatology, University of Alabama at Birmingham, Birmingham, AL 35294, USA
Author contributions: Yadlapati S and Mulki R contributed to the literature review and drafting the manuscript; Sánchez-Luna SA and Ahmed AM provided valuable assistance in manuscript preparation; Kyanam Kabir Baig KR and Peter S played a role in conceptualization and final review; Yadlapati S lead author responsible for conducting the, organizing the paper's structure.
Conflict-of-interest statement: All the authors report no relevant conflicts of interest for this article.
Open-Access
: This article is an open-access article that was selected by an in-house editor and fully peer-reviewed by external reviewers. It is distributed in accordance with the Creative Commons Attribution NonCommercial (CC BY-NC 4.0) license, which permits others to distribute, remix, adapt, build upon this work non-commercially, and license their derivative works on different terms, provided the original work is properly cited and the use is non-commercial. See:
https://creativecommons.org/Licenses/by-nc/4.0/
Corresponding author: Sujani Yadlapati, MD, Doctor, Department of Gastroenterology and Hepatology, Indiana University Hospital, 500 N University Blvd, Indianapolis, IN 46202, United States. syadlapati@iuhealth.org
Received: April 25, 2023
Peer-review started: April 25, 2023
First decision: July 9, 2023
Revised: July 23, 2023
Accepted: August 21, 2023
Article in press: August 21, 2023
Published online: September 28, 2023

Despite advances in cross-sectional imaging and endoscopic technology, bile duct strictures remain a challenging clinical entity. It is crucial to make an early determination of benign or malignant nature of biliary strictures. Early diagnosis not only helps with further management but also minimizes mortality and morbidity associated with delayed diagnosis. Conventional imaging and endoscopic techniques, particularly endoscopic retrograde cholangiopancreatography (ERCP) and tissue sampling techniques play a key in establishing a diagnosis. Indeterminate biliary strictures (IDBSs) have no definite mass on imaging or absolute histopathological diagnosis and often warrant utilization of multiple diagnostics to ascertain an etiology. In this review, we discuss possible etiologies, clinical presentation, diagnosis, and management of IDBSs. Based on available data and expert opinion, we depict an evidence based diagnostic algorithm for management of IDBSs. Areas of focus include use of traditional tissue sampling techniques such as ERCP with brush cytology, intraductal biopsies, fluorescence in situ hybridization and flow cytometry. We also describe the role of endoscopic ultrasound (EUS)-guided fine needle aspiration and biopsies, cholangioscopy, confocal laser endomicroscopy, and intraductal EUS in management of IDBSs.
Core Tip: Despite advances in imaging and endoscopy, bile duct strictures remain challenging. Timely detection of malignant strictures is crucial. Conventional techniques play a crucial role in diagnosis, but indeterminate biliary strictures (IDBSs) require multiple diagnostic tools. This review discusses etiology, diagnosis, and workup of IDBSs, presenting an evidence-based algorithm focusing on traditional tissue sampling techniques and innovative technologies. The importance of future research is emphasized.
---
Citation: Yadlapati S, Mulki R, Sánchez-Luna SA, Ahmed AM, Kyanam Kabir Baig KR, Peter S. Clinical approach to indeterminate biliary strictures: Clinical presentation, diagnosis, and workup. World J Gastroenterol 2023; 29(36): 5198-5210
---
INTRODUCTION
Bile duct strictures are commonly encountered in clinical practice and pose a diagnostic challenge to endoscopists. The diagnostic difficulty lies in differentiating malignant strictures from benign strictures. Failure to diagnose malignant strictures or subjecting patients with benign strictures to unwarranted surgery can result in increased morbidity and mortality. Biliary strictures are characterized as indeterminate when no overt mass or differentiating characteristics are seen on cross-sectional imaging or after performing endoscopic retrograde cholangiopancreatography (ERCP) with standard diagnostic tools[1]. At present, up to 20% of biliary strictures are indeterminate. These strictures include both benign and malignant conditions. Biliary strictures may result from intrinsic biliary pathology as well as from extrinsic compression or infiltration from benign or malignant lesions.
Based on previous observational studies, up to one-third of biliary strictures are benign, and two-thirds are malignant in nature[2]. Inflammatory strictures, particularly those related to primary sclerosing cholangitis (PSC), often mimic malignant strictures. Close to 25% of suspected neoplastic strictures are ultimately found to be benign after surgical intervention[2]. Treatment of benign strictures typically involves medical and endoscopic therapy, with only a few patients requiring surgical intervention. Alternatively, malignant strictures often require surgical resection or palliative biliary drainage.
Establishing histological diagnosis is key in determining further management of biliary strictures. ERCP with traditional diagnostics such as brush cytology and forceps biopsies have limited sensitivity in establishing a definitive diagnosis[3]. In some cases, it may be necessary to use additional diagnostic tools such as endoscopic ultrasound (EUS)-guided sampling or cholangioscopy to improve diagnostic yield. Our review aims to explore potential causes of indeterminate biliary strictures (IDBSs) and provide guidance on how to use diagnostic testing and technologies to confirm a diagnosis and plan further management. Based on the available data and expert opinion, we depict an evidence based diagnostic algorithm for management of IDBSs.
ETIOLOGY AND CLINICAL PRESENTATION OF BILIARY STRICTURES
Clinical presentation in these patients is often variable. Strictures may be found incidentally on cross sectional imaging in asymptomatic patients undergoing testing for other reasons or in those who are symptomatic with abdominal pain or jaundice. Clinical presentation can range from lack of symptoms to fulminant cholangitis or sepsis. A detailed history can help determine underlying etiology to some extent. Painless jaundice and rapid weight loss raise suspicion of underlying malignancy, whereas a more progressive course is seen in those with benign strictures.
Biliary strictures can have benign or malignant origins and may arise from either intraductal pathology or external compression on the biliary tract (Table 1). The most frequent causes of benign biliary strictures include postoperative strictures and those associated with chronic pancreatitis. Postoperative strictures can develop after cholecystectomy, bile duct surgery, or liver transplant (Figure 1). These strictures may be caused by several factors: ischemic injury, mechanical injury, anastomotic leakage, and postoperative infections causing inflammation, underlying autoimmune disease, or malignancy. Chronic inflammation and fibrosis of the pancreatic ducts (PDs) in chronic pancreatitis can cause scarring and narrowing of the adjacent bile ducts, leading to the development of biliary strictures. In some cases, chronic inflammation may result in extrinsic compression of bile ducts due to adhesions and fibrosis.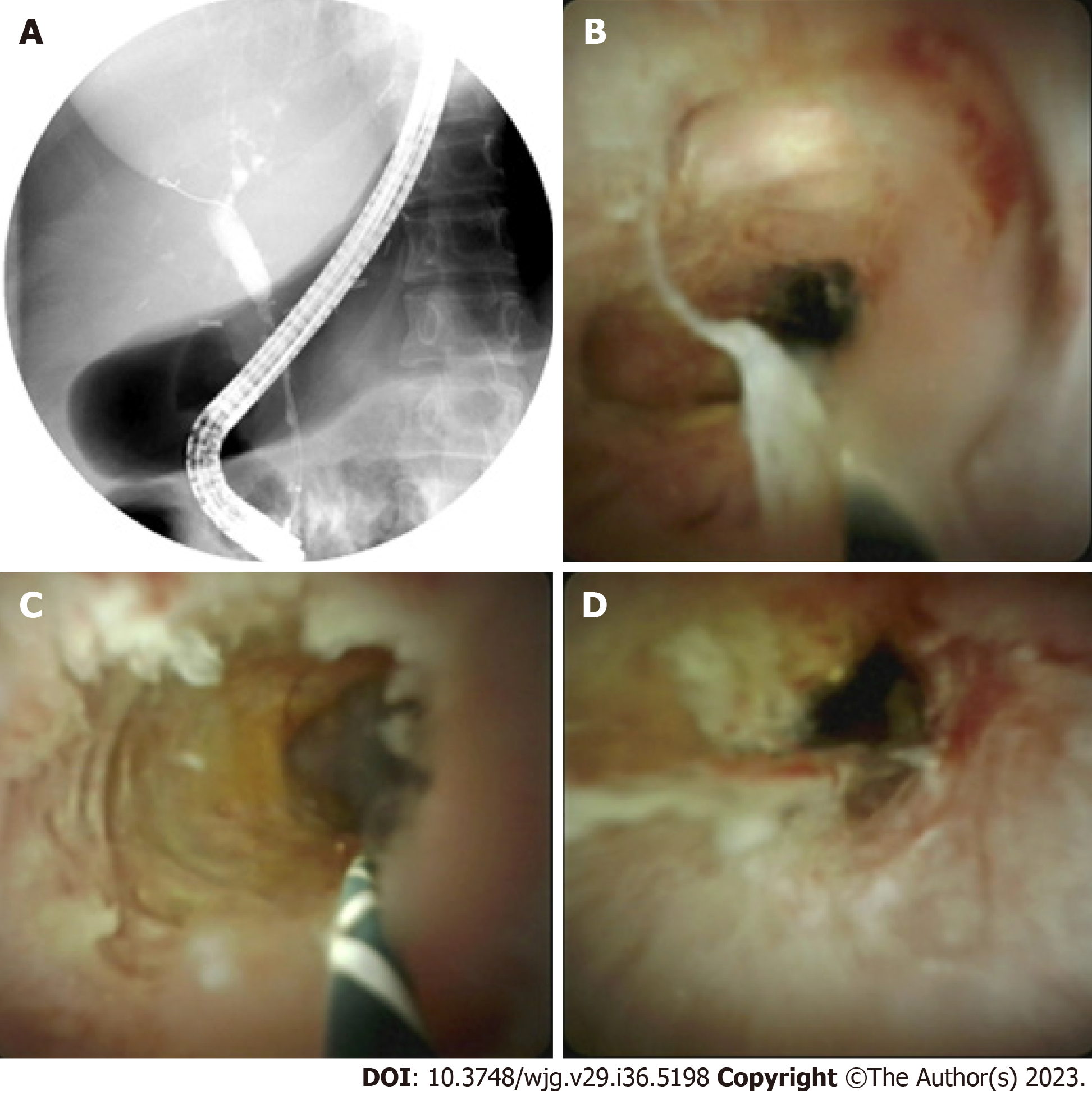 Figure 1 Fluoroscopy and Spyglass images of a patient with benign biliary stricture who previously underwent a liver transplant for primary sclerosing cholangitis/primary biliary cirrhosis.
A: Fluoroscopy imaging during endoscopic retrograde cholangiopancreatography showing common bile duct stricture; B–D: Cholangioscopy images showing concentric stricture with scarring and minimal erythema.
Benign

---

Malignant

---

Postoperative or iatrogenic strictures: After cholecystectomy, liver transplantation or surgical procedures involving pancreas. Local cancer treatment including radiation therapy, chemoembolization, and microwave ablation
Pancreatic adenocarcinoma
Chronic pancreatitis
Cholangiocarcinoma
Primary sclerosing cholangitis
Gallbladder malignancy
Trauma
Hepatocellular carcinoma
Infection: Recurrent pyogenic cholangitis, AIDS cholangiopathy
Ampullary carcinoma
Autoimmune: IgG4 related sclerosing cholangitis, sarcoidosis
Metastatic tumors or perihilar malignant nodes (colon cancer, breast cancer, renal cell cancer, squamous cell carcinoma)
Vascular: Ischemia, portal hypertensive biliopathy
Less common: Lymphomas or neuroendocrine tumors
Primary biliary cirrhosis
Rarely COVID-19 cholangiopathy, gallstones, inflammatory bowel disease or medications
Other causes of benign strictures include systemic or inflammatory diseases such as acquired immunodeficiency syndrome, PSC or IgG4 cholangiopathy. PSC is an inflammatory disorder characterized by focal biliary strictures and dilations involving both intra- and extrahepatic bile ducts. Close to 13% of patients with PSC eventually develop cholangiocarcinoma (CCA). Biliary strictures in PSC can be managed with endoscopic therapy. Oncological treatment is warranted in those with CCA and this highlights the importance of endoscopic tissue acquisition for management of biliary stricture[3]. IgG4 disease is a fibroinflammatory condition characterized by the infiltration of IgG4 plasma cells into the bile duct wall and pancreas, leading to the development of sclerosing cholangitis and autoimmune pancreatitis.
Malignant biliary strictures are commonly associated with pancreatic cancer, CCA, gallbladder cancer, and metastatic cancer. Cross-sectional imaging can detect a mass lesion involving surrounding structures, such as the pancreas, liver, gallbladder, or regional lymph nodes. In some cases of malignant biliary obstruction, a stricture may be visible without an obvious mass in the early stages of the disease. Although rare, malignant biliary strictures can also be caused by biliary lymphoma, sarcoma, or intraductal papillary neoplasm of the bile duct. Biliary strictures in the setting of malignancy occur due to tumor growth and invasion into bile ducts or surrounding structures, inflammation and scarring, or metastases.
DIAGNOSTIC TESTING
Initial testing often involves a combination of laboratory markers and cross-sectional imaging. This is followed by endoscopic procedures for tissue sampling. Although many tests are available to determine the nature of biliary strictures, no single test is considered absolute. A combination of tests may need to be utilized to evaluate indeterminate strictures. Serum markers play a limited role in detection and diagnosis of CCA and pancreatic adenocarcinoma. Carbohydrate antigen (CA) 19-9 is commonly used but has variable sensitivity and specificity. It is worth noting that CA 19-9 can also be elevated in certain benign conditions that lead to cholestasis, such as biliary tract inflammation, infection, or diabetes. Carcinoembryonic antigen was previously used for colorectal cancer diagnosis but has limited performance in CCA. Elevated IgG4 levels are associated with IgG4-related sclerosing cholangitis and can aid in diagnosis when used in conjunction with other tests. Other potential tumor markers, such as interleukin-6, transthyretin, mitochondrial-mediated apoptotic pathway-7, mucin-5AC, and miRNA-16 and 21, require further validation through larger studies to determine their clinical utility.
IMAGING
Ultrasound
Transabdominal US is typically performed early in work up of biliary obstruction. US is highly sensitive for detecting biliary dilation however has limited ability to identify biliary strictures. Therefore, follow up cross sectional imaging is generally required. Transabdominal US is readily available in all institutions, cost-effective, easy to perform, and lacks exposure to radiation, which makes it an optimal screening test.
Computed tomography
Computed tomography (CT) has a higher sensitivity for detecting biliary strictures and pancreaticobiliary malignancies. The sensitivity of CT in detecting malignant strictures is 40%–77%[4-6]. With the advent of enhanced detectors and contrast agents, the performance of CT scans has dramatically improved. In initial stages, CCA can present as a biliary stricture without an obvious mass. CT findings in such cases include a hypoenhancing biliary lesion during the arterial phase and hyperenhancement during the delayed phase. Several studies have concluded that multidetector CT is nearly 100% sensitive in detecting hilar malignancies, but it has low specificity (60%–80%) for identifying malignant versus biliary strictures.
Magnetic resonance imaging/magnetic resonance cholangiopancreatography
Magnetic resonance imaging/magnetic resonance cholangiopancreatography (MRI/MRCP) can provide high-quality cholangiograms, making them an ideal choice for evaluating biliary strictures. The cholangiogram performed during MRCP is similar in diagnostic quality to that performed at the time of ERCP. MRCP can help determine the location and extent of a biliary stricture. A large meta-analysis looking at the performance found a sensitivity of 91% and specificity of 98% in determining the presence of biliary obstruction and ~98% combined sensitivity and specificity in the ability to detect the location of a biliary stricture. The sensitivity and specificity in the ability to delineate benign from malignant strictures were 88% and 95%, respectively[7]. Diffusion-weighted imaging allows for an improvement in the ability to determine the nature of biliary strictures. Compared to ERCP, this test eliminates several risks, including pancreatitis and cholangitis. However, it is not readily available, expensive, and does not allow for tissue sampling.
ENDOSCOPIC MANAGEMENT OF IDBSS
OUR APPROACH TO MANAGEMENT OF IDBSS
Management of biliary strictures can be complex and requires a personalized approach that considers the specific clinical presentation and the diagnostic techniques available at the institution (Table 2). Biliary strictures can have a variable presentation and can be caused by a variety of underlying conditions, which can make it difficult to have a standardized approach to their management. Drawing on the data available, we propose an approach to address IDBSs (Figure 6). Additionally, it can be challenging to rule out neoplastic biliary strictures prior to surgery, despite the evolution of endoscopic techniques for diagnosis and treatment. It is important for healthcare providers to carefully evaluate each patient and consider the complete clinical picture to develop an appropriate plan of care.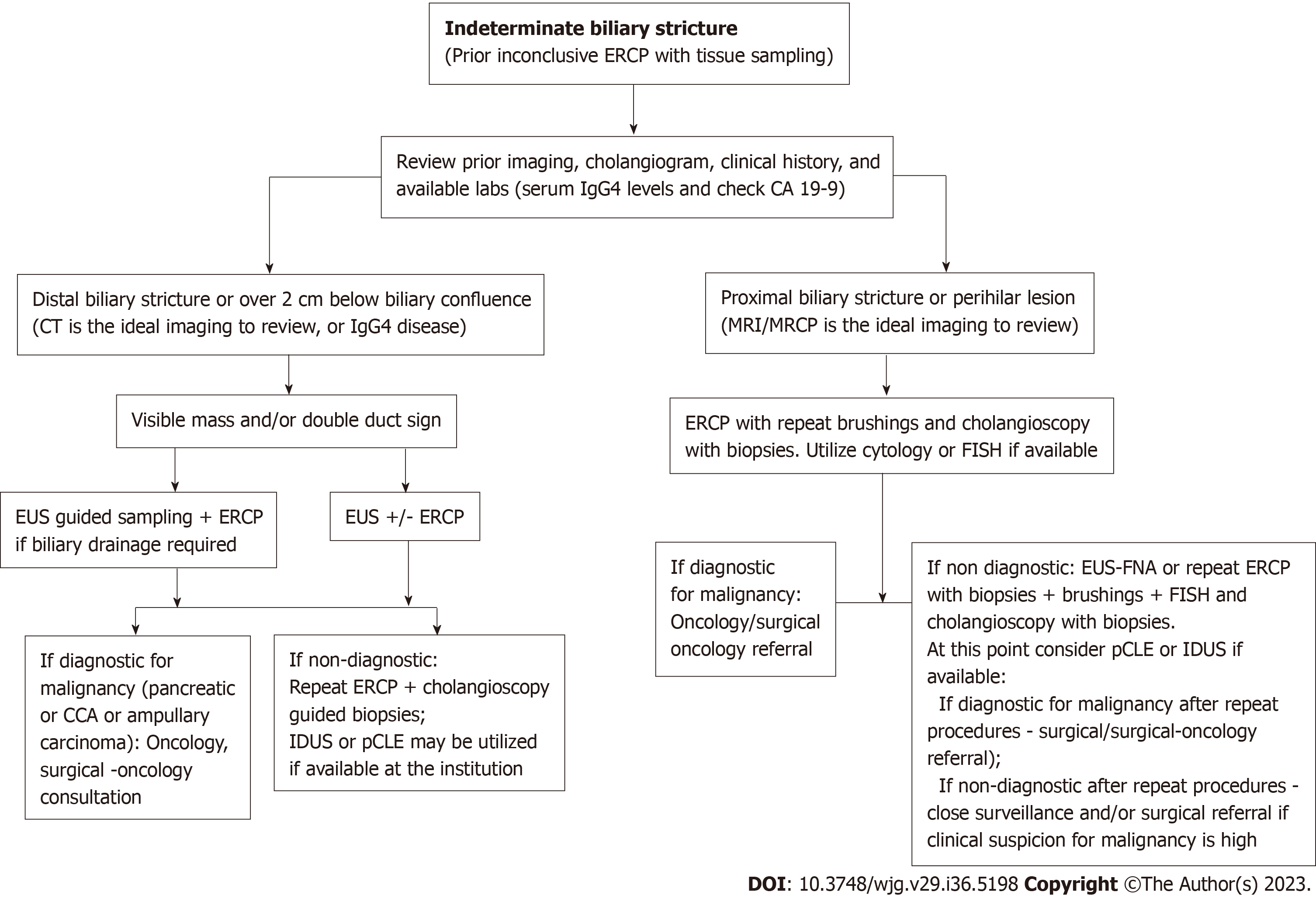 Figure 6 Approach to indeterminate biliary strictures. ERCP: Endoscopic retrograde cholangiopancreatography; EUS: Endoscopic ultrasound; CT: Computerized tomography; MRI: Magnetic resonance imaging; MRCP: Magnetic resonance cholangiopancreatography; FISH: Fluorescence in situ hybridization; IDUS: Intraductal ultrasound; pCLE: Probe based confocal laser micro-endoscopy; CCA: Cholangiocarcinoma; IgG4: Immunoglobulin G4; CA 19-9: Carbohydrate antigen 19-9; FNA: Fine needle aspiration.
Tissue acquisition technique

---

Advantages

---

Disadvantages

---

Comments

---

ERCP-guided techniques
Intraductal biopsy
Direct sampling of larger tissue samples
Risk of bleeding, perforation, pancreatitis
Used in conjunction to other techniques to maximize yield
Brush cytology
Less invasive. Can be used in cases of advanced liver or pancreatic disease
Smaller tissues sample. Low diagnostic yield
Used in conjunction to other techniques to maximize yield
FISH
Can detect genetic abnormalities associated with malignancy
Requires specialized equipment for analysis. Limited sensitivity and specificity
Used in conjunction with biopsies or brushings to improve diagnostic yield
Flow cytometry
Can detect abnormal cellular DNA associated with malignancy
Requires specialized equipment for analysis. Limited sensitivity and specificity
Used in conjunction with other techniques
Cholangioscopy with biopsy
Direct visualization of stricture and targeted biopsies
Requires specialized equipment and expertise. Associated with higher risk of complications such as cholangitis, pancreatitis, and bleeding. More expensive than conventional ERCP
Can perform interventions under direct visualization
Intraductal ultrasound
High-resolution imaging of the biliary tract and surrounding structures, can detect structural abnormalities associated with malignancy
Invasive, requires specialized equipment and expertise
Not available in every institution
Risks associated with ERCP - bleeding, perforation, pancreatitis, infection
EUS guided sampling
EUS with FNA
High diagnostic yield, ability to sample adjacent lymph nodes or lesions
Invasive, risk of bleeding and infection, requires expertise
Can be used as a complementary technique to ERCP or alone. Should be used with ROSE if available and if malignancy suspected
EUS with FNB
High diagnostic yield, ability to sample lymph nodes, larger tissue
Invasive, risk of bleeding and infection, requires expertise
Can be used as a complementary technique to ERCP or alone
EUS/ERCP combination
Ability to obtain tissue samples and perform therapeutic interventions in the same encounter
Invasive, requires specialized equipment and expertise
Used in complex cases and in cases where biliary drainage is needed
Confocal laser endomicroscopy
Real-time in vivo imaging of biliary tissue at the cellular level
Limited availability and expertise, expensive
Can be used to improve diagnostic accuracy and guide targeted biopsies
Optical coherence tomography
High-resolution imaging of biliary tissue, can detect structural abnormalities associated with malignancy
Limited availability and expertise, expensive
Can be useful in cases where other techniques have failed or when precise localization of the stricture is necessary
During the initial evaluation of biliary strictures, it is important to obtain a detailed history and physical examination to assess the patient's risk factors and determine the type of biliary stricture. Basic laboratory tests, particularly liver function tests, should be performed. In cases with clinical suspicion of certain conditions such as PSC, IgG4 or human immunodeficiency virus (HIV), additional testing for tumor markers, HIV antibodies, and IgG4 levels may be necessary. Imaging studies, such as US and CT with IV contrast, can be useful in the evaluation of biliary strictures. If intra- and extrahepatic biliary dilation is visualized on US, this is more suggestive of a distal bile duct stricture, which may be caused by an ampullary or pancreatic mass. CT with intravenous contrast is the preferred imaging modality in such cases. If intrahepatic biliary dilation is seen on US, this is more suggestive of a proximal biliary stricture, for which MRI/MRCP is the preferred imaging modality.
In instances where extrahepatic biliary strictures are suspected to be a result of a pancreatic mass, EUS-guided fine-needle sampling is the preferred method to assess for presence of malignancy. EUS-guided FNB or EUS with FNA plus ROSE is recommended over EUS with FNA without ROSE. EUS can help identify minute lesions, in about 40% of cases that may not be readily visible on CT. Single session EUS and ERCP may be warranted in cases where biliary decompression is warranted in addition to establishing diagnosis. Cholangioscopy-guided biopsies or IDUS may be needed if conventional ERCP is unable to determine nature of stricture. Maintaining stable positioning of cholangioscope is key to performing targeted biopsies and this can often be challenging if there is a distal bile duct stricture. Endoscopists may use techniques such as balloon dilation to widen the stricture and improve access to the bile ducts. In cases of proximal or hilar lesions, ERCP is often the primary diagnostic and therapeutic procedure. In the assessment of hilar strictures, multimodal sampling during ERCP is preferred over relying solely on brush cytology. EUS may be warranted if ERCP and traditional sampling techniques, cytology and FISH are inconclusive. Since the location of proximal biliary strictures tends to be more intra-hepatic and away from duodenal wall, it may be challenging to adequately visualize using EUS and obtain biopsies. In cases that are being considered for liver transplant, caution should be exercised before perming biopsies of biliary or hilar lesions. Lymph nodes may be biopsied safely with low concern for seeding.
Lee et al[16] conducted a study of 181 patients with suspected malignant biliary strictures. Accuracy of cholangioscopy in diagnosis of malignancy in proximal strictures was 93.6% whereas accuracy of EUS-FNA or biopsy in diagnosis malignant biliary strictures was 96.3%. Currently there are no randomized control trials comparing cholangioscopy guided biopsies and EUS-FNA in cases of IDBSs where conventional ERCP based tissue sampling is inconclusive. However, based on available data and expert opinions this could be considered a diagnostic approach.
CONCLUSION
Despite advancement in diagnostic testing, nonsurgical evaluation of biliary strictures is often challenging. Management of IDBSs often involves a multidisciplinary approach and multiple diagnostic modalities. The entire clinical picture should be considered to come up with a management strategy. Goal of management should be early establishment of diagnosis in cases of malignant strictures and avoidance of unnecessary surgical exploration in cases of benign biliary strictures. A single test may be inadequate to diagnose IDBSs. However, a combination of validated serum or bile-based markers, imaging and endoscopic testing will improve diagnostic yield.
ACKNOWLEDGEMENTS
We thank Leona Council, MD. Department of Pathology, University of Alabama at Birmingham.
Provenance and peer review: Invited article; Externally peer reviewed.
Peer-review model: Single blind
Specialty type: Gastroenterology and hepatology
Country/Territory of origin: United States
Peer-review report's scientific quality classification
Grade A (Excellent): 0
Grade B (Very good): B, B, B
Grade C (Good): 0
Grade D (Fair): 0
Grade E (Poor): 0
P-Reviewer: Khalil MTASH, Egypt; Kim HJ, South Korea; Wang LM, China S-Editor: Wang JJ L-Editor: Kerr C P-Editor: Wang JJ