Copyright
©The Author(s) 2023.
Published by Baishideng Publishing Group Inc. All rights reserved.
Crohn's disease: Why the ileum?
Nicolas Richard, Guillaume Savoye, Mathilde Leboutte, Rachel Marion-Letellier, University of Rouen Normandie, INSERM, ADEN UMR 1073, Nutrition, Inflammation and Microbiota-Gut-Brain Axis, Rouen F-76000, France
Nicolas Richard, Guillaume Savoye, CHU Rouen, Department of Gastroenterology, Rouen University Hospital-Charles Nicolle, Rouen F-76000, France
Nicolas Richard, Guillaume Savoye, Mathilde Leboutte, Rachel Marion-Letellier, Institute for Research and Innovation in Biomedicine, University of Rouen Normandie, Rouen F-76000, France
Asma Amamou, Subrata Ghosh, APC Microbiome Ireland, Biosciences Building, University College Cork, Cork T12 YT20, Ireland
Author contributions: Richard N wrote the first draft; all authors have read and approve the final manuscript.
Conflict-of-interest statement: All the authors report no relevant conflicts of interest for this article.
Open-Access
: This article is an open-access article that was selected by an in-house editor and fully peer-reviewed by external reviewers. It is distributed in accordance with the Creative Commons Attribution NonCommercial (CC BY-NC 4.0) license, which permits others to distribute, remix, adapt, build upon this work non-commercially, and license their derivative works on different terms, provided the original work is properly cited and the use is non-commercial. See:
https://creativecommons.org/Licenses/by-nc/4.0/
Corresponding author: Rachel Marion-Letellier, PhD, Associate Professor, University of Rouen Normandie, INSERM, ADEN UMR 1073, Nutrition, Inflammation and Microbiota-Gut-Brain Axis, 22 Boulevard Gambetta, Rouen F-76000, France. rachel.letellier@univ-rouen.fr
Received: December 28, 2022
Peer-review started: December 28, 2022
First decision: January 10, 2023
Revised: January 23, 2023
Accepted: May 8, 2023
Article in press: May 8, 2023
Published online: June 7, 2023

Crohn's disease (CD) is an inflammatory bowel disease characterized by immune-mediated flares affecting any region of the intestine alternating with remission periods. In CD, the ileum is frequently affected and about one third of patients presents with a pure ileal type. Moreover, the ileal type of CD presents epidemiological specificities like a younger age at onset and often a strong link with smoking and genetic susceptibility genes. Most of these genes are associated with Paneth cell dysfunction, a cell type found in the intestinal crypts of the ileum. Besides, a Western-type diet is associated in epidemiological studies with CD onset and increasing evidence shows that diet can modulate the composition of bile acids and gut microbiota, which in turn modulates the susceptibility of the ileum to inflammation. Thus, the interplay between environmental factors and the histological and anatomical features of the ileum is thought to explain the specific transcriptome profile observed in CD ileitis. Indeed, both immune response and cellular healing processes harbour differences between ileal and non-ileal CD. Taken together, these findings advocate for a dedicated therapeutic approach to managing ileal CD. Currently, interventional pharmacological studies have failed to clearly demonstrate distinct response profiles according to disease site. However, the high rate of stricturing disease in ileal CD requires the identification of new therapeutic targets to significantly change the natural history of this debilitating disease.
Core Tip: The ileum is most frequently affected by Crohn's disease (CD). Ileal CD differs from other CD types in its epidemiology and natural history. Anatomical and histological features of the ileum provide the keys to understanding this distinct phenotype. Moreover, we discuss herein the crosstalk that occurs in the ileum between an individual and her/his environment and the clinical significance.
---
Citation: Richard N, Savoye G, Leboutte M, Amamou A, Ghosh S, Marion-Letellier R. Crohn's disease: Why the ileum? World J Gastroenterol 2023; 29(21): 3222-3240
---
INTRODUCTION
Crohn's disease (CD) is an inflammatory bowel disease (IBD) characterized by repetitive inflammatory flares, and often chronicity. Unlike ulcerative colitis (UC), the other main subtype of IBD, CD can affect any part of the digestive tract. The site of the disease is a critical biological aspect of CD whereas inflammatory, stricturing or penetrating behaviour is thought to be a reflection of disease progression[1].
Data on the epidemiology of IBD are provided by population-based studies showing an increasing incidence and prevalence of IBD in the West over the last 50 years[2,3]. In a systematic review pooling all epidemiological studies on IBD worldwide since 1990, the global prevalence of IBD is higher in Western countries (322 per 100000 in Germany) than in newly industrialized countries[4]. In newly industrialized countries like Asia and the Middle East, epidemiological studies report a rising incidence of CD[4,5]. The Montreal classification distinguishes CD involving the ileum, the colon and both the colon and the ileum[6]. About one third of patients with CD presents a disease involvement limited to the ileum and this proportion does not vary between 'Western' and newly industrialized countries[3,5,7]. Once the diagnosis of ileal CD is made, less than one fifth of patients will present colonic lesions over time[3]. In addition, ileal CD occurs in younger patients than colonic CD[1]. These epidemiological observations have led some experts to plead for personalized approaches to therapy based on the disease site.
Even though CD pathogenesis remains elusive, current consensus considers CD a result of genetic, immunological and environmental factors[2]. Of relevance, the ileum is the site for the crosstalk of these multiple etiological factors in CD. In this review, we will depict the different physiopathological aspects of ileal CD and their clinical impact (Figure 1).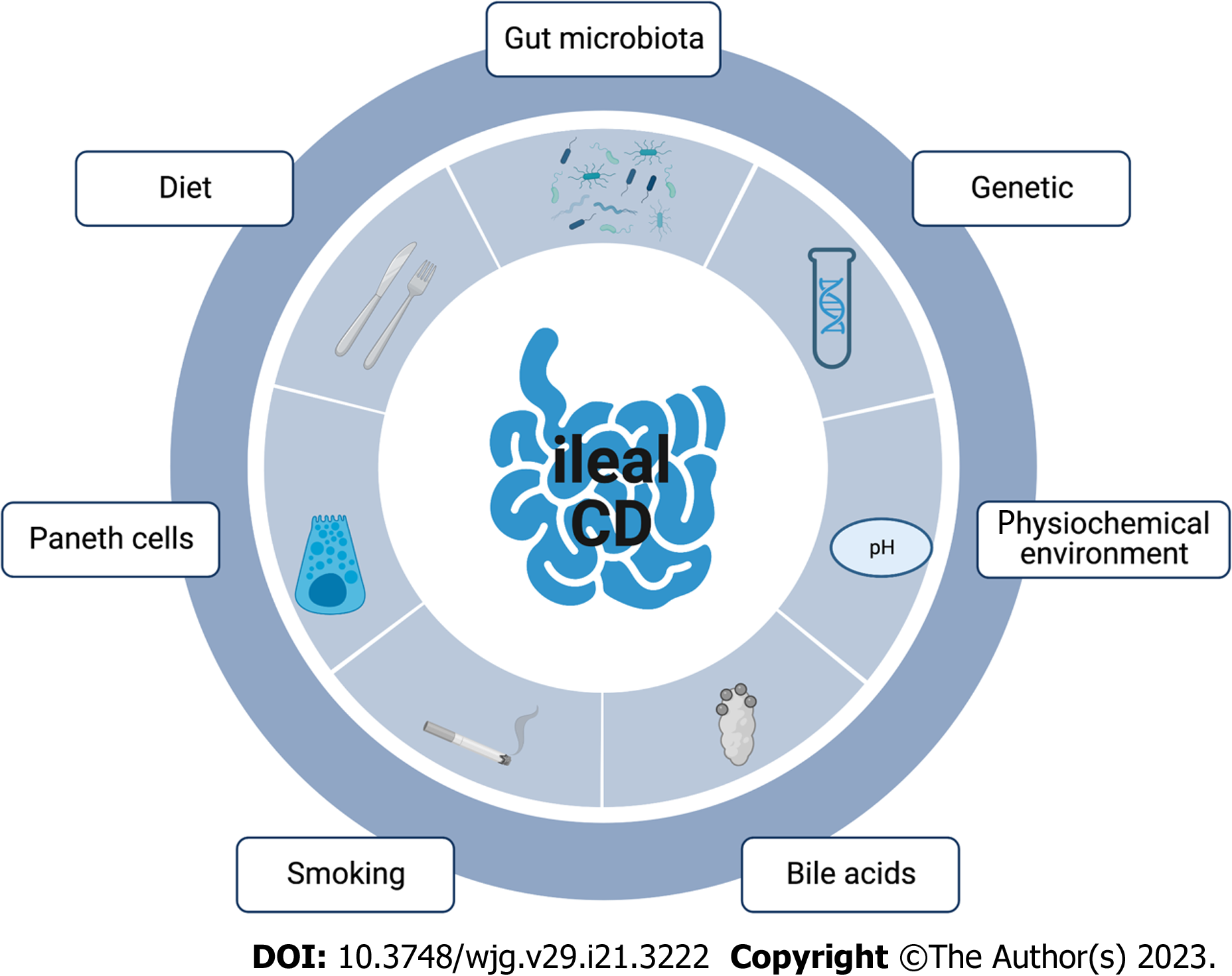 Figure 1 Potential factors involved in ileal Crohn's disease.
While Crohn's disease (CD) occurs in any part of the gastrointestinal tract, the ileum is frequently involved. Potential factors involved in ileal CD are genetic susceptibility genes and most of these genes are associated with Paneth cell dysfunction. Environmental factors may also be involved such as diet, gut microbiota and smoking. Diet can modulate the composition of bile acids and gut microbiota, which in turn affect the susceptibility of the ileum to inflammation. Created with BioRender.com. CD: Crohn's disease.
GENETIC SUSCEPTIBILITY
Genetic factors are involved in IBD physiopathology and genome-wide association studies have linked several genes with the site of the disease. In a large epidemiological study performed in more than 34000 patients with IBD across Europe, North America and Australia, susceptibility genes were determinants of the site of the disease whereas inherited genes showed a loose link with the inflammatory, penetrating or stricturing behaviour of the disease[1]. The genetic variants presented herein sum up the current state-of-the-art but new techniques such as genomic DNA are likely to provide new insights in the next few years.
THE ILEUM, A SPECIFIC PART OF THE GASTROINTESTINAL TRACT
Beyond genetic factors, the histological and anatomical features of the ileum itself may partially explain the propensity of this specific part of the gastrointestinal tract to be affected by CD.
BILE ACIDS
The role of bile acids is largely reported in liver disease in which bile acids are inflammatory cues and treatment targets[81]. The involvement of the gut in the pathogenesis of inflammatory liver diseases and similarities in etiological factors has led to consideration of the role of bile acids in IBD[82].
Primary bile acids are produced in the liver and secreted through the biliary tree into the gastrointestinal tract. Most primary bile acids are reabsorbed by the ileum and hence recycled several times. A minority of primary bile acids are transformed into secondary bile acids by a narrow range of gut bacteria. The pool of bile acids influenced the composition of gut microbiota which in turn modulated the composition of the bile acid pool[83]. Thus, impaired bile acid pools in relation to impaired microbiota enzymatic activities have been described as contributing to the inflammatory loop of IBD[84]. Bile acid composition in the lumen of the ileum differs between CD and non-CD patients with a relative decrease of primary bile acids in the ileum of CD patients[85]. Nevertheless, this finding should be interpreted with caution as malabsorption of bile acids was documented as a consequence of ileal CD especially in patients with a history of ileal resection[86,87]. Moreover, in a cohort of 166 patients, enhanced primary biliary level in the stool was independently associated with ileitis[88]. In a multi-omics approach based on a stool collection of 200 IBD patients, ileal CD profile was characterized by increased primary and secondary bile acid levels and shifts in taxa in favour of bacteria associated with bile acid-rich environments (Gammaproteobacteria and Blautia sp.)[89]. Further, the level of secondary bile acids in patients with inflammation limited to the ileum tended to increase after biological treatment reaching a similar level with control subjects[90].
In addition, bile acids exert inflammatory modulating properties through the stimulation of farnesoid X receptor (FXR). In a murine model of chemically induced inflammation, the activation of FXR demonstrated anti-inflammatory effects through a reduction of epithelial hyperpermeability and of proinflammatory cytokine production[91]. Furthermore, the obstruction of bile flow in mice induced mucosal ileal injuries reversed by administration of bile acids. In detail, this result may be explained by the activation of FXR by bile acids which promoted enteroprotective genes and limited ileal bacterial overgrowth[92]. Furthermore, bile acid pool modulation directly affects the ileum and Paneth cells. According to a recent article, Paneth cell number was linked to diet and to microbiota by bile acid in obese CD and non-CD patients irrespectively of other risk alleles (ATG16L1 and NOD2)[93]. In fact, in mice fed with a high fat diet, a similar phenomenon was observed and notably, high fat diet alone in germ-free mice as well as microbiome transfer alone in mice fed with standard diet were unable to induce an alteration in Paneth cells. The reason for this phenomenon was also dependent on FXR activation by the bile acid pool. Thus, the conjunction of a high fat diet and Clostridium-mediated production of secondary bile acids may explain the role of both diet and microbiome in this mechanism[93].
Lastly, bile acids promoted the expression of long polar fimbriae favouring the interplay of these strains with Peyer's patches and bacterial translocations[94]. For example, primary bile acid level was inversely correlated with the abundance of Faecalibacterium prausnitzii (F. prausnitzii) and its acetate and L-methionine producing enzyme[88]. In patients treated by surgery for ileal CD, bile acid metabolism specificities were associated with an ileal recurrence of CD[89].
Nevertheless, there is only limited evidence on the therapeutic role of bile acids in ileal CD. While several authors reported the protective role of ursodeoxycholic acid and of its precursor, the lithocholic acid, against chemically induced colitis in mice[95-97], there is a lack of data about the effect of oral supplementation with ursodeoxycholic acid in patients with IBD. Thus, only one small single-centre trial examined the effect of ursodeoxycholic acid in UC and none was performed in patients with CD[98].
MICROBIOTA
An increasing number of authors have investigated the link between gut microbiota and CD. However, many of these studies focused on the analysis of DNA extracted from stool. This methodology shed light on the colonic microbiota of the colonic lumen but was unable to draw any conclusions on the microbiota associated specifically with the ileum. Moreover, in a systematic review, the study mucosa-associated microbiota was regarded as more relevant in the understanding of CD pathogenesis[99]. In addition, dysbiosis was described in some mice models as a by-stander of ileitis. For example, in genetically predisposed mice Atg16L1ΔIEC, dysbiosis was observed but litter cross-fostering predisposed to colitis but not ileitis[20].
ENVIRONMENTAL FACTORS
The microbiota bridges the gap between host susceptibility factors and its environment. Most environmental factors are identified by epidemiological studies and associated with the onset of CD or its recurrence after surgery. Few of them though can impede the natural history of CD once the disease is established.
Smoking
Cigarette smoking is a well-established risk factor for developing CD[1-3]. In patients with CD, the relative statistical weight of smoking was larger than the relative weight of the genetic variants presented in the previous section[1]. Besides, cannabis is frequently used as a symptomatic treatment by patients with CD involving the ileum and is associated with tobacco[117]. Regarding cannabis use, in a double-blind, randomized, placebo-controlled trial, cannabis oil induced clinical improvement without any endoscopic change[118].
Regarding tobacco, in mice, cigarette smoke extract induced intestinal inflammation and morphometric changes in the ileal epithelium regardless of the route of administration (intragastric or intraperitoneal), advocating for a systemic effect[119]. Moreover, mice exposed to cigarette smoking were more likely to develop pathological inflammation in response to bacterial inflammation which could be the hallmark of an impaired expression of antimicrobial peptides[119]. Besides, smoking was associated with a reduced number of normal Paneth cells in the ileum, both in patients presenting a CD susceptibility allele (ATG16L1T300A) as well as in mice presenting this genetic susceptibility. This defect in the ileum was mediated by the Paneth cell apoptosis driven by the activation of peroxisome proliferator-activated receptor gamma (PPARγ) and prevented in mice by the use of anti-TNF-α drugs[120].
Moreover, smoking is associated with an upregulation of angiogenesis in smokers with CD compared to their non-smoking counterparts. Importantly, mice exposed to cigarette smoke for 8 wk presented mucosal tissue hypoxia associated with an increased expression of pro-inflammatory cytokines and of angiogenic factors whereas smoking cessation reversed this process in the ileal mucosa. In addition, cigarette smoke exposure was associated with an increased sensitivity to chemically induced colitis[121]. Although genes of hypoxia-inducible factor were overexpressed in the inflamed ileum and in the adjacent mesenteric tissue of CD patients, hypoxia in mice did not impact experimental ileitis[122-124]. All together, these results advocate for a specific impact of tobacco smoking in the pathogenesis of ileitis.
Evidence for other environmental factor is rare in the literature. Recently, serum levels of bisphenol A, a component used in the manufacture of various plastics, have been linked to inflammatory status in CD patients. Furthermore, patients with bacterial DNA translocation presented a higher serum level of bisphenol A associated with a reduced expression of tight junction genes[125].
Diet
Western diet is characterized by a low intake of fibres contrasting with a high intake of refined sugar, animal protein and total fat. Numerous links between diet and IBD have been established[126]. To that extent, diet modulates the microbiota associated with the ileal epithelium. Thus, AIEC was associated with hyperacetylated histone H3 in the ileal epithelium and consequently histone deacetylase enzymes controlled the entry of AIEC in IECs in a murine model. Interestingly, a high fat diet enhanced histone acetylation in mice compared to a standard diet[110]. Overweight (body mass index > 25 kg/m2) in IBD and in non-IBD patients was associated with Paneth cell defects in the ileal epithelium. This defect can be induced by Western diet in mice[93].
Regarding fat intake, the ratio between n-3 and n-6 polyunsaturated fatty acids (PUFAs) is unbalanced in favour of an excessive intake of n-6 PUFAs in Western diet. Oral feeding with n-3 PUFAs in SAMP1/Yit mice ameliorated the histological features of ileitis, and decreased addressin molecule expression (MAdCAM-1) as well as lymphocyte infiltration in the ileum[127]. To that extent, oral supplementation with linseed oil rich in α-linolenic acid (n-3 PUFAs), in a physically active murine model, reduced inflammation after oral challenge with AIEC[128]. However, oral n-3 PUFAs supplementation has not shown definitive results in patients with CD[129]. In all likelihood, n-3 PUFAs alone are unable to stop the inflammatory loop once started but remain putative candidates to prevent the onset of ileal CD.
Fibre intake was identified as a protective factor against CD onset but not UC[130]. Although epidemiological data were based on a 40-year-old population, fibre intake and more accurately inulin supplementation modulated PPARγ signalling pathway in pigs[131].
Vitamin D deficiency in IBD patients has been reported in numerous studies reviewed elsewhere as an explanation of the North-South gradient of IBD prevalence[132]. In mice fed with a vitamin D deficient diet, miR-142-3p expression was upregulated, culminating in a reduction of ATG16L1 and autophagy specifically in ileal Paneth cells. In a paediatric cohort of IBD patients, colonic samples displayed likewise an enhanced expression of miR-142-3p statistically associated with low serum vitamin D levels[133]. As discussed previously, VDR were overexpressed in the ileum and were involved in the adequate response to enteropathogens[19]. When associated with a high fat diet, vitamin D deficiency and genetic VDR inhibition led to defective Paneth cell defensins secretion and gut permeability driving endotoxemia and systemic inflammation[134].
Last, Western diet is also characterized by a high intake of dietary additives related to the consumption of ultra-processed food. To that extent, dietary emulsifiers carboxymethylcellulose and polysorbate-80 were associated with an increased virulence and enrichment of ileal pathobionts[135].
More generally speaking, diet in patients with ileal CD should be based on the guidelines of the European Society of Nutrition. The findings discussed above and others have led to recommendations for a balanced diet rich in fruit, vegetables and n-3 fatty acids, avoiding a restrictive diet[136]. As highlighted in this European consensus, good quality data regarding the effects of experimental diets are rare in the literature. In particular, there is a lack of randomized control trials to recommend a more specific diet in patients with active ileal CD[136].
CLINICAL IMPLICATIONS
The factors summarised in the previous paragraphs give rise to a distinctive natural history of ileal CD with specific clinical consequences and interventions necessary.
Natural history of ileal CD
In CD, the shortest time from diagnosis to first surgery is in ileal CD compared to other disease sites. Thus, the median time to surgery in ileal CD is about 6 years. Thirty years after being diagnosed with ileal CD, almost all patients had undergone at least one surgery according to a broad international study[1]. At 12 mo after surgery, a recurrence was observed on colonoscopy, at and above this anastomosis in 73% of patients in absence of any treatment[137]. These data regarding recurrence rates published 30 years ago led to the development of preventive strategies after surgery.
In terms of behaviour, ileal CD was more likely than colonic CD to be complicated by penetrating or stricturing lesions[3]. These severe manifestations contribute to the high rate of surgery. Accordingly, strictures are challenging complications that are usually unresponsive to medical therapy in the absence of surgery[3]. Strictures result from the accumulation of fibrotic protein in the extracellular matrix produced by fibroblasts which are partially derived from epithelial cells via epithelial-mesenchymal transition (EMT)[138]. Accordingly, based on a comparative study of ileal versus colonic ulcers, EMT appeared to be a highly noticeable feature in ileal ulcers of CD unlike colonic ulcers of CD[55]. Ileal strictures were likely to present mesenteric fat wrapped around the stricture, known as creeping fat[139], which harbours viable bacterial translocation and leads to a pro-fibrosis M2-type microenvironment[140-143]. Remarkably, creeping fat associated with the ileum presented a 10-fold higher concentration of T-cells than colonic fat[144]. In addition, adipocyte hyperplasia was observed in ileal fat unlike colonic fat[144].
Beyond the ileum
Ileal crypts have been reported in the colon of CD patients[12,45]. Recently, the presence of ectopic ileal crypts discriminated IBD subtype in patients with undetermined (unclassified) colitis. The presence of ileal metaplasia in the colon was strongly associated with a final diagnosis of colonic CD[145]. This interesting discovery could enhance understanding of ileal physiopathology, pivotal to understand CD.
In a specific statistical model based on HLA types and single nucleotide polymorphism, colonic CD appeared to be an intermediate between UC and ileal CD[1]. Consecutively, knowledge of ileal CD may pave the way to understanding other phenotypes of CD.
A dedicated treatment for ileal CD?
Logically, the specificities of ileal CD discussed in this review should lead to a dedicated treatment strategy. Nevertheless, current ECCO guidelines on the medical management of CD do not advocate for a specific treatment in ileal CD[146]. Indeed, studies are controversial. Some studies reported a lower rate of response to infliximab, an anti-TNF treatment[147,148]. Conversely, numerous other studies did not describe such a difference in response rates with anti-TNF[149]. This discrepancy may result from a bias such as the extent of the disease irrespectively of the site of the disease. Interventional trials specifically dedicated to the study of ileal CD treatment are henceforth required. In the literature, colonic CD is more likely to respond to treatment compared to ileocolonic CD and mucosal healing may be more difficult to achieve in ileal disease. Likewise, ileal stricturing CD may have lower response rates[149].
As ileal stricture may develop in spite ofCD treatment, an American team sought to determine the gene pattern associated with ileal stricturing in a paediatric CD cohort. This analysis identified a long-chain fatty acid, the eicosatetranoic acid as a possible antifibrotic tool[150]. In a follow-up study, the same team showed a decrease in fibrosis and an improvement in stiffness in human intestinal organoids exposed to eicosatetraynoic acid[151]. In parallel, butyrate, a short-chain fatty acid, also downregulated fibrosis according to the same protocol[151].
CONCLUSION
The histological and anatomical features of the ileum are direct answers to the question "why the ileum?". Furthermore, the recent works presented in this review highlight the specific interplay between environmental factors, like smoking or diet, and the ileum. Currently, the prevailing requirement for surgery in a significant proportion of patients with ileal CD testifies to the urgent need for a dedicated pharmacological approach according to disease site. As the ileum is the site of interplay between host characteristics and environmental influences, a full understanding of the molecular crosstalk that occurs in the ileum is crucial to identify new therapeutic targets to significantly change the natural history of this debilitating disease.
ACKNOWLEDGEMENTS
Mathilde Leboutte was supported by a PhD from Normandie Region. Authors are grateful to Nikki Sabourin-Gibbs, CHU Rouen, for her help in editing the manuscript.
Provenance and peer review: Invited article; Externally peer reviewed.
Peer-review model: Single blind
Specialty type: Gastroenterology and hepatology
Country/Territory of origin: France
Peer-review report's scientific quality classification
Grade A (Excellent): 0
Grade B (Very good): B, B
Grade C (Good): 0
Grade D (Fair): 0
Grade E (Poor): 0
P-Reviewer: Castelucci P, Brazil; Leal RF, Brazil S-Editor: Fan JR L-Editor: A P-Editor: Cai YX