Copyright
©The Author(s) 2022.
Published by Baishideng Publishing Group Inc. All rights reserved.
Interplay between metabolic dysfunction-associated fatty liver disease and chronic kidney disease: Epidemiology, pathophysiologic mechanisms, and treatment considerations
Panagiotis Theofilis, Aikaterini Vordoni, Rigas G Kalaitzidis, Center for Nephrology "G. Papadakis," General Hospital of Nikaia-Piraeus "Agios Panteleimon," Nikaia 18454, Greece
Author contributions: Theofilis P contributed to conceiving the study; Theofilis P and Vordoni A contributed to the investigation; Theofilis P contributed to the visualization; Kalaitzidis RG contributed to the supervision; Theofilis P and Vordoni A wrote the original draft; Kalaitzidis RG edited the original draft; All authors have read and agreed to the published version of the manuscript.
Conflict-of-interest statement: The authors have no conflicts of interest to declare.
Open-Access
: This article is an open-access article that was selected by an in-house editor and fully peer-reviewed by external reviewers. It is distributed in accordance with the Creative Commons Attribution NonCommercial (CC BY-NC 4.0) license, which permits others to distribute, remix, adapt, build upon this work non-commercially, and license their derivative works on different terms, provided the original work is properly cited and the use is non-commercial. See:
https://creativecommons.org/Licenses/by-nc/4.0/
Corresponding author: Panagiotis Theofilis, MD, Doctor, Researcher, Center for Nephrology "G. Papadakis," General Hospital of Nikaia-Piraeus "Agios Panteleimon," Piraeus, Nikaia 18454, Greece. panos.theofilis@hotmail.com
Received: August 12, 2022
Peer-review started: August 12, 2022
First decision: August 29, 2022
Revised: September 6, 2022
Accepted: September 19, 2022
Article in press: September 19, 2022
Published online: October 21, 2022

The recently proposed nomenclature change from non-alcoholic fatty liver disease to metabolic dysfunction-associated fatty liver disease (MAFLD) has resulted in the reappraisal of epidemiological trends and associations with other chronic diseases. In this context, MAFLD appears to be tightly linked to incident chronic kidney disease (CKD). This association may be attributed to multiple shared risk factors including type 2 diabetes mellitus, arterial hypertension, obesity, dyslipidemia, and insulin resistance. Moreover, similarities in their molecular pathophysiologic mechanisms can be detected, since inflammation, oxidative stress, fibrosis, and gut dysbiosis are highly prevalent in these pathologic states. At the same time, lines of evidence suggest a genetic predisposition to MAFLD due to gene polymorphisms, such as the PNPLA3 rs738409 G allele polymorphism, which may also propagate renal dysfunction. Concerning their management, available treatment considerations for obesity (bariatric surgery) and novel antidiabetic agents (glucagon-like peptide 1 receptor agonists, sodium-glucose co-transporter 2 inhibitors) appear beneficial in preclinical and clinical studies of MAFLD and CKD modeling. Moreover, alternative approaches such as melatonin supplementation, farnesoid X receptor agonists, and gut microbiota modulation may represent attractive options in the future. With a look to the future, additional adequately sized studies are required, focusing on preventing renal complications in patients with MAFLD and the appropriate management of individuals with concomitant MAFLD and CKD.
Core Tip: Metabolic dysfunction-associated fatty liver disease (MAFLD) is a recently defined pathological state aiming to identify individuals at increased risk of adverse prognosis. Numerous epidemiological studies propose that chronic kidney disease may be among its complications. Their shared risk factors, molecular mechanisms, and genetic predisposition represent the basis for this relationship. Accordingly, treatment approaches with combined efficacy in MAFLD and chronic renal impairment are expected to positively impact the natural history of this deleterious interaction, which remains to be confirmed in future studies.
---
Citation: Theofilis P, Vordoni A, Kalaitzidis RG. Interplay between metabolic dysfunction-associated fatty liver disease and chronic kidney disease: Epidemiology, pathophysiologic mechanisms, and treatment considerations. World J Gastroenterol 2022; 28(39): 5691-5706
---
INTRODUCTION
Metabolic abnormalities, namely obesity and type 2 diabetes mellitus (T2DM) constitute contemporary pandemics with a high prevalence and rising incidence[1,2]. Although cardiovascular diseases remain the most prominent complication of metabolic derangement, hepatic insult is frequent, as documented in recently reported epidemiologic trends of non-alcoholic fatty liver disease (NAFLD) and non-alcoholic steatohepatitis (NASH)[3,4]. However, the existing NAFLD definition required the exclusion of other forms of liver disease instead of providing positive criteria for the diagnosis of metabolic dysfunction-associated fatty liver disease (MAFLD). A recent expert consensus tried to resolve this gap in evidence by providing a simple and comprehensive MAFLD definition and diagnostic criteria[5]. These included the presence of steatosis along with a main metabolic abnormality (overweight/obesity or T2DM) or at least two metabolic risk factors.
The establishment of MAFLD as an entity may promote the need for intense research in this field to define its epidemiology better, identify predisposing and prognostic factors, and evaluate effective therapeutic approaches. Moreover, investigating the association between MAFLD and other pathological states, primarily cardiac and renal diseases, will improve our understanding of this complex entity. Even though the link between MAFLD and cardiovascular disease has been the most extensively studied[6], ample evidence suggests the relationship between MAFLD and chronic kidney disease (CKD).
In this narrative review, we elaborate on this interaction by assessing its epidemiological features, the involved pathophysiologic pathways, and the potential therapeutic interventions.
MAFLD AND CKD; EPIDEMIOLOGICAL TRENDS
Due to the recent change in terminology and diagnostic criteria, we are now beginning to reevaluate the epidemiological characteristics of MAFLD. In a recently reported study that followed a meta-analytic approach, the prevalence of MAFLD in overweight or obese subjects was 50.7%[7]. The authors pointed to potential geographic variations in MAFLD prevalence, with South American populations exhibiting the highest prevalence rates (approximately 71%). Moreover, they detected a significantly higher prevalence in male subjects and in obese compared to overweight. No differences according to age or income were reported. Finally, T2DM and metabolic syndrome prevalence was 19.7% and 57.5%, respectively. A similar prevalence (47%) was detected in a cross-sectional study of the Mexican population, with male sex, older age, and increasing body mass index (BMI) being predictive factors[8]. Other than high prevalence rates, there is an association between MAFLD and all-cause mortality, which extends to cancer- and cardiovascular disease-related mortality[9]. Moreover, a higher risk of atherosclerotic disease, heart failure, obstructive sleep apnea, and malignancy has been reported[9].
According to the available evidence, MAFLD is tied to a higher incidence of CKD. To begin with, in an analysis of approximately 270000 individuals that underwent National Health Insurance Service health examinations, MAFLD was associated with an increased risk of incident CKD compared to non-metabolic NAFLD (adjusted hazard ratio 1.18, 95% confidence interval [CI]: 1.01-1.39; P = 0.04)[10]. In the study by Tanaka et al[11] in a sizeable Japanese population followed up for 10 years, MAFLD was a determinant of incident CKD irrespective of age, sex, smoking, coronary artery disease, estimated glomerular filtration rate (eGFR), and metabolic risk factors (diabetes mellitus [DM], hypertension, hyperlipidemia, obesity). Notably, such observations were not made for the presence of NAFLD or only fatty liver[11]. In a Chinese cohort of 6873 participants with a 4.6-year follow-up, the investigators noted a higher risk of CKD in MAFLD subjects (risk ratio 1.64, 95%CI: 1.39-1.94)[12]. Last but not least, the authors of a recently published systematic review and meta-analysis found a potent association between a MAFLD diagnosis and new onset of CKD (hazard ratio 1.53, 95%CI: 1.38-1.68)[9]. Contradictory to the findings mentioned above, in an analysis of the National Health and Nutrition Examination Surveys of the United States 2017-2018, the relationship between MAFLD and CKD was not statistically significant after the propensity score matching[13]. Scientific interest is intense in this field due to the recently proposed change in the nomenclature of NAFLD into MAFLD. Future studies are eagerly awaited to assess the association between MAFLD and CKD and the prognosis of individuals with concomitant CKD and MAFLD.
Concerning the interplay between MAFLD and CKD, the use of transient elastography is of great importance. Ciardullo et al[14], in their meta-analysis of seven cross-sectional studies, detected an association of non-invasively assessed liver fibrosis with increased urinary albumin-to-creatinine ratio (UACR) (odds ratio [OR] 1.98, 95%CI: 1.29-3.05; P = 0.002) and incident CKD (OR 2.49, 95%CI: 1.89-3.29; P < 0.001). The study by Freitas et al[15] further stressed the role of transient elastography. Liver fibrosis, assessed by the liver stiffness measurements (LSM), was associated with early kidney dysfunction, characterized by the development of microalbuminuria (UACR 30-300 mg/g) or a drop in eGFR to < 60 mL/min/1.73 m2 in MAFLD individuals[15]. LSM values of over 6.1 kPa were predictive of the endpoint, with a sensitivity and specificity of 85.7% and 67.6%, respectively[15]. It appears that Fibroscan-derived controlled attenuated parameter (CAP) may be a more crucial predictor of prevalent CKD in subjects with MAFLD than LSM. Specifically, CAP values of 353 dB/m were associated with CKD, even after multivariable adjustment (OR 1.07, 95%CI: 1.00-1.20; P = 0.01)[16].
PATHOPHYSIOLOGIC PATHWAYS LINKING MAFLD WITH CKD
According to those recently published reports, it is evident that MAFLD is a growing pandemic due to the constantly rising prevalence of its underlying risk factors. Moreover, the association between MAFLD and incident CKD is remarkable but unsurprising, due to the common pathophysiologic mechanisms surrounding those entities (Figure 1). To begin with, the main risk factors for CKD development, T2DM and arterial hypertension[17-19], are among the established diagnostic criteria for MAFLD. The same could be argued for obesity, prediabetes, dyslipidemia, and insulin resistance since studies have proposed an independent association between the risk factors mentioned above and incident CKD[17,19-21].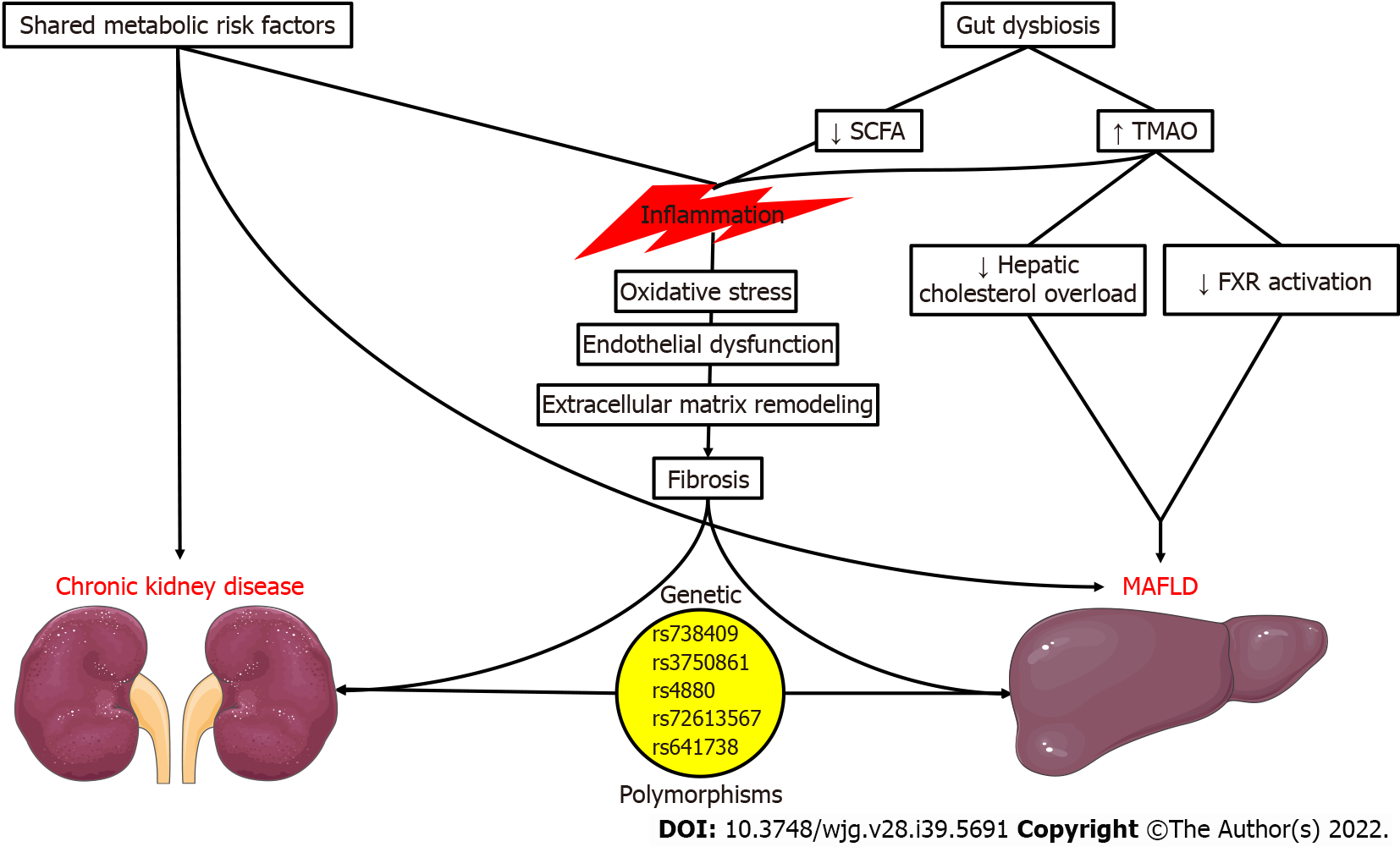 Figure 1 Common pathophysiologic mechanisms in metabolic dysfunction-associated fatty liver disease and chronic kidney disease.
FXR: Farnesoid X receptor; MAFLD: Metabolic dysfunction-associated fatty liver disease; SCFA: Short-chain fatty acid; TMAO: Trimethylamine N-oxide.
Inflammatory hypothesis in MAFLD and CKD
Regarding the involved molecular mechanisms, we should stress the role of inflammation. We know that inflammation is among the cardinal features of MAFLD, with elevations of high-sensitivity C reactive protein (hsCRP) being among the criteria of metabolic dysregulation. hsCRP elevation was correlated with the extent of liver steatosis and fibrosis in 393 obese individuals with MAFLD, even after adjustment for confounding factors[22]. Chronic, low-grade inflammation may propagate oxidative stress and endothelial dysfunction in MAFLD[23,24]. Ultimately, liver fibrosis ensues due to extracellular matrix formation and collagen deposition[25], potentially progressing to cirrhosis and hepatocellular carcinoma. Intriguingly, this pro-inflammatory state could facilitate the development of CKD, with nuclear factor kappa B (NF-κB) mediating the activation of endothelial cells, mesangial cells, podocytes, and tubular epithelial cells, resulting in increased permeability, the release of inflammatory mediators, and proteinuria[26]. In this deleterious setting, the additional extracellular matrix remodeling, epithelial-to-mesenchymal transition, and interstitial fibrosis contribute to the progression of CKD[27]. We should also stress that the contribution of MAFLD and CKD to the systemic inflammatory milieu could have deleterious cardiovascular implications[28-32].
Obesity and adipokines
Obesity, another shared risk factor for MAFLD and CKD, is also pivotal in their development. Adipose tissue is a known endocrine organ with critical regulatory functions on satiety, insulin sensitivity, inflammation, and the renin-angiotensin system through the secretion of adipokines[33,34]. The most well-characterized hazardous adipokine in FLD, leptin, by interacting with its primary receptor Ob-Rb, results in Janus kinase 2 phosphorylation, in turn leading to the upregulation of the Akt/mammalian target of rapamycin (mTOR), signal transducer and activator of transcription 5, and mitogen-activated protein kinase (MAPK) pathways[35]. This may aid in the development and progression of hepatic steatosis, steatohepatitis, and liver fibrosis. By contrast, low levels of the protective adipokine adiponectin are significantly associated with advanced fibrosis[36]. Moreover, an increased leptin-to-adiponectin ratio is positively correlated with the increasing severity of steatosis[37]. The imbalance in leptin and adiponectin may influence the development of CKD, as leptin could induce sympathetic nervous system activation and blood pressure increases[38], as well as transforming growth factor-β synthesis[39]. A recently reported longitudinal study of 2646 Koreans without CKD showed that higher plasma leptin was predictive of incident CKD after a 2.8-year mean follow-up[40]. On the other hand, adiponectin could have renoprotective effects by ameliorating renal inflammation, oxidative stress, and fibrosis[41]. However, multiple studies have shown that high adiponectin levels are inversely associated with eGFR in individuals with CKD[42] and were predictive of renal function deterioration in subjects without CKD[43].
Gut dysbiosis
The role of the gut microbiome in human health and disease is a highly relevant field of scientific interest. Therefore, potential associations of gut dysbiosis with MAFLD and CKD have been suggested in the past years, strengthening the importance of the gut-liver-kidney axis. In altered gut microbiome synthesis, hazardous metabolites such as trimethylamine N-oxide (TMAO), p-cresyl sulfate, and indoxyl sulfate may be formed.
TMAO is the most extensively studied metabolite regarding its health implications[44]. According to preclinical studies, it may aggravate hepatic steatosis and steatohepatitis by modulating bile acid metabolism, inhibiting farnesoid X receptor activation, and reducing hepatic cholesterol overload[45,46]. NAFLD presence and severity were correlated with circulating TMAO in a study of Chinese individuals[47]. The levels of TMAO were higher in individuals with obesity and NASH, only in the presence of T2DM[48]. TMAO was also associated with all-cause mortality only in NAFLD patients in the Prevention of Renal and Vascular End-stage Disease cohort study, even after adjustment for confounders[49]. Regarding the kidney, TMAO may exert deleterious effects, such as promoting inflammation and fibrosis[50-52]. In a meta-analysis of kidney function indices involving 32 clinical studies with 42062 participants, TMAO concentration was associated with advanced CKD, inversely correlated with eGFR, and positively correlated with UACR, serum creatinine, and serum cystatin C[53]. Circulating TMAO was predictive of all-cause and cardiovascular mortality in a recently reported systematic review and meta-analysis, with this finding being irrespective of kidney function and common risk factors (DM, hypertension, dyslipidemia, inflammation)[54].
Depletion of bacteria responsible for the production of beneficial short-chain fatty acids (SCFAs), such as acetate, propionate, and butyrate, in the setting of a disrupted gut microbiome may lead to deleterious effects in the liver and kidney. These SCFAs could promote anti-inflammatory and anti-oxidative actions by limiting neutrophil recruitment, macrophage secretion of pro-inflammatory mediators, and histone deacetylase-induced NF-κB activation while promoting anti-inflammatory interleukin-10 formation by T regulatory cells[55]. Increased availability of SCFA-producing bacteria or SCFA treatment in clinical studies of patients on hemodialysis patients has resulted in lowering inflammatory markers and ameliorating renal function[56,57]. SCFAs are also helpful in the prevention of MAFLD due to the effects mentioned above, together with hepatic AMP-activated protein kinase (AMPK) activation and glucagon-like peptide 1 receptor (GLP1-R) activation, promotion of satiety, and abrogation of insulin resistance[58].
Gene polymorphisms
Polymorphisms in a few NAFLD-associated genes may also be associated with CKD. PNPLA3 rs738409 G allele polymorphism is the most well-studied and correlated with NAFLD risk and severity[59]. Its potential association with renal outcomes has been investigated with conflicting evidence, as it may propagate podocyte activation and lipid nephrotoxicity. Initially, Sun et al[60] found a significant link between the G/G PNPLA3 genotype with glomerular and tubular injury. In a United Kingdom Biobank analysis, the rs738409 single nucleotide polymorphism was associated with decreased eGFR, independently of metabolic risk factors[61]. Patients homozygous for the PNPLA3 rs738409 had a higher prevalence of CKD and lower eGFR irrespective of liver stiffness and other risk factors in the study of Mantovani et al[62]. This study also found similar expression of PNPLA3 in podocytes, hepatocytes, and hepatic stellate cells[62]. The same study group had previously proven the independent association of the G/G PNPLA3 rs738409 polymorphism phenotype with eGFR and CKD in post-menopausal women with T2DM[63]. However, no associations between PNPLA3 rs738409 gene polymorphism and kidney function were detected in other studies[64-67].
Other polymorphisms have also been investigated, albeit to a lesser degree. Risk alleles for KLF6 rs3750861 and SOD2 rs4880 polymorphisms correlate with kidney function in MAFLD[65]. Moreover, in a population of biopsy-proven NAFLD, the HSD17B13 rs72613567 A alleles were protective against albuminuria but not eGFR decline[68]. Lastly, an association between the MBOAT7-TMC4 rs641738 T/T genotype and lower eGFR was detected in a cohort of Asian individuals with biopsy-proven NAFLD[67]. While the genetic predisposition of kidney dysfunction in FLD represents an exciting hypothesis, further studies are required to improve our understanding of this link.
THERAPEUTIC APPROACHES
Treating patients with MAFLD and CKD requires therapeutic interventions to ameliorate their prognosis by targeting their shared risk factors and pathophysiology. Although studies have not explicitly assessed this subgroup of patients, we may assume that interventions with documented efficacy in MAFLD[69-81] and CKD[82-90] could lead to positive outcomes in this combination of diseases (Table 1). Moreover, due to the recent change in the nomenclature with the introduction of MAFLD, we should stress that most of the available clinical evidence discussed below is derived from studies of NAFLD patients. Therefore, future appropriately designed studies considering the novel MAFLD diagnostic criteria will shed additional light on managing this entity.
Study

---

Treatment

---

Finding

---

MAFLD
Meneses et al[69]
Bariatric surgery
Stabilization of fibrosis or complete resolution; ↓ NAFLD fibrosis score
Li et al[70]
GLP1-RA
↓ Liver fat
Morieri et al[71]
GLP1-RA
↓ MAFLD prevalence
Jianping et al[72]
GLP1-RA
Improvement in histological MAFLD features
Akuta et al[73]
Canagliflozin
↓ Histological steatosis, lobular inflammation, and fibrosis stage
Takahashi et al[74]
Ipragliflozin
↓ Hepatic fibrosis; Steatohepatitis resolution
Pakravan et al[75]
Melatonin
↓ Inflammation; Improvement of ultrasonographic fatty liver grade
Akhavan et al[76]
Melatonin
↓ Hepatic enzyme levels
Rinella et al[77]
Obeticholic acid
↓ Hepatic enzyme levels↓ Liver fibrosis
Neuschwander-Tetri et al[78]
Obeticholic acid
Improvement in histological features
Mohamad Nor et al[79]
Probiotics
↔ Elastography-derived hepatic steatosis and fibrosis
Derosa et al[80]
Probiotics
↓ Hepatic steatosis index; ↓ Ultrasonographic steatosis
Musazadeh et al[81]
Probiotics
↓ Hepatic enzyme levels
CKD
Funes et al[82]
Bariatric surgery
↑ eGFR
Wee et al[83]
Bariatric surgery
↑ eGFR↓ Albuminuria
Fathy et al[84]
Bariatric surgery
↓ Albuminuria
Dash et al[85]
Bariatric surgery
↓ Kidney disease incidence
Shaman et al[86]
GLP1-RAs
↓ Albuminuria; Halted eGFR decline
Perkovic et al[87]
Canagliflozin
Reduction in the renal outcome (ESKD, doubling of serum creatinine, or renal death) by 34%
Heerspink et al[88]
Dapagliflozin
Reduction in the renal outcome (decline in eGFR of ≥ 50%, ESKD, or renal death) by 44%
Bhatt et al[89]
Sotagliflozin
Reduction in the renal outcome (decline in eGFR of ≥ 50%, ESKD, renal transplantation) by 29%
Wang et al[90]
Probiotic
Halted eGFR decline; ↓ Inflammation
Bariatric surgery
Since obesity is among the main risk factors for the development of MAFLD, the role of bariatric surgery may be crucial in carefully selected eligible individuals. Initially, we should state that the prevalence of MAFLD may be exceptionally high in those morbidly obese patients that are eligible for bariatric surgery. Ciardullo et al[91] have demonstrated this association in a study of 434 potential candidates for bariatric surgery, with the prevalence of steatosis and fibrosis being 76.7% and 23.1%, respectively. In the only study assessing bariatric surgery in MAFLD patients, Meneses et al[69] prospectively enrolled 52 subjects whose MAFLD status was evaluated via liver biopsy. Those with a histological diagnosis of steatohepatitis were followed up with an additional biopsy 12 mo after the index procedure. Most subjects with steatohepatitis did not experience any disease progression, while a significant proportion (56.5%) exhibited complete resolution. Additionally, fibrosis and fibrotic scores were improved, highlighting a non-negligible benefit of bariatric surgery in this small-scale study.
Bearing in mind the increased prevalence (~80%) of steatosis in morbidly obese patients (BMI > 40 kg/m2)[92], several clinical implications can be made regarding kidney outcomes. To begin with, compared with individuals who have undergone a bariatric surgery procedure, severely obese subjects had greater odds of having stage III CKD (OR 3.10, 95%CI: 3.05-3.14, P < 0.001) and end-stage renal disease (OR 1.13, 95%CI: 1.09-1.18, P < 0.001). This finding was consistent even after adjustment for CKD risk factors[93]. The performance of sleeve gastrectomy could have renoprotective effects, as shown in a retrospective analysis of 1330 individuals undergoing this procedure. The investigators noted a greater improvement of eGFR in subjects with impaired kidney function 12 mo after the procedure[82]. A rise in eGFR, together with albuminuria reduction, was observed by Wee et al[83] in their retrospective study of 557 Asian patients after metabolic bariatric surgery. Importantly, the CKD stage improved in 12.9% of the study participants, while the prevalence of albuminuria (UACR > 3.5 mg/mmol) decreased from 24.8% to 1.9% at the 1-year follow-up[83]. Fathy et al[84] also noted an astonishing albuminuria remission rate (83%) in 137 non-diabetic, non-hypertensive, severely obese subjects with albuminuria who underwent bariatric surgery. Moreover, in another study, subjects undergoing bariatric surgery had a lesser incidence of kidney disease than the control group (hazard ratio 0.46, 95%CI: 0.22-0.92)[85]. A systematic review and meta-analysis of 19 studies revealed that bariatric surgery led to ameliorated eGFR and lesser odds of incident albuminuria[94]. The observed benefits may be attributed to enhanced glomerular hyperfiltration, reduction in detrimental adipocyte-derived mediators such as leptin, and alterations in pro-inflammatory and pro-fibrotic molecule expression[95].
GLP1-R agonists
GLP1-R agonists (GLP1-RAs) are novel potent antidiabetic agents with proven efficacy in reducing major adverse cardiovascular events. Besides their glucose-lowering action, their beneficial hepatic effects may be related to the influence on the AMPK/mTOR pathway, as shown by Reis-Barbosa et al[96] in obese C57BL/6 mice treated with subcutaneous semaglutide. Other inflammatory and oxidative pathways in the liver could be inhibited by GLP1-RAs, such as the receptor for advanced glycation end products/nicotinamide-adenine dinucleotide phosphate oxidase 2, limiting liver injury and fibrosis in mice on a high-fat diet[97]. Concerning human studies, patients with MAFLD treated with GLP1-RAs have exhibited a significant reduction in liver fat, which may be positively correlated to fibroblast growth factor 21[70]. The use of GLP1-RAs also resulted in a significant reduction of MAFLD prevalence (defined based on hepatic steatosis index > 36) during a 24-mo follow-up[71]. Interestingly, the effect was evident only in subjects on human-based GLP1-RAs[71]. Moreover, in a meta-analysis of 4 randomized clinical trials, semaglutide was associated with significant decreases in body weight, alanine aminotransferase, liver steatosis, and stiffness[98]. GLP1-RAs may also improve histologic features on MAFLD, such as liver fat deposition, steatohepatitis, and fibrosis, as shown by the systematic review and meta-analysis of Jianping et al[72].
GLP1-RAs have shown benefits in preventing the development or halting the progression of CKD. As demonstrated above, their effect in ameliorating steatosis and promoting anti-oxidative and anti-inflammatory actions may be among the determining factors in this renoprotective effect, together with weight loss, blood pressure, and glucose-lowering[99]. Other speculated mechanisms include glomerular hyperfiltration, the regulation of the renin-angiotensin system, sodium-hydrogen exchanger-3, and renal endothelial vasodilation[100]. Regarding clinical evidence, and as recently shown in a pooled analysis of the SUSTAIN 6 and LEADER trials of patients with T2DM, semaglutide and liraglutide diminished albuminuria and eGFR decline, especially in subjects with CKD (eGFR < 60 mL/min/1.73 m2)[86]. Moreover, efpeglenatide, an exendin-4-based GLP1-RA, also led to favorable renal outcomes compared to placebo in the AMPLITUDE-O trial of individuals with T2DM, irrespective of eGFR and concurrent sodium-glucose co-transporter-2 (SGLT2) inhibitor use[101,102]. As far as head-to-head comparisons, the renoprotective effects of GLP1-RAs were of greater magnitude compared with dipeptidyl peptidase-4 inhibitors[103], whereas SGLT2 inhibitors may promote increased renal benefits[104,105].
Dual GLP1 and glucose-dependent insulinotropic peptide receptor agonists have recently emerged into the spotlight owing to the results of the SURMOUNT-1 clinical trial of tirzepatide for the treatment of obesity[106]. Regarding FLD, the administration of a hybrid agonist by the name of 19W in C57BL/6J on a high-fat diet decreased the area of liver fibrosis[107]. Moreover, dual GLP1/2 receptor agonists may also ameliorate NASH prognosis, as shown in C57BL/6J mice on a high-fat diet/high fructose and sucrose solution through an improvement in liver fibrosis[108]. However, these concepts need further validation in preclinical settings. Concerning clinical evidence, tirzepatide dose-dependently ameliorated biomarkers of NASH such as alanine transaminase, aspartate aminotransferase, keratin-18, and procollagen III compared to placebo. At the same time, it was associated with an increase in adiponectin[109]. Lastly, in a recently published substudy of the SURPASS-3 MRI clinical trial, administration of tirzepatide in patients with T2DM decreased the liver fat content along with the volume of visceral and abdominal subcutaneous adipose tissue, compared to insulin degludec[110].
SGLT2 inhibitors
SGLT2 inhibitors have been at the forefront of scientific research owing to the remarkable reduction in the rate of heart failure hospitalization and their ability to impact cardiac remodeling[111,112]. Their pleiotropic mechanisms of action have been a topic of continuous investigation[111,113], and their therapeutic indications are constantly expanding. In the field of MAFLD, specifically in obese, diabetic mice with FLD treated with empagliflozin, Kurtz et al[114] documented a reduction in hepatic steatosis, which was correlated with the whitening of the adipose tissue. Empagliflozin may also attenuate hepatocyte lipotoxicity through the calcium/calmodulin dependent protein kinase beta/AMPKα pathway[115]. Another SGLT2 inhibitor, ipragliflozin, ameliorated the progression of MAFLD in STAM mice with β cell depletion, evidenced by decreased histologic steatosis, hepatocyte ballooning, inflammation, and fibrosis[116]. This effect was accompanied by antioxidant and mitochondrial transport-related gene upregulation, and overexpression of miR-19b-3p[116]. Additionally, dapagliflozin reduced liver fat accumulation in male NIH mice on a high-fat diet by acting on the AMPK/mTOR pathway[117]. Moving to clinical evidence, empagliflozin may lessen liver fibrosis, insulin resistance, and hepatic enzyme concentrations, as shown by the systematic review and meta-analysis of Zhang et al[118]. An interesting study on the importance of SGLT2 inhibition in MAFLD was performed by Akuta et al[73], who retrospectively reviewed patients with T2DM and FLD initiated on canagliflozin with consequent biopsy results over a period of 5 years. Compared to pre-treatment biopsy, the investigators noted a histologic improvement in 50% of the participants and a decrease in steatosis, lobular inflammation, and fibrosis stage in 67%, 33%, and 33%, respectively, at the 5th year. In line with this study, ipragliflozin use in patients with T2DM and FLD led to significant improvements in hepatic fibrosis and greater rates of steatohepatitis resolution compared to the control group[74]. According to the available evidence, we can assume that SGLT2 inhibitors will become an essential tool in the prevention and treatment of MAFLD.
While the use of SGLT2 inhibitors in MAFLD is gaining ground, this drug class is an established treatment option for CKD. Among the putative nephroprotective mechanisms are the regulation of autophagy and the resulting inflammation, oxidative stress, endothelial dysfunction, fibrosis, and apoptosis, the reduction of intraglomerular and blood pressure, and the improvement of podocytopathy. Large-scale randomized clinical trials on CKD patients such as CREDENCE[87], DAPA-CKD[88], and SCORED[89] demonstrated the unequivocal benefit of SGLT2 inhibition in reducing the rate of adverse renal outcomes and eGFR decline. The upcoming EMPA-KIDNEY trial was stopped early due to clear efficacy detected in the interim analysis, and the detailed results are eagerly awaited. Subanalyses of the abovementioned trials stressed the effect of SGLT2 inhibitors on kidney outcomes independently of T2DM status, baseline hemoglobin A1c, CKD etiology, and stage[119-122]. The upcoming revision of existing CKD guidelines should incorporate this option in CKD treatment algorithms.
Melatonin
Melatonin, a crucial hormone produced in response to darkness, could be an additional approach to managing MAFLD and CKD due to its pleiotropic effects, as we have previously reviewed[123]. Starting with its impact on MAFLD, fine particulate matter-induced hepatic steatosis was ameliorated with the administration of melatonin in apolipoprotein E knockout (ApoE-/-) mice through anti-oxidative mechanisms involving protein tyrosine phosphatase 1B and nuclear factor erythroid 2-related factor 2 signaling pathways[124]. Furthermore, melatonin promoted anti-inflammatory actions by modulating NACHT, LRR, and PYD domain-containing protein 3 inflammasome activation and downregulating the toll-like receptor 4/NF-κB pathway in C57BL/6 mice models of high-fat diet-induced steatohepatitis[125]. This resulted in histopathological improvement of steatosis, ballooning, inflammation, fibrosis, and overall disease score[125]. In clinical studies, the administration of oral melatonin thrice daily for 3 mo ameliorated metabolic and inflammatory indices, as well as ultrasonography fatty liver grade, in patients with histologically proven NAFLD[75]. In a meta-analysis of studies with NAFLD patients, alanine transaminase, alkaline phosphatase, gamma-glutamyl transferase, triglycerides, and total cholesterol were significantly reduced after melatonin supplementation[76]. However, more clinical trials are needed to improve our understanding of the importance of melatonin treatment in MAFLD development, progression, and prognosis.
Melatonin supplementation has also been attempted in CKD, both preclinically and clinically. Based on experimental studies, several mechanisms of nephroprotection have been suggested, including anti-oxidative, anti-inflammatory, anti-fibrotic, and anti-apoptotic[123]. Although there is no reliable clinical evidence concerning CKD prognosis after melatonin therapy, human trials have proven an anti-oxidative and anti-inflammatory effect, paired with improved glycemia[126,127]. Moreover, ameliorating mitochondrial damage and promoting autophagy could represent other putative effects of melatonin treatment[123].
Farnesoid X receptor agonists
Farnesoid X receptor agonists have demonstrated efficacy both in fatty liver disease regression and kidney disease. The most commonly used agent of this drug class, obeticholic acid, at a dose of 25 mg, led to significant improvement in liver function tests, elastography-derived and histologically proven liver fibrosis in patients with steatohepatitis and liver fibrosis (F2-F3)[77]. Based on the results of the FLINT trial of patients with non-cirrhotic, non-alcoholic steatohepatitis, obeticholic acid 25 mg administration led to an improvement in liver histology in 45% of the participants compared to in the control group (relative risk 1.9, 95%CI: 1.3-2.8)[78]. Although the dosage of 25 mg may be more efficacious than 10 mg, it may be met with a more significant burden of side effects and possibly higher discontinuation rates[128]. Preclinical evidence has suggested the potential of farnesoid X receptor agonists in experimental kidney disease by abrogating inflammation, oxidative stress, fibrosis, and apoptosis[129-132]. Due to the lack of clinical data, the efficacy of farnesoid X receptor agonists in CKD remains speculative to date.
Gut microbiome modulation
Targeting the gut microbiome may represent an appealing approach to the holistic management of MAFLD and CKD. Probiotics such as Bifidobacterium animalis, B. bifidum, B. adolescentis, Lactobacillus paracasei, L. plantarum, L. reuteri, and Weissella cibaria have been assessed in preclinical FLD models and may alter gut permeability, ultimately affecting the processes of inflammation and oxidative stress among others[133-138]. Unfortunately, a probiotic supplement containing six different Lactobacillus and Bifidobacterium species for 6 mo did not improve hepatic steatosis and fibrosis evaluated by elastography in ultrasonography-diagnosed NAFLD subjects[79]. By contrast, a high-concentration probiotic combination of Streptococcus thermophilus, multiple Bifidobacteria and Lactobacilli led to a reduction of hepatic steatosis index as well as ultrasonographic steatosis in a double-blind, placebo-controlled, randomized clinical trial of NAFLD patients[80]. A recently reported umbrella systematic review and meta-analysis also suggested liver biochemical improvement through the administration of probiotics in NAFLD patients[81]. Although probiotics appear helpful in experimental FLD settings, more clinical trials are required to improve our understanding of their importance in human MAFLD.
Moving to CKD, L. rhamnosus administration for 14 wk in 5/6 nephrectomized mice diminished gut-derived uremic toxins and systemic inflammatory markers by restoring intestinal integrity and protecting against renal fibrosis[139]. Anti-inflammatory, anti-apoptotic, and anti-fibrotic effects with L. rhamnosus were demonstrated in cisplatin-induced CKD rat models by acting on the MAPK/NF-ĸB/cyclooxygenase-2, the p53/B-cell lymphoma 2-associated X protein/caspase-3, and the signal transducer and activator of 3 pathway[140]. Moreover, a lactobacillus mixture consisting of L. paracasei and L. plantarum led to attenuated kidney injury, inflammation, and fibrosis in adenine-induced CKD mouse models, while also restoring gut microbial composition[141]. Translating these findings in a clinical setting of patients with advanced CKD, 6 mo of treatment with a probiotic formulation containing L. acidophilus, B. longum, and B. bifidum significantly halted the eGFR decline, together with lowering of inflammatory markers[90].
Although still experimental, TMAO inhibitors may represent a possible approach to modulating gut microbiota. Using 3,3-dimethyl-1-butanol, a trimethylamine formation inhibitor, decreased plasma TMAO levels and attenuated renal inflammation, oxidative stress, and fibrosis in C57BL/6 mice on a high-fat diet[142]. Importantly, no changes in blood pressure and weight adiposity parameters were noted[142]. Iodomethylcholine (IMC), a selective gut microbial choline TMA-lyase inhibitor, was also able to diminish TMAO production and revert the renal function decline and tubulointerstitial fibrosis in isoproterenol-induced CKD mouse models on a choline diet[143]. Similar observations were made in ApoE-/- mouse models with adenine-induced CKD treated with IMC, together with ameliorated microalbuminuria, cardiac hypertrophy, and vascular inflammation indices[144]. These molecules have not been assessed yet in FLD, and upcoming studies evaluating their efficacy are awaited.
CONCLUSION
In conclusion, it has become evident that the newly defined MAFLD is associated with high prevalence and mortality rates and is an independent predictor of CKD. The degree of hepatic steatosis and fibrosis in this group of patients correlates with kidney function indices such as urinary albumin-to-creatinine ratio and estimated glomerular filtration rate. This interaction is unsurprising, as these entities have shared risk factors and deleterious molecular mechanisms such as inflammation, oxidative stress, and gut dysbiosis. At the same time, gene polymorphisms associated with fatty liver disease predisposition may also propagate renal dysfunction. In the field of treatment, pharmacologic interventions have demonstrated considerable preclinical and clinical efficacy in ameliorating surrogate disease markers and clinical outcomes in these pathological states. Future studies should aim at the subpopulation of MAFLD patients with renal impairment to appropriately determine their prognosis and the impact of treatment approaches.
Provenance and peer review: Invited article; Externally peer reviewed.
Peer-review model: Single blind
Specialty type: Gastroenterology and hepatology
Country/Territory of origin: Greece
Peer-review report's scientific quality classification
Grade A (Excellent): A
Grade B (Very good): B
Grade C (Good): 0
Grade D (Fair): 0
Grade E (Poor): 0
P-Reviewer: Dong Z, China; Popovic DS, Serbia S-Editor: Zhang H L-Editor: Filipodia P-Editor: Zhang H