Copyright
©The Author(s) 2022.
Published by Baishideng Publishing Group Inc. All rights reserved.
Liver regeneration as treatment target for severe alcoholic hepatitis
Lucija Virovic-Jukic, Sanja Stojsavljevic-Shapeski, Neven Ljubičić, Department of Gastroenterology and Hepatology, Sisters of Charity University Hospital Center, Zagreb 10000, Croatia
Lucija Virovic-Jukic, Dominik Ljubas, Neven Ljubičić, Tajana Filipec Kanizaj, Ivica Grgurevic, Department of Internal Medicine, University of Zagreb School of Medicine, Zagreb 10000, Croatia
Neven Ljubičić, Department of Internal Medicine, University of Zagreb School of Dental Medicine, Zagreb 10000, Croatia
Tajana Filipec Kanizaj, Department of Gastroenterology, Merkur University Hospital, Zagreb 10000, Croatia
Ivana Mikolasevic, Department of Gastroenterology, Rijeka University Hospital Center, Rijeka 51000, Croatia
Ivana Mikolasevic, Department of Internal Medicine, University of Rijeka School of Medicine, Rijeka 10000, Croatia
Ivica Grgurevic, Department of Gastroenterology, Hepatology and Clinical Nutrition, Dubrava University Hospital, Zagreb 10000, Croatia
Author contributions: Virovic-Jukic L designed the study, performed literature search, outlined the manuscript and revised it; Ljubas D performed literature search and writing; Stojsavljevic-Shapeski S designed the study and outlined the manuscript; Ljubičić N, Filipec Kanizaj T, Mikolasevic I and Grgurevic I revised the manuscript for important intellectual content.
Conflict-of-interest statement: All the authors report no relevant conflicts of interest for this article.
Open-Access
: This article is an open-access article that was selected by an in-house editor and fully peer-reviewed by external reviewers. It is distributed in accordance with the Creative Commons Attribution NonCommercial (CC BY-NC 4.0) license, which permits others to distribute, remix, adapt, build upon this work non-commercially, and license their derivative works on different terms, provided the original work is properly cited and the use is non-commercial. See:
https://creativecommons.org/Licenses/by-nc/4.0/
Corresponding author: Lucija Virovic-Jukic, Doctor, MD, PhD, Associate Professor, Department of Gastroenterology and Hepatology, Sisters of Charity University Hospital Center, Vinogradska cesta 29, Zagreb 10000, Croatia. lucija.virovic.jukic@kbcsm.hr
Received: February 26, 2022
Peer-review started: February 26, 2022
First decision: May 9, 2022
Revised: May 30, 2022
Accepted: June 16, 2022
Article in press: June 16, 2022
Published online: August 28, 2022

Severe alcoholic hepatitis (AH) is a distinct entity in the spectrum of alcohol-related liver disease, with limited treatment options and high mortality. Supportive medical care with corticosteroids in selected patients is the only currently available treatment option, often with poor outcomes. Based on the insights into the pathogenetic mechanisms of AH, which are mostly obtained from animal studies, several new treatment options are being explored. Studies have implicated impaired and deranged liver regeneration processes as one of the culprit mechanisms and a potential therapeutic target. Acknowledging evidence for the beneficial effects of granulocyte colony-stimulating factor (G-CSF) on liver regeneration and immunomodulation in animal models, several human studies investigated its role in the treatment of advanced alcohol-related liver disease and AH. Contrary to the previously published studies suggesting benefits of G-CSF in the outcomes of patients with severe AH, these effects were not confirmed by a recently published multicenter randomized trial, suggesting that other options should rather be pursued. Stem cell transplantation represents another option for improving liver regeneration, but evidence for its efficacy in patients with severe AH and advanced alcohol-related liver disease is still very scarce and unconvincing, with established lack of efficacy in patients with compensated cirrhosis. In this review, we summarize the current knowledge on the pathogenesis and experimental therapies targeting liver regeneration. The lack of high-quality studies and evidence is a major obstacle in further treatment development. New insights into the pathogenesis of not only liver injury, but also liver regeneration processes are mandatory for the development of new treatment options. A reliable experimental model of the pathogenesis of AH and processes involved in liver recovery is still missing, and data obtained from animal studies are essential for future research.
Core Tip: Current treatment options for patients with severe alcoholic hepatitis (AH) are unsatisfactory, resulting in high mortality rates. Liver regeneration is impaired in patients with severe AH and represents an appealing therapeutic target. Granulocyte-colony stimulating factor, alone or in combination with stem cell therapy represents a promising therapeutic option for severe AH. Contrary to animal and several small human studies, evidence from recent studies failed to show benefit of these liver regeneration therapies in patients with advanced alcohol related liver disease.
---
Citation: Virovic-Jukic L, Ljubas D, Stojsavljevic-Shapeski S, Ljubičić N, Filipec Kanizaj T, Mikolasevic I, Grgurevic I. Liver regeneration as treatment target for severe alcoholic hepatitis. World J Gastroenterol 2022; 28(32): 4557-4573
---
INTRODUCTION
The harmful use of alcohol is responsible for more than 3 million deaths every year (5.3% of all-cause mortality) and is one of the most common causes of liver disease worldwide[1,2]. Excessive alcohol consumption can cause a spectrum of partially overlapping liver injuries, including steatosis, steatohepatitis, fibrosis and cirrhosis. All these histological changes with accompanying clinical manifestations are collectively termed alcohol-related liver disease (ALD).
Alcoholic hepatitis (AH) is a distinct clinical manifestation of ALD, characterized by jaundice and sometimes accompanied with other signs of hepatic decompensation and liver failure such as ascites or encephalopathy, which occurs in patients with excessive alcohol consumption[3]. Underlying this clinical condition are histological changes including steatosis, hepatocyte injury with ballooning degeneration and lobular neutrophil infiltration, which are characteristic of alcoholic steatohepatitis, and which usually occur in the presence of advanced fibrosis or cirrhosis[3]. The prognosis of AH is generally dismal but significantly dependent on the severity of the disease. Patients with severe forms of AH (defined by Maddrey's Discriminant Function ≥ 32) have a significantly worse prognosis with mortality rates reported between 20% and 30% after 1 mo, and 30% to 40% after 6 mo from presentation[4]. Although patients with a non-severe form of AH have a < 10% risk of mortality after 1 mo and survival of patients with severe AH seems to have improved over the last decades, the condition still carries a poor prognosis[3].
CURRENT TREATMENT OPTIONS FOR SEVERE AH
Patient stratification based on the disease severity and prognosis is necessary for treatment decisions in AH. A Maddrey's Discriminant Function ≥ 32, Model for End-Stage Liver Disease (MELD) score ≥ 21, and/or Glasgow Alcoholic Hepatitis score ≥ 9 are models most commonly used to identify patients with severe disease.
Alcohol abstinence and appropriate nutrition are the cornerstone of treatment of AH, regardless of disease severity[3,5,6]. Energy intake of 30-40 kcal/kg per day and protein intake of 1.2-1.5 g/kg per day are currently recommended by most treatment guidelines. Treatment of alcohol withdrawal symptoms, hepatic encephalopathy, ascites and other comorbidities with vitamin B supplementation also represent general measures required in many patients.
For many years, corticosteroids have been used in the treatment of patients with severe forms of AH, with varying results. A large, multicenter randomized trial comparing steroids with pentoxifylline (STOPAH) showed modest reduction in mortality after 28 d of treatment with prednisolone compared to pentoxifylline, but no improvement in long-term outcomes was observed after 90 d and 1 year[7]. These findings were also confirmed by a recent meta-analysis[8]. Wide use of corticosteroids is limited not only by scarcity of data on its efficacy, but also by safety concerns, especially regarding infections and risk of gastrointestinal bleeding. However, corticosteroids are considered the only treatment option for severe AH with proven or likely benefit[3,5,6].
Patients with severe AH who fail to respond to standard supportive care and corticosteroids may require liver transplantation. However, since the diagnosis of AH implies recent alcohol abuse, these patients are not readily accepted for liver transplantation by most transplant centers because of inadequate abstinence period. Nonetheless, an increasing number of centers are considering and performing liver transplantation in highly selected patients with severe AH[9,10]. The survival benefit for transplanted patients with severe AH has been demonstrated in several trials and a model study, and concern of alcohol abuse relapse after early transplantation has been addressed in several small studies, which showed similar relapse rates to those recorded in patients with 6-mo abstinence period in highly selected groups of patients[11,12]. Still, liver transplantation is not an option for the majority of patients with severe AH.
PATHOPHYSIOLOGY OF LIVER INJURY AND LIVER REGENERATION
The spectrum of alcohol related liver damage results from an interplay of several interrelated pathophysiological mechanisms caused by continuous excessive alcohol consumption. Direct injury to hepatocytes and inflammation cause a series of consecutive events resulting in histological changes characteristic for ALD[13,14]. Ethanol metabolites, namely acetaldehyde, can cause direct damage to hepatocytes through oxidative stress, lipid peroxidation, mitochondrial dysfunction and alterations in lipid metabolism, resulting in steatosis. Consequently, damaged hepatocytes activate apoptosis and necrosis pathways, which result in the release of damage-associated molecular patterns (DAMPs), cell derived molecules that trigger the immune system, which causes further damage. Another mechanism involved in the pathogenesis of ALD results from a deranged gut-liver axis[15]. Increased gut permeability and dysbiosis caused by alcohol consumption allow for translocation of lipopolysaccharides and other bacterial products, collectively termed pathogen-associated molecular patterns (PAMPs), through splanchnic vasculature into the liver. Stimulation of resident macrophages in the liver (Kupffer cells) by PAMPs and DAMPs through activation of toll-like receptors enhances nuclear factor kappa-B (NFkB) signaling and results in expression of proinflammatory cytokines, such as tumor necrosis factor-α (TNF-α), interleukin (IL)-1β and IL-6[16]. These proinflammatory cytokines together with chemokines released by Kupffer and other liver cells recruit neutrophils and other immune cells that infiltrate liver parenchyma and contribute to secondary liver injury. Chemokine receptors also promote inflammation through NFkB signaling. All these triggers that activate Kupffer cells and other inflammatory cells also stimulate the release of platelet-derived growth factor and transforming growth factor-β (TGF-β). These profibrotic cytokines stimulate hepatic stellate cells and myofibroblasts to produce collagens, thus promoting fibrosis with consequent distortion in the liver architecture, which is a hallmark of cirrhosis. Activated immune cells induce hepatic injury by formation of reactive oxygen species, which are responsible for oxidative stress. Ethanol metabolism also changes the redox state of hepatocytes and increases their vulnerability to free radicals by depletion of antioxidant storage.
At the same time when hepatic injury causes hepatocyte apoptosis and necrosis, it also stimulates liver regeneration. The liver is an organ with unique regenerative capacity and employs multiple mechanisms for regeneration in order to restore functional tissue following insults such as toxic injury or partial hepatectomy[17]. The knowledge on the pathophysiology of liver damage in AH and insights into the liver regeneration processes mostly come from animal studies[17,18]. However, the existing animal models do not reproduce the main histological features of poor prognosis in patients with severe AH, such as severe fibrosis and bilirubinostasis, which are necessary to understand the processes occurring in such a milieu[19].
It is presumed that damaged hepatocytes release signals which trigger liver regeneration processes in order to restore functional liver parenchyma[20]. Multiple extracellular signals regulating hepatocyte proliferation during liver regeneration have been identified[17]. Among them, hepatocyte growth factor (HGF) and its receptor, ligands of the epidermal growth factor receptor and TGF-α seem to have a major role. Other signaling pathways include TNF-α and its receptor, IL-6, vascular endothelial growth factor (VEGF) and its receptors, several complex signaling pathways such as Hedgehog pathway, Wnt and β-catenin, Hippo and Yap pathway, as well as several other hormones and signaling molecules[17]. In their absence, the regeneration process will be impaired and delayed but not completely inhibited. In animal models, the first intracellular signaling pathways activated following partial hepatectomy include β-catenin and Notch pathways, followed by activation of signal transducer and activator of transcription 3 (STAT3) and NFκB, which are regulated by IL-6 and TNF-α[17]. Although different mechanisms may activate these pathways, the exact triggers have not been clearly established.
It seems that local, paracrine signals between proliferating hepatocytes and other cell types such as hepatic stellate cells and liver sinusoidal endothelial cells are also important for regeneration. Thus, hepatocytes are at the center of orchestrated liver regeneration processes aimed to restore histologically complete liver tissue, and all liver cell types are able to proliferate during the process. VEGF and angiopoietins are mitogenic for liver sinusoidal endothelial cells, TGFα for sinusoidal endothelial and hepatic stellate cells, fibroblast growth factor 1 and 2 for stellate cells and sinusoidal endothelial cells, and granulocyte-macrophage colony-stimulating factor for Kupffer cells. For sinusoidal endothelial and Kupffer cells, there is evidence that precursor cells migrating from the bone marrow may also be involved in the regeneration process, in addition to local cell proliferation[17].
Normal hepatocyte proliferation and liver regeneration processes, however, seem to be less effective in ALD. Chronic ethanol exposure impairs liver regeneration by interfering with normal microRNA signaling and DNA synthesis, thus inhibiting mature hepatocyte proliferation[14].
The lack of a reliable experimental model with abnormal liver regeneration makes it difficult to understand how these processes affect alcohol-injured livers. It has been proposed that in severe injury, hepatocytes might be unable to initiate the regeneration and tissue healing by themselves, which is then stimulated by liver progenitor or oval cells that become activated and give rise to hepatocytes and other non-parenchymal liver cells[21]. Furthermore, some data suggest that under conditions where normal regeneration processes are impaired by alcohol exposure, liver progenitor cells may accumulate in damaged livers, but are unable to differentiate into mature hepatocytes, which might explain why some patients with severe AH fail to improve. This hypothesis has been corroborated by the results of a human study on tissue samples obtained from explanted livers of patients with severe AH having undergone salvage liver transplantation[22]. The authors showed that patients with severe AH who were unresponsive to medical treatment had decreased expression of TNF-α and IL-6, the cytokines shown to be involved in liver regeneration, as well as an aberrant regeneration process in which accumulated hepatic progenitor cells showed predominantly cholangiocyte differentiation and failed to produce mature hepatocytes[22].
All these pathophysiological mechanisms responsible for liver damage and ineffective regeneration associated with ALD are the potential treatment targets in AH. A number of molecules and treatments have been investigated in the attempts to stop and reverse deleterious effects of alcohol in the development and progression of changes associated with ALD[23].
EXPERIMENTAL OPTIONS TARGETING LIVER REGENERATION FOR THE TREATMENT OF SEVERE AH
Liver regeneration represents one of the key targets for the development of new treatments for severe AH. Hepatocyte damage and death in AH should be counterbalanced by liver regeneration, in order to restore normal liver structure and function. However, ineffective liver regeneration has been proposed as the culprit for progressive liver failure in patients with severe AH. Recognizing complex mechanisms involved in liver regeneration processes, a number of treatment targets are currently being explored and developed.
OTHER EXPERIMENTAL APPROACHES AND THERAPEUTICS WITH POTENTIAL BENEFIT IN THE TREATMENT OF SEVERE AH
Since treatment options for severe AH are limited, a number of other experimental approaches have been developed, based on the proposed mechanisms involved in the pathophysiology of AH[14,23]. Treatment targets of the potential experimental therapies are shown in Figure 1.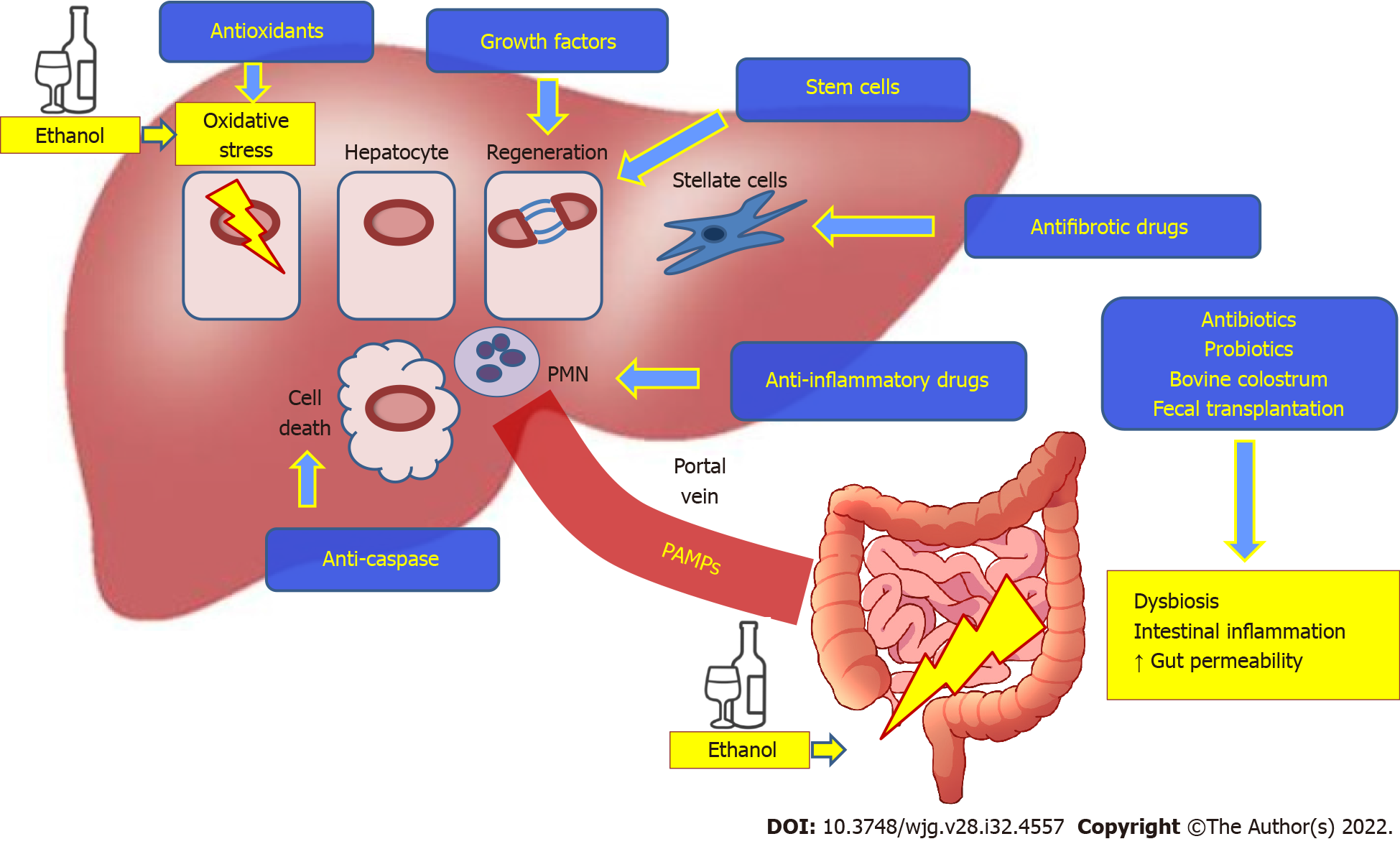 Figure 1 Treatment targets of the potential experimental therapies for severe alcoholic hepatitis.
PAMPs: Pathogen-associated molecular patterns; PMN: Polymorphonuclear leukocyte.
Anti-inflammatory agents
Considering AH as a severe inflammatory condition involving multiple mechanisms, cells and signaling pathways, anti-inflammatory agents represent an attractive treatment option.
Pentoxifylline is a phosphodiesterase inhibitor that has been used in the treatment of severe AH for its ability to inhibit TNF-α production. Although the initial randomized study showed improved short-term survival compared to placebo, these findings were not confirmed by subsequent studies, including the previously mentioned STOPAH trial[7,92]. Although it seems that pentoxifylline reduced the incidence of hepatorenal syndrome, the drug is considered unlikely to provide benefit and is not recommended for the treatment of severe AH by the European Association for the Study of the Liver and the guidelines issued by the American Association for the Study of Liver Diseases, while the American College of Gastroenterology classifies pentoxifylline as a therapy with a potential benefit[3,5,6].
Treatment of severe AH with anti-TNF-α agents such as infliximab and etanercept seemed to be a desirable option, given their efficacy in the treatment of autoimmune diseases. Unfortunately, despite expectations, both drugs failed to show benefit in clinical trials for severe AH[14,23]. On the contrary, the use of TNF-α inhibitors was associated with an increased risk of severe infections and mortality, and therefore are not considered as a treatment option for severe AH by current guidelines[3,5,6]. The lack of their efficacy in AH may be explained by profound immunosuppression caused by TNF blockage, but also by suppression of liver regeneration, which is also mediated by TNF-α and is necessary to restore liver function.
Other inflammatory cytokines have also been studied as therapeutic targets for severe AH, including IL-1 receptor antagonist anakinra, and a C-C chemokine receptor 2 and 5 antagonist cenicriviroc, but data are still insufficient.
Antioxidants
Since increasing evidence suggests oxidative stress as one of the key mechanisms responsible for cellular injury in severe AH, the use of antioxidants has generated much interest.
N-acetylcysteine (NAC) is an antioxidant thought to restore glutathione stores and has been tested in several studies in the treatment of AH. However, the drug failed to show improvement in liver injury or survival. A combination of NAC with prednisolone showed greater early improvement in liver function, lower incidence of hepatorenal syndrome and infections, and improved short-term survival compared to prednisolone alone, but this effect was not sustained after 3 mo[93]. Further studies are awaited to confirm the efficacy of this combination[3,5,6].
Metadoxine is another antioxidant used in several small open-label studies, also in combination with a corticosteroid or pentoxifylline, where it showed improved survival. Along with some other beneficial effects and a favorable safety profile, metadoxine is an attractive option for the treatment of severe AH, but larger studies are expected to confirm these findings.
Gut dysbiosis and gut-liver axis
Gut-liver axis dysfunction with increased gut permeability and dysbiosis associated with alcohol drinking has been recognized as an important trigger for inflammation in AH. Consequently, a number of agents targeting gut barrier function and dysbiosis have emerged as treatment options for AH. These include bovine colostrum and hyperimmune bovine colostrum, antibiotics (rifaximin, amoxicillin-clavulanic acid, ciprofloxacin, gentamicin, vancomycin, meropenem), probiotics (VSL#3, Lactobacillus rhamnosus) and fecal transplantation. Some of these treatments have shown very promising preliminary results, and further studies are eagerly awaited.
Apoptosis
Alcohol induces hepatocyte death via necrosis and apoptosis processes, the latter including a number of pathways, which have been investigated as treatment targets in AH. Emricasan is a caspase inhibitor that showed promising results in early phase trials, but further studies were stopped because of concerns about liver toxicity. Selonsertib is another oral inhibitor of apoptosis with better safety profile, but its efficacy has not been established compared to corticosteroids.
Obeticholic acid
Cholestasis is one of the characteristic features of AH. Obeticholic acid is a farnesoid X receptor ligand that protects hepatocytes against bile toxicity. Favorable results in the treatment of cholestatic liver disease offer promises for obeticholic acid in the treatment of AH, pending results of ongoing studies.
DISCUSSION
Severe AH still represents a life-threatening condition with high short-term mortality. A lack of effective treatments with proven benefit and good safety profile imposes the need for new therapeutic approaches. Several pathways are being explored, targeting different mechanisms involved in the pathogenesis of AH. Stimulation of liver regeneration together with other beneficial effects suggest G-CSF and SC transplantation as possible therapeutic targets.
In animal models of toxic liver injury, G-CSF demonstrated evidence for increased mobilization of hematopoietic SCs, ameliorating liver injury, promoting liver regeneration, improved liver function and survival. These beneficial effects encouraged human studies, and the first results were promising, showing mobilization of SCs and proliferation of hepatic progenitor cells that were considered proof of efficacy[27]. Enhanced cell proliferation might not be crucial for the regeneration process as immunohistochemical staining using Ki67/CK+, chief markers of mitosis, showed diverse results[27,67]. Subsequent randomized trials from India investigating the role of G-CSF treatment in patients with ACLF and AH demonstrated not only increased mobilization of SCs, but also improved clinical outcomes, measured by reduction in liver function scores, as well as improved survival[28,29]. Other positive outcomes included improved immune dysfunction with lower rates of complications, including hepatic encephalopathy, ascites, kidney injury, and infections[30,33,36,38].
However, in a large multicenter randomized study from Germany that enrolled 176 patients with ACLF, treatment with G-CSF did not improve liver function scores, occurrence of infections, or transplant-free or overall survival. Severe adverse reactions associated with the treatment, together with the lack of efficacy, led to premature termination of the study[39]. Discrepancies in the findings between this and previous smaller single-center studies (Table 1) are not completely understood. Several possible reasons for such conflicting results between Asian and European studies, including a selection bias or study design could not completely explain these differences[94]. Another possible explanation might be a large rate of infections in the German study that triggered an excessive inflammatory response, which could have counteracted the beneficial effects of G-CSF. However, the substantiated evidence from this trial strongly discourages the use of G-CSF in the treatment of ACLF. Still, it is important to note that the results of G-CSF for the treatment of ACLF cannot be directly extrapolated to AH due to great heterogeneity of ACLF cohorts regarding the cause of the underlying liver disease and the precipitating event for ACLF. In the previously mentioned German (GRAFT) study, alcohol abuse was the precipitating event in approximately half of the patients in both treatment groups, while bacterial infections and gastrointestinal bleeding were triggers for ACLF in the majority of the remaining cases[39]. However, the authors did not prove benefit of G-CSF over standard medical treatment in a cohort of patients with alcohol-related ACLF, which probably comprised mostly patients with AH.
SC transplantation offers another possibility for improved liver regeneration. In recent years, a number of studies investigated the outcomes of SC treatment in patients with liver disease of various etiology. However, studies focusing on patients with ALD are still sparse and recruited small numbers of patients; therefore, outcomes of each study are often insufficient to draw definitive conclusions. The majority of studies were actually phase I/II clinical trials, focused on the feasibility, safety and short-term outcomes of the procedure. One case-control study and five randomized controlled trials compared the effects of SC therapy to standard medical therapy alone (Table 2). The heterogeneity of the findings could be explained by several reasons.
Studies differed according to the SC population and terminology used, including peripheral blood SCs, mononuclear bone marrow SCs, mesenchymal SCs or hematopoietic SCs. Hematopoietic SCs are mononuclear cells typically collected by leukapheresis, and are often described as peripheral blood SCs. In studies where bone marrow aspiration was performed, mononuclear bone marrow SCs represent a combination of several SC types including mesenchymal cells that build up the stromal compartment of bone marrow. Except for mesenchymal SCs, the hallmark of the aforementioned cells is expression of transmembrane phosphoglycoprotein, CD34. In a small study, two CD34+ cell populations were differentiated based on their in vitro property of adherence. Adherent CD34+ cells expressed genes important for hepatic tissue differentiation; therefore, SCs with specific phenotype could be pivotal for gaining therapeutic effect, although they were encountered in a relatively small fraction after mobilization[58]. Promising results were obtained in a small study using G-CSF mobilized mononuclear CD34+ peripheral blood SCs collected by leukapheresis and injected via hepatic artery after in vitro cultivation for 7 d[62]. It could be assumed that a 5-fold increase in cell count obtained by in vitro cultivation could yield better results.
Except for small and heterogeneous patient groups with different conditions (alcoholic cirrhosis, AH, and some with multifactorial origin of liver disease), studies used different G-CSF dosing regimens and SC administration routes (via hepatic artery or portal vein), number of SC infusions, outcomes measures, and follow-up period.
In the study including 10 patients, 4 of them with AH, having undergone bone derived mononuclear cell transplantation, serum bilirubin and INR levels decreased and albumin levels increased after 4-mo follow-up[61]. In another study including two patients with AH, histological analysis did not reveal changes in fibrosis stage; however, improvement of both CTP and MELD scores was achieved[60]. In a controlled trial, patients with decompensated ALD treated with G-CSF mobilized mononuclear bone marrow cells had reduction in steatosis and improved MELD scores after 12-wk follow-up, but similar to patients treated by standard medical therapy[66]. There was no difference between the SC treated and control groups according to hepatocyte proliferation. However, a more pronounced macrophage infiltration of the liver was observed in the treatment group, together with higher expression of the genes involved in regenerative processes[66,67]. Another small study involving two patients with AH also assessed CTP and MELD scores after hematopoietic SC aspiration and administration, but without G-CSF stimulation[64]. At the end of a 12-mo follow-up period, no significant differences in serum albumin and bilirubin levels or mean CTP and MELD scores were noticed. Using scintigraphy in this study, the authors managed to document a high percentage of SC retention in liver tissue (41% and 32% after 3 and 24 h, respectively). This research is valuable in terms of assessing cell tropism and dissemination, but also reported several major adverse events, raising concerns about the safety of the procedure[64]. The effects of SC treatment on liver fibrosis were also investigated in several studies, but benefits were shown in only one of them[71]. Probably the most discouraging results were obtained in a randomized multicenter study from the United Kingdom, investigating the efficacy of G-CSF treatment alone or in combination with CD133+ hematopoietic SC infusion obtained by leukapheresis, and compared to standard medical treatment in patients with compensated liver cirrhosis[95]. No improvement of liver dysfunction as assessed by MELD score or fibrosis was observed in either treatment group when compared to standard medical care. However, treatment with G-CSF alone or in combination with SC therapy was associated with an increased frequency of adverse events[95].
The explanation of this paradox and lack of evidence for clinical efficacy of SC therapy for the treatment of AH is still not completely understood. One of the possible explanations might be a relapse of alcohol use in the follow-up period, which is common in clinical practice. In the STOPAH trial, only 45% of patients with AH abstained from alcohol at 6 mo and 37% at 12 mo, meaning that relapse of alcohol use occurred in two thirds of patients surviving an episode of AH after a one-year follow-up period[7]. In a study from Barcelona investigating alcohol abstinence in patients surviving an episode of AH, the investigators also report complete abstinence in only 39% of patients after a median follow-up period of 55 mo, and showed that it had positive impact on long-term survival[96]. Similar results were obtained in a study from the United Kingdom, where 65% of patients surviving an episode of AH experienced alcohol relapse, and abstinence was shown to be the only predictor of long-term survival in these patients[97]. Indeed, in a previously mentioned randomized study investigating bone marrow mononuclear cell transplantation with G-CSF in patients with decompensated ALD, 81% of whom met the histological criteria for AH, alcohol abstinence was achieved in 67% of patients during 12-wk follow-up period, while almost one-third returned to moderate alcohol drinking[66]. The study failed to show benefit of such therapy compared to standard medical treatment, and alcohol relapse in 31% of study patients might be one possible explanation for such results. Another possible explanation is that the effects of SC and other treatments aimed to stimulate liver regeneration depend on the etiology of the liver disease. It has been shown that in ALD related cirrhosis, acute and chronic exposure to alcohol interferes with liver regeneration capacity and may actually impair hepatic progenitor cell response to injury, as mentioned previously, resulting in poor outcomes[14,23,98,99].
CONCLUSION
Ineffective liver regeneration is probably one of the key contributors to liver failure in patients with severe AH. Many cytokines, including TNF-α, IL-6 and IL-22, and STAT3 and NFκB pathways have been shown as potent activators of hepatic regeneration. However, an altered differentiation process seems to cause repopulation of the liver parenchyma by immature hepatocytes that fail to differentiate into mature hepatocytes, which could explain why some patients with severe forms of AH fail to recover. Novel treatment options that would help overcome this obstacle and improve liver regeneration seem intriguing, but so far, the evidence for their efficacy is unconvincing.
The lack of a reliable animal model that could represent the whole spectrum of liver changes associated with ALD in humans still is one of the major obstacles in the research of ALD. Development of an experimental model including not only steatosis and mild inflammation, but also fibrosis, severe inflammation and bilirubinostasis with an altered regeneration process, which are the hallmarks of severe AH in humans, represents an imperative for future research and development of new treatment options.
Better understanding of the molecular mechanisms behind ALD has given us apprehension of the multifaceted nature of the disease revealing novel treatment targets. In the light of evidence from recently published studies, G-CSF therapy does not seem like a feasible treatment option in the near future. Succeeding studies on SC therapy should aim to investigate long-term effects and define precise SC recruitment protocols providing clinicians with clear guidelines on both the G-CSF application regimen and SC administration routes. Until further insights, future research on liver reconstitution remains a challenge.
Provenance and peer review: Invited article; Externally peer reviewed.
Peer-review model: Single blind
Corresponding Author's Membership in Professional Societies: European Association for the Study of the Liver, No. 13346; Croatian Society of Gastroenterology; Croatian Medical Chamber.
Specialty type: Gastroenterology and hepatology
Country/Territory of origin: Croatia
Peer-review report's scientific quality classification
Grade A (Excellent): 0
Grade B (Very good): B
Grade C (Good): C
Grade D (Fair): 0
Grade E (Poor): 0
P-Reviewer: Spahr L, Switzerland; Tyson LD, United Kingdom S-Editor: Gao CC L-Editor: A P-Editor: Gao CC