Copyright
©The Author(s) 2021.
Published by Baishideng Publishing Group Inc. All rights reserved.
Room for improvement in the treatment of pancreatic cancer: Novel opportunities from gene targeted therapy
Michail Galanopoulos, Department of Gastroenterology, Addenbrooke's Hospital, Cambridge CB2 0QQ, United Kingdom
Aris Doukatas, Department of Pharmacy, National and Kapodistrian University of Athens, Athens GR 15772, Greece
Filippos Gkeros, Nikos Viazis, Department of Gastroenterology, Evangelismos, Ophthalmiatreion Athinon and Polyclinic Hospitals, Athens 10676, Greece
Christos Liatsos, Department of Gastroenterology, 401 General Military Hospital, Athens 11525, Greece
Author contributions: Galanopoulos M designed the review; Galanopoulos M, Doukatas A and Gkeros F analyzed and interpreted the data; Galanopoulos M, Viazis N and Doukatas A drafted the manuscript; Liatsos C critically revised the paper; all authors have read and approved the final manuscript.
Conflict-of-interest statement: Nothing to declare.
Open-Access
: This article is an open-access article that was selected by an in-house editor and fully peer-reviewed by external reviewers. It is distributed in accordance with the Creative Commons Attribution NonCommercial (CC BY-NC 4.0) license, which permits others to distribute, remix, adapt, build upon this work non-commercially, and license their derivative works on different terms, provided the original work is properly cited and the use is non-commercial. See:
http://creativecommons.org/Licenses/by-nc/4.0/
Corresponding author: Michail Galanopoulos, FEBG, MD, PhD, Doctor, Department of Gastroenterology, Addenbrooke's Hospital, Hills Road, Cambridge CB2 0QQ, United Kingdom. galanopoulosdr@gmail.com
Received: February 16, 2021
Peer-review started: February 16, 2021
First decision: March 28, 2021
Revised: April 11, 2021
Accepted: May 22, 2021
Article in press: May 22, 2021
Published online: June 28, 2021

Pancreatic cancer is one of the highest and in fact, unchanged mortality-associated tumor, with an exceptionally low survival rate due to its challenging diagnostic approach. So far, its treatment is based on a combination of approaches (such as surgical resection with or rarely without chemotherapeutic agents), but with finite limits. Thus, looking for additional space to improve pancreatic tumorigenesis therapeutic approach, research has focused on gene therapy with unexpectedly growing horizons not only for the treatment of inoperable pancreatic disease, but also for its early stages. In vivo gene delivery viral vectors, despite few disadvantages (possible immunogenicity, toxicity, mutagenicity, or high cost), could be one of the most efficient cancer gene therapeutic strategies for clinical application due to their superiority compared with other systems (ex vivo delivery strategies). Their dominance consists of simple preparation, easy operation and a wide range of functions. Adenoviruses are one of the most common used vectors, inducing strong immune as well as inflammatory reactions. Oncolytic virotherapy, using the above mentioned in vivo viral vectors, is one of the most promising non-pathogenic, highly-selective cytotoxic anti-cancer therapy using anti-cancer agents with high anti-tumor potency and strong oncolytic effect. There have been a variety of targeted therapeutic and pre-clinical strategies tested for gene therapy in pancreatic cancer such as gene-editing systems (e.g., clustered regularly interspaced palindromic repeats-Cas9), RNA interference technology (e.g., microRNAs, short hairpin RNA or small interfering RNA), adoptive immunotherapy and vaccination (e.g., chimeric antigen receptor T-cell therapy) with encouraging results.
Core Tip: Pancreatic cancer still remains one of the leading causes of cancer deaths worldwide. While there are various therapeutic approaches established, there is still a crucial need for improvement of conventional treatments and establishment of novel therapies to increase efficacy. This review exhibits an overview of the most promising present and future prospects regarding gene therapy which offers a new favorable opportunity not only to tackle with an inoperable pancreatic cancer, but also, to treat effectively its early stages.
---
Citation: Galanopoulos M, Doukatas A, Gkeros F, Viazis N, Liatsos C. Room for improvement in the treatment of pancreatic cancer: Novel opportunities from gene targeted therapy. World J Gastroenterol 2021; 27(24): 3568-3580
---
INTRODUCTION
Pancreatic cancer is an ever-worsening healthcare issue, predicted to ascend to the second place of highest mortality-associated neoplasias. The conundrum it represents for patients and physicians alike is aggravated by its challenging diagnosis, dismal prognosis, less than satisfactory treatment, and low survivability. Epidemiologically, the rate of new cases is approximately 13.1/100000 per year and the mean age of onset is 71 years for men and 75 for women, with the former slightly more affected[1]. The estimated 5-year survival is up to 8% and a mere 9.7% of patients are metastasis-free at diagnosis[2]. A mainstay of its globally increasing incidence is possibly the unequivocal relationship between its risk factors, mainly obesity, smoking, and alcohol, as well as the Western lifestyle[3]. Other contributing factors are age, gender, genetic and chronic inflammatory conditions.
There are numerous classifications of pancreatic cancer, such as macroscopic, pathological, molecular, and surgical, depending on the characteristic being observed. The most frequently recurring form of pancreatic neoplasia is the adenocarcinoma, a tumour of solid type and ductal origin. The most commonly affected site is the head of the pancreas, whereas roughly a fifth of the cancers concern the organ diffusely[4]. Pathophysiologically, there is a well-established sequelae, starting from a precursor lesion and culminating to proper neoplasia, through a series of oncogene and tumour-suppressive gene mutations, such as KRAS, p53, p16, SMAD4 and CDNK27[5]. Precancerous lesions are further divided in pancreatic intraepithelial neoplasia (PanIN), mucinous cystic neoplasm and intraductal papillary mucinous neoplasm, with PanIN being the most frequent[4]. The two-tiered categorization of PanIN (low and high grade) bears great clinical significance, since the probability and duration of progression between low and high grade have been established and can be predicted[6,7].
Clinical presentation is non-specific and usually includes weight loss, abdominal pain, jaundice, malabsorption, and diabetes mellitus. This fact, together with the relative rarity of the disease, make screening ineffective, apart from patients with a positive family history of pancreatic neoplasia where screening is considered rationale[4,8]. Diagnostic process includes clinical check-up, routine blood work-up and imaging, along with the search for signs of malabsorption, diabetes, and hypoalbuminemia. Specifically, a combination of two imaging modalities, preferably endoscopic ultrasound and computerized tomography or magnetic resonance imaging/magnetic resonance cholangiopancreatography scan, is favored by the International Cancer of the Pancreas Screening Consortium[9,10].
As far as treatment is concerned, surgical resection and adjuvant or neoadjuvant chemotherapy is the best therapy so far[11]. The observed response to treatment is dependent on a plethora of factors, such as tumour stage at diagnosis, age, and comorbidities. However, 5-year survival remains low, ranging from 8%-27%, with the latter concerning complete resection of local non-metastatic disease. The surgical therapies of choice are pancreatoduodenectomy (Whipple's), distal or total pancreatectomy, coupled with potent chemotherapeutic agents, where applicable[12-14]. The most used regimens contain gemcitabine, nab-paclitaxel and mFOLFIRINOX[15,16].
METHODS AND RESULTS
We conducted a literature search in PubMed database, including most of the published studies in English language. The following keywords were used for literature search: "gene therapy", "gene therapy AND pancreatic cancer", "pancreatic cancer", "anti-angiogenesis AND pancreatic cancer", "viral vectors AND gene editing, "miRNA", "siRNA", "oncolytic virotherapy". Three and seven hundred forty-seven thousands publications fulfilled search requirements. Of these, 85 articles were chosen due to the appropriate content and the English language criteria . From the 85 articles, 35 were original articles and 50 were review articles, which included case series, case reports, clinical trials and clinical cohort studies. We reviewed all the abstracts and found 69 full-text articles appropriate for the current study (Figure 1). The three authors (DA, GM and GF) independently reviewed the abstracts and the full text of the related articles.
IS THERE ROOM FOR ANY IMPROVEMENT ON PANCREATIC CANCER TREATMENT?
As the mortality of pancreatic cancer has been unchanged the last decades, the pressure of discovery for a new therapeutic armamentarium is more pivotal than ever. Additionally, the fact that pancreatic ductal adenocarcinoma (PDAC) is expected to be levelled off at the second place of the most lethal neoplasias worldwide pushes the healthcare systems to investigate new treatment protocols. Over the last 20 years, promising results have been stated by the induction of gene-based therapies, shifting from the therapy of inherited diseases to acquired disorders, but most importantly cancer[17]. Gene therapy delivers genetic material to cells for the treatment of a particular disorder. Gene editing or gene transfer might be conducted ex vivo in isolated cells or in vivo, in cells located within their corresponding tissue environment[18]. The primary principles of gene therapy are to induce anti-tumor immune effects intervening with various signaling pathways. There are various types of gene-based therapy approaches that could be classified into three groups: (1) gene editing or addition; (2) genetically engineered cell therapy; and (3) oncolytic virotherapy (Figure 2)[19]. Gene delivery systems also play an important role in gene therapy affecting both the safety and efficiency of gene transfer. Furthermore, improved targeting relies upon the development of viral and non-viral methodologies of the therapeutic gene specific to the tumour[19].
GENE DELIVERY METHODS
Ex vivo delivery
In this particular system, sampling cells extracted from the patient (bone marrow or target tissue), are genetically modified (in vitro culture or proliferation) with a vector including the therapeutic gene of choice and subsequently reintroduced in the same individual after gene transfer[20]. In cancer treatment, cells explanted from cancer patients can be also cultured and genetically engineered in vitro, but normally they are utilised for the secretion of cytokines or vaccination[21]. In case of a tumor like PDAC characterized by invasive nature and accelerated growth, the ex vivo strategy is not well adjusted and a "ready to use" gene therapy product could be theoretically a better option[20].
In vivo delivery
The second system of gene delivery is the in vivo delivery which includes injecting the gene vectors carrying the therapeutic genes into the bloodstream or the target tissue (tumor). In situ injections are used with imaging technologies and are tested in cases such as myopathy, cystic fibrosis and most importantly cancer[20]. Nowadays, the majority of clinical trials are being established following the methodology of intratumoral injection induced by ultrasound or computed tomography, gene-eluting stent implantation and vascular perfusion of tumor[21]. In vivo delivery could be one of the most efficient strategies for clinical application due to its superiority compared with other systems, based on its simple preparation, easy operation and broad range of functions. However, there still exist some disadvantages such as the lack of specificity on particular targets, short-term curative effect and immunologic complications[22].
GENE DELIVERY VECTORS
Presently there are two categories of gene delivery vectors: viral and non-viral vector systems[19]. The most widely used viral vectors are those that are mainly based on adenoviruses (ADs), retroviruses (RVs) and adeno-associated viruses (AAVs)[23]. Non-viral vector systems comprise of biological or chemical vectors, as well as physical approaches of gene delivery to present RNA molecules, naked DNA (plasmid DNA form) or oligonucleotides into the targeted cells[19,21]. Physical delivery methods primarily, consist of electroporation and microinjection. Nowadays, viral vectors represent the most efficient gene transfer method and thus, the most widely used gene delivery systems for cancer gene therapy[21,23].
Viral vectors
It is estimated that viral therapies represent more than two-thirds of clinical trials on gene therapy. More specifically, these viruses are capable of infecting and entering the cell via different mechanisms and transfer DNA into recipient cells without the need of any chemical or physical preparation. The gene of choice will then enter the nucleus resulting in host gene assimilation and expression[21].
The most common viral vectors in cancer gene therapy as previously described include RV, AD, AAV, herpes simplex virus (HSV), lentivirus, pox virus, Epstein-Bar virus and Newcastle disease virus[23]. Viral vectors usually offer long-term gene expression and better insertion capacity and efficiency, but might be linked with immunogenicity, toxicity, mutagenicity and high cost[24,25]. Thus, for the appropriate selection of viral vectors both advantages and disadvantages should be considered.
One of the most common class of viral vectors are ADs. ADs could infect a large variety of cells and for this reason, have been used for a long time for preclinical and clinical gene therapeutic strategies for PDAC. These vectors induce strong immune and inflammatory reactions. Nevertheless, no major incident has been observed during clinical trials with adenoviral vectors. Third generation AD vectors (no viral sequence) haven been developed to solve some issues of toxicity[22,25]. Another important class of viral vectors are AAV. They are capable of effectively transducing cells from liver and brain but have, rarely been examined in pancreatic cells[19,21,25]. The retroviridae family includes viral vectors such as lentiviral (derived from HIV-1) and retroviral (derived from murine leukemia virus) vectors. They are small RNA vectors with the advantage of low immunogenicity and ability of transducing many cells with high efficiency. However, these viral vectors have a high risk of immunogenicity. They are commonly used in ex vivo strategies but also in in situ administration, as they can transduce proliferating cells such as cancer cells[20,26]. A new class of lentiviral and retroviral known as self-activating vectors have been developed with specific modification allowing them to bypass the transactivation of oncogenes during their integration into the host cells[27]. Finally, many studies have been conducted for another class of viral vectors known as the HSVs. These viruses are highly immunogenic and can carry and incorporate huge amounts of DNA; therefore, compared with other viruses, they include a complex genome making it difficult to transfer genetic information to the target cell[20].
Oncolytic virotherapy
Oncolytic virotherapy is one of the most promising anti-cancer therapies using agents with high anti-tumor potency and strong oncolytic effect[2]. Pancreatic ductal carcinoma development is linked with a sequence of changes helping cancer cells to grow more rapidly. Nevertheless, these particular changes such as high metabolic activity, lack of interferon response and uncontrolled cell division, cause cancer cells to be more sensitive to viral infection[28]. These viruses are non-pathogenic and have a high selectivity and cytotoxicity to cancer cells[29]. In addition, they are able to stimulate their anticancer activity via various mechanisms such as targeting of specific pathways (dysfunction pathway TP53) and stimulation of specific and non-specific anti-tumor immunity[30].
Over the years, ADs have been assessed for their potential in PDAC therapy by different research programs. AV5, also known as Oncorine H101 was the first adenovirus to be approved for the treatment of nasopharyngeal cancer[29]. Oncorine H101 was chemically engineered to replicate and kill tumor cells demonstrating p53 mutations. This specific oncovirus is closely related to the adenovirus Onyx-15[2]. Onyx-15, which replicates in cancer cells harbouring p53 mutations, was not effective as a monotherapy. During phase II clinical trials it was demonstrated that combination of Onyx-15 with the anticancer drug gemcitabine was initially well tolerated in pancreatic patients, but some issues appeared such as high titer neutralizing antibodies growth and low replication of the virus[29,31]. There has been a vast number of attempts to enhanced the efficacy of potential ADs for PDAC therapy via genetic engineering of the virus to induce the development of variants particular to the disease characteristics. One example is the adenovirus AxE1AdB-UPRT expressing uracil phosphoribosyltransferase, importing 5-FU resistance[32].
After the success of talimogene laherparepvec (T-VEC) approved for the treatment of nasopharyngeal malignancy, HSVs have been representing promising oncoviruses for cancer therapy[2,29]. T-VEC is currently being assessed in phase I clinical trials as monotherapy or in combination with radiotherapy for the treatment of Merkel cell carcinoma and melanoma[33]. Furthermore, it has also been assessed in clinical phase I trials for PDAC as monotherapy and displayed no clinical efficacy in 17 pancreatic cancer patients[31]. Another HSV with promising anti-cancer activity is Myb34.5, which has been assessed preclinically in pancreatic cancer models. The intratumoral injection of Myb34.5 variant induced apoptosis and inhibition of pancreatic tumors growth. This effect was further enhanced with the combination of gemcitabine[34].
TARGETED THERAPEUTIC AND PRE-CLINICAL STRATEGIES
The basic overall strategy differs upon the final objective either through introducing a therapeutic gene which is down-expressed or missing (e.g., suicide gene) or through reintroducing a deficient gene (e.g., tumor suppressor gene) or through inhibiting gene expression (e.g., oncogene). There exist many barriers to the overall gene therapy delivery that could be overcome by intranuclear and intracellular penetration, protein and mature mRNA expression and entry to tumor cells[20]. There have been a variety of pre-clinical approaches for PDAC gene therapy and non-viral gene therapy applications such as gene-editing systems (e.g., CRISP-CAS) and RNA interference technology (Table 1)[20,21].
Therapeutic strategy

---

Gene examples

---

Gene transfer
Anti-angiogenic genes (VEGF, angiostatin, endostatin, thrombostatin etc.)
Tumor suppressor genes (p53)
Suicide genes (HSV-TK, Cytochrome P40)
RNA therapy
miRNA (miR-21), ShRNA, siRNA and antisense oligonucleotides (ISIS-2503 and AEG35156)
Gene editing technology
CRISPR-Cas9
Active immunotherapy
Cytokine expression
Interleukin expression
Adoptive immunotherapy
Peptide, pulsed dendritic cells DNA, bacteria and engineered cells
Vaccination
PLD-1 and CTLA-4 inhibitors
CAR-T cells (targeting MUC-1)
Anti-angiogenic genes
Gene therapy serves as an effective strategy for therapeutic intervention to angiogenesis based on safety, specific targeting, and cost-effectiveness. Many strategies have been tested in vitro or in vivo by transfer of gene encoding anti-angiogenic molecules such as vasostatin, angiostatin, vascular endothelial growth factor (VEGF) and soluble fibroblast growth factor receptor[20,21]. Angiogenesis plays an important role in tumor growth. VEGF is a glycoprotein essential in angiogenesis, which is overexpressed in 90% of pancreatic cancers and is responsible for increased tumor progression and microvessel density, as well as poor prognosis. Clinical studies have demonstrated that serum levels of VEGF are much higher in metastatic prostate cancer patients than non-metastatic ones[35]. Various anti-VEGF therapies with molecular targeted agents and monoclonal antibodies have been developed for the therapy of different cancers. However, not substantial benefit and survival has been observed in pancreatic cancer clinical trials phase III with the use of anti-angiogenic agents, considering their high treatment costs as well[21,35,36].
Tumor suppressor genes
The main goal of this strategy is to induce the activation of a specific tumor suppressor gene, which is not expressed anymore during tumor growth[20]. The p53 gene is one of the widely known tumor suppressor genes, which encodes TP53. TP53 protein is a particularly important tumor suppressor having a critical role in cancer development and therapy. It provides fundamental functions in cellular responses in various stressors and is responsible for the control of apoptotic cells entry (mutated in 50% of human tumors)[20,37]. Strategies based on gene transfer of TP53 gene have been utilized for therapy of various cancers (e.g. colon and liver cancer)[20]. Experimental studies have demonstrated that p53 gene transfer via an AD vector, suppresses human pancreatic cancer cells in vitro[38]. Furthermore, intraperitoneal administration of the p53 retroviral vector in nude mice, inhibited significantly pancreatic tumor growth compared with the control group[39].
Suicide genes
Suicide gene therapy is based on the transduction of tumor cells with a gene encoding specific enzymes capable of converting nontoxic prodrugs into toxic metabolites[21]. One of the most-well known suicide gene strategies is the herpes simplex virus thymidine kinase gene (HSV-TK gene). This gene codes the thymidine kinase enzyme responsible for the conversion of ganciclovir an antiviral drug with no antitumor toxicity to a toxic metabolite capable of interfering DNA replication and inhibiting DNA synthesis resulting in cell death[40,41]. Its therapeutic effect is based on a "by-standard effect" in which tumor cells transduced with HSV-TK causing toxicity to neighbouring tumor cells (unmodified)[21]. HSV-TK delivery via adenovirus and retrovirus have shown great anti-tumor efficiency in pancreatic cells both in vitro and in vivo[41,42]. Moreover, experimental studies have shown that the combination of retrovirus and adenovirus delivery of HSV-TK is more effective in tumor growth inhibition compared to single delivery in vivo[43].
Other examples of suicide gene strategies successfully tested in vivo (PDAC models) include: the nitroreductase gene responsible for the transformation of CB1954 into 4-hydroxylamine, cytosine deaminase gene responsible for the transformation 5-flurocytosine into 5-fluoroucacil and cytochrome P40 gene responsible for the transformation of ifosfamide into acrolein[20,21,44]. The cytochrome P450/ifosfamide system proof of concept from pre-clinical studies has been used to conduct phase I and II clinical trials in pancreatic cancer patients with phenomenal success (improvement of 1-year survival by 3-fold and median survival doubled)[20,45].
RNA THERAPY
Another strategy besides the gene transfer with vectors is the RNA interference, which is based on post-transcriptional inhibition of gene expression via two groups of small non-coding RNAs: miRNAs and interfering RNAs including shRNAs and siRNAS[2,20]. miRNAs are a family of single stranded RNAs consisting of 21-24 ribonucleotides, which are usually transcribed via RNA polymerase II and act by repressing protein production by translational silencing[46]. Loss of their expression may result in important dysfunctions during carcinogenesis. Studies of mRNA expression in a large scale (microRNome) helped to better understand their role in cancer development and their respective mechanisms responsible for these dysfunctions. These miRNAs known as oncoMIR are able to be regulated through different gene therapy approaches (Figure 3)[20]. An experimental study has shown that targeting the oncogenic miRNA-21 could suppress tumor growth in pancreatic cancer in vitro and in vivo[47]. Many miRNAs have a critical role in PDAC growth process via the regulation of important pathways, such as targeting Kirsten rat sarcoma viral oncogene homolog mutation. However, no miRNA therapeutics have been tested clinically for pancreatic cancer treatment[48].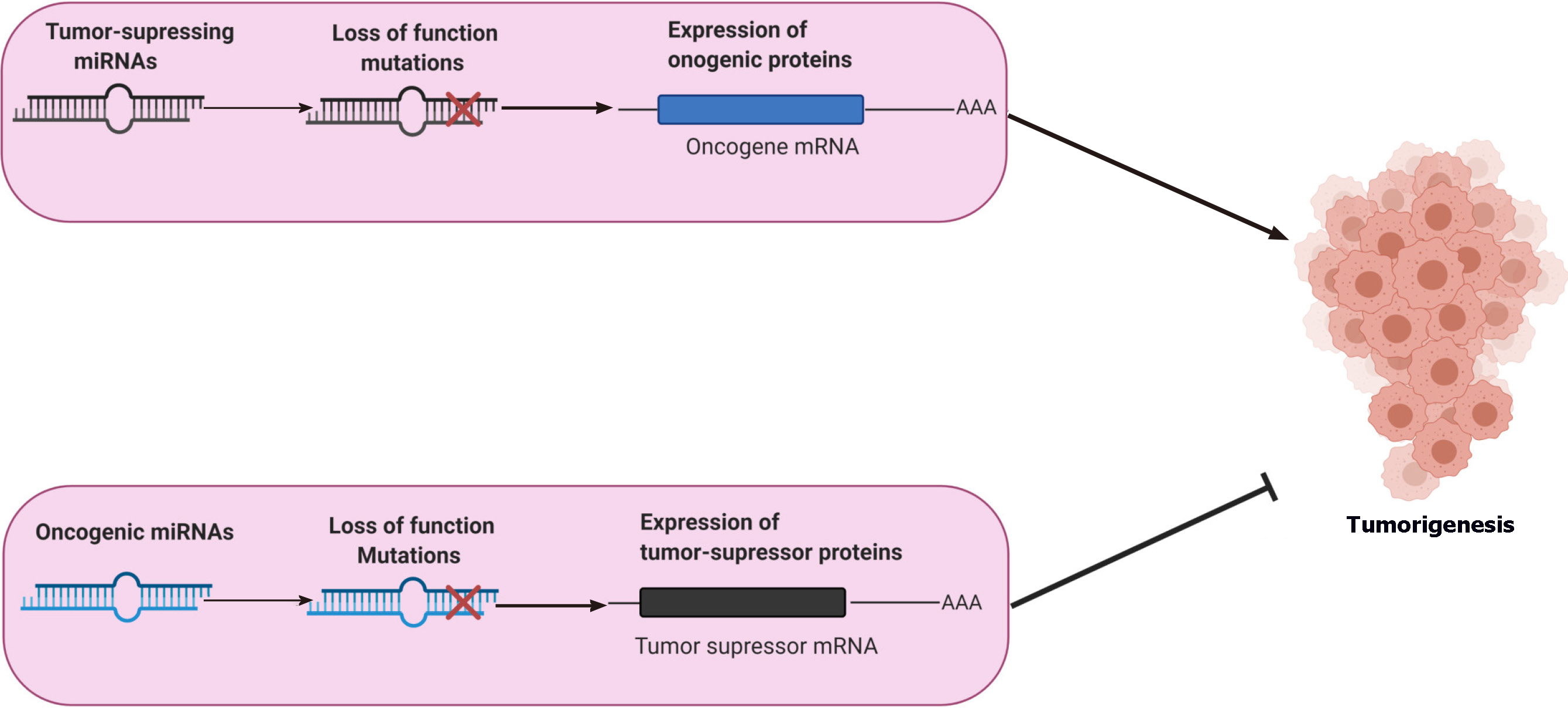 Figure 3 Roles of miRNAs in the regulation of tumorigenesis.
miRNAs are essential for the regulation of tumorigenesis. The primary role of tumor-suppressing miRNAs is to suppress the expression of oncogenes, thus inhibiting tumorigenesis whereas oncogenic miRNAs (oncoMIR) block translation of tumor suppressor genes inducing tumorigenesis and, thus tumor formation. Loss of function (mutations) in tumor-suppressing miRNAs induce tumorigenesis (increased expression of oncogenic proteins). However, loss of function (mutations) in oncogenic miRNAs (increased expression of tumor-suppressor mRNA) results in the suppression of tumorigenesis. The above diagram was created with Biorender.com.
On the contrary to miRNAs, siRNAs are commonly used in a variety of clinical applications because of their lack of genomic integration and more simplistic sequencing. They are double-stranded RNA molecules (20-30 nucleotides in length), which like miRNAs inhibit translation resulting in gene silencing[49]. One of the most essential features of RNA interference (RNAi) technology is the small size of payload increasing the number of drugs delivered to the tumor of choice[50]. In an experimental study based on antitumor activity of drug-loaded polymeric micelles in pancreatic cancer, it was demonstrated that particles with a size of 30 nm or less, were able to penetrate poorly permeable pancreatic tumors, resulting in high antitumor activity[51]. In addition, conjugate siRNAs studies in pancreatic cancer have shown promising results in the clinic. One example is the liposomal conjugate of the drug Atu027 (siRNA-targeting protein kinase 3) which have enhanced tumor penetration[52,53].
In the same category of interfering RNA is the antisense strategy. This strategy is based on the synthesis of nucleic acid strands capable of interacting with the mRNA of the expressed target gene resulting in its inactivation. Furthermore, it is possible to affect the pre-RNA splicing, thus disrupting the mRNA exon content[20]. More specifically, antisense oligonucleotides (ASOs) are single-stranded nucleotide sequences that have been modified at their phosphodiester backbone allowing to protect them from degradation, thus facilitating cell entry[54]. ASOs have been tested clinically in targeting pancreatic cancer. One example is the ISIS-2503 and AEG35156 oligonucleotides. ISIS-2503 is an ASO targeting h-ras (important for pancreatic tumor progression) and AEG35156 synthesized for targeting X-linked inhibitor of apoptosis protein, an anti-apoptic protein overexpressed in pancreatic cancer. Both of these ASOs have been tested in clinical phase trials but with no real success due to their low clinical benefit[55-57].
GENE EDITING TECHNOLOGY
A recent and more sophisticated strategy is genome editing technology including a few techniques for genome manipulation by "rewriting genetic material". Clustered regularly interspaced palindromic repeats-Cas9 (CRISPR-Cas9) system has been given a lot of attention over the years due to its broad range of therapeutic applications. This system offers the ability to induce the cleavage of specific double-stranded DNA segments from the genome via the introduction of CRISPR sequences, marking cleavage sites through Cas9 protein endonucleases[58]. This strategy has been used for the therapeutic approach of pulmonary cancer, as well as HIV infection. Gene transfer of this system has also been investigated in pancreatic cancer models in vivo[59,60]. Current research is focused on utilizing CRISPR-Cas9 for screening of new gene targets and to investigate different mechanisms of known genetic aberrations[61]. CRISPR-Cas9 cell therapies are currently tested in the clinical settings for various cancers and immunologic syndromes. CRISPR-Cas9 approach have been demonstrated to be also applicable to inflammatory conditions such as lupus nephritis[62]. However, significant challenges remain, including its efficiency of transduction, compared for example with oncolytic viruses[63].
IMMUNOTHERAPY AND VACCINATION
Tumor cells are able of escaping the recognition and elimination from the immune system resulting in aberrant tumor development and aggressiveness in certain cancers[20,21]. Even though immune cells are found in large numbers within the tumor stroma, they mostly correspond to immunosuppressive subsets such as T-helper 17 cells, regulatory T cells and tumor-associated macrophages (TAMs). Effectors T-cells located in the tumor are quite rare in respect with other tumors and express immune checkpoint receptors such as PD-1, at extremely high levels. PDAC induces a pro-tumoral inflammation and immunosuppressive environment. Furthermore, PDAC cells have a particular role due to paracrine signaling induced by cytokines such as IL-6 and GM-CSF[64,65]. Cancer cells also express checkpoint molecules such as programmed cell death 1 Ligand 1 (PD-L1). A small number of studies have been conducted in pancreatic cancer targeting these immune checkpoint inhibitors. Both PD-L1 and cytotoxic T-lymphocyte associated protein 4 inhibitors have been investigated in patients with metastatic or locally advanced pancreatic cancer in two clinical trials. However, the clinical outcomes were not as expected, with no clinical benefit[66,67].
Cancer immunotherapy has been developed over the years to improve immune intolerance using active and passive immunity. The first approach is based on the stimulation of immune response to tumor-associated antigens through cancer vaccines. The second approach is based on administering activated effector cells, cytokines or monoclonal antibodies targeting specific tumor cells[21]. To prevent any side effects gene therapies have been evolved to promote local cytokine or interleukin either by ex-vivo approach or by the tumor cells themselves (Figure 4). Another promising approach for pancreatic cancer therapy is chimeric antigen receptor T-cell therapy. This approach uses patient's own T cells to target cancer cells via genetic engineering. The remarkable results observed in haematological malignancies have moved the attention further to solid tumors like pancreatic cancer[68]. In pancreatic cancer, antigens which are widely expressed are mesothelin and mucin 1 that are cell surface associated. Vaccine experiments have been conducted in vivo in various pancreatic cancer models using antigen-pulsed dendritic cells[69].
CONCLUSION
It is more than clear that pancreatic cancer is considered more than a challenging diagnosis, given the fact that the current treatment protocols provide a slight survival expectation. Nevertheless, research on gene therapy has been taking place unexpectedly increasingly, offering a new promising opportunity not only to tackle with an inoperable pancreatic disease, but also, to treat effectively early stages of PDAC. Pancreatic cancer gene therapy with oncolytic virotherapy and adoptive immunotherapy seem to be the cutting-edge therapeutic technology approach with exciting new breakthroughs in recent years. Focusing on vector development and methods to enhance the selectivity of either gene delivery or gene expression in combination with conventional chemotherapeutic agents (e.g. gemcitabine) would enhance the therapeutic benefit in human, either metastatic or non, pancreatic cancer model despite its high degree of complexity. Eventually, it seems that there is enough room for improvement in the treatment of pancreatic cancer. However, further clinical trials are considered of crucial importance testing the efficacy, efficiency, and safety of these new gene therapies.
Manuscript source: Invited manuscript
Corresponding Author's Membership in Professional Societies: Hellenic Society of Gastroenterology, No. 1104.
Specialty type: Gastroenterology and hepatology
Country/Territory of origin: United Kingdom
Peer-review report's scientific quality classification
Grade A (Excellent): A, A
Grade B (Very good): B, B
Grade C (Good): 0
Grade D (Fair): 0
Grade E (Poor): 0
P-Reviewer: Chen H, Ghiorzo P, Hamada Y S-Editor: Zhang H L-Editor: A P-Editor: Wang LL