Copyright
©The Author(s) 2020.
Published by Baishideng Publishing Group Inc. All rights reserved.
Transjugular intrahepatic portosystemic shunt in cirrhosis: An exhaustive critical update
Sasidharan Rajesh, Tom George, Division of Hepatobiliary Interventional Radiology, Cochin Gastroenterology Group, Ernakulam Medical Center, Kochi 682028, Kerala, India
Cyriac Abby Philips, Narain Mohan, The Liver Unit and Monarch Liver Lab, Cochin Gastroenterology Group, Ernakulam Medical Center, Kochi 682028, Kerala, India
Rizwan Ahamed, Sandeep Kumbar, Philip Augustine, Gastroenterology and Advanced GI Endoscopy, Cochin Gastroenterology Group, Ernakulam Medical Center, Kochi 682028, Kerala, India
Meera Mohanan, Anesthesia and Critical Care, Cochin Gastroenterology Group, Ernakulam Medical Center, Kochi 682028, Kerala, India
Author contributions: Rajesh S designed the study and wrote manuscript and was involved in revision, editing and review; George T was involved in writing, editing and reformatting of the manuscript; Philips CA was involved in the writing, revision and editing of the manuscript; Ahamed R was involved in the review and editing of the manuscript; Kumbar S was involved in the editing and review of the manuscript; Mohan N was involved in the editing and review of the manuscript; Mohanan M was involved in the editing and review of the manuscript; Augustine P was involved in the editing and review of the manuscript; all authors read and approved the final manuscript.
Conflict-of-interest statement: None to declare.
Open-Access: This article is an open-access article that was selected by an in-house editor and fully peer-reviewed by external reviewers. It is distributed in accordance with the Creative Commons Attribution NonCommercial (CC BY-NC 4.0) license, which permits others to distribute, remix, adapt, build upon this work non-commercially, and license their derivative works on different terms, provided the original work is properly cited and the use is non-commercial. See: http://creativecommons.org/licenses/by-nc/4.0/
Corresponding author: Cyriac Abby Philips, MBBS, MD, DM, Consultant Physician-Scientist, The Liver Unit and Monarch Liver Lab, Cochin Gastroenterology Group, Ernakulam Medical Center, NH-Bypass, Palarivattom, Kochi 682028, Kerala, India. abbyphilips@gmail.com
Received: June 5, 2020
Peer-review started: June 5, 2020
First decision: July 25, 2020
Revised: July 31, 2020
Accepted: August 29, 2020
Article in press: August 29, 2020
Published online: October 7, 2020

More than five decades after it was originally conceptualized as rescue therapy for patients with intractable variceal bleeding, the transjugular intrahepatic portosystemic shunt (TIPS) procedure continues to remain a focus of intense clinical and biomedical research. By the impressive reduction in portal pressure achieved by this intervention, coupled with its minimally invasive nature, TIPS has gained increasing acceptance in the treatment of complications of portal hypertension. The early years of TIPS were plagued by poor long-term patency of the stents and increased incidence of hepatic encephalopathy. Moreover, the diversion of portal flow after placement of TIPS often resulted in derangement of hepatic functions, which was occasionally severe. While the incidence of shunt dysfunction has markedly reduced with the advent of covered stents, hepatic encephalopathy and instances of early liver failure continue to remain a significant issue after TIPS. It has emerged over the years that careful selection of patients and diligent post-procedural care is of paramount importance to optimize the outcome after TIPS. The past twenty years have seen multiple studies redefining the role of TIPS in the management of variceal bleeding and refractory ascites while exploring its application in other complications of cirrhosis like hepatic hydrothorax, portal hypertensive gastropathy, ectopic varices, hepatorenal and hepatopulmonary syndromes, non-tumoral portal vein thrombosis and chylous ascites. It has also been utilized to good effect before extrahepatic abdominal surgery to reduce perioperative morbidity and mortality. The current article aims to review the updated literature on the status of TIPS in the management of patients with liver cirrhosis.
Core Tip: Covered transjugular intrahepatic portosystemic shunt has proven effective in ameliorating the symptoms associated with cirrhosis and portal hypertension in a subset of patients. However, hepatic encephalopathy (HE) and deterioration of liver function remain a concern. The meticulous selection of patients is the most fruitful measure to improve patient outcomes. While patients having preserved hepatic and renal functions and without any prior history of, HE and cardiopulmonary disease are ideal candidates, patients with high liver disease severity scores, poor cardiac reserve, and risk of HE should be considered for transjugular intrahepatic portosystemic shunt only as a last resort or a bridge to transplant. With the advent of controlled expansion stent, and improvements in patient selection criteria, the incidence of HE and early liver failure is expected to reduce further.
---
Citation: Rajesh S, George T, Philips CA, Ahamed R, Kumbar S, Mohan N, Mohanan M, Augustine P. Transjugular intrahepatic portosystemic shunt in cirrhosis: An exhaustive critical update. World J Gastroenterol 2020; 26(37): 5561-5596
---
INTRODUCTION
Portal hypertension (PH) is the primary vascular consequence of cirrhosis and responsible for the majority of its potentially life-threatening complications. Transjugular intrahepatic portosystemic shunt (TIPS), involving the creation of a side-to-side shunt between the portal and hepatic vein, was envisaged as a salvage therapy for patients with acute variceal hemorrhage (VH) not responding to standard medical care[1]. With the discovery of self-expandable metal stents, TIPS started gaining wider acceptance not only for managing episodes of acute VH but also in other complications of PH like refractory ascites (RA) and hepatic hydrothorax (HH)[2]. The diversion of portal flow, so effectively achieved by TIPS, also resulted in hepatic hypoperfusion resulting in hepatic encephalopathy (HE) and deterioration in liver functions. Moreover, the uncovered self-expandable metal stents used in the initial years of TIPS were notorious for early thrombosis due to leakage of bile into the stent within the hepatic parenchymal tract and pseudointimal hyperplasia at the hepatic venous end of the stent. This resulted in frequent shunt dysfunctions necessitating multiple re-interventions. With the advent of expanded-polytetrafluoroethylene (e-PTFE) covered stents for TIPS in 2004, the incidence of shunt dysfunction reduced markedly. Additional studies showed that the use of covered stents for TIPS may not increase episodes of de novo or worsening HE, although this issue is still debatable[3]. Liver failure after TIPS continues to remain an area of concern. Appropriate patient selection for TIPS plays a major role in clinical outcomes. Significant modifications in patient selection criteria for TIPS have occurred in the recent past. The role of TIPS in management of other complications of cirrhosis and PH such as HH, portal hypertensive gastropathy (PHG), ectopic varices, hepatorenal syndrome (HRS) and hepatopulmonary syndrome (HPS), non-tumoral portal vein thrombosis (PVT) and chylous ascites has also been explored. With the introduction of the novel controlled-expansion stent, options for modulation of the portosystemic gradient (PSPG) after placement of TIPS stent has evolved. Recent studies have demonstrated a reduction in the incidence of HE, stent dysfunction, readmission for sepsis, and ascites with the use of these stents[4,5]. In this review, we present an exhaustive update of current literature on the role of TIPS in the management of PH in patients with cirrhosis with emphasis on emerging indications of TIPS, evolving patient selection criteria, and technical aspects of the procedure.
ESTABLISHED AND EMERGING INDICATIONS FOR TIPS
Acute esophageal VH
VH is one of the most severe and life-threatening complications in cirrhosis patients and constitutes the second most frequent decompensating event after ascites[6]. About 10%-15% of patients experience treatment failure, warranting repeated endoscopic interventions, with up to 80% mortality[6,7]. The overall mortality at 6 wk with each episode of VH also remains high at around 15%-25%, despite improvements in therapy[8,9].
Rescue TIPS and the role of early/preemptive TIPS: TIPS is highly effective in reducing the portal pressure, control of bleed, and prevention of early rebleeding. Due to the increased risk of HE and the absence of survival benefit with the use of uncovered stents, TIPS was traditionally recommended as rescue therapy for uncontrolled bleeding. The prognosis of patients undergoing rescue (or salvage) TIPS is dismal, with 35%-55% mortality due to failure to control bleeding or early rebleeding. The time-delay associated with the decision on performing TIPS also contributes to poor outcome[7,10,11]. A recent large observational study showed a 6-wk mortality of 36% in patients undergoing rescue TIPS[11]. The model for end-stage liver disease (MELD) and Child–Turcotte-Pugh (CTP) scores were predictive of short- and long-term mortality, respectively, and pre-TIPS intensive care unit stay was independently associated with TIPS failure and mortality at 6 wk and 12 mo. Rescue TIPS was found futile in patients with CTP score > 13. With the advent of e-PTFE–covered stents, the incidence of TIPS dysfunction and recurrence of complications related to PH reduced drastically. Additionally, it was found that covered TIPS did not significantly increase the frequency and severity of episodes of de-novo HE[3]. Hepatic venous pressure gradient (HVPG), the surrogate marker of portal pressure, is an objective and reproducible measurement. Moitinho et al[12] found that measurement of HVPG in patients with cirrhosis admitted with acute VH provided useful prognostic information, and those with HVPG > 20 mmHg required closer surveillance. Monescillo and colleagues showed that early portal decompression by TIPS placement in those with HVPG > 20 mmHg significantly reduced the risk of treatment failure, prevented recurrent VH, and improved short and long-term survival despite having higher baseline bilirubin levels[13]. HVPG was found more accurate than the CTP score for 6 wk survival prediction. This study, however, used endoscopic sclerotherapy in the medical treatment group, and bare stents were used in the early-TIPS group, both of which are not the current standard of care.
To address these issues, a multicentre randomized controlled trial (RCT) was conducted in which patient selection was based on clinical and endoscopic criteria[3]. In this study, early treatment with covered TIPS (within 72 h, and preferably within 24 h) in high-risk patients-defined as CTP score 10-13 points and CTP class B with active bleeding at endoscopy-resulted in significant bleed control and reduction in mortality, without an increase in the risk of HE. Additionally, the study found lower rates of ascites formation, HRS, and reduced hospital stay. A retrospective post-RCT surveillance study by the same group found only a trend to improvement in survival when compared with standard medical therapy[14]. The Baveno VI consensus endorsed these findings and recommended that "an early TIPS within 72 h (ideally < 24 h) should be considered in patients at high risk of treatment failure after initial pharmacological and endoscopic therapy"[15].
Further, a meta-analysis confirmed the survival benefit offered by early TIPS in high-risk patients[16]. The original trial by Garcia-Pagan et al[3] was not powered to conduct appropriate subgroup analyses to identify benefits on survival between CTP B and C groups. Studies conducted later showed that clinical outcomes among CTP B patients on standard medical treatment were significantly better than that of Child-Pugh C patients without added benefits with early-TIPS[17]. The re-calibrated MELD score as an alternative to the CTP score was shown to have better prognostic value in patients with acute VH on standard care[18]. CTP C patients with a baseline creatinine ≥ 1 mg/dL (Child C-C1 criteria) were found to have high-risk of death after VH[17]. A recent multicentre study showed that the mortality risk among CTP B compared to CTP class C patients with active bleeding at endoscopy, on the standard of care was lower[17]. The study also identified MELD score ≥ 19 as a high risk for death with standard care alone. This implied that the grouping of Child-Pugh B and Child-Pugh C as high-risk for mortality on standard therapy of acute VH was inaccurate. Subsequently, observational studies showed that the early use of TIPS was justified in those with MELD ≥ 19 or Child-Pugh class C[19]. For patients with MELD 12–18 or Child-Pugh B patients, survival benefit could not be uniformly demonstrated.
An RCT from a single center in China reported improved control of bleeding and rebleeding and better transplant-free survival (TFS) at 6 wk and one year with early TIPS[20]. The benefit was seen in all groups regardless of active bleeding or stage of liver disease. There was no difference in the incidence of HE. Besides, the actuarial probability of remaining free from new or worsening ascites was higher in the early TIPS group than in the control group at one year. A slight increase of median bilirubin levels and the international normalized ratio at 1 and 3 mo was observed in the early-TIPS group, which improved after 6 mo. Similarly, median MELD scores were significantly higher at 1 and 3 mo in the TIPS group disappearing after 6 mo. Notably, all patients with Child-Pugh class B and class C disease were included irrespective of active bleeding, and 75% had a chronic hepatitis-B infection. Therefore, antiviral therapy could have influenced the outcome. Another recent RCT from the United Kingdom reported that early-TIPS reduced rebleeding without survival benefit and higher incidence of HE in those undergoing early TIPS[21]. However, out of the 29 patients enrolled in the TIPS-arm of this study, only 13 underwent TIPS stent placement within 72 h of index bleeding, making it underpowered to derive any conclusions. Despite the contradictory results shown by these two recent RCTs, there is enough evidence now (Table 1) to recommend early TIPS in patients with Child-Pugh class C disease and MELD > 19; however, the upper limit of MELD requires confirmation. Even though the question of survival benefit in patients with Child-Pugh class B and MELD score of 12-18 remains open to debate, the reduction in rebleeding and ascites, without increasing the risk or severity of HE could also justify the use of early TIPS in this subgroup of patients. In keeping with this, the British society of interventional radiology and British association of the study of the liver recommends that "in patients who have Child's C disease (C 10-13) or MELD ≥ 19, and bleeding from esophageal varices (EV) or GOV1 and GOV2 gastric varices (GV) and are hemodynamically stable, early or pre-emptive TIPS should be considered within 72 h of a variceal bleed where local resources allow"[22]. Despite these recom-mendations, the rate of implementation of early TIPS in a real-world situation is dismal, with only 6%-13% of eligible candidates undergoing the procedure according to two recent large multicentre observational studies[23,24].
| | | | | | | |
| --- | --- | --- | --- | --- | --- | --- |
| Ref. | No. of pts (TIPS/control) | Primary inclusion criteria | Primary and secondary end-points | Rebleeding (%; TIPS/control) | 1-yr survival (%; TIPS/control) | HE (%; TIPS/control) |
| Monescillo et al[13] | 26/26 | HVPG > 20 mmHg | Primary: sensivity and specificity of HVPG cutoff value (20 mmHg) in predicting TFS, and assessment of TFS as well as short- and long-term survival; secondary: transfusional needs, ICU stay, complications during the first week of treatment, and causes of death | 12/50 | 62/35 | 31/35 |
| Garcia-Pagán et al[14] | 32/31 | Child–Pugh class C disease (a score of 10 to 13) or class B disease but with active bleeding at diagnostic endoscopy | Primary: failure to control bleeding and failure to prevent clinically significant variceal rebleeding within 1 yr; secondary: mortality at 6 wk and at 1 yr, failure to control acute bleeding, early rebleeding, rate of rebleeding between 6 wk and 1 yr, other complications of portal hypertension, the number of days in the ICU, days spent in the hospital, and the use of alternative treatments | 3/50 | 86/61 | 25/39 |
| Lv et al[20] | 84/45 | Child–Pugh class C disease (a score of 10 to 13) or class B disease (with or without active bleeding at diagnostic endoscopy) | Primary: TFS; secondary: failure to control bleeding or rebleeding, new or worsening ascites, overt HE, and other complications of portal hypertension | 11/34 | 62/35 | 35/36 |
| Dunne et al[21] | 29/29 | Child–Pugh class C disease (a score of 10 to 13) or class B disease (with or without active bleeding at diagnostic endoscopy); inability to control bleeding at index endoscopy was considered an exclusion criteria | Primary: 1-yr survival; secondary: survival at 6 wk, early rebleeding (within 6 wk) and late rebleeding (between 6 wk and 1 yr), and the development of HE | 24/34 | 79/76 | 41/17 |
Secondary prophylaxis of variceal bleeding: Patients who survive an episode of acute VH are at high risk of rebleeding and death. The 1-year rate of recurrent VH is approximately 60% in patients without treatment, with a mortality rate approaching 30%[25]. It is recommended that endoscopic band ligation (EBL), in combination with non-selective beta-blockers (NSBB), be the first line of therapy for the prevention of recurrent VH with reservation of TIPS only for non-responders[15,22]. In this regard, two RCTs compared covered stents with EBL[26,27]. TIPS significantly reduced VH without any remarkable effect on overall survival. In one study, 8 mm stents were used, leading to a comparatively lower rate of HE[26]. However, in the other trial using 10 mm stents, although early HE (within one year) was significantly more frequent in the TIPS group (35% vs 14%), during long-term follow-up, this difference disappeared[27]. In the previous study, there was no difference in rebleeding or mortality rates beyond 6 wk. Two RCTs conducted later comparing TIPS with EBL plus NSBB in patients with PVT found no increase in the rates of HE in the two groups[28,29]. The absence of survival benefit offered by TIPS in this clinical setting when compared to early TIPS can be explained by the fact that liver failure and infection were the most common cause of death of patients in studies for secondary prevention of variceal bleeding. Contrarily, in the studies on the role of early TIPS, the most common cause of death was early rebleeding, which can be effectively controlled by TIPS, thus conferring survival benefit. A recent study, published in abstract form, demonstrated that TIPS performed at first symptomatic portal hypertension related decompensation (VH or ascites requiring paracentesis) event termed 'anticipant TIPS' improved overall survival even on sub-group analysis for VH. On further grouping, based on CTP and MELD scores, a higher proportion of patients survived after anticipant-TIPS for all-causes at 1 year. Compared to standard treatment, those undergoing anticipant TIPS had significantly lesser sepsis events and hospitalization and recurrence of varices at one year, even though overall and grouped survival outcomes and were similar[30]. TIPS is not indicated for the prevention of varices (pre-primary prophylaxis) or prevention of the first episode of bleeding from varices (primary prophylaxis), since the risks associated with TIPS, clearly outweighs the potential benefits in this group. Based on the current evidence, it may be appropriate to stratify the patients with cirrhosis with index VH into a "high-risk" and "low-risk" group based on their CTP score and endoscopic findings (Figure 1).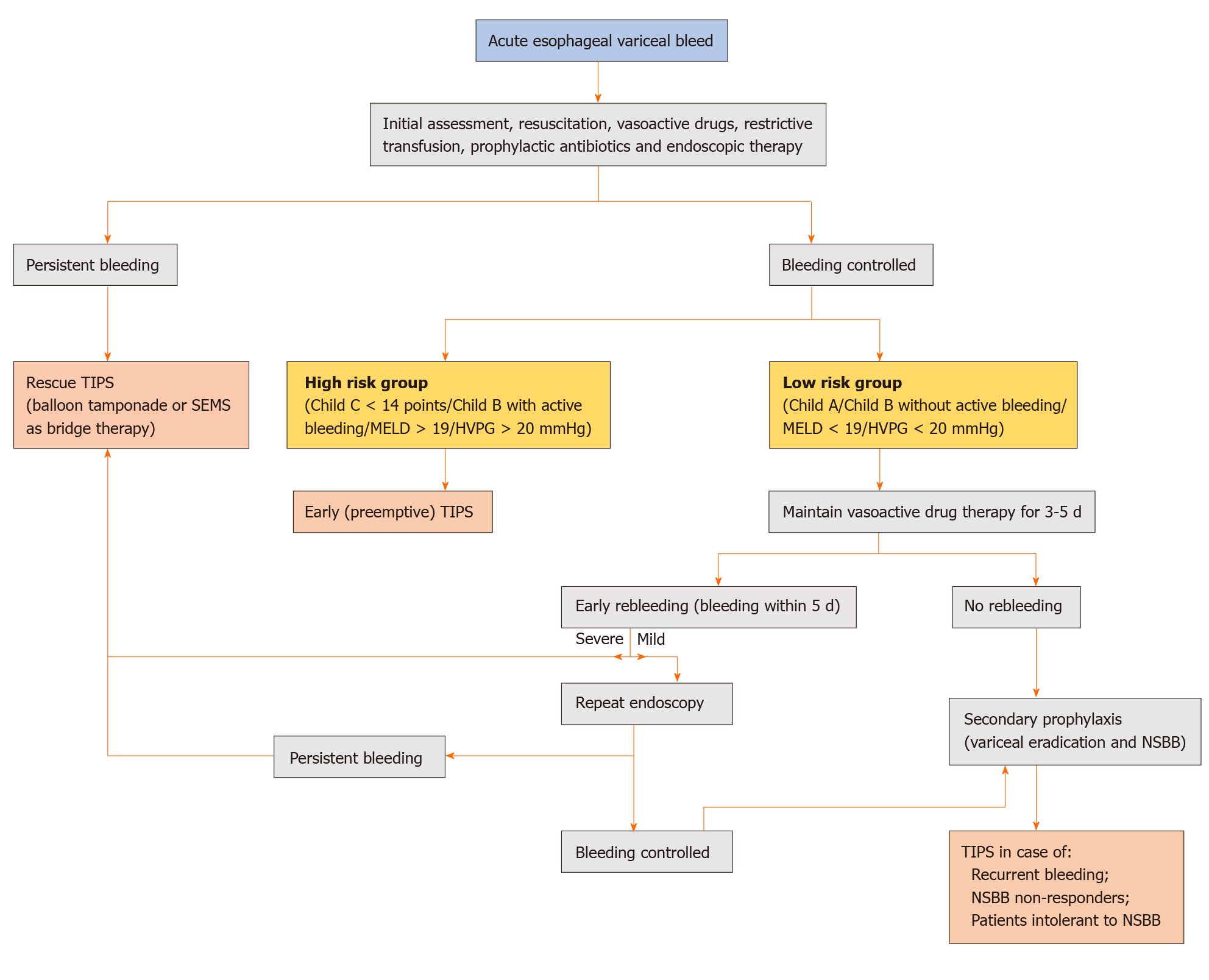 Figure 1 Proposed algorithm for the management of index acute esophageal variceal hemorrhage.
Mild rebleeding is defined as clinical symptoms of bleeding only while severe rebleeding is bleeding associated with hemodynamic compromise or requirement of blood transfusion. TIPS: Transjugular intrahepatic portosystemic shunt; SEMS: Self-expandable metal stents; MELD: Model for end-stage liver disease; HVPG: Hepatic venous pressure gradient; NSBB: Non-selective beta-blockers.
Gastric VH
GV are seen in 5%-33% of patients with cirrhosis and PH[31]. Although they bleed less often than EV-accounting for only 10%-30% episodes of VH–the bleeding is often severe with higher transfusion requirements[31]. GV is frequently associated with large gastrorenal shunts (GRS) and have a "downhill" drainage as opposed to "uphill" drainage of EV via azygos-hemiazygos venous system[32]. GVs exist as "low pressure, high volume" channels, and can bleed at lower portal pressures than EVs[33,22]. Between 10%-16% of GV can bleed at PSPG < 12 mmHg[33]. Thus, the management of GV hemorrhage (GVH) requires a different therapeutic approach compared to EV.
Recently, endosonographic coiling and glue have shown promising results in the management of GV but may not suffice for those associated with large portosystemic shunts[34]. Significantly more failure to control bleeding, early rebleeding, and recurrent bleeding were notable in GOV2 and IGV1 related bleeds, with mortality rates reaching up to 20%[35]. For cases unresponsive to pharmacological and endoscopic management, percutaneous endovascular therapy is indicated. Although TIPS can establish initial hemostasis in up to 90% of cases of acute GVH, it has not proven to be as efficacious as in EV hemorrhage[22,33,35]. Indeed, multiple studies have shown that GV can persist and rebleed (incidence of 25%-30%) after successful TIPS placement[35]. Other explanations proposed for the suboptimal efficacy of TIPS in controlling GVH are the "proximity", "throughput", and "recruitment" theories[35-37]. The 'proximity theory' suggests that since GV (supplied more commonly by posterior and short gastric veins) are anatomically farther away from the TIPS shunt, they are less likely to be decompressed as compared to EV (supplied predominantly by left gastric vein). The "throughput theory" states that large GRS associated with GV can compete with the TIPS stent and may lead to early TIPS dysfunction. The "recruitment theory" describes the development of new feeders after the proximal embolization of a GV complex. These factors have led to the development of obliterative therapies, like balloon-occluded retrograde transvenous obliteration (B-RTO), in the management of GV. B-RTO and its other variants, like coil-assisted retrograde transvenous obliteration, plug-assisted retrograde transvenous obliteration, and balloon-assisted antegrade occlusion, have emerged as a popular method for treatment of GV. The goal of these therapies is to trap sclerosant within the gastric variceal complex by controlling both inflow and the outflow using balloon, coils, or plug. Since its introduction, multiple studies and meta-analyses have reported technical and clinical success rates over 95% for B-RTO[38-40]. Also, GV rebleed rates of patients who had undergone a successful B-RTO procedure range between 0-20%[38-40]. Notably, compared to TIPS, these shunt occlusion therapies divert blood towards the liver and have shown to preserve or improve the liver functions in the first 6-9 mo[40,41].
Additionally, B-RTO is a proven therapy for patients with severe recurrent shunt-related HE, unresponsive to medical therapy[40,42]. Thus, patients with spontaneous portosystemic shunts, who are at high risk of developing HE after TIPS can safely undergo B-RTO. However, occlusion of GRS can also aggravate the PH. Long term follow-up of patients undergoing B-RTO revealed development or aggravation of esophageal and duodenal varices, ascites, hydrothorax, and PHG[40]. Prospective studies and meta-analysis comparing TIPS and B-RTO in the management of GV have found that B-RTO is at least as efficacious as TIPS in controlling the acute bleeding with a trend towards a lower incidence of rebleeding[43-46]. Of note, B-RTO was associated with lower post procedure HE and mortality at one year. More recently, a combination of TIPS and B-RTO (Figure 2) has been utilized for the management of GV[32]. Since the obliteration of GRS can lead to worsening of PH, simultaneous or staged placement of TIPS could ameliorate the associated symptoms. The combined procedure can also reduce the risk of development of HE since GRS are often larger in diameter and have higher flow rates compared to TIPS.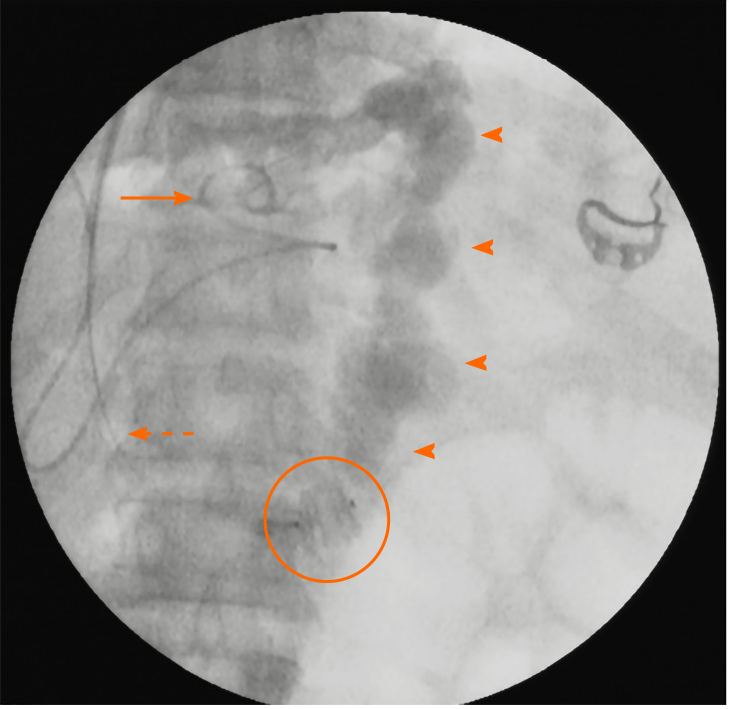 Figure 2 Fluoroscopic spot image demonstrating the "combined approach" to management of a patient with intractable gastric variceal bleeding due to IGV1 and severely attenuated portal vein.
A type-II amplatzer vascular plug (encircled) has been deployed within the gastrorenal shunt retrogradely through the jugular route with vascular access sheath (dashed arrow) in situ. Subsequently, a catheter (solid arrow) was used to inject the sclerosant mixture into the shunt (arrowheads) antegrade through the transjugular intrahepatic route. The transjugular intrahepatic portosystemic shunt stent was then placed in the usual way within the intrahepatic tract after ensuring stasis of sclerosant mixture within the shunt and detachment of the vascular plug.
Moreover, occluding a competing GRS (shunt steal phenomenon) may decrease the risk of TIPS dysfunction in the long run. Typically, TIPS is performed first, and a splenoportal venogram is obtained. The GRS is cannulated retrogradely, and suitable sized coils or vascular plug deployed. The inflow vein is then occluded with a balloon and sclerosant injected into the variceal complex to achieve complete obliteration. Conversely, doing B-RTO first may make TIPS less technically challenging in cases where the portal vein is severely attenuated due to the siphoning of blood away from the liver by the large GRS. These tiny portal veins can be difficult to target during TIPS. Following B-RTO, due to the diversion of blood towards the liver, portal vein caliber may improve, making it easier to access. A proposed algorithm for the management of GVH is shown in Figure 3.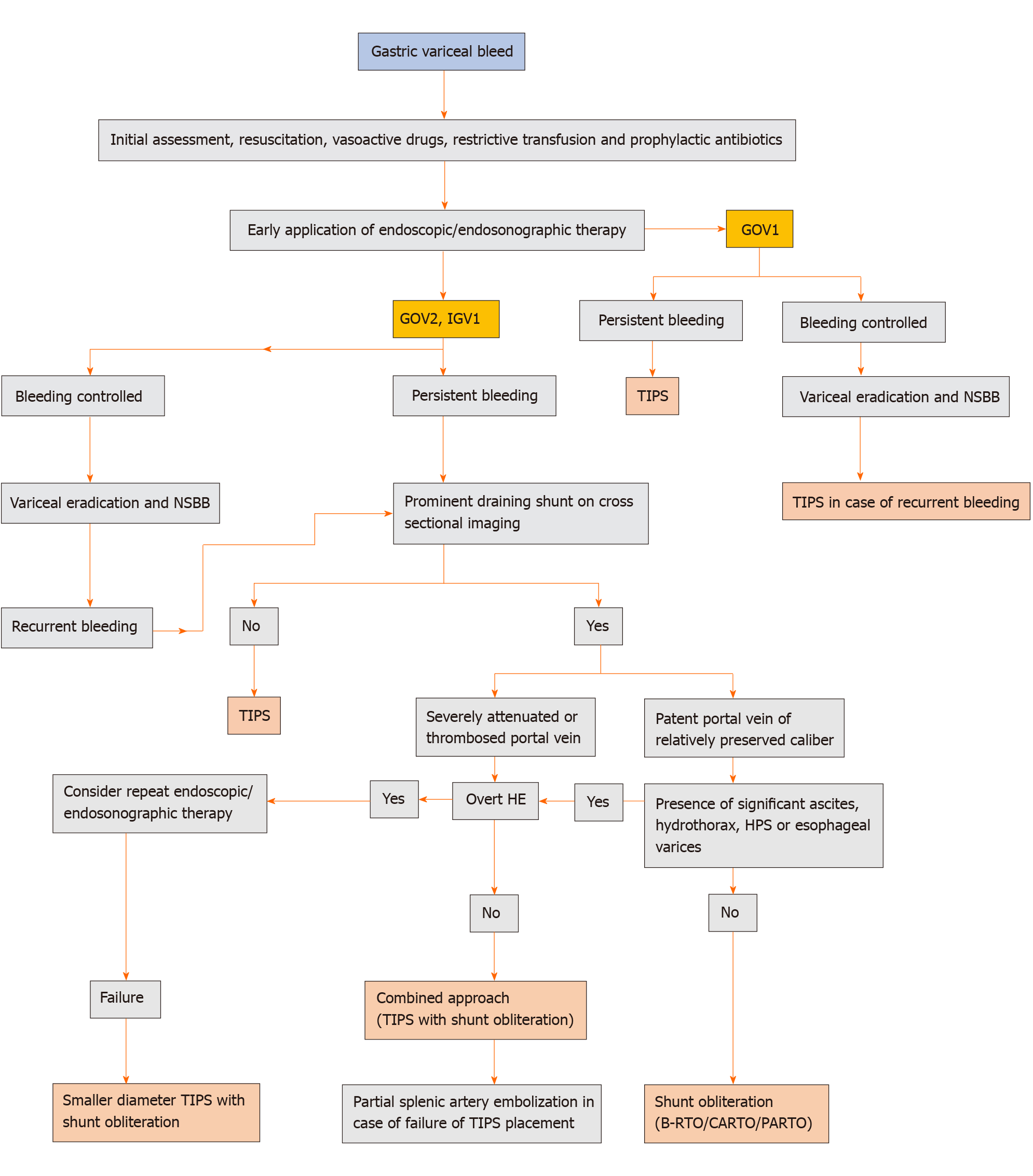 Figure 3 Proposed algorithm for the management of acute gastric variceal hemorrhage.
TIPS: Transjugular intrahepatic portosystemic shunt; NSBB: Non-selective beta-blockers; HE: Hepatic encephalopathy; HPS: Hepatopulmonary syndrome; B-RTO: Balloon-occluded retrograde transvenous obliteration; CARTO: Coil-assisted retrograde transvenous obliteration; PARTO: Plug-assisted retrograde transvenous obliteration.
Ectopic varices
The term ectopic varices are used to describe portosystemic collaterals located at sites other than the gastroesophageal region. Stomal varices are the most common, followed by small bowel (predominantly duodenum), colon, rectum, and peritoneum. Rare sites include the biliary tree, umbilicus, and pelvic organs[47]. Bleeding from ectopic varices represents an uncommon but challenging clinical problem. The prevalence ranges between 1%-5% of all variceal bleeds with a higher prevalence (up to 40%) seen in patients with extrahepatic PH and after surgery[47-49]. Postoperative adhesions and the creation of an enterostomy can facilitate the formation of portosystemic collaterals. Depending on the location of varices, clinical presentation, and available local expertise, the management of bleeding ectopic varices can differ. After initial resuscitation and pharmacological treatment, the treatment options include endoscopic management, percutaneous variceal embolization, TIPS, or surgical therapies[50]. Endoscopic therapy is often not feasible or successful due to an inaccessible location. Percutaneous variceal embolization using balloon-occluded sclerotherapy, coils, glue, gel foam, thrombin, or a combination of these is an effective short-term therapy for bleeding ectopic varices. However, it fails to decompress the portal venous system resulting in high 1-year rebleeding rates. Surgical treatment options such as local suturing, segmental bowel resection, devascularisation procedures, or stomal revision are associated with a high risk of recurrence[50]. TIPS has shown excellent results in achieving initial hemostasis and reducing the incidence of recurrent bleeds. However, the available evidence is limited to case reports, small case series, and related reviews[50-54]. A recent multicentre cohort study showed that TIPS was particularly effective in patients with less severe liver disease and those with stomal varices[50]. Contrarily, the rebleeding risk in patients with duodenal varices was surprisingly high. Rebleeding in 75% of patients was associated with TIPS stent dysfunction. Multiple studies have shown that patients with ectopic varices can rebleed after TIPS despite the achievement of hemodynamic target and stent patency[51,52]. Notably, the overall risk of rebleeding after TIPS in patients with ectopic varices was significantly higher than in patients with gastroesophageal variceal bleeding (23% vs 0-6%, respectively, at 1 year)[50]. This discrepancy can be explained by the anatomical differences between varices at these two sites. It has been suggested that unlike gastroesophageal varices, ectopic varices are true veins and are likely to have larger diameters resulting in greater wall tension resulting in higher rates of bleeding[55,56].
Based on this, few authors recommend concomitant embolization of variceal complex during TIPS (Figure 4). In the series by Vangeli et al[51], rebleeding was more commonly seen in those who had TIPS alone compared to those who had concomitant variceal embolization. Furthermore, they also found that the rebleeding in the majority of patients responded to subsequent variceal embolization. However, multiple other studies have reported contradictory results[52-54]. Technically, variceal embolization in this setting can be difficult since ectopic varices are frequently multiple, tortuous, and complex, and access to them may be challenging. Even when accessible, complete obliteration of ectopic varices may not be possible because of the presence of other communications with the systemic or mesenteric venous system.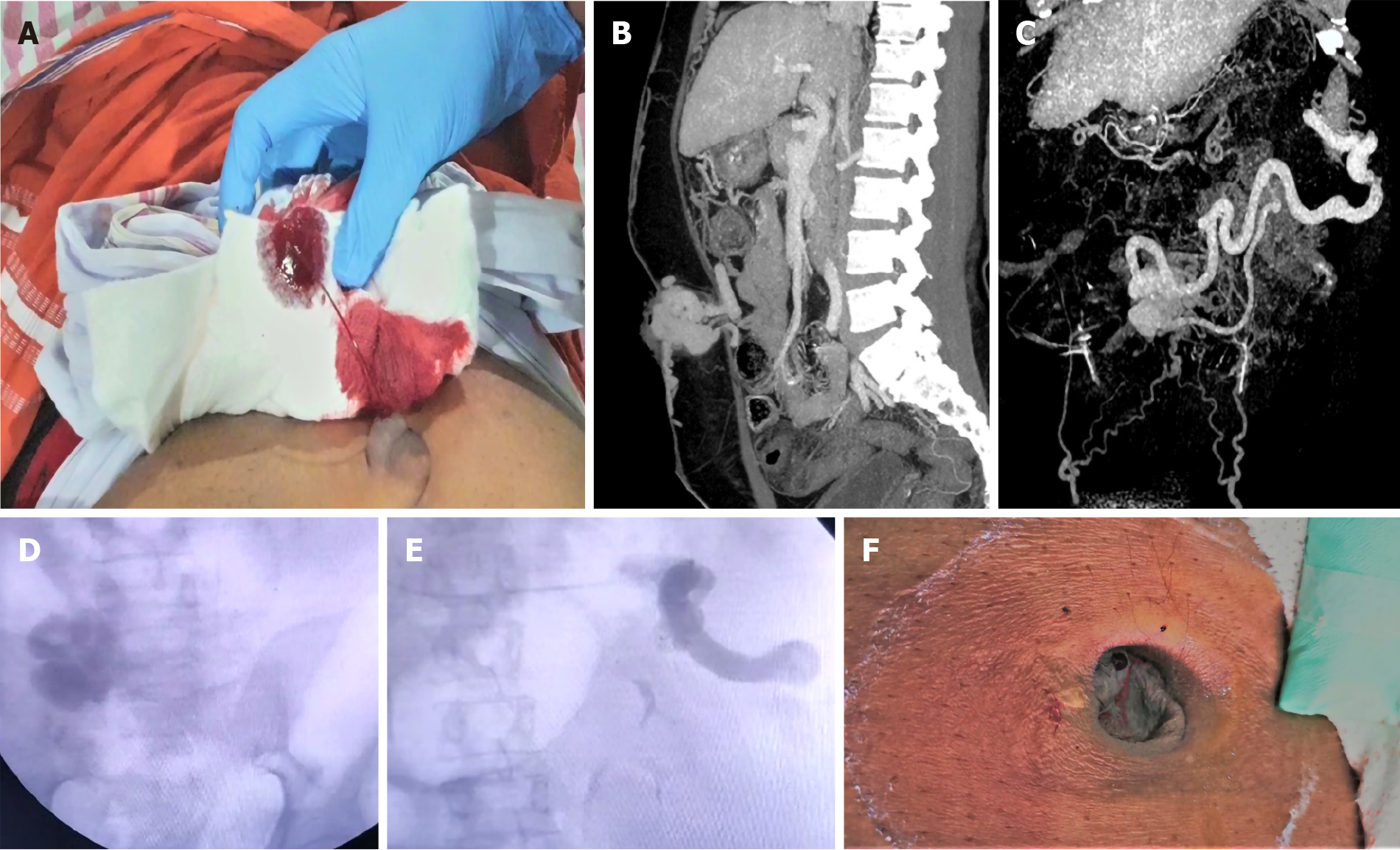 Figure 4 Ectopic umbilical variceal bleeding controlled using TIPS procedure and adjuvant percutaneous intravariceal glue injection.
A: The patient with cirrhosis and portal hypertension presented with spontaneous blood soakage of clothes associated with painless spurting of blood from umbilical region; B: Contrast imaging of abdomen revealed large umbilical varix with extracutaneous component; C: The umbilical varix supply was from the splenic vein; D and E: Fluroscopy guided transjugular intrahepatic portosystemc shunt placement, shunt embolization with multiple coils followed by percutaneous glue injection for variceal obliteration was performed; F: Complete resolution of the variceal complex was noted clinically post transjugular intrahepatic portosystemc shunt procedure.
Moreover, variceal embolization has the risk of inherent complications, such as propagative thrombus or paradoxical systemic embolization. Although a recent meta-analysis showed a trend favoring variceal embolization along with TIPS for ectopic variceal bleeding, the evidence is insufficient to recommend the same routinely[57]. However, when the target PSPG could not be achieved after TIPS stent placement and in whom the ectopic varices continue to be opacified on completion splenoportogram, concomitant variceal embolization may be appropriate. Variceal embolization alone can be offered to patients in whom TIPS is contraindicated due to advanced cirrhosis or overt HE (Figure 5).
PHG
PHG is characterized by vascular ectasia, which appears as a mosaic-like pattern of gastric mucosa on endoscopy[58,59]. The reported prevalence of PHG ranges from 20%-98% in patients with known cirrhosis[59-62]. Studies have shown an increased prevalence in patients with high CTP scores, EV, or history of treatment for EV (sclerotherapy or ligation)[60,61]. PHG is thought to be a direct consequence of passive congestion induced by increased portal pressure because it does not develop in the absence of established PH. A direct correlation between portal pressure values and severity of PHG remains to be demonstrated[63,64]. The incidence of acute PHG related bleeding varies between 2%-12%[60,61]. NSBB, octreotide, and terlipressin are effective in the initial treatment of PHG with reported rates of hemostasis between 93%-100%[65,66]. Endoscopic argon plasma coagulation, sclerotherapy, and coagulation therapy with the heater probe may be considered with focal bleeding. Antioxidants like vitamin E, thalidomide, and prednisolone have also been used to treat acute PHG bleeding, with anecdotal success in case reports[67,68]. After the resolution of the episode of acute bleeding, propranolol should be initiated as secondary prophylaxis. The published evidence for TIPS in the management of PHG is limited to a few case reports[69-71]. Current evidence suggests that TIPS reduces the severity of PHG, ameliorates mucosal lesions, and could be considered in patients with transfusion-dependent PHG when pharmacological measures and endoscopic interventions fail. It is important to differentiate PHG from gastric antral vascular ectasia (GAVE) as the latter can be seen in patients with and without PH or cirrhosis. GAVE has a characteristic endoscopic appearance but can co-exist with PHG[72,73]. TIPS does not have a role in the management of bleeding solely from GAVE.
ASCITES
Ascites is the most common complication of PH in cirrhosis, with approximately 60% of compensated cirrhosis patients developing the condition within ten years of diagnosis[74]. The 5-year survival is approximately 30% in patients with decompensated cirrhosis and ascites[75]. Moreover, ascites is a direct cause of further complications, such as spontaneous bacterial peritonitis, hyponatremia, and HRS. For patients developing grade 3 ascites, large-volume paracentesis (LVP) with intravenous albumin (8 g for every L of fluid removed above 5 L) supplementation is the treatment of choice[76]. However, despite optimal medical therapy, 5%-10% of these patients develop RA, which is associated with an extremely poor prognosis and median survival of 6 mo[74,76,77]. Liver transplantation, the only definitive treatment of RA, is limited by donor resources and high costs in developing countries. Repeated LVP with albumin infusion is currently recommended as the first-line therapy for RA[76]. Current guidelines recommend consideration of TIPS placement if more than three sessions of LVP have to be performed per month for symptomatic relief or procedure intolerance[78].
Although the efficacy of TIPS in controlling ascites has been well validated by several RCT's (between 1996-2004) and subsequent meta-analysis (2005-2006), the increased incidence of HE and controversial results on survival benefit resulted in LVP to be continually recommended as the first-line therapy for RA, ahead of TIPS[79-86]. However, these RCTs were primarily evaluating the efficacy of ascites control rather than survival. Moreover, the early meta-analysis did not analyze survival as a time-dependent variable, and the confounding effect of liver transplantation on survival in patients with advanced cirrhosis was not considered[84-86]. A meta-analysis conducted later using individual patient data of these RCTs confirmed that TIPS significantly improved TFS and reduced the recurrence of tense ascites[87]. Another RCT conducted later employed even stricter inclusion criteria (Child-Pugh score of < 11, serum bilirubin < 3 mg/dL, and creatinine < 1.9 mg/dL) and found that TIPS was significantly superior to paracentesis in the control of ascites in cirrhotic patients with RA with response rates of up to 60% at one year[88]. More importantly, survival was significantly higher in the TIPS group attesting to the fact that careful patient selection is a pre-requisite for better outcomes after TIPS in patients with RA. This finding was confirmed in a recent updated meta-analysis[89]. However, the probability of post-treatment HE was increased by TIPS in all the studies with a significantly higher average number of episodes per patient. Nevertheless, all these RCTs have used bare-metal stents for TIPS, and there was a high incidence of shunt dysfunction requiring stent revision. Thus, the conclusions drawn cannot be applied to the current clinical scenario where covered stents for TIPS are the norm.
Multiple retrospective studies since then have reported survival benefit after covered TIPS in this clinical setting[90,91]. Interestingly, the most recent RCT comparing TIPS (using covered stents) with LVP in patients with ascites found that covered TIPS improved survival and did not increase the risk of HE[92]. Another retrospective study conducted later, which included patients with RA similarly showed that the risk of de-novo HE was not increased in the TIPS group[93]. Notably, this study employed smaller 8 mm diameter TIPS stents and found that while ascites control was similarly effective between TIPS responders and non-responders (as defined by a decrease in portal pressure to < 12 mmHg after TIPS implantation), HE occurred more often in patients with hemodynamic TIPS response, implying that a less aggressive PSPG reduction might be sufficiently effective for ascites control, while concomitantly decreasing the risk of post-TIPS HE. However, a randomized study comparing 8 mm vs 10 mm covered TIPS for RA had to be stopped midway after early results revealed worse ascites control with 8 mm stents[94]. Another recent retrospective study reported higher post-TIPS PSPG and greater need for LVP with 8 mm stents, with similar rates of encephalopathy[95]. Therefore, the optimal diameter of covered TIPS stents for this indication remains unclear. Some studies have suggested that TIPS should not be undertaken in patients with a high (≥ 18) MELD score[96,97]. However, the role of MELD in patient selection remains unclear. In the meta-analysis by Salerno et al[87], it was shown that compared with paracentesis, the benefit of TIPS on TFS could be seen across all MELD scores. More recently, two retrospective studies found no evidence that TIPS creation confers worse survival in patients with higher MELD scores compared with serial LVP[98,99]. A higher MELD score predicted poor survival, but survival was equally poor among patients whose RA was treated with serial LVP compared to TIPS. Another retrospective review showed that early death after elective TIPS was highest in patients with MELD greater than 24[100]. Gaba et al[101] compared various scores, including MELD and CTP score in the prediction of outcome after TIPS, and found that CTP score had the best overall capability at predicting mortality when TIPS is used for ascites. Bureau et al[102] have proposed the use of simple laboratory parameters (bilirubin < 50 μmol/L and platelets > 75 × 109/L) to predict 1-year survival following TIPS for RA, which form the basis of European Association for the Study of Liver Disease guidelines.
There has been a renewed interest in the role of TIPS in patients with recurrent ascites (three recurrences of symptomatic ascites within a year). Studies, including the initial RCT's comparing TIPS with LVP, have grouped patients having recurrent ascites with those having RA. However, subgroup analyses performed on the pooled data of these RCTs showed that TIPS significantly improved TFS regardless of whether recurrent ascites patients were included or not in the trials[89]. A recent single-center retrospective study of 128 patients showed that placement of TIPS in patients with lower LVP frequency and creatinine levels is associated with superior ascites control[103]. Similar findings were reported by a prospective RCT comparing TIPS to LVP in patients with recurrent ascites and a limited LVP frequency, which demonstrated benefits in ascites control and survival in TIPS-treated patients but no difference in HE between the two groups[92]. This was reiterated in the recent study on very early TIPS performed in patients with cirrhosis and first symptomatic ascites development[30]. Thus, currently available data (Table 2) suggest that TIPS should be considered early in patients with difficult-to-treat ascites (not necessarily fulfilling the criteria of RA) having a stable underlying liver disease with relatively preserved renal function. However, a recent observational study on outcomes and mortality of patients with cirrhosis with recurrent ascites found that mortality does not differ significantly between patients with recurrent ascites and patients with ascites responsive to medical treatment and that recurrent ascites is not necessarily a sign of worsening of the liver disease, implying that these patients should not be prioritized for TIPS or liver transplant[104]. Further large multicentre prospective RCTs are needed to assess the role of "early TIPS" in ascites.
| | | | | | | | |
| --- | --- | --- | --- | --- | --- | --- | --- |
| Ref. | No. of pts (LVP/TIPS) | Definition of ascites for inclusion | Exclusion criteria | Primary and secondary outcomes and mean follow-up time (LVP/TIPS) in months | Improvement in ascites (%; LVP/TIPS) | HE (%; LVP/TIPS) | Survival (%; LVP/TIPS) |
| Lebrec et al[49] | 12/13 | Despite adequate diuretics and sodium restriction: (1) Weight loss < 200 g/d in 5 d or (2) > 2 episodes of tense ascites in 4 mth | Age > 70 yr, severe extra-hepatic diseases, HCC, pulmonary hypertension, HE, bacterial infection, severe alcoholic hepatitis, portal or hepatic vein obstruction or thrombosis, obstruction of biliary tract, obstruction of hepatic artery, serum creatinine >1.7 mg/dL | Primary: Recurrence of ascites; secondary: Overall survival, HE, hemodynamic, liver; and renal function; Follow-up: 12.4/7.5 | 0/38 | 6/15 | 60/29 |
| Rossle et al[80] | 31/29 | Definition reported in 1996 by IAC (45% patients had recidivant ascites) | Overt HE, serum bilirubin > 5 mg/dL, serum creatinine > 3 mg/dL, PVT, hepatic hydrothorax, advanced cancer, failure of LVP (ascites persisting after LVP or need for LVP > once per week) | Primary: TFS; secondary: Recurrence of ascites, liver and renal function, HE; Follow-up: 44/45 | 43/84 | 13/23 | 32/58 |
| Gines et al[81] | 35/35 | Definition reported in 1996 by IAC | Age > 18 or > 75 yr; serum bilirubin > 10 mg/dL; prothrombin time < 40% (INR 2.5); platelet count < than 40000/mm3; serum creatinine > 3 mg/dL, HCC, complete portal vein thrombosis; cardiac or respiratory failure; organic renal failure; bacterial infection; chronic HE | Primary: TFS; secondary: Recurrence of ascites, liver and renal function, HE, GI, bleeding, HRS; Follow-up: 10.8/9.5 | 17/51 | 34/60 | 30/26 |
| Sanyal et al[82] | 57/52 | Definition reported in 1996 by IAC | Causes of ascites other than cirrhosis, advanced liver failure (serum bilirubin bilirubin > 5 mg/dL, PT INR > 2), incurable cancers or nonhepatic diseases that were likely to limit life expectancy to 1 yr, congestive heart failure, acute renal failure, parenchymal renal disease, PVT; bacterial infections, overt HE, florid alcoholic hepatitis, HCC, GI hemorrhage within 6 wk of randomisation | Primary: Recurrence of ascites and TFS; secondary: Overall survival, HE, GI bleeding, liver and renal function, quality of life; Follow-up: 38/41 | 16/58 | 21/38 | 33/35 |
| Salerno et al[83] | 33/33 | Definition reported in 1996 by IAC (32% patients had recidivant ascites) | Age > 72 yr, recurrent overt HE, serum bilirubin > 6 mg/dL, serum creatinine > 3 mg/dL, CTP score> 11, complete PVT; HCC; GI bleeding within 15 d of randomisation, serious cardiac or pulmonary dysfunctions, bacterial infection, SAAG gradient < 11 g/L | Primary: TFS; secondary: Recurrence of ascites, HE, GI bleeding, liver and renal function, HRS; Follow-up: 15/21 | 42/79 | 39/61 | 29/59 |
| Narahara et al[88] | 30/30 | Definition reported in 1996 by IAC | Age > 70 yr, chronic HE, HCC and other malignancies, complete portal vein thrombosis with cavernomatous transformation, bacterial infection, severe cardiac or pulmonary disease, organic renal disease | Primary: Overall survival; secondary: Recurrence of ascites, HE; Follow-up: 13/27 | 30/87 | 17/67 | 30/43 |
| Bureau et al[92] | 33/29 | At least 2 LVPs within a minimum interval of 3 wk | Age < 18 and > 70 yrs, patients who had required > 6 LVPs within the previous 3 mo; patients on transplant waiting list, congestive heart failure, history or presence of pulmonary hypertension, complete PVT, recurrent overt HE, HCC, severe liver failure (prothrombin index < 35%, total bilirubin > 100 mmol/L or CTP score > 12), serum creatinine > 250 mmol/L, uncontrolled sepsis | Primary: 1-yr liver TFS; secondary: Ascites recurrence and treatment failure, overt HE, PHT-related complications, other complications of cirrhosis, and the number of days in hospital during a 1-yr period after inclusion; Follow-up: 10.4 /11.5 | At 1-yr follow-up, total number of paracentesis in the TIPS and LVP group were 32 and 320, respectively | 35/35 | 52/93 |
HH
HH is the accumulation of a significant amount of transudative fluid, usually over 500 mL, in the pleural cavity of patients with decompensated liver cirrhosis without coexisting primary cardiopulmonary or pleural diseases[105]. It is a relatively uncommon complication of end-stage liver disease, seen in approximately 5%-10% of patients and constitutes 2%-3% of all cases of pleural effusions[105,106]. It has a dismal prognosis with a median survival of 8-12 mo[107]. Approximately 20%-25% of patients with HH have persistent symptomatic rapidly refilling HH despite adequate dietary sodium restriction and maximum tolerated diuretic dose[107]. Early liver transplantation is the only curative treatment for these patients, but it is not always available because of recipient condition and limited donor availability. Therapeutic thoracentesis can be offered as an alternative for symptomatic relief. However, therapeutic thoracentesis is not recommended as a long-term treatment due to the risk of re-expansion pulmonary edema, pneumothorax, bleeding, and infection. TIPS effectively reduce the portal pressure, thereby providing symptomatic relief in close to 2/3rds of patients[108,109]. However, since HH is relatively uncommon, controlled studies assessing the role of TIPS for this condition are lacking. Recently, Ditah et al[110] and colleagues conducted a systematic review and meta-analysis of 6 retrospective studies involving a total of 198 patients suffering from HH. The analysis of pooled data showed that TIPS was successful in relieving the symptoms in 73% of cases, with complete response seen in 56% of patients. The occurrence of HE and overall mortality was found to fall within the observed range, as seen with TIPS performed for other established indications. In the absence of controlled studies comparing TIPS with standard medical treatment, the benefit of TIPS on TFS in HH cannot be commented upon. In a recent retrospective single-center analysis, despite the selection of patients with lower mean CTP (9.9 ± 1.6) and MELD score (18.7 ± 5.4), the 6-mo mortality after TIPS for HH was close to 36%[111]. The independent predictors of mortality were MELD > 25, spontaneous bacterial peritonitis, and septic shock. The study found no difference in 6 mo mortality and complication rates when TIPS was compared to other treatment groups (standard medical therapy, thoracentesis, and catheter drainage) based on propensity matching analysis. Early TIPS in selected patients may be effective as a bridge to liver transplantation.
CONSIDERATIONS DURING SELECTION OF PATIENTS FOR TIPS
UPDATE ON THE TECHNICAL ASPECTS OF TIPS
CONCLUSION
Transjugular intrahepatic portosystemic shunt placement has been demonstrated to have benefit on the control and recurrence of PH events and transplant free survival in patients with cirrhosis. Nonetheless, various applicability of TIPS among specific subsets of patients with cirrhosis need further validation and thus form prospects for future studies in the form of observation, hypothesis generation and validation in controlled trials. Of these the most important include utility among Child Pugh class B patients with variceal bleeding, role in non-responders to primary prophylaxis with beta blocker therapy and benefits with early use in patients with recurrent ascites who do not fulfil criteria for refractoriness. Other pertinent areas for further research involve the role of TIPS in management of bleeding GV associated with large spontaneous shunts, in hepatopulmonary syndrome as a bridge to liver transplantation and biomarkers to predict post TIPS outcome such as stent dysfunction or death. Furthermore, an exciting area would also be the use of controlled-expansion stents for TIPS placement in those with advanced liver disease and recurrent or uncontrolled PH related complications.
Manuscript source: Invited manuscript
Specialty type: Gastroenterology and hepatology
Country/Territory of origin: India
Peer-review report's scientific quality classification
Grade A (Excellent): A
Grade B (Very good): B, B
Grade C (Good): C, C, C
Grade D (Fair): 0
Grade E (Poor): 0
P-Reviewer: Chen Z, Jamali R, Schoenhagen P S-Editor: Gao CC L-Editor: A P-Editor: Ma YJ