World J Gastroenterol.
Jan 14, 2017;
23(2): 336-344
Published online Jan 14, 2017. doi: 10.3748/wjg.v23.i2.336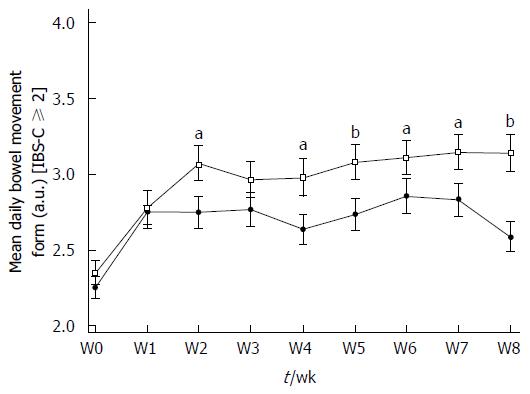 Figure 4 Evolution of stool consistency in irritable bowel syndrome-C subjects with an abdominal pain/discomfort score higher than or equal to 2 at baseline (irritable bowel syndrome-C ≥ 2) during the 8-wk supplementation with active product (Saccharomyces cerevisiae CNCM I-3856, white squares) or placebo product (black circles). Values are estimated means, with standard error represented by vertical bars. aP < 0.05, bP < 0.01, Significant differences, vs placebo are symbolized. IBS-C: Irritable bowel syndrome-C; a.u.: Arbitrary unit.
---
Citation: Cayzeele-Decherf A, Pélerin F, Leuillet S, Douillard B, Housez B, Cazaubiel M, Jacobson GK, Jüsten P, Desreumaux P. Saccharomyces cerevisiae CNCM I-3856 in irritable bowel syndrome: An individual subject meta-analysis. World J Gastroenterol 2017; 23(2): 336-344
---