World J Gastroenterol.
Jan 14, 2017;
23(2): 204-215
Published online Jan 14, 2017. doi: 10.3748/wjg.v23.i2.204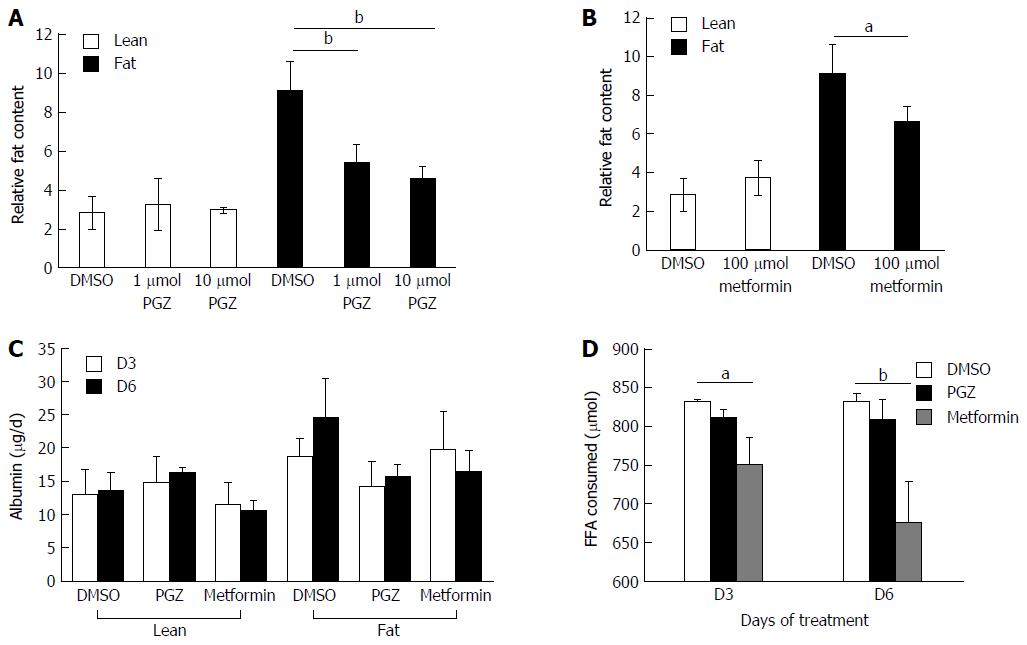 Figure 6 Pioglitazone and Metformin can reduce steatosis in three-dimensional non-alcoholic fatty liver disease model. Hepatocytes were cultured for 7 d in fat or lean conditions, before treatment with anti-steatotic compounds, Pioglitazone (PGZ) (A) and Metformin (B). Cells were treated for 7 d in the continued presence/absence of fat. Fat content in all wells was analysed by Oil Red O staining and normalised to total cellular protein content. Albumin production in treated cultures (data shown for 10 μmol PGZ treated samples) (C). Fat consumed by cells during treatment was calculated by analysing culture medium for the presence of free fatty acids using enzyme-based colorimetric assay (D). Data is a mean ± SD (n = 3), aP < 0.05, bP < 0.01.
---
Citation: Kostrzewski T, Cornforth T, Snow SA, Ouro-Gnao L, Rowe C, Large EM, Hughes DJ. Three-dimensional perfused human in vitro model of non-alcoholic fatty liver disease. World J Gastroenterol 2017; 23(2): 204-215
---