Copyright
©The Author(s) 2016.
Published by Baishideng Publishing Group Inc. All rights reserved.
Chronic hepatitis C virus infection: Serum biomarkers in predicting liver damage
Pamela Valva, Daniela A Ríos, Elena De Matteo, María V Preciado, Laboratory of Molecular Biology, Pathology Division, Hospital de Niños Ricardo Gutiérrez, Buenos Aires C1425EFD, Argentina
Author contributions: Valva P and Preciado MV wrote the paper; Ríos DA and De Matteo E contributed to the literature search and analyzing data.
Supported by Argentine National Agency for Scientific and Technology Promotion, PICT 2012 No. 804; and National Research Council (CONICET, PIP 2014), No. 0035; and a fellowship from the National Agency for Science and Technology Promotion (ANPCyT) to Ríos DA.
Conflict-of-interest statement: Pamela Valva, Elena De Matteo, and Maria V Preciado are members of the CONICET Research Career Program. The authors disclose no financial conflicts of interest.
Open-Access: This article is an open-access article which was selected by an in-house editor and fully peer-reviewed by external reviewers. It is distributed in accordance with the Creative Commons Attribution Non Commercial (CC BY-NC 4.0) license, which permits others to distribute, remix, adapt, build upon this work non-commercially, and license their derivative works on different terms, provided the original work is properly cited and the use is non-commercial. See: http://creativecommons.org/licenses/by-nc/4.0/
Correspondence to: Pamela Valva, PhD, Laboratory of Molecular Biology, Pathology Division, Hospital de Niños Ricardo Gutiérrez, Gallo 1330, Buenos Aires C1425EFD, Argentina. valvapamela@yahoo.com
Telephone: +54-11-49629138 Fax: +54-11-49624122
Received: May 15, 2015
Peer-review started: May 19, 2015
First decision: July 14, 2015
Revised: August 4, 2015
Accepted: October 12, 2015
Article in press: October 13, 2015
Published online: January 28, 2016

Currently, a major clinical challenge in the management of the increasing number of hepatitis C virus (HCV) infected patients is determining the best means for evaluating liver impairment. Prognosis and treatment of chronic hepatitis C (CHC) are partly dependent on the assessment of histological activity, namely cell necrosis and inflammation, and the degree of liver fibrosis. These parameters can be provided by liver biopsy; however, in addition to the risks related to an invasive procedure, liver biopsy has been associated with sampling error mostly due to suboptimal biopsy size. To avoid these pitfalls, several markers have been proposed as non-invasive alternatives for the diagnosis of liver damage. Distinct approaches among the currently available non-invasive methods are (1) the physical ones based on imaging techniques; and (2) the biological ones based on serum biomarkers. In this review, we discuss these approaches with special focus on currently available non-invasive serum markers. We will discuss: (1) class I serum biomarkers individually and as combined panels, particularly those that mirror the metabolism of liver extracellular matrix turnover and/or fibrogenic cell changes; (2) class II biomarkers that are indirect serum markers and are based on the evaluation of common functional alterations in the liver; and (3) biomarkers of liver cell death, since hepatocyte apoptosis plays a significant role in the pathogenesis of HCV infection. We highlight in this review the evidence behind the use of these markers and assess the diagnostic accuracy as well as advantages, limitations, and application in clinical practice of each test for predicting liver damage in CHC.
Core tip: Liver biopsy represents the gold standard for evaluating liver damage, but identification of non-invasive serum markers that mirror liver injury progression is the actual goal in both adults and children. Over the last few years, several non-invasive markers have been proposed, especially for liver fibrosis diagnosis. In this review, we discuss the role of serum biomarkers for predicting liver impairment in chronic hepatitis C patients.
---
Citation: Valva P, Ríos DA, De Matteo E, Preciado MV. Chronic hepatitis C virus infection: Serum biomarkers in predicting liver damage. World J Gastroenterol 2016; 22(4): 1367-1381
---
INTRODUCTION
Hepatitis related to hepatitis C virus (HCV) infection is a progressive disease that may result in chronic active hepatitis, cirrhosis, and hepatocellular carcinoma. It is estimated that about 160 million individuals, i.e., 2.35% of the world population, are chronically infected with HCV[1,2]. The virus represents a major global health problem, since there is no available vaccine; and although there are recently approved direct-acting antiviral agents (DAA) available as well as more drugs in development, response to the current standards of care therapy (pegylated interferon-α and ribavirin) is limited. Furthermore, liver failure as a consequence of HCV infection is one of the most common reasons for liver transplantation[1].
The mechanisms leading to liver injury are under constant revision, but it is widely accepted that both immune system-mediated reactions and viral cytopathic effects are involved in the pathogenesis[3]. A major clinical challenge in the management of the increasing number of chronic hepatitis (CHC) infected patients is achieving the best means for evaluating liver impairment. The assessment of histological activity, namely cell necrosis and inflammation and the degree of liver fibrosis, have to date been provided by liver biopsy[2,4] (Table 1). The evaluation of the histological damage is considered crucial in the management of patients with CHC, because it provides prognostic information and, in many cases, assists in therapeutic decisions. While the evaluation of fibrosis is a major decision criterion for hepatologists, fibrosis is only one of the many histopathological features present on liver biopsy. In effect, fibrosis is not an independent trait, since scar tissue also results from other pathobiological mechanisms, such as inflammatory, degenerative, and dystrophical processes. The simultaneous evaluation of necroinflammation shows whether fibrosis is the result of a past event that has been stabilized or even regressed or is an ongoing process that may continue to worsen. Moreover, associated lesions, such as steatosis, steatohepatitis, iron overload, etc., which provide useful information for patient management and prognosis, can also frequently be detected within a biopsy[5]. Although the biopsy represents the gold standard for evaluating presence, type, and stage of liver fibrosis and for characterizing necroinflammation (portal tract inflammation, interface hepatitis, lobular inflammation); it remains a costly and invasive procedure with inherent risks. Minor complications are relative common, and about one fourth of patients have pain in the right upper quadrant or right shoulder after liver biopsy. The risk of severe complications is very low (1/4000-1/10000) and include significant bleeding rates, perforation of other organs, and death. Thus, it cannot be performed frequently for monitoring therapeutic outcomes[6-11]. Moreover, biopsy is considered risky in children since it carries a higher chance for the development of complications, consequently it is less accepted than adults. In addition to the risks related to an invasive procedure, liver biopsy has been associated with sampling error, mostly due to suboptimal biopsy size[12-14]. The sampling error constitutes a recognized drawback because the needle liver biopsy, regardless of the length or width of the core, is only a finite portion of a very large organ with potential variability in the expression of disease. Pathologists would certainly prefer larger samples to review, but comparative data now indicate that a non-fragmented specimen of at least 20 mm in length that includes at least 11 portal tracts would be a reliable specimen for disease grading and staging[15]. On the other hand, a fairly extensive literature concerning problems inherent in histological grading and staging systems has emerged. Histological features (necroinflammation = grading; fibrosis = staging) should be reported using a structured, semi-quantitative method. Various scoring systems have been validated to evaluate liver damage in CHC. The most widely used scoring systems are METAVIR, Scheuer, Ishak, and Knodell's hepatic activity index (HAI)[16,17]. METAVIR and Scheuer's scores are more reproducible and less prone to observer variation but have less distinction capability both for fibrosis and necroinflammation than Ishak and Knodell's HAI[17,18]. A further pitfall of biopsy examination is the interpreter, since there is a significant degree of inter-/intra-observer variability in the pathologic assessment of liver samples. The practical knowledge and experience of the pathologist could greatly influence the interpretation of the diagnosis by improving consistency and accuracy and minimizing problems related to sample size[19]. Consequently, evaluation of liver damage by means of a biopsy will always carry a risk, albeit low, of misclassification, thus making the term ''best" standard more appropriate than ''gold" standard for liver biopsy. Therefore, developing non-invasive tests that can accurately predict initial disease stage and progression over time represents a high priority and growing medical need[20,21]. Currently, there are several non-invasive diagnostic methods for determining liver damage that are being validated, such as blood markers and imaging methods[22]. Over the last few years, several non-invasive markers were proposed, especially for liver fibrosis diagnosis. Besides the clear advantage of being non-invasive, a more objective interpretation of test results may overcome the mentioned intra- and inter-observer variability of liver biopsy. In addition, these tests can theoretically offer a more accurate view of fibrogenic events occurring in the entire liver, with the advantage of providing frequent fibrosis evaluation without additional risk. However, in general, these tests show low accuracy to discriminate among intermediate stages of fibrosis and may be influenced by several hepatic and extrahepatic conditions[23].
Liver biopsy
"Gold" standard for evaluating liver damage
Provides prognostic information and assists in therapeutic decisions
Invasive procedure with inherent risks
Cannot be applied to monitor therapeutic outcomes
Sampling error mostly due to suboptimal biopsy size
Inter-/intra-observer variability
Costly
Less accepted in children than in adults
NON-INVASIVE METHODS FOR THE ASSESSMENT OF LIVER DAMAGE
There are two distinct approaches among the currently available non-invasive methods: (1) the physical ones based on imaging techniques; and (2) the biological ones based on serum biomarkers[24] (Figure 1). Although complementary, these two approaches are based on different rationales and conceptions.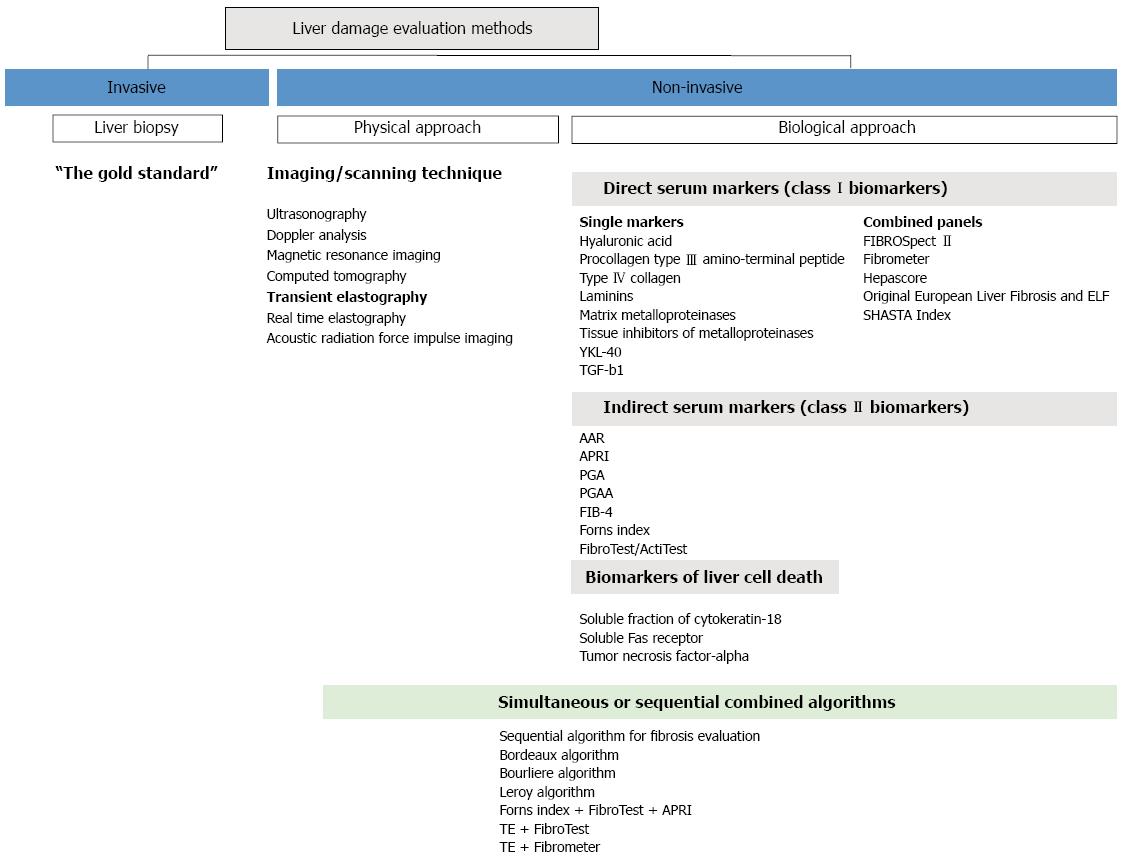 Figure 1 Non-invasive methods for liver damage assessment.
APRI: Aminotransferase platelet ratio index.
The physical approach
Ultrasonography, doppler analysis, magnetic resonance imaging, computed tomography, transient elastography (TE), real time elastography, and acoustic radiation force impulse imaging are examples of imaging/scanning techniques. Of these, however, TE seems to be the most appropriate because it is fast, reproducible and not operator dependent. More specifically, TE measures liver stiffness in relation to elasticity, corresponding to a genuine and intrinsic physical property of the liver parenchyma. Several studies have shown a significant correlation between TE and fibrosis stage, as assessed by the METAVIR scoring system[25-27]. TE is a good predictor for severe fibrosis and is highly accuracy in the identification of liver cirrhosis [the area under the operating characteristic curves (AUROC) was ≥ 0.90 in all reported studies][28]; however, a meta-analysis study indicated that TE examination alone does not provide sufficient information to diagnose significant fibrosis (F ≤ 2) and is unable to discriminate between intermediate stages of fibrosis[29]. Even though the TE examination per se is straight forward, the results must be interpreted by an expert clinician, knowledgeable about the clinical background of the patient and the conditions that can influence liver stiffness measurement. Risk factors for failure of liver stiffness measurement include obesity, narrow intercostal space, and ascites[28]. Since the liver is an organ wrapped in an expandable but non-elastic envelope (Glisson's capsula), additional space-occupying tissue abnormalities independent of fibrosis, such as edema and inflammation, cholestasis and congestion, may interfere with TE. Acute viral hepatitis increases liver stiffness, so it may be a condition that can lead to a false positive on TE[30,31]. Thus, the necroinflammatory status needs to be taken into consideration, particularly in patients with absent or low-stage liver fibrosis. In patients with extra-hepatic cholestasis, liver stiffness significantly correlates with bilirubin levels and may lead to false positivity of TE measurement[23,32].
The biological approach
The tremendous strides made in biomedicine and biotechnology during the last decade have led to novel, rapid, and non-invasive methods that challenge longstanding ''gold standard'' invasive diagnostic and therapeutic procedures. Any non-invasive method should ideally fulfill certain characteristics: it should be simple, accessible, easily interpretable, highly accurate, liver-specific, and satisfactorily validated[29]. Despite the aforementioned limitations of liver biopsy, there has been a clear resistance to accept non-invasive diagnosis of liver fibrosis as a viable and preferable alternative to liver biopsy. The reasons are various: (1) there is a paucity of well-designed studies assessing non-invasive methods, and sufficient external validation for some of the proposed methods is lacking; (2) the number of proposed methods to assess disease severity remains in a state of constant growth, and there is practically no time to validate or test them all; (3) specific etiology-validation of the non-invasive methods should be provided considering that each etiology of chronic liver disease presents with specific pathogenesis, natural history, and associated comorbidities; (4) a careful evaluation of the risk factors for error and failure of a non-invasive tool should be carried out for adequate interpretation in clinical practice; and (5) liver biopsy itself is not an ideal gold standard to compare serum markers. Finally, and not least important, there is still significant opposition to changing what has long stood as dogma. The aforementioned reasons may explain why the introduction of non-invasive methods in clinical practice is making such slow headway in the field of hepatology. An exception to this rule is France, where three well-validated methods (FibroTest, Fibrometer, and FibroScan) have been approved by the public health system and are routinely used in clinical practice[21]. Serum markers offer an attractive, cost effective alternative to liver biopsy for both patients and clinicians with a lot of advantages (substantially less invasive, practically no complications, little or no sampling errors, small observer related variability, and measurements may be performed repeatedly in any laboratory without sophisticated equipment, allowing for dynamic monitoring of fibrosis) and little limitation (low accuracy to discriminate between intermediate stages of fibrosis and the influence of several extra-hepatic factors). Although no single ideal marker exists, several markers have been proposed as useful indicators of liver damage. The most commonly used markers are discussed below.
DIRECT SERUM MARKERS (CLASS I BIOMARKERS)
More recently, a better understanding of the pathophysiology of liver fibrosis has prompted many investigators to use more refined markers to identify different fibrosis stages. Class I biomarkers are those that mirror the metabolism of liver extracellular matrix (ECM) turnover and/or fibrogenic cell changes and can be utilized to assess the dynamics of liver fibrogenesis. The potential clinical usefulness of these markers is extremely interesting as they could be used not only to stage liver fibrosis but also to assess the rate and progression of liver fibrogenesis. This assessment, in turn, is translated into effective prognostic information and into a tool for evaluating the response and for monitoring the efficacy of antifibrotic drugs. However, the data available on their performance in defining the stage of liver fibrosis is variable. Moreover, they may not be routinely provided in every hospital setting, limiting their clinical use[29,33]. These markers include several glycoproteins (hyaluronan, laminin, etc.), members of the collagen family (procollagen III, type IV collagen, and type IV collagen 7s domain), collagenases and their inhibitors (metalloproteinases and tissue inhibitors of metalloproteinases), and a number of cytokines involved in the fibrogenic process [in particular transforming growth factor (TGF)-β1]. These have been analyzed individually as well as in combination to assess severity and progression of hepatic fibrosis and to follow up changes related to viral treatment[34-42].
Hyaluronic acid (HA) is the most studied direct serum marker. It is a glucosaminoglycan that is synthesized and distributed throughout the extracellular space by hepatic stellate cells (HSCs). HA is degraded by hepatic sinusoidal endothelial cells[43]. Elevated serum HA levels have been associated with decreased hepatic removal of HA in the development of hepatic sinusoid capillarization, increased production of HA in the damaged liver, and increased extrahepatic production of HA during inflammation[44,45]. HA levels correlate with liver fibrosis and are particularly increased in cirrhosis in both patients mono-infected with HCV and co-infected with HCV/human immunodeficiency virus (HIV)[39-42,45]. Moreover, HA serum levels have been strongly associated with advanced stages of liver fibrosis, with AUROC for significant fibrosis ranging from 0.73 to 0.86 and for advanced fibrosis from 0.92 to 0.97[36,39-42,46,47]. Furthermore, a cross-sectional study on 201 HCV/HIV co-infected patients revealed that the diagnostic accuracy of serum HA is better than other non-invasive indices like fibrosis-4 (FIB-4), aspartate aminotransferase (AST) platelet ratio index (APRI), and Forns[47]. Although data suggest that HA alone is clinically useful for predicting severe fibrosis, it has been demonstrated that the best results could be obtained when it is combined with other markers of liver fibrosis[34].
In the healthy human liver, the most abundant collagens are the fibril-forming types I and III. In its mature form, collagen is integrated into the ECM. Particularly, procollagen type III amino-terminal peptide (PIIINP) is a major constituent of the connective tissue. During fibrogenesis, the ratio of the type I/III changes from 1:1 in the healthy liver to 1:2 in the cirrhotic liver[48]. The relative concentration of PIIINP in the basement membrane is higher in hepatic fibrogenesis and is closely followed by an increase in its serum level[49]. In acute hepatitis, the serum level of PIIINP correlates with aminotransferase levels, whereas in chronic liver disease serum PIIINP reflects the stage of liver fibrosis[50], although the diagnostic value of PIIINP shows discordant results. Leroy et al[36] described that the diagnostic accuracy of PIIINP was better than that of HA, but the capability to distinguish F0/F1/F2 from F3/F4 was minimal, and the staging power of both markers was very similar (AUROC 0.88 for PIIINP and 0.81 for HA). Likewise, Zheng et al[51] reported that PIIINP showed better accuracy than HA for the assessment of liver fibrosis, showing an AUROC of 0.80 and 0.72, respectively. In contrast, other authors described that the diagnostic value of PIIINP seem to be lower than other markers, such as type IV collagen or HA[40,42,52]. Unfortunately, PIIINP is not specific for liver fibrosis, since it is also elevated in acromegaly, lung fibrosis, chronic pancreatitis, and rheumatologic disease[48]. On the other hand, type IV collagen was also studied as a possible serum marker for the diagnosis of advanced fibrosis. However, the diagnostic value of type IV collagen assessment seems to be inferior to that of HA[29,40,52].
Laminin is a major non-collagenous glycoprotein synthesized by the HSC, which is deposited in the basement membrane of the liver. During fibrosis, laminin accumulates around the vessels, in the perisinusoidal spaces, and near the portal tract[53]. Elevated levels of laminin and pepsin resistant laminin (laminin P1) were found to correlate with the degree of perisinusoidal fibrosis[54]; however, the diagnostic value of laminin proved to be not as high as those of HA and type IV collagen[55,56].
It is well known that liver fibrosis is characterized by pathological accumulation of ECM, resulting from alterations of synthesis and/or degradation of matrix proteins. Matrix metalloproteinases (MMPs) constitute a family of zinc endopeptidases capable of degrading collagens. They play an important role in the physiologic processes of tissue remodeling, wound healing, and in several pathological states, including liver fibrosis[57]. As the activity of MMPs is regulated by specific tissue inhibitors of metalloproteinases (TIMPs), the imbalance between MMPs and TIMPs is thought to be an important determinant of ECM deposition and breakdown[36,58,59]. MMP-2 and tissue inhibitors of MMP-1 and -2 (TIMP-1 and -2) have some diagnostic potential for the detection of liver fibrosis in CHC patients[36,60]. TIMP-1 especially was thoroughly studied as a serum marker of liver damage; however, conflicting results were reported. Many authors found a link between TIMP-1 levels and fibrosis stage in adults[36], while others did not[42,61,62]. Nevertheless, the best results were obtained when TIMP-1 was combined or included in an algorithm together with other markers of liver fibrosis[34,38].
YKL-40 (chondrex) is a mammalian homologue of the bacterial chitinases involved in remodeling or degradation of the ECM[63]. In liver diseases, serum levels of YKL-40 correlate with fibrosis severity[50]. A study including 109 CHC patients showed a discrete performance for significant liver fibrosis (AUROC 0.81, specificity of 81% and sensitivity of 78%); and its accuracy for the prediction of liver cirrhosis was even lower (AUROC 0.80)[40].
During the development of liver fibrosis, multiple cytokines activate HSCs and transform them into myofibroblasts with new phenotypic properties, such as collagen synthesis and cytokine activation. TGF-β1 is one of the multifunctional cytokines related to the production and degradation of ECM and the apoptosis of hepatic cells[58]. However, the relationship between TGF-β1, a pro-fibrogenic cytokine, and hepatic fibrosis is not well established. Nelson et al[64] stated that fibrogenesis is a long process and that the level of fibrosis was a summation of all the effects in the past; therefore, active TGF-β1 at a certain time point might not correlate with the fibrosis score. In a recent study, we described that serum TGF-β1 levels in CHC adult patients displayed an inverse relationship with fibrosis stage, where lower TGF-β1 values corresponded to more severe fibrosis stages (AUROC 0.835)[42]. Moreover, the lowest levels of TGF-β1 were detected in serum samples from adult cirrhotic patients. Then, in accordance with other authors, lower levels of TGF-β1 might indicate advanced liver fibrosis, suggesting that this marker may reflect fibrogenesis rather than fibrosis[65,66].
Direct markers have also been proposed as combined panels for increasing the diagnostic performance of a single parameter.
The FIBROSpect II test uses a combination of several components of the fibrogenic cascade, such as HA, TIMP-1, and α2-macroglobulin, to calculate a composite score. The test is intended to differentiate mild fibrosis (METAVIR stages F0 to F1) from more severe disease (METAVIR stages F2 to F4) and has been shown to do well in CHC cohorts[67]. FIBROSpect II showed an AUROC of 0.82-0.87 for significant fibrosis[67-69].
Fibrometer® is a patented test combining age, platelets, HA, AST, prothrombin index, urea, and α2-macroglobulin. In CHC patients, AUROC values were reported to be between 0.85-0.89 for significant liver fibrosis and 0.91 for liver cirrhosis[70-72]. In addition, direct comparisons showed that the Fibrometer® performed better than APRI and the FibroTest® in detecting both significant fibrosis and cirrhosis[73,74].
Hepascore® is another patented test that combines age, gender, HA, bilirubin, gamma glutamyl-transpeptidase (γGT), and α2-marcoglobulin. An interesting advantage of Hepascore® is that it can be totally automated using a single analyzer and only one serum sample[75]. In CHC patients, AUROC values of Hepascore® were 0.79-0.85 for diagnosis of significant fibrosis and 0.89-0.94 for diagnosis of cirrhosis, indicating an excellent performance[72,76,77].
The Original European Liver Fibrosis (OELF) panel proposed by the European liver fibrosis study group includes HA, TIMP-1, PIIINP, and age. OELF was shown to be specific and sensitive in the evaluation of liver fibrosis in chronic liver disease of different etiology[21]. The European Liver Fibrosis (ELF) panel is a simplified version of the OELF that excludes the age variable[38]. ELF showed an AUROC range for significant fibrosis of 0.77-0.87 in the CHC patient and an AUROC of 0.82-0.90 for cirrhosis[37,38,78].
The SHASTA Index, which consists of HA, AST, and albumin, was evaluated in a cohort of 95 patients with HIV/HCV co-infection[79]. This index showed an AUROC for significant fibrosis of 0.88, and this performance was significantly better than the APRI test in this HIV/HCV cohort[50].
INDIRECT SERUM MARKERS (CLASS II BIOMARKERS)
The first approach used to assess the degree of liver fibrosis by non-invasive means consisted of routine biochemical and/or hematological tests. These so-called class II biomarkers are indirect serum markers and are based on the evaluation of common functional alterations in the liver, alterations that do not necessarily reflect ECM turnover and/or fibrogenic cell changes. These indirect markers are based mainly on a single or an algorithmic elaboration of commonly observed alterations in liver function (e.g., platelet count, AST, and total cholesterol). In general, assessment through indirect markers is, therefore, easy to obtain as it is based on laboratory tests already available in hospital general laboratories. The best known tests based on indirect markers include: AAR index (AST/alanine aminotransferase (ALT) ratio), APRI index (AST/platelet ratio)[80], the PGA (prothrombin index, γ-glutamyl-transpeptidase-GGT-, and apolipoprotein)[81], the PGAA (same as PGA plus α2-macroglobulin)[82], FIB-4 score (which combines platelet count, ALT, AST, and age), Forns index (age, platelet count, γGT, cholesterol)[83], and FibroTest (α2-macroglobulin, haptoglobin, γGT, apolipoprotein A1, and bilirubin)[84,85].
Concerning AAR, although some studies have found promising results, its performance as a non-invasive marker of fibrosis is generally low, especially for the diagnosis of less advanced stages of fibrosis[86,87]. An AAR increase over 0.8 reflects a progressive liver functional impairment, while a ratio ≥ 1 is indicative of cirrhosis[88]. The diagnostic accuracy of ARR for distinguishing between cirrhotic patients and non-cirrhotic ones in different studies is variable, with an AUROC of 0.51-0.83[29]. Moreover, the AAR had low performance for detecting significant fibrosis (AUROC of 0.661) as compared to other simpler models, such as APRI (AUROC 0.793) and FIB-4 (AUROC 0.811)[75].
The APRI is a useful tool to discern or exclude significant liver fibrosis (cut off 0.5-1.5) and liver cirrhosis (cut off 1-2). However, in a substantial number of patients (30%-50%), APRI values are within an intermediate area, and classification is unreliable. Nonetheless, to date, APRI remains one of the most validated non-invasive biomarkers for liver fibrosis, and it is among the most referenced by guidelines[10]. In the first study in which APRI was proposed, a high precision for the prediction of significant fibrosis (AUROC 0.88) and cirrhosis (AUROC 0.94) was demonstrated[80]. Subsequent studies indicated, however, an irregular performance with AUROC for significant fibrosis ranging between 0.69-0.88 and for cirrhosis between 0.61-0.94[28,89]. This variability could be partially explained by the different cutoff values chosen in each study and by the population heterogeneity. A recent meta-analysis of 40 studies, which included 8739 patients with CHC, concluded that APRI can be used in clinical practice for the confirmation of severe fibrosis/cirrhosis when other clinical signs and examination are non-decisive (AUROC for the diagnosis of significant fibrosis, severe fibrosis, and cirrhosis were 0.77, 0.80, and 0.83, respectively)[90]. In this meta-analysis, the best cutoff for diagnosing significant fibrosis was 0.7 while for the detection of cirrhosis it was 1.0. Since it is cheap and simple, it should be considered a reference test against which other non-invasive methods are compared. Therefore, APRI is still the first choice for CHC patients to identify fibrosis in regions with limited healthcare resources. A major advantage of APRI is that it was validated in special populations, such as individuals with HIV/HCV co-infection[90,91], in whom the overall performance seems to be lower than HCV mono-infected individuals[90,92].
The PGA and PGAA index are very interesting since they implicate both inflammation and fibrosis in chronic liver diseases; however, their overall accuracy is relatively low to other indices[50].
The Forns index can be used to differentiate patients with mild (F0-F1) fibrosis from those with severe (F2-F4) fibrosis, but it shows less accuracy for distinguishing patients with stage F2 versus F4. However, several studies revealed a wide dispersion in the diagnostic performance of the Forns index for the detection of significant fibrosis (AUROC 0.76-0.79)[72,83,89]. The major limitation of the Forns index is that it does not offer conclusive information regarding cirrhosis, while it leaves a high number of cases unclassified[75].
The FIB-4 was originally developed for HIV/HCV co-infected patients, with cutoff values of 1.45 or 3.25 to rule-out or rule-in significant fibrosis, respectively[93]. This model was subsequently validated by Vallet-Pichard et al[94] in a large cohort of HCV mono-infected patients. The FIB-4 index correctly identified patients with severe fibrosis (F3-F4) and cirrhosis with an AUROC of 0.85 and 0.91, respectively. A FIB-4 index < 1.45 had a negative predictive value of 94.7% to exclude severe fibrosis and a sensitivity of 74.3%. A FIB-4 index higher than 3.25 had a positive predictive value of 82.1% for the confirmation of significant fibrosis (F3-F4), with a specificity of 98.2%. Since the FIB-4 index is simple and inexpensive, it has been validated in a number of studies with a variable degree of accuracy in HCV infected subjects[95-97]. Amorim et al[98] compared FIB-4 and APRI and found similar AUROCs for both models (0.81 vs 0.79, respectively), but the proportion of biopsies that could have been correctly avoided was substantially higher with FIB-4 than with APRI (63% vs 47%), suggesting that FIB-4 is probably a more useful tool for incorporation into daily practice[98].
The FibroTest/FibroSure (identical tests but different names in Europe and America, respectively) and ActiTest are for the assessments of fibrosis and necroinflammatory activity. Their score is computed by accessing a proprietary website and entering the patient's data (age, sex, haptoglobin, α2-macroglobulin, apolipoprotein A1, GGT, and bilirubin) and can only be performed in validated laboratories[99,100]. It generates a score that is correlated with the degree of liver damage in people with a variety of liver diseases. This test showed an AUROC range of 0.74-0.89 for the diagnosis of significant fibrosis and an AUROC range of 0.82-0.92 for cirrhosis[21]. Among the patented panels combining parameters for diagnosis of liver fibrosis, FibroTest/Fibrosure is the most validated; however, it is important to note that risk factors leading to errors of this test include elevated bilirubin levels unrelated to fibrosis (for example due to cholestasis or Gilbert syndromes), reduction of haptoglobin related to hemolysis, and elevation of haptoglobin and α2-macroglobulin due to non-hepatic inflammation[29].
In contrast to the numerous liver fibrosis biomarkers, only a few biomarkers of necroinflammatory histological activity have been published. ActiTest is a biomarker of liver necroinflammatory histological activity that was initially validated in patients with CHC[84,101] and then in patients with chronic hepatitis B (HBV)[85]. ActiTest is widely used in association with FibroTest as a non-invasive alternative to liver biopsy[102]. It combines ALT and the five components of FibroTest. Poynard et al[102] assessed the accuracy of ActiTest in comparison with ALT in a meta-analysis of six studies including 2017 patients and described that the accuracy of ActiTest for grading the necroinflammatory activity of patients with CHC is significantly higher than ALT serum activity alone. The overall accuracy of ActiTest for the diagnosis of any activity grade ranged between 0.79-0.74. Notably, the non-invasive assessment of necroinflammatory grade combined with fibrosis stage is still crucial for at least three reasons: (1) for treatment prescription, which could be discussed in patients without advanced fibrosis but with moderate or severe necroinflammatory activity[1] and for maintenance therapy in patients with cirrhosis in order to reduce necrosis and inflammation[103,104]; (2) for the risk of false positives induced by necroinflammatory activity on fibrosis biomarkers[105] and on liver stiffness measurements by fibroscan[106,107]; and (3) for the risk of over interpretation of fibrosis improvement after antiviral treatment if the impact on necroinflammatory activity is not taken into account[102,105].
In addition to the combined panels that include different markers, many authors have proposed improving the accuracy of non-invasive methods for the correct diagnosis of liver damage in CHC using serum-based algorithms as a simultaneous or a sequential procedure. The use of two or more non-invasive methods increases the diagnostic accuracy of an individual assay[72,89,108-110]. The choice of the algorithm to be used in the clinical practice may be based on some considerations: (1) what is locally available; (2) what has been recently validated; (3) what is not affected by patient co-morbidities; and (4) which method does the physician feel comfortable[29]. There are a large number of proposed algorithms that involve different markers; but we will only discuss the most widely applied. Sebastiani et al[111] investigated the viability of combining APRI and FibroTest/Fibrosure (Sequential Algorithm for Fibrosis Evaluation) to identify significant fibrosis and cirrhosis in more than 2000 patients with CHC. This model uses APRI as a first line test because of its simplicity and low cost and FibroTest as a second line test because of its accuracy and higher cost. Importantly, the model uses liver biopsy as a third line test only in cases where the combined non-invasive biomarkers fail to classify with adequate accuracy. The algorithm used to identify significant fibrosis avoided 50% of liver biopsies, whereas an algorithm used to identify cirrhosis avoided more than 80% of biopsies. Castera et al[25] proposed the Bordeaux algorithm. They showed that the combination of TE and FibroTest was very useful for diagnosing significant fibrosis and cirrhosis, with AUROC measuring 0.88 and 0.95, respectively. Boursier et al[112] proposed a new fibrosis index that combined Fibrometer and TE. This index identifies patients with clinically significant/severe fibrosis with more accuracy than FibroTest, Fibrometer, or TE; avoiding 86% of liver biopsies. It is important to note that the combination of TE with serum-based tests is currently a common modern practice. Calès et al[113] described a new test called Elasto-Fibrometer (E-Fibrometer that includes all eight single components of Fibrometer and Fibroscan, resulting in a binary logistic regression targeted to F ≥ 2 or F4. E-Fibrometer provides higher accuracy than the other tests with AUROCs at 0.848 for F ≥ 2 and 0.926 for F4.
Another proposed stepwise algorithm combines Hepascore® with APRI named Bourliere's algorithm[114]. This approach yielded 91% diagnostic accuracy and reduced liver biopsies for significant fibrosis by 45%. To date, its main drawback is the lack of extensive validation data for Hepascore®, as compared to APRI, FibroTest, and Forns index. Moreover, Bourliere et al[108] proposed another combination algorithm consisting of Forns index, FibroTest, and APRI that showed good performance for diagnosing both significant fibrosis and cirrhosis, saving around 50% and 80% of liver biopsies, respectively. Moreover, Leroy et al[72] proposed another combination algorithm using FibroTest and APRI in concordance, which demonstrated exceptional performance in the diagnosing of significant fibrosis.
BIOMARKERS OF LIVER CELL DEATH
Based on the morphological characteristics of liver biopsies, it is currently accepted that hepatocyte damage is a result, at least in part, of apoptosis induction. Both in vitro studies and in vivo models have demonstrated the induction of apoptosis by HCV[3,115-117]. Furthermore, some studies including adult patients indicated that hepatocyte apoptosis plays a significant role in the pathogenesis of HCV infection[116,118-123]. Non-invasive biomarkers of cell death are evolving as promising tools to diagnose and monitor liver damage in various acute and chronic liver diseases. The understanding and identification of key molecules involved in biochemical cascades leading to cell death in liver pathophysiology have offered new options for the development and testing of novel serum markers of liver damage[124]. Unfortunately, although there are many studies that evaluate these serum apoptosis markers in CHC patients related to liver damage, the study of the diagnostic accuracy of these markers for the diagnosis of liver injury severity is lacking.
The cellular content of the soluble fraction of cytokeratin-18 (CK18), the major intermediate filament protein in the liver, has been shown to be released into the extracellular space during cell death both in vitro and in vivo. CK18 is cleaved by caspases at two conserved residues during apoptosis, one of them (Asp396) represents a neoepitope (M30), which is not detectable in vital or necrotic cells. Circulating levels of M30 have been shown to be elevated in various other liver disorders, but it was particularly studied for the diagnosis of nonalcoholic steatohepatitis (NASH) among patients with nonalcoholic fatty liver disease[125]. However, Bantel et al[119,126-128] extensively studied hepatocyte cell death and the release of M30 in patients with CHC. They found that serum M30 quantification is a highly sensitive method to detect early fibrosis severity[126]. They observed that M30 levels were associated with more severe stages of fibrosis only in patients with normal transaminase values, but no association between M30 and either hepatitis or fibrosis severity in general adult CHC patients was found. On the other hand, Seidel et al[129] found that M30 was elevated in adult patients with severe steatosis. Finally, Papatheodoridis et al[130] found that M30 was associated with global liver damage severity, because its levels correlated with hepatitis severity, fibrosis, and steatosis. Jazwinski et al[131] found elevated M30 levels in CHC patients when compared to controls, and while the stage of fibrosis was associated with increasing serum CK18 levels, there was no association between M30 and the grade of steatosis. In contrast, Joka et al[132] described that M65, another epitope that is present in both caspase-cleaved and uncleaved CK-18, was more sensitive and specific than M30 for the detection of lower fibrosis stages and steatosis severity in many forms of chronic liver disease, including CHC; although M65 and M30 were not individually analyzed in the context of each disease etiology. Moreover, in a previous study, we described that while M30 showed a trend of association with advanced fibrosis, it did not correlate with steatosis severity in adult patients[133]. Finally, while these studies support the association of CHC with increased circulating levels of M30, the potential clinical role and utility of these biomarkers in patients with CHC remains uncertain.
Fas receptor/Fas ligand interaction is the primary initiator of the extrinsic apoptosis pathway in the liver. Therefore, the elimination of apoptotic bodies in pathological conditions may induce an inflammatory reaction with consequent activation of HSCs, which in turn favors the development of liver fibrosis[134]. Several authors postulated that soluble Fas receptor (sFas) is associated with liver damage severity because significantly increased sFas levels were observed in patients with terminal disease stages, such as cirrhosis and hepatocellular carcinoma[135,136]. In turn, Toyoda et al[137] reported that sFas levels in CHC patients correlated with hepatitis severity. Kakiuchi et al[138] corroborated this result, but reported that this marker was not associated with fibrosis severity. In contrast, our previous study indicated that sFas was not related to hepatitis severity but instead was associated with fibrosis severity[133]. It follows then that serum sFas levels are high in patients with CHC; however, the clinical relevance of circulating sFas is not completely understood[135,138-143].
Tumor necrosis factor-alpha (TNF-α) is a pleiotropic monocyte derived cytokine that has been associated with cancer progression, severe inflammatory diseases, and liver injury[144]. In order to fulfill inflammatory reactions in the tissue, TNF-α binds to two distinct receptors: TNFR1 and TNFR2. Plasma TNF-α levels were significantly higher in patients with CHC, liver cirrhosis, and hepatocellular carcinoma compared to those with acute or mild CHC. Moreover, positive correlations between disease progression and soluble TNFR1 and soluble TNFR2 were described in patients with CHC[124].
SERUM MARKERS IN PEDIATRIC PATIENTS
HCV infection in adult patients has been explored so far; however, the natural history of HCV infection acquired in infancy and childhood remains poorly characterized, and the long-term outcome of the disease is still a matter of debate[145]. The spread of HCV infection in childhood is much more limited, but vertical transmission, in spite of its low efficiency, contributes to the maintenance of a reservoir of infection. Most children are asymptomatic with mildly abnormal hepatic transaminases[145-148]. Nevertheless, the full spectrum of elementary histological lesions described in adult patients can be observed in the liver of children and adolescents, including the typical triad of HCV-associated lesions; i.e., steatosis, portal aggregates of mononuclear cells, and bile duct damage. The prevalence of both portal lymphoid aggregates and bile duct injury seems to be significantly higher among older children[145,149,150]. Whether or not this ''adult phenotype'' of hepatitis C is related to the host's immunoreaction remains speculative. In comparison with adults, children more often exhibit a mild disease activity. Septal fibrosis is not rare, but cirrhosis hardly ever develops during childhood. Liver fibrosis increases with the patient's age and/or the duration of disease, so older adolescents and young adults have more severe fibrosis than children[150-152]. The progression of fibrosis is time dependent, even though it is a slow and non-linear process. As mentioned above, biopsy in children is still perceived to carry a higher risk of complications, so it is less accepted than in adults. However, none of the several non-invasive tests proposed as an alternative to liver biopsy for grading and staging CHC have been investigated and/or validated in the pediatric population, so little is known about these tools in children.
In a recent study of a cohort of pediatric patients with CHC, we evaluated the presence of a pro-fibrogenic cytokine (TGF-β1) and certain matrix deposition markers (HA, PIIINP, and TIMP-1) and then correlated them with liver injury. TGF-β1, TIMP-1, HA, and PIIINP levels were higher in CHC patients than in age matched controls. Concerning liver damage, serum TGF-β1, PIIINP, and HA showed no statistically significant differences among fibrosis stages; however, higher values of TIMP-1 were observed in pediatric patients with more severe fibrosis stages. Indeed, its accuracy for discriminating significant fibrosis was lower than that for discriminating advanced fibrosis (AUROC of 0.625 and 0.800, respectively)[42]. This observation is in agreement with data reported by Lebensztejn et al[153] on pediatric HBV patients. It is worthwhile to note that the highest TIMP-1 values were cirrhosis cases, so it would be interesting to analyze more cases from this condition to assess the actual diagnostic accuracy for cirrhosis. Finally, we compared the TIMP-1 result with APRI and AAR as surrogate indirect serum markers of liver fibrosis; but these approaches in our cohort did not improve the diagnostic accuracy performance of TIMP-1. In the pediatric series, neither APRI nor AAR reached the 0.80 AUROC value, and TIMP-1 remained the best option[42].
FibroTest and ActiTest are potential non-invasive methods for assessing hepatic fibrosis and necroinflammatory activity in pediatric CHC patients. Since they observed AUROC of 0.97 when diagnosing patients with mild stage of fibrosis. these tests could discriminate them from those cases with no (or minimal) fibrosis. AUROC of 0.93 was useful to successfully discriminate between patients with moderate activity and those with mild activity[154,155].
Moreover, considering that HCV, apoptosis, and immune responses are all involved in CHC pathogenesis in both pediatric and adult groups[123], we have recently evaluated the presence of different apoptosis markers and analyzed their correlation with liver injury in a cohort of CHC pediatric patients[133]. In particular, we measured sFas and M30 and found that sFas was associated with fibrosis severity (both significant and advanced fibrosis) and that M30 levels were elevated in pediatric patients with severe steatosis. The diagnostic accuracy was good for sFas to evaluate advanced fibrosis (AUROC: 0.812) and for M30 to determine steatosis severity in children (AUROC: 0.833). Serum sFas could be considered a possible marker of advanced fibrosis both in pediatric and adult patients with CHC, and M30 might be a good predictor of steatosis severity in children. This last finding is particularly important since M30 is being widely studied as a marker of steatosis severity both in pediatric and adult patients with NASH[156-162]. However, it would be useful to study larger pediatric cohorts, perhaps in a multicenter study, to validate and confirm these findings. Consequently, this approach would be potentially translatable to the bedside.
CONCLUSION
The accurate diagnosis of liver damage is essential for decision-making in CHC. Liver biopsy has traditionally been considered the gold standard for the evaluation of tissue damage, as it provides useful information for patient management and prognosis. However, it is an invasive procedure with a risk of potential complications and is prone to sampling errors. Even though in the last decade remarkable achievements have been made in the non-invasive diagnosis of liver damage, it is an evolving field, and there is still room for improvement. A number of non-invasive techniques, ranging from serum biomarker assays to advanced imaging techniques, are being developed. In general, these tests show low accuracy in discriminating among intermediate stages of fibrosis and may be influenced by several hepatic and extrahepatic conditions. In order to improve the accuracy of non-invasive methods to achieve the correct diagnosis of liver damage in CHC, algorithms combining different markers as well as the use of two or more non-invasive methods either simultaneously or in a sequential procedure have been proposed. Continued research in this area will give us the opportunity to offer our patients more precise and non-invasive diagnostic tools. Further research on the pathophysiology of CHC may identify novel markers that are able to accurately detect both progression and regression of liver damage. Liver biopsy will still be part of clinical practice in the coming years, but progress in biomedicine will challenge previously entrenched assumptions and will change our current approach to liver diseases in the next decade.
ACKNOWLEDGMENTS
The authors thank Dr. Cohen Melina for his language revision.
P- Reviewer: Rousselet MC S- Editor: Yu J L- Editor: Filipodia E- Editor: Zhang DN