Copyright
©The Author(s) 2015.
Published by Baishideng Publishing Group Inc. All rights reserved.
Idiopathic neonatal pneumoperitoneum with favorable outcome: A case report and review
Tao-Zhen He, Chang Xu, Yi Ji, Min Liu, Department of Pediatric Surgery, West China Hospital of Sichuan University, Chengdu 610041, Sichuan Province, China
Xiao-Yan Sun, Health Management Centre, West China Hospital of Sichuan University, Chengdu 610041, Sichuan Province, China
Author contributions: Xu C designed the research; Ji Y and Sun XY collected and analyzed the data; He TZ wrote the paper; and Liu M critically revised the paper.
Ethics approval: The study was reviewed and approved by the West China Hospital of Sichuan University Institutional Review Board.
Informed consent: All study participants or their legal guardian provided informed written consent prior to study enrollment.
Conflict-of-interest: The authors declare no conflict of interest.
Open-Access: This article is an open-access article which was selected by an in-house editor and fully peer-reviewed by external reviewers. It is distributed in accordance with the Creative Commons Attribution Non Commercial (CC BY-NC 4.0) license, which permits others to distribute, remix, adapt, build upon this work non-commercially, and license their derivative works on different terms, provided the original work is properly cited and the use is non-commercial. See: http://creativecommons.org/licenses/by-nc/4.0/
Correspondence to: Min Liu, MD, Professor of Medicine, Department of Pediatric Surgery, West China Hospital of Sichuan University, No. 37 Guoxuexiang Road, Chengdu 610041, Sichuan Province, China. 77734172@qq.com
Telephone: +86-28-85422888 Fax: +86-28-85422888
Received: November 1, 2014
Peer-review started: November 3, 2014
First decision: December 26, 2014
Revised: January 24, 2015
Accepted: February 11, 2015
Article in press: February 11, 2015
Published online: May 28, 2015

Neonatal pneumoperitoneum is a surgical emergency indicative of gastrointestinal perforation that requires immediate treatment to prevent death. There have been non-surgical conditions secondary to neonatal pneumoperitoneum (e.g., mechanical ventilation, pulmonary diseases and pneumatosis cystoides intestinalis) that neonates were able to overcome without the need for abdominal exploration. Idiopathic pneumoperitoneum, although similar to perforation of the alimentary tract and the previously mentioned non-surgical conditions, is a more rare and benign condition that does not yet have a definite cause. Hence, inexperienced surgeons may have a difficult time providing the right treatment for idiopathic pneumoperitoneum. We report a case of a neonate with a massive pneumoperitoneum who obtained a favorable outcome without surgical intervention. Nonetheless, the cause of pneumoperitoneum remains unclear. We hypothesize that the right sized perforation (range: 2 mm to 4 mm in diameter) at the anterior wall of the stomach is needed for pneumoperitoneum to occur. As the baby cries (aerophagia), the air in the stomach accumulates until it can enter the intraperitoneal cavity through the leak compressed by gastric peristalsis, hence forming a large pneumoperitoneum. Small amounts of gastric juice are able to penetrate the gastric wall; therefore, no signs or symptoms of peritonitis occur. The gastric leak self-seals, preventing further passage of the air, allowing the intraperitoneal free gas to dissipate gradually. This case demonstrated that laparotomy can be avoided in neonates with idiopathic pneumoperitoneum if a timely diagnosis is established.
Core tip: Neonatal pneumoperitoneum is often deemed an emergency requiring prompt abdominal exploration to increase the chance of survival. Supporting therapy management has been successful in treating idiopathic neonatal pneumoperitoneum with excellent outcomes. This report describes a rare case of idiopathic neonatal pneumoperitoneum without a definite cause. A favorable prognosis was achieved without laparotomy. Therefore, a conservative treatment is feasible if prompt diagnosis is ascertained.
---
Citation: He TZ, Xu C, Ji Y, Sun XY, Liu M. Idiopathic neonatal pneumoperitoneum with favorable outcome: A case report and review. World J Gastroenterol 2015; 21(20): 6417-6421
---
INTRODUCTION
Neonatal pneumoperitoneum (NP) is a rare disease often requiring an acute surgical emergency intervention to maximize survival. NP is categorized into two types: surgical and nonsurgical pneumoperitoneum. Idiopathic pneumoperitoneum is classified as nonsurgical and usually has a more favorable prognosis. However, patients with idiopathic pneumoperitoneum who underwent surgery often had negative outcomes. The ability to differentiate between idiopathic pneumoperitoneum from a highly lethal perforation of air-containing viscus may reduce surgical intervention and increase the survival rate in neonatal patients. Future research is still necessary to understand the source of the free gas in the abdomen, as well as the underlying mechanism of pneumoperitoneum. Herein, we describe a rare case of NP without an established cause.
CASE REPORT
A newborn female (8 d and 16 h old) was admitted to our department with an 8 d long tachypnea and abdominal distension lasting 4 d. Prenatal examination was uneventful. The patient's birth weight was 2950 g. The baby was delivered vaginally from a gravida 2, para 2 mother at the 37th week of gestation. The Apgar score was 8 and 10 at 1 and 5 min, respectively. Upon admission, the baby weighed 2500 g; abdominal distension was visible and the bowel sound was weak. Chest examination showed no abnormal findings. Laboratory evaluation noted a white blood cell count of 18420/mm3 with 75.2% segmented neutrophils. The anteroposterior X-ray in the lateral position showed free gas in the right part of the abdomen surrounding the liver and intestine (Figure 1). These results differed from the ones obtained four days earlier when radiograph results showed no free gas under the diaphragm. The inflated stomach was decompressed using a gastric tube.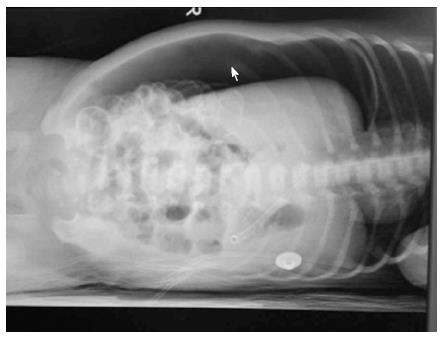 Figure 1 Neonate's radiograph on the 8th d after birth revealed massive free gas in the right part of the abdomen on the liver and intestine.
The initial diagnosis was neonatal gastrointestinal perforation. The recommended treatment plan included an immediate abdominal exploration. However, the patient's parents found the operational risk and expenses too high and refused the treatment. The newborn was released home where she was first fed with a little bit of water followed by breast milk on the third day. The neonate made a bowel movement on the first day after being released and her stool appeared to be normal. The parents took the baby to the hospital four days later; the radiograph indicated most of the free gas had dissolved. The baby appeared to be in good condition and was asymptomatic. A roentgenogram of the abdomen on the 22nd d after the initial admission showed intraperitoneal free air was absent. The 4 year follow-up (twice per year) check-ups, including clinical and radiological examination, were uneventful.
DISCUSSION
An X-ray taken in an upright position showing free gas under the diaphragm usually leads to the diagnosis of gastrointestinal perforation. Our patient was diagnosed with alimentary perforation, a controversial diagnosis. The large amount of free gas observed in our patient is very uncommon. Furthermore, the patient lacked symptoms associated with general peritonitis, such as fever and feeding intolerance. Therefore, a diagnosis of hollow viscus perforation could not be made.
Diesen et al[1] reported a case of neonatal intestinal perforation caused by necrotizing enterocolitis (NEC) which was spontaneously sealed by omentum, suggesting the possibility that NEC patients are able to heal without laparotomy. Other instances of nonsurgical pneumoperitoneum have been reported, such as pneumoperitoneum secondary to mechanical ventilation and tension pneumothorax[2]. More recently, the relationship between pneumoperitoneum and respiratory diseases has been widely debated[3-5]. Macklin[6,7] demonstrated in cats with ventilation assistance that at higher levels of intrathoracic pressure, alveoli could rupture, allowing air to enter the interstitial tissues and the mediastinum along the perivascular sheaths of the lung, reaching the abdomen. Based on Macklin's theory, Eisen[8] concluded that the distribution of the gas in the patients experiencing ventilation must have been the same as that in experimental animals. Other communication pathways between the chest and abdomen include the periaortic and periesophageal space and congenital defect[9,10] or pleuroperitoneal fistula[11] that permit the air to pass through. Our patient did not experience positive end-expiratory pressure ventilation and there was no evidence of pneumothorax or pneumomediastinum. Therefore, we concluded that the alveoli in the thoracic cavity were not the source of the intraperitoneal free gas.
Under rare circumstances, NP can also be seen with pneumatosis cystoides intestinalis (PCI)[12]. Although there was no indication of the gas in the submucosal and subserosal spaces of our patient's intestine in the plain film, the PCI diagnosis cannot be excluded. Tiny free gas within the intestinal wall (linear sign) on plain film is difficult to identify because of the interruption of the overlapped organ or tissue image, especially when rupture of the gas-filled cyst occurs. A computed tomography scan allows for a defined PCI diagnosis; however, we were not able to obtain one for our patient. In most cases, PCI is seen in preterm neonates with NEC[13,14]. NEC is characterized by abdominal distension, gastrointestinal bleeding, abdominal tenderness (even sepsis and shock at advanced stage) and the presence of PCI on abdominal X-ray film[14,15]. Our patient was born at the 37th week of gestation (a full-term) with normal body weight and did not display typical symptoms or signs of NEC other than abdominal distention and tachypnea. Considering that the presence of PCI in neonates combined with massive pneumoperitoneum is extremely rare, we cautiously excluded the NEC diagnosis.
In the literature, idiopathic pneumoperitoneum has been reported as a condition with no demonstrable risk factor for the development of intraperitoneal free gas production[16]. The results of the literature review on the cases of idiopathic pneumoperitoneum are listed in Table 1. Of seven cases, five had a negative laparotomy[17-21] while the rest[22] survived with watchful therapy, thus avoiding the laparotomy. Retrospectively, there would not have been positive findings like intestinal perforation or general peritonitis if abdominal exploration was undertaken on our patient; therefore, the diagnosis of idiopathic pneumoperitoneum was appropriate considering our patient did not have typical symptoms of either general peritonitis or NEC.
Ref.
Age at onset (d)
Birth weight (g)
Gestation (wk)
Delivery mode (V or C)
Apgar score (1, 5 min)
Clinical sign
Peritonitis (Yes or No)
WBC, N (109, %)
Exploration (Yes or No)
Findings (P or N)
Survival (Yes or No)
Vohra et al[18], 1992
2
1300
30
V
6, 7
AD, RD
N
3.6, 28
Y
N
Y
Khan et al[22], 2011
12
1700
38-42
V
U
AD
N
14.5, U
N
-
Y
12
1900
34
V
U
AD
U
U
N
-
Y
Bedi et al[20], 1991
0-1
2400
U
C
U
AD, RD
N
U
Y
N
Y
Shah et al[17], 1992
5
2300
36
U
8, 10
AD
N
U
Y
N
Y
Steves et al[21], 1987
U
U
U
U
U
AD, HMD
N
U
Y
N
Y
Porter[19], 1956
2
2900
U
C
U
RD, EC
N
U
Y
N
Y
The underlying cause and mechanism of pneumoperitoneum remain unclear. The current consensus is that gastric tissue ischemia, secondary to hypoxia, is responsible for the etiology of spontaneous neonatal gastric perforation. In contrast, the theory that the gastric leak is a mechanical disruption is becoming more acceptable[23]. It has been postulated that a competent anti-reflux mechanism at the gastroesophageal junction and a proximal gastric obstruction, caused by an angulation at the hiatus due to sudden gastric distention, are the main factors for gastric leak formation.
We propose a novel hypothesis based on the literature review and our clinical experience. In neonatal patients, a single perforation on the anterior wall, frequently close to the greater curvature[23], is formed due to ischemia[24] or mechanical disruption[23] of the gastric wall. The stomach acts like a partially-filled bag. The diameter of the leak is neither too big nor too small, ranging from 2 mm to 4 mm at the empirical base. At the lower range, the leak is more prone to self-sealing. In contrast, large perforations permit the free gas to pass through into the intraperitoneal cavity. As a result, large amounts of air are swallowed into the stomach when newborns cry (also called aerophagia), thus gradually accumulating pressure inside the stomach. A single-direction valve mechanism is essential for pneumoperitoneum production until the pressure inside the stomach and peritoneal cavity equalizes. Considering newborns spend most of their time in a supine position, the gastric juices at the bottom of the stomach have a low chance of entering the peritoneal cavity from the anterior wall of the stomach during gastric peristalsis. The strong gastric muscle generates enough power for continuous compression of the air in the stomach into the peritoneal cavity, forming a large scale pneumoperitoneum. The thickness of the gastric wall plays an important role in preventing the gastric juice from penetrating the gastric wall. The leak disappears with the development of a self-sealed mechanism once there is no air being compressed through the leak when the inner and outer pressures of the stomach wall equalize. Air in the peritoneal cavity gradually gets absorbed by the peritoneum and viscera.
In conclusion, when there are no abdominal physical signs indicative of peritonitis and the neonatal patient has a normal body temperature and white cell count, conservative management is preferred. Special attention should be paid to neonates because negative laparotomies would jeopardize their already precarious conditions.
ACKNOWLEDGMENTS
The authors would like to thank Dr. Zhen Zhao for his constructive suggestions in writing this paper.
COMMENTS
Case characteristics
A newborn female presented with tachypnea and abdominal distension.
Clinical diagnosis
The Apgar score of the newborn was 8 and 10 at 1 and 5 min, respectively, and inspection revealed obvious abdominal distension; auscultation revealed weak bowel sounds.
Differential diagnosis
Neonatal pneumoperitoneum (including idiopathic and secondary ones), alimentary tract perforation, necrotizing enterocolitis presenting signs of pneumatosis cystoides intestinalis.
Laboratory diagnosis
White blood cell count of 18420/mm3 with 75.2% segmented neutrophils.
Imaging diagnosis
The lateral position anteroposterior X-ray showed a significant amount of free gas in the right part of the abdomen on the liver and intestine.
Pathological diagnosis
There was no specimen for pathological diagnosis.
Treatment
The patient received supporting therapy such as fluid resuscitation.
Related reports
Rare cases reported in the literature mentioned that idiopathic neonatal pneumoperitoneum can be cured with conservative methods; the patients who underwent an operation had negative outcomes.
Term explanation
Idiopathic neonatal pneumoperitoneum, also termed benign, non-surgical and spontaneous, is a rare entity where free gas enters the abdominal cavity through an unknown passage without any leading risk factors and is often mistaken for hollow viscus perforation.
Experiences and lessons
The case report presents a neonate with a massive pneumoperitoneum who obtained a favorable outcome without any surgical intervention; differential diagnoses included idiopathic neonatal pneumoperitoneum, gastrointestinal perforation and another non-surgical condition presenting as pneumoperitoneum.
Peer-review
In this article, the authors reported a rare case of neonatal pneumoperitoneum without a definite cause and explained the interesting phenomenon by proposing a hypothesis based on the literature review. This case is clinically relevant and illustrated that laparotomy could be avoided in neonates if a timely diagnosis of benign pneumoperitoneum is made.
P- Reviewer: Elpek GO, Hokama A, Luo HS, Ozkan OV, Saha L S- Editor: Ma YJ L- Editor: Roemmele A E- Editor: Wang CH