World J Gastroenterol.
Jan 14, 2015;
21(2): 511-516
Published online Jan 14, 2015. doi: 10.3748/wjg.v21.i2.511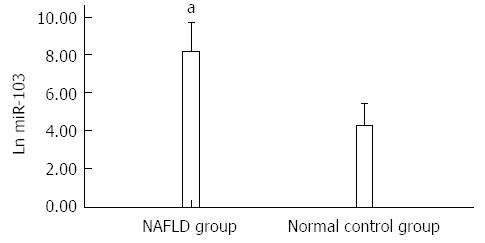 Figure 1 Differential expression of microRNA-103 levels in the serum of patients with nonalcoholic fatty liver disease. microRNA (miR)-103 was log-transformed before analysis because it was not normally distributed. aP < 0.05 vs normal control group (unpaired Student t test). NAFLD: Nonalcoholic fatty liver disease.
---
Citation: Xu Q, Li Y, Shang YF, Wang HL, Yao MX. miRNA-103: Molecular link between insulin resistance and nonalcoholic fatty liver disease. World J Gastroenterol 2015; 21(2): 511-516
---