Copyright
©The Author(s) 2015.
Published by Baishideng Publishing Group Inc. All rights reserved.
Current management of hepatocellular carcinoma: An Eastern perspective
Hyung Joon Yim, Sang Jun Suh, Division of Gastroenterology and Hepatology, Department of Internal Medicine, Korea University Ansan Hospital, Ansan-si 425-707, Gyeonggi-do, South Korea
Soon Ho Um, Division of Gastroenterology and Hepatology, Department of Internal Medicine, Korea University Anam Hospital, Korea University College of Medicine, Seoul 136-705, South Korea
Author contributions: Um SH designed the study, outlined the draft, and supervised the overall project; Yim HJ wrote and organized the manuscript; Suh SJ searched reference materials and contributed to the writing of the manuscript.
Supported by Grants from Korea Healthcare Technology R&D Project, Ministry of Health and Welfare, South Korea, No. HI10C2020 (partly); and Korea University Research Grant (partly).
Conflict-of-interest: The authors do not have any conflicts to report.
Open-Access: This article is an open-access article which was selected by an in-house editor and fully peer-reviewed by external reviewers. It is distributed in accordance with the Creative Commons Attribution Non Commercial (CC BY-NC 4.0) license, which permits others to distribute, remix, adapt, build upon this work non-commercially, and license their derivative works on different terms, provided the original work is properly cited and the use is non-commercial. See: http://creativecommons.org/licenses/by-nc/4.0/
Correspondence to: Soon Ho Um, MD, PhD, Division of Gastroenterology and Hepatology, Department of Internal Medicine, Korea University Anam Hospital, Korea University College of Medicine, 126-1 Anam-dong 5-ga, Seongbuk-gu, Seoul 136-705, South Korea. umsh@korea.ac.kr
Telephone: +82-2-9205019 Fax: +82-2-9531943
Received: August 21, 2014
Peer-review started: August 23, 2014
First decision: October 29, 2014
Revised: December 11, 2014
Accepted: February 12, 2015
Article in press: February 13, 2015
Published online: April 7, 2015

Hepatocellular carcinoma (HCC) is one of the leading causes of cancer death, especially in Eastern areas. With advancements in diagnosis and treatment modalities for HCC, the survival and prognosis of HCC patients are improving. However, treatment patterns are not uniform between areas despite efforts to promote a common protocol. Although many hepatologists in Asian countries may adopt the principles of the Barcelona Clinic Liver Cancer staging system, they are also independently making an effort to expand the indications of each treatment and to combine therapies for better outcomes. Several expanded criteria for liver transplantation in HCC have been developed in Asian countries. Living donor liver transplantation is much more commonly performed in these countries than deceased donor liver transplantation, and it may be preceded by other treatments such as the down-staging of tumors. Local ablation therapies are often combined with transarterial chemoembolization (TACE) and the outcome is comparable to that of surgical resection. The indications of TACE are expanding, and there are new types of transarterial therapies. Although data on drug-eluting beads, TACE, and radioembolization in Asian countries are still relatively sparse compared with Western countries, these methods are gradually gaining popularity because of better tolerability and the possibility of improved response rates. Hepatic arterial infusion chemotherapy and radiotherapy are not included in Western guidelines, but are currently being used actively in several Asian countries. For more advanced HCCs, appropriate combinations of TACE, radiotherapy, and sorafenib can be considered, and emerging data indicate improved outcomes of combination therapies compared with single therapies. To include these paradigm shifts into newer treatment guidelines, more studies may be needed, but they are certainly in progress.
Core tip: This article describes the current status of the management of hepatocellular carcinoma, focusing on the changing trends of treatment modalities in Eastern countries. Newly adopted therapies as well as emerging combination strategies are discussed based on recent data.
---
Citation: Yim HJ, Suh SJ, Um SH. Current management of hepatocellular carcinoma: An Eastern perspective. World J Gastroenterol 2015; 21(13): 3826-3842
---
INTRODUCTION
Worldwide, hepatocellular carcinoma (HCC) is the sixth most prevalent cancer[1]. More than 600000 people are newly diagnosed every year and approximately the same number die due to HCC annually. The main etiology of HCC is liver cirrhosis caused by chronic hepatitis B or C, alcohol, fatty liver diseases, or less commonly, autoimmune or genetic metabolic liver diseases[2]. The incidence, characteristics, and prognosis of HCC vary from region to region according to the prevalence of underlying chronic liver diseases as well as the screening and treatment strategies for HCC. Currently, efforts are being made to promote the use of common protocols, but the patterns of treatment are still not uniform as the therapeutic approach to HCC mainly depends on the availability of treatment modalities as well as the preferences of physicians[2-7]. As three-quarters of HCC cases occur in East Asia, the experiences and data in this area should have been substantially accumulated, and the treatment trends would have characteristic features. This article aims to review the current status of the management of HCC from an Eastern perspective. The first section introduces the principles and current trends of different treatment modalities, and the second section summarizes the findings on multidisciplinary treatments based on recently available data.
MAIN TREATMENT MODALITIES: EVOLVING ROLES AND CHANGING TRENDS
For decisions regarding initial treatments, the Barcelona Clinic Liver Cancer (BCLC) staging system from Western guidelines is frequently applied[3,4]. This system has very strict guidelines for treatments; only very early stage and early stage HCCs are indicated for the curative therapies, and only one treatment option is assigned to each of intermediate stage and advanced stage disease. Furthermore, no combination therapy is recommended according to the BCLC algorithm. Hence, despite the worldwide use of the BCLC guidelines, debates regarding their practicality are ongoing. The Asian Pacific Association for the Study of the Liver has guidelines for HCC treatment similar to those in the BCLC system[5]; both consider hepatic function as well as tumor size, number, and its extent, and the treatment options are not much different from BCLC. However, indications of pre-existing therapies are expanding and newly emerging therapies are currently being implemented (Figure 1). In addition, alternative therapies or combination therapies for each stage are available as determined by clinical situations in real practice. In this section, current status of surgical, interventional, medical, and radiation therapies are reviewed with newly available data, particularly, from Asian countries.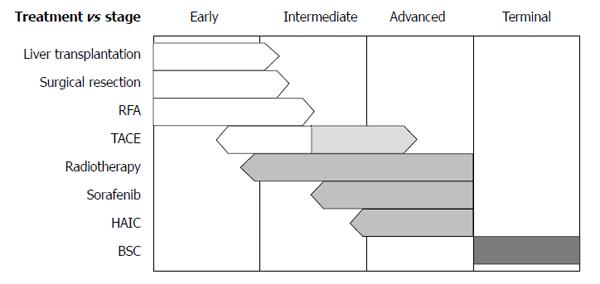 Figure 1 Expanding indications of treatment modalities for hepatocellular carcinoma.
Indications of each treatment are currently expanding and treatments may be combined as determined by clinical situations. RFA: Radiofrequency ablation; TACE: Transarterial chemoembolization; HAIC: Hepatic arterial infusion chemotherapy; BSC: Best supportive care.
Surgical therapies
Liver transplantation: Transplanting a healthy liver provides the most favorable survival outcomes in HCC patients[8]. If the patients have underlying decompensated liver cirrhosis, no other option exists. However, the availability of organs limits access to this best curative therapy. The annual incidence of deceased organ donors does not exceed 5 per million in most Asian countries[9]. Compared with those in Western countries, patients with HCC in Asia have a low probability of receiving a deceased donor liver transplantation (DDLT) in a timely manner and thus have a higher risk of drop-out because of tumor progression[10]. For this reason, living donor liver transplantation (LDLT) has been promoted. In Korea, the proportion of adult LDLT recipients with HCC has increased to 30%-40% of all HCC liver transplant recipients[11]. Despite technical complexity, LDLT is replacing DDLT in other Asian countries as well[8]. Donor mortality and morbidity rates of LDLT were 0.2% and 24%, respectively, according to a report of a worldwide survey[12]. Most LDLT centers develop their own criteria for maximizing donor safety[13]. Although the right lobe is the most suitable graft for the recipient, its procurement is limited by size of donor liver. When the right lobe cannot be used alone, a dual graft from 2 donors containing the left lobe can be utilized[14]. Despite this method, the donor pool has not significantly expanded because of the technical complexity of the surgery and ethical concerns. To further overcome organ shortage, ABO-incompatible LDLT was attempted and became successful after the implementation of rituximab, which decreased antibody-mediated rejection rates from 23.5% to 6.3%, as shown in a Japanese multicenter study[15].
The Milan criteria (solitary tumor < 5 cm, 2 or 3 tumors < 3 cm each, and absence of vascular invasion and extrahepatic metastasis) have been applied for the selection of candidates for liver transplantation[16-18]. However, these criteria have been criticized because many patients missed opportunities for transplants because of the strictness of the criteria. Therefore, Yao et al[19] proposed their own set of criteria, permitting the listing of patients with somewhat larger-sized tumors. In Asia, several independent criteria have also been proposed, expanding indications without increasing the risk of HCC recurrence significantly[20-25] (Table 1). Five-year survival rates were as high as 80% after transplantation using these criteria. However, these criteria should be applied very carefully to DDLT candidates until a consensus is achieved.
Criteria (city, country, reference)
Tumor number
Tumor diameter (cm)
Additional criteria
Overall survivalwithin criteria
Hong Kong, China[20]
1
≤ 6.5
No diffuse type,
3 yr
78%
≤ 3
≤ 4.5
no vascular invasion
5 yr
66%
Hangzhou, China[21]
NC
Total ≤ 8
Histopathologic grade I or II with AFP ≤ 400 ng/dL if tumor > 8 cm
3 yr
70.7%
5 yr
70.7%
Seoul (AMC), Korea[22]
≤ 6
≤ 5
No gross vascular invasion
3 yr
87.5%
5 yr
81.6%
Seoul (CMC), Korea[23]
≤ 7
≤ 7
NC
5 yr
86.3%
Tokyo, Japan[24]
≤ 5
≤ 5
NC
3 yr
82%
5 yr
75%
Kyoto, Japan[25]
≤ 10
≤ 5
PIVKA-II ≤ 400 mAU/mL
5 yr
87%
Current issues related to "bridging therapy" and "downstaging" are discussed in the section on multidisciplinary treatments.
Hepatic resection: As hepatic resection is a potentially curative therapy, it has been considered a first-line option for HCC patients with well-preserved hepatic function, especially when there is only one tumor or when tumors are confined to a single lobe. To assess hepatic function, a Japanese group measured the indocyanine green retention rate at 15 min (ICG15)[26]. Feasibility and the extent of the resection are decided according to the degree of retention of the dye[27]. Although the BCLC algorithm mandates Child-Pugh A liver function without portal hypertension for hepatic resection, selective resection has been attempted in HCC patients exhibiting upper Child-Pugh B liver function or mild portal hypertension in Asian countries, with reference to the ICG15 value[6,26].
Prognosis after hepatic resection is determined by number and size of tumor, vascular invasion, and level of alpha-fetoprotein[28-30]. Five-year survival rates are > 50% after the resection of solitary tumors, whereas rates of 20%-30% have been reported for 3 or more nodules[28-30]. With respect to tumor size, 5-year survival rates for patients with HCCs < 2 cm, 2-5 cm, and > 5 cm are 66%, 52%, and 37%, respectively[28-30]. However, in selected cases with proper hepatic function, large single HCCs can be surgically removed with favorable long-term survival outcomes[29]. More advanced stages of HCCs have been resected in 511 Chinese patients, yielding a 5-year survival rate of 30.5%[31]. The presence of vascular invasion or extrahepatic metastasis resulted in poor outcomes[31].
Recently, laparoscopic liver resection has been implemented for the treatment of HCC. This is a minimally invasive surgery, so postoperative morbidity and duration of hospitalization are reduced with no changes in surgical margin status, tumor recurrence, and overall survival[32]. This technique is successfully being applied for the resection of large tumors between 5 and 10 cm and lesions at difficult-to-approach locations[33-35] as well as intra-abdominal metastatic HCCs in Asian countries[36].
Interventional therapies
Local ablative therapies: Local ablation can be categorized as chemical or thermal. Chemical ablation includes percutaneous ethanol injection (PEI) and acetic acid injection, whereas thermal ablation includes radiofrequency ablation (RFA), the use of microwaves, cryotherapy, and high-intensity focused ultrasound[3,5]. As these are considered potentially curative therapies, patients with early stage HCCs are the candidates, especially when surgical treatments are not available. Among these modalities, RFA is currently the most commonly used. Excellent long-term results of RFA, up to 10 years, were reported in Korean HCC patients meeting the Milan criteria[37]. The results at 5 and 10 years were as follows: cumulative local tumor progression rates, 27.0% and 36.9%; cumulative intrahepatic distant recurrence rates, 73.1% and 88.5%; and overall survival rates, 59.7% and 32.3%, respectively[37]. Comparison of the efficacy of RFA with other local therapies showed that RFA was substantially superior to PEI, especially in tumors with a diameter > 2 cm[38,39]. Nevertheless, PEI is associated with a necrosis rate of 90%-100% in tumors < 2 cm and is still useful in selected patients when RFA is not technically feasible[40-42]. Recently, it was reported that in cases where the tumor is located under the diaphragm or near the surface of the liver, creating artificial ascites or pleural effusion is helpful in performing RFA and avoiding burns on adjacent organs[43,44]. This technique is being applied in several Asian countries with good results[43,44].
Several randomized controlled trials compared the efficacy of RFA with that of resection in Asian patients with HCC meeting the Milan criteria[45,46]. Pooled data demonstrated no significant differences in overall survival or recurrence-free survival between the treatments at 1 and 3 years. The 5-year overall survival [relative risk (RR), RR = 0.72, 95% confidence interval (CI): 0.60-0.88] and recurrence-free survival (RR = 0.56, 95%CI: 0.40-0.78) rates were higher in the resection group[46]; however, the 5-year data were provided by only one study, which advocated surgery. Complication rates were lower and hospitalization period shorter in patients who received RFA rather than resection[46]. Although the efficacy of RFA appears to be comparable to that of hepatic resection with lower complication rates, additional data may be needed and the need for long-term surveillance should be re-enforced.
Transarterial chemoembolization: Patients with either large tumors or multinodular tumors and a good performance status are candidates for transarterial chemoembolization (TACE). However, the presence of decompensated liver disease, severe hepatic dysfunction, portal vein thrombosis, or extrahepatic tumor spread precludes TACE. Although TACE is associated with a complete response rate of only 40%, it improved survival compared with supportive treatment in 2 independently performed randomized controlled trials in Eastern and Western countries[47,48]. A meta-analysis of 7 trials that included 545 HCC patients showed similar results [odds ratio (OR), OR = 0.42, 95%CI: 0.20-0.88][49]. Importantly, when the tumor size is ≤ 2 cm, prognosis is even better; a Korean study of TACE in small HCCs reported cumulative survival rates of 93.4%, 75.4%, 63.1%, and 51.1% at 1, 3, 5, and 8 years, respectively, for TACE, which were not significantly different from those of 97.6%, 86.7%, 74.5%, and 60.0%, respectively, for RFA[50]. Therefore, TACE may have a potential role as a curative therapy for small HCCs when surgical or local ablative therapies are not feasible.
Although TACE has been contraindicated in cases of HCC with portal vein invasion, multiple studies reported that it can be safely performed and may have better survival benefits than supportive care in patients with compensated liver function[51-54]. Notably, when a tumor is nodular and restricted to 1 lobe or 1-2 segments and hepatic function is classified as Child-Pugh class A, median survival after TACE is as long as 22-30 mo even in the presence of main portal vein tumor thrombosis[51,52]. When compared with sorafenib, which is a current standard treatment for advanced HCC, median overall survival rates for TACE were not significantly different from those of sorafenib (9.2 and 7.4 mo, respectively; P = 0.377)[55]. Therefore, TACE could be an alternative therapeutic option for advanced HCC.
TACE was originally intended to maintain intratumoral concentrations of chemotherapeutic agents by transiently obstructing supply vessels and thus minimizing systemic exposure. The strategy for TACE was recently refined after the introduction of microspheres that can increase the duration of drug retention in the tumor without blocking blood flow, which reduces hepatic derangement and systemic toxicity[56]. In a multicenter phase II randomized study of 201 HCC patients, TACE with drug-eluting beads (DEB) was compared with conventional TACE, and hepatic toxicity and drug-related adverse events were significantly less observed in the DEB-TACE arm[57]. Although this study showed a nonsignificant trend toward better antitumoral effects with DEB-TACE, a case-control study conducted in Korea reported a significantly better objective response rate with DEB-TACE (85%) than with conventional TACE (30%, P < 0.01) as assessed by modified Response Evaluation Criteria in Solid Tumors. A systemic review of the published data demonstrated the superiority of DEB over conventional TACE in terms of overall disease control, especially in patients with more advanced stage disease[58]. To summarize, the indications of TACE are expanding, and new types of transarterial therapy are currently available in Eastern areas.
Medical therapies
Cytotoxic chemotherapies: Cytotoxic chemotherapy has been attempted continuously since treatment of HCC began but has failed to improve overall survival in most clinical trials to date[59,60]. The main problem of cytotoxic chemotherapy in HCC is the co-existence of liver cirrhosis. Cirrhosis can delay the metabolism of chemotherapeutic agents and may enhance their toxicity[61]. In addition, HCC is relatively chemoresistant to most cytotoxic anticancer drugs. An early randomized trial of doxorubicin conducted in Hong Kong showed a tumor response of less than 10% and borderline improvement in overall survival (10.6 wk) compared with no treatment (7.5 wk, P = 0.036)[61]. Notably, 25% of patients died due to doxorubicin-related complications, including septicemia and cardiotoxicity. The antitumor activity of other cytotoxic agents such as gemcitabine[62,63], oxaliplatin[64], and capecitabine[65] in clinical and retrospective studies was modest with objective responses of < 20%. In randomized controlled trials, combination therapies such as PIAF (cisplatin, interferon, adriamycin, fluorouracil) and FOLFOX (5-fluorouracil, folic acid, and oxaliplatin) did not significantly improve survival compared with doxorubicin[59,60]. Moreover, a high rate of myelotoxicity was reported in the PIAF group[59]. Therefore, no cytotoxic chemotherapy regimen has provided strong evidence of improving the survival of HCC patients, and regular practice of chemotherapy is not advised. Nonetheless, a current retrospective study in Korea indicated that ECF (epirubicin, cisplatin, and 5-fluorouracil) combination therapy prolonged overall survival in sorafenib-refractory patients with metastatic HCC if a tumor response was observed; overall survival periods were 20.4 mo in responders and 4.9 mo in nonresponders (P < 0.001)[66]. Thus, ECF may be an alternative or rescue therapy for patients who failed sorafenib therapy, but further prospective evaluations will be needed.
Hepatic arterial infusion chemotherapy (HAIC) has been used for treatment of advanced HCC with portal vein tumor thrombosis in Asian countries[67-72]. Traditionally, the presence of tumor thrombus is assumed to aggravate ischemic injuries after TACE, so alternative modalities were sought. HAIC does not use embolic material, and the chemotherapeutic agent is infused into the hepatic artery via an implanted catheter, which reduces systemic side effects by first-pass effects and maximizes drug delivery to the tumor. Although this is considered an experimental treatment modality and is not recommended for treatment of HCC in Western countries, a large amount of clinical data on HAIC have been accumulated in Eastern countries[67-72]. A small retrospective study showed survival benefits of HAIC using low doses of cisplatin and 5-fluorouracil compared with systemic cytotoxic chemotherapy or supportive care (median survival, 6, 4, and 2 mo, respectively; P = 0.003) in cases of advanced HCC with portal vein tumor thrombosis[73]. A subsequent prospective study showed better efficacy of HAIC when a higher dose of cisplatin was used[74]. Importantly, a recent retrospective study by the same group in Korea compared HAIC and sorafenib in advanced HCC patients with portal vein tumor thrombosis and showed better overall survival (7.1 and 5.5 mo, respectively; P = 0.011) and longer median time to progression (3.3 and 2.1 mo, respectively; P = 0.034) in the HAIC group[75]. These findings are consistent with those of a Japanese study[76]. Although well-designed prospective studies are warranted to confirm these results, HAIC at least appears to be an alternative therapy for patients with portal vein tumor thrombosis when sorafenib is not available or is intolerable. Further research is also needed regarding the use of HAIC as salvage therapy in patients with advanced HCC who do not respond to standard therapy.
Molecular target therapies: Sorafenib is the only approved systemic agent for the treatment of advanced HCC. It is a multikinase inhibitor whose targets include Raf-1 and B-Raf serine/threonine kinases, vascular endothelial growth factor receptor (VEGFR) and platelet-derived growth factor receptor (PDGFR) tyrosine kinases, and c-kit receptors[77]. The Sorafenib Hepatocellular Carcinoma Assessment Randomized Protocol trial, which enrolled 602 patients with advanced stage HCC, showed improved median overall survival in the sorafenib group compared with the placebo group (10.7 and 7.9 mo, respectively; P < 0.001)[78]. A subsequent study conducted in the Asia-Pacific region showed a similar trend (overall survival of 6.5 and 4.2 mo in the sorafenib and placebo groups, respectively; P = 0.014)[79]. On the basis of the results of these trials, sorafenib became the standard treatment for advanced HCC with well-preserved liver function. The most significant adverse effects were diarrhea and hand-foot skin reactions[78,79]. Interestingly, these toxicities were associated with better survival in patients receiving sorafenib[80,81]. Therefore, despite the occurrence of adverse reactions, the use of sorafenib should not be discouraged when tolerable.
Sorafenib had not been compared with other treatment modalities before its approval. Currently, its efficacy in a real-life setting was compared with the efficacy of other treatments (TACE, radiation, and cytotoxic chemotherapy) in Korean patients with advanced HCC[82,83]. Overall survival times were 8.4 and 8.2 mo for sorafenib and other treatments, respectively, and the difference was not significant[82,83]. To improve the efficacy of sorafenib, combination therapy or a multidisciplinary approach may be needed[84].
Several newer molecular target therapeutic agents were evaluated in clinical trials. Sunitinib, an orally administered multikinase inhibitor of receptor tyrosine kinases, showed modest activity against HCC. Although an overall survival time of 9.8 mo was observed in a phase II study[85], sunitinib did not outperform sorafenib in a phase III randomized study (overall survival, 8.1 and 10.0 mo, respectively; P = 0.0019)[86]. Brivanib, a selective dual inhibitor of fibroblast growth factor (FGF) and vascular endothelial growth factor (VEGF) signaling, was associated with a median overall survival of 10 mo in a phase II trial[87] and was considered a promising new drug for advanced HCC. However, the primary endpoint of brivanib not being non-inferior to sorafenib was not met in a subsequent phase III trial (overall survival, 9.5 and 9.9 mo, respectively, P value is nonsignificant)[88]. The efficacy of brivanib in advanced HCC patients who were intolerant to sorafenib or failed to respond to sorafenib previously was also tested. The results of this study showed no significant improvement in overall survival compared with placebo (9.4 and 8.2 mo for brivanib and placebo, respectively)[89]. Linifanib (ABT-869), a receptor tyrosine kinase inhibitor targeting VEGFRs, also failed to significantly improve survival compared with sorafenib in a phase III trial (overall survival, 9.1 and 9.8 mo, respectively)[90]. The reasons for most of these novel agents failing to improve survival may be diverse and include lack of understanding of critical drivers of cancer progression, unpredicted toxicity, and marginal antitumor effects[91]. To overcome these obstacles, the clinical trial design should be modified to focus on biomarker-based subpopulation targeting strategies, and thereby, personalized therapies should be pursued in the future. In addition, efficacy and toxicity need to be evaluated in detail in phase I and II studies before moving to phase III studies[91]. Currently, several novel molecular targeting agents are being evaluated in phase III trials as first-line or second-line therapies including lenvatinib [VEGFR1-3, FGF receptor (FGFR) 1-3, PDGFR-β, RET, KIT], ramucirumab (VEGFR2), regorafenib (VEGFR, TIE-2, PDGFR-β, FGFR, KIT, RET, RAF), cabozantinib (MET, VEGFR-2), and tivantinib (MET)[92]. Table 2 summarizes the current status of the randomized controlled trials of molecular target therapies.
Status
First line
Comparison with placebo
Sorafenib (SHARP, Asian-Pacific)
Proven benefit
Sorafenib in Child B (BOOST)
Phase III Ongoing
Comparison study between sorafenib and single agent (head to head)
Sunitinib -> endpoint not met
Terminated
Brivanib (BRISK-FL) -> endpoint not met
Failed
Linifanib -> endpoint not met
Terminated
Lenvatinib
Phase III ongoing
Combination of sorafenib and another agent
Sorafenib + Erlotinib (SEARCH) -> endpoint not met
Failed
Sorafenib + Doxorubicin (CALGB-80802)
Phase III ongoing
Sorafenib + Everolimus
R-Phase II; Failed
Second line
Sorafenib failure
Brivanib (BRISK-PS) -> endpoint not met
Failed
Brivanib (BRISK-APS)
Terminated
Everolimus (EVOLVE-1) -> endpoint not met
Failed
Ramucirumab (REACH)
Phase III ongoing
Regorafenib (RESORCE)
Phase III ongoing
Cabozantinib (CELESTAL)
Phase III ongoing
Tivantinib (Metiv-HCC)
Phase III ongoing
Combination or addition to standard therapies
Adjuvant setting after surgery or RFA: Sorafenib (STORM)
Failed
Combination with TACE: Sorafenib (SPACE) -> endpoint not met
Failed
Brivanib (BRISK-TA) -> endpoint not met
Failed
Sorafenib (TACTICS)
R-Phase II ongoing
In summary, there are no currently available first-line molecular targeted agents other than sorafenib and no standard second-line treatments for patients intolerant or nonresponsive to sorafenib. If underlying liver function is well preserved, novel molecular target therapies, HAIC, or systemic cytotoxic chemotherapy may have a role as second-line treatment, but further studies are warranted. If a patient with advanced HCC has poor hepatic function, aggressive anticancer treatments are not indicated.
Radiotherapies and emerging therapies
External radiation therapies: Radiotherapy techniques for the treatment of HCC have substantially evolved over the past decades. Delivery of radiation energy became more precise, which enabled the exposure of tumors to higher doses of radiation, while saving non-tumorous liver parenchyma[93]. In the past, the role of radiation therapy was limited to alleviation of bone pain due to bone metastasis and to emergency use in spine and brain metastasis[94-96]. Radiation therapy has currently been adopted as a definitive therapy with curative intent if the tumor is at an early stage. Particularly, stereotactic body radiation therapy can achieve high rates of locoregional tumor control as it can deliver high doses of radiation in a single treatment session or in a small number of fractions[97,98]. In locally advanced HCCs, radiation therapy can be used to relieve obstruction and improve portal blood flow if the tumor invades the biliary tree or portal vein[99,100]. A large multicenter study in Korea of 994 HCC patients with portal vein tumor thrombosis showed a median survival of 9.2 mo[101]. This was a relatively longer survival time than that of advanced HCC patients who did not receive any treatment in previous trials[78,79]. Studies from Japan and China also reported the efficacy of radiotherapy for HCC with portal vein thrombosis, and overall survival was significantly better in patients receiving radiotherapy than in patients receiving sorafenib (10.9 and 4.8 mo, respectively; P = 0.025) or undergoing surgery (12.3 and 10.3 mo, respectively; P = 0.029)[102,103]. Although these studies were retrospective, they suggest the usefulness of radiotherapy in advanced HCC. However, radiotherapy has not been incorporated into the international guidelines for HCC despite its efficacy. This may be attributed to the paucity of well-designed randomized controlled studies, which are urgently needed. In addition, guidelines for optimal dose fractionation and protocols for avoiding radiation toxicity should be further established[93].
Proton beam therapy (PBT) can dramatically reduce damage to surrounding liver tissue by modulation of the Bragg peak of protons in energy and time, and thereby, maximizes the effects of radiation on the tumor. In Eastern areas, studies of PBT in HCC patients have been reported mainly by Japanese groups[104-106]. A retrospective study of PBT in 162 surgically unresectable patients reported a local control rate of 89% and an overall survival rate of 23.5% at 5 years[106]. Although the tumor stages of the patients were diverse and TACE or PEI may have also been administered, the overall efficacy seems quite favorable. PBT showed a good response rate even for large tumors (> 10 cm) and HCCs with main portal tumor thrombosis[107,108].
Radioembolization: Radioembolization is a modality involving the use of a transarterial approach to the hepatic tumor and subsequent infusion of radioactive substances. The rationale for this approach is that the efficacy of external beam radiation therapy is limited by the low tolerability of cirrhotic livers leading to radiation hepatitis or decompensation. To avoid exposure of non-tumorous parenchyma to radiation, microspheres emitting high-energy and low-penetration radiation are selectively delivered to the tumor[109]. The most commonly used radioembolic agents are iodine-131 and yttrium-90 glass beads, both of which showed favorable antitumoral effects with an acceptable safety profile[109,110]. The benefits of radioembolization over the other types of transarterial therapies still need to be validated. A retrospective analysis showed no significant differences in efficacy between radioembolization and TACE for intermediate stage HCC; median survival times were 15.0 and 14.4 mo, respectively[111]. However, patients receiving radioembolization needed less hospitalization and fewer treatments. Fewer treatment sessions should improve quality of life and reduce the possibility of liver derangement; therefore, in these respects, radioembolization is considered better than conventional TACE. The efficacy of radioembolization in patients with advanced HCC patients has also been evaluated. Sixty- three patients with portal vein thrombosis were analyzed from an European HCC cohort according to underlying liver function[112]. Median overall survival and time to progression were 13.8 and 5.6 mo, respectively, for Child-Pugh A patients and 6.5 and 4.9 mo, respectively, for Child-Pugh B patients[112]. Although these data appear very promising, there are still no randomized controlled trials comparing radioembolization with standard treatments for each stage. Data from Asian countries are limited, but a multicenter prospective study in Korea showed a median time to progression of 18 mo and a 3-year survival rate of 75%[113]. This is an improved result compared with data from Western countries[114,115], but future well-designed studies are needed.
Emerging therapies: Recently, the oncolytic and immunotherapeutic vaccinia virus has been reported to induce antibody-mediated, complement-dependent cancer cell lysis in humans[116]. Immunotherapy may benefit patients with advanced stage HCC who do not have further treatment options. The results of a phase III trial need to be confirmed.
Currently, several target delivery systems has been exploited for the treatment of HCC. New formulations including polymeric nanoparticles, nanocapsules, liposomes, nanoemulsions, microsphere, and polymeric micelles have been reported[117,118]. Novel drug delivery systems are expected to improve treatment efficacy and to decrease toxicity by drug targeting to the specific site of action[118]. For example, the asialoglycoprotein (ASPG) receptor is expressed on hepatocyte, and a synthetic ligand, lactosylated liposomes can be used for effective delivery vehicles of doxorubicin in HCC therapy[119]. In a previous report, lactosylated liposomes encapsulating doxorubicin showed stronger anti-tumor response than the non-targeted liposomal doxorubicin and free doxorubicin. A galactose ligand with chitosan modifications, galactosylated chitosan, is also a promising carrier of chemotherapeutic agent, such as 5-fluorouracil, to the ASPG receptor, and its in vitro and in vivo efficacy was well described[120]. It is thought that efficacy of anticancer therapy utilizing target delivery system will be more synergized by combination of molecular target therapy. Further studies are warrantied.
MULTIDISCIPLINARY TREATMENT BEYOND TREATMENT ALGORITHMS
As treatment modalities for HCC are very diverse, not only hepatologists but also surgeons, intervention radiologists, medical oncologists, and radiation oncologists should jointly discuss the best treatment options for HCC patients. Treatment may not necessarily be a sole modality; combinations of multiple treatments can be considered. Although current guidelines do not recommend multiple treatments, emerging data indicate better outcomes with multidisciplinary treatments for HCC. Furthermore, several newer clinical trials aim to properly evaluate such strategies. In this context, multimodality treatment options based on currently available evidence, especially from Eastern countries, are described in this section, according to HCC stage.
CONCLUSION
There is an increasing demand that international HCC treatment guidelines should be updated properly. Still, combinations of treatment modalities have not been incorporated into recent guidelines, and there are several unmet needs. Treatment intervals, strategies in the event of recurrence, and the timing of retreatment have not been properly studied, and no established recommendations are available. Therefore, to further improve the outcomes of HCC patients, strategies for surveillance, diagnosis, initial treatment, recurrence monitoring, and treatment after recurrence should be more organized. Close collaboration between specialists in multiple fields is of utmost importance in achieving these aims.
P- Reviewer: Decena Sollano JD, Yu CY S- Editor: Yu J L- Editor: A E- Editor: Wang CH