Copyright
©2014 Baishideng Publishing Group Co.
, Limited. All rights reserved.
Therapy for alcoholic liver disease
Maryconi M Jaurigue, Mitchell S Cappell, Division of Gastroenterology and Hepatology, Department of Internal Medicine, William Beaumont Hospital, Royal Oak, MI 48073, United States
Mitchell S Cappell, Oakland University William Beaumont School of Medicine, Royal Oak, MI 48073, United States
Author contributions: Jaurigue MM performed the review of the literature and wrote about half of the manuscript; Cappell MS composed the manuscript outline, wrote about half of the manuscript, and edited the manuscript. Both authors make equal contributions to this manuscript.
Correspondence to: Mitchell S Cappell, MD, PhD, Chief, Division of Gastroenterology and Hepatology, Department of Internal Medicine, William Beaumont Hospital, MOB 602, 3535 West Thirteen Mile Road, Royal Oak, MI 48073, United States. mscappell@yahoo.com
Telephone: +1-248-5511227 Fax: +1-248-5517581
Received: November 22, 2013
Revised: January 7, 2014
Accepted: January 20, 2014
Published online: March 7, 2014

Alcoholism results in about 2.5 million deaths annually worldwide, representing 4% of all mortality. Although alcoholism is associated with more than 60 diseases, most mortality from alcoholism results from alcoholic liver disease (ALD). ALD includes alcoholic steatosis, alcoholic hepatitis, and alcoholic cirrhosis, in order of increasing severity. Important scoring systems of ALD severity include: Child-Pugh, a semi-quantitative scoring system useful to roughly characterize clinical severity; model for end-stage liver disease, a quantitative, objective scoring system used for prognostication and prioritization for liver transplantation; and discriminant function, used to determine whether to administer corticosteroids for alcoholic hepatitis. Abstinence is the cornerstone of ALD therapy. Psychotherapies, including twelve-step facilitation therapy, cognitive-behavioral therapy, and motivational enhancement therapy, help support abstinence. Disulfiram decreases alcohol consumption by causing unpleasant sensations after drinking alcohol from accumulation of acetaldehyde in serum, but disulfiram can be hepatotoxic. Adjunctive pharmacotherapies to reduce alcohol consumption include naltrexone, acamprosate, and baclofen. Nutritional therapy helps reverse muscle wasting, weight loss, vitamin deficiencies, and trace element deficiencies associated with ALD. Although reduced protein intake was previously recommended for advanced ALD to prevent hepatic encephalopathy, a diet containing 1.2-1.5 g of protein/kg per day is currently recommended to prevent muscle wasting. Corticosteroids are first-line therapy for severe alcoholic hepatitis (discriminant function ≥ 32), but proof of their efficacy in decreasing mortality remains elusive. Pentoxifylline is an alternative therapy. Complications of advanced ALD include ascites, spontaneous bacterial peritonitis, esophageal variceal bleeding, hepatic encephalopathy, hepatorenal syndrome, hepatopulmonary syndrome, and portopulmonary hypertension. Alcoholic cirrhotics have increased risk of developing hepatomas. Liver transplantation is the ultimate therapy for severe ALD, but generally requires 6 mo of proven abstinence for eligibility. Alcoholic cirrhotics who maintain abstinence generally have a relatively favorable prognosis after liver transplantation.
Core tip: Alcoholism results in about 2.5 million deaths annually worldwide, representing 4% of all mortality. Most of this mortality is from alcoholic liver disease (ALD). ALD includes alcoholic steatosis, alcoholic hepatitis, and alcoholic cirrhosis, in order of increasing severity. This work reviews this clinically important subject, with a focus on informing clinicians of recent advances in therapy to reduce the currently high mortality from alcoholic hepatitis and alcoholic cirrhosis.
---
Citation: Jaurigue MM, Cappell MS. Therapy for alcoholic liver disease. World J Gastroenterol 2014; 20(9): 2143-2158
---
INTRODUCTION
Alcoholism results in an estimated 2.5 million deaths annually worldwide, representing 4% of all mortality[1]. This mortality is much greater than that caused by acquired immunodeficiency syndrome (AIDS) or tuberculosis[1]. It is the leading risk factor for mortality for ages 15-59 in males, and the eighth leading risk factor for mortality for all ages in both sexes[1]. Alcoholism is associated with more than 60 diseases, and is commonly associated with accidental injuries, including motor vehicle injuries[1]. Alcoholic liver disease (ALD), moreover, accounts for 40% of mortality from cirrhosis[2]. Annual mortality for ALD is 4.4 per 100000 in the general population, compared to 2.9 per 100000 for hepatitis C virus (HCV)[3].
Alcoholism, or alcohol use disorder, is defined, according to the Diagnostic and Statistical Manual of Mental Disorders, 5th edition (DSM-5), as a problematic pattern of alcohol use leading to clinically significant impairment or psychological distress[4]. Development of ALD is dose-dependent, and drinking ≥ 30 g/d of alcohol ("standard" drink: contains 0.6 fluid ounces or 14 g "pure" alcohol[5] increases the risk of ALD in both sexes[6]). Women have a greater risk of ALD than men, likely secondary to differences in ethanol metabolism[7-13]. For example, one study reported the threshold level of alcohol intake for developing ALD is 12-22 g/d in women vs 24-46 g/d in men[7]. Many alcoholic patients, however, do not develop clinically significant ALD[14]. Genetic and environmental factors are important, but the specific genes or environmental factors that predispose to ALD are poorly understood[14]. Potentiating factors for ALD include metabolic syndrome[13,15], diabetes[16,17], obesity[17,18], smoking[13,15], iron overload[12,13,17,19], and chronic viral hepatitis B or C[12,13,20,21].
The only definitive treatment for ALD is liver transplantation (LT). Abstinence is critical, but usually cannot reverse advanced ALD. Supportive therapy and nutritional management are also important. Several medical therapies have been studied, including corticosteroids and pentoxifylline, but no medical therapy has been proven to improve survival. This review discusses the spectrum of ALD; reviews the classification of severity and prognostic criteria for ALD; analyzes the current therapies for ALD, including abstinence, nutritional therapy, drugs, and LT; discusses the controversies regarding survival benefits for individual therapies; and reports professional society guidelines for management of cirrhosis and its complications.
SPECTRUM OF ALD
ALD is classified into alcoholic fatty liver (steatosis), alcoholic hepatitis (AH; steatohepatitis), and alcoholic cirrhosis. About 90% of alcoholics develop alcoholic steatosis, about 25% develop alcoholic hepatitis, about 15% develop alcoholic cirrhosis, and about 10% develop hepatocellular carcinoma[13,22-24]. Alcoholic steatosis, the earliest manifestation of ALD, is pathologically characterized by microvesicular and macrovesicular fat accumulation within hepatocytes, minimal inflammatory reaction, and no hepatic fibrosis[23]. It is often reversible with abstinence[25]. Patients are often asymptomatic, and the diagnosis is usually incidental. They do not exhibit stigmata of chronic liver disease, such as spider angiomata and palmar erythema. Patients typically present with mild elevations of liver enzymes, including gamma-glutamyl transpeptidase (GGT), aspartate aminotransferase (AST), and alanine aminotransferase (ALT) levels[25]. The serum bilirubin level and liver synthetic function [international normalized ratio (INR), albumin level] tend to be normal.
AH is an inflammatory process with predominantly neutrophilic infiltration, characterized by ballooning degeneration of hepatocytes, hepatocyte necrosis, steatosis, and presence of Mallory bodies (homogeneous, eosinophilic cytoplasmic perinuclear inclusions) within hepatocytes[23] (Figure 1A). Clinical findings include jaundice, pyrexia, unintentional weight loss, malnutrition, and tender, enlarged liver[26]. Patients typically present with moderate elevations in AST (usually < 300 IU/L), ALT, GGT, and serum bilirubin[25]. An AST:ALT ratio of ≥ 2:1 is strongly suggestive of ALD[27], likely from up-regulated mitochondrial AST molecular expression and synthesis by alcohol[28]. AH may be complicated by ascites, encephalopathy, or gastrointestinal (GI) bleeding from esophageal varices or portal gastropathy[26]. Imaging may show hepatomegaly, but this finding is nonspecific, and imaging is generally performed to identify radiologic evidence of cirrhosis, to identify its complications, and to exclude focal hepatic lesions[25,29]. Definitive diagnosis is by liver biopsy, but this is rarely necessary in clinical practice.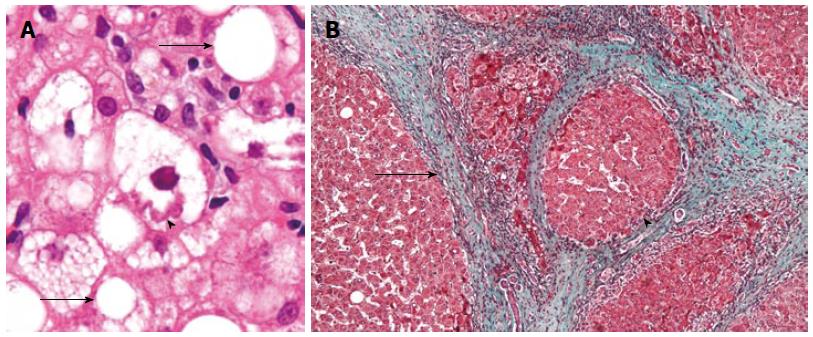 Figure 1 Photomicrograph.
A: Photomicrograph showing a Mallory body (arrowhead), with twisted rope-like appearance, and fat vacuoles (arrows) as seen in alcoholic steatohepatitis (image from http://en.wikipedia.org/wiki/Alcoholic_hepatitis, licensed under Creative Commons Attribution-Share Alike 3.0 Unported); B: Photomicrograph showing a regenerating nodule (arrowhead) and bridging fibrosis (arrow) as seen in alcoholic cirrhosis (image from http://en.wikipedia.org/wiki/Alcoholic_cirrhosis, licensed under Creative Commons Attribution-Share Alike 3.0 Unported).
Alcoholic cirrhosis is pathologically characterized by severely disorganized liver architecture, with both bridging fibrosis and regenerating nodules, that are typically uniformly-sized and micronodular[23] (Figure 1B). Patients usually present with stigmata of chronic liver disease, including gynecomastia, palmar erythema, spider angiomata, testicular atrophy, and parotid gland enlargement; and signs of portal hypertension, including caput medusa. Dupuytren's contracture is often present in patients with alcoholic cirrhosis[30]. Alcoholic cirrhosis is associated with multiple complications, as discussed below. Laboratory findings often include hypoalbuminemia, hyperbilirubinemia, thrombocytopenia, and prolonged prothrombin time (PT) and increased INR[26]. These abnormalities typically worsen with progression of cirrhosis. Imaging studies often demonstrate findings consistent with cirrhosis, including a small, shrunken liver, hepatic nodularity, abnormal tortuous vessels from intra-abdominal varices, and other abnormalities, such as ascites or focal hepatic lesions[25,31]. These findings assist in diagnosing cirrhosis, but cannot, by themselves, establish alcohol as the etiology[26,32]. Magnetic resonance imaging (MRI) findings suggestive of alcoholic cirrhosis include caudate lobe enlargement, presence of the right posterior hepatic notch, and smaller regenerative nodules (micronodular) than in other etiologies of cirrhosis[31]. Alcoholic cirrhosis is diagnosed by history of excessive alcohol intake, with exclusion of other causes of cirrhosis (Table 1)[33-36]. The evolution of alcoholic fatty liver to alcoholic hepatitis to alcoholic cirrhosis is usually progressive with continued alcohol use, but different stages can occur simultaneously in one patient (e.g., AH with alcoholic cirrhosis).
| | | |
| --- | --- | --- |
| Diseases | Diagnostic studies | Liver biopsy |
| Wilson's disease | Serum ceruloplasmin < 20 mg/dL; 24-h urine copper excretion > 100 μg/24 h; slit-lamp ophthalmologic examination for Kayser-Fleischer rings | Steatosis; glycogenated nuclei in hepatocytes; focal hepatocellular necrosis, fibrosis, and ultimately, cirrhosis, usually macronodular[34]; copper retention in hepatocytes; hepatic copper concentration > 250 μg/g dry weight |
| Hemochromatosis | Serum transferrin-iron saturation > 45%; serum ferritin typically > 1000 μg/L; genotyping for detection of HFE mutations: C282Y and H63D; non-contrast CT of liver demonstrates attenuation values of > 70 HU[36] | Grade 4 stainable iron in hepatocytes, with periportal distribution and sparing of Kupffer cells; hepatic iron concentration > 80 μmol/g dry weight; hepatic iron index > 1.9 |
| Hepatitis C | Anti-HCV; HCV RNA in patients who test positive for HCV antibody | Triad of histological findings with acute infection: lymphoid aggregates in portal tracts, epithelial damage of small bile ducts, and prominent microvesicular and macrovesicular steatosis; chronic infection: periportal necrosis, intralobular necrosis, portal inflammation, and fibrosis; no characteristic pathognomonic features |
| Chronic hepatitis B | HBsAg; serum level of HBV DNA > 2000-20000 IU/mL | Acute infection: lobular disarray, ballooning degeneration, numerous apoptotic (Councilman) bodies, Kupffer cell activation, and lymphocyte-predominant lobular and portal inflammation; chronic infection: varying degree of predominantly lymphocytic portal inflammation with interface hepatitis and spotty lobular inflammation[34]; presence of HBcAg staining in the liver |
| Autoimmune hepatitis | Antinuclear antibody (ANA); smooth muscle antibody (SMA); antibodies to liver and kidney microsomes (anti-LKM1); anti-soluble liver antigen (anti-SLA); asialoglycoprotein receptor antibodies | Interface hepatitis at junction of portal region and liver lobule; lobular hepatitis with lymphocytoplasmacytic infiltration; intrahepatic bile ducts generally appear normal |
| α1-antitrypsin deficiency | Serum α1-antitrypsin genotype or phenotype (homozygous PiZZ or heterozygous PiSZ phenotype) | Giant-cell hepatitis with multinucleated giant cells; lobular disarray; cellular and canalicular cholestasis; neoductular proliferation; bridging hepatic fibrosis; PAS-positive and diastase-resistant cytoplasmic granules in periportal hepatocytes |
| Primary biliary cirrhosis | Antimitochondrial antibodies (AMA) ≥ 1: 80 titer; ANA, with immunofluorescence typically revealing speckled, homogeneous, nuclear dot, centromere, or rim-like patterns | Focal and segmental nonsuppurative cholangitis; "florid duct lesion": bile duct surrounded by intense lymphocytic or granulomatous infiltrate with basal integrity of the bile duct breached by individual lymphocytes; granulomas in close proximity to bile duct; bile ductular proliferation (cholangioles or pseudoducts) along periphery of portal tract |
| Non alcoholic fatty liver disease | Diagnosis of exclusion, correlated with: metabolic syndrome: diabetes mellitus, hypertension, hyperlipidemia, abdominal obesity with waist circumference > 102 cm for men and > 88 cm for women; obesity (BMI ≥ 30 kg/m2); obstructive sleep apnea; sedentary lifestyle | Macrovesicular steatosis; early hepatocyte inflammation, predominantly neutrophilic; late nondescript fibrosis and cirrhosis |
PROGNOSTIC CRITERIA AND MONITORS OF DISEASE SEVERITY
Several scoring systems assess severity of liver disease and predict patient survival. Child-Turcotte-Pugh (CTP) score, the oldest scoring system, uses serum bilirubin level, albumin level, PT, severity of ascites, and severity of encephalopathy[37]. Patients are categorized as: class A = scores 1-6, class B = scores 7-9, and class C = scores 10-15; the higher the score, the worse the disease[37,38]. Although heuristically useful, CTP scores are limited by subjectivity in grading and by use of PT instead of the more accurate INR[39]. It was previously used to prioritize candidates for LT, but was supplanted in 2002 by the more quantitative and less subjective model for end-stage liver disease (MELD) score[40]. MELD score was originally developed to assess short-term prognosis in cirrhotic patients undergoing transjugular intrahepatic portosystemic shunt (TIPS), but was found to also reliably estimate short-term survival in patients with any type of chronic liver disease[41-43]. MELD score includes serum bilirubin level, creatinine level, and INR[42]. It can be calculated on-line at a free website[44]. The United Network for Organ Sharing (UNOS) uses MELD score to prioritize LT candidates because it relatively accurately predicts 3-mo mortality in patients awaiting LT[39,40]. Recently, addition of serum sodium concentration (MELD-Na score) has been proposed to more accurately predict mortality in patients awaiting transplant[45,46]. The MELD-Na score, if used for liver allocation, can avert an additional 7% mortality in patients awaiting LT[45]. It is not yet widely used, but is a promising scoring system that may better predict mortality and improve donor liver allocation.
While CTP and MELD scores are applicable to all etiologies of cirrhosis, other scoring systems are specific for ALD. Discriminant function (DF), which includes only PT and serum bilirubin, is used to predict early mortality in AH patients and to objectively select AH patients likely to benefit from corticosteroid therapy[47,48]. DF < 32 is classified as non-severe AH, with 10% mortality, whereas DF ≥ 32 is classified as severe AH, with mortality ranging from 30%-60% without treatment[48-55]. Glasgow alcoholic hepatitis score (GAHS) is calculated as the sum of scores for the following individual parameters: age, leukocyte count, serum urea level, PT ratio (ratio of patient-to-control PT), and serum bilirubin level[56]. A score > 8 predicts poor prognosis[56]. ABIC, the most recent scoring system, includes age, serum bilirubin, INR, and serum creatinine[57]. It stratifies risk of mortality from AH as low (score < 6.71), intermediate (score: 6.71-8.99), and high (score ≥ 9.0), with 90 d mortality at 0%, 30%, and 75%, respectively (P < 0.0001)[57]. These last two scoring systems are promising prognostic indicators and treatment guides, but are currently rarely used clinically.
Lille score includes 6 variables: age, albumin level, bilirubin level at day 0, bilirubin level at day 7, PT, and presence of renal insufficiency[58]. It helps stratify patients with AH. It may be more accurate than other scoring systems, but is mostly used to predict 6-mo survival in patients with AH treated with corticosteroids[59]. It predicts about 75% of observed 6-mo mortality[59]. A score < 0.45 predicts 15% mortality, whereas a score ≥ 0.45 predicts 75% mortality (P < 0.0001)[59]. Alternative therapies should be considered when the score is ≥ 0.45 at day 7 of corticosteroid therapy[59].
NATURAL HISTORY AND COMPLICATIONS OF ALCOHOLIC CIRRHOSIS
Long-term management of complications of alcoholic cirrhosis is similar to that for other etiologies of cirrhosis (Table 4)[124-131]. Ascites is the most common complication of cirrhosis. Patients with new-onset ascites should undergo diagnostic paracentesis, to exclude other etiologies of ascites, such as cardiac disease, malignant ascites, or nephrotic syndrome; and to exclude spontaneous bacterial peritonitis (SBP). Ascitic fluid should be analyzed for cell count and differential, total protein, and serum-ascites albumin gradient (SAAG). A SAAG ≥ 1.1 g/dL supports the diagnosis of ascites secondary to portal hypertension; a SAAG < 1.1 g/dL supports other etiologies for ascites[132]. First-line treatment of ascites from cirrhosis includes alcohol cessation; dietary sodium restriction to ≤ 2 g/d; oral diuretics, usually spironolactone and furosemide; and discontinuation of non-steroidal anti-inflammatory drugs (NSAIDs)[129]. In patients who develop hyponatremia, reduction of diuretic dose or its temporary discontinuation may be necessary[127].
Complication
Screening/diagnosis
Treatment
Long-term management surveillance
Ascites
Diagnostic paracentesis for new-onset ascites: ascitic fluid analyzed for cell count and differential, total protein, and SAAG
Alcohol cessation; dietary sodium restriction; oral diuretics; discontinuation of NSAIDs
Refractory ascites: periodic large-volume therapeutic paracenteses; TIPS; midodrine; or peritoneovenous shunts
Spontaneous bacterial peritonitis
Diagnostic paracentesis: ≥ 250 polymorphonuclear cells/mm3
Empiric antibiotic therapy with cefotaxime 2 g every 8 h, while awaiting culture results
Prophylaxis with norfloxacin or trimethoprim-sulfamethoxazole after one documented episode of SBP or if patient presents with variceal bleeding
Esophageal and gastric varices
Esophagogastroduodenoscopy
Treatment depends upon size of varices or risk of variceal bleeding: Prophylaxis with nadolol or propranolol for small varices at high risk of bleeding or for medium/large varices; EVL for medium/large varices at high risk of bleeding
No varices: EGD every 3 yr (earlier if hepatic decompensation occurs) Small varices: EGD every 2 yr Medium/large varices: EGD every 6-12 mo
Hepatic encephalopathy
Diagnosed by serum ammonia level and clinical findings of confusion, personality and mental status changes, and asterixis (exclude other causes of mental status changes)
Investigation and correction of precipitating factors; lactulose and/or rifaximin, supportive care
Secondary prophylaxis with lactulose and/or rifaximin indefinitely
Hepatorenal syndrome (type 1-rapidly progressive renal insufficiency; type 2-slowly progressive renal insufficiency)
Serum creatinine > 1.5 mg/dL, in the absence of other identifiable cause of renal failure (exclude other causes by urine chemistries, urine culture, and/or renal imaging)
Initial fluid challenge; albumin and terlipressin or albumin and combined octreotide plus midodrine; dialysis; LT definitive
Serial serum creatinine monitoring
Hepatocellular carcinoma (HCC)
Abdominal ultrasound every 6 mo; alpha fetoprotein determination every 6 mo no longer recommended, but optional
For HCC treatment[124]
Abdominal ultrasound every 6 mo
Hepatopulmonary syndrome
Screening by arterial blood gas; Confirmation by CEE
Symptomatic management with long-term oxygen therapy; LT definitive
Portopulmonary hypertension
Screening by transthoracic Doppler echocardiography; Confirmation by right heart catheterization
Intravenous or inhaled prostacyclin; long-term oxygen therapy
Patients with refractory ascites may warrant second-line treatment, including serial, large-volume, therapeutic paracenteses, TIPS, and addition of midodrine, especially in patients with systemic hypotension[129]. Midodrine, an α-adrenergic agonist, improves systemic hemodynamics by causing arterial vasoconstriction (reversing arterial vasodilation that contributes to development of ascites)[127]. β-blockers, angiotensin converting enzyme inhibitors, and angiotensin receptor blockers are no longer recommended for patients with ascites from cirrhosis, because of risks of life-threatening systemic hypotension[129]. Infusion of 6-8 g of albumin per liter of removed ascitic fluid is recommended during large-volume paracentesis (removal of > 5 liters of ascitic fluid)[129]. Peritoneovenous shunts used to be popular to treat refractory ascites, but are now restricted to patients with diuretic-resistant ascites who are poor candidates for serial paracenteses, transplantation, or TIPS, because of risks of disseminated intravascular coagulation and/or sepsis[129,133-135].
SBP, a complication of ascites, is diagnosed by presence of ≥ 250 polymorphonuclear cells/mm3 in ascitic fluid. In the appropriate clinical setting, patients should receive empiric antibiotic therapy, preferably cefotaxime 2 g every 8 h, immediately after performing aerobic and anaerobic cultures of ascitic fluid[129]. Delaying antibiotic therapy to await culture results may cause life-threatening, overwhelming infection. Ascitic fluid culture is not necessary for diagnosis because up to 60% of patients have negative cultures[129]. Risk factors for persistent SBP include MELD score > 25, SAAG > 1.5, and positive ascitic fluid culture[136]. After one episode of SBP, patients should receive long-term prophylaxis with norfloxacin or trimethoprim/sulfamethoxazole[129]. Cirrhotic patients presenting with GI bleeding should also receive SBP antibiotic prophylaxis, with either intravenous ceftriaxone or oral norfloxacin, for 7 d[129].
Cirrhotic patients should undergo screening esophagogastroduodenoscopy (EGD) to diagnose or exclude esophageal and gastric varices. Classification of varices has been simplified to: small varices - minimally elevated veins above esophageal mucosal surface; medium varices - tortuous veins occupying < 1/3 of esophageal lumen; and large varices - tortuous veins occupying > 1/3 of esophageal lumen[128]. Patients with no varices undergo repeat EGD every 3 years, or sooner if hepatic decompensation occurs. Patients with small varices at increased risk of bleeding should receive primary prophylaxis with nonselective β-blockers, such as propranolol or nadolol, and should undergo EGD every 2 years. Patients at high risk of bleeding includes those with red wale markings at EGD or those with CTP stage B or C cirrhosis[128]. Patients with medium/large varices should also receive primary prophylaxis with nonselective β-blockers, but should undergo endoscopic variceal ligation when at high risk for variceal bleeding. This high-risk population should undergo surveillance EGD every 6-12 mo[127,128].
Hepatic encephalopathy is a potentially reversible neuropsychiatric disturbance resulting from hepatic insufficiency. It is characterized by confusion, personality and mental status changes, asterixis, and hyperammonemia. Hepatic encephalopathy is staged according to West-Haven criteria as: 0, normal; 1, mild; 2, lethargy; 3, somnolence-to-stupor; and 4, coma[126]. Precipitating factors, including GI bleeding, infections, electrolyte disturbances (especially hyponatremia), medications (primarily narcotics and sedatives), constipation, and excessive nitrogenous dietary intake, should be assiduously investigated and corrected[126]. Acute pharmacologic management includes lactulose and/or rifaximin therapy[125,126]. Lactulose, a non-absorbable disaccharide cathartic, reduces nitrogenous load in gut, thereby reducing ammonia production[126]. Rifaximin, an antimicrobial agent with minimal systemic absorption, reduces ammonia-producing enteric bacteria. Rifaximin has been shown to reduce the risk of breakthrough hepatic encephalopathy during a 6 mo period of remission and to be superior to lactulose in treating hepatic encephalopathy[137]. Supportive management includes fall prevention, nursing care, prophylactic intubation in cases of severe hepatic encephalopathy, and adequate nutritional support[126]. After recovery, patients require secondary prophylaxis indefinitely with lactulose, rifaximin, or combination therapy to prevent recurrence.
HRS is characterized by serum creatinine > 1.5 mg/dL in a patient with ESLD, in the absence of other identifiable causes of acute or chronic renal failure[130]. It is a diagnosis of exclusion. It is classified into: type 1 HRS, characterized by rapidly progressive impairment in renal function (100% increase in baseline creatinine or creatinine level > 2.5 mg/dL, usually within 2 wk); and type 2 HRS, characterized by slowly progressive (> 2 wk) worsening renal function[127,130]. All cirrhotic patients with sudden increases in serum creatinine to > 1.5 mg/dL should have discontinuation of diuretics and receive a fluid challenge with 1.5 L intravenous normal saline[138]. Patients who are prerenal respond to fluid challenge, with decrease in creatinine levels and improved urine output, whereas patients with HRS are mostly unresponsive to fluid challenge[127,138]. Other causes of renal toxicity should be excluded, such as NSAIDs, hypotension, hypovolemia, obstructive uropathy, and sepsis. First-line therapy for HRS includes albumin and terlipressin, a vasopressin analogue that improves splanchnic circulation[130], or albumin and combined octreotide plus midodrine[127]. Patients not responding to these therapies may require dialysis and subsequent LT (usually with simultaneous renal transplant), the only definitive treatment for HRS. Pentoxifylline, as aforementioned, can decrease the incidence of HRS[107].
HCC occurs in 5%-15% of patients with alcoholic cirrhosis[23]. The precise incidence is, however, uncertain, as patients with alcoholic cirrhosis are often co-infected with HCV, which acts synergistically to potentiate the risk of HCC[124]. Nevertheless, screening for HCC is recommended in all patients with alcoholic cirrhosis. HCC surveillance is usually performed by abdominal ultrasound every 6 mo. Surveillance with serial serum alpha-fetoprotein determinations is no longer recommended because of insufficient specificity and sensitivity[124], but is still frequently performed. Diagnosis and treatment are similar in all patients with HCC, regardless of etiology of cirrhosis. The reader is referred to a comprehensive review on this subject[124].
Pulmonary vascular complications of chronic liver disease include hepatopulmonary syndrome (HPS) and portopulmonary hypertension (PPHTN). HPS is defined as an arterial oxygenation defect caused by intrapulmonary vascular dilatation in patients with liver disease, especially cirrhosis[139]. It occurs in approximately 20% of patients awaiting LT. Symptoms include dyspnea and platypnea, a characteristic finding of increased shortness of breath on rising from supine to upright position[131]. Screening, using arterial blood gas, is done in LT candidates and patients with liver disease who present with such symptoms. Transthoracic echocardiography with contrast enhancement (CEE) is the gold standard for diagnosis of HPS. CEE is commonly accomplished by hand agitation of 10 mL normal saline, resulting in microbubbles (≤ 90 μm in diameter), which are injected into an upper extremity vein[131]. Detection of microbubbles within the left atrium is considered a positive CEE[131]. Diagnostic criteria include: (1) presence of liver disease; (2) alveolar-arterial oxygen tension difference (A-a gradient) ≥ 15 mmHg; and (3) positive CEE[131]. The only curative treatment for HPS is LT, but patients can be managed symptomatically with long-term oxygen therapy.
PPHTN is defined as pulmonary artery hypertension associated with portal hypertension, likely secondary to imbalance in vasoactive substances reaching the pulmonary circulation from portosystemic shunts or defective hepatic metabolism[140]. It occurs in approximately 5% of patients awaiting LT. Patients present with dyspnea, chest discomfort, or syncope. Transthoracic Doppler echocardiography is used for screening; PPHTN is suspected by finding of right ventricular systolic pressure > 40-50 mmHg. Diagnosis is confirmed by right heart catheterization, that reveals: (1) mean pulmonary artery pressure > 25 mmHg; (2) mean pulmonary artery occlusion pressure < 15 mmHg; and (3) pulmonary vascular resistance > 240 dyn-s/cm-5[131]. Treatment may include pulmonary vasodilator therapy with intravenous and inhaled prostacyclin, as well as long-term oxygen therapy. LT is reserved for patients who fail to improve with these therapies.
FUTURE DIRECTIONS
Current research on ALD involves non-invasive diagnosis of ALD and novel treatment options. Non-invasive diagnostic liver tests, including FibroScan, have been studied, but the diagnostic accuracy of these tests have not been compared to the gold standard of liver biopsy, to define cut-off values for ALD[141]. The current prognostic scoring systems account for only 75%-85% of mortality for ALD or other causes of liver disease. Scoring systems incorporating more linearly independent variables may increase prognostic accuracy.
Currently, LT remains the only curative treatment. Further studies are needed for currently popular therapies, such as corticosteroids and pentoxifylline, to determine efficacy, especially to prove survival benefit. Combined medical therapies may be useful to achieve synergy in improving survival.
New treatment options that target pathways implicated in ALD pathogenesis, including oxidative stress, endotoxin production, cytokine production, and immune regulators[12] are being investigated. Recently investigated antioxidants include milk thistle (silymarin extracts) and S-adenosyl-L-methionine, both of which have not been proven beneficial[142,143]. However, most studies have been of low quality, and high quality RCTs regarding these relatively nontoxic, and possibly helpful treatments should be performed. Other TNF-α inhibitors, including etanercept and infliximab, have been studied, but only 3 RCTs with small study sizes have been published on these medications[144-146]. Reported adverse events and likely increased mortality limit their use, but further studies may be needed to confirm these findings.
Interleukin-22 (IL-22) is a potential therapy for ALD[14]. IL-22 ameliorates hepatic steatosis and liver injury in animal models after acute or chronic-binge ethanol feeding[147]. It may promote hepatocyte proliferation or hepatic regeneration and inhibit hepatic fibrosis in response to alcohol-induced liver injury[147]. IL-22 theoretically appears to be relatively safe because only hepatocytes, epithelial cells, and a few other cell types have IL-22 receptors. IL-22, however, promotes proliferation of preexisting hepatomas, even though it does not initiate hepatoma formation[148]. It is therefore likely contraindicated in patients with ALD complicated by hepatoma and may have limited use in patients with alcoholic cirrhosis.
Increased intestinal permeability to gut-derived microorganisms appears to increase morbidity and mortality in AH[149]. Several multi-institutional consortia are developing therapies for AH based on preventing or neutralizing these effects of increased intestinal permeability. For example, lipopolysaccharide (LPS) antibody may help neutralize injury from lipopolysaccharide from exposure to gut-derived microorganisms. One study will compare the effects of lipopolysaccharide (LPS) antibody in combination with corticosteroids vs corticosteroid monotherapy in patients with severe AH[149]. Other studies will examine the efficacy of probiotics vs placebo for moderately severe AH, or the effect of adding zinc, a mineral that improves gut barrier function, to other therapies for severe AH.
Another promising approach to AH therapy is targeting macrophage/Kupfer cell activation in AH which leads to increased IL-1 beta activation. A clinical trial is examining a combination of Anakinra, an interleukin 1 receptor antagonist, and traditional therapy vs traditional therapy alone for severe AH[150]. Another attractive approach is to inhibit caspases which are death induction molecules downstream to TNF-alpha activation during hepatotoxic injury. Emricasan, a pancaspase inhibitor, is proposed to be tested to block hepatocyte injury induced by TNF-beta, without blocking the beneficial hepatic effects of TNF-beta on liver regeneration and immune cell function[150]. Other novel potential therapies are in the process of development or undergoing preliminary clinical trials[14].
CONCLUSION
ALD is a prominent and preventable cause of morbidity and mortality. The cornerstone of therapy is abstinence, which improves overall survival. Psychological and pharmacologic therapies can support abstinence. Nutritional and supportive therapies are also important. Several therapies for AH, such as corticosteroids and pentoxifylline, are widely administered, but their survival benefit remains unproven. These drugs are generally well tolerated, without significant toxicity. Other potential therapies include TNF-α inhibitors other than pentoxifylline, antioxidants, and complementary medicine, none of which have demonstrable benefits for ALD and are not recommended as therapies. LT remains the only definitive treatment for alcoholic cirrhosis, and multidisciplinary management, including aggressive psychosocial therapy to prevent relapse should be instituted post-transplant. Patients with advanced ALD have complications that are similar to cirrhosis of other etiologies. Prophylaxis, surveillance, and aggressive treatment are important to prevent significant morbidity and mortality.
P- Reviewers: Gao B, Shi BY S- Editor: Qi Y L- Editor: A E- Editor: Liu XM