Copyright
©2014 Baishideng Publishing Group Co.
, Limited. All rights reserved.
Intestinal barrier in inflammatory bowel disease
Lena Antoni, Sabine Nuding, Jan Wehkamp, Dr. Margarete Fischer-Bosch-Institute of Clinical Pharmacology Stuttgart, University of Tübingen, D-70376 Stuttgart, Germany
Jan Wehkamp, Eduard F Stange, Department of Internal Medicine I, Robert-Bosch-Hospital, D-70376 Stuttgart, Germany
Author contributions: Antoni L, Nuding S and Stange EF wrote the paper; Wehkamp J critically reviewed the manuscript.
Supported by Robert Bosch Foundation, Stuttgart, Germany
Correspondence to: Eduard F Stange, MD, Department of Internal Medicine I, Robert-Bosch-Hospital, Auerbachstr 110, D-70376 Stuttgart, Germany. eduard.stange@rbk.de
Telephone: +49-711-81013406 Fax: +49-711-81013793
Received: September 27, 2013
Revised: November 8, 2013
Accepted: December 12, 2013
Published online: February 7, 2014

A complex mucosal barrier protects as the first line of defense the surface of the healthy intestinal tract from adhesion and invasion by luminal microorganisms. In this review, we provide an overview about the major components of this protective system as for example an intact epithelium, the synthesis of various antimicrobial peptides (AMPs) and the formation of the mucus layer. We highlight the crucial importance of their correct functioning for the maintenance of a proper intestinal function and the prevention of dysbiosis and disease. Barrier disturbances including a defective production of AMPs, alterations in thickness or composition of the intestinal mucus layer, alterations of pattern-recognition receptors, defects in the process of autophagy as well as unresolved endoplasmic reticulum stress result in an inadequate host protection and are thought to play a crucial role in the pathogenesis of the inflammatory bowel diseases Crohn's disease and ulcerative colitis.
Core tip: An efficient intestinal mucosal barrier is critical for protection against invading microorganisms, therefore impairments in this system have serious adverse effects on health. In patients suffering from the inflammatory bowel diseases Crohn's disease and ulcerative colitis, the intestinal barrier function is compromised at different levels including, amongst others, a defective production of antimicrobial peptides, alterations of the mucus layer and defects in the process of autophagy. In this article, we outline important components of the healthy intestinal mucosal barrier and review their disturbances in inflammatory bowel disease.
---
Citation: Antoni L, Nuding S, Wehkamp J, Stange EF. Intestinal barrier in inflammatory bowel disease. World J Gastroenterol 2014; 20(5): 1165-1179
---
INTRODUCTION
Besides its most obvious function - digestion and nutrient absorption - the intestinal tract is challenged with another complex and difficult task. As the gut lumen harbors an enormous number of microorganisms, the host has to provide a peaceful coexistence with this diverse microbial community. The successful handling of this challenge includes on the one hand prevention of an inordinate immune response against commensals and on the other hand a proper detection and elimination of pathogenic microorganisms[1-4]. The intestinal colonization increases from proximal to distal and reaches the enormous number of 1011-1012 organisms per gram of luminal content in the colon[5,6]. To prevent a harmful adhesion and invasion of microorganisms, the intestinal mucosa is equipped with diverse specific and unspecific protective mechanisms that collectively build a complex and effective mucosal barrier[7-9] (Figure 1). Some important parts of this barrier concerning the innate immunity will be discussed in this article.
COMPONENTS OF THE INTESTINAL MUCOSAL BARRIER
The epithelium
The intestinal epithelium lines the luminal surface of the gut as a single layer of closely adhering cells and forms an efficient physical boundary between luminal contents and the bodys interior[2,4,10]. The appearance of the small intestinal and the large intestinal epithelium differs in that the surface area of the small intestinal epithelium is highly increased by the formation of a large number of protrusions (folds, villi, microvilli) to accomplish the task of nutrient absorption. Situated between the villi there are glandular invaginations that are called crypts of Lieberkühn. In contrast, the epithelium of the colon has a significantly less enlarged and flat surface since it lacks the villi[2,11].
The most abundant cell type of the intestinal epithelium is the absorptive enterocyte[8,12]. Apart from enterocytes there are three different cell types with specific secretory functions, namely goblet cells, enteroendocrine cells and Paneth cells. Goblet cells are specialized in the secretion of mucus constituents and enteroendocrine cells secrete peptide hormones that are involved in cellular trophism, tissue repair, angiogenesis, enterocyte differentiation and polarization along the crypt-villus axis[3,11]. The third secretory cell-type of the intestinal epithelium, the Paneth cell, is named after the Austrian physiologist Joseph Paneth. Paneth cells contain a large number of secretory granules filled with large amounts of antimicrobial active substances like lysozyme, secretory group IIA phospholipase A2, α-defensins and the C-type lectin regenerating islet-derived protein 3-alpha (also known as HIP/PAP, hepatointestinal pancreatic protein), of which the α-defensins are by far most abundant. Paneth cells are long-lived cells and normally are confined to the small intestine where they are localized at the bottom of the crypts of Lieberkühn[1,13,14]. Furthermore, the intestinal epithelium contains microfold-cells that are part of the follicle-associated epithelium and responsible for the transport of luminal bacteria and antigens to subjacent immune cells[4,7].
The intestinal epithelium provides a selective permeable barrier as it allows the passage of water, electrolytes and dietary nutrients but prevents a detrimental invasion of foreign antigens, microorganisms and their toxins[15]. In order to fulfill this challenge, intestinal epithelial cells are closely interconnected by different protein complexes comprising tight junctions, adherens junctions and desmosomes. These cell-cell connections are required to stabilize the mechanical cohesion of the cells, to define the border between the apical and the basolateral membrane regions and are also essential for the regulation of the paracellular permeability. In all three types of adhesion complexes, the cell-cell contact is mediated by an interaction between the extracellular region of specific transmembrane proteins, additionally the intracellular region of these proteins is connected via adaptor proteins to the cytoskeleton[11,15]. Four types of integral membrane proteins, namely occludin, the claudins, tricellulin and junctional adhesion molecules, are the main protein components of tight junctions[16].
Epithelial homeostasis for an effective intestinal barrier is maintained by the balance of cell proliferation and epithelial apoptosis. Important regulators of this homeostasis are the transforming growth factor (TGF)-α, stimulating proliferation, and TGF-β inhibiting cell growth via signalling pathways. Also an essential factor for the renewing of the intestinal epithelium is Wnt[17]. The canonical Wnt/β-catenin pathway regulates epithelial proliferation and the non-canonical Wnt5a pathway is essential for the formation of new crypts[18]. Fevr et al[19] could show that in the Wnt/β-catenin signalling a lack of β-catenin resulted in a differentiation of stem cells leading to the disturbance of the intestinal homeostasis.
With regard to the recognition of microbes and the initiation of appropriate immune responses of special importance are so called pattern-recognition receptors (PRRs) that are expressed by different cell types within the gastrointestinal tract including epithelial cells and immune cells. The two most investigated families of PRRs are the intracellular nucleotide-binding oligomerization domain (NOD)-like receptors (NLRs) and the membrane bound toll-like receptors (TLRs). In general, PRRs detect microorganisms by conserved structural motifs that are characteristic for them, for example lipopolysaccharide, peptidoglycan, bacterial DNA and flagellin. Upon ligand binding, a signalling cascade is initiated that finally leads to the activation of signalling molecules like nuclear factor κB and the expression of proinflammatory cytokines, chemokines or antimicrobial peptides[4,8,20].
Antimicrobial peptides
Antimicrobial peptides (AMPs) are an integral part of the innate immunity. Their expression has been highly conserved during evolution as plants, insects, bacteria and vertebrates all make use of a variety of AMPs to protect themselves against microorganisms[21,22]. Generally, classical AMPs are small cationic peptides with an amphipathic structure[23-25]. The two best characterized families of AMPs in mammals are the defensins and the cathelicidins[25].
Characteristic features of defensins are their low molecular weight, their cationicity and a specific fold rich in β-sheet structures[26,27]. In humans, two defensin subfamilies, α- and β-defensins, are classified according to characteristic differences in their intramolecular disulfide bonding pattern[28]. The members of both subfamilies are synthesized as pre-pro-peptide that need proteolytic processing to become the mature biologically active peptides exhibiting a broad spectrum of antimicrobial activity[27,29].
Of the six so far known α-defensins, two are of particular importance in the small intestine. They are named human defensin 5 and human defensin 6 (HD5 and HD6) and in the healthy intestinal tract they are synthesized in high amounts by Paneth cells in the small intestine[30-32]. As Paneth cells are normally restricted to the small intestine, expression of Paneth cell α-defensins is absent in the healthy colon. However, in the case of inflammatory bowel disease (IBD), development of metaplastic Paneth cells and subsequent α-defensin expression in the large intestine may occur[26,33]. The four remaining members of the α-defensin family are called human neutrophil peptide 1-4 according to their principal site of expression, namely neutrophilic granulocytes[34]. There they are stored primarily as mature peptides in azurophilic granules but also in smaller amounts in their proform in specific granules[29,35]. β-defensins are mainly of epithelial origin and have been identified in various epithelia throughout the human body including the intestinal tract[36-39], the respiratory tract[40,41], and the skin[42,43]. Interestingly, environmental impacts seem to have an important influence on the functional activity of the human β-defensin 1 (HBD-1). The antimicrobial activity of this β-defensin depends to a large extent on its redox-status as reduction of disulfide bridges strongly enhanced its antimicrobial effect against the facultative pathogenic yeast Candida albicans as well as against anaerobic Gram-positive Bifidobacteria and Lactobacilli[44].
Some defensins are produced constitutively and provide a continuous host-defense as the β-defensin family member HBD-1. Alternatively, their expression may be inducible by proinflammatory cytokines or in the presence of microorganisms and their products. This expression pattern is shown for example by the β-defensins HBD-2 and HBD-3[21,45].
The only known human cathelicidin is named LL-37 and has a broad spectrum of antimicrobial activity. The peptide is synthesized as a proform (called hCAP-18, human 18 kDa cationic antimicrobial protein) from which it is released by proteolytic processing[25,46,47]. However, studies on sweat and seminal plasma showed that a differential cleavage of hCAP-18/LL-37 is also possible, giving rise to alternative peptides with antimicrobial activity[48-50].
Apart from these typical AMPs, antimicrobial properties have been attributed to several proteins with other classical functions. For example, microbicidal activities have been described for members of the families of histones and ribosomal proteins as well as for ubiquitin[51-54].
Intestinal mucus layer
Another form of protection against invading microbes as well as other harmful insults from the intestinal lumen, including mechanical injuries or destructive enzymes, is provided by the intestinal mucus layer that coats the mucosa as a sticky gel. Apart from its protective function, mucus also has a lubricating capacity and is important to keep the mucosal surface hydrated[55,56]. It is composed of proteins, carbohydrates and lipids and also contains a very high degree of water[57,58].
Essential for the formation of an intact and stable mucus layer are large glycoproteins belonging to the family of the secretory gel-forming mucins[59,60]. The mucin MUC2 is the predominant member of this family in the intestinal tract where it is strongly secreted by goblet cells of the small and large intestine[60,61]. By forming net-like multimeric complexes, MUC2 acts as the principal structural unit of the mucus layer. Colonic mucins carry a negative charge since their carbohydrates are substituted with numerous sulfate and sialic acid residues[62,63]. These residues offer the mucins extra protection against bacterial attack and enzymatic degradation[59,64-66].
In the large intestine, the mucus layer is divided into two distinct sectors with individual properties. The inner layer is densely packed, firmly attached to the epithelium and only removable by mechanical scraping, whereas the outer layer is not as tightly bound and can easily be aspirated with a micropipette. Interestingly, in the healthy colon the inner layer is sterile and efficiently prevents a direct contact of the epithelium with the luminal microbial community, whereas the outer layer is colonized by commensal bacteria. As studies on MUC2-/- mice demonstrated, formation of an efficient mucus layer is not feasible in the absence of MUC2. In a study by Van der Sluis et al[67], MUC2-/- mice developed spontaneous colitis and were more susceptible to dextran sulfate sodium (DSS) induced colitis. Moreover, Johansson et al[68] detected in MUC2-/- mice bacteria in direct contact with the epithelium, deep down in the crypts and sometimes even inside epithelial cells, whereas in wild type mice the inner mucus layer was sterile and provided an efficient spatial separation of microbes and the epithelium.
Apart from MUC2, Fc-gamma binding protein (Fcgbp) has been identified as a mucus constituent with apparent structure-providing properties. Originally, the protein was named after its capability to bind to the Fc-part of IgG antibodies. Fcgbp-expression has been detected in the mucus granules of goblet cells and the protein has been identified in large intestinal mucus. There, it is covalently attached to MUC2 and is therefore supposed to act as a MUC2-cross linker that stabilizes the MUC2 network[69-71]. Fcgbp in turn, has been identified as the disulfide linked partner of another protein-constituent of the mucus layer, the trefoil factor TFF3. It is mainly expressed in intestinal goblet cells and has been linked to mucosal protection and repair processes[72].
Moreover, the amphiphilic phospholipid phosphatidylcholine (PC) has been identified as an important mucus constituent. The interactions between PC and mucins are most likely electrostatically owing to attraction between the negatively charged mucins and the positively charged molecule regions of PC. These interactions are thought to generate a spatial arrangement where the fatty acid chains of PC are oriented to the intestinal lumen generating a protective hydrophobic surface on top of the mucus layer[73,74].
However, since the mucus layer exhibits also antimicrobial properties, it acts not only as a physical barrier. The additional function of intestinal mucus as a chemical barrier was first indicated by a study of Meyer-Hoffert et al[75] in which the antimicrobial properties of the murine small intestine were analyzed and a strong antimicrobial activity of mucus extracts against commensal and pathogenic bacteria was demonstrated. Moreover, various AMPs were identified in mucus extracts and, as the peptide spectrum resembled the spectrum of AMPs found in extracts from the whole small intestine as well as isolated crypts, it was assumed that epithelial AMPs are retained and thereby enriched in the murine small intestinal mucus layer. In another study, the antibacterial lectin RegIIIγ has been shown to be essential for the maintenance of a sterile zone of approximately 50 μm thickness above the murine small intestinal surface[76]. This critical contribution of an antibacterial molecule to an effective spatial segregation of luminal bacteria and the small intestinal surface also points to an antibacterial capacity of the murine small intestinal mucus layer. To enlarge the available knowledge of mucus as an antimicrobial barrier, we recently performed detailed investigations of human large intestinal mucus concerning its antimicrobial properties and revealed a high antimicrobial activity of mucus protein extracts against Gram-positive and Gram-negative bacteria as well as against the yeast Candida albicans. Several peptides and proteins with reported antimicrobial functions including defensins, the cathelicidin LL-37, ubiquitin and members of the family of histones could be identified in rectal mucus extracts[77]. Interestingly, several of these peptides were already identified in non-inflamed human colonic tissue in two previous studies[78,79], supporting the hypothesis that epithelial AMPs are retained in the mucus layer. Moreover, we demonstrated a binding of AMPs to mucus and mucins and also showed that this binding does not abolish the peptides functional activity[77]. As large intestinal mucins are negatively and cationic AMPs positively charged, binding of AMPs to intestinal mucus is most likely due to electrostatic interactions between these oppositely charged molecules[80,81].
Besides antimicrobial peptides, mucus also contains secretory IgA that is translocated across the epithelium in large amounts and helps to prevent an invasion of luminal microorganisms[55,82].
INTESTINAL BARRIER IN IBD
Defects in the intestinal epithelial barrier function are a characteristic feature of IBD. The perturbations can affect different levels of the protective mechanisms, including alterations of PRRs, disturbed AMP production, a defective mucus layer, alterations in the process of autophagy or an increased epithelial barrier permeability, and cause an inadequate protection against microbial adherence and invasion. The resulting imbalance between the microbes and the protective host-defense mechanisms allow more bacteria to come in direct contact with the epithelium and mucosal immune mechanisms. Consequently, compensatory immune reactions are excessively triggered, a process that is thought to finally result in chronic intestinal inflammation (Figure 2).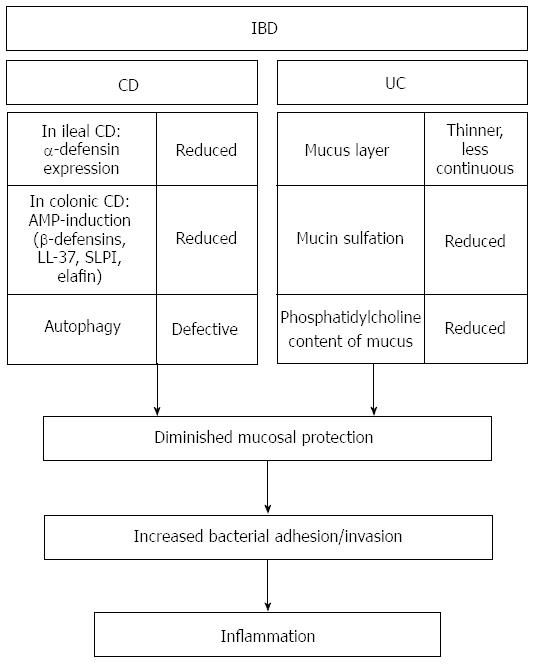 Figure 2 Defects of the intestinal mucosal barrier in inflammatory bowel disease and their consequences.
IBD: Inflammatory bowel disease; CD: Crohn's disease; UC: Ulcerative colitis.
As IBD affects predominantly the most heavily colonized gut segments, namely the distal ileum and colon, an involvement of the microbial flora in disease pathogenesis is obvious[5]. This is also indicated by studies showing that postoperative recurrence of Crohn's disease (CD) is triggered by luminal contents[83,84]. Moreover, several animal models revealed the essential contribution of microbes to the development of inflammation[85,86]. Yet, despite extensive research, no specific IBD-causing pathogen could be identified until now[87,88]. Instead, the intestinal microbial community as a whole appears to be crucially involved in disease pathogenesis[89]. Studies showing a marked increase in surface associated bacteria and to some extent also intracellular bacteria in patients with IBD confirm this assumption[90-92]. This suggests a deficiency in the protective mechanisms that effectively keep away microbes from the epithelial surface in the healthy intestine. In the following sections, important aspects of barrier perturbations in IBD will be discussed in more detail.
Pattern-recognition receptors and antimicrobial peptides
In 2001, different groups identified independently the NLR-family member nucleotide-binding oligomerization domain-containing protein 2/Caspase recruitment domain-containing protein 15 (NOD2/CARD15) as a susceptibility gene for CD[93,94]. There are three common genetic variants associated with CD, two missense mutations and one insertion frameshift mutation that leads to a truncation of the mature NOD2 protein[4,20]. As Kobayashi et al[95] showed in a study on NOD2-/- mice, NOD2 plays a pivotal role in the intestinal host-defense. The NOD2-deficient mice were highly susceptible to intragastric challenge with Listeria monocytogenes but not to intraperitoneal or intravenous infection and displayed reduced levels of a subset of Paneth cell α-defensins. Furthermore, the important role of NOD2 in intestinal homeostasis was underscored by the observation that NOD2 is crucially involved in the regulation of the intestinal flora. Alterations in the composition and quantity of the commensal microbiota were observed in NOD2-deficient mice[96]. Interestingly, CD patients homozygous for the NOD2 variant SNP13 displayed similar changes that were characterized by a significantly increased load of Bacteroidetes and Firmicutes in their terminal ilea[96]. Moreover, Petnicki-Ocwieja et al[97] detected increased amounts of commensal bacteria in the terminal ilea, a diminished capability to prevent de novo colonization of the opportunistic pathogen Helicobacter hepaticus and a reduced antimicrobial activity of crypt secretions in NOD2-deficient mice. Notably, an interrelation of NOD2, antimicrobial peptide expression and intestinal defense in humans was emphasized by a study showing reduced levels of Paneth cell α-defensins in patients with ileal CD that was accompanied by a reduced antibacterial activity of protein extracts from ileal mucosa. Interestingly, the defensin reduction was especially pronounced in patients carrying the mutation NOD2-SNP13[98]. These findings highlight the important role of a diminished antibacterial host-defense as a primary factor in disease pathogenesis.
Recently, a second member of the NLR-family, namely NLR family, pyrin domain containing 3 (NLRP3), has been implicated in the pathogenesis of IBD. NLRP3 is as a constituent of the inflammasome involved in the activation of caspase-1 and the subsequent maturation of interleukin-1β and interleukin-18[99,100]. Villani et al[101] reported an association between SNPs (Single nucleotide polymorphisms) located in a predicted regulatory region downstream of NLRP3 and an increased risk to develop CD and Schoultz et al[102] suggested a role for combined polymorphisms in CARD8 and NLRP3 in the development of CD in men but an implication of the NLRP3-region in CD-susceptibility was not confirmed in a recent study[103]. Thus, the available data in this context are inconsistent and further studies are required.
However, studies on NLRP3-/- mice showed that NLRP3 plays a central role in the regulation of intestinal homeostasis and prevention of colitis. Zaki et al[104] studied NLRP3-/- mice and showed that these mice were significantly more susceptible to DSS-induced colitis compared to wild-type mice. A clearly increased susceptibility of NLRP3-/- mice to experimental colitis was also reported by Hirota et al[99] whereas, in contrast to these studies, Bauer et al[105] found that NLRP3-deficient mice were significantly protected from colitis in the DSS-colitis model. Interestingly, in the study of Hirota et al[99] the NLRP3-/- mice displayed also an altered colonic β-defensin expression, a reduced antimicrobial activity of colonic crypt secretions and an intestinal dysbiosis. These results are of special interest with regard to the pathogenesis of IBD as a dysregulated β-defensin expression has been linked to the development of colonic CD. Macroscopically and histologically non-inflamed tissue samples of CD-patients with colonic involvement displayed reduced mRNA-levels of the constitutively expressed β-defensin HBD-1[106]. Moreover, defects in the expression of the inducible β-defensin HBD-2 were reported. In ulcerative colitis (UC)-patients, the expression of this β-defensin is strongly induced in the case of inflammation but this induction is diminished in patients with colonic CD[39] and the expression of two other β-defensins, HBD-3 and HBD-4[37,39] as well as the cathelicidin LL-37[107] and the antimicrobially active protease inhibitors SLPI and elafin[108] seems to follow a similar pattern. The functional relevance of these findings was pointed out by a study showing a reduced antimicrobial activity of colonic tissue protein extracts in colonic CD patients[109].
Moreover, polymorphisms in the genes of several members of the TLR-family have also been associated with IBD[11] and especially extensively investigated was the influence of TLR4-ploymorphisms on the risk to develop CD. Whereas some studies showed a correlation between TLR4 genetic variants and CD[110-112], in other studies no such association was found[113-115]. Thus, the available data in this regard are contradictory and no definite conclusion can be drawn to date.
PANETH CELLS AND GOBLET CELLS
Wnt-pathway
As NOD2 and α-defensins are both associated with small intestinal Paneth cells, it was apparent that defects in Paneth cell biology play a crucial role in small intestinal CD. Thus, further studies were conducted to characterize the role of Paneth cell-dysfunction and diminished antimicrobial host-defense in CD in more detail and it was shown that the Wnt-pathway transcription factor T-cell specific transcription factor 4 (TCF-4, also known as TCF7L2, transcription factor 7-like 2) is critically involved in this context. Patients with ileal CD displayed, independent of the degree of inflammation, a reduction in TCF-4 mRNA-expression and the TCF-4-mRNA-levels correlated highly with the mRNA-levels of the Paneth cell α-defensins. Importantly, the association between α-defensins and TCF-4 was independent of the NOD2-genotype. Additionally, a causal link between reduced TCF-4- and reduced α-defensin-levels was demonstrated by a TCF-4-knock out mouse model in which TCF-4-heterozygous mice displayed a significantly reduced α-defensin expression that was associated with a reduced antibacterial activity of small intestinal tissue extracts[116]. Moreover, in a later study an association between a sequence polymorphism in the TCF-4 putative promoter region and a higher susceptibility to develop small intestinal CD was reported[117]. Recently, it was uncovered that another central factor of the Wnt-pathway, the co-receptor low density lipoprotein receptor-related protein 6 (LRP6), is required for proper antimicrobial Paneth cell function and is involved in the development of CD. More specifically, a functional variant in the Wnt co-receptor (rs2302685; Ile1062Val) has been associated with early onset ileal CD and, importantly, patients carrying this variant were shown to have particularly low Paneth cell α-defensin-levels. Moreover, the LRP6-mRNA-levels were generally reduced in ileal CD independently of the genotype[118]. In conclusion, the link between genetic variants in crucial components of the Wnt-pathway, diminished α-defensin levels and ileal CD indicate that the diminished Paneth cell antimicrobial function is a primary pathogenic factor in CD. Moreover, since the Wnt-pathway does not only directly regulate α-defensin expression but also influences Paneth cell maturation, these data suggest that an impaired Paneth cell differentiation may be involved in CD pathogenesis[13,119].
ER-stress and the unfolded protein response
In recent years, unresolved ER-stress and the unfolded protein response (UPR) have repeatedly been implicated in the pathogenesis of CD as well as UC. A first indication of a relation between ER-stress and intestinal inflammation was provided by a study from 2001 that revealed an increased susceptibility to DSS-induced colitis in mice deficient in the ER-stress transducer IRE1β[120]. In a more recent study, deletion of another key component of the ER-stress response, the transcription factor X-box-binding protein 1 (XBP1), in the intestinal epithelium of mice lead to increased ER-stress, spontaneous small intestinal inflammation and also increased sensitivity towards induced colitis. Interestingly, Paneth cells were absent in these mice and the number of goblet cells in the small intestine was also reduced. As Paneth cells normally secrete large amounts of antimicrobial molecules, the Paneth cell depletion resulted in a reduced antibacterial activity of crypt supernatants as well as an increased susceptibility to oral infection with Listeria monocytogenes. Importantly, a possible link between XBP1 and human disease was provided by the detection of an association between genetic variants of XBP1 and IBD[121]. Moreover, another clear indication that the process of ER-stress may be implicated in IBD pathogenesis gave the detection of an overexpression of the ER-localized stress response chaperone Gp96 on the apical surface of ileal epithelial cells in patients with CD. This chaperone is used as a receptor for adherent-invasive Escherichia coli (E. coli) invasion via outer membrane vesicles (OMVs) rich in the outer membrane protein OmpA[122]. These are especially interesting findings with regard to the older observation that adherent-invasive E. coli strains are highly associated with the ileal mucosa in CD[123-125].
Furthermore, particularly noteworthy in the context of ER-stress and IBD pathogenesis are several studies that provide a link between ER-stress, defective mucus production and susceptibility to intestinal inflammation. Heazlewood et al[126] generated and characterized two mice-strains, called Winnie and Eeyore, each with a single missense mutation in the MUC2 gene. These mice developed spontaneous intestinal inflammation and showed a phenotype reminiscent of human UC. Moreover, they were more susceptible to environmentally induced colitis and showed profound changes in the process of MUC2 synthesis and assembly. This went along with an abnormal mucin distribution in goblet cells - the goblet cell theca were smaller and reduced in number and a cytoplasmic accumulation of the non-O-glycosylated MUC2-precursor in vacuolar structures was detectable. Importantly, goblet cells showed ultrastructural and biochemical evidence of ER-stress and activation of the UPR. Furthermore, in tissue samples of UC patients a cytoplasmic MUC2-precursor accumulation was also detectable and this coincided with signs of protein misfolding and ER-stress. From these findings the authors concluded that ER-stress related changes in mucin production could be crucially involved in the pathogenesis of UC.
Also linked to mucus production, the ER-stress response and prevention of intestinal inflammation is anterior gradient homolog 2 (AGR2), a member of the family of protein disulfide isomerases that is present in the ER of intestinal secretory epithelial cells. Recently, AGR2 has been shown to play an essential role in intestinal mucus production and in this context, a direct association of AGR2 and MUC2 via the formation of mixed disulfide bonds between a cysteine in the thioredoxin-like domain of AGR2 and cysteines in the amino- and carboxyl-terminal portions of MUC2 are thought to be crucial. The importance of AGR2 for mucus production was demonstrated in AGR2-/- mice that lacked intestinal mucus and MUC2 protein and showed increased susceptibility to DSS-induced colitis. Although the mice developed no overt spontaneous inflammation, they displayed an increase in the expression of several proinflammatory cytokines and in the presence of intestinal mast cells[127]. In a more recent study, AGR2-/- mice generated by Zhao et al[128] displayed severe spontaneous terminal ileitis and colitis. Moreover, the mice lacked morphologically normal goblet cells and showed decreased MUC2 protein levels. Interestingly, the intestinal disturbances were not restricted to goblet cells as severe Paneth cell abnormalities were also detectable including a dramatic expansion of the Paneth cell compartment and an abnormal Paneth cell localization. As the Paneth cell expansion preceded the occurrence of inflammation it was not a secondary phenomenon resulting from inflammatory processes. Whereas Park et al[127] reported only a modest evidence for activation of the ER-stress response, Zhao et al[128] detected clearly elevated levels of intestinal ER-stress. Albeit the definite cause is to date not clear, the discrepancies between the studies of Park et al[127] and Zhao et al[128] were attributed to differences in the genetic background and experimental design as well as to diverging housing conditions. In conclusion, the mentioned AGR2-/- mouse models underline the importance of AGR2 in the intestinal goblet cell- as well as Paneth cell-homeostasis and the ER-stress response and are particularly interesting since genetic variants of AGR2 and decreased AGR2-mRNA-levels have been linked to IBD[129].
Autophagy
Autophagy is a degradation process important for cellular homeostasis that allows the cell to recycle cellular components by delivering organelles and cytosolic macromolecules to lysosomes. The process is activated in response to situations of cellular stress like starvation and growth factor deprivation. Moreover, the autophagy machinery is also important in the antibacterial host-defense as it is involved in the degradation of invading bacteria[130-132].
Recently, a defect in the process of autophagy has been linked to the pathogenesis of CD as a polymorphism in the gene encoding the central autophagy protein autophagy-related 16-like 1 (ATG16L1) has been associated with an increased risk to develop the disease[133]. Moreover, a second autophagy-related protein, immunity-related GTPase family M protein (IRGM), has been related to CD[131,134,135]. In subsequent studies, the role of ATG16L1 in CD-pathogenesis has been investigated in more detail and it was reported that Paneth cells of ATG16L1-hypomorphic mice displayed abnormalities in the granule exocytosis pathway. Importantly, homozygous carriers of the disease associated risk allele of ATG16L1 among CD patients exhibited similar changes in Paneth cell granules[136]. Additionally, Kuballa et al[130] demonstrated in cell culture experiments that the CD-associated ATG16L1 coding variant (ATG16L1*300A) is linked to a defective anti-Salmonella autophagy. Furthermore, a link between the process of autophagy and CD was provided by a study on paediatric CD patients that revealed an activation of autophagy in Paneth cells that occurred independently of inflammation or disease-associated variants in ATG16L1 or IRGM and went along with a significant reduction in the number of secretory granules and signs of crinophagy[137]. Remarkably, in a recent study the intracellular PRRs NOD1 and NOD2 have been shown to be involved in the induction of autophagy by recruiting ATG16L1 to the plasma membrane at the site of bacterial entry. As the CD-associated NOD2 mutant L1007fsinsC was defective in this process, these findings provide a mechanistic link between two of the most important genes associated with CD, NOD2 and ATG16L1, and highlight the relevance of defects in the process of bacterial sensing and elimination in the disease pathogenesis[138].
ALTERATIONS OF THE MUCUS LAYER
Variations of the intestinal mucus layer concerning its thickness, continuity and composition as well as the mucin-structure have been reported in IBD patients, especially in UC. These changes are thought to adversely affect the protective properties of the gel layer and consequently might cause an increased vulnerability of the epithelium to bacterial invasion.
The mucus layer has been shown to be thinner and less continuous in UC patients[139], its phosphatidylcholine concentration is significantly reduced[73] and, in some older studies, a selective reduction of a specific mucin glycoprotein fraction in the colonic mucosa has been reported[140,141]. However, as the latter results could not be reproduced in a subsequent investigation[142], they were interpreted as an effect of the experimental design and were thought to rather reflect the general mucus depletion characteristic for UC patients[142,143]. Furthermore, an altered mucin glycosylation was detected in UC patients - the glycans are shorter, have a generally less complex structure[144,145] and their sulfation is reduced[64,146]. As the sulfates confer negative charge to the mucins and enhance the resistance of the glycans against enzymatic degradation, a reduced sulfation could result in an increased vulnerability of the mucins to bacterial enzymatic degradation[64,66,146] and, since positively charged AMPs are electrostatically bound by mucins[80,81], might cause a less effective retention of AMPs in the mucus layer. Whether the reported changes are primary events in disease pathogenesis or are secondary effects resulting from inflammation is currently under discussion. Whereas some studies indicated that mucus or mucin alterations occur only in active UC[144,147], other studies gave evidence of primary alterations as they revealed an ethnic and genetic impact[141,148-150]. Recently, mucus depletion in UC has been linked to a defect in goblet cell differentiation as the significant induction of the goblet cell differentiation factors Hath1 and KLF4 seen in CD patients in inflammation was not detectable in UC patients and, moreover, a reduced number of mature goblet cells in the upper third of the crypts in sigma tissue of patients with active UC was observed[151].
EPITHELIAL PERMEABILITY
Already in the early 1980s, increased intestinal permeability has been reported in children with active small-bowel CD[152] and, more recently, increased permeability has also been described in UC patients[153,154]. Several studies observed increased permeability not only in CD patients but also in a subset of their first-degree relatives, leading to the assumption that increased permeability may be a primary factor in disease pathogenesis preceding the development of inflammation[155-157]. Interestingly, in a recent study an association between a high mucosal permeability in healthy first-degree relatives of CD patients with the presence of a CARD15 3020insC-mutation has been observed[158]. Moreover, increased permeability has been linked to a higher risk of disease relapse in CD patients[159,160], suggesting that the permeability increase precedes clinically overt inflammation. However, in other studies a permeability increase was also detected in a proportion of spouses of CD patients[161-163], an observation that indicates an impact of environmental factors on permeability alterations. To date, it is still under debate whether the permeability changes are a primary event in the disease development or a secondary effect triggered by inflammation. The perturbations of intestinal permeability are assigned to different molecular mechanisms including tight junction abnormalities[8,15,164]. For example, in a recent study a reduced number of tight junction strands and an increased number of strand breaks were observed in CD patients[165]. Moreover, an increased expression of the pore-forming claudin 2 and a decreased expression of occluding and the sealing claudins 5 and 8 was detectable. These changes were observed in patients with mild to moderately active CD but were absent from patients in remission indicating that they were a rather secondary phenomenon occurring as a consequence of inflammation[165]. In UC claudin 2 was also upregulated, whereas occludin and the claudins 1 and 4 were diminished[166].
Additionally epithelial apoptosis also results in an increased epithelial permeability.
Several studies showed that in inflammatory bowel disease apoptosis is upregulated. Sipos et al[167] found the rates of epithelial apoptosis determined by the histological activity of inflammation in UC. IL-13 triggers an increased epithelial apoptosis rate that leads to microerosions[166] in an early stage of the disease. In contrast, in active CD apoptosis is also upregulated[166,168], but microerosions are only induced in advanced disease.
Using confocal laser endomicroscopy, Goetz et al[169] found a higher density of epithelial gaps in the mucosa of patients with CD. In a mouse model TNF led to an elevated epithelial cell shedding and increased the gap density [170].
In conclusion, epithelial permeability perturbations occur in IBD patients but additional investigations are required to further increase the knowledge about the underlying molecular mechanisms as well as to clarify whether these changes play a primary role in disease pathogenesis or whether they are a secondary effect in response to inflammation. It is important to note that carbohydrates such as lactulose and mannitol, the low molecular weight polyethylene glycol PEG 400 or 51Cr-labelled ethylenediaminetetraacetic acid were used as probe molecules to measure the permeability of the intestinal wall in the mentioned studies. As increased permeability for these substances does not give information on epithelial permeability for bacteria and bacterial products, it is not possible to deduce that the described permeability changes are associated with a defective protection of the mucosa against luminal microorganisms and an increased exposure of mucosal immune mechanisms to microbial antigens.
CONCLUSION
The healthy intestinal mucosa is efficiently protected against detrimental influences from the gut lumen by a complex and multilayered defense barrier. In recent years, it became apparent that the intestinal barrier is compromised at different levels in IBD patients. These barrier disturbances include alterations of the mucus layer, a defective AMP production, unresolved ER-stress, defects in the process of autophagy as well as an increased epithelial permeability and result in an inadequate protection of the epithelium against adherence and invasion of luminal bacteria. Consequently, abnormal high numbers of microorganisms are allowed to come in direct contact with the hosts immune mechanisms and this is thought to initiate a process finally resulting in chronic intestinal inflammation.
Future studies are required to further increase our understanding of the complex mechanisms underlying the pathogenesis of IBD, to clarify their complex interplay and to enable the development of new therapeutic approaches for the treatment of IBD.
P- Reviewers: Assimakopoulos SF, Ukena SN S- Editor: Gou SX L- Editor: A E- Editor: Wang CH