Copyright
©2014 Baishideng Publishing Group Inc.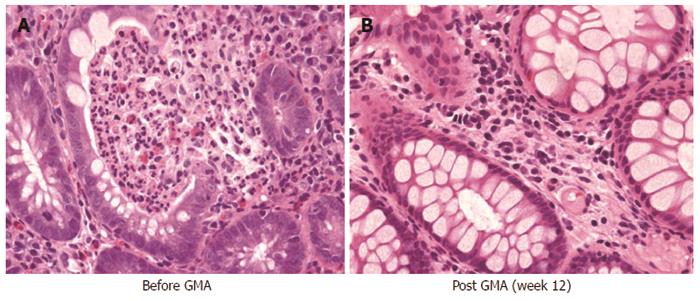 Figure 7 Typical immunohistochemical images taken from colonic biopsy specimens in a patient with total colitis in active stage (A) and following remission (B).
This figure shows that the mucosal tissue is densely infiltrated by myeloid lineage leucocytes and granulocyte and monocyte apheresis has reduced the concentration of these leucocytes in the mucosa. The specimens seen in this figure are from a 60-year-old male with moderately severe ulcerative colitis and corticosteroid naive, baseline clinical activity index, 13.
---
Citation: Saniabadi AR, Tanaka T, Ohmori T, Sawada K, Yamamoto T, Hanai H. Treating inflammatory bowel disease by adsorptive leucocytapheresis: A desire to treat without drugs. World J Gastroenterol 2014; 20(29): 9699-9715
---