Copyright
©2014 Baishideng Publishing Group Inc.
All rights reserved.
Intestinal microbiota in pathophysiology and management of irritable bowel syndrome
Kang Nyeong Lee, Oh Young Lee, Department of Internal Medicine, Hanyang University College of Medicine, Seoul 133-791, South Korea
Author contributions: Lee KN performed the literature review and drafted the paper; Lee OY performed the critical revision of the manuscript.
Correspondence to: Oh Young Lee, MD, PhD, Department of Internal Medicine, Hanyang University College of Medicine, 222 Wangsimni-ro, Seongdong-gu, Seoul 133-791, South Korea. leeoy@hanyang.ac.kr
Telephone: +82-2-22908343 Fax: +82-2-22988314
Received: February 9, 2014
Revised: April 2, 2014
Accepted: June 14, 2014
Published online: July 21, 2014

Irritable bowel syndrome (IBS) is a functional bowel disorder without any structural or metabolic abnormalities that sufficiently explain the symptoms, which include abdominal pain and discomfort, and bowel habit changes such as diarrhea and constipation. Its pathogenesis is multifactorial: visceral hypersensitivity, dysmotility, psychosocial factors, genetic or environmental factors, dysregulation of the brain-gut axis, and altered intestinal microbiota have all been proposed as possible causes. The human intestinal microbiota are composed of more than 1000 different bacterial species and 1014 cells, and are essential for the development, function, and homeostasis of the intestine, and for individual health. The putative mechanisms that explain the role of microbiota in the development of IBS include altered composition or metabolic activity of the microbiota, mucosal immune activation and inflammation, increased intestinal permeability and impaired mucosal barrier function, sensory-motor disturbances provoked by the microbiota, and a disturbed gut-microbiota-brain axis. Therefore, modulation of the intestinal microbiota through dietary changes, and use of antibiotics, probiotics, and anti-inflammatory agents has been suggested as strategies for managing IBS symptoms. This review summarizes and discusses the accumulating evidence that intestinal microbiota play a role in the pathophysiology and management of IBS.
Core tip: Irritable bowel syndrome (IBS) is a functional bowel disorder with multiple pathophysiology, which is not fully understood. Intestinal microbiota has recently been postulated to be involved in the pathophysiology of IBS. Many studies of IBS focus on investigating the efficacy of modulating the microbiota by probiotics and antibiotics. However, the role of the intestinal microbiota in the pathophysiology and management of IBS is not clear. This review provides the accumulating evidence on it.
---
Citation: Lee KN, Lee OY. Intestinal microbiota in pathophysiology and management of irritable bowel syndrome. World J Gastroenterol 2014; 20(27): 8886-8897
---
INTRODUCTION
Irritable bowel syndrome (IBS) is a functional bowel disorder characterized by abdominal pain or discomfort relieved by defecation, and accompanied by changes in bowel habits such as diarrhea or constipation, which cannot be explained by structural, biochemical, or metabolic abnormalities[1]. The symptoms of IBS have been accounted for as resulting from visceral hypersensitivity, intestinal dysmotility, genetic or environmental factors, psychological factors, or a dysregulated brain-gut axis[2]. In addition to these factors, bacterial infection, dysregulated intestinal immune function, and chronic low-grade mucosal inflammation have all been suggested as putative pathogenetic mechanisms, in which the intestinal microbiota might play an important role, but their role in IBS cannot be fully explained (Figure 1)[3,4].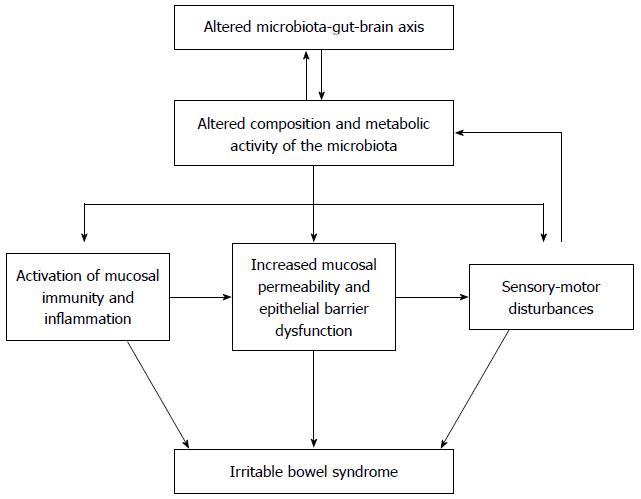 Figure 1 Putative pathophysiologic role of the microbiota in irritable bowel syndrome.
Intestinal microbiota play a substantial role in irritable bowel syndrome (IBS). Although the microbiota may contribute directly to the symptoms of IBS, it is more likely that altered composition and metabolic activity of the microbiota caused by stress or other psychological disturbances indirectly activate mucosal immunity and inflammation, increase epithelial permeability, and reduce barrier function, thereby activating the sensory-motor dysfunction responsible for a variety of symptoms of patients with IBS.
Intestinal microbiota is a collective term for a complex ecosystem of microbes inhabiting the intestine[5]. In the human intestine, this ecosystem may include any one of over 1000 microbial species, and 1014 cells (i.e., about 10 times more than the number of human cells in the body[6]), containing 150-fold more genes than the human genome[7]. The microbiota can be divided into mucosal and luminal subtypes[8], and it was previously thought to comprise three predominant enterotypes: Bacteroides, Prevotella, and Ruminococcus[9], although such a strict categorization is no longer widely accepted[10].
To evaluate the composition and metabolic activity of the intestinal microbiota, culture-dependent and -independent tests have been developed[11]. It has been shown that size and diversity of the microbiota increase distally from the upper to the lower gastrointestinal (GI) tract[12] and are modulated by gastric acid, intestinal motility, and the function of the ileocecal valve. Their distribution also varies according to the region of the GI tract with gram-positive facultative anaerobic bacteria in the proximal small intestine and gram-negative anaerobes in the distal small intestine. Although the composition and diversity of the microbiota are genetically controlled from birth and become stable after weaning and throughout life, qualitative and quantitative changes can occur over the longitudinal and cross-sectional axes of the intestine: changes in bacterial enzymes and metabolic activity, as well as in microbial populations. The composition and metabolic activity of the microbiota vary between, but also within, individuals due to many factors including mode of delivery at birth, diet, sanitation, antibiotics, and ageing[13]. At birth, contamination from the vaginal canal provides the intestine with the maternal microbiome, while during a delivery by cesarean-section, the gut comes into contact with commensals from the skin and the surgical environment[14]. The composition of the microbiota can also be altered by the feeding method: bifidobacteria increase in breast-fed babies (i.e., babies receiving a high-carbohydrate and high-fiber diet), and Bacteroides spp. increase in formula-fed babies (babies receiving a high-fat diet)[15]. Lastly, it can vary across geographical regions, e.g., between rural Africa and urban Europe[16].
The intestinal microbiota is essential for maintaining individual health, including normal GI function. In this context, its main functions are metabolic, protective, and trophic: it can help to digest and absorb nutrients, and produces a variety of beneficial compounds such as short-chain fatty acids (SCFA)[17], it can act as a barrier against pathogens by adhering to the mucosa, generating immune responses, and interacting with components of the epithelial layer, it can also influence the differentiation and proliferation of the intestinal epithelial cells and the development of the enteric immune system.
In parallel with the beneficial effects of microbial activity on the gut, bacterial fermentation may give rise to large amounts of gas and thus contribute to the symptoms of bloating, flatulence, and abdominal distension, which are commonly reported by patients with IBS[18]. An association between the microbiota and IBS has been supported by the evidence of modulation of mucosal immunity: IBS symptoms were found to be more frequent after an episode of gastroenteritis, and some IBS symptoms were found to improve after antibiotic treatment targeting the intestinal microbiota[19]. This putative link was also demonstrated in studies of probiotics, which modulated the intestinal microbiota in IBS patients. Finally, mucosal immunity-gut microbiota-brain axis is being suggested as a possible pathway for the development of IBS due to altered intestinal microbiota. This review article explores the role of the microbiota in the pathophysiology and management of IBS, and provides a comprehensive summary of the evidence for the concept of IBS as a microbiota-related disorder.
Despite the large volume of studies of the intestinal microbiota, our understanding of its role in health and disease is still in its infancy. In studying the microbiota, culture-based methods are being replaced by advanced, culture-independent, molecular techniques. However, these two approaches are complementary: culture studies of fecal matter or colonic mucosa are valuable for identifying functional groups and for selective enumeration, whereas advanced molecular study are a powerful tool for monitoring changes in microbial composition. The molecular methodology includes sequencing of the small-subunit ribosomal RNA genes through amplification of nucleic acids extracted from fecal or mucosal samples, fingerprinting methods such as denaturing gradient gel electrophoresis, targeted methods such as fluorescence in situ hybridization and quantitative PCR, new high-throughput sequencing, and 16S rRNA-based microarraying[20].
PUTATIVE PATHOPHYSIOLOGIC ROLE OF INTESTINAL MICROBIOTA IN IBS
MODULATION OF THE INTESTINAL MICROBIOTA FOR MANAGING IBS SYMPTOMS
Dietary modifications
An association between diet and symptom development in IBS is reported frequently but its mechanisms are not clearly defined. Some of the proposed causative factors include hypersensitivity and/or allergic reaction to specific foods, and alterations of the habitat and metabolic activity of the intestinal microbiota. Diet is thought to be a powerful factor influencing the composition and metabolic activity of the microbiota in an individual. The composition of the microbiota in babies change after weaning, and in adults it varies according to geographic regions due to differences in the food consumed, the type of meat consumed, and cooking methods (whether the food is fried, baked or boiled). Therefore, any dietary strategy aimed at modifying the microbiota should be matched to the individual because different microbial species are responsive to different kinds of dietary components.
However, whether a change in the diet can directly affect the microbiota in IBS is not clear. This is partly due to the lack of well-designed, controlled trials that investigate the effects of diet on IBS. Although specific diets, e.g., the FODMAPs diet, have been shown to provoke IBS symptoms in some patients, not all studies regarding the effects of exclusion diets on the symptoms of IBS are completely reliable due to a variety of confounding factors, including a high placebo effect. Nevertheless, it can be speculated that in some IBS patients, intake of certain foods may provoke abnormal fermentation due to aspects of the composition of their intestinal microbiota and that the composition of the microbiota in those patients could be changed to normal by excluding the symptom-provoking foods.
Dietary fiber stimulates the production of SCFAs by mixing with microbes and enzymes. In a healthy gut, these by-products can improve the function and homeostasis of the GI tract. Although it has been suggested that some patients with IBS may benefit from dietary fiber, many patients report an increase in abdominal distension and bloating as a result of fermentation of the fiber. It may be that water holding properties of fiber and its ability to accelerate intestinal transit may alter the habitat for the microbiota and therefore indirectly affect its composition and metabolic activity.
It seems that individualized advice on dietary consumption of non-digestible carbohydrates in the management of IBS, as the inter-individual differences in the response of the microbiota lead to different responses to changes in diet[96].
Antibiotics
Antibiotic treatment in IBS assumes that small intestinal bacterial overgrowth (SIBO) plays an important role in the development of IBS. Despite the limited validity and lack of standardization of the methods used to evaluate SIBO, treatment with non-absorbable antibiotics such as rifaximin has yielded a therapeutic benefit. Double-blind, placebo-controlled trials of rifaximin in IBS yielded an improvement in IBS symptoms, which correlated well with the reduced excretion of hydrogen in the breath[97,98]. These findings together with the positive effects of other antibiotic treatments, suggest that a short course of poorly absorbable antibiotics may be of some use in the management of IBS symptoms in some patients. However, data on the long-term effects of antibiotics in IBS are limited. Furthermore, information on the optimal dose of antibiotics, and predictors of treatment success and failure are needed to confirm the benefit of this type of treatment[99].
Probiotics
Effects of probiotics: By adhering to intestinal epithelial cells and competing for nutrients and space, probiotics can protect against pathogens. This protective effect of probiotics has been demonstrated in vitro using intestinal cell lines with lactobacilli, bifidobacteria and E. coli subspecies[100-102]. In addition, probiotics can improve mucosal barrier function and thereby prevent pathogens from increasing intestinal permeability[103,104]. Intestinal permeability can also be increased by stress, which may facilitate the subsequent translocation of pathogenic bacteria. However, it was observed that the increase in intestinal permeability caused by stress was inhibited by lactobacilli[105-107]. In addition, lactobacilli increased levels of bacterial fermentation products such as SCFAs (acetic, propionic and butyric acids) and thereby acidifying the colon, which subsequently increased the numbers of Bifidobacterium and Lactobacillus species and decreased clostridia[108]. In addition to these roles, probiotics were also shown to modulate immunity in animals with experimentally-induced colitis[109,110]. Furthermore, they were shown to reduce visceral hypersensitivity by increasing the expression of opioid and cannabinoid receptors in the intestinal mucosa[85].
However, regarding the effect of probiotics on IBS symptoms, the mechanism is not clearly defined. It is possible that probiotics may not only modulate gut dysmotility and hypersensitivity but also have anti-inflammatory properties. It was found that probiotic treatment attenuated intestinal dysmotility in a mouse model, induced intestinal cell mediators related to reduced hypersensitivity such as cannabinoid and opioid receptors, and normalized the ratio of cytokines IL-10/IL-12 in the systemic circulation.
Probiotic studies in IBS: A majority of studies of probiotics in IBS have been performed to evaluate their effect on either overall or specific IBS symptoms. Although most of them have used Lactobacillus or Bifidobacterium species, single strains or combinations of multiple strains have also been used with multiple doses (from 106/mL to 1010/mL) and for variable durations. Similarly, primary and secondary outcomes in those studies were evaluated using variable factors such as abdominal pain, symptom severity, quality of life, and global IBS symptoms. On balance, these studies found a therapeutic benefit, i.e., improvement in symptoms of bloating, flatulence, bowel frequency, and in global symptoms, although there are some inconsistencies between specific studies. In particular, beneficial effects of probiotics were reported in a well-designed study using bifidobacteria such as Bifidobacterium infantis 35624[30,111], B. lactis, B. animalis DN173010, and B. bifidum MIMBb75[112]. Symptom improvement was also reported in studies using probiotic mixtures such as Escherichia coli (DSM 17252) and Enterococcus faecalis (DSM 16440)[113], and Lactobacillus rhamnosus GG, L. rhamnosus LC705, Bifidobacterium breve Bb99 and Propionibacterium freudenreichii ssp. shermanii JS[114,115]. By contrast, negative results were reported in studies using other probiotic combinations[116], such as Lactobacillus paracasei spp. paracasei F19, L. acidophilus La5 and Bifidobacterium lactis Bb12[117,118], and Lactobacillus plantarum MF1298[119].
In recent studies, it was found that 4-wk treatment with probiotics improved IBS symptoms and altered composition of the microbiota as well[120], and that probiotic treatment in IBS patients reduced the genus Bacteroides to the levels of healthy controls and also improved global IBS symptoms[121]. However, as indicated in several meta-analyses, the previous studies of probiotics in IBS fail to report whether symptom improvement was accompanied by a change in the microbiota or not. Furthermore, many systematic reviews pointed out several study limitations including heterogeneity, inadequate statistical methods, and possible publication bias. Examples of heterogeneity include differences in types, doses, and delivery of probiotics[122-125], which may have produced different outcomes. Therefore, despite the reported benefits of probiotics in IBS, there are many aspects of potential treatment regimens that are yet to be established, such as adequate dosage, treatment duration, choice of species for each individual or symptom of IBS, target symptoms for probiotics, and probiotic formulation. Future studies should aim to identify which species, strains, and doses of probiotics provide the optimal therapeutic benefit to individual patients with IBS, and which specific symptoms of IBS should be the target of probiotic treatment.
CONCLUSION
Intestinal microbiota can play a substantial role in IBS. Although the microbiota may contribute directly to the symptoms of IBS, it is more likely that altered composition and metabolic activity of the microbiota caused by stress or other psychological disturbances indirectly activate mucosal immunity and inflammation, increase epithelial permeability, and reduce barrier function, thereby activating the sensory-motor dysfunction responsible for a variety of IBS symptoms. Therefore, our knowledge of the link between the microbiota and IBS may enable us to treat focusing on the possible mechanism of this disorder; Dysbiosis may be restored by probiotic or antibiotic treatment and also by diet modification. Activation of mucosal immunity and inflammation can be treated by immune-modulating agents. Increased intestinal permeability and barrier dysfunction can be a potential therapeutic target of probiotics. However, the microbial pathophysiology of IBS is not clearly understood, as microbiota alterations in IBS might be either a cause of IBS or a consequence of intestinal secretion and motility changed by IBS. Furthermore, due to the heterogeneity of IBS studies as well as IBS itself, there has been variability in the results of studies. Therefore, objective diagnostic modalities in IBS are warranted, and further studies using advanced molecular techniques are needed.
P- Reviewers: Camara NOS, Jin B, Pehl C, Riccardi C S- Editor: Gou SX L- Editor: A E- Editor: Ma S