Copyright
©2014 Baishideng Publishing Group Inc.
All rights reserved.
Incretin based therapies: A novel treatment approach for non-alcoholic fatty liver disease
Kristina Blaslov, Tomislav Bulum, Karin Zibar, Lea Duvnjak, Vuk Vrhovac Clinic for Diabetes, Endocrinology and Metabolic Diseases, University Hospital Merkur, School of Medicine, University of Zagreb, 10000 Zagreb, Croatia
Author contributions: All the authors contributed equally to this work; Blaslov K and Bulum T designed the research; Blaslov K, Bulum T, Zibar K and Duvnjak L acquisited data and did the critical analysis and the data interpretation; Bulum T and Zibar K drafted the manuscript; Blaslov K, Bulum T, Zibar K and Duvnjak L wrote the paper.
Correspondence to: Kristina Blaslov, MD, Vuk Vrhovac Clinic for Diabetes, Endocrinology and Metabolic Diseases, University Hospital Merkur, School of Medicine, University of Zagreb, Dugi dol 4a, 10000 Zagreb, Croatia. kblaslov@gmail.com
Telephone: +385-1-2353829 Fax: +385-1-2353829
Received: October 13, 2013
Revised: December 7, 2013
Accepted: January 8, 2014
Published online: June 21, 2014

Non-alcoholic fatty liver disease is considered a hepatic manifestation of metabolic syndrome (MS). The current treatment of non-alcoholic fatty liver disease (NAFLD) principally includes amelioration of MS components by lifestyle modifications but the lack of success in their implementation and sustainment arises the need for effective pharmacological agent in fatty liver treatment. Incretins are gut derived hormones secreted into the circulation in response to nutrient ingestion that enhances glucose-stimulated insulin secretion. Glucagon-like peptide-1 (GLP-1) is the most important incretin. Its receptor agonist and inhibitors of dipeptidyl peptidase-4 (DPP-4) are used in treatment of type 2 diabetes mellitus. DPP-4 serum activity and hepatic expression are shown to be elevated in several hepatic diseases. There are several experimental and clinical trials exploring the efficacy of incretin based therapies in NAFLD treatment. They suggest that GLP-1 analogues might have beneficial effect on hepatic steatosis acting as insulin sensitizers and directly by stimulating GLP-1 receptors expressed on hepatocytes. The use of DPP-4 inhibitors also results in hepatic fat reduction but the mechanism of action remains unclear. There is growing evidence that incretin based therapies have beneficial effects on hepatocytes, however further study analysis are needed to assess the long term effect of incretin based therapies on NAFLD.
Core tip: Insulin resistance is considered a fundamental problem in the genesis of hepatic steatosis and the pathophysiology of its development. In this review we discussed the role of incretin based therapies, including glucagon like peptide-1 (GLP-1) analogues and dipeptidyl peptidase-4 (DPP-4) inhibitors as a potential novel agents in non-alcoholic fatty liver disease treatment comprising experimental and clinical data available so far which generally suggest that GLP-1 analogues as well as DPP-4 inhibitors might be involved in direct pathways of liver fat elimination. To the best of our knowledge, this is the first review comprising all the data about incretin based therapies in fatty liver treatment.
---
Citation: Blaslov K, Bulum T, Zibar K, Duvnjak L. Incretin based therapies: A novel treatment approach for non-alcoholic fatty liver disease. World J Gastroenterol 2014; 20(23): 7356-7365
---
INTRODUCTION
Non-alcoholic fatty liver disease (NAFLD) is one of the most common liver disease affecting up to 30% of the general population worldwide[1,2]. It is defined as a chronic liver condition characterized by hepatic fat accumulation in the absence of other identifiable cause such as alcohol abuse, viral or autoimmune hepatitis, alpha-1 antitrypsin deficiency, medications like corticosteroids and estrogens, and other conditions[3]. In a certain percentage of patients it might occur in a more serious form of the disease, non-alcoholic steatohepatitis (NASH) and 10%-15% of the patients with NASH develop cirrhosis or even hepatocellular carcinoma[4-6]. NAFLD, previously named also as a diabetic hepatitis, is highly associated with several components of metabolic syndrome (MS), particularly obesity, increased plasma lipid levels (primarily triglycerides), insulin resistance and concomitant glucose intolerance and type 2 diabetes mellitus (T2DM)[4,7,8]. The current treatment of NAFLD principally includes ameliorating MS components including weight loss and insulin sensitivity improvement by lifestyle modifications[9-11]. The use of insulin sensitising agents such as metformin and thiazolidinediones has been investigated in numerous clinical trials whose results suggest that this approach has modest efficacy for NAFLD treatment[12,13]. A recent meta-analysis by Musso et al[14] suggests that the use of TZDs might improve hepatic steatosis both in non-diabetic and diabetic patients but they also emphasise the possible limit of TZDs action in histological liver injuries more severe than NAFLD, such as NASH and also arise the question about importance of insulin sensitivity improvement and its histological benefits per se. Moreover, several studies indicate that the use of antioxidants such as vitamin E could improve histological features of NAFLD and NASH[15,16] which was recently confirmed by Sanyal et al[17]. Their study results suggest the vitamin E might have better effects on NASH than placebo and even when compared to TZDs but also that TZDs might be superior to vitamin E when NAFLD is concerned. According to all, the Association for the Study of Liver Diseases (AASLD) guideline for diagnosis and NAFLD treatment states that metformin has no significant effect on liver histology and it is not recommended in treatment in adults with NASH, while the use of pioglitazone (TZD) is recommended with a certain degree of precaution because of the unknown long-term outcomes[18]. Thus, the increasing prevalence of NAFLD and the lack of success in implementing and sustaining lifestyle modifications arises the need for effective pharmacological agent in fatty liver treatment and incretin based therapies might fulfil its role.
The incretines are intestinal mucosa-derived hormones which are secreted into the circulation in response to nutrient ingestion that enhance glucose-stimulated insulin secretion[19]. Glucose-dependent insulinotropic polypeptide (GIP) and glucagon-like peptide-1 (GLP-1) are two identified incretine hormones so far. They each contribute equally to incretine effect and fully account for such activity in humans[20]. The incretine effect comprises enhancement of insulin biosynthesis and secretion in glucose-dependent manner, pancreatic β cell mass increasment, appetite suppression and delay in gastric emptying[21]. However, as it was established that metabolic effects of GIP are blunted in T2DM and the GLP-1 effects are preserved, only GLP-1 remains in a great interest of T2DM and related disorders treatment[20]. As circulating GLP-1 has a half-life about 1-2 min due to rapid degradation by enzyme dipeptidyl peptidase-4 (DPP-4), GLP-1 receptor agonists with increased DPP-4 resistance and DPP-4 inhibitors have been developed[22]. Recent studies suggest that GLP-1 receptor agonists and DPP-4 inhibitors might be agents of great interest for hepatic fat reducement so in this review we present the pleiotropic effect of incretin based therapies for NAFLD.
GLP-1 RECEPTOR AGONISTS
GLP-1 receptor agonists represent a novel class of therapies for T2DM treatment that reflect glucoregulatory effects of endogenous incretin peptide GLP-1. This class of agents usually includes twice daily and once weekly formulation of exenatide and once daily liraglutide which are already implemented in routine clinical practice as well as several agents in earlier stages of clinical development such as lixisenatide, taspoglutide and albiglutide[23-26]. Exenatide was the first GLP-1 receptor agonist introduced in the clinical practice. It is originally derived from the salivary glands of the Gila monster and has 53% homology with human GLP-1. It is administered up to 60 min before morning and evening meals as indicated as an adjunct to diet and exercise or as an add-on ≥ 1 oral hypoglycaemic agent (OHA) therapy[27]. Clinical trials with twice-daily exenatide demonstrated reductions of glycated haemoglobin A1c (HbA1c) averaging 1.1%[28-30]. Results from four separate open-label studies comparing exenatide therapy with starter insulin suggest that twice-daily exenatide at doses of 10 μg was similarly effective to either titrated basal or analog mix insulin[31-33]. Once weekly exenatide therapy results in a greater mean HbA1c reduction compared to twice-daily formulation as well as when compared to titrated insulin glargine[34].
The once-daily human GLP-1 receptor agonist liraglutide was approved by US Food and Drug Administration (FDA) in the 2010[35]. It has 97% homology with human GLP-1 with a single amino acid substitution extending its half-life up to 13 h[24]. Data from Liraglutide Effect and Action in Diabetes (LEAD) program have demonstrated that liraglutide, when used either as monotherapy or as an add-on in combination with ≥1 OHA, lowers HbA1c by 0.84% to 1.48%[36,37]. Moreover, data from LEAD-6, the head-to-head trial versus exenatide, 1.8 mg liraglutide once daily resulted in a significant greater reduction in HbA1c than exenatide 10 μg bid (-1.1% vs -0.8%, P < 0.0001)[38]. So far only exenatide is FDA approved for the use in combination with basal insulin. A case-controlled analysis of addition exenatide to insulin therapy resulted in a mean HbA1c decrease of 0.6% but also enabled the reduction in insulin dose which resulted in weight reduction[39]. Body weight reduction, beneficial itself, might also exert favorable effects on insulin action, cardiovascular disease risk factors such as blood pressure and plasma lipids and hepatic fat accumulation. A 52-wk study with once-weekly exenatide showed a 6-mm Hg systolic blood pressure reduction and improvements in the lipid profile in patients with T2DM[40]. Sathyanarayana et al[41] examined the effects of combined pioglitazone (peroxisome proliferator-activated receptor-γ (PPAR-γ) agonist) and exenatide therapy on hepatic fat content in patients with T2DM and suggested that combined pioglitazone and exenatide therapy was associated with a significantly greater decrease in hepatic fat (12.1% ± 1.7% to 4.7% ± 1.3%) and plasma triglyceride (38%) vs pioglitazone therapy despite the lack of a significant change in body weight (Δ = 0.2 kg). However, whether these favourable effects on MS components are associated with body weight reduction or are a result of treatment alone warrants further study investigation. Furthermore, although glucagon-like peptide-1-based therapy is now routinely used therapy for T2DM, there are concerns about risks for pancreatitis and pancreatic and thyroid cancer. Previous larges administrative database studies in the United States reported that treatment with the GLP-1-based therapies sitagliptin and exenatide was associated with increased odds of hospitalization for acute pancreatitis[42,43]. GLP-1 receptors are expressed in the exocrine pancreas, and GLP-1 based therapy has been shown to increase pancreatic ductal turnover and acinar to ductal metaplasia[44,45]. In addition, low-grade chronic pancreatitis, which increases risk of pancreatic cancer, was noted in rats treated with exenatide[46,47]. However, in a recent study GLP-1 analog liraglutide did not induce pancreatitis in mice, rats, or monkeys when dosed for up to 2 years and at exposure levels up to 60 times higher than in humans[48]. In addition, study including patients with adenocarcinoma and with and without diabetes found that insulin-stimulating medications such as incretin mimetics did not appear to accelerate pancreatic adenocarcinoma development[49]. There was also an increase in reported thyroid cancer as an adverse event related to exenatide or sitagliptin therapy compared to other oral therapies. In animal models, GLP-1 therapy has been shown to lead to C-cell hyperplasia, but it is unknown what effects GLP-1 therapy has on the human thyroid gland[43].
DPP-4 INHIBITORS
DPP-4 inhibitors are being used clinically in combination with most other oral antidiabetic agents (including sulfonylureas, thiazolidinediones, and metformin) in patients failing to achieve adequate glycaemic control, or who wish to limit weight gain. A number of inhibitors of the enzyme DPP-4, which regulates the bioactivity of native GLP-1, have been developed but only few of these agents (sitagliptin, vildagliptin, saxagliptin, linagliptin, alogliptin) are available for clinical use[50]. Either as monotherapy or an add-on to oral agents, DPP-4 inhibitors reduce mean HbA1c by approximately 0.5% to 0.8%[51-55], a clinical effect somewhat less than that reported with the GLP-1 receptor agonists. DPP-4 inhibitors lower blood glucose without a significant increase or reduction in body weight (0.2 to 0.8 kg)[54,55]. Data demonstrating extraglycemic effects of DPP-4 inhibitors such as benefits on lipids, blood pressure, or markers of inflammation are very limited. There is no evidence that DPP-4 inhibitor therapy results in significant body weight, appetite, or food intake reductions. Trials with vildagliptin have shown modest improvements in triglycerides and high-density lipoprotein cholesterol (4.8% and 10.6%, respectively, in combination with a thiazolidinedione), as well as reductions in systolic and diastolic blood pressure[55]. On the opposite to GLP-1 receptor agonists, DPP-4 inhibitor therapy is generally well tolerated, with no significant gastrointestinal or systemic side effects having been reported in clinical trials. A favorable tolerability profile means that DPP-4 inhibitor therapy can be safely administered to patients with a range of comorbidities. However, dosage adjustments of sitagliptin are recommended in patients with moderate- to end- stage renal disease[56], because it is cleared by the kidney while both sitagliptin and vildagliptin are contraindicated in patients with severe hepatic dysfunction but no sitagliptin dosage adjustment is needed in patients with mild-to-moderate hepatic insufficiency[57]. Postmarketing reports of sitagliptin-associated serious hypersensitivity reactions, including anaphylaxis, angioedema, Stevens-Johnson syndrome, and hepatic enzyme elevations have been noted[50,57]. On the other hand, the elimination of another oral DPP-4 inhibitor linagliptin, that was approved in the United States and Europe, is primarily non-renal and dose adjustment is not required even in patients with mild, moderate or severe hepatic impairment[50].
PATHOGENESIS AND METABOLIC CHANGES IN NAFLD
The pathogenesis of NAFLD comprises a spectrum of genetic factors in combination with obesity and consumption of products with high glycaemic index and rich in saturated fat which also represents a underlying mechanism in insulin resistance development[58-60]. Inability of insulin to suppress the lipolysis in white adipose tissue is defined as insulin resistance and is closely associated with hepatic fat accumulation[61,62]. The lack of lipolysis suppression leads to increased plasma concentration of free fatty acids (FFA) which then disrupts the hepatic balance in FFA influx and oxidation and becomes the main source of hepatic triglycerides in NAFLD[63]. Therefore, insulin resistance in white adipose tissue might contribute to hepatic fat accumulation. Additionally, the use of insulin sensitizers thiazolidnediones, the peroxisome-proliferator-activated receptors γ (PPARγ) agonists has shown to decrease liver fat content by 40% despite the unaltered liver PPARγ in NAFLD[64]. Hepatocytes in human NAFLD contain high amount of saturated fatty acids and saturated fatty acid containing triglycerides which cannot all be contributable to FFA increased influx[65] but also to hepatic de novo lipogenesis which is significantly increased in NAFLD[63]. Higuchi et al[66] revealed that hepatic gene expression of sterol regulatory element-binding protein (SREBP) 1c, which is the key transcriptional activator of lipogenic genes as well as acetyl-CoA carboxylases (ACCs) and fatty acid synthetase (FAS), is increased in subjects with as compared to those without NAFLD while Kotronen et al[65] reported that the activity of lipogenic enzyme stearoyl-CoA desaturase 1 (SCD1) is increased which leads to decrease in long polyunsaturated fatty acid content.
In addition to white adipose tissue and skeletal muscle, the liver is the main site of insulin action[67]. Insulin resistance in liver usually accompanies insulin resistance in white adipose tissue and can be observed in the glucose and lipid metabolism. In the fasting state insulin restrains hepatic glucose production in order to maintain glucose concentration homeostasis. In insulin resistance state the ability of insulin to inhibit hepatic glucose production is impaired leading to higher fasting plasma glucose concentration and consequent hyperinsulinemia[67,68]. Another insulin action in liver is to restrain the production of very low density lipoprotein (VLDL)[69] so the insulin resistant liver overproduces triglyceride rich VLDL in the fasting state[61,70] which then leads to hypertriglyceridemia and low high density lipoprotein (HDL) concentration that can be found in subjects with MS and NAFLD[71,72]. In accordance with previous, insulin resistance is the central pathophysiological phenomenon of MS associated with the development of type 2 diabetes and NAFLD[73]. Moreover, although insulin resistance is not a underlying cause of some other disease like autoimmune type 1 diabetes, the presence of insulin resistance in those subjects are independently associated with markers of NAFLD[74] (Figure 1).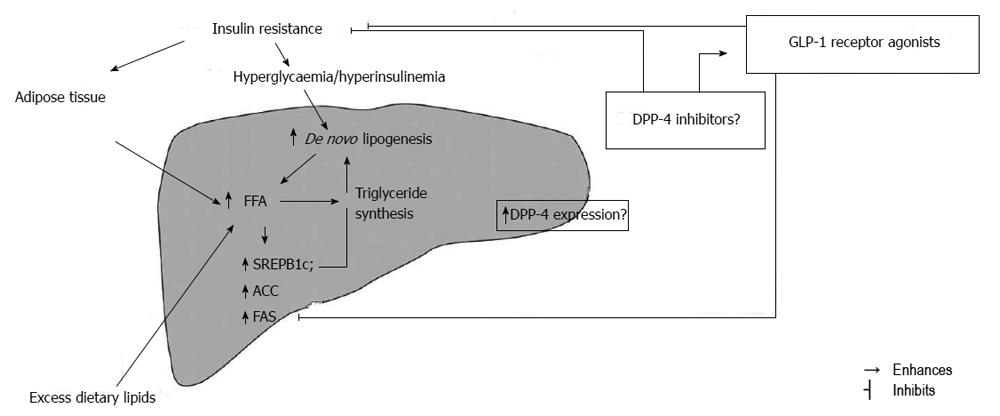 Figure 1 The pathogenesis of non-alcoholic fatty liver disease and the possible effect of incretin system components in treatment.
Modified according to Dowman et al[63]. ACC: Acetyl-CoA carboxylase; DPP-4: Dipeptydil peptidase-4; GLP-1: Glucagon-like peptide-1; FFA: Free fatty acid; FAS: Fatty acid synthetase; SREPB1c: Sterol regulatory element-binding protein.
INCRETIN BASED THERAPIES-AN INDIRECT ACTION
GLP-1 receptor agonists (exenatide, liraglutide) are agents developed for T2DM treatment with a primarily role of maintenance of glucose homeostasis. However, their pleiotropic effect on appetite, weight, blood pressure, cardiovascular function and central nervous system have been reported[75]. The indirect action of GLP-1 receptor agonists on NAFLD pathophysiology might be observed from at least two aspects: the appetite suppression and weight reduction as well as direct and indirect improvement in insulin sensitivity since it has been proposed that weight reduction might improve insulin sensitivity[36,76-78]. GLP-1 receptor activation in hypothalamus reduces appetite and leads to weight loss[79]. When administered as mono-therapy, exenatide is associated with weight loss of approximately 3 kg over 24 wk of treatment in obese T2DM population[80] while 52-wk liraglutide monotherapy provided dose dependent reduction in mean body weight of 1.9 and 2.3 kg, respectively[36]. Similar effect was observed with non-diabetic healthy population treated with exenatide[81] and it was shown that even modest weight loss of 5%-10% of body weight decreases liver fat up to 40%-80% in non-diabetic subjects and T2DM patients[82-85]. On the opposite, DPP-4 inhibitors show no significant effect on weight loss[52,84] and the assumption that they cannot provide this indirect beneficial effect on hepatic fat reduction becomes obvious. As we already discussed, insulin resistance in white adipose tissue is one of the main steps in NAFLD development. Data from the study of Klonoff et al[85] as well as Buse et al[86] suggest that exenatide treatment in T2DM patients leads to significant alanine aminotransferase (ALT) and intrahepatic fat reduction in correlation to insulin resistance decreasment.
There are several studies suggesting that GLP-1 receptor analogues directly affect peripheral insulin sensitivity; Egan et al[77] used modified clamp and demonstrated that GLP-1 infusion increases glucose uptake without significant rise independent of changes in insulin secretion in ten healthy obese volunteers while the experimental results suggest the neutral action on lipolysis in white adipose tissue which then diminishes the possibility of their beneficial effect on NAFLD pathogenesis per se[87]. Treatment with DPP-4 inhibitors vildagliptin and sitagliptin have also demonstrated favourable effects on postprandial elevations of triglycerides, ApoB-48 and FFA levels[88,89]. The DPP-4 inhibition was also reported to enhance the antilipolytic effect of neuropeptide Y (NPY) in human abdominal adipocytes which could have indirect mechanism on hepatic fat reducing FFA influx in hepatocytes[90]. However, it should be kept in mind that NPY causes abdominal fat accumulation, one of the major steps in hepatic insulin resistance development[91]. It is possible that DPP-4 inhibitors might have indirect mechanism in inhibition of hepatic fat accumulation serve as local endogenous GLP-1 concentration enhancer because they have no influence on gastric emptying or weight loss (Figure 1).
INCRETIN BASED THERAPIES-A DIRECT ACTION
The implementation of GLP-1 agonists in clinical practice, primary in treatment of T2DM, revealed data suggesting their potency in intrahepatic liver fat and biomarker reduction independently of glycaemic or weight reduction[40,92,93]. However, it was unclear whether this effect could be contributable to GLP-1 agonists itself because there was no evidence of molecular mechanism that could explain this beneficial effect of GLP-1 agonists. Several mouse models of NAFLD, based on genetic mutations or diet, were developed in order to serve as a preclinical platform to evaluate GLP-1 actions in liver[94]. Ding et al[95] suggested that GLP-1 analogue exendin-4 improves insulin resistance in ob/ob mice and significantly reduces hepatic lipid stores evaluated by histological improvement and improved of ALT values. They also revealed that exendin-4 has direct action on hepatocytes and subsequently results in a gene profile that is conducive in reduction in fatty acid synthesis and triglyceride storage in hepatocytes: increased mRNA for both PPARα along with decreased mRNA expression for SREBP-1c and ACC1. In support to those data Samson et al[96] demonstrated in diet induced obesity model mice that exendin-4 treatment reverses hepatic steatosis and decreases hepatic expression of genes involved in de novo fatty acid synthesis, including ACC1, fatty acid synthase (FAS) and SCD1. The question arises whether GLP-1 impairs hepatocyte de novo lipogenesis and/or enhances β-oxidation of fatty acids. Svegliati-Baroni et al[97] reported that exendin-4 treatment improves the expression of PPARα and its downstream target genes: acyl-Coenzyme A oxidase (ACOX) and carnitine palmitoyltransferase 1 A (CPT1A) in hepatocytes isolated from rats with non-alcoholic steatohepatitis. ACOX is the rate limiting enzyme in peroxisomal β oxidation while CPT1A is the key enzyme in initial transport of fatty acids into mitochondria for β oxidation. However, it was still unclear whether GLP-1 receptors were present in human liver and whether they were biologically active. Lee et al[98] reported that exendin-4 increases expression of GLP-1 receptor in a dose dependent manner in human hepatoma cell lines while Gupta et al[99] demonstrated that GLP-1 receptor is present in human hepatocytes and also provided molecular mechanism to explain the signal effectors of GLP-1 in its potential role in hepatocyte TG reduction by up regulating key elements of the insulin receptor substrate-2 (IRS-2) in hepatocytes. They suggest that GLP-1 based proteins should be analysed as insulin sensitizing agents in hepatocytes and that higher dose distribution of GLP-1 analogues should be considered in T2DM patients in order to reduce hepatic steatosis. There is also evidence that GLP-1 receptor agonists could improve hepatic steatosis by modulating fibroblast growth factor-21 (FGF-21) signalisation. In rodents, FGF21 is predominantly produced in the liver, where it enhances hepatic fat oxidation reduces triacylglycerol levels and hepatic steatosis but also increases adipocyte insulin sensitivity and regulates lipolysis in white adipose tissue, and improves glucose tolerance[100]. It has been suggested that these changes may occur through the effects of FGF21 on AMP-activated protein kinase (AMPK) activity. In the liver AMPK activates fatty acid oxidation via activation of PGC1α as well as its effects on other enzymes of lipogenesis described above (e.g., SREBP and FAS)[101]. Dushay et al[102] have shown that liver FGF21 protein levels and RNA are increased in association with hepatic steatosis in obese humans with NAFLD. In mouse models of obesity, circulating FGF21 levels are elevated and FGF21 signalling in the liver and white adipose tissue is impaired[103]. Samson et al[104] suggested that exenatide treatment in T2DM patients and a diet induced obese mouse is associated with a decrease in FGF21 and hepatic fat, and an increase in hepatic AMPK and ACC phosphorylation explained as a possible sign of improved FGF21 resistance in the liver. Therapy with another GLP-1 agonist, liraglutide, in subjects with metabolic syndrome and T2DM is also associated with improvement of liver inflammation, alteration of liver fibrosis, and reduction of body weight[105,106]. Recent data indicate that endoplasmic stress is a major player in the progression of fatty liver to more aggressive lesions and treatment with liraglutide reduces steatosis and endoplasmic stress in high fat diet fed mice and enhance lipoautophagy in liver[107].
Firneisz et al[108] reported a link between the serum DPP-4 activity and NAFLD in a small cross-sectional study whose results showed correlation of sDPP-4 activity with liver tests ALT, γGT, and less significantly ALP. Surprisingly, they reported that sDPP-4 activity was not increased in the T2D patients and there was no correlation between sDPP-4 and HbA1C values nor between sDPP-4 and fasting plasma glucose that were reported earlier in T2DM patients[109,110]. The positive correlation found among γGT, ALT and serum DPP-4 activities in NAFLD suggested that the excess DPP-4 found in the serum is of hepatic origin. Later on hepatic DPP-4 mRNA expression levels was analysed by real-time PCR using liver biopsy samples from 17 NAFLD patients and 10 healthy subjects by Miyazaki et al[111]. They showed that hepatic DPP-4 mRNA expression was significantly greater in NAFLD patients than in control subjects and that DPP-4 expression levels negatively correlated with homeostasis model assessment-estimated insulin resistance (HOMA-IR) index and positively correlated with serum cholesterol levels which clearly implicated hepatic DPP-4 in this disease. In addition, serum DPP-4 activity and hepatic DPP-4 expression are shown to be correlated with hepatic steatosis and NAFLD grading which indicates that it might be associated with hepatic lipogenesis and liver injury[112]. Iwasaki et al[113] evaluated the effect of sitagliptin administered in dose of 50 mg/body per day for 4 mo in 30 NAFLD patients with T2DM and reported a significant improvement of the serum levels of HbA1c and liver enzymes at 4, 8, 12 and 16 wk after the start of sitagliptin treatment and therefore concluded that sitagliptin might be considered as a novel therapeutic agent for NAFLD treatment. Moreover, it was recently reported that sitagliptin, DPP-4 inhibitor, ameliorated hepatic steatosis in 67-year-old Asian woman with refractory NAFLD after 3 mo treatment[114]. Considering some previously reported data about DPP-4 deficient rats showing lower levels of hepatic proinflammatory and profibrotic cytokines which often represents a "second hit" in NAFLD development[115], the role of DPP-4 inhibition in NAFLD treatment seams uncontested whether based on direct effect of DPP-4 inhibition or enhancement of endogenous GLP-1 action[116] (Figure 1).
CONCLUSION
In this review we described that insulin resistance was a fundamental problem in the genesis of hepatic steatosis and the pathophysiology of its development. We discussed the role of incretin based therapies, including GLP-1 analogues and DPP-4 inhibitors as a potential novel agents in NAFLD treatment comprising experimental and clinical data available so far. GLP-1 analogues are known to improve insulin resistance and are even more attractive because they have anorexigenic potential leading to weight loss, serum glucose and lipids improvement. Those, as well as DPP-4 inhibitors might also be involved in direct pathways of liver fat elimination. A growing body of literature suggests that GLP-1 and DPP-4 activity have numerous effects on the cells of various organs. The data regarding GLP-1 and DPP-4 inhibitors action on hepatocytes are convincing, but so far only T2DM patients with NAFLD/NASH have been studied with incretin analogues or DPP-4 inhibitors, therefore, the conclusions of this review only can be applied to T2DM patients suffering for NASH, and not for the nondiabetic-NAFLD patients. further study analysis are needed in order to aces the long term effect of incretin based therapies on NAFLD.
P- Reviewers: Ahmed M, Navarro-Jarabo JM S- Editor: Wen LL L- Editor: A E- Editor: Liu XM