Copyright
©2014 Baishideng Publishing Group Inc.
All rights reserved.
Molecular identification of hepatitis B virus genotypes/subgenotypes: Revised classification hurdles and updated resolutions
Mahmoud Reza Pourkarim, Marc Van Ranst, Department of Microbiology and Immunology, Laboratory of Clinical and Epidemiological Virology, Rega Institute for Medical Research, KU Leuven, 3000 Leuven, Belgium
Mahmoud Reza Pourkarim, Blood Transfusion Research Center, High Institute for Research and Education in Transfusion Medicine, Tehran 15614, Iran
Samad Amini-Bavil-Olyaee, Department of Molecular Microbiology and Immunology, Keck School of Medicine, University of Southern California, Harlyne J. Norris Cancer Research Tower, Los Angeles, CA 90033, United States
Fuat Kurbanov, Division of Infectious Diseases, Johns Hopkins School of Medicine, Baltimore, MD 21205, United States
Frank Tacke, Department of Medicine III, RWTH University Hospital Aachen, 52074 Aachen, Germany
Author contributions: All authors contributed to this article.
Supported by Mahmoud Reza Pourkarim is supported by a postdoctoral grant from the ''Fonds voor Wetenschappelijk Onderzoek Vlaanderen''
Correspondence to: Frank Tacke, MD, PhD, Department of Medicine III, RWTH University Hospital Aachen, Pauwelsstr. 30, 52074 Aachen, Germany. frank.tacke@gmx.net
Telephone: +49-241-8035848 Fax: +49-241-8082455
Received: October 17, 2013
Revised: November 28, 2013
Accepted: January 2, 2014
Published online: June 21, 2014

The clinical course of infections with the hepatitis B virus (HBV) substantially varies between individuals, as a consequence of a complex interplay between viral, host, environmental and other factors. Due to the high genetic variability of HBV, the virus can be categorized into different HBV genotypes and subgenotypes, which considerably differ with respect to geographical distribution, transmission routes, disease progression, responses to antiviral therapy or vaccination, and clinical outcome measures such as cirrhosis or hepatocellular carcinoma. However, HBV (sub)genotyping has caused some controversies in the past due to misclassifications and incorrect interpretations of different genotyping methods. Thus, an accurate, holistic and dynamic classification system is essential. In this review article, we aimed at highlighting potential pitfalls in genetic and phylogenetic analyses of HBV and suggest novel terms for HBV classification. Analyzing full-length genome sequences when classifying genotypes and subgenotypes is the foremost prerequisite of this classification system. Careful attention must be paid to all aspects of phylogenetic analysis, such as bootstrapping values and meeting the necessary thresholds for (sub)genotyping. Quasi-subgenotype refers to subgenotypes that were incorrectly suggested to be novel. As many of these strains were misclassified due to genetic differences resulting from recombination, we propose the term "recombino-subgenotype". Moreover, immigration is an important confounding facet of global HBV distribution and substantially changes the geographic pattern of HBV (sub)genotypes. We therefore suggest the term "immigro-subgenotype" to distinguish exotic (sub)genotypes from native ones. We are strongly convinced that applying these two proposed terms in HBV classification will help harmonize this rapidly progressing field and allow for improved prophylaxis, diagnosis and treatment.
Core tip: Hepatitis B virus (HBV) eradication could be achieved through three important points: (1) efficient universal vaccination; (2) accurate diagnostic assays; and (3) effective treatment of HBV carriers. Undoubtedly, these critical measures are not possible without fully understanding the genetics of the virus and being able to differentiate the isolates. In this review article we provide an update of HBV virology, focusing on classification and its impact on diagnosis, clinical outcomes, therapy, prophylaxis, evolution and epidemiology. Subsequently, the role of correct classification in describing HBV is highlighted, and misclassifications together with their causes are recounted. Finally, through the proposal of novel terms, HBV strains are reclassified.
---
Citation: Pourkarim MR, Amini-Bavil-Olyaee S, Kurbanov F, Van Ranst M, Tacke F. Molecular identification of hepatitis B virus genotypes/subgenotypes: Revised classification hurdles and updated resolutions. World J Gastroenterol 2014; 20(23): 7152-7168
---
POSSIBLE ERADICATION OF HEPATITIS B VIRUS; MULTI-FACTORIAL COMPLICATIONS
Undoubtedly, the World Health Organization's (WHO) announcement in 1980 that smallpox virus was eradicated through vaccination represented one of the extraordinary human breakthroughs in the battle against infectious diseases[1,2]. Unfortunately, it seems that vaccination alone is not enough for hepatitis B virus (HBV) eradication.
HBV was discovered by Blumberg et al[3] (1925-2011) in 1965. Five years later, the first HBV vaccine and diagnostic blood test were developed[4]. The HBV vaccine is considered to be the first widely used vaccine against cancer and a chronic disease. In contrast to other vaccines, the clinical trial of this vaccine was short, and the vaccine was quickly approved by the United States Food and Drug Administration (FDA)[5]. Multiple studies have confirmed that the incidence of acute hepatitis, chronic liver disease as well as hepatocellular carcinoma (HCC) is decreased in the HBV-vaccinated population. Owing to the administration of more than one billion doses of HBV vaccines since 1982[6], the worldwide mortality rate of HBV has diminished significantly[7].
The WHO and other alliance organizations established the annual World Hepatitis Day in 2008. July 28th was selected for this particular day in honor of Prof. Blumberg's birth date. The experts and healthcare organizations put their efforts into raising global awareness of viral hepatitis, especially about HBV and hepatitis C virus (HCV). The experts educate people all around the world about prevention, transmission, diagnosis and treatment against viral hepatitis infection. Undoubtedly, like smallpox eradication and its global preventative program, the World Hepatitis Day also moves up the knowledge of the global strengthening of preventive and control measures against viral hepatitis. Consequently, it is anticipated that increasing HBV vaccination coverage worldwide will definitely have positive impact on HBV eradication in the near future.
Despite advances that have resulted in several generations of HBV vaccines, a series of viral screening assays and effective treatment options, HBV is still considered a dangerous, life-threatening illness and a serious public health problem. The WHO estimates that at least two billion people (one fourth to one third of the world's population) had been infected with the virus; 400 million people are infected chronically[8]. HBV-related diseases are currently ranked ninth on the global list for causes of mortality, and HBV is the fifth most important infectious agent, resulting in about one million deaths annually[9]. Due to the significant public health risk that HBV poses, it is important to compile comprehensive knowledge of both viral and host properties to enable elimination of HBV infection in the near future.
Host-related complications
The existence of a large reservoir of chronically infected HBV carrier patients hampers eradication of the virus[10]. The prevalence of chronic infection varies from region to region, such that different geographical parts of the world exhibit different sero-epidemiological patterns of HBV infection. The highest seroprevalence (8%) is found in Asia and the South Pacific region, which is considered a highly endemic region. In Sub-Saharan Africa, Alaska, the Mediterranean region and India, HBV seroprevalence is between 2% and 7%, which is considered an intermediate endemic range. In European countries and some parts of Central and South America, HBV seroprevalence is less than 2%, which is considered low[11].
Patients chronically infected with HBV have a greater than 100-fold chance of developing HCC compared to uninfected people[12]. From a global perspective, HBV is the leading cause of HCC and causes one million deaths annually[13]. Although the eradication of hepatitis B by means of universal vaccination seems technically achievable, this task is made difficult by the fact that hundreds of millions individuals are already chronically infected with HBV. The elimination of hepatitis B will only be successful when this group of chronically infected patients is cured naturally or through antiviral treatments. Only accurate and continuously improved diagnostic policies will identify the pool of carriers for appropriate treatment. To further complicate diagnosis, different types of chronicity like normal obvious infection (overt) or masked infection (occult) increase the complexity of the diagnostic algorithms[14,15]. Vaccinating patients in high-risk groups, which come in contact with infected people, would decrease the infectivity and risk of transmission to the healthy population and should therefore be considered a priority[4,6].
Virus related complexity
HBV is the prototypic species of a family of DNA viruses called Hepadnaviridae. The HBV genome is approximately 3200 bp long, circular, and consists of four genes and seven open reading frames (ORFs). HBV itself evolves inter- and intra-genetically in reservoirs. Since the reverse transcriptase enzyme lacks proofreading activity, the nucleotide substitution rate for HBV is higher than that of other DNA viruses[16]. During persistent, long-term HBV infection and under different selective pressures, variants of HBV can emerge. Some variants are able to evade diagnostic, prophylactic and therapeutic measures. This extraordinary genomic diversity, together with a high replication capacity, allows HBV to adapt to different hosts[17]. Based on evolutionary analysis, HBV has eight confirmed genotypes (named A to H) and two tentative genotypes (called I and J), and almost forty subgenotypes (Figure 1A)[18,19]. Phylogenetic and evolutionary analyses of complete genome sequences have classified HBV into these eight distinct genotypes; each has an intergroup nucleotide divergence greater than 7.5%[20]. "Subgenotypes" are subgroups within the same genotype that meet two particular criteria. First, they have a nucleotide divergence between 4% and 7.5% over the full-length genome[21], and secondly, there is high phylogenetic bootstrap support. "Clades" further divide subgenotypes, and have less than 4% nucleotide diversity based on the complete genome sequences[20]. Prior to molecular analyses (genotype, subgenotype and clades), classification of HBV strains was based on the immunological heterogeneity of HBsAg, which led to the categorization into different HBV serotypes (subtypes). The development of DNA sequencing revealed that amino acid changes in the major hydrophilic region (MHR) region of the HBsAg are responsible for this classification. This serotype-based classification is still used, and epidemiological studies describe associations between serologic subtypes and genotypes[20,22].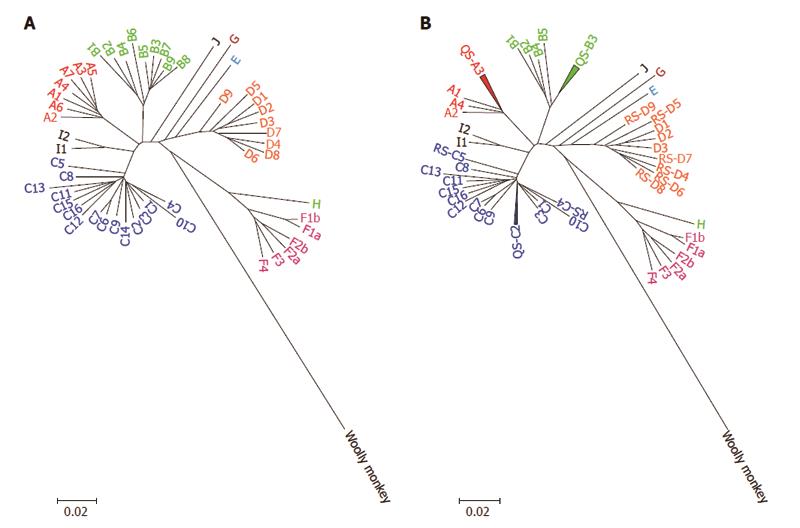 Figure 1 Neighbour-joining phylogenetic tree was conducted based on hepatitis B virus full-length genomes of all proposed genotypes and subgenotypes before (A) and after (B) reclassification.
HBV genome sequence that used are listed below: JN182318: A1; HE576989: A2; AB194951: A3; AY934764: A4; FJ692613: A5; GQ331047: A6; FN545833: A7; AB642091: B1; FJ899779: B2; GQ924617: B3; GQ924626: B4; GQ924640: B5; JN792893: B6; GQ358137: B7; GQ358147: B8; GQ358149: B9; AB697490: C1; GQ358158: C2; DQ089801: C3; HM011493: C4; EU410080: C5; EU670263: C6; GU721029: C7; AP011106: C8; AP011108: C9; AB540583: C10; AB554019: C11; AB554025: C12; AB644280: C13; AB644284: C14; AB644286: C15; AB644287: C16; GU456636: D1; GQ477452: D2; EU594434: D3; GQ922003: D4; GQ205377: D5; KF170740: D6; FJ904442: D7; FN594770: D8; JN664942: D9; FN594748: E; FJ709464: F1b; DQ899146: F2b; AY090459: F1a; DQ899142: F2a; AB036920: F3; AF223965: F4; GU563556: G; AB516393: H; FJ023659: I1; FJ023664: I2 ; AB486012: J and AY226578: Woolly monkey as an out-group. HBV: Hepatitis B virus.
HBV CLASSIFICATION METHODS
Phylogenetic analysis of the nucleotide sequences of the whole HBV genome represents the most conclusive method for HBV genotyping[23]. This method is considered the "gold standard" approach for genotyping and subgenotyping, though it is relatively expensive and time-consuming. Fortunately, sequencing is becoming cheaper and faster, so it may serve as a common molecular method in the very near future even for clinical routine purposes. Phylogenetic analysis can also be performed on individual genes instead of the complete genome, in particular on the HBV envelope (S) gene[24]. The results obtained from the partial sequence (HBV S gene) may be useful for determining the HBV genotype, but it will not be appropriate for determining the HBV subgenotype.
IMPORTANCE OF HBV CLASSIFICATION
Before passing away in 2011, the Nobel Prize winner Professor Blumberg emphasized the importance of eliminating HBV. He believed eradication could be achieved through three important points: (1) efficient universal vaccination; (2) accurate diagnostic assays; and (3) effective treatment of HBV carriers[4]. Undoubtedly, eradicating HBV is not possible without fully understanding the genetics of the virus and being able to differentiate the isolates. Thus, before delving into HBV classification and current methodological drawbacks, we first present a comprehensive overview of differences in HBV strains in terms of virological, epidemiological, clinical and evolutionary aspects.
SUBGENOTYPES ARE MORE DETAILED GENOTYPES
For some HBV genotypes, several subgroups can be easily defined as when the intra-genotypic nucleotide divergence stays between 4% and 7.5% over the full-length genome. According to conventions of identification, HBV subgenotypes are differentiated by numbers corresponding to the order of discovery; the numbers do not correspond to subgenotype evolution. For instance, D1-D4 were identified by Norder et al[21] earlier than D5[111]. However, D5 is the most ancient of all known subgenotypes for genotype D[112]. Also, it was noted that A6 (currently known as A4) is from a basal lineage that diverged earlier than the other African subgenotypes of genotype A[54,55]. Figure 2 illustrates the updated time line of HBV subgenotype identification. Uncovering the relationship between subgenotypes and subtypes of HBV has added significant value to molecular epidemiological studies of HBV[74].
It should be noted that because of inappropriately applied methods, some subgenotypes have been incorrectly classified in the past. One of the most common mistakes is applying phylogenetic analysis over a partial genome sequence instead of the full-length genome. Experts in the field have attempted to correct the errors in numbering and misclassification (Figure 1B, Table 1), but inaccurate subgenotyping of HBV is continuously being reported[54,58,62,69,113-118].
HBV subgenotypes and geographical distribution
Subgenotypes reflect properties and distributions of genotypes. Figure 3 shows the geographical distribution of genotypes and subgenotypes of HBV together with the prevalence of HBsAg in different areas around the world. For instance, subgenotype A2 is dominant in Europe, A1 is prevalent in Asia and most of Africa, A3 is found in Cameroon and Gambia, A6 (currently named A4) and quasi-subgenotype A3 (which includes previously named A4 from Mali, A5 from Nigeria and A7 from Cameroon) have been isolated from other regions[69]. Subgenotype B1 was isolated from Japan, while B2, B3, B4, B5, B6, B7, B8 and B9 were isolated from Taiwan, Indonesia, Vietnam, Philippines, the Arctic region, Nusa Tenggara (a region from Eastern Indonesia) and Indonesia, respectively[119]. Subgenotype C1 was isolated from Taiwan, C2-C16 were isolated from China, Oceania, Australian Aborigines, Philippines, Papua-Indonesia and Nusa Tenggara[120]. Two recombinant mixed strains C/D1 and C/D2 (combination of HBV genotype C and D) were specifically reported in Tibet[65,121]. Although the genotype D of HBV is distributed globally, its subgenotypes are locally confined to certain geographical regions. For example, subgenotype D1 is restricted to Iran and its neighboring countries[116,122-126]. Subgenotype D2 is derived from East Europe and Russia, D3 was detected in Serbia, South Africa and Alaska, D4 was found in Oceania and Somalia, and D5-D9 were reported from India, Indonesia Tunisia and Nigeria[67]. Genotype F is also widely distributed: F1a is dominant in Costa Rica and Salvador, F1b in Argentina, Chile and Alaska, F2a in Venezuela and Brazil, F2b in Venezuela, F3 in Panama, Venezuela and Colombia and F4 is circulating in Brazil, Argentina and Bolivia[127].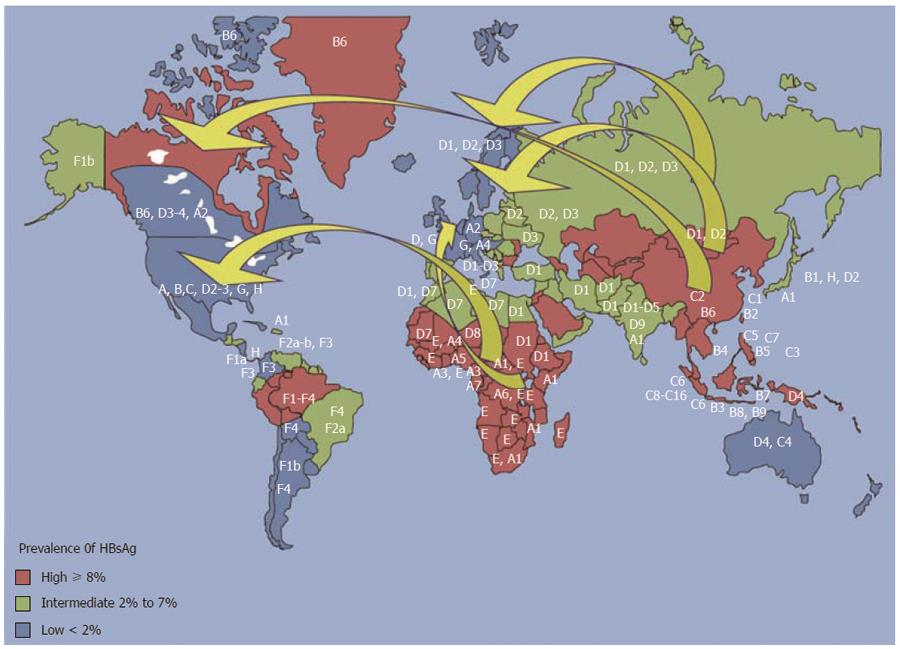 Figure 3 Geographical distribution of hepatitis B virus genotypes and subgenotypes in different regions of the world.
Yellow arrows illustrate the directions of HBV subgenotype dispersal through immigration from highly and intermediate endemic countries to low HBV endemic areas (map of hepatitis B surface antigen (HBsAg) prevalence adapted from the website of the WHO). HBV: Hepatitis B virus; WHO: World Health Organization.
HBV subgenotypes and ethnic origin
It has been demonstrated that in some cases, such as for genotype B8, the distribution of HBV genotypes/subgenotypes is related to the ethnic origin[128], or B6 is considered confined to indigenous populations[129]. Interestingly, C4 can be detected in the Australian Aborigines but nowhere else, which suggests that C4 independently evolved from its ancestor in that region[130]. Strains isolated from indigenous populations, such as C3 and C5-C10 from Indonesia and B6 from the Canadian Arctic, proposed that HBV (sub)genotypes have evolved in different streams of human immigration[49].
HBV subgenotypes and clinical outcome
HBV subgenotypes also present differently in terms of clinical outcome. It is possible to uncover more details regarding the natural history of infection by comparing genotypes. For example, subgenotype A1, which is prevalent in West and South Africa, has a more severe clinical outcome compared to subgenotype A2. Patients infected with this subgenotype developed HCC at a young age in West and South Africa, whereas those who were infected with A2 and developed HCC in Europe were mainly older patients[131]. European patients infected with A2 had a mild clinical outcome and high chance of clearing HBsAg and losing HBV DNA[95]. Furthermore, in Europe more occult cases have been infected by A1 comparing with A2 or other (sub)genotypes[81]. Nevertheless, it is important to keep in mind that all these studies are hampered by the fact that it is difficult to adjust the studied patient cohorts for all potential confounding factors.
Subgenotype B6 is commonly associated with a mild clinical outcome in infected patients, while B1 can result in fulminant and acute hepatitis B infection. Patients infected with subgenotype B1 also developed advanced liver disease at an older age compared to patients infected with subgenotypes B2-B5[73,132]. In most studies in South Asia, genotypes B and C were compared. Though there is a paucity of data of comparing the clinical findings of different subgenotypes of genotype C, one study demonstrated an increased risk for HCC in patients infected by subgenotype C2 compared to C1 and genotype B subgenotypes[133]. Interestingly, precore mutations have not been observed in subgenotype F2, whereas subgenotype F1 frequently carries precore mutations[16]. In one large study, a higher percentage of patients who developed HCC had been infected by subgenotypes F2 or C2 compared to subgenotype A2, B6 or subgenotypes of genotype D[131].
CLASSIFICATION AND IMPORTANCE OF ACCURACY
In order to accurately investigate the impact of different (sub)genotypes of HBV on different aspects of infection from prophylaxis, diagnosis and therapy, it is crucial to agree to a holistic classification. Numerous HBV strains have been described through PCR and sequencing, however, many disregarded well-established HBV (sub)genotype definitions, which has resulted in several misclassifications. Subsequently, experts in the field agreed that the classification of HBV should be mended and rectified[54,69,113-115]. There are several reviews or commentary articles regarding the misclassification of HBV that describe the history of identification of different (sub)genotypes. However, the reclassification and renovation of this system has been considered less often. We, along with others, believe that recombination is the main cause of misclassifications and major evolutionary characteristics of HBV should be investigated to help identify strains that require additional analysis for proper classification[115]. Besides this factor, massive but gradual conversion of geographical distribution of HBV should be concomitantly investigated.
RECOMBINATION AND ITS ETIOLOGY
Recombination in HBV is principally the result of the co-infection of a host with more than one strain from different (sub)genotypes. Different HBV strains can exchange their genetic material within the host cells. Recombination is favoured in particular geographical regions by three conditions: (1) two or more different HBV genotypes are circulating in the population; (2) the chronicity of HBV is high; and (3) public health level is low. Most recombinant strains have been reported from East Asia or Africa, where the prevalence of HBV infection is high and prophylaxis and control of infection is low. Due to the dense population, the chance of co-infection is boosted so risk of recombination is subsequently elevated. In contrast, HBV recombinant isolates have been reported rarely within typical European strains (such as subgenotypes A2, D2 and D3). This corroborates the necessity of efficient health control and prophylactic measures in order to decrease the risk of infection, co-infection and eventually recombination.
Currently, more than 30 recombinant strains have been described[126,134]. Sometimes recombination can occur between strains with high genetic homology, in which two different subgenotypes from a similar genotype are co-infected in a patient. Such recombination has been reported between HBV subgenotype B2 with B5 and between B1 with B6[128]. Also, there are some reports regarding recombination between two strains of different genotypes[65,66,121,135]. Although more than 60% of recombinant isolates have their breakpoint between nucleotides that span 1640-1900 (which encompasses the core region), recombinant strains with breakpoints in the S gene (350-500, 3150-100 or 650-830) have also been identified[134]. Markedly, the largest breakpoints have been detected among HBV isolates from Tibet, in which two different genotypes of C and D (subgenotypes C1 or C2 with D1 or D2) formed 50% of the recombination[135,136].
Recombination as a source of HBV misclassification
Recombination is an inevitable event in evolution and can cause errors in classification of HBV genotyping or subgenotyping[18,69,114,115]. In many cases, recombinant strains have been erroneously introduced as new genotypes or subgenotypes. For instance, Ghosh et al[137] introduced six HBV strains as a novel subgenotype of HBV named D9. In the phylogenetic tree, subgenotype D9 strains are grouped as a monophyletic and distinct cluster with a maximum bootstrap value. Not surprisingly, according to their analysis, these recombinant strains showed extraordinary nucleotide divergence from the other subgenotypes of genotype D (from minimum 5.2 ± 0.3 with D1 to 6.7 ± 0.4 with D7 and D8). This nucleotide divergence was odd, because it did not meet the threshold of genotype definition, yet it was much higher than normal nucleotide divergence within well-classified subgenotypes. More interestingly, there was a highly diverse pattern of recombination in these strains. Although all strains showed recombination with genotype E in the HBV core and pol regions, there was no identifiable recombination pattern among all strains. Indeed, different lengths of genotype D recombined with genotype E. Moreover, in some strains, some recombination with genotype C was observable. If PCR and sequencing had been perfectly carried out, subgenotype D9 strains should be classified as a D/E recombinant strain. Exactly the same scenario was suggested by another group for the D8 subgenotype[18]. Similar concerns have been raised regarding subgenotype D7, which was introduced as a novel subgenotype of genotype D. However, these strains harbored at least 900 nucleotides of genotype E in the backbone of this genotype D strain[138]. Likewise, subgenotype D4 may have recombined with D7 or D8, which were grouped in an exclusive cluster in the phylogeny tree[64]. The same concern was raised for other HBV subgenotypes, like genotype C, in which the recombinant strains C/D1 and C/D2 were suggested as new subgenotypes[65,66].
Proposing the term "recombino-subgenotype"
Owing to the availability of sequencing and free online phylogenetic software, novel subgenotypes of HBV are continually being suggested by researchers that disregard the fundamental definitions of HBV classification. To address the misclassification of HBV subgenotypes that lack enough nucleotide divergence and bootstrapping value to definitively be considered subgenotypes, we previously proposed the term of quasi-subgenotype[54]. This term has somewhat settled irregularities in subgenotyping of HBV and was respected by other studies[10,62,69,81,113,118,139-143]. To address the classification of recombinant strains, which are being introduced as independent subgenotypes, we propose to call the indefinitely recombinant strains as "recombino-subgenotype" rather than an independent subgenotype. According to our proposed definition, the "recombino-subgenotype" is a lineage that shows strong evidence of recombination and its nucleotide divergence, together with supportive bootstrap value, fall within the range necessary to define subgenotypes. Although these strains are recombinant, in a comprehensive phylogenetic tree (only based on full-length genome), "recombino-subgenotypes" are clustered around intra-genotype clusters and could have supporting bootstrap value. While this new term cannot prohibit the introduction of HBV recombinants as novel subgenotypes, it can clearly differentiate the pure subgenotypes from recombinant strains. Therefore, we would like to offer the term "recombino-subgenotype" to differentiate recombinant from non-recombinant (sub)genotypes. We sincerely hope that this term will help to remind scientists about recombination as a potential pitfall in HBV classification as well as allow a more accurate description of novel HBV isolates derived by recombination in HBV taxonomy.
IMMIGRATION: INTRODUCING THE TERM "IMMIGRO-SUBGENOTYPE"
While recombination is an important virological aspect to be considered in classification, the epidemiological profile of HBV is another valuable scope to study. Although ancient dispersal of HBV alone has made the HBV pool a dynamic viral population, recent trends of globalization and increasing human mobility are significantly speeding up HBV distribution and recombination between viral strains. Immigration and direct human contact are the two main causes of changes in geographic dispersal of HBV genotypes and subgenotypes; however, their profound impact has yet to be studied in more detail. People typically emigrate from countries with high HBV endemicity, which alters the geographical distribution of HBV (sub)genotypes around the world, notably in low sero-prevalence regions including Europe and North America.
Recently, novel subgenotypes have been reported from immigrants who are not living in their original home areas. For instance, HBV subgenotype A6 (currently named A4) strains have been isolated from African immigrants currently residing in Europe and North America[54,55,81,113,135]. It has been predicted that within the next few decades, HBV epidemiological patterns will be completely modified by waves of immigration. Thus, such "immigro-subgenotypes" may replace native strains in regions with high immigration. Their integration might alter the local prevalence of carriers, routes of transmission, and will have a great impact on prophylactic, diagnostic and therapeutic measures. In a recent study, Mitchell et al[144] showed that roughly 53800 HBV chronic carriers settled in the United States each year between 2004 and 2008 from countries of intermediate or high HBV endemicity (2%-31%). In all states of the United States, genotypes A, B, C and D have been identified in immigrants, who were born in HBV-endemic areas[145]. This is one of the clearest pieces of evidence highlighting the direct impact of immigration on the introduction of exotic genotypes to areas with low endemicity. Therefore, we would like to propose the term "immigro-subgenotypes" to differentiate native strains from imported stains.
Effect of "immigro-subgenotype" on clinical outcome
The genotype-specific history of HBV strains should be considered when studying imported strains[133]. In the HBV-endemic area, the main route of transmission is usually perinatal. It has been estimated that over 21% of worldwide HBV-related mortality is associated with perinatal transmission[146]. The risk of perinatal transmission is 100%, when the mother is HBeAg-positive and does not take any antiviral medications or HBV immunoglobulins (HBIg). The risk of chronicity of the infant will be 90%, if prophylactic countermeasures are not administrated directly after birth[147]. When the patient is HBeAg-positive, viral load is usually high, which further increases the risk of transmission. As a genotype-related characteristic in HBV endemic regions, the HBeAg test of mothers is positive in the years of childbearing, and just after four decades of life seroconversion might happen. This shows the infectivity potential of HBV carriers infected by (sub)genotypes circulating in endemic regions like East Asia, Africa, Alaska and East Europe[133]. In a recent investigation in Italy, the immigrant population (mostly from Eastern European countries) showed a high prevalence of HBeAg-positivity with a mean age of 31 years[148]. In another study, Dervicevic et al[149] showed the integration of exotic genotypes of HBV with HBeAg-positivity and high viral load among antenatal women in the United Kingdom. Dervicevic et al[149] emphasized the trend of changing epidemiological patterns of HBV in the United Kingdom, where an influx of immigration brings almost 6000 HBV carriers annually to this country. In numerous studies in Belgium, exotic (sub)genotypes of HBV have been identified and found to have integrated into the native population[55,59,81,135,150]. In Bolivia, the exchange of native HBV subgenotype F4 and exotic ones (subgenotypes B2 and C2) between Bolivian and Japanese immigrants was clearly demonstrated by phylogenetic analysis[151]. Interestingly, the exotic strains have different mutational patterns in different ORFs of HBV[123], which would have a different impact on the course of infection, therapeutic, diagnostic and prophylactic measures[152,153].
Naturally occurring mutations associated with drug resistance have been reported in native populations in Asia and Europe[154]. Additionally, in a study conducted by Bottecchia et al[155], a primary drug resistance mutation (rtM204V) was found in the course of treatment-naïve immigrants infected by (sub)genotype E and A3. In a recent study from our group, we found that exotic (sub)genotypes (A6) carried clinically important mutations, which could help the virus to escape from diagnostic assays or prophylactic measures[81,135]. Finally, it should be added that different disasters such as wars[156] or mass-casualties[157] can have direct and indirect impacts on the epidemiology of HBV. Since virological and clinical characteristics of HBV (sub)genotypes differ, it is crucial to monitor changes in epidemiological patterns of HBV infection as it relates to immigration[158].
CONCLUSION
In this review, we attempted to provide strong and up-to-date evidence about the impact of different (sub)genotypes on prophylaxis, diagnosis, clinical outcomes and treatment of HBV infection. Controlling HBV requires massive and unified efforts because modern human measures like vaccination and antiviral therapies have led to the rise of invasive strains, drug resistant, vaccine and diagnosis escape variants. Furthermore, immigration has changed the distribution of HBV and resulted in the emergence of exotic strains in destination territories. These strains, together with intra- and inter-(sub)genotypes recombination, complicate diagnosis, treatment and classification. Elimination of HBV infection requires concomitant vaccination, effective treatment and a vigorous diagnostic scheme. To organize all measures from prophylaxis to therapy, an accurate, holistic and dynamic classification system is essential. This system should be based on robust virological and epidemiological facts to cover all existing strains, and also have the capacity for newly identified strains in the future. Analyzing full-length genome sequences when classifying genotypes and subgenotypes is the foremost prerequisite of this classification system. Careful attention must be paid to all aspects of phylogenetic analysis, such as bootstrapping values and meeting the necessary thresholds for (sub)genotyping. Quasi-subgenotype refers to subgenotypes that were incorrectly suggested to be novel. As many of these strains were misclassified due to genetic differences resulting from recombination, we propose the term "recombino-subgenotype". We also suggest to introduce the term "immigro-subgenotype" to distinguish exotic (sub)genotypes from native ones; immigration demonstrates a confounding facet of global HBV distribution. We are strongly convinced that applying these two proposed terms in HBV classification will help harmonize this field and allow for improved prophylaxis, diagnosis and treatment.
P- Reviewers: Kim K, Koch-Institute R S- Editor: Cui XM L- Editor: A E- Editor: Liu XM