Copyright
©2014 Baishideng Publishing Group Co.
, Limited. All rights reserved.
Interaction between hepatitis C virus and metabolic factors
Yasunori Kawaguchi, Toshihiko Mizuta, Department of Internal Medicine, Saga Medical School, Saga 849-8501, Japan
Author contributions: Kawaguchi Y conceived the study and coordinated the literature search and data review; Kawaguchi Y and Mizuta T drafted the manuscript.
Correspondence to: Yasunori Kawaguchi, MD, Department of Internal Medicine, Saga Medical School, 5-1-1 Nabeshima, Saga 849-8501, Japan. kawaguy@cc.saga-u.ac.jp
Telephone: +81-952-342362 Fax: +81-952-342017
Received: September 27, 2013
Revised: November 15, 2013
Accepted: January 6, 2014
Published online: March 21, 2014

Hepatitis C virus (HCV) infection disrupts the normal metabolism processes, but is also influenced by several of the host's metabolic factors. An obvious and significantly detrimental pathophysiological feature of HCV infection is insulin resistance in hepatic and peripheral tissues. Substantial research efforts have been put forth recently to elucidate the molecular mechanism of HCV-induced insulin resistance, and several cytokines, such as tumor necrosis factor-α, have been identified as important contributors to the development of insulin resistance in the distant peripheral tissues of HCV-infected patients and animal models. The demonstrated etiologies of HCV-induced whole-body insulin resistance include oxidative stress, lipid metabolism abnormalities, hepatic steatosis and iron overload. In addition, myriad effects of this condition have been characterized, including glucose intolerance, resistance to antiviral therapy, progression of hepatic fibrosis, development of hepatocellular carcinoma, and general decrease in quality of life. Metabolic-related conditions and disorders, such as visceral obesity and diabetes mellitus, have been shown to synergistically enhance HCV-induced metabolic disturbance, and are associated with worse prognosis. Yet, the molecular interactions between HCV-induced metabolic disturbance and host-associated metabolic factors remain largely unknown. The diet and lifestyle recommendations for chronic hepatitis C are basically the same as those for obesity, diabetes, and metabolic syndrome. Specifically, patients are suggested to restrict their dietary iron intake, abstain from alcohol and tobacco, and increase their intake of green tea and coffee (to attain the beneficial effects of caffeine and polyphenols). While successful clinical management of HCV-infected patients with metabolic disorders has also been achieved with some anti-diabetic (i.e., metformin) and anti-lipid (i.e., statins) medications, it is recommended that sulfonylurea and insulin be avoided.
Core tip: A specific pathophysiologic feature of hepatitis C virus (HCV) infection is whole-body insulin resistance, which is related to oxidative stress, lipid metabolism abnormalities, hepatic steatosis, and iron overload. Host metabolic factors synergistically enhance the HCV-induced metabolic disturbance, affectively deteriorating the clinical course in patients with chronic hepatitis C. Consequently, diet, lifestyle and medications appropriate for metabolic disorders are important for management of HCV-infected patients to improve their prognosis.
---
Citation: Kawaguchi Y, Mizuta T. Interaction between hepatitis C virus and metabolic factors. World J Gastroenterol 2014; 20(11): 2888-2901
---
INTRODUCTION
Epidemiological and clinical studies have shown that patients with chronic liver disease, especially those infected with the hepatitis C virus (HCV), have a higher prevalence of glucose intolerance than the general population[1-8]. Insulin resistance appears to be a central feature of the pathogenesis of HCV-induced glucose intolerance. Eradication of HCV by antiviral therapy has been shown to ameliorate insulin resistance, both in hepatic tissues[4] and whole body[9]; in addition, these patients with antiviral treatment response show significantly lower incidence rates of glucose metabolism abnormalities during the subsequent follow-up[10,11].
Insulin resistance has emerged as an important prognostic factor for the clinical course of HCV infection, due to its association with resistance to antiviral therapy[12-18], progression of hepatic fibrosis[13,19-24], development of hepatocellular carcinoma (HCC)[25], and poor quality of life[26]. In addition, insulin resistance, as well as oxidative stress, has been shown to contribute to the HCV-related disruptions in host metabolic factors, particularly lipids and iron[27-31]. Visceral obesity has been shown to enhance HCV-induced insulin resistance[32], and HCV infection in patients with both obesity and diabetes mellitus has been reported to strongly promote the development of HCC[33]. Thus, synergistic effects of viral and metabolic factors are hypothesized to contribute to hepatocarcinogenesis.
Liver cirrhosis, regardless of etiology, leads to marked metabolic disturbances in protein-energy malnutrition[34], whole-body insulin resistance[35,36], and peripheral hyperinsulinemia[37-40]. Thus, the pathophysiology of liver cirrhosis is not included in the present discussion of interactive and synergistic relationships between HCV-specific metabolic disturbances. Instead, we provide overviews of the following: (1) insulin signaling factors and pathways that play important roles in glucose and lipid metabolism; (2) mechanism of HCV-induced insulin resistance in multiple organs; (3) mechanisms of altered lipid metabolism and hepatic steatosis under conditions of HCV infection; (4) interactions between the iron metabolism and oxidative stress pathways in HCV infection; (5) impact of host-related metabolic factors on HCV-induced metabolic disturbance; and (6) recommendations for diet, lifestyle and medications aimed at protecting against or resolving metabolic disorders in HCV-infected non-cirrhosis patients.
OVERVIEW OF INSULIN ACTION IN THE REGULATION OF GLUCOSE AND LIPID METABOLISM
Insulin controls postprandial blood glucose levels by increasing glucose uptake in muscle and fat, and reducing hepatic glucose production. Insulin stimulates cellular synthesis of glycogen, proteins and lipids, and inhibits glycogenolysis, protein breakdown and lipolysis, thereby facilitating storage of these substrates. The uptake of glucose by muscle and fat cells is promoted through insulin's stimulation of glucose transporter (GLUT) 4 translocation from the cytoplasm to the plasma membrane. Although insulin does not affect GLUT2 in hepatocytes, it blocks gluconeogenesis and glycogenolysis, and stimulates glycogen synthesis[41].
The biological action of insulin involves modulation of a cascade of intracellular signaling molecules in response to circulating insulin binding to its cognate cell surface receptor. The insulin receptor is a tetrameric complex, consisting of two extracellular insulin-binding α-subunits and two β-subunits transversing the cell membrane; these subunits function as allosteric enzymes, whereby the α-subunit inhibits the tyrosine kinase activity of the β-subunit[42]. Furthermore, insulin binding promotes its receptor's autophosphorylation, which leads to tyrosine phosphorylation of the intracellular insulin receptor substrate (IRS)-1 and IRS-2, initiating a cascade of multifaceted events[41]. Conversely, serine phosphorylation of the IRS proteins attenuates insulin signaling by decreasing insulin-stimulated tyrosine phosphorylation; this action acts as a negative feedback signal under normal physiologic conditions, providing a crosstalk mechanism between pathways that are not directly modulated by insulin but which can produce insulin resistance[43-46]. Additional factors that suppress activation of IRS proteins have also been implicated in development of insulin resistance; these include the protein tyrosine phosphatases (PTPs), especially PTP1B, which dephosphorylate tyrosine residues on the insulin receptor or IRS-1/2[47], and the suppressor of cytokine signaling (SOCS) proteins, SOCS-1 and SOCS-3, which promote ubiquitin-mediated IRS-1 and IRS-2 degradation[48].
The phosphatidyl inositol 3-kinase (PI3K)-Akt pathway is a key transducer of the insulin-mediated metabolic signal[41,49]. PI3K itself consists of a p110 catalytic subunit and a p85 regulatory subunit. IRS proteins activate PI3K by phosphorylating two SH2 domains in the p85 component[50]. Subsequently, the p110 component of PI3K phosphorylates the membrane phospholipid phosphatidylinositol 4,5-bisphosphate at the 3' position. The resultant phosphatidylinositol 3,4,5-triphosphate (PIP3) regulates the phosphoinositide-dependent kinase 1, which phosphorylates and activates Akt[51]. Overexpression of the phosphatase and tensin homolog[52] and the SH2 domain-containing inositol-5-phosphatase[53] leads to decreased levels of PIP3, resulting in inhibition of the PI3K-Akt pathway.
The following three pathways regulate glucose uptake: PI3K-Akt[54]; PI3K-atypical protein kinase C (aPKC, composed of PKC ζ/λ)[55]; and lipid raft-expressed CAP-Cbl-TC10[56,57]. For all, the PI3K-Akt pathway is critical for GLUT4 translocation. Upon activation, Akt inhibits glycogen synthase kinase-3[58] and activates protein phosphatase 1[59], thereby activating glycogen synthase by promoting its dephosphorylation. Insulin itself inhibits gluconeogenesis and glycogenolysis through its modulation of certain process-related transcription factors, such as hepatic nuclear factor-4, members of the forkhead protein family and peroxisome proliferator-activated receptor (PPAR)γ co-activator 1, and increases lipogenesis by modulating the sterol regulatory element binding protein (SREBP)-1[41]. Insulin-mediated PI3K pathway and mammalian target of rapamycin (mTOR) signaling activate p70 ribosomal S6 kinase, which synthesizes proteins and modulates the mammalian translation machinery[60]. Insulin can also stimulate cellular proliferation and differentiation by perturbing Ras activation by Grb2-SOS, which modulates the downstream mitogen-activated protein kinase (MAPK) signaling cascade[61,62] (Figure 1).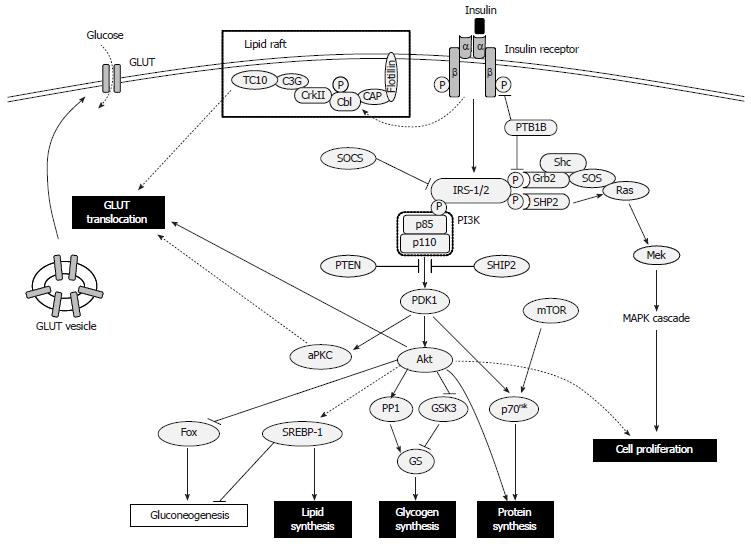 Figure 1 Overview of insulin signaling.
Insulin binding promotes receptor autophosphorylation and subsequent tyrosine phosphorylation of insulin receptor substrates, which initiate a cascade of multifaceted metabolic actions. GLUT: Glucose transporter; IRS: Insulin receptor substrate; SOCS: Suppressor of cytokine signaling; aPKC: Atypical protein kinase; SREBP: Sterol regulatory element binding protein; mTOR: Mammalian target of rapamycin; MAPK: Mitogen-activated protein kinase; PTEN: Phosphatase and tensin homolog; GSK3: Gen synthase kinase-3; SHIP: SH2 domain-containing inositol phosphatases.
HCV-INDUCED METABOLIC DISTURBANCE
IMPACT OF HOST-RELATED METABOLIC FACTORS ON HCV INFECTION
Synergistic effect of visceral obesity on HCV-induced systemic insulin resistance
Free fatty acids (FFAs) produced and secreted by visceral adipocytes can induce insulin resistance in skeletal muscle and liver[120]. Recent studies have provided substantial insights into the mechanism of lipid-induced insulin resistance[121]. In particular, intracellular accumulation of fatty acid metabolites was shown to trigger activation of novel PKC (δ, ε, η and θ), resulting in impairment of insulin signaling. In muscle, activated PKCθ is necessary for diacylglycerol (DAG)-mediated inhibition of GLUT4 transportation, and in the liver, activated PKCε is necessary for the DAG-mediated decrease in glycogen synthesis and increase in gluconeogenesis. In addition, visceral adipocytes have also been shown to promote insulin resistance by negatively modulating several adipokines, including TNF-α, adiponectin, leptin, and resistin[41]. The hypothesis suggested by these cumulated findings, that visceral obesity may cause whole-body insulin resistance and glucose intolerance via FFAs and adipokines, is supported by the clinical studies of chronic hepatitis C patients showing that visceral adiposity synergistically enhances HCV-induced insulin resistance[32] (Figure 3).
Links between metabolic factors and resistance to antiviral therapy in HCV infection
Hepatic and peripheral insulin resistance is strongly associated with response to pegylated interferon (peg-IFN)-α plus ribavirin combination therapy in patients with chronic hepatitis C[12,13-18]. Non-response to antiviral therapy in HCV-infected patients has also been shown to be associated with increased hepatic expression of SOCS-3[122], which is a physiological negative regulator of a key factor in the transduction of IFN-α signaling, the signal transducer and activator of transcription (STAT)-1[123]. HCV is known to escape from the host immune system by interfering with IFN signaling via up-regulation of PP2A and hypomethylation of STAT-1, both of which result in reduced transcriptional activation of IFN-stimulated genes[124]. Thus, factors related to IFN signaling may represent the molecular link between resistance to antiviral therapy and insulin resistance in patients with chronic hepatitis C. This theory is further supported by studies showing that SOCS proteins also play an important role in insulin resistance related to metabolic syndrome[100] and that obesity-related up-regulation of hepatic SOCS-3 expression is associated with a reduced biological response to IFN-α in HCV-infected patients[122].
Metabolic factors are associated with hepatic inflammation, fibrosis, and hepatocarcinogenesis in HCV infection
The presence of visceral obesity in HCV-infected patients has been associated with decreased high-density lipoprotein cholesterol, hepatic insulin resistance, and steatosis, all of which affect serum ALT levels[125]. In contrast to HCV genotype 3, which causes viral hepatic steatosis, HCV genotype 1 can cause metabolic hepatic steatosis through its interactions with factors related to visceral adiposity[94]. Both insulin resistance and hepatic steatosis are related to hepatic inflammation and fibrosis, and might enhance these conditions when present as comorbidities[13,21-23,106]. Studies addressing the underlying molecular mechanisms of this phenomenon have indicated that hyperglycemia and hyperinsulinemia may directly affect hepatic stellate cells and increase connective tissue growth factor, stimulating production of extracellular matrix[126]. Moreover, in HCV-infected patients, the risk of HCC increases in proportion to body mass index (BMI)[127], and increased BMI is associated with younger onset of HCC[128]. The clinical observations of postprandial hyperglycemia[129] and hyperinsulinemia[130] accelerating development and progression of hepatocarcinogenesis were also confirmed by a large cohort study of Taiwanese HCV carriers that identified obesity and diabetes as significant risk factors (representing a > 100-fold increase in risk) of HCC[33]. Thus, the interactions of hepatitis virus and host metabolic factors appear to synergistically promote hepatocarcinogenesis.
DIET AND LIFESTYLE RECOMMENDATIONS FOR HCV-INFECTED NON-CIRRHOSIS PATIENTS
The diet and lifestyle recommendations for managing chronic hepatitis C are basically the same as those for obesity, diabetes and metabolic syndrome, reflecting the potential negative effects of metabolic factors on the clinical course of HCV infection. A recent meta-analysis confirmed that diet and lifestyle modifications designed to address metabolic syndrome produced effective reductions in fasting blood glucose, waist circumference, blood pressure and triglycerides[131]. Exercise is a well-established behavioral modification that benefits metabolic disorders, and the molecular mechanism has been determined to involve exercise-stimulated glucose transport via activation of AMP-activated protein kinase (AMPK) in skeletal muscle[132]. Since the AMPK pathway is independent of insulin signaling, exercise is effective for improving hyperglycemia without influence from an insulin resistant milieu. Although the precise impact of diet and lifestyle modifications on outcomes of HCV infection remain to be fully elucidated, we have shown that appropriate diet and exercise intervention can increase insulin sensitivity in HCV-infected patients, as well as improve early viral response to antiviral therapy and decrease serum α-fetoprotein levels[84,85].
Considering the potential HCV-mediated effects on iron metabolism, it is recommended that HCV-infected patients reduce iron intake. Although the reported loads of HCV-induced iron accumulation in liver have not been extremely high[133,134], excessive iron intake may enhance the condition to a dangerous level[31,118,119]. Therefore, dietary iron restriction is important for HCV-infected patients. Intake of a low iron diet with appropriate nutrition has been shown to significantly decrease serum ALT and ferritin levels in patients with chronic hepatitis C[135]; in addition, reduction of hepatic iron by phlebotomy was also shown to improve serum ALT levels[30,136-138] and insulin resistance[30]. Long-term therapy of low iron diet in combination with phlebotomy further improved hepatic inflammation and fibrosis[138], and reduced the risk of hepatocarcinogenesis[139]. The collected results from these clinical studies led to the estimation of an ideal iron intake being < 7 mg/d for patients with chronic hepatitis C. The advantage of phlebotomy use in combination with dietary iron restriction may be explained by the fact that dietary iron absorption is enhanced under conditions of iron deficiency[140].
The practice of drinking alcohol is another important factor for any disease associated with the liver, such as hepatitis. Temperance is recommended for patients with chronic hepatitis C because HCV and alcohol metabolism have been shown to synergistically accelerate disease progression via the oxidative stress pathway, promoting HCV replication and suppressing the antiviral action of IFN[141]. Furthermore, alcoholics with HCV infection have been shown to develop more severe fibrosis and to have higher rates of both cirrhosis and HCC than their counterparts who are non-drinkers[142].
Tobacco smoking is another behavioral practice that is detrimental to both metabolic disorders and chronic pathogenic infections, in general. A meta-analysis of smoking and cancer[143] demonstrated a causal relationship between tobacco smoking and cancer of the liver [relative risk (RR) = 1.56, 95%CI: 1.29-1.87], as well as for lung (RR = 8.96, 95%CI: 6.63-12.11), larynx (RR = 6.98, 95%CI: 3.14-15.52), pharynx (RR = 6.76, 95%CI: 2.86-15.98), upper digestive tract (RR = 3.57, 95%CI: 2.63-4.84), oral cavity (RR = 3.43, 95%CI: 2.37-4.94), lower urinary tract (RR = 2.77, 95%CI: 2.17-3.54), esophagus (RR = 2.50, 95%CI: 2.00-3.13), nasal sinuses and nasopharynx (RR = 1.95, 95%CI: 1.31-2.91), pancreas (RR = 1.70, 95%CI: 1.51-1.91), uterine cervix (RR = 1.83, 95%CI: 1.51-2.21), stomach (RR = 1.65, 95%CI: 1.39-1.96), and kidney (RR = 1.52, 95%CI: 1.33-1.74). Although the effect of smoking on liver cancer was small compared to the other organs, smoking cessation is recommended for HCV-infected patients to avoid the synergistic effect on hepatocarcinogenesis.
Caffeine and polyphenols may be another dietary factor related to outcome of metabolic disorders and pathogenic infections. Some studies have shown that green tea and coffee may be beneficial to patients with chronic hepatitis C, with intake being associated with an improved clinical course. Green tea catechins have anti-inflammatory and antioxidant properties[144-148] and have been shown to ameliorate glucose metabolism[149]. In addition, data from several studies have indicated that this plant-based extract may be effective in preventing hepatocarcinogenesis[150-152]. The benefits of coffee consumption have been demonstrated by numerous studies, and include decreased risks of developing elevated ALT activity[153], hepatic fibrosis[154] and HCC[155], and improvements in glucose metabolism[156]. Furthermore, a recent meta-analysis showed that the RR of HCC was 0.80 (95%CI: 0.77-0.84) for an increment of one cup of coffee per day, regardless of sex, alcohol intake, or history of hepatitis or liver disease[157].
IMPACT OF ANTI-DIABETIC AND ANTI-LIPID MEDICATIONS IN HCV-INFECTED PATIENTS
Anti-diabetic agents
Although insulin resistance is strongly associated with resistance to IFN-based therapy in HCV-infected patients[12-18], the effect of insulin sensitizers on antiviral therapy seems to be restrictive. In one study, administration of metformin was shown to improve the rate of sustained viral response (SVR) to peg-IFN plus ribavirin therapy in patients with HCV genotype 1 infection and insulin resistance[158]; however, another study indicated that the metformin effect was limited to female patients[159]. Administration of pioglitazone was similarly reported to improve viral response to peg-IFN plus ribavirin therapy in patients with HCV genotype 4 and insulin resistance[160], but shown to provide no benefit to patients with HCV genotype 1 and insulin resistance[161].
In contrast, several studies have detected a harmful effect of sulfonylurea or insulin on HCC incidence in HCV-infected patients; however, the metformin appeared to provide a benefit in regard to this disease outcome[162,163]. A recent meta-analysis of observational studies confirmed an increased incidence of HCC in viral hepatitis patients with diabetes who were treated with sulfonylurea [odds ratio (OR) = 1.62; 95%CI: 1.16-2.24] or insulin (OR = 2.61; 95%CI: 1.46-4.65) and a reduced incidence for metformin treatment (OR = 0.50; 95%CI: 0.34-0.73)[164]. Therefore, the therapeutic strategy to address glucose intolerance in patients with chronic hepatitis C should aim to improve glucose metabolism as well as reduce serum insulin levels.
Anti-lipid agents
A recent meta-analysis showed that addition of statins (also known as HMG-CoA reductase inhibitors) to the combination therapy of IFN-α and ribavirin improved SVR without additional adverse events[165]. Although statins might still provide beneficial effects in the era of direct acting antivirals (DAAs)[166], close attention must be paid to potential drug-drug interactions. Co-administration of simvastatin or lovastatin with DAAs metabolized through cytochrome P450 (CYP) 3A is contraindicated[167]. CYP3A-independent statins can also affect the concentration of DAAs through interaction with organic anion transporter polypeptide 1B1, although to a lesser extent[167]. Nonetheless, a population-based cohort study of 260864 HCV-infected patients in Taiwan showed that statin use reduced the risk of HCC in a cumulative, dose-dependent manner[168] and a meta-analysis consisting of 1459417 patients confirmed the association of statin use with reduced risk of HCC (although the effect was stronger in Asian than Western populations)[169]. Therefore, statin use is considered beneficial for high-risk groups of HCC, such as HCV-infected patients, but regular monitoring is strongly recommended to readily detect the occurrence of any statin-related adverse effects.
CONCLUSION
Interactive and synergistic relationships exist between HCV-specific metabolic disturbances and host-associated metabolic factors. HCV can induce both hepatic and peripheral insulin resistance, and the myriad mechanisms involve oxidative stress pathways, lipid metabolism abnormalities, hepatic steatosis, and iron overload. The virus-host synergism ultimately promotes deterioration of the clinical course of HCV infection. Modifications to diet and lifestyle and application of the appropriate medications to address the metabolic disorder are important for the management of HCV-infected patients and help to improve response to antiviral therapy, inhibit progression of fibrosis, and prevent hepatocarcinogenesis.
P- Reviewers: Anand BS, Kawaguchi T S- Editor: Gou SX L- Editor: A E- Editor: Zhang DN