Copyright
©2013 Baishideng Publishing Group Co.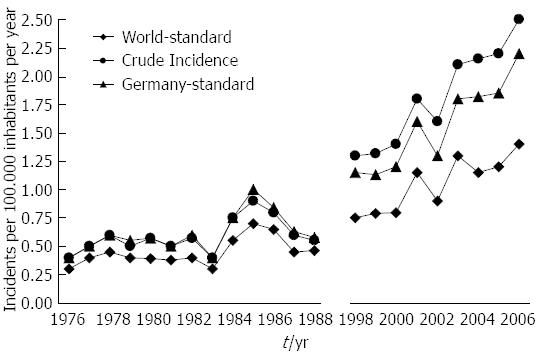 Figure 1 The incidence of gastroenteropancreatic neuroendocrine tumors is shown over time (1976-1988 and 1998-2006).
It is presented either as crude incidence or as the number of tumors (per 100.000) age-adjusted to the 1966 world standard population (World standard) or to the 1987 German standard population (German standard). The data shown originate from the former East German National Cancer Registry (DDR Krebsregister) for 1976-1988 or from its successor, the Joint Cancer Registry, for 1998-2006.
---
Citation: Scherübl H, Streller B, Stabenow R, Herbst H, Höpfner M, Schwertner C, Steinberg J, Eick J, Ring W, Tiwari K, Zappe SM. Clinically detected gastroenteropancreatic neuroendocrine tumors are on the rise: Epidemiological changes in Germany. World J Gastroenterol 2013; 19(47): 9012-9019
---