Copyright
©2013 Baishideng Publishing Group Co.
, Limited. All rights reserved.
Heme oxygenase-1 and gut ischemia/reperfusion injury: A short review
Yu-Feng Liao, Department of Laboratory Medicine, Ningbo No. 2 Hospital, Ningbo 315010, Zhejiang Province, China
Wei Zhu, Xiao Zhu, Molecular Pathology Platform, Key Laboratory of Molecular Diagnosis, Guangdong Medical College, Dongguan 523808, Guangdong Province, China
Dong-Pei Li, Institute of Molecular Medicine and Genetics, Georgia Health Sciences University, Augusta, GA 30912, United States
Author contributions: Zhu X, Liao YF and Zhu W reviewed the literature and prepared the manuscript; Zhu X drafted the figure; Li DP reviewed the final version of the paper.
Supported by Natural Science Foundation of Ningbo City, No. 2012A610194; National Natural Science Foundation of China, No. 81071697; Natural Science Foundation of Guangdong Province, No. S2011040003694
Correspondence to: Xiao Zhu, PhD, Molecular Pathology Platform, Key Laboratory of Molecular Diagnosis, Guangdong Medical College, No. 1 Xincheng Road, Dongguan 523808, Guangdong Province, China. bioxzhu@yahoo.com
Telephone: +86-769-22896373 Fax: +86-769-22896373
Received: January 2, 2013
Revised: March 15, 2013
Accepted: April 10, 2013
Published online: June 21, 2013

Ischemia/reperfusion (I/R) injury of the gut is a significant problem in a variety of clinical settings and is associated with a high morbidity and mortality. Although the mechanisms involved in the pathogenesis of gut I/R injury have not been fully elucidated, it is generally believed that oxidative stress with subsequent inflammatory injury plays an important role. Heme oxygenase (HO) is the rate-limiting enzyme in the catabolism of heme, followed by production of CO, biliverdin, and free iron. The HO system is believed to confer cytoprotection by inhibiting inflammation, oxidation, and apoptosis, and maintaining microcirculation. HO-1, an inducible form of HO, serves a vital metabolic function as the rate-limiting step in the heme degradation pathway, and affords protection in models of intestinal I/R injury. HO-1 system is an important player in intestinal I/R injury condition, and may offer new targets for the management of this condition.
Core tip: In this review, we focused on the heme oxygenase (HO)-1 system and its possible roles and mechanisms in gut ischemia/reperfusion (I/R) injury studied to date. This review, for the first time, reviews in detail the relationship between HO-1 and gut I/R injury.
---
Citation: Liao YF, Zhu W, Li DP, Zhu X. Heme oxygenase-1 and gut ischemia/reperfusion injury: A short review. World J Gastroenterol 2013; 19(23): 3555-3561
---
INTRODUCTION
Ischemia/reperfusion (I/R) injury of the gut occurs frequently in a variety of clinical settings, including abdominal aortic aneurysm surgery, mesenteric artery occlusion, small bowel transplantation, cardiopulmonary bypass, strangulated hernias, trauma, and shock[1]; the exact mechanisms involved in the pathogenesis of which have not been fully elucidated. Gut I/R injury is associated with a substantial morbidity and mortality[2].
Heme oxygenase (HO) is the rate-limiting enzyme in heme degradation, resulting in the formation of CO, biliverdin, and free iron[3]. There are three distinct HO isoforms (HO-1, HO-2, and HO-3) identified to date. HO-1 is the inducible form of the enzyme, and is expressed in relatively low amounts in most tissues[3]. HO-2 is the constitutive isoform, expressed mainly in brain and testis. HO-3 is identified only in rats, and its physiological role remains unclear[4].
HO-1, as an inducible form, also belongs to a member of the heat shock protein family and is highly inducible by a vast array of stimuli[3]. Many studies indicated that the induction of HO-1 plays a significant protective role against inflammatory processes and oxidative tissue injury[5-7]. In this review, we focus on the current understanding of the cytoprotective effects observed with the HO system during gut I/R injury. The implications for possible therapeutic manipulation of HO in gut I/R injury are elucidated.
ISCHEMIA/REPERFUSION INJURY IN GUT
Interruption of blood supply results in ischemic injury which rapidly damages metabolically active tissues. Paradoxically, reintroduction of blood flow obtained following ischemia initiates a cascade of events that can potentially worsen the original injury. This effect is known as reperfusion injury[8]. The intestine is composed of labile cells that are very susceptible to I/R injury[9]. Multiple factors have been shown to be involved in the process of intestinal I/R injury. The primary pathophysiological events of this injury involve microcirculatory flow disturbances caused by the production of reactive oxygen species (ROS). Tissue ischemia and oxidative stress activate families of protein kinases that converge on specific transcriptional factors that regulate the expression of inflammatory genes. The resulting gene products include enzymes [e.g., inducible nitric oxide synthase (iNOS); phospholipase A2, and cyclooxygenase-2 (COX-2)], cytokines [e.g., tumor necrosis factor α (TNF-α); interleukin-1 (IL-1); interleukin-6 (IL-6)], prostaglandins (e.g., PGE-2), and adhesion molecules [e.g., intracellular adhesion molecule (ICAM-1); E-selectin][10-14]. These initiate local inflammation, which is further amplified by the recruitment of circulating leukocytes[12], which appear to be key effector cells in causing tissue injury. Furthermore, I/R injury induces widespread endothelial cell apoptosis and the loss of endothelial cells in the vessels serving the organ results in thrombosis[15,16] directly in the intestine[16]. This injury observed during I/R is believed to trigger a systemic inflammatory response leading to multiple organ failure[17,18], which frequently involves the lungs[19,20] and liver[21]. Intestinal I/R injury is a complex, multifactorial pathophysiological process, dependent upon an understanding of which the optimal therapeutic approach is aimed at ameliorating I/R injury (Table 1). HO-1 system might be one of the most promising approaches among the potential therapeutic options.
Treatment
I/R model
Ref.
HO-1
Glutamine
Warm ischemia
[30]
Ischemic preconditioning
Resuscitation after shock
[37]
Doxorubicin
Warm ischemia
[20]
Hypothermia
Warm ischemia
[32]
IL-2
Warm ischemia
[34]
Hemin
Warm ischemia
[29]
Hypertonic saline
Warm ischemia
[31]
Pyrrolidine dithiocarbamate
Warm ischemia
[28]
Hyperthermia
Warm ischemia
[33]
Ischemic preconditioning
Warm ischemia
[36]
Cobalt-protoporphyrin
Warm ischemia
[27]
Ischemic preconditioning
Endotoxic shock
[18]
Radix Paeoniae Rubra
Warm ischemia
[38]
AICAR preconditioning
Warm ischemia
[35]
CO
Gas inhalation
Intestinal transplants
[11]
Gas inhalation
Intestinal transplants
[13]
Gas inhalation
Intestinal transplants
[14]
Gas inhalation
Intestinal transplants
[47]
CO solution
Intestinal transplants
[49]
CORM preconditioning
Warm ischemia
[48]
CORM preconditioning
Warm ischemia
[12]
Biliverdin/bilirubin
Bilirubin
Warm ischemia
[60]
Bilirubin
Warm ischemia
[61]
Biliverdin
Intestinal transplants
[47]
ROLE OF HO-1 IN ISCHEMIA/REPERFUSION INJURY IN GUT
HO-1 is expressed constitutively in normal gastric, intestinal, and colonic mucosa[22,23], and is up-regulated in their inflamed tissue[23]. Many studies showed that HO-1 is involved in a variety of regulatory and protective cellular mechanisms as a stress-responsive protein[5,6]. The normal expression and up-regulation of HO-1 suggest that activation of HO-1 could act as a natural defensive mechanism to alleviate inflammation and tissue injury in the gastrointestinal tract[24,25]. HO has been shown to have potent cytoprotective effects on intestinal I/R injury as well[26]. For example, induction of HO-1 by cobalt-protoporphyrin administration before intestinal I/R resulted in a significant reduction of intestinal tissue injury[27]. Another enhancer (pyrrolidine dithiocarbamate) of HO production improves intestinal microvascular perfusion and attenuates I/R injury of the intestine, possibly via HO production[28]. Similarly, administration with a HO inducer (hemin) results in lessened mucosal injury and improved intestinal transit following gut I/R[29]. Glutamine protects the intestine from warm ischemic injury, which was considered to be associated with inducible HO-1 expression through the interaction with cellular antioxidative activity and the inhibition of cytokines[30]. Several studies demonstrated that intraischemic hypothermia, hypertonic saline resuscitation, and whole-body hyperthermia decrease inflammation and protect against intestinal injury in a model of gut I/R[31-33]. Administration of IL-2, an immunoregulatory cytokine, resulted in clinical improvement of the study animals after intestinal I/R[34]. These protective interventions were associated with the induction of HO-1. Postischemic leukocyte-endothelial cell adhesive interactions are prevented by 5-aminoimidazole-4-carboxamide 1-beta-D-ribofuranoside preconditioning 24 h prior to I/R in the small intestine by HO-dependent mechanisms[35]. Furthermore, ischemic preconditioning of the intestine might prove to be an effective strategy for the amelioration of I/R injury, in which HO is involved[18,36,37]. Pretreatment with Radix Paeoniae Rubra[38], or the anticancer drug doxorubicin[20], can attenuate acute lung injury resulting from intestinal I/R. These results demonstrate that HO-1 is implicated in cytoprotection and may be an effective agent for the treatment of gut I/R.
MECHANISMS OF ACTION
There is increasing evidence that HO-1 plays an important protective role in gut I/R injury. There are four factors that could be responsible for the protection of HO-1 in intestinal I/R, including: (1) removal of free heme; (2) CO; (3) biliverdin/bilirubin; and (4) Fe2+.
REMOVAL OF FREE HEME
Heme, an essential iron chelate, is a potentially damaging species that not only provides a lipophilic form of iron, but also can directly attack and impair a multiplicity of intracellular targets[39]; production increases under conditions of oxidant stress, especially in I/R injury[39,40]. HO-1 is the key enzyme in heme degradation and plays a key role in regulating the intracellular heme level. HO-1 activity leads to rapid removal of free heme. Thus, in order to prevent heme from both extracellular and intracellular sources reacting and producing ROS, the heme degradation step is an important consideration in the cytoprotection afforded by the HO system[40].
CO
CO is one of the three products of heme degradation by HO-1 and has profound effects as a signaling molecule that culminates in anti-inflammatory, antiapoptotic, and vasodilating effects[41,42]. A number of studies have revealed that CO mediates potent cytoprotective and anti-inflammatory effects in models of I/R injury of the heart, lung, kidney, and liver[43-46]. Some studies demonstrate that the efficacy of CO gas inhalation for the prevention of cold intestinal I/R injury using a small intestinal transplantation model, in which CO is able to effectively inhibit an early up-regulation of proinflammatory mediators such as IL-6, IL-1, TNF-α, ICAM-1, iNOS, and COX-2[11,13,14,47]. It has been reported that pre-treatment with CO-releasing molecules also markedly reduced intestinal inflammation induced by surgical manipulation of the small intestine[48] or by occluding the superior mesenteric artery[12]. Similarly, one study showed that cold storage in a preservation solution that was bubbled with 5% CO significantly reduced I/R injury associated with intestinal transplantation, which reduced inflammatory mediator up-regulation and improved graft blood flow[49]. Moreover, CO-treated animals showed early up-regulation of the anti-apoptotic molecule Bcl-2, and down-regulation of the proapoptotic signal Bax, and reduced in vivo apoptosis of both vascular endothelial cells and intestinal epithelial cells[11]. The protective effects of CO are arbitrated by activating one or both of the two key signaling pathways. One of the pathways is soluble guanylate cyclase/cyclic guanosine monophosphate and the other one is the p38 mitogen-activated protein kinase pathway which transduces oxidative stress and inflammatory signaling[11,48-53], through which CO exerts significant cytoprotection due to its anti-inflammatory, vasodilating, and anti-apoptotic properties in gut I/R injury.
BILIVERDIN/BILIRUBIN
HO degrades heme into equimolar quantity of biliverdin. Biliverdin is, in turn, very rapidly converted to bilirubin by the enzyme biliverdin reductase[3]. Biliverdin and its reduced product, bilirubin, scavenge various ROS and are hence considered potent antioxidants[54,55], which have been shown to confer cytoprotection against oxidative stress conditions in various cell types[56]. Several studies have also demonstrated that the administration of biliverdin and/or bilirubin is potently cytoprotective in I/R injury of the liver and heart, and in organ transplantation[57-59]. Evidence from an experimental small intestinal I/R injury model in rats describes a protective effect for bilirubin[60], in which the bilirubin is infused via the jugular vein. Similarly, another study showed that increased serum bilirubin ameliorates the extent of intestinal IR injury[61]. Recent studies have suggested that biliverdin, in addition to its antioxidant properties, may have anti-inflammatory action. For example, treatment with biliverdin can significantly decrease mRNA expression of iNOS, COX-2, and ICAM-1, as well as the inflammatory cytokines IL-6 and IL-1, and decreased neutrophil infiltration into the jejunal muscularis in rat syngeneic small intestinal transplants[47]. These results suggest that bilirubin possesses complex immune-modulatory and antioxidant effects.
Fe2+
Though HO activity is generally associated with cellular protection, Fe2+, the third product of heme decomposition, participates in the Fenton reaction to promote the generation of ROS and is believed to have potential deleterious effects. Increased iron levels, on the one hand, can upregulate an iron-transporter pump that removes intracellular Fe2+ from the cell[62]. On the other hand, iron release from HO activity induces the expression of ferritin (an iron storing protein)[63,64]. Expression of ferritin was originally reported to protect endothelial cells against oxidant damage in vitro[64]. In addition, over-expression of H-ferritin (heavy chain ferritin) has also been shown to protect cultured endothelial cells from undergoing apoptosis and protects the liver from transplant-associated I/R injury[65]. Thus, ferritin seems to confer cytoprotection against oxidative challenge. There is no information about the roles of iron and ferritin in gut I/R injury, but in such a mechanism they could still be operative.
CLINICAL EVIDENCE
As we mentioned above, the HO-1 system plays an important role in the cytoprotective process, up-regulation of which seems to be a potential therapeutic option for gut I/R injury. As far as we know, there have been no definitive trials designed to evaluate the efficacy of chemical HO-1 inducers in the clinical setting. Hemin, as an inducer of HO-1, has been used extensively in experimental studies, but has only been used by physicians experienced in the management of porphyrias clinically. However, there are increasing reports showing that hemin-induced HO-1 activity is a host defense mechanism in different animal models, such as the thrombosis vascular model[66], in liver I/R injury[67], acute pancreatitis with multi-organ failure[68,69], human immunodeficiency virus-1 infection[70], and spontaneously hypertension[71]. Such disease states share part or common physiopathological process with gut I/R injury, which suggests that hemin could offer a therapeutic benefit for gut I/R injury. A richer understanding of the cytoprotective mechanisms of hemin therapy will be necessary, which will also pave the way for clinical application in the treatment of gut I/R injury.
CONCLUSION
Intestinal I/R injury is a complex, multifactorial pathophysiological process. Despite its complexity, the HO-1 system, owing to its antioxidative, anti-inflammatory, anti-apoptosis, and potent cytoprotective properties (Figure 1), may serve as promising potential therapeutic options for intestinal me/R injury.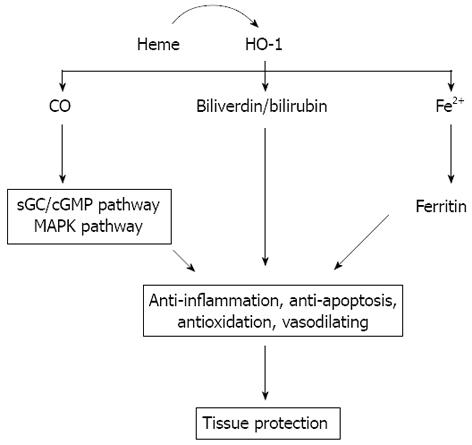 Figure 1 Schematic demonstration of the heme oxygenase-1 system and its biologic activities in gut ischemia/reperfusion injury.
HO: Heme oxygenase.
The modulation of HO-1 expression using genetic or pharmacological strategies may offer therapeutic strategies for intestinal I/R injury. Furthermore, HO-1-related molecules, including CO and biliverdin/bilirubin, might be employed as drugs in the management of intestinal I/R injury. More importantly, regulating the HO-1 system with different agents has already been demonstrated as important for attenuating I/R injury in other organs including the brain, liver, and kidney[40,72-74]. It is reasonable to assume that such a mechanism could also be operative in intestinal I/R injury. Research focused on the underlying mechanisms for the observed effects of HO-1 and its products will be necessary before their use can be evaluated in clinical applications for the prevention and/or treatment of human diseases such as intestinal I/R injury.
P- Reviewers Camara CR, Kondo T, Wiley JW S- Editor Gou SX L- Editor Rutherford A E- Editor Zhang DN