Copyright
©2012 Baishideng Publishing Group Co.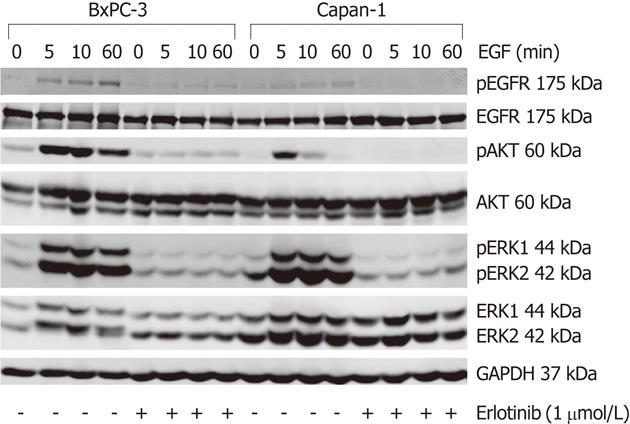 Figure 4 Effects of erlotinib on epidermal growth factor receptor signal transduction in BxPC-3 and Capan-1 cells.
Serum-starved pancreatic cancer cells were preincubated with erlotinib at 1 μmol/L for 4 h, as indicated, before they were stimulated with 10 ng/mL epidermal growth factor (EGF) for the indicated times. Protein extracts from equal amounts of cells were subjected to Western blot analysis. Phospho-epidermal growth factor receptor (pEGFR), phospho-protein kinase B (pAKT), phospho-extracellular signal-regulated kinase 1/2 (pERK1/2), their respective total proteins and glyceraldehyde-3-phosphate dehydrogenase (GAPDH) were detected using fluorescein (IRDye®)-labeled secondary antibodies. One representative Western blot is shown. For mean values of independent experiments, please refer to Figure 5. AKT: Protein kinase B; ERK: Extracellular signal-regulated kinase; EGFR: Epidermal growth factor receptor.
---
Citation: Lange F, Rateitschak K, Kossow C, Wolkenhauer O, Jaster R. Insights into erlotinib action in pancreatic cancer cells using a combined experimental and mathematical approach. World J Gastroenterol 2012; 18(43): 6226-6234
---