Copyright
©2012 Baishideng Publishing Group Co.
, Limited. All rights reserved.
Globus pharyngeus: A review of its etiology, diagnosis and treatment
Bong Eun Lee, Gwang Ha Kim, Department of Internal Medicine, Pusan National University School of Medicine and Biomedical Research Institute, Pusan National University Hospital, Busan 602-739, South Korea
Author contributions: Lee BE and Kim GH contributed equally to this manuscript; Kim GH proposed the main idea of the study and contributed to the study design; Lee BE contributed to the study design, performed the literature search, and wrote the manuscript.
Supported by A Pusan National University Hospital Clinical Research Grant (2011); a grant from the National R and D Program for Cancer Control, Ministry for Health, Welfare and Family Affairs, Republic of Korea, No. 0920050
Correspondence to: Gwang Ha Kim, MD, Professor, Department of Internal Medicine, Pusan National University School of Medicine and Biomedical Research Institute, Pusan National University Hospital, 1-10 Ami-dong, Seo-gu, Busan 602-739, South Korea. doc0224@pusan.ac.kr
Telephone: +82-51-2407869 Fax: +82-51-2408180
Received: December 21, 2011
Revised: January 30, 2012
Accepted: March 9, 2012
Published online: May 28, 2012

Globus is a persistent or intermittent non-painful sensation of a lump or foreign body in the throat. It is a commonly encountered clinical condition that is usually long-lasting, difficult to treat, and has a tendency to recur. Furthermore, due to the uncertain etiology of globus, it remains difficult to establish standard investigation and treatment strategies for affected patients. As a first step for managing globus, careful history taking and nasolaryngoscopy are essential. Given the benign nature of the condition and the recent notion that gastroesophageal reflux disease is a major cause of globus, empirical therapy with a high dose of proton pump inhibitors is reasonable for patients with typical globus. If patients are nonresponsive to this therapy, definitive assessments such as endoscopy, multichannel intraluminal impedance/pH monitoring, and manometry should be considered. Speech and language therapy, anti-depressants, and cognitive-behavioral therapy can be helpful in patients whose symptoms persist despite negative investigations.
---
Citation: Lee BE, Kim GH. Globus pharyngeus: A review of its etiology, diagnosis and treatment. World J Gastroenterol 2012; 18(20): 2462-2471
---
INTRODUCTION
Globus, a persistent or intermittent non-painful sensation of a lump or foreign body in the throat, is a well-defined clinical symptom that is usually long-lasting, difficult to treat, and has a tendency to recur. This symptom frequently improves with eating and is generally unaccompanied by dysphagia or odynophagia[1]. It is a common condition that accounts for approximately 4% of new referrals to ear, nose and throat (ENT) clinics, and it is reported by up to 46% of apparently healthy individuals, with a peak incidence in middle age[2,3]. This condition is equally prevalent in men and women, though the latter are more likely to seek health care for this symptom[4].
Hippocrates first noted globus pharyngeus approximately 2500 years ago[5]. In 1707, Purcell[6] was the first to accurately describe the condition; he believed that globus resulted from pressure on the thyroid cartilage due to contraction of the strap muscles of the neck. In the past, globus was described as "globus hystericus" because of its frequent association with menopause or psychogenic factors. However, Malcomson[7] coined the more accurate term "globus pharyngeus" in 1968 after discovering that most patients experiencing globus did not have a hysterical personality. The etiology of globus is still unknown but appears to be multifactorial (Table 1). Although data are limited, recent studies have focused on gastroesophageal reflux disease (GERD), abnormalities of the upper esophageal sphincter (UES), psychological and psychiatric disorders, and stress as major factors contributing to the globus sensation. The variety of potential etiologies has made it difficult to establish standard investigation and treatment strategies for affected patients.
Gastroesophageal reflux disease
Abnormal upper esophageal sphincter function
Esophageal motor disorders
Pharyngeal inflammatory causes including: pharyngitis, tonsillitis and chronic sinusitis
Upper aerodigestive malignancy
Hypertrophy of the base of the tongue
Retroverted epiglottis
Thyroid diseases
Cervical heterotopic gastric mucosa
Rare laryngopharyngeal tumors
Psychological factors and stress
The aim of this review is to present the current literature on globus and to discuss its natural history and potential causes, current trends in its diagnosis, and methods for its treatment.
NATURAL HISTORY
Since few long-term follow-up studies have been conducted on patients with globus, the natural history of this condition has not been fully elucidated. In one study that followed 74 globus patients for an average of 7 years and 7 mo, 45% of the patients had persistent symptoms during the follow-up period[8]. An in-depth analysis of the features at clinical presentation failed to reveal any reliable prognostic indicators. In another long-term follow-up study, 60% of the patients had improved or resolved symptoms over a 5-year period, and the male patients with a history of globus less than 3 mo and who did not complain of any associated throat symptoms were reported to have the greatest chance of becoming asymptomatic or symptomatically improved[9].
POTENTIAL CAUSES OF GLOBUS
DIAGNOSIS
There has been no consensus regarding how best to diagnose and manage globus. A study of United Kingdom-based ENT specialists found that 14% performed no tests on globus patients but rather simply prescribed antacid medication if clinically indicated[71]. The remaining 86% investigated globus symptoms in a variety of ways, including rigid endoscopy (61%), barium swallow (56%), or a combination of these methods (17.5%).
Since globus is essentially a benign disorder, investigation is primarily aimed at identifying those few cases with upper aerodigestive malignancy. Thus, the first step of an investigation of globus symptoms should be to take a detailed patient history, paying particular attention to the presence of "high risk" symptoms, associated reflux symptoms, and psychological problems. Additionally, physicians should perform a physical examination of the neck followed by nasolaryngoscopic examination of the laryngopharynx, although the routine use of nasolaryngoscopy in patients with typical globus symptoms remains controversial[1]. Patients with typical globus symptoms usually require no further investigation beyond an outpatient nasolaryngoscopy[5]. However, patients with "alarm signs", such as dysphagia, odynophagia, throat pain, weight loss, hoarseness, and lateralization of pathology, should undergo more extensive evaluation[1].
Reflux symptom index and reflux finding score
The symptoms and physical findings of LPR are nonspecific and can be confused with other laryngeal conditions caused by smoking, allergies, infections, vocal abuse, postnasal discharge, or neurogenic mechanisms as well as non-pathological variations[72]. Belafsky et al[73,74] proposed a useful self-administered tool, the reflux symptom index (RSI), for assessing the degree of LPR symptoms and developed the reflux finding score (RFS) based on 8 endolaryngeal signs for documenting the physical findings and severity of LPR. However, Park et al[15] demonstrated that RFS and RSI have low specificity in globus patients, suggesting that these may not be valid diagnostic tools for LPR in patients with globus.
Barium swallow
Barium swallow studies have been reported to identify benign lesions in up to one-third of patients with globus, and the most common findings include hiatal hernia and/or reflux (8%-18%), cervical osteophytes (0.4%-23%), and cricopharyngeal spasm (2.2%)[27,29,75,76]. However, given the prevalence of these findings in the general population, it is difficult to link these disorders to globus[45]. Two studies demonstrated that barium swallow did not identify any malignancy in typical globus patients[5,29]. Additionally, no pharyngeal or esophageal malignancy was found in a study that reviewed 1145 barium swallows in patients presenting with globus, prompting the authors to conclude that barium swallow should not be systematically requested for the exclusion of malignancies in patients with globus[77]. Thus, this test seems to have limited diagnostic value in the investigation of patients with globus.
Videofluoroscopy
Of 23 globus patients who received videofluoroscopy, 8 patients showed abnormal results; 5 had laryngeal aspiration, 2 had barium stasis in the vallecula and pyriform sinuses, and 4 had poor pharyngeal elevation[78]. Although it is unlikely that this indicates a causal relationship, videofluoroscopy may help to identify pharyngeal dysfunction in a substantial proportion of globus patients.
24-h dual-probe ambulatory pH monitoring
Whereas dual-probe ambulatory pH monitoring has been widely used in the clinical assessment of supra-esophageal GERD, this technology is not yet standardized, and its usefulness in the definition of a clinically relevant association with GERD is under debate. This technique has been used to show abnormal esophageal acid exposure in some globus patients[4,11]. However, reflux symptoms such as acid regurgitation and/or heartburn were also noted in these study populations. In a study of globus patients without reflux-like symptoms, all 24 focal individuals had normal dual-probe pH results[78]. Therefore, ambulatory pH monitoring seems to be less helpful for the evaluation of globus without reflux-like symptoms.
24-h multichannel intraluminal impedance monitoring
The results from several trials indicate that the best way to detect GER in patients with extraesophageal manifestations of GERD is to conduct multichannel intraluminal impedance (MII)/pH monitoring. In patients experiencing persistent globus during PPI therapy, MII/pH monitoring increased the diagnostic yield of standard pH testing in the identification of positive symptom indices through the detection of nonacid reflux; furthermore, proximal reflux was a significant predictor of the globus symptom[79]. In studies investigating the utility of MII/pH monitoring in patients displaying atypical symptoms while "off PPI", MII/pH monitoring increased the diagnostic yield for objective detection of atypical manifestations of GERD[80-82]. Thus, this technique appears to be a more promising method of obtaining reliable data for the detection of LPR than 24-h dual probe monitoring, as it can monitor acid as well as nonacid reflux events and can distinguish between liquid and gaseous events. Therefore, MII/pH monitoring appears to be useful for ruling out GERD and for redirecting management of patients with suspected extraesophageal manifestations of GERD.
Flexible esophagogastroscopy
Endoscopy has been shown to be superior to barium swallow as a principal means of diagnosing upper aerodigestive tract malignancy[83]. Excellent views of the pyriform fossa and the postcricoid area can be achieved by insufflating air via flexible esophagogastroscopy[75]. Moreover, this procedure enables full esophageal evaluation and diagnosis of reflux esophagitis and/or upper esophageal malignancy as a cause of globus. However, in general, endoscopy is known to have low sensitivity and to be of limited value for the diagnosis of extraesophageal GERD. A study of 58 patients with pH-documented LPR found that only 19% had esophagitis or Barrett's metaplasia[84]. In another study of patients with suspected LPR symptoms, esophagitis was generally prevalent[85] but occurred least in patients with globus and throat symptoms. Due to the association between globus and CGHM, it is necessary to carefully evaluate the cervical esophagus[54].
Manometry
If abnormal UES function and esophageal motor disorder are suspected to be the potential cause of globus, manometry is a useful tool for assessing UES and lower esophageal sphincter pressure, esophageal body contraction amplitude, and peristaltic sequence. However, the etiological significance of such a disorder is difficult to define.
TREATMENT
A suggested algorithm for the management of globus patients based on available evidence is shown in Figure 1. Since there is a paucity of controlled studies on the treatment of globus, evidence-based treatment concepts are currently not available, and a review of the literature reveals that there is no single effective treatment. Given the benign nature of the condition, the likelihood of long-term symptom persistence, and the absence of highly effective pharmacotherapy, the mainstays of treatment are explanation and reassurance[1]. Other established treatment options include anti-reflux therapy, speech and language therapy, anti-depressants, and cognitive-behavioral therapy[86].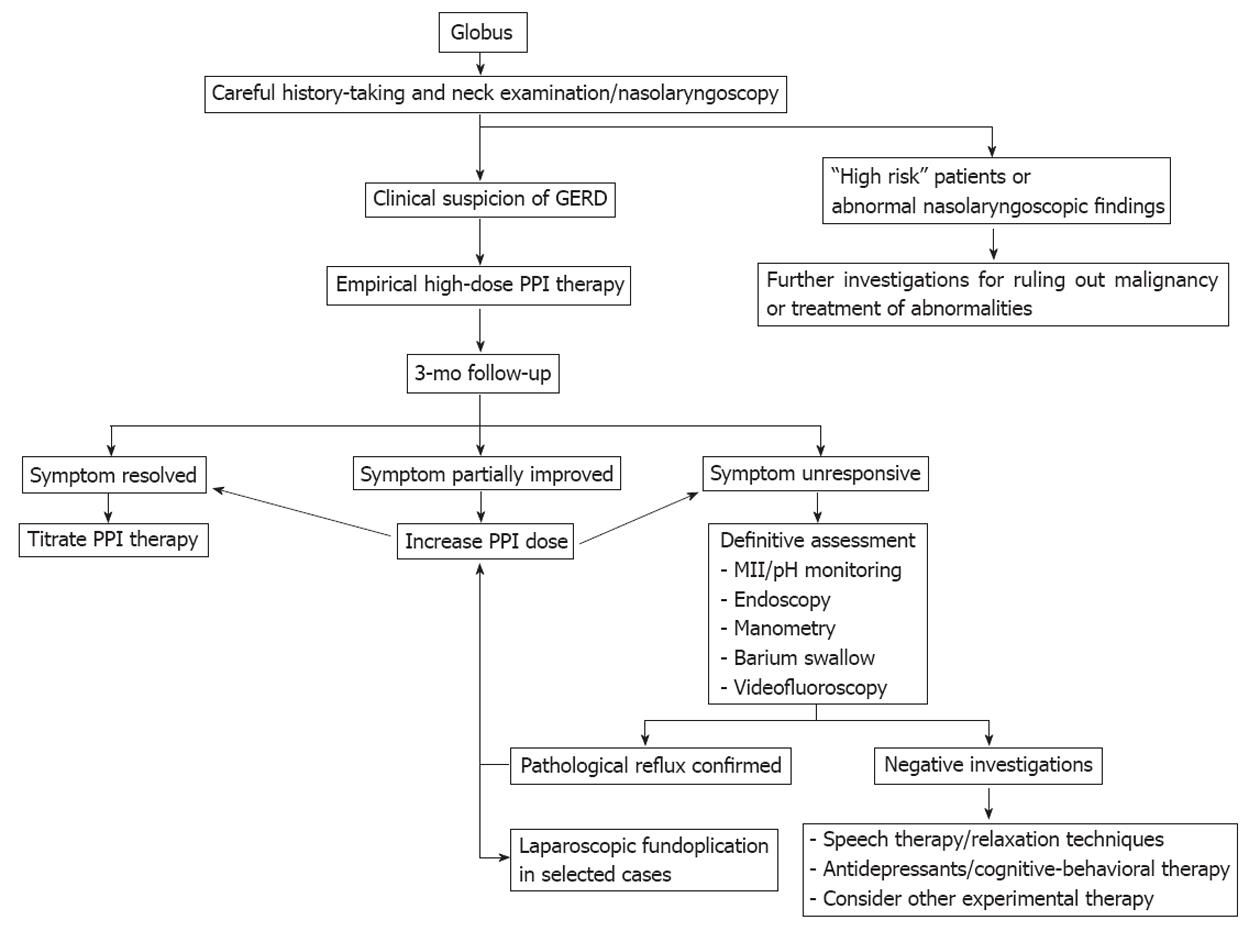 Figure 1 Algorithm for management of globus.
GERD: Gastroesophageal reflux disease; PPI: Proton pump inhibitor; MII: Multichannel intraluminal impedance.
Anti-reflux treatment
Since GER has been suggested to be a major cause of globus[10-18], it seems practical that anti-reflux treatment should be the first attempted method for managing patients with globus. As diagnostic tests for GERD are somewhat invasive and costly and because a negative study result does not definitively rule out GER, it seems reasonable to use empirical PPI therapy as a combined method of diagnosis and treatment[87-92]. Although there are no controlled trials looking at the role of PPIs specifically for the treatment of globus, there is a variety of literature addressing the role of PPIs in LPR management[34,91,93-95]. Current evidence shows that the clinical response to PPIs in LPRD is variable[96,97] and that LPR symptoms improve more slowly than esophageal symptoms following acid-suppression therapy[98]. It is now widely accepted that extraesophageal GERD requires more aggressive and more prolonged therapy than typical GERD[32]. Empirical twice-daily therapy with PPIs for at least 3 mo is recommended; this can be extended for a maximum period of 6 mo[87-92,99-102]. A PPI should be taken 30-60 min before meals so that it has reached its highest concentration by the time food intake stimulates the proton pumps. After 3-6 mo, responders can be weaned, whereas non-responders should undergo a definitive assessment, such as endoscopy, pH monitoring, or MII/pH monitoring. If available, MII/pH monitoring is preferable to simple pH monitoring because it facilitates the detection of nonacid reflux. Nocturnal acid breakthrough (NAB) may cause incomplete treatment response[103,104]. The addition of h.s. histamine-2 receptor antagonists to twice-daily PPI therapy has been suggested to control NAB[103], but it is currently unclear whether this method offers any additional benefit to the long-term control of LPRD[105,106]. Prokinetics are utilized when it is necessary to speed up esophageal and gastric emptying; they can be useful when the clinical response to PPIs is unsatisfactory[16]. Diet and behavioral modification can also decrease the amount of reflux. Recommended dietary modifications include a reduction in the intake of chocolate, fats, citrus fruits, carbonated beverages, spicy tomato-based products, red wines, caffeine, and late-night meals. Additionally, patients should make more general behavioral modifications, including exercising regularly, avoiding smoking and alcohol, elevating the head of the bed (10-15 cm), avoiding tight clothes around the waist, and losing weight. Sleeping on one's left-hand side also helps to decrease reflux. Steward et al[107] demonstrated that lifestyle modification was an independently significant variable in determining the response to pharmacological therapy. An alternative therapeutic strategy is anti-reflux surgery, with some authors having reported good improvement rates of LPR symptoms after laparoscopic nissen fundoplication[108-114]. To achieve a better patient outcome, a surgical approach must be taken into consideration in a carefully selected patient population, especially for patients who respond to treatment but are unable to tolerate PPIs due to side effects, those with confirmed pathological GER who do not respond to maximal medical treatment, and those in whom nonacid reflux has been demonstrated by a MII study[115]. However, if symptoms do not improve in the 4 mo following aggressive acid suppression, laparoscopic fundoplication may be unlikely to yield additional benefits[116]. Previous clinical responses to pharmacological acid suppression and abnormal pharyngeal pH results are preoperative predictors of relief from atypical symptoms[117].
Speech and language therapy/relaxation techniques
Speech therapy/relaxation techniques, including neck and shoulder exercises, general relaxation techniques, voice exercises, and voice hygiene to relieve vocal tract discomfort and tension, have successfully been used to treat patients with persistent globus symptoms[61]. In one uncontrolled study using these techniques on 25 globus patients, 92% experienced improvement following treatment. Khalil et al[118] randomly allocated 36 globus patients to either a speech therapy group or a reassurance group. Those in the speech therapy group used a number of exercises to relieve pharyngolaryngeal tension, including yawning, adopting a "giggle posture" (which helps retract the false vocal cords), and a "wet swallow" (as opposed to a "dry" or "check swallow," which patients often perform habitually and which tends to aggravate the globus symptom). Patients also attempted to eliminate throat clearing and promote adequate hydration by avoiding smoking, excess tea, and coffee. At the end of 3 mo, patients in the speech therapy group demonstrated significantly better globus symptom scores compared with those recorded prior to the intervention. Individuals in the speech therapy group also experienced significant improvements in globus symptoms when compared with controls. However, further research is needed to distinguish whether speech therapy has a specific effect or whether patients simply benefit from general attention and reassurance[119].
Cognitive-behavioral therapy/antidepressants
Globus is the fourth most common symptom of somatization disorder after vomiting, aphonia, and pain in the extremities[120]. Cognitive-behavioral therapy has emerged as the best treatment for a variety of somatoform disorders and medically unexplained symptoms[121]. Although there has not yet been a substantial trial of cognitive-behavioral therapy in globus patients, it is likely to be a promising treatment for repeat attenders whose symptoms remain refractory[76].
A small series of anti-depressants have been found to be beneficial for some globus patients with concomitant psychiatric disorders, such as panic, somatization, major depression, and agoraphobia[122,123].
Other treatment strategies
Thyroidectomy in patients with thyroid disorder[49-51] or partial epiglottectomy in selected cases whose retroverted epiglottis made contact with the tongue base[47,48], were both reported to significantly relieve the globus symptom. In addition, ablation of CHGM by argon plasma coagulation has shown some promise in improving chronic globus symptoms[55,56]. Although additional research of these techniques is needed, these approaches would provide some benefit to patients with unexplained chronic globus who are refractory to any medical treatments.
CONCLUSION
Although globus is a common clinical condition, its etiology remains uncertain, and there is no standard protocol for its diagnosis and management. The results of recent studies have strongly suggested that GERD is a major cause of globus, though this remains under considerable debate. Numerous other disorders, such as abnormal UES function, esophageal motility disorders, structural head and neck diseases, and psychological factors, have been suggested as potential causes of globus. However, it has been rather difficult to establish a causal relationship between globus and these disorders because most of the reported studies were uncontrolled, had a small sample size, or were case reports. Currently, careful history taking and nasolaryngoscopy are essential as a first step in managing globus. Given the benign nature of the condition, patients with typical globus do not appear to need further investigation; rather, a 3-mo treatment with high-dose PPIs seems to be a reliable treatment option. If patients are nonresponsive to PPI therapy, they should undergo a definitive assessment, such as endoscopy, pH monitoring, or MII/pH monitoring; MII/pH monitoring in particular may increase the diagnostic yield of GER in globus patients. In cases with negative clinical investigations and consistent globus symptom, other treatment strategies, including speech therapy, anti-depressants, and cognitive-behavioral therapy, should be considered. In the future, well-designed, randomized controlled studies are needed to definitively determine the effect of PPI treatment on globus. In addition, it is necessary to ascertain the etiology of globus via large-scale studies.
Peer reviewers: Justin Che Yuen Wu, Professor, Department of Medicine and Therapeutics, The Chinese University of Hong Kong, 9/F Clinical Science Building, Prince of Wales Hospital, Shatin, Hong Kong, China; Diego Garcia-Compean, Faculty of Medicine, Autonomous University of Nuevo Leon, Monterrey 64700, Mexico; Tomohiko Shimatani, Professor, Lab of Adult Nursing and Internal Medicine, Hiroshima International University, 5-1-1 Hirokoshingai, Kure 7370112, Japan
S- Editor Gou SX L- Editor Rutherford A E- Editor Li JY