Copyright
©2009 The WJG Press and Baishideng.
All rights reserved.
World J Gastroenterol.
Jan 7, 2009;
15(1): 38-47
Published online Jan 7, 2009. doi: 10.3748/wjg.15.38
Pancreatic pseudocyst
Samir Habashi, Peter V Draganov, Department of Gastroenterology Hepatology and Nutrition, University of Florida, Gainesville, Florida 32610, United States
Author contributions: Habashi S and Draganov PV contributed equally to this work.
Correspondence to: Peter V Draganov, MD, Department of Gastroenterology, Hepatology and Nutrition, University of Florida, 1600 SW Archer Rd, Room HD 602, PO Box 100214 Gainesville, Florida 32610, United States. dragapv@medicine.ufl.edu
Telephone: +1-352-3922877
Fax: +1-352-3923618
Received: June 8, 2008
Revised: October 2, 2008
Accepted: October 9, 2008
Published online: January 7, 2009

Pancreatic pseudocysts are complications of acute or chronic pancreatitis. Initial diagnosis is accomplished most often by cross-sectional imaging. Endoscopic ultrasound with fine needle aspiration has become the preferred test to help distinguish pseudocyst from other cystic lesions of the pancreas. Most pseudocysts resolve spontaneously with supportive care. The size of the pseudocyst and the length of time the cyst has been present are poor predictors for the potential of pseudocyst resolution or complications, but in general, larger cysts are more likely to be symptomatic or cause complications. The main two indications for some type of invasive drainage procedure are persistent patient symptoms or the presence of complications (infection, gastric outlet or biliary obstruction, bleeding). Three different strategies for pancreatic pseudocysts drainage are available: endoscopic (transpapillary or transmural) drainage, percutaneous catheter drainage, or open surgery. To date, no prospective controlled studies have compared directly these approaches. As a result, the management varies based on local expertise, but in general, endoscopic drainage is becoming the preferred approach because it is less invasive than surgery, avoids the need for external drain, and has a high long-term success rate. A tailored therapeutic approach taking into consideration patient preferences and involving multidisciplinary team of therapeutic endoscopist, interventional radiologist and pancreatic surgeon should be considered in all cases.
---
Citation: Habashi S, Draganov PV. Pancreatic pseudocyst. World J Gastroenterol 2009; 15(1): 38-47
---
INTRODUCTION
Pseudocyst of the pancreas is a localized fluid collection that is rich in amylase and other pancreatic enzymes and is surrounded by a wall of fibrous tissue that is not lined by epithelium[1]. Pseudocysts are connected with the pancreatic duct system, either as a direct communication or indirectly via the pancreatic parenchyma. They are caused by pancreatic ductal disruption following increased pancreatic ductal pressure, either due to stenosis, calculi or protein plugs obstructing the main pancreatic ductal system, or as a result of pancreatic necrosis following an attack of acute pancreatitis[23]. Pseudocysts are a common clinical problem and complicate the course of chronic pancreatitis in 30% to 40% of patients[4].
ETIOLOGY
The occurrence of pseudocyst parallels that of pancreatitis and the etiology of pseudocysts resembles the causes of pancreatitis closely, although pseudocyst formation is less common after acute compared to chronic pancreatitis, and it is more common after alcohol-induced than after non-alcohol-related pancreatitis. Alcohol-related pancreatitis appears to be the major cause in studies from countries where alcohol consumption is high and accounts for 59%-78% of all pseudocysts[5].
Walt et al[6] reported data collected from Wayne State University Hospital in Detroit, USA. The causative factors in the 357 admissions for pancreatic pseudocysts included alcohol use in 251 cases (70%), biliary tract disease in 28 (8%), blunt trauma in 17 (5%), penetrating trauma in four (1%), operative trauma in one (0.3%), and idiopathic in 56 (16%). Most of the patients in the idiopathic group were thought to have been alcohol-related, but no definite evidence was recorded[6].
CLASSIFICATION
D'Egidio and Schein, in 1991, described a classification of pancreatic pseudocyst based on the underlying etiology of pancreatitis (acute or chronic), the pancreatic ductal anatomy, and the presence of communication between the cyst and the pancreatic duct[7]. They define three distinct types of pseudocysts[7]. Type I, or acute "post-necrotic" pseudocysts, that occur after an episode of acute pancreatitis and are associated with normal duct anatomy, and rarely communicate with the pancreatic duct. Type II, also post-necrotic pseudocysts, which occurs after an episode of acute-on-chronic pancreatitis (the pancreatic duct is diseased, but not strictured, and there is often a duct-pseudocyst communication). Type III, defined as "retention" pseudocysts, occur with chronic pancreatitis and are uniformly associated with duct stricture and pseudocystduct communication.
Another classification, based entirely on pancreatic duct anatomy, is proposed by Nealon and Walser[8]. Type I: normal duct/no communication with the cyst. Type II: normal duct with duct-cyst communication. Type III: otherwise normal duct with stricture and no duct-cyst communication. Type IV: otherwise normal duct with stricture and duct-cyst communication. Type V: otherwise normal duct with complete cut-off. Type VI: chronic pancreatitis, no duct-cyst communication. Type VII: chronic pancreatitis with duct-cyst communication[8].
INCIDENCE
Regardless of the etiology of pseudocyst, the incidence is low, 1.6%-4.5%, or 0.5-1 per 100 000 adults per year[910]. In a study by Imrie, pseudocysts developed after emergency hospital admission for an episode of acute pancreatitis in 86 patients[11]. Sixty-two of the 86 pseudocysts consequent to acute pancreatitis were derived from the local hospital population area, in which 879 patients with acute pancreatitis were admitted to hospital during the same time period. This resulted in a 7% overall incidence of pseudocysts as a complication of acute pancreatitis[11].
In a series of 926 patients with non-alcoholic acute pancreatitis, fluid collections were observed in 83 (9%). At the end of 6 wk, 48 (5%) still had a fluid collection consistent with a pseudocyst[12].
Kourtesis et al[13] followed prospectively with computed tomography (CT) 128 consecutive patients with acute pancreatitis (mostly alcohol-induced). Forty-eight patients (37%) developed fluid collection in the pancreatic region. The majority of these resolved spontaneously. In 15 (12%) patients, symptomatic pseudocysts developed.
Pseudocysts tend to be more common in chronic as compared to acute pancreatitis. Incidence figures of 30% to 40% have been reported in the literature[4]. However, there is a lack of precise data based on the long-term follow-up of patients with chronic pancreatitis, in contrast to acute pseudocysts where the patient with chronic pancreatitis may have had the disease for 10, 20 or more years giving him a high risk of developing a pseudocyst at least once over a long period of sickness[14].
PATHOGENESIS
The pathogenesis of pseudocysts seems to stem from disruptions of the pancreatic duct due to pancreatitis or trauma followed by extravasation of pancreatic secretions. Two thirds of patients with pseudocysts have demonstrable connections between the cyst and the pancreatic duct. In the other third, an inflammatory reaction most likely sealed the connection so that it is not demonstrable.
In case of pseudocyst following an episode of acute pancreatitis, only if the acute fluid collection persists more than 4-6 wk, and is well-defined by a wall of fibrous or granulation tissue, can one say that an acute pseudocyst has appeared. Such a pseudocyst usually contains enzymatic fluid and necrotic debris[15].
The pathogenesis of pseudocyst formation in chronic pancreatitis is less well understood but, at least two mechanisms may be involved, the cyst may develop as a consequence of an acute exacerbation of the underlying disease and/or blockage of a major branch of the pancreatic duct by a protein plug, calculus or localized fibrosis[15].
CLINICAL PRESENTATION, DIAGNOSIS AND DIFFERENTIAL DIAGNOSIS
The clinical presentation of pancreatic pseudocyst can range from asymptomatic patient to major abdominal catastrophe due to complications[16–18]. Acute complications include bleeding (usually from splenic artery pseudoaneurysm), infection, and rupture.
Chronic complications include gastric outlet obstruction, biliary obstruction and thrombosis of the splenic or portal vein with development of gastric varices[18].
A variety of diseases can mimic the clinical presentation of pancreatic pseudocyst (Table 1). Once pancreatic cyst is identified by an imaging modality, the most important question is to differentiate pseudocyst from other cystic lesions of the pancreas (Table 2).
| | |
| --- | --- |
| Pancreatic diseases | Extrapancreatic diseases |
| Acute & chronic pancreatitis | Peptic ulcer disease & gastric cancer |
| Pancreatic necrosis & abscess | Acute cholecystitis & gallstones |
| Adenocarcinoma of the pancreas | Abdominal aortic aneurysm |
| Pancreatic cystic neoplasms | Intestinal ischemia |
| Pancreatic artery pseudoaneurysm | Ovarian cysts & cancers |
| | Bowel obstruction |
| | Acute myocardial infarction |
| | Pneumonia |
| | | | | | |
| --- | --- | --- | --- | --- | --- |
| | SCA | MCN | IPMN | SPN | Pseudocyst |
| Prevalent age | Middle age | Middle age | Elderly | Young | Variable |
| Sex | Mostly female | Mostly female | Male > female | Mostly female | Male > female |
| Presentation | Mass/pain | Mass/pain | Pancreatitis | Mass/pain | Pain |
| Location | Evenly | Body/tail | Head | Evenly | Evenly |
| Malignant potential | Very low | Moderate to high | Low to high | Low | None |
HISTORY AND PHYSICAL EXAMINATION
No specific set of symptoms is specific for pseudocysts; however, one should consider the possibility of a pseudocyst in a patient who has persistent abdominal pain, anorexia, or abdominal mass after a case of pancreatitis. Rarely, patients present with jaundice or sepsis from an infected pseudocyst[16]. Occasionally, even patients with large pancreatic pseudocyst are asymptomatic. In patients presenting with pancreatic cyst incidentally discovered on imaging, a crucial point is to define whether the patient has had prior history of pancreatitis. The sensitivity of physical examination findings is limited. Patients frequently have a tender abdomen. They can occasionally have a palpable abdominal mass. Peritoneal signs suggest rupture of the cyst or infection. Other possible findings include fever, scleral icterus or pleural effusion[17].
LABORATORY EVALUATIONS
Serum tests have limited utility. Amylase and lipase levels are often elevated, but may be within reference ranges. The serum bilirubin and liver chemistries may be elevated if the bile duct is obstructed from stone, extrinsic compression from the pseudocyst or from underlying liver disorder (e.g. alcoholic hepatitis). Some laboratory tests may provide clues to the underlying etiology of pancreatitis (e.g. elevated triglycerides or calcium level). Elevated liver chemistries raise the suspicion for biliary pancreatitis.
TREATMENT OF PANCREATIC PSEUDOCYST
Supportive medical care
Intravenous fluids, analgesics and antiemetics are routinely given. For patients that can tolerate oral intake, low fat diet is recommended. In patients that cannot tolerate oral nutrition, support can be provided via naso-enteral feeding or total parenteral nutrition (TPN). To date, no studies have compared these two approaches in the seating of pancreatic pseudocyst and choice is based on availability and local preferences. If one can extrapolate from studies comparing the two modalities in the seating of acute necrotizing pancreatitis, one can expect that jejunal feeding will be related with fewer complications (infection), but may not be able to provide as much calories as TPN.
The rationale of using octreotide as a therapy for pancreatic pseudocyst is that it will decrease pancreatic secretions and aid in pseudocyst resolution. Unfortunately, this strategy has not been rigorously tested and only a handful of case series have been published[3031].
Most pseudocysts resolve with supportive medical care. Vitas et al[32] followed over a period of 5 years 114 patients with the diagnosis of pancreatic pseudocyst. Forty-six patients underwent primary operative therapy, with 13% undergoing emergency operations for pseudocyst-related complications. Although no operative deaths occurred, significant morbidity occurred in 26% of patients (emergency operations, 67%; elective procedures, 10%). The remaining 68 patients were initially treated with a nonoperative, expectant approach. Severe, life-threatening complications in this group (follow-up for a mean of 46 mo) occurred in only six patients (9%); 19 patients eventually underwent elective operation directed at either the pseudocyst or other complications related to pancreatitis. Overall, in patients managed by a nonoperative approach, resolution of the pseudocyst occurred in 57% of the 24 patients with satisfactory radiographic follow-up, with 38% resolving more than 6 mo after diagnosis. Although patients eventually undergoing operation tended to have larger pancreatic pseudocysts than the patients managed successfully nonoperatively (6.9 cm vs 4.9 cm), no serious complications occurred in seven patients with pancreatic pseudocysts greater than 10 cm who were treated expectantly[32].
Several studies have indicated that the size of the cyst and the length of time the cyst has been present are poor predictors of potential for pseudocyst resolution or complications, but in general, larger cysts are more likely to become symptomatic or cause complications[33]. However, some patients with larger collections do well; therefore, size of the pseudocyst alone is not an indication for drainage[3435]. The two main indications for invasive intervention are the presence of symptoms or the presence of complications (infection, bleeding, gastric outlet or biliary obstruction).
DRAINAGE PROCEDURES
Symptomatic pseudocysts or the presence of some complications (infected pseudocyst, gastric outlet or biliary obstruction) are the main two indications for some type of drainage procedure. To date, no prospective controlled studies have compared directly percutaneous, surgical and endoscopic drainage approaches. As a result, the management varies based on local expertise but in general endoscopic drainage is becoming the preferred approach.
Percutaneous drainage
External drainage can be achieved using CT or US guidance. With this technique, a drainage pigtail catheter is placed percutaneously into the fluid cavity and fluid is drained. Three-dimensional ultrasonography has been reported useful for the guidance of catheters into cyst cavities and avoiding vessels[36]. The fluid is collected over several weeks into an external collection system. When the drainage output becomes minimal, the catheter is removed. Contrast injection into the cyst cavity will demonstrate the size of the remaining cavity and this finding can be used to monitor the progress. This technique is successful at resolving pseudocysts, but it has a high risk of infections. The external drain tends to create significant patient discomfort. Furthermore, the catheter tends to clog and may require repositioning and exchange. The reported long-term success rate for pseudocyst resolution for US-guided pseudocyst drainage is around 50%. Unsuccessful drainages are usually caused by large ductal leaks or obstruction of the main pancreatic duct. Percutaneous catheter drainage is contraindicated in patients who are poorly compliant and cannot manage a catheter at home. It is also contraindicated in patients with strictures of the main pancreatic duct and in patients with cysts containing bloody or solid material[3738].
Surgical drainage
Surgical drainage of pseudocysts is accomplished by providing a communication between the pseudocyst cavity and the stomach or small bowel. This approach to drainage is often reserved for those patients that cannot tolerate or have failed percutaneous or endoscopic drainage. The surgical stoma should be placed in the most dependent portion of the cystic cavity in order to maximize the chances of complete drainage. The stoma usually remains patent and functional for several months.
Adams and Anderson published findings from a retrospective analysis of 94 patients[39]. The study population consisted of 42 patients undergoing internal surgical drainage and 52 patients undergoing percutaneous pseudocyst drainage. Significant complications occurred in 16.7% of the patients undergoing surgery and in 7.7% of the patients undergoing percutaneous drainage (P > 0.05). A subsequent operation was required in 9.5% of the surgical group and 19.2% of the percutaneous drainage group (P > 0.05). A significantly higher mortality rate was associated with surgical therapy (9%) than with percutaneous therapy (1%) (P < 0.05)[39].
Endoscopic drainage
Endoscopic drainage of pseudocysts is becoming the preferred therapeutic approach because it is less invasive than surgery, avoids the need for external drain and has a high long-term success rate. Drainage is accomplished with either a transpapillary approach with ERCP or direct drainage across the stomach or duodenal wall. A transpapillary approach is used when the pseudocyst communicates with the main pancreatic duct, usually in the genue of the pancreatic duct. This approach is also successful for patients with pancreatic duct disruption.
A transgastric or transduodenal approach is used when the pseudocyst is directly adjacent to the gastro-duodenal wall. To determine the size and location of the pseudocyst, and to measure the thickness of the pseudocyst wall, EUS has become the test of choice. A distance between the gastric or duodenal wall and cyst wall of more than 1 cm or the presence of large intervening vessels or varices are relative contraindications for endoscopic drainage[4041]. Transgastric or transduodenal stenting of pseudocysts may be performed using an endoscopic approach under fluoroscopic guidance or using EUS to introduce the guidewire into the pseudocyst cavity.
The endoscopic approach is dependent upon the presence of a bulge into the lumen of the stomach or duodenum in order to determine the entry site for catheterization. This approach has several inherent risks, including missing the pseudocyst, injuring intervening vessels, and sub-optimal placement of the drainage catheter[42]. Therapeutic echoendoscopes now make it possible to treat pseudocysts with EUS-guided transmural stenting[43]. Several series have described the deployment of a 7 Fr stent that is introduced with a needle knife catheter[44]. A new large-channel echoendoscope allows the use of 10 Fr stents across the stomach or duodenum[45].
The exact technique for transmural pseudocyst drainage has not been standardized. In our institution, we prefer a combined EUS/fluoroscopy guided technique. The linear therapeutic channel EUS endoscope is used to detect an optimal site of apposition of pseudocyst and gut wall, free of intervening vascular structures (Figure 1A). The 19 Fr gauge EUS FNA needle is then advanced into the cyst cavity under real-time ultrasound guidance. The needle position is then located under fluoroscopy (Figure 1B). After the pseudocyst cavity has been entered, fluid is aspirated and a floppy-tip 0.035 guide wire is advanced via the needle and under fluoroscopic control is curled few times into the cyst cavity. The cyst-gastrostomy (duodenostomy) fistula tract is then pneumatically dilated, with 8 to 15 mm biliary balloon dilators (Figure 1C). The size of the balloon used for dilation is arbitrarily determined based on the size of the cyst, proximity of vessels, presence of necrotic debris in the cyst cavity, viscosity of the aspirated pseudocyst fluid and the presence of infection. In an attempt to decrease the risk of bleeding we try to avoid using electrocautery to create the fistulous tract. In a rare occasion, when the pseudocyst wall is very tick and the balloon dilator cannot be advanced, we use the Cystotome (Cook Medical, Winston-Salem, NC, USA). We will then stent the tract with two or more double pigtail stents (7F-10F) via the EUS scope (Figure 1D).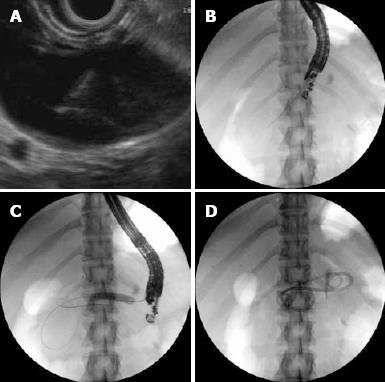 Figure 1 EUS and fluoroscopic image.
A: EUS image of pseudocyst with FNA needle; B: Fluoroscopy image of pseudocyst with FNA needle; C: Fluoroscopy image of balloon dilating the cyst gastrostomy tract; D: Fluoroscopic image of two double pigtail stents draining the pseudocyst cavity.
In a small series, the EUS approach has resulted in a success rate of more than 90% in patients with chronic pseudocysts[46]. The recurrence rate after endoscopic drainage is low, 4%, and the complication rate is less than 16%[47].
EUS is also capable of guiding the drainage of infected pseudocysts using naso-cystic drains[48]. It may even be possible to drain infected necrotic pancreatic tissue using EUS and endoscopic techniques[49].
Hookey et al[50] published a chart review and prospective follow-up for 116 patients with attempted endoscopic drainage of symptomatic pancreatic-fluid collections (pseudocysts and organized pancreatic necrosis). A total of 116 patients presented with fluid collections classified as acute fluid collection (n = 5), necrosis (n = 8), acute pseudocyst (n = 30), chronic pseudocyst (n = 64), and pancreatic abscess (n = 9). The median diameter of the collection drained was 60 mm (15-275 mm). Median follow-up after drainage was 21 mo. The drainage technique was transpapillary in 15 patients, transmural in 60, and both in 41. Successful resolution of symptoms and collection occurred in 87.9% of cases. No difference in success rates was observed between patients with acute pancreatitis and those with chronic pancreatitis. However, drainage of organized necrosis was associated with a significantly higher failure rate than other collections. No significant differences were observed regarding success when disease, drainage technique, or site of drainage was considered. Complications occurred in 13 patients (11%), and there were six deaths in the 30 d after drainage, including one that was procedure related. He concluded that endoscopic drainage of pancreatic-fluid collections is successful in the majority of patients and is accompanied by an acceptable complication rate[50].
Muscatiello et al[51] published a case report of alcohol use for the treatment of a pancreatic pseudocyst. In his report, aspiration of the pancreatic pseudocyst was started, and after an apparent reduction in the volume of the pseudocyst by about 30%, 30 mL of absolute ethanol diluted 1:1 with saline was injected and maintained for about 10 min. Aspiration then continued until EUS imaging showed that the cyst was completely empty. CT 24 h later demonstrated no complications and confirmed that the procedure had been successful. Culture of the aspiration fluid identified a Pseudomonas aeruginosa and Citrobacter freundii complex. Cytological examination did not show any neoplastic cells. The patient was discharged on the seventh day with no symptoms and with normal laboratory tests. It seems that, in addition to causing sclerosis of the cystic wall, ethanol contributes to sterilizing the infected fluid collection. In that case, a long follow-up period (18 mo) in which there was no recurrence of the pseudocyst confirms that this procedure may be useful in the treatment of organized necrotic abscesses and pancreatic abscesses when there is no communication with the pancreatic duct[51].
In a large retrospective analysis of 603 patients who were undergoing EUS-FNA of pancreatic cysts, possible infection developed in only a single patient. The majority of patients in this series (90%) received antibiotic prophylaxis, most commonly a fluoroquinolone given for 3 d after the procedure, and this may possibly explain the low infection rate. The benefit of prophylactic antibiotics before an FNA of cystic lesions has not been evaluated by prospective randomized studies[52].
The ASGE, in 2008, published the guidelines for prophylactic use of antibiotics for GI endoscopy. According to these guidelines, prophylaxis with an antibiotic, such as a fluoroquinolone administered before EUS-FNA of cystic lesions along the GI tract including pancreatic cyst. Antibiotics may be continued for 3 to 5 d after the procedure (supported by observational studies). When antibiotic prophylaxis is administered, a fluoroquinolone administered before the procedure and continued for 3 d after the procedure is a reasonable regimen[53].
Cahen et al[54] published a retrospective study to evaluates the short-term and long-term results with the endoscopic drainage of pancreatic pseudocyst and aimed to identify procedural modifications that may improve its safety and efficacy. A total of 92 patients were included (66 men, 26 women; median age 49 years). The technical success rate of the drainage procedure was 97% and the mortality rate was 1%. Complications occurred in 31 patients (34%), eight of which (9%) were major and required surgery: hemorrhage in four cases (three of which were caused by erosion of a straight endoprosthesis through the cyst wall), secondary infection in three, and perforation in one. During a median follow-up period of 43 mo, 10 patients (11%) underwent additional (nonendoscopic) treatment for a persistent cyst and five (5%) for a recurrent cyst. Overall, endoscopic drainage was successful in 65 patients (71%). He concluded that endoscopic drainage is an effective treatment for pancreatic pseudocysts and offers a definitive solution in almost three-quarters of the cases. The majority of major complications might have been prevented by using pigtail stents instead of straight stents and by taking a more aggressive approach to the prevention and treatment of secondary cyst infection[54].
COMPLICATIONS OF PANCREATIC PSEUDOCYST
CONCLUSION
Pancreatic pseudocysts are the result of acute or chronic pancreatitis and are the most common cystic lesions of the pancreas, accounting for 75%-80% of such lesions. The most common symptoms are abdominal pain, nausea and vomiting, although they can be asymptomatic. Abdominal CT is an excellent choice for initial imaging. EUS plays an important role in differentiating pseudocyst from other cystic lesions of the pancreas and can greatly assist in transmural endoscopic drainage. Initial management consists of supportive care. Persistent symptoms and the development of complications warrant invasive intervention. The surgical, percutaneous and endoscopic pseudocyst drainage procedures have not been directly compared in high quality prospective randomized studies and the preferred approach varies based on patient preferences and local expertise. In recent years, the endoscopic approach has gained popularity with surgery reserved for patients who had failed endoscopic or percutaneous drainage. A tailored therapeutic approach taking into consideration patient preferences and involving multidisciplinary team of therapeutic endoscopist, interventional radiologist and pancreatic surgeon should be considered in all cases.
Peer reviewer: Luis Bujanda, Professor, Donostia Hospital, Avda. Sancho El Sabio 21-3C, San Sebastián, 20010, Spain