Copyright
©2008 The WJG Press and Baishideng.
All rights reserved.
World J Gastroenterol.
May 7, 2008;
14(17): 2631-2638
Published online May 7, 2008. doi: 10.3748/wjg.14.2631
Pathophysiology of constipation in the older adult
G Lindsay McCrea, Christine Miaskowski, Nancy A Stotts, Liz Macera, Departments of Physiological Nursing, University of California, San Francisco 94143, United States
Madhulika G Varma, Department of Surgery, University of California, San Francisco 94143, United States
Author contributions: The literature review was completed and the paper was written by Ms. McCrea GL; Miaskowski C, Stotts NA, Macera L, and Varma MG contributed equally to the conceptualization and editing of the manuscript.
Correspondence to: G Lindsay McCrea, RN, MS, Doctoral Student, Department of Physiological Nursing, University of California, 2 Koret Way-0610, San Francisco 94143, United States. lindsay.mccrea@ucsf.edu
Telephone: +1-925-4511858
Fax: +1-415-4768899
Received: December 19, 2007
Revised: February 17, 2008
Published online: May 7, 2008

This review provides information on the definition of constipation, normal continence and defecation and a description of the pathophysiologic mechanisms of constipation. In addition, changes in the anatomy and physiology of the lower gastrointestinal tract associated with aging that may contribute to constipation are described. MEDLINE (1966-2007) and CINAHL (1980-2007) were searched. The following MeSH terms were used: constipation/etiology OR constipation/physiology OR constipation/physiopathology) AND (age factors OR aged OR older OR 80 and over OR middle age). Constipation is not well defined in the literature. While self-reported constipation increases with age, findings from a limited number of clinical studies that utilized objective measures do not support this association. Dysmotility and pelvic floor dysfunction are important mechanisms associated with constipation. Changes in GI function associated with aging appear to be relatively subtle based on a limited amount of conflicting data. Additional research is warranted on the effects of aging on GI function, as well as on the timing of these changes.
---
Citation: McCrea GL, Miaskowski C, Stotts NA, Macera L, Varma MG. Pathophysiology of constipation in the older adult. World J Gastroenterol 2008; 14(17): 2631-2638
---
INTRODUCTION
Constipation is a problem that affects all ages. However, it is a common problem in older adults and is often a concern to elders and clinicians. In older people, acute bouts of constipation can occur with acute illness or dietary alterations. In contrast, chronic constipation usually has an insidious onset of many years, often dating to childhood. The symptom experience can range from a mild, acute event that is remedied with a shift in fluid and dietary intake to a chronic condition that requires daily interventions with mixed results. Elders may falsely believe that constipation is a "natural" part of aging[1–4].
The purposes of this review are to: define constipation; provide an overview of normal continence and defecation; and describe the pathophysiologic mechanisms of constipation. In addition, the changes in the anatomy and physiology of the lower GI tract associated with aging that may contribute to constipation are described.
METHODS
To identify the relevant studies on the pathophysiology of constipation in the older adult, a number of strategies were employed. A literature search was conducted that included the following databases and time periods: MEDLINE (1966-2007) and CINAHL (1980-2007). The following MeSH terms were used: (constipation/etiology OR constipation/physiology OR constipation/physiopathology) AND (age factors OR aged OR older OR 80 and over OR middle age).
DEFINITION OF CONSTIPATION
Constipation is not a disease entity, but a general term that is used to describe the difficulties that patients experience with moving their bowels. Clinical and research literature documents that patients and clinicians use different definitions of constipation. Clinicians consider the frequency of defecation episodes, stool weight, colonic transit time, and anorectal manometry as proxy measures for constipation[56]. A commonly held belief amongst clinicians is that the problem of constipation is more imagined than real, as "the great majority of those complaining of constipation have a bowel motion (movement) more frequently than three times a week"[7]. The actual problem lies in the definition of constipation. The term itself holds different meanings depending on the individual. Individual perception of bowel function, whether or not the symptoms associated with constipation are endured, is quite distinct from how the medical dictionary defines the problem. Because of the subjective nature of the condition, no consensus exists on the definition of constipation.
Measurement of the frequency of stools has been used to define constipation. "Normal" frequency of stool evacuation comprises a broad or narrow range of time that has large intra- and inter-individual variability. The "usual" range is anywhere from one to three times per day to three times per week[8]. Less than three times per week may be considered normal if this does not represent a change from the usual frequency of baseline defecation events and is not associated with discomfort[9]. This self-report criterion does not describe the entire symptom experience of constipation.
Patients define constipation quite differently from clinicians. A study of 531 general practice patients found that 50% of them gave a different definition of constipation than their physicians[10]. Most patients define it by one or more of the following symptoms: hard stools, infrequent stools, the need for excessive straining, a sense of incomplete evacuation, and/or an excessive amount of time spent on the toilet or in unsuccessful evacuation[11]. Patients may perceive any or all of the following as constipation: straining to expel hard, dry stools; difficulty with initiating a bowel movement or an inability to defecate when desired; feelings of incomplete evacuation; and/or abdominal cramping and bloating. Subjective reports among middle aged and older individuals have identified the most common definition of constipation as being difficulty with defecation[12].
Most patients with a complaint of constipation have a functional disorder that affects the colon and/or anorectum. "Functional" is used to describe symptoms or problems that have no underlying anatomic abnormalities. However, the normal function of an organ has changed. Functional bowel disorders are functional gastrointestinal disorders with symptoms that arise in the middle or lower gastrointestinal tract[4]. Functional constipation is defined as the reduced frequency of bowel movements and/or an altered act of evacuation[13].
Functional bowel disorders, including functional constipation, are diagnosed primarily through patients' reports of symptoms. As a result, a symptom based classification is needed for clinical diagnosis, evidence based management, and research. Since 1989, an international panel of experts has met four times and issued recommendations on the diagnosis and management of Irritable Bowel Syndrome (IBS), as well as diagnostic criteria for other functional bowel disorders. Known as the RomeI, Rome II, and Rome III (Table 1) criteria, these recommendations have evolved to include functional anorectal disorders. All disorders are defined by specific symptoms. However, functional disorders of defecation include the results of diagnostic tests as part of the definition[14].
Loose stools rarely present with laxative use and insufficient criteria for IBS and
Two or more of the following (fulfilled for the last 3 mo with symptom onset at least 6 mo prior to diagnosis):
Fewer than three bowel movements per week
Straining1
Lumpy or hard stools1
Sensation of incomplete evacuation1
Sensation of anorectal obstruction or blockade1
Manual maneuvers (e.g., digital evacuation, support of the pelvic floor)
To facilitate a bowel movement1
Rome III as a functional bowel disorder that presents as persistently difficult, infrequent, or seemingly incomplete defecation, which does not meet IBS criteria, defines functional constipation. Patients are diagnosed with functional constipation if they are devoid of organic alterations and present with at least two or more of the symptoms listed in Table 1, fulfilled for at least three months with symptom onset at least six months prior to diagnosis, and insufficient criteria for IBS[4].
Several changes occurred in the development of the diagnostic criteria between RomeIand Rome III, in particular between Rome II and III. Studies using the Rome II criteria yielded lower prevalence rates for constipation than those using RomeIcriteria. A factor that contributed to this decrease was a change in the Rome II criteria that did not allow for laxative-induced loose stools[15]. Rome III includes this criterion. In addition, the frequency of occurrence of the various criteria was modified from > 25% to ≥ 25%. This approach was taken to be consistent with the criteria for other functional bowel disorders[4]. Since Rome II, more consistent criteria for the diagnosis and management of constipation have appeared in the literature.
With this definition of constipation as background information, the next section of this paper reviews normal continence and defecation prior to a discussion of the pathophysiology of constipation and constipation in the older adult.
NORMAL CONTINENCE AND DEFECATION
Normal anatomy and physiology of the gastrointestinal tract are well documented in the literature. Normal continence and defecation are complex processes that are altered in someone with constipation. Continence is the ability to retain feces until an acceptable time for defecation. Defecation is the evacuation of fecal material from the colon. Both functions involve complex physiologic processes that are not completely understood. Voluntary regulation through the central nervous system (CNS) and involuntary intrinsic reflex mechanisms are involved in both of these functions. Fecal continence is maintained by anatomic factors, anorectal sensation, and rectal compliance[16]. Problems with continence and defecation can arise from an extrinsic disorder involving the central or peripheral nervous systems; from an intrinsic disorder of the colon, rectum, or anal sphincters; or from a combination of these mechanisms.
Normal stool output is about 200 mg daily. Activity in the proximal colon determines the consistency and volume of delivery of contents to the rectum. The rectum is a reservoir. As rectal filling gradually proceeds, anorectal sampling permits subconscious perception of the consistency of the content. An intact internal anal sphincter (IAS) ensures continence.
Autonomic neurons relay the anorectal sensation of the rectal contents. Activation of these afferents results in both conscious perception and activation of local reflexes, such as the rectoanal inhibitory reflex to begin the relaxation of the IAS. Reflex voluntary contraction of the external anal sphincter (EAS) maintains continence until voluntary defecation is possible. A similar reflex contraction occurs to maintain continence when a rise in abdominal pressure occurs, such as during a cough or with positional changes. Partial external contraction is also observed during the passage of flatus, and coupled with an intact anorectal sensation this is the mechanism through which fecal continence is maintained during the passage of gas. Preservation of continence depends on the normal functioning of anorectal sensation, the appropriate perception of that sensory information, the integrity of lower and higher reflex arcs, and the action of the internal and external anal sphincters.
Defecation (Figure 1A) begins with rectal sensory awareness of a critical level of filling, which is relayed to the cerebral cortex as the perception of the need to evacuate the rectum. The actual volume that triggers the perception is dependent on the condition of the rectum (e.g. mucosal inflammation, rectal wall compliance) and the character of the contents (e.g. consistency, volume). When appropriate, the individual adopts a sitting or squatting position. This position results in a straightening of the anorectal angle that allows more effective propulsion of the rectal contents. The EAS and puborectalis muscles relax. The rectal contents provoke reflex relaxation of the IAS and the individual can then bear down. Abdominal pressure rises, abdominal wall muscles tense and relaxation of the pelvic floor allows some stool to enter the lower rectum. This movement of stool initiates a spontaneous rectosigmoid contraction, which pushes the stool through the relaxed anal canal[16].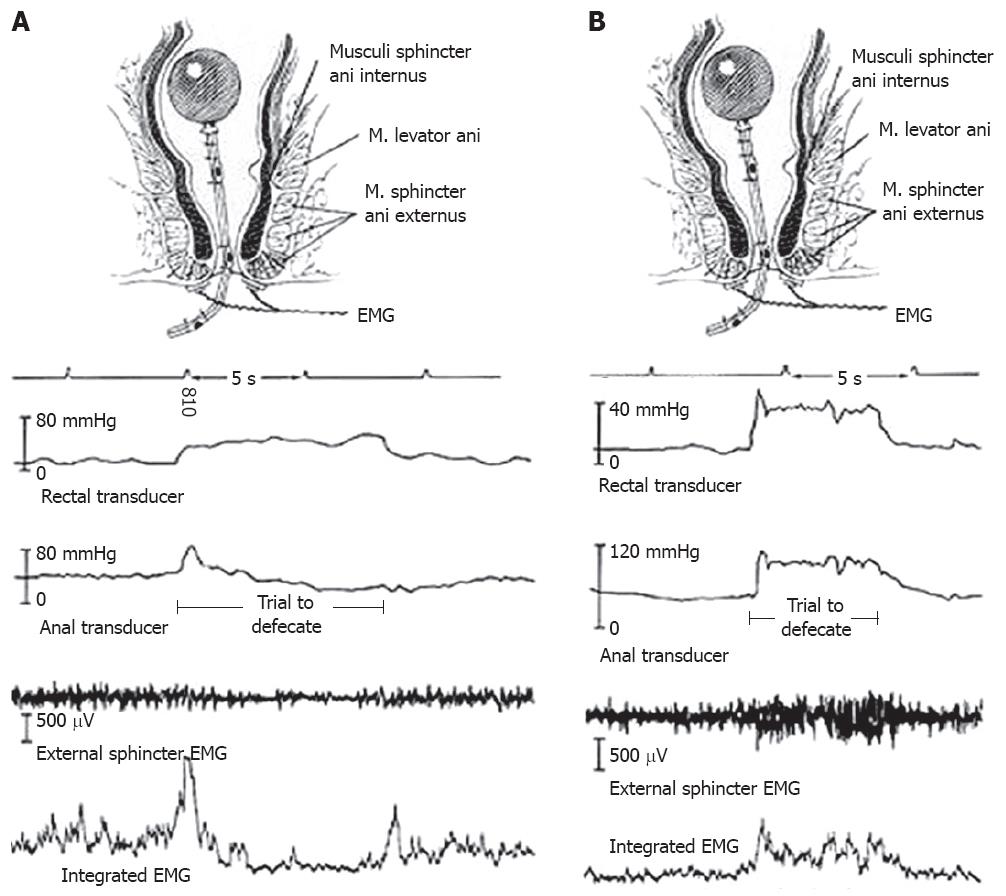 Figure 1 Manometric and electromyographic recordings seen with normal (A) and abnormal (B) defecation.
EMG: Electromyography; Footnote: Wald A. Manometry. In: Schuster MM, Crowel MD, Koch KL, eds. Atlas of Gastrointestinal Motility in Health and Disease 2nd ed, Hamilton, and Ontario: BC Decker; 2002: 289-303.
Large propulsive contractions of the rectum occur until the rectum is empty. Sensory input from the anus maintains the propulsive activity until the rectum is fully voided. This reflex appears to be mediated at the level of the spinal cord, as even spinally injured patients can evacuate a complete stool from the rectum, once initiated[17]. Such patients tend to use digital rectal stimulation to initiate the propulsive contractions of the recto-sigmoid colon. As stool passes through the anal canal, it stretches the EAS and creates a traction force on it. After the last bolus of stool has passed, the closing reflex of the EAS is stimulated by the release of traction. Therefore, anal continence is maintained following defecation.
CHANGES IN THE LOWER GASTROINTE-STINAL TRACT ASSOCIATED WITH AGING
Age-related anatomic changes within the lower gastrointestinal tract may contribute to delayed transit time and decreased stool water content[18]. These changes can include intestinal wall atrophy, reduced blood supply, and intrinsic neuronal changes. However, no significant functional changes are readily apparent in the aging gastrointestinal tract. Secretion and absorption remain relatively constant. This constancy is thought to be due to the redundancy in each segment of the intestinal tract.
Gut transit time and colonic motility are similar in healthy older adults compared to younger participants[19]. In contrast, elderly people with chronic illness who report constipation have a prolonged total gut transit time of 4 to 9 d (normal < 3 d), with evacuation delayed through the lowest part of the large bowel and rectum. Nursing home residents have even more prolonged transit times of up to three weeks in those least mobile which makes them highly susceptible to slow transit constipation (STC) and overflow fecal incontinence[20]. Colonic function appears to be more influenced by factors associated with aging (e.g. chronic disease, immobility, and medications) than aging itself.
Age-related neurodegenerative changes in the enteric nervous system (ENS) may be key to functional changes observed with advanced age. In colons of people older than age 65, a 37% loss of enteric neurons was found when compared with younger people[21]. The number of nerve cells present in the myenteric plexus of the human large intestine was examined using laminar preparations of the muscularis externa in two groups of participants aged 20 to 35 and over 65 years. In addition, the collagen and elastic system related fibers in the myenteric ganglia were qualitatively evaluated. The total number of neurons was decreased in older individuals. Both collagen and elastic system fibers were more numerous in the ganglia from the older participants. The authors concluded that the decrease in neuron density with age is accompanied by an apparent increase in the fibrous components of the myenteric ganglia. These findings suggest that neurodegenerative changes may contribute to the disturbed colonic motility seen in the aging population.
Older people have age-related reductions in IAS pressure and pelvic muscle strength[2223], as well as changes in rectal sensitivity[24] and anal function. Women in particular, experience a larger decrease in squeeze pressures with aging especially after menopause, and due to injuries sustained during vaginal delivery[2526]. These changes increase both the risk and the potential for constipation.
The interrelationship between aging and parity in the anorectal squeeze pressure in women is difficult to determine from currently available data. However, the authors suggested that menopausal effects might be relevant[3]. These age-related changes are not in and of them pathologic, but may contribute to the development of constipation in the elderly.
PATHOPHYSIOLOGIC MECHANISMS OF CONSTIPATION
Two mechanisms explain the pathophysiology of constipation[2728]. Colonic motility dysfunction, or dysmotility, is failure of coordinated motor activity to move stool through the colon. It is sometimes associated with: dietary factors, medications that can alter motility; or systemic disease (e.g. neurologic, metabolic, or endocrine disorders). Others exhibit abnormalities of the enteric nerves, such as decreased volume of interstitial cells of Cajal (ICC) and other neural elements[29]. The second mechanism involves pelvic floor dysfunction, or disorders of the anorectum and pelvic floor, which result in outlet dysfunction and an inability to adequately evacuate rectal contents. Functional constipation may occur as a result of disordered movement through the sigmoid colon and/or anorectum. Both mechanisms coexist in some patients[28], making it difficult to determine the exact underlying mechanisms for constipation.
PATHOPHYSIOLOGY OF CONSTIPATION IN THE OLDER ADULT
Constipation is often considered a natural part of aging but it is a disorder that is not caused by aging itself. Although changes in the gastrointestinal tract associated with aging may predispose one to develop constipation, the disorder usually has a multifactoral etiology and may be a lifetime disorder.
As shown in Table 2, numerous factors may contribute to the development of constipation[6–96667]. Though bowel transit time and frequency of bowel movements do not change with aging, a number of comorbid conditions may contribute to the development of constipation[66]. Some data suggest that older adults perceive constipation as straining during defecation rather than decreased bowel frequency[6869]. Another study of elderly individuals who reported constipation demonstrated that straining and hard bowel movements were the most frequent complaints[69]. A determination of the most likely etiology for constipation requires identification of the primary complaint[66].
Endocrine and metabolic disease
Diabetes mellitus
Hypothyroidism
Neurologic disease
Autonomic neuropathy
Cerebrovascular disease
Multiple sclerosis
Parkinson's disease
Spinal cord injury
Psychological conditions
Anxiety
Depression
Structural abnormalities
Anorectal conditions: fissures, hemorrhoids, rectal prolapse or rectocele
Obstructive colonic lesions
Lifestyle
Dehydration
Low calorie diet
Low fiber diet
Immobility
Iatrogenic
Medications
Aging is associated with changes in the structure and function of the colon and defecatory mechanisms. Regional differences in colonic properties and in neurotransmitter functions have implications for normal function and dysfunction[70].
Rectal sensation plays a critical role in normal defecation and may change with aging. In one study elderly patients with constipation and a history of fecal impaction had impaired rectal and perineal sensation and required significantly larger volumes of rectal distention to stimulate the normal urge to defecate[24]. A second report described impaired rectal perception of stool in elderly patients with constipation[71], while sensation appeared to remain intact in those patients without constipation.
Disordered defecation can occur as a result of injury to the pudendal nerve. The incidence of increased pudendal nerve terminal motor latency, an indicator of pudendal nerve dysfunction, is increased in elderly females[3]. Injury to the pudendal nerves can lead to abnormal perineal descent, which can impact rectal emptying by causing partial prolapse of the anal canal by the anterior rectal mucosa[72].
Several types of anorectal abnormalities occur in older people with constipation including dyschezia and pelvic dyssynergia. Dyschezia is characterized by reduced tone, increased compliance, and impaired sensation such that a greater degree of rectal distention is required to induce the defecatory mechanism[24]. Seen most commonly in frail elders, these individuals have recurrent rectal impactions, a frequent consequence of which is fecal soiling. Fecal soiling affects 28% of older people. However, it is a problem that is not assessed by doctors or nurses[73]. Pelvic dyssynergia, also termed anismus, involves a failure to relax the pelvic floor and external anal sphincter muscles during defecation.
IMPLICATIONS FOR FUTURE RESEARCH
Constipation is not a straightforward problem. However, recent research on the mechanisms and effects of constipation on the elderly is extremely sparse. Until the mechanisms of constipation are completely understood, it is likely that treatment will be at best, minimally successful. Dysmotility and pelvic floor dysfunction are clearly important mechanisms associated with constipation, but further work is needed to understand the anatomic, physiologic, and lifestyle factors that affect these mechanisms. In addition, longitudinal data on gastrointestinal motility are needed to determine the effects of aging on normal lower GI and pelvic floor anatomy and function. Studies are needed that evaluate changes in the physiology of the pelvic floor in women over the menopause transition and whether these changes contribute to functional outcomes seen at that time and on into old age.
Changes in GI function associated with aging appear to be relatively subtle based on a limited amount of conflicting data. Additional research is warranted on the effects of aging on GI function, as well as on the timing of these changes. A deeper understanding of the basic mechanisms of dysfunction, changes in the colonic wall, and pelvic floor dysfunction in the older adult could provide new directions for the assessment and management of constipation in this vulnerable group.
While significant progress has occurred in the development of consensus criteria for the assessment of constipation the definition is not standardized. The Rome criteria constitute a self-reported, complaint-based diagnostic system with a significant overlap between the criteria for dysmotility and pelvic dysfunction disorders. Studies are needed to clarify the discrete differences between colonic motor dysfunction and functional defecation disorders.
Supported by The Betty Irene Moore Fellowship